Family Fun in Fiji
Destination: Yasawa Islands
Trip Date:
Sep 12th - Sep 16th, 2020 -
Comments
Author: Jemma & Scott
For our first NAI'A Family trip we headed up into the beautiful Yasawa Islands to spend our days island hopping from one stunning bay to another.
The first day we welcomed three families on board and steamed off to our first stop that afternoon. After lunch we arrived at the island of Waya where Wendy and Varun did their check out dive.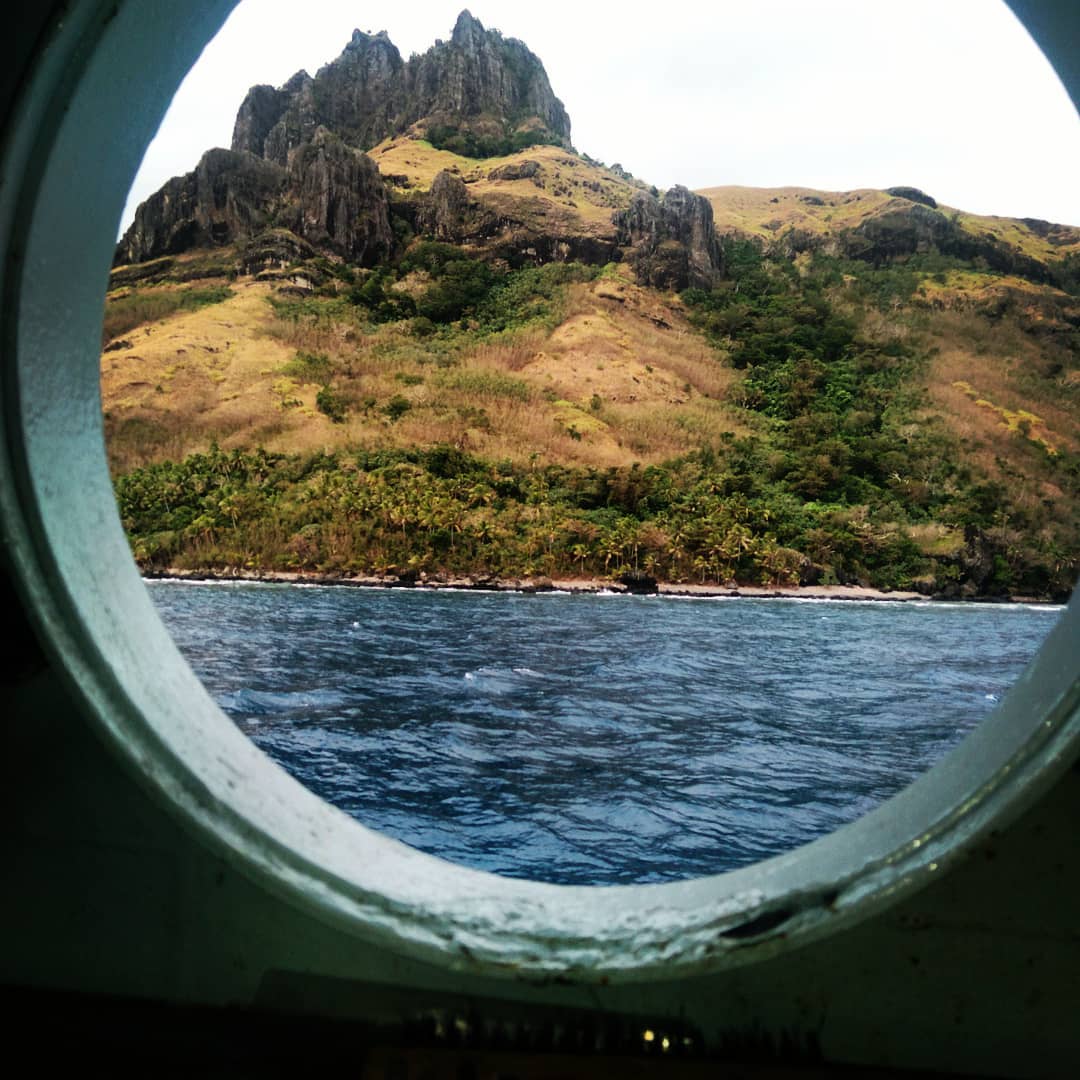 Chatting with them it was clear they were hooked on fish ID (yay fish geeks), so over the next few days they took up some challenges set by Scott and I! First task - try to remember details of three to five fish to come back and look up in the ID books. Harder than they thought, but I think we figured out that leopard looking fish was in fact a many-spotted sweetlips, the small yellow and black fish was a Talbot's demoiselle and, the ugly fish with big eyes was a squirrel fish.
The rest of us headed over for some beach fun at Sunset Beach and Jessie and Ali spotted a nudibranch on their snorkel! Whist the others tested out he kayaks and paddle boards.
The next morning we arrived at our furthest point, Nanya Lailai to spend the day. After breakfast Ali, Ciaron and I headed off to dive at The Breakers just off of Tavewa Island where we had a chilled dive exploring along the wall. We started off working our way along the sloping reef, then wound in and out of huge porites coral colonies, then ended up on the top reef amongst the acropora corals. We saw schools of fusiliers, wrasse, parrotfish, butterflyfish, nudibranchs, a flatworm and a beautiful giant clam!
In the afternoon Scott headed off with Ali, Ciaron, Wendy, Varun and Dan to dive The Cabbage Patch. This site is made up of huge colonies of turbinaria corals that resemble cabbages. A pretty amazing site to see! Hanging out amongst the reef were schools of snappers, fusiliers, butterflyfish and the odd nudibranch. Wendy and Varun's task for this dive was to double check details to confirm the previously identified fish! Varun also discovered some shrimp gobies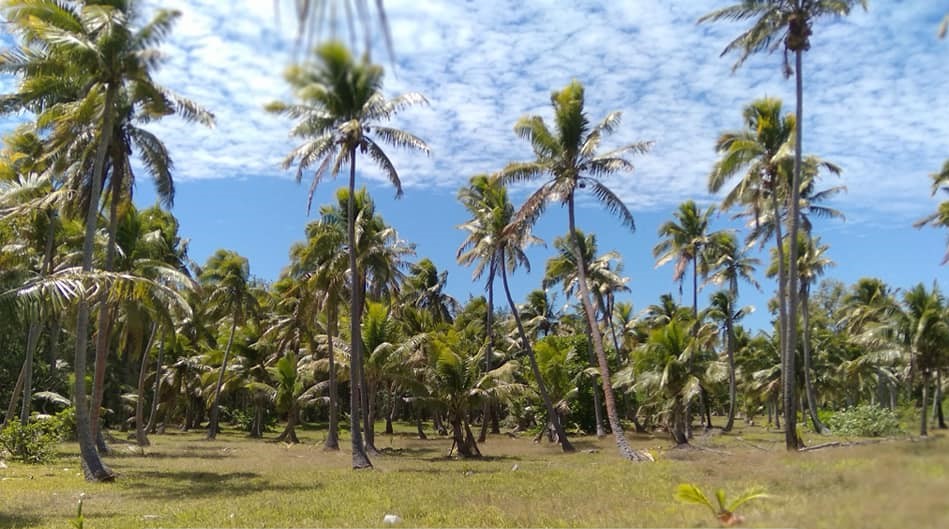 Meanwhile the group spent the day on the palm fringed beach on Nanuya. So much fun was had snorkelling, kayaking and paddle boarding in the crystal clear water, collecting coconuts with Sly and Captain Sue and building sand cities on the white sandy beach! Ali and Frankie went for a wander, Dan and baby Argo chilled in the shade, Jessie and I went for a snorkel and Osea found himself a hammock.
After dinner that evening was spent stargazing from the top deck. Marvelling at the hundreds of stars (or was it 5 Lauren?) on the beautiful clear night, and hearing stories about Ciarons experiences with Irish nurses!?! (Fuelled by Ali's famous Margarita mix FYI)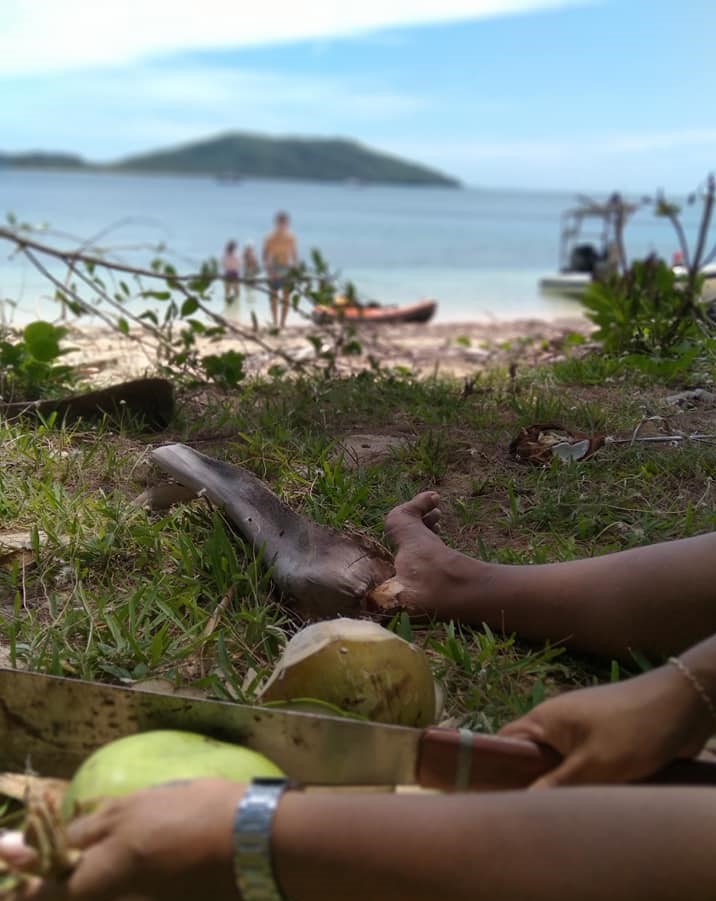 We awoke the next day in a secluded bay on the north of Naviti to watch the sun rise. We all spent the morning on our very own beach. Varun and I attempted to paddleboard over the shallows, only to have to work pretty hard back to the beach against the wind – oops. He then joined Wendy and Veena on a walk exploring the length of the beach. Osea, Pinso, Jessie and Dan made yet another sand city. Meanwhile Scott spent the morning constructing a shelter and Clayton showed off his SUP skills.
That afternoon Scott led dives to Gunu Point with Wendy, Ciaron, Ali, Dan and Lauren where they explored a small reef wall of hard corals. They found lizard fish, two tiny juvenile spotted parrotfish and a blue spotted stingray. Meanwhile Varun and I went on an epic snorkel where we identified hard and soft corals, found a crown of thorns, got chased by some anemone fish and saw a black tip reef shark. We made it all the way back to the beach, even practising duck diving and bubble rings (now Varun's new skill). Task of the day for Wendy and Varun – spot a bird wrasse and see the difference in soft and hard coral.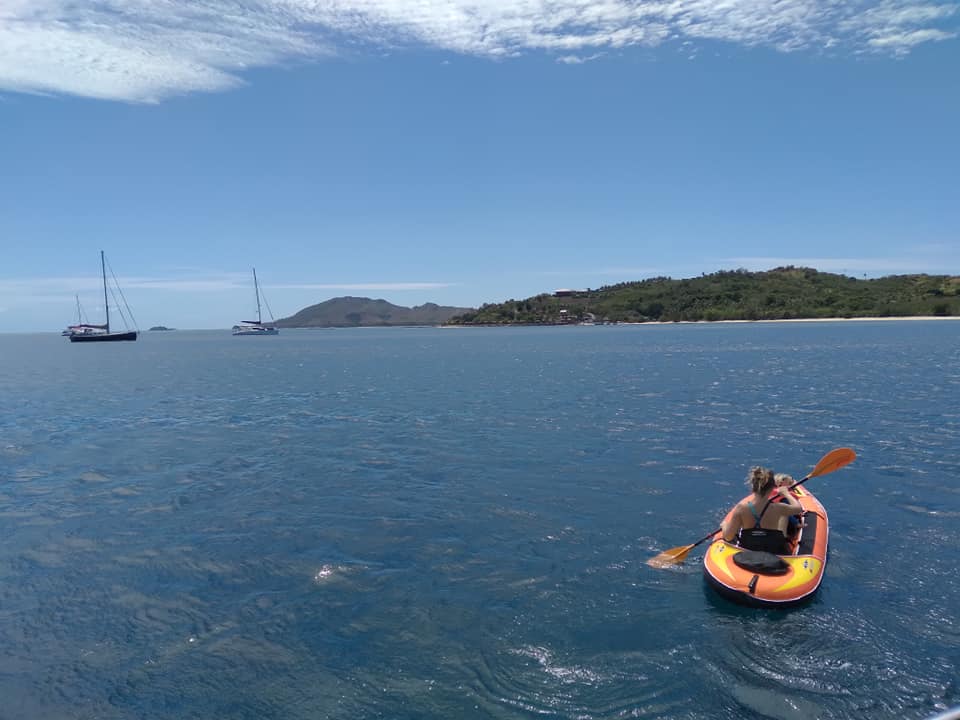 That evening we hosted our kava party with the crew. But despite the beautiful music and singing, baby Argo stole the show with his clapping and bouncing along to the tunes!
The next morning we moved down to Drawaqa Island and spent the morning on the beach and diving. Scott led a couple of dives at BBQ Beach with Ali, Ciaron, Dan, Wendy and Varun where they dropped in on a small pinnacle and explored the bommies and the reef wall. Wendy and Varun's tasks were to spot the jawfish in the sand, scissortail fusiliers and two-spot snappers!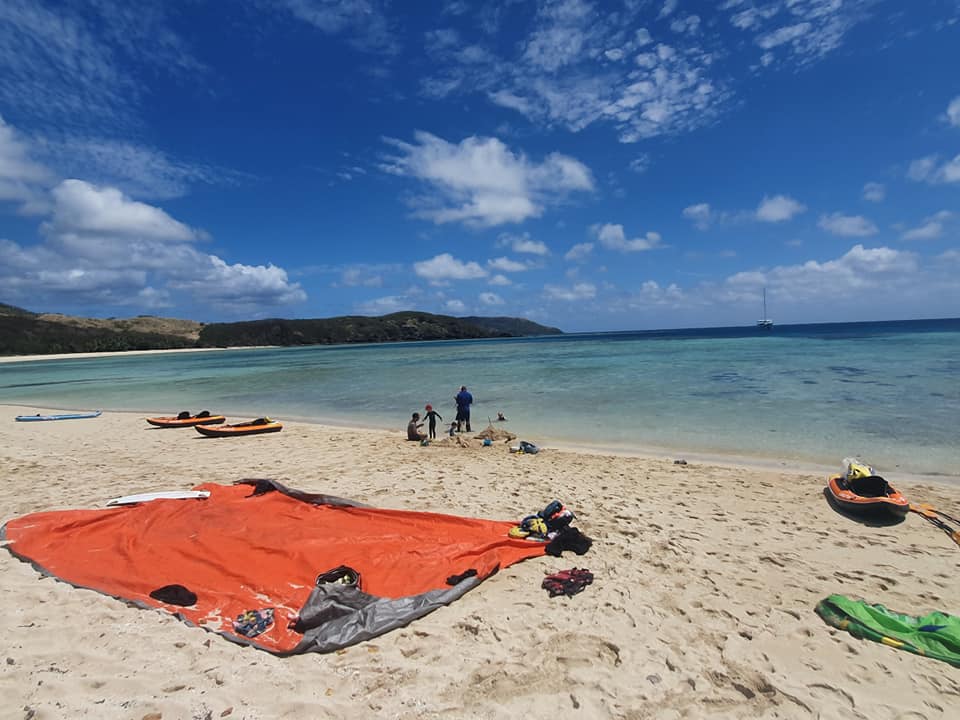 Another beach all to ourselves with water of every blue you can think of! Wendy, Vena and Varun walked this beach also, and then Wendy finally got to try the crazy new activity called SUPing!!! Todd took himself on a little kayak tour and found some stunning snorkelling, the boys made another sand city with Captain Sue, Lauren and Pinso kayaked from the beach, to the NAI'A, to another island and then back, and Frankie and I chilled in the shallows.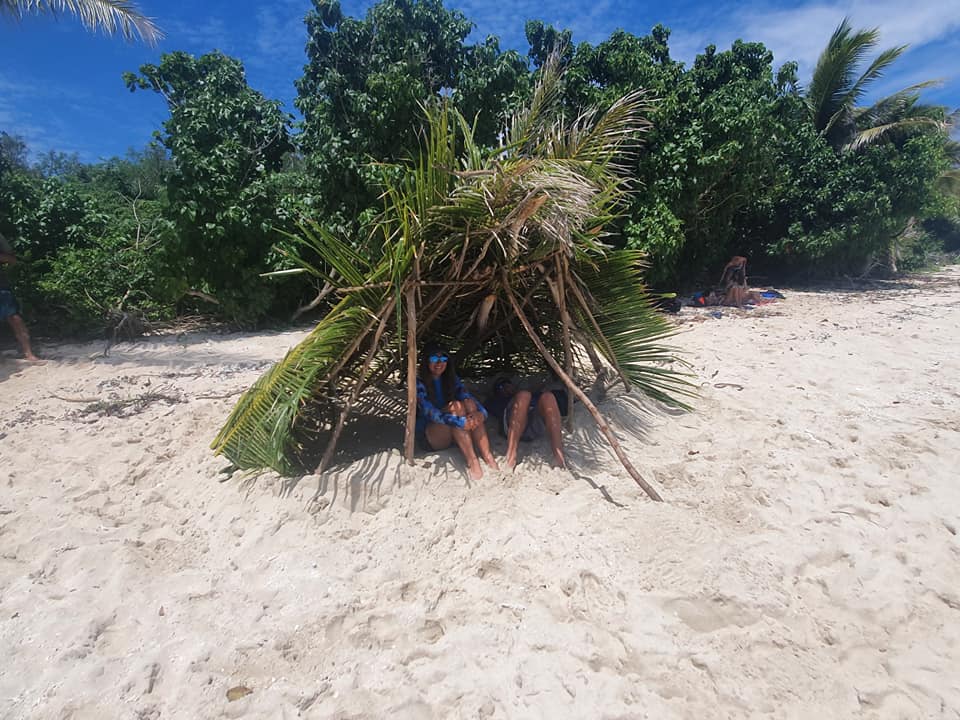 We ended our last full day with something pretty special. After lunch we were lucky enough to have Luke from the Manta Project Fiji aboard to tell us all about the manta rays he is researching in the Yasawa Channel. He told us about a couple of individual mantas in particular to look out for and explained to us how to snorkel the channel to best have a chance at spotting these gentle giants.
So in we went and sure enough, just as he had predicted, there they were! We had some amazing encounters and made friends with the huge (over 4m wingspan) manta with no tail called Lady Grey, Vee (who has a white v pattern on her belly), Ell (who has a cool looking tag on her so contributing super important manta research) and Hazel (a cute little manta who was barrel rolling like crazy showing off in front of Todd). Despite a pretty strong current everyone got to see these magical creatures – when you are kicking like crazy to keep next to a huge feeding manta you don't seem to realise how tired your legs are getting! Respect to the guys who managed this with kids on their backs! Between watching the mantas here were schools of scissortail fusiliers, long-jawed mackerel (with their mouths wide open), squid, barracuda and the most amount of pocillopora coral colonies I have seen!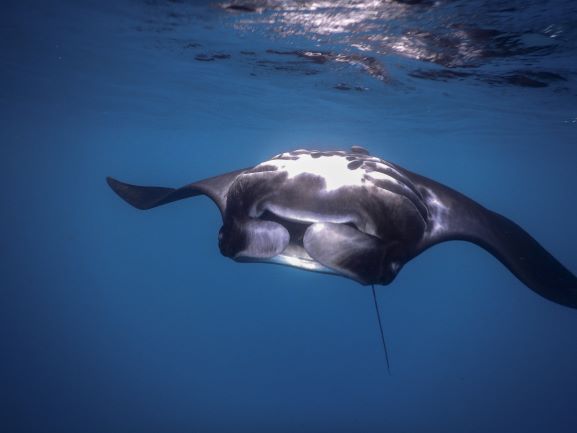 We must have been hanging out with our new friends the mantas for hours, but the time flew by – having to drag out Veena, Varun, Wendy and Todd before the sun set! I am pretty sure Jesse, Osea and Pinso dreamt about mantas that night…I sure did!
By the early hours of the next morning we were steaming back to Lautoka for our families to disembark.
Thank you all for joining our first NAI'A Family Trip. We had a great time island hopping the Yasawas with you!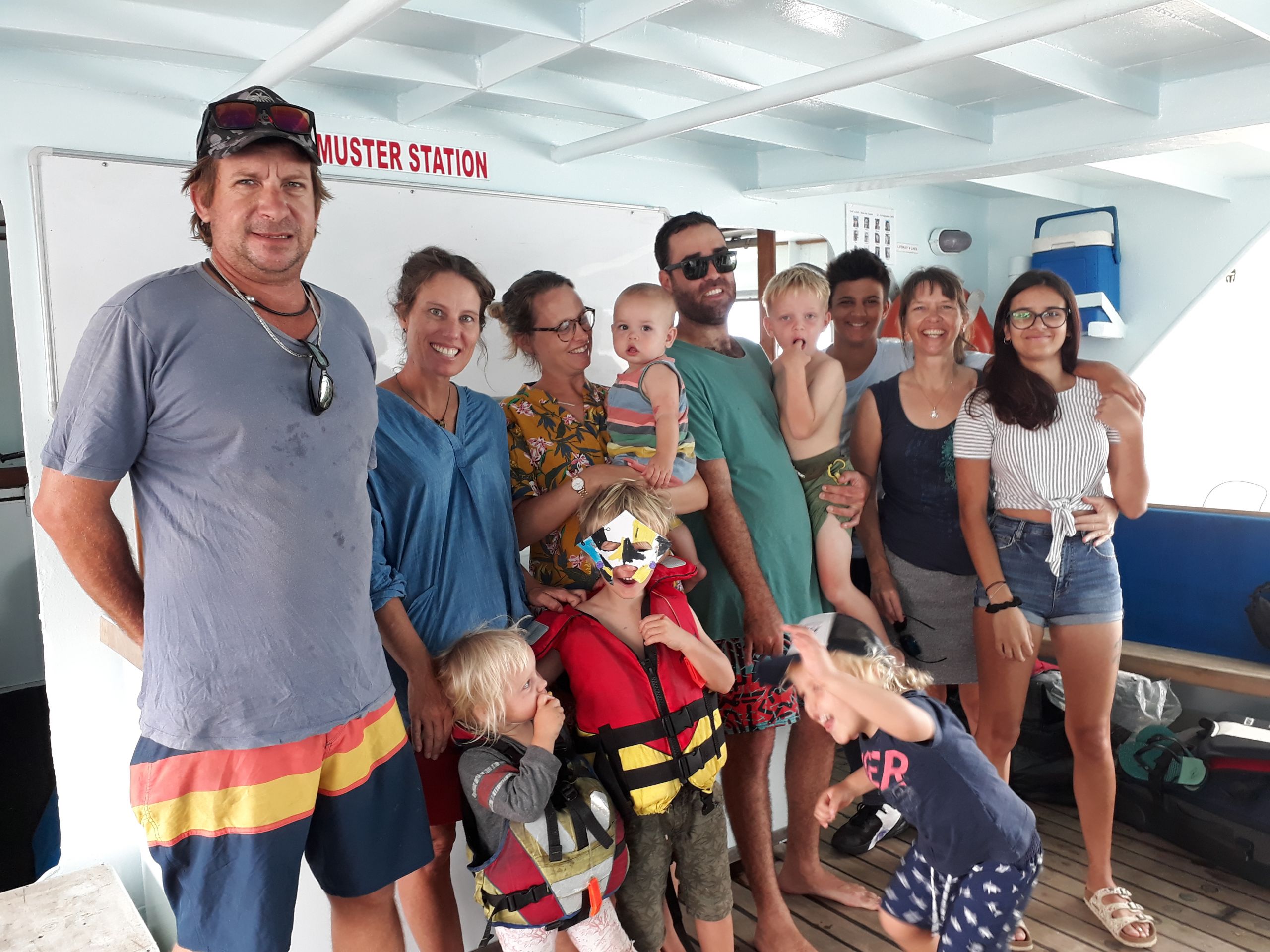 Comments
"NAI'A made a believer out of me! Fiji has been grossly underrated by both divers and scientists. Incredible fishes here and definitely worthy of protection."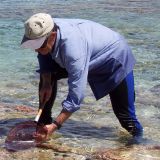 ~ Dr. Gerry Allen, Ichthyologist & Author, Conservation International