February Funhouse in Fiji's Bligh waters
Destination: Fiji Bligh Water
Trip Date:
Feb 18th - Feb 25th, 2017 -
Comments
Author: Vanessa & Chad
Welcome Back: Pat & Mike McGuire, Zena & Mike A, Loren & Nancy, and Helen
Congratulations: Happy Birthday to Mike A & Loren and a Happy 5th Anniversary to Glenn & Veronique
After a long 5 weeks spent on land with their gills drying out while the boat got her annual overhaul in January, Chad & Vanessa and the whole NAI'A crew were super-excited to get back out to sea again: bring on the February Funhouse! We welcomed aboard a motley crew to join in the excitement: several NAI'A returnees, always a pleasure: Michael McGuire & Pat, Michael Allen (stealing 2 out of 3 of Chad's names no less!) & Zena, Nancy & Loren along with former NAI'A Cruise Director now marine researcher Helen. In addition, we had an international mix of NAI'A newbies: bagless-but-smiling Father daughter duo Robert and Caroline, French dive instructor couple Veronique and Glenn, Dutch/Singaporean/Australian-ish family Ingrid, Felix and Caitlin, Spanish-dive-instructor-living-in-Maldives Javier and been-there-so-long-he's-basically-Aussie Leo! Great to have you all onboard! Let's set sail......
As always, we began our time at sea with a chill-out check-out dive at Samu reef, just an hour's cruise from Lautoka. With several guests using unfamiliar equipment this was a great time to play around with weights, adjust BCDs and generally just get settled and comfortable ready for the 'real' dives coming the next day. Samu Reef never fails to please, however, throwing a ton of exciting creatures our way. Vanessa's group spotted 2 different species of octopus (one very odd and yet to be identified!!), a Cassiopeia (upside down jellyfish in day-to-day lingo!) and a huge variety of shrimps and nudibranchs. Koroi's gang were lucky enough to get not only a blue spotted stingray but also a passing white tip reef shark, pretty unusual on this particular dive site. And we were all so very pleasantly surprised by the water temperature which had crept up to 84 F/29 C: Robert braved just shorts and a rash vest and came back so comfortable he stuck with it all week!
We had a wonderfully smooth sail that night to Vatu I Ra, blessed with minimal wind and waves. Up bright and early, the group headed out for their first dives at 7am, raring to go! At Mellow Yellow, Zena and Michael A were treated to a large marbled ray, while Chad pointed out a variety of Blue Dragon nudibranchs and a couple of camouflaged scorpion fish. On Maytag, conditions were remarkably calm (an unusual surprise!) allowing the divers to gently work their way up the ridge where they spent some quality time with a couple of grey reef sharks. Everyone enjoyed a good portion of their dive checking out all the small anthias and schooling fusiliers congregating on the top of the pinnacle, ready to hide from the predators skulking around. In between dives, Helen whizzed out to do a quick reef survey on Mount Mutiny and was treated to a hammerhead shark for her efforts!! Both groups also tackled Coral Corner a couple of times throughout the day. The first time around we did the 'grand tour', taking in the whole magical dive site with a stunning show of sharks, three types of barracuda and several big moray eels. The second time around we all got our heads in the reef and enjoyed a slow-paced macro-style dive, training everyone's eyes to start spotting the smaller creatures they could enjoy during the week. Everyone did an amazing job! Loren and Nancy got really involved, enjoying the cheeky fangblennies bobbing in and out of their holes and Glenn got some beautiful photos of a marbled shrimp hiding in a crevice. Towards the end of the dive as the sun was setting and the underwater 'shift change' began, Caitlin was lucky enough to have an inquisitive white tip swim right towards her: she came back declaring it the best dive yet! During dinner, we spent time getting to know each other a bit better: Vanessa loved learning about The Mullers' collection of rescue animals, including a pygmy possum called Thumbelina, too cute! That evening, tired but content, we slowly cruised in towards land on Viti Levu. Going anywhere near dry land so early on in the trip is not our normal strategy BUT.....Robert and Caroline's bags finally caught up with us and were waiting for collection, woohoo!
The next day we awoke in the stunning area of Vuya to another morning of bright skies and calm seas. It seemed like the ocean gods were really on our side and this was confirmed as a pod of spinner dolphins came jumping past the boat as we were kitting up for the first dive: always a good omen and a sign of great things to come. The highlight of the day had to be not one, not two, not three.....but SIX pygmy seahorses!! Including two new ones Chad found on UndeNAIAble that we were unaware of till now! Vanessa was very relieved to find the two usual red little guys at 80' on Cat's Meow (after five weeks a way it was a worry they might have disappeared!) and was especially happy to be able to show them to Pat who had been struggling with her ears the day before but bombed right on down on this dive. That afternoon Javier and Nancy had a very productive dive, helping Helen with her reef check survey on Humann Nature: thanks guys! The results were very positive, with almost 130 fish species on that single dive site. That evening we did our first (and as it turned out ONLY!) night dive of the trip at Howard's Diner and it was an impressive turn out with pretty much everybody joining in. Despite our lights attracting a wildly inordinate amount of plankton and obscuring our view we still managed to see some cool stuff: Caroline saw her first shark of the trip, several saw a HUGE crab scuttling around and Vanessa managed to show Leo the trippy flashlight fish!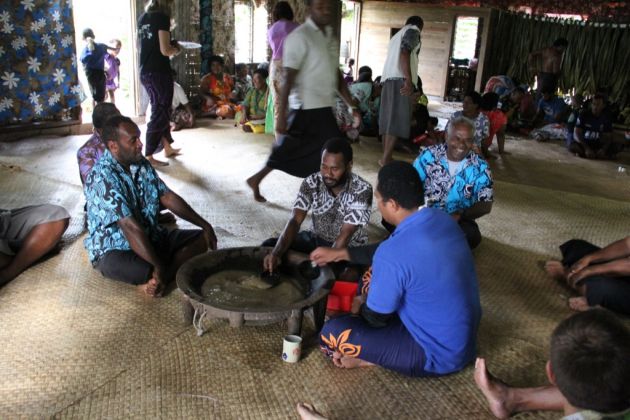 Clap for Your Kava - by Caitlin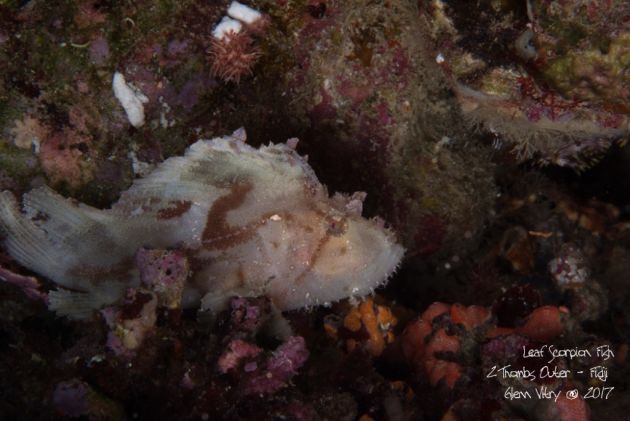 I'll LEAF This Beautiful Photo Here... - by Glenn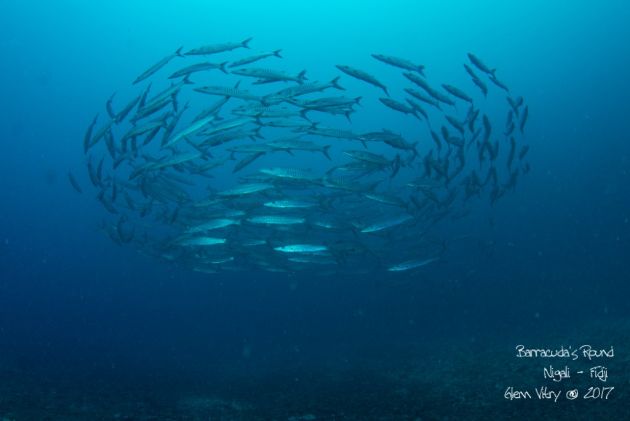 Barracuda Ball - by Glenn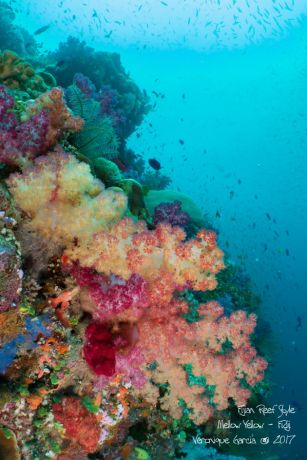 Pretty as a Picture - by Vero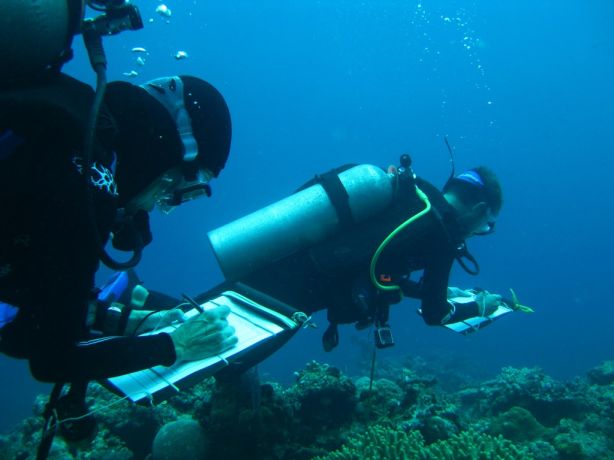 Check Out That Reef - by Helen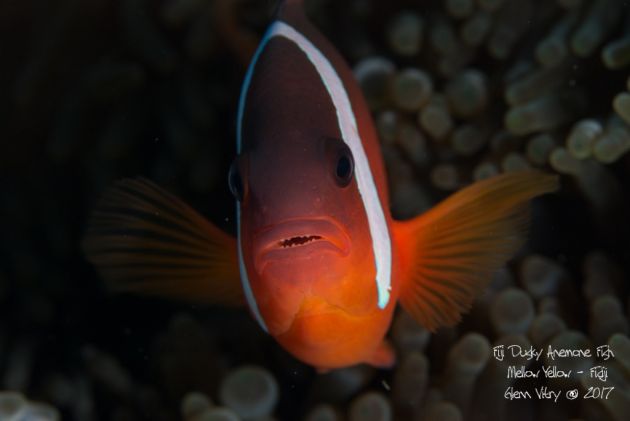 On The Nose - by Glenn
Blowing His Own Trumpet - by Helen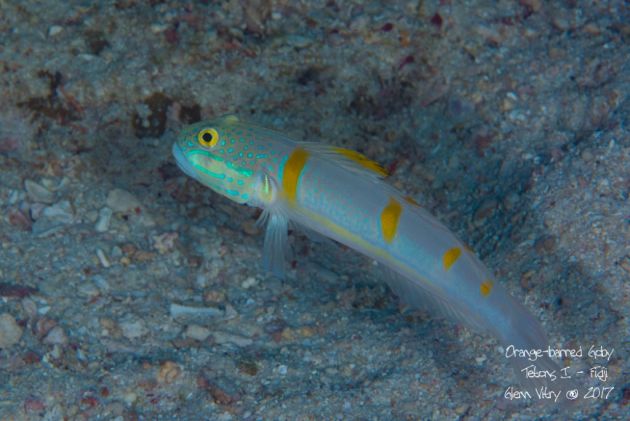 A New Find At Tetons - by Glenn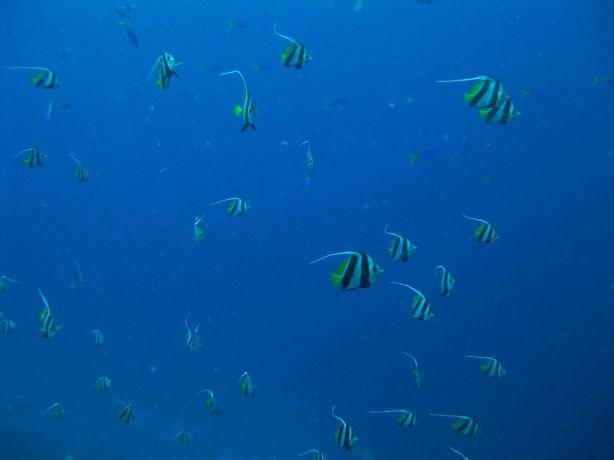 Banner In The Blue - by Helen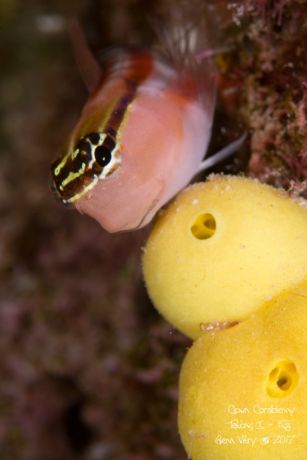 Got My Superhero Mask On - by Glenn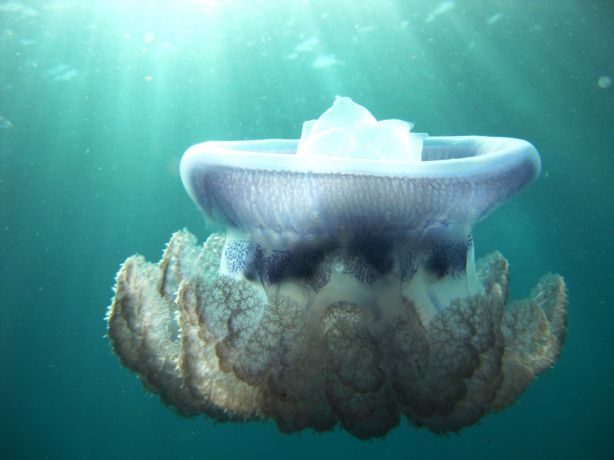 Attracted To The Light - by Helen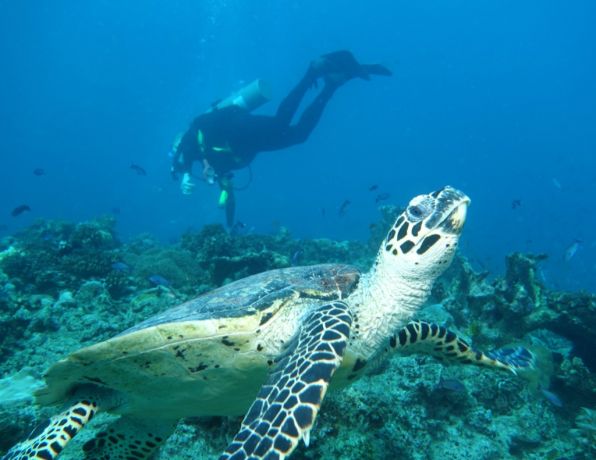 Chin Up - by Robert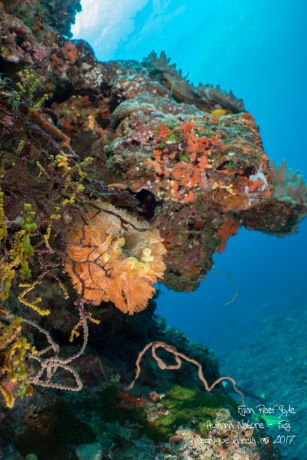 Artist's Palette - by Vero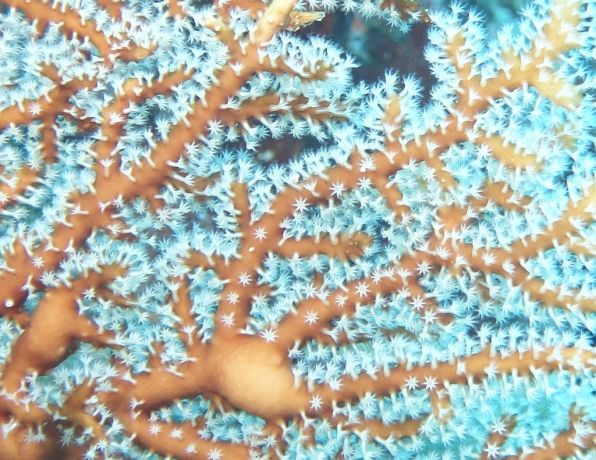 Underwater Snowfall - by Robert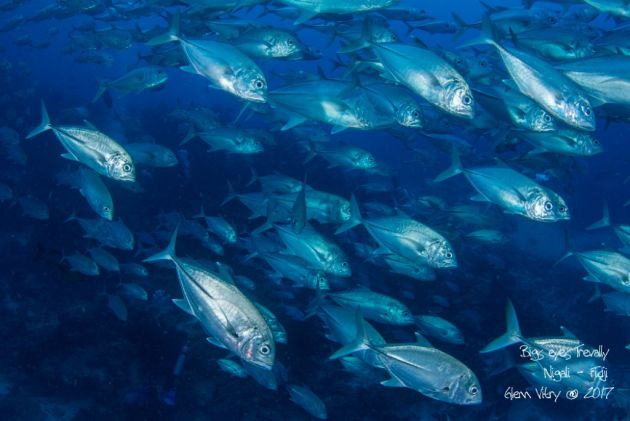 Silver Flash - by Glenn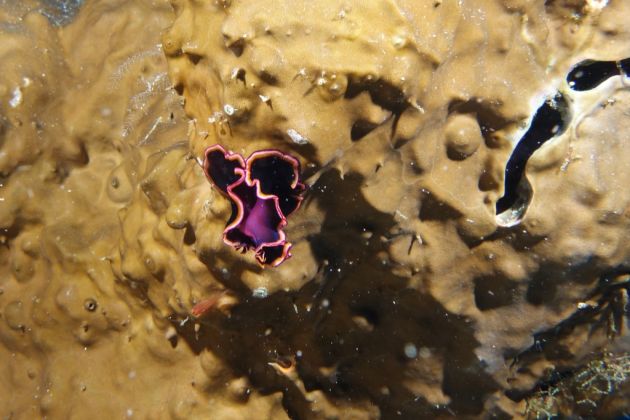 Flatworm Luuurvin' - by Robert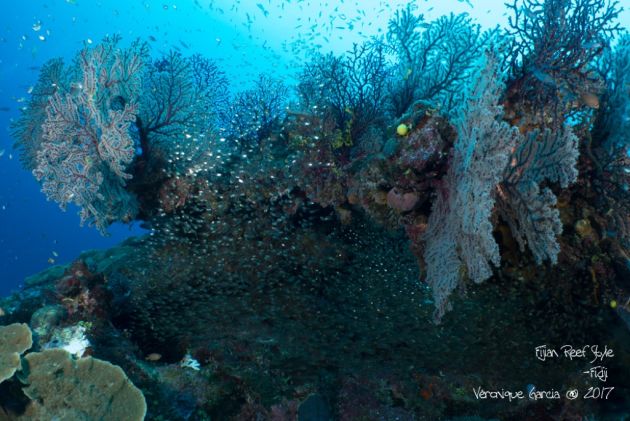 Glassy Lady - by Vero
After ANOTHER wonderfully easy passage, we arrived in Namena for two days of incredible diving in the Marine Protected Area. First up were Tetons I and Tetons II, both impressively sheer stacks of coral abundant with life. So impressive, in fact, that several divers stayed down for a good 80-90 minutes and even then didn't want to come up! Vanessa found a fish she hadn't seen before – the Orange Barred Goby – at 100' in the sand: turns out it is only found in the West Pacific on the Great Barrier Reef and Coral Sea to Fiji so a nice find in the area and a cool subject for macro photographer Glenn. Chad was happy to find the same blue ribbon eel he'd spotted a couple of trips earlier: the little trickster had shifted a good 30' but can't hide from us with that vivid electric blue color! The yellow damsel fish on Tetons I were in a particularly feisty mood and were charging at anyone who unwittingly got too close. And divers on both sites were surprised to find moray eels coming in for gentle nibbles as they put their hands in crevices for a shrimp manicure! Next up we moved to the North Save A Tack area for one of the highlight dives of the trip: Schoolhouse. Conditions were perfect and everyone was blown away by the fish life – sharks, tuna, barracuda, schooling bannerfish etc. – with several divers returning saying it was for sure the best dive so far! The day continued to amaze with dives at Kansas, The Arch and finishing up at Two Thumbs. The soft corals were in full bloom, just mesmerizing, there were so many pipefish we got 'bored' and stopped counting (Ingrid and Caitlin also started finding their own which was awesome!) and we found at least a million and one Bruce shrimp congregating in every little nook and cranny (Nancy braved the nibbling morays and got herself a pretty thorough manicure!). That evening we celebrated an amazing day with songs and (a lot of!) kava on the dive deck.
Our second day in Namena saw everyone up bright and early (well nearly everyone, our fun-lovin' Spaniard might have had just one kava too many...) to dive Two Thumbs again, this time doing whichever 'thumb' they hadn't done yesterday (more complicated than you might think hey Nancy and Loren?!). Caroline got some great footage of a Grey Reef who just kept on coming around and Glenn and Felix both found their own leaf scorpion fish: good eyes guys!! Second dive we tackled the impressive wall of Grand Central Station. Javier, Leo and others, however, were more impressed by the sight of two flatworms penis fencing. Yup, you heard right. We'd actually just been discussing it in scuba school so no-one can pretend they didn't know what they were witnessing! Meanwhile, Nancy, Loren and Caitlin slowly worked their way towards a massive school of jacks, joining them and becoming one with the fish. Oh if only we could stay down there forever! In the afternoon, Koroi took his group to The Arch where he found them a cool blue spotted sting ray and some big barracuda and Vanessa took her gang to Kansas where she shared her love for Freckled Face Blennies: Zena, you appreciated them right?! For the last dive of the day we returned to Tetons I and II where the current was picking up and the anthias were going wild. We even saw them spawning towards the end of the dive around the reef crest! We also had the first NAI'A pipefish spot of the trip! So now we're four dives in to an amazing day and Chad and Koroi are psyching up for another big night dive, especially after 11 guests said they were up for it that morning. But then the wine starts free flowing at dinner...and how many make it to the night dive? None. Exactly none!! Not that we're complaining as such but it did make us giggle...
Overnight, we traveled to our southernmost point, the island of Gau, ready for Nigali Passage and its sharky offerings. The current was being a bit of a princess that morning and not really coming in to the lagoon as strongly as expected but we knew we had a very narrow window to fit our dives in so we waited an hour then gave it a shot. It wasn't as exciting as it could be but Mike A still saw 15 sharks so pretty ok in the grand scheme of things! The NEXT dive in the passage, however, was INSANE! By now the current had picked up, bringing super clear water and a zillion barracuda, jacks, sharks and rays! Vanessa's group had a beautiful eagle ray pass straight overhead in the bleachers and Koroi's group were treated to a manta. You'd think the day couldn't get much better right? Well, we don't want to judge what's better or worse underwater, coz it's all pretty awesome, but it doesn't get much cooler than the 4 pack squadron of eagle rays that Mike, Zena and Leo were treated to on Jungle Jig that afternoon. What a birthday present hey Mike?? That afternoon, we enjoyed our village visit at Somosomo: thank you guys for all the amazing donations, so very much appreciated. And an extra thank you to Zena and Veronique for being good sports and giving it your all in the dancing: the villagers loved it!! We returned to the boat for an amazing dinner plus CAKE to celebrate with our two birthday boys, Mike A and Loren.
And so we came to the last day of our charter. And where better to spend it than the beautiful island of Wakaya? It was calmer than we'd ever seen it before and the sun was blazing all day long. Heavenly! We enjoyed two wonderful dives at Lion's Den and Vatu Vai and were once again spoilt with rays: this time mantas and devils! In between dives we all enjoyed a presentation from Helen where she explained her reef survey findings of the week. It was great news to hear that our reefs are doing well after the trauma of Cyclone Winston this time last year: there are itsy bitsy baby hard corals everywhere, the soft corals are blooming and fish life is as abundant as ever with 139 species counted at a single dive site! Now THAT'S good diving. Everyone enjoyed a lazy, sunny afternoon as we slowly made our way back towards Lautoka, with many enjoying a few rays and a lovely breeze up on the sun deck. After a glorious sunset we gathered in the salon for our last dinner together. Glenn and Vero finally had the chance to crack open their champagne and celebrate their 5-year anniversary: congratulations to you both! And Helen was presented with a donation from all the guests to replace her temperature logger that was damaged in the cyclone last year. Thank you all!
Thank you to everyone who joined us for this fun February charter: we had an absolute blast with you all and hope our paths cross again one day. You're always welcome aboard NAI'A!
Our Guests...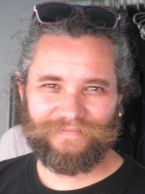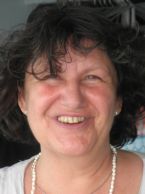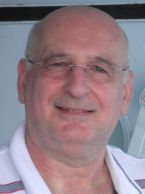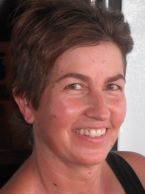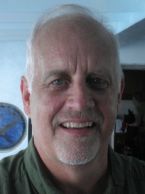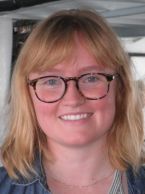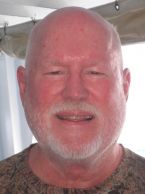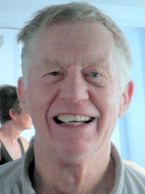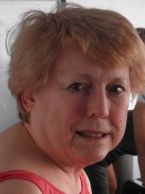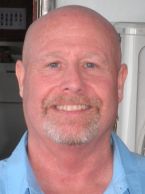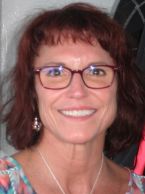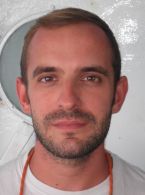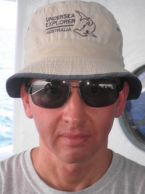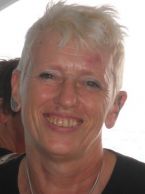 Comments
"After 60 years of diving all over the world, Fiji still surprises and intrigues me. Fiji is a destination uniquely safe and easy to reach yet it is the colour of our dreams."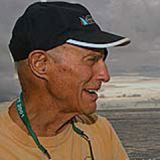 ~ Stan Waterman, pioneering diver and filmmaker