Fiji Fantastic!
Destination: Fiji's Bligh Waters
Trip Date:
Mar 2nd - Mar 12th, 2019 -
Comments
Author: Vanessa & Chad
Welcome Back: Jim & Georgia, Steve & Kathy, Gordy, Don & JoAnn
Congratulations: Congrats to our landmark divers: JoAnn (1000), Steve (700), Alex (100) and a very happy birthday to Jim and Claudia
When our divers came back absolutely beaming from the first morning's dives at Vatu-i-ra, we wondered if maybe we'd peaked too soon. Could there possibly be anything better to come? Two days later at Namena an enormous grouper escorted by 20+ pilotfish answered the question, reaffirmed by the deep pristine pinnacle at Jungle Jig, four ornate ghost pipefish at Cat's Meow, sharks feeding at UndeNAIAble and healthy table corals clambering on top of each other at Nananu-i-ra.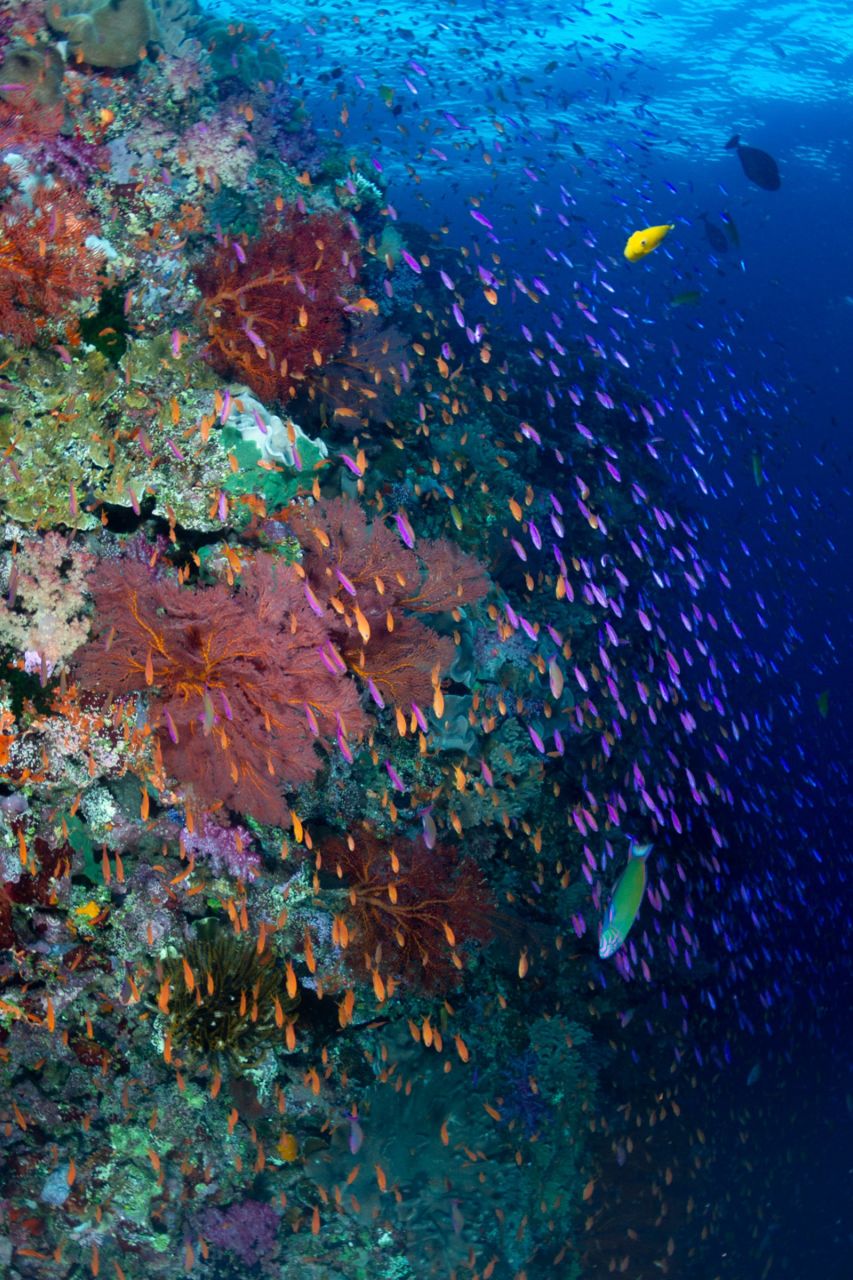 by Jim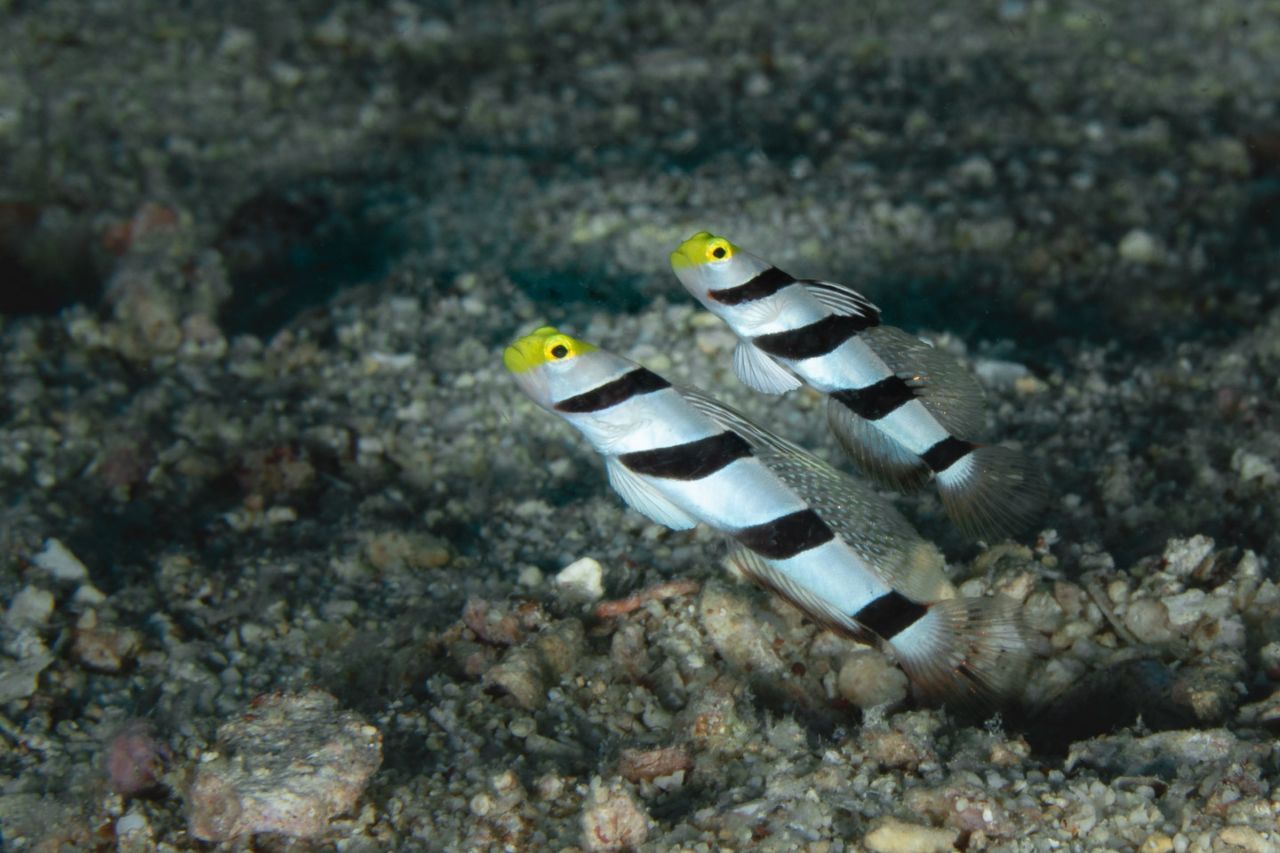 by Georgia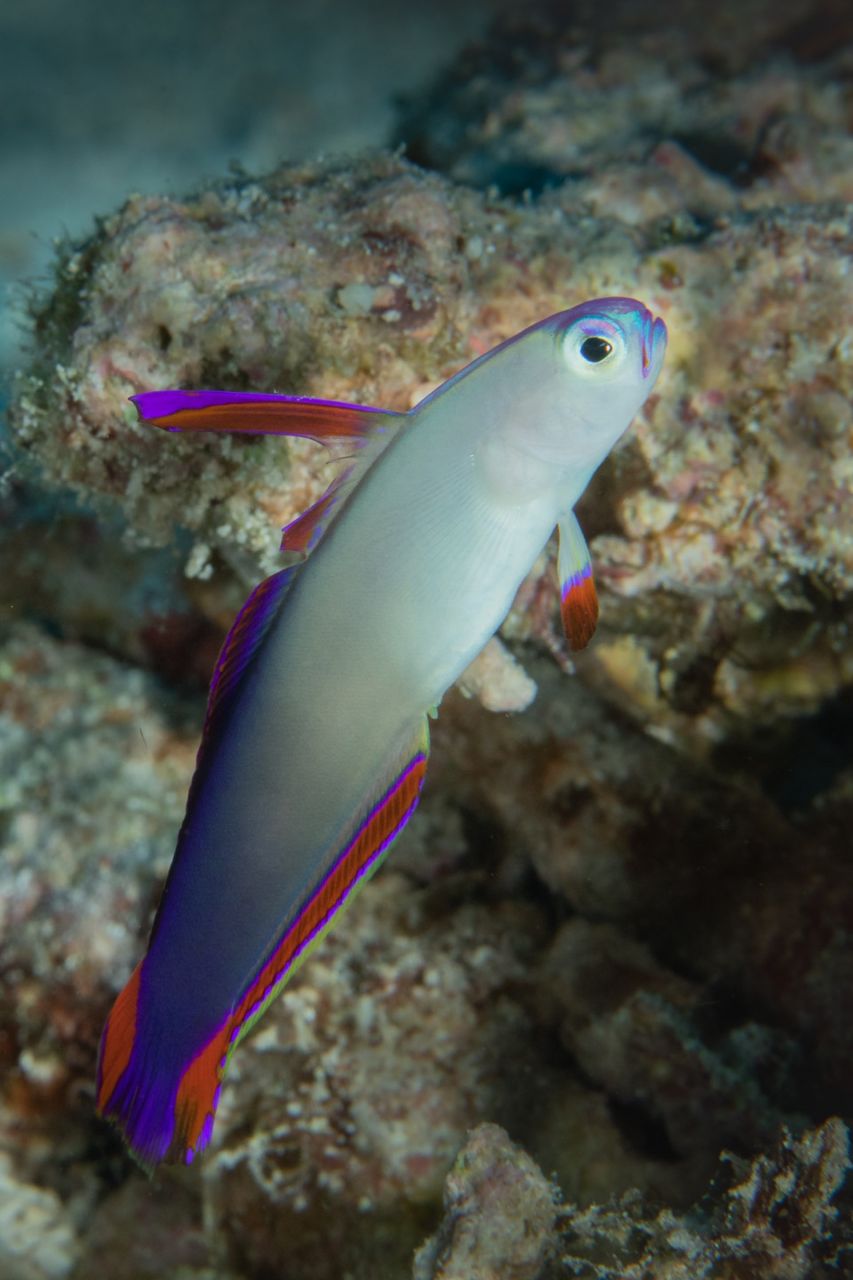 by Georgia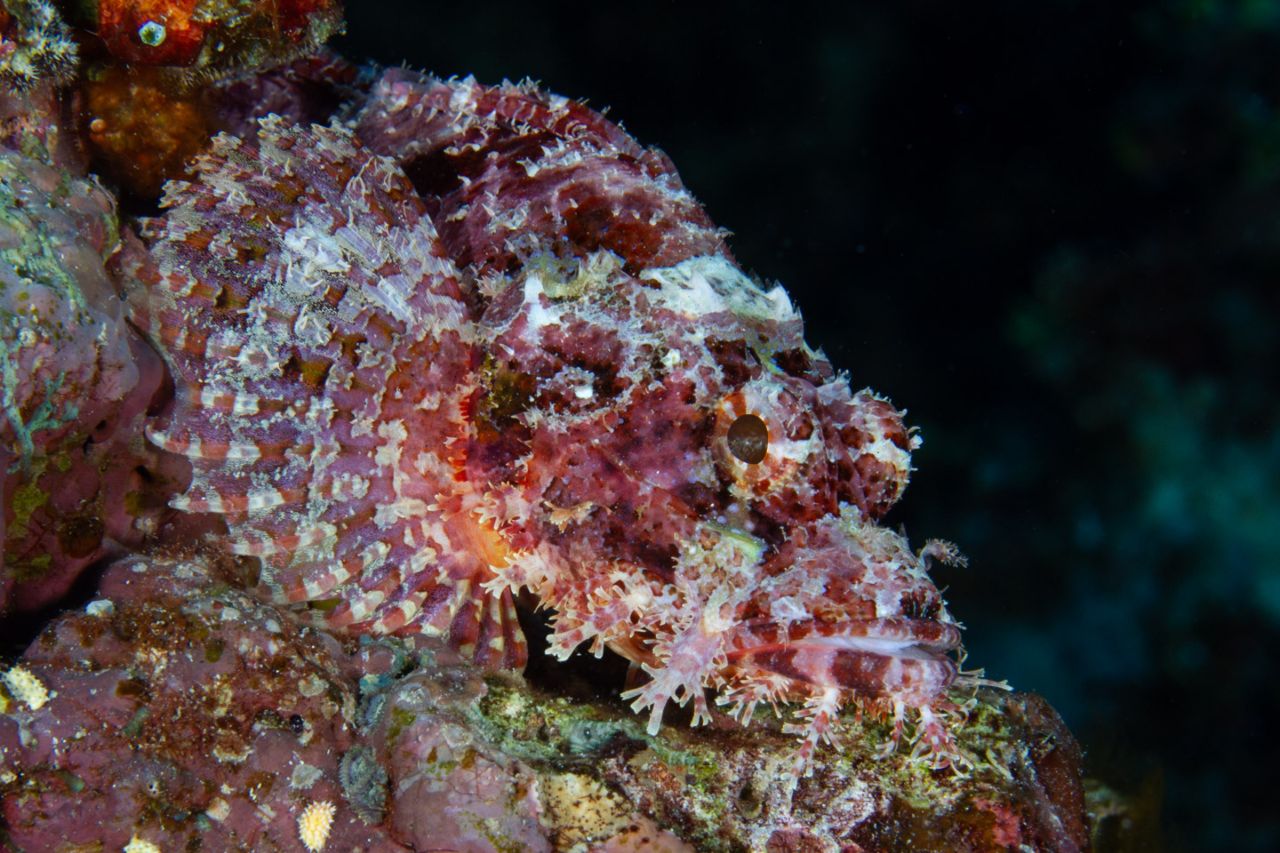 by Jim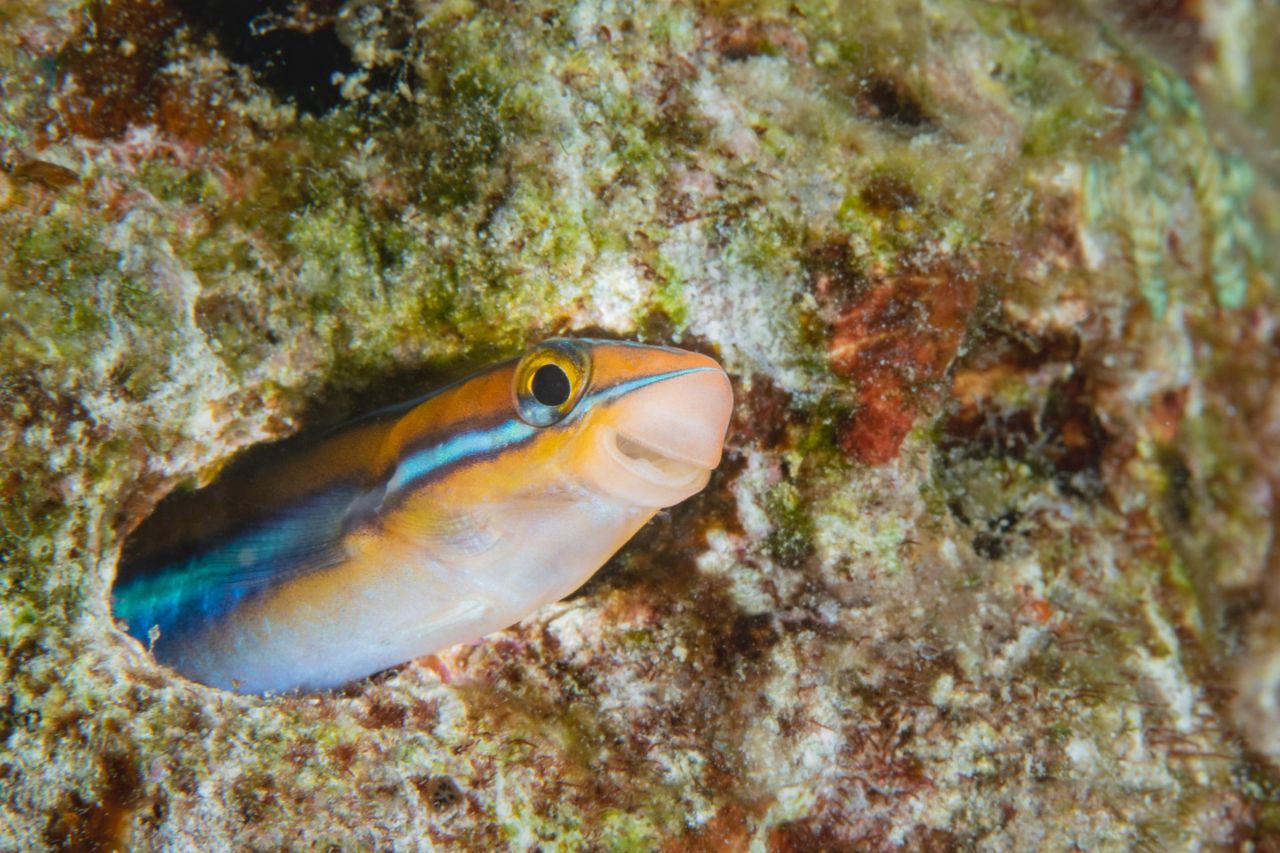 by Georgia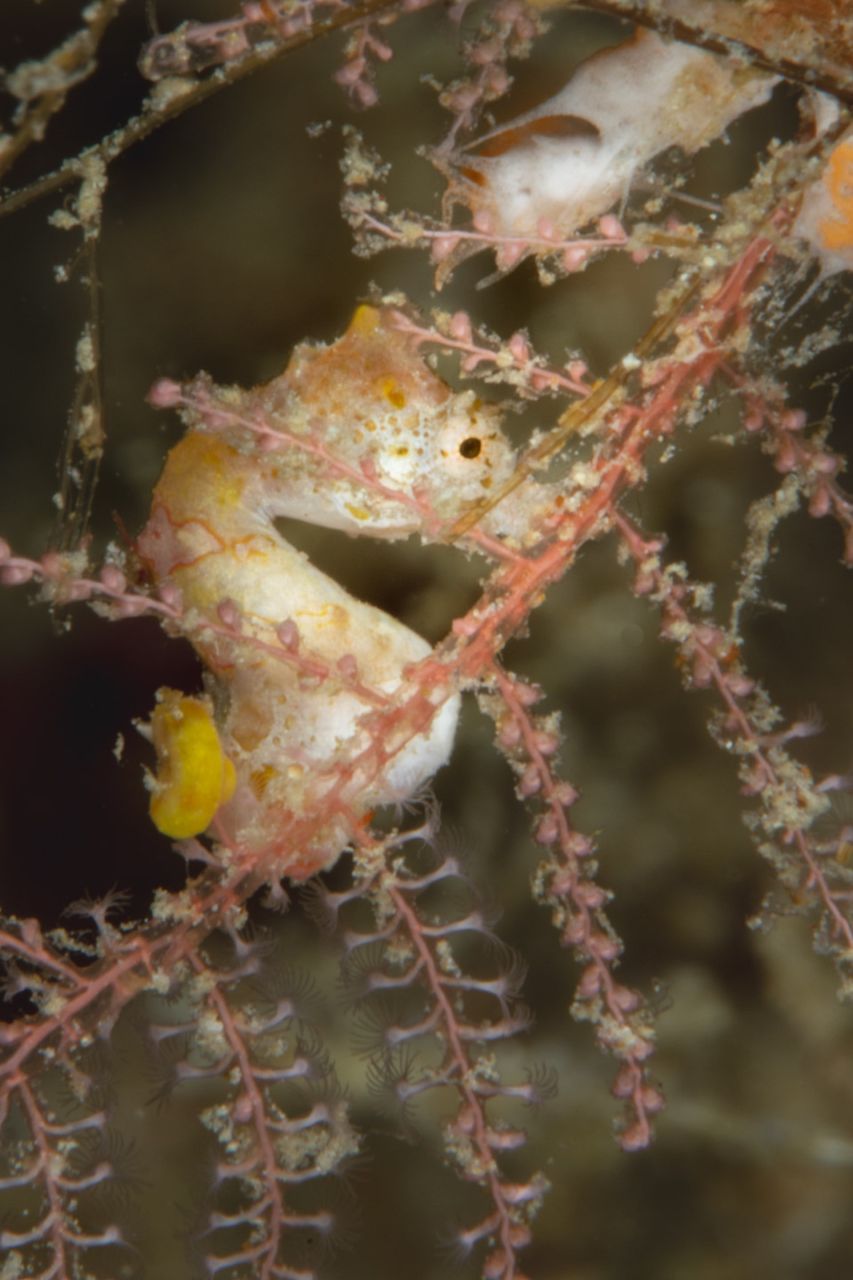 by Georgia
Our trip began in Vatu-i-ra. Our divers came back absolutely beaming from Mellow Yellow, asking us if we'd maybe peaked too soon: could there possibly be anything better to come?! Had they seen the best of the best on day one already?! We agree, it's a pretty special dive site but don't worry, there's plenty more where that came from! We also introduced our divers to the exciting currents we can experience here in Fiji; we had a blast peeking our heads over the crest of Maytag and feeling the full force of the water in our faces. The concentration of fish gathered in the current was crazy, we could barely see through them. It was particularly funny to watch the thousands of little Anthias wiggling for all they're worth trying to stay in one spot!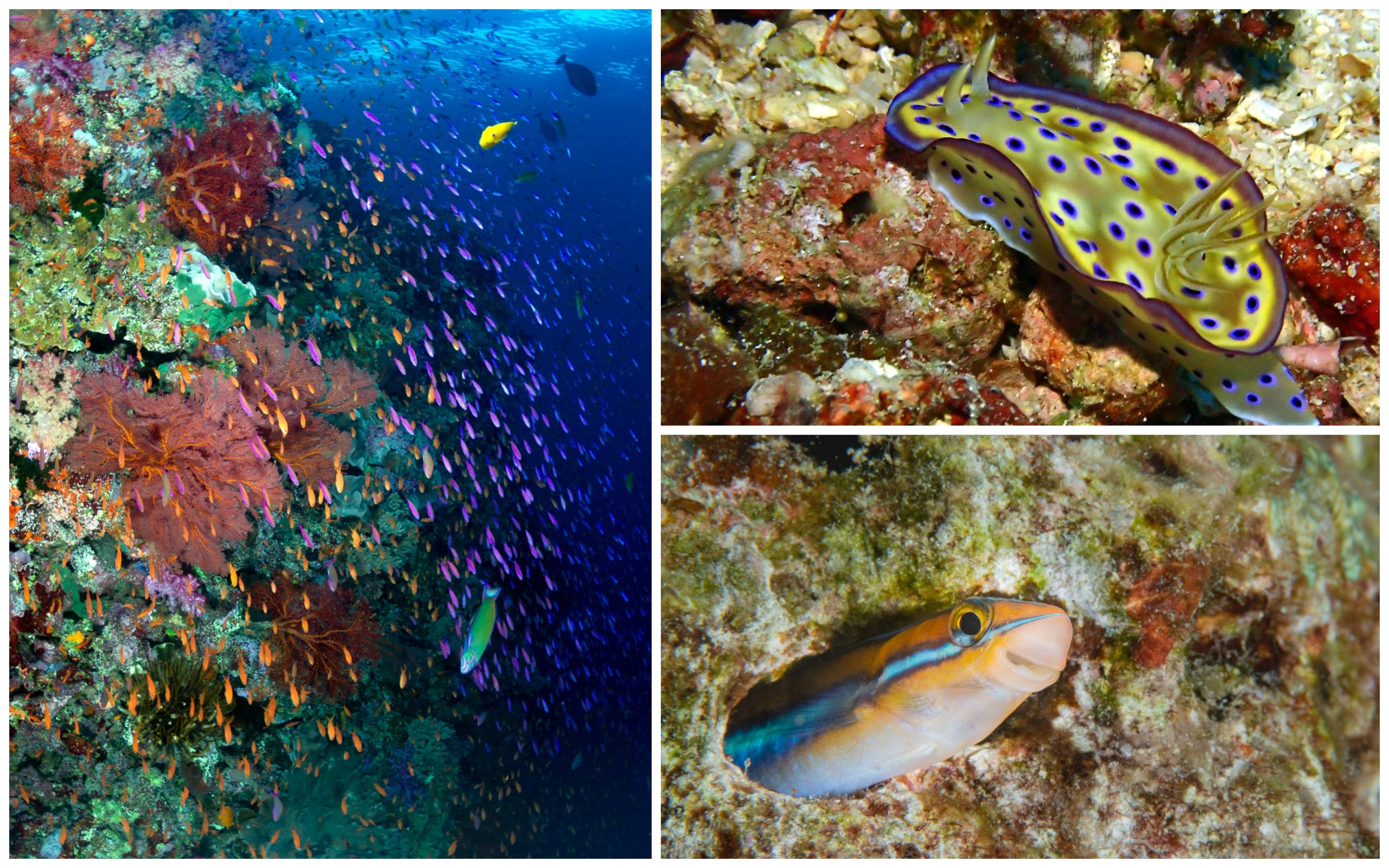 Photo credits (Left, top & bottom right): Jim,  Don, Georgia
We spent the next two days in the Namena Marine Reserve. The currents were being a bit strange and unpredictable but with a bit of puzzling it out we managed several awesome dives. The pinnacles in the south were looking great in the current, their soft corals all plumped up and seemingly in every conceivable color. The deep walls in the north were also popular as they were home to the 'big stuff'. A few of our divers enjoyed a hammerhead encounter on Schoolhouse and at Grand Central Station we came face to face with the most ENORMOUS grouper, being led around the reef by literally 20+ golden pilot fish at his face! Kansas and The Arch were also beautiful, despite less than ideal visibility. In fact, it was so hazy we struggled to see the actual arch formation. We very much appreciated one of our divers' positive attitude when he described the (murky) dive as 'mystical': we'll go for that!
Photo credits (Left, top & bottom right):  Don, Georgia, Jim
From Namena, we moved south to the island of Gau for the following two days. Our divers were very excited by the pristine pinnacle found deep at Jungle Jig and also really enjoyed all the juveniles hiding out as they cruised along the shallow slope, the cutest being a teeny Spotted Parrotfish no bigger than a finger nail! As always, Nigali Passage impressed. There weren't as many sharks as there sometimes can be but tons of barracuda, an eagle ray and a manta ray sure made up for it! In our busy dive-dive-dive schedule, we found time to take a little visit over to the village of Somosomo. It was a lovely, relaxing time, although the dancing got a little raucous later on!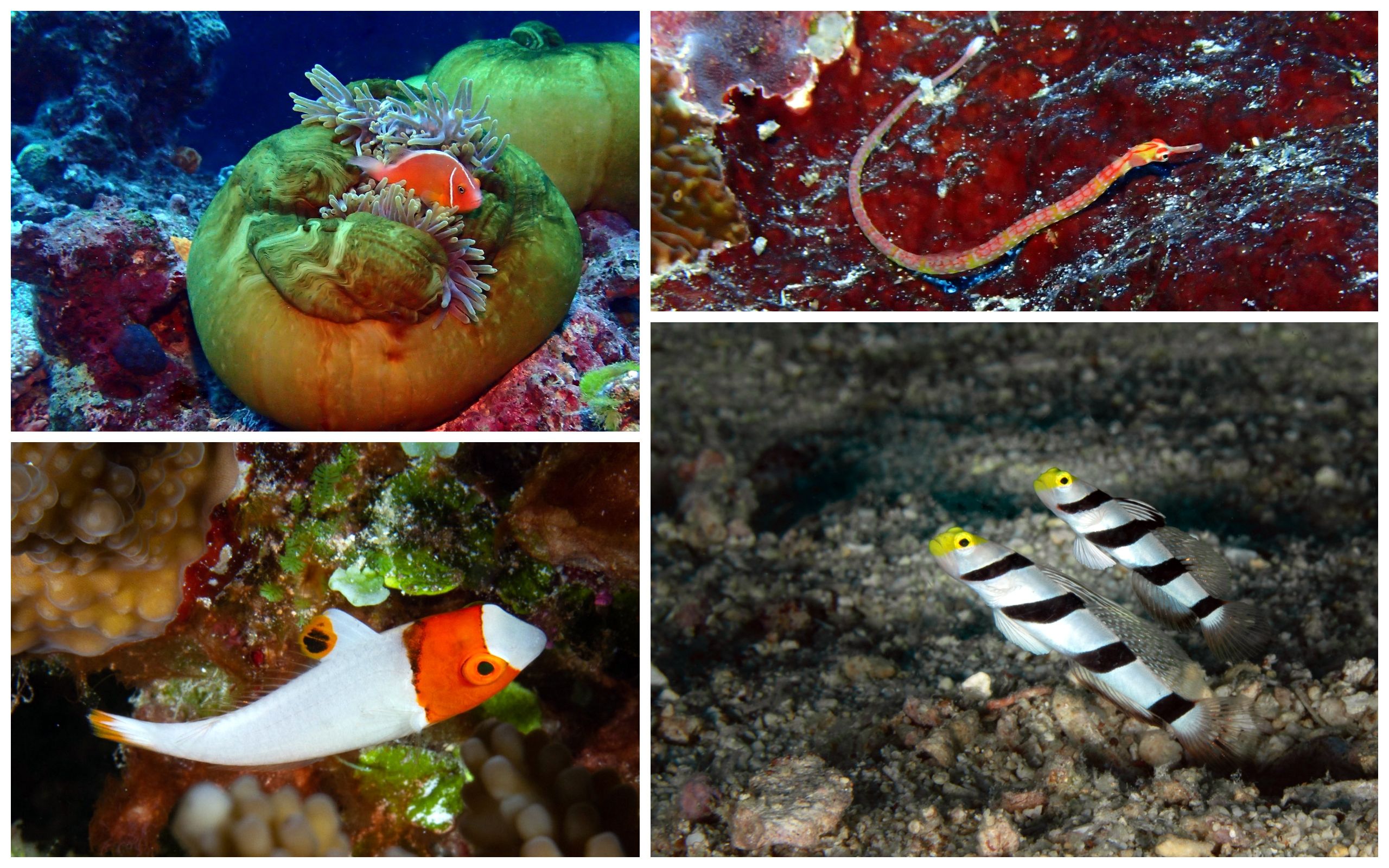 Photo credits (Clockwise from top left): Don, Don, Georgia, Jim 
From there, we motored north to Wakaya where we packed in five fantastic dives. Big Mo found the most gorgeous little Robust Ghost Pipefish at Lion's Den, we almost landed on a Hawksbill Turtle as we back rolled in to Blue Ridge, but it was Vatu Vai which seemed to be the favorite, with many divers choosing to repeat it on our '4 o'clock free for all'! Another skiff took divers off on a bit of an exploratory dive. You never know what kind of luck you're going to have on these kind of dives – it can be very hit or miss - but this particular day it paid off as a Hammerhead cruised past the group!
From Wakaya, we moved right into the heart of the Bligh Waters for gorgeous dives at our sea mounts, Mount Mutiny and E6. Our divers LOVED them! Dropping well beyond 3000', these dive sites are topographically impressive on any given day but this particular day, with clear water and bright sunlight pouring in, they were especially astounding. It felt almost other-worldly exiting the swim through at E6's Cathedral and descending into the perfect deep blue below. That night, we celebrated a great day with a rowdy kava party with our crew out on the dive deck. Not everyone made it up for the next morning dive…..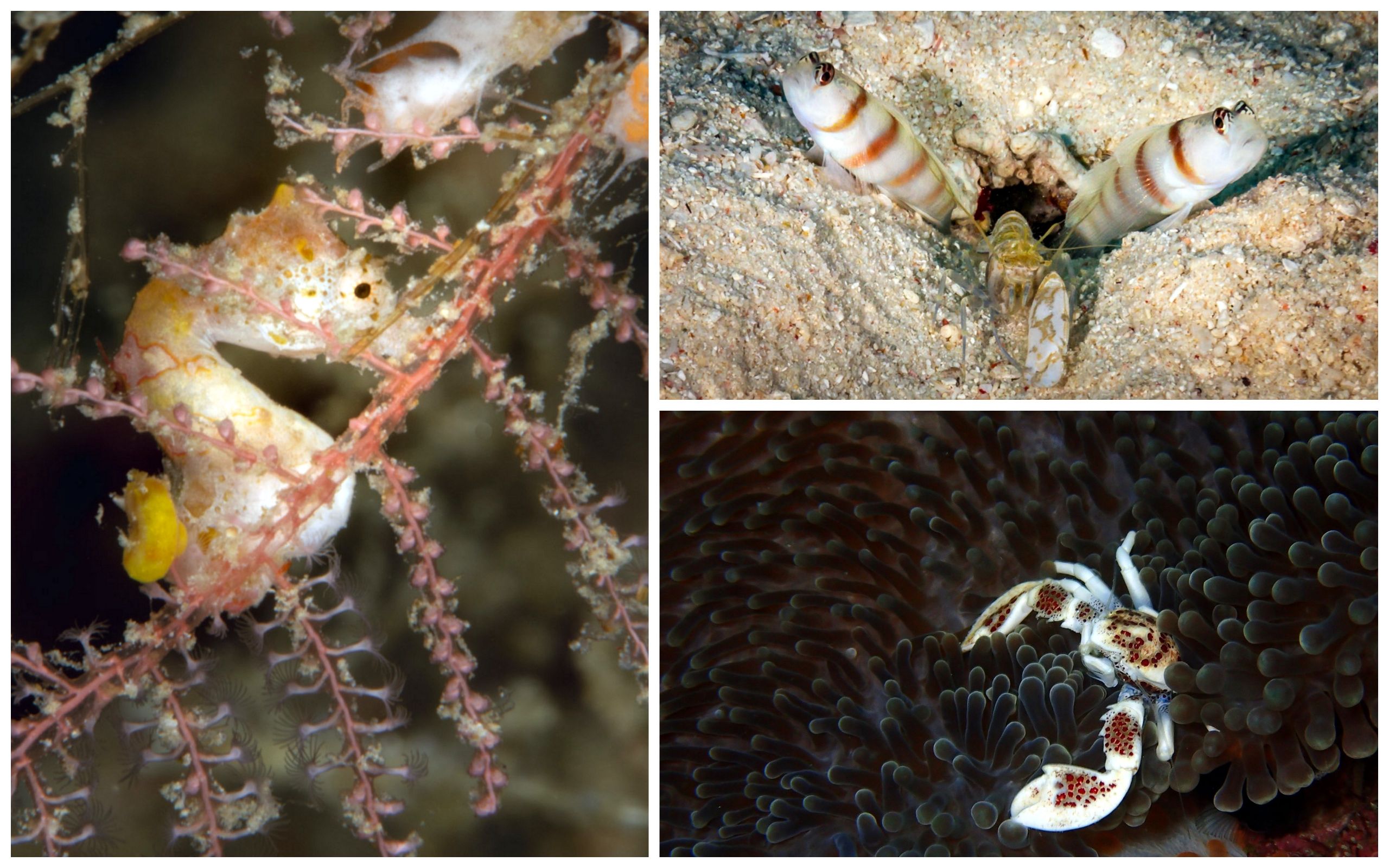 Photo credits (Left, top & bottom right): Georgia, Jim, Don 
The following day was spent exploring the Cat's Meow and UndeNAIAble area. We had some AMAZING dives! Cat's Meow is always a winner thanks to its abundance of huge soft corals but today it was also showing off some pretty spectacular macro life: not just our little pygmy seahorse friend but FOUR Ornate Ghost Pipefish! The UndeNAIAble Pinnacle was also impressive when we dived it towards the end of the day: moving towards dusk is such an exciting time as the big predators begin to play. We hung right out on the edge of the reef watching schools of Jacks, Surgeonfish and Fusiliers congregating close together. Suddenly, they all disappeared in a flash as two feisty Grey Reef Sharks sped towards them in search of dinner. We returned to the same dive site after dinner for a killer night dive: multiple Pleurobranchs, a giant Blunt End Sea Hare, a juvenile White Tip Reef Shark (awwwww, cutie!) and an adorable camouflaged Soft Coral Crab.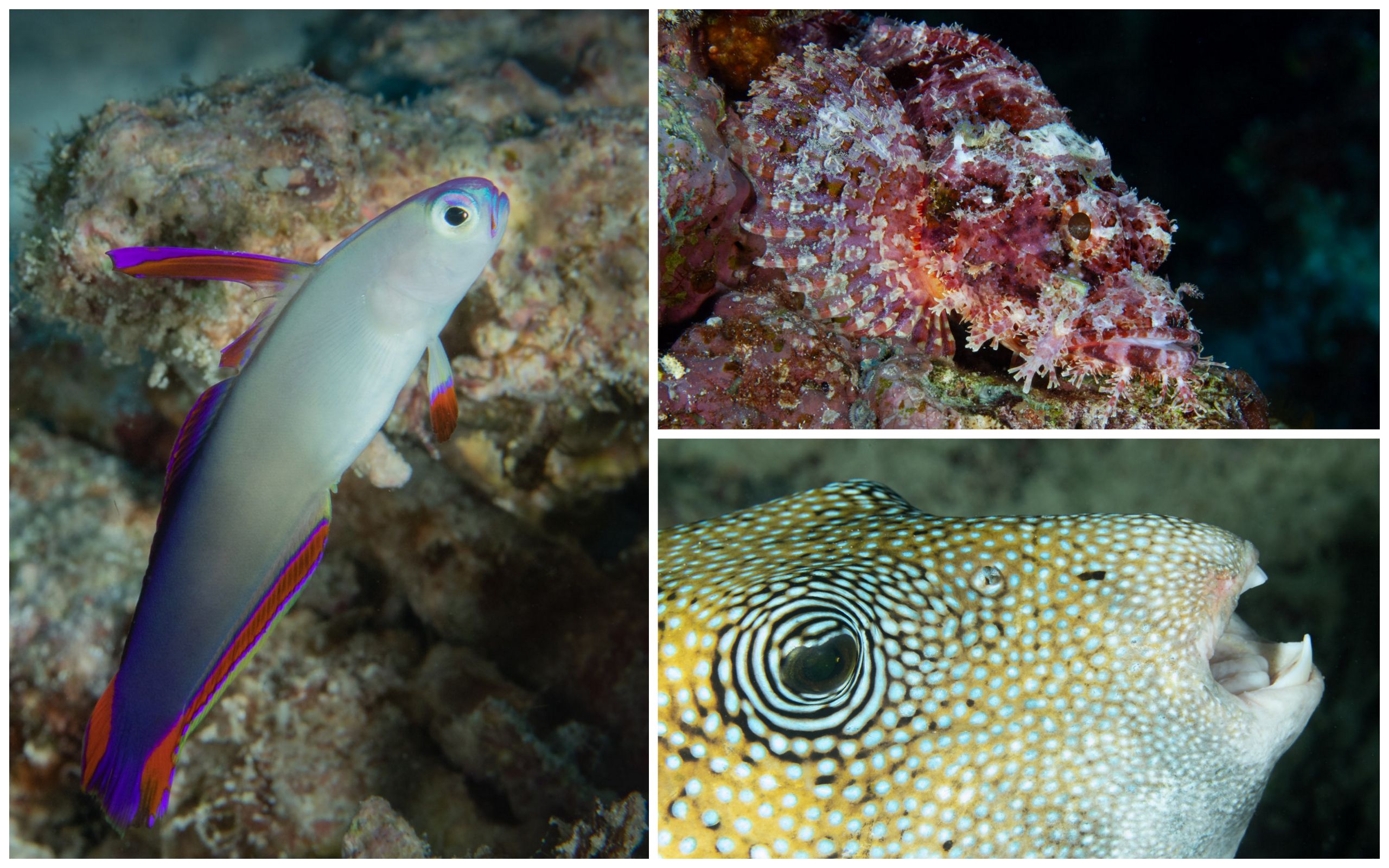 Photo credits (Left, top & bottom right): Georgia, Jim, Georgia 
For our final day, we enjoyed three great dives in the Nananu-i-ra region. Our divers were blown away by the health of the reefs here; the shallow hard coral gardens really are a sight to behold, with so many healthy table corals clambering on top of each other for space. And so we came to an end of an epic trip: ten days of great diving, great weather and great people… Who could ask for more?!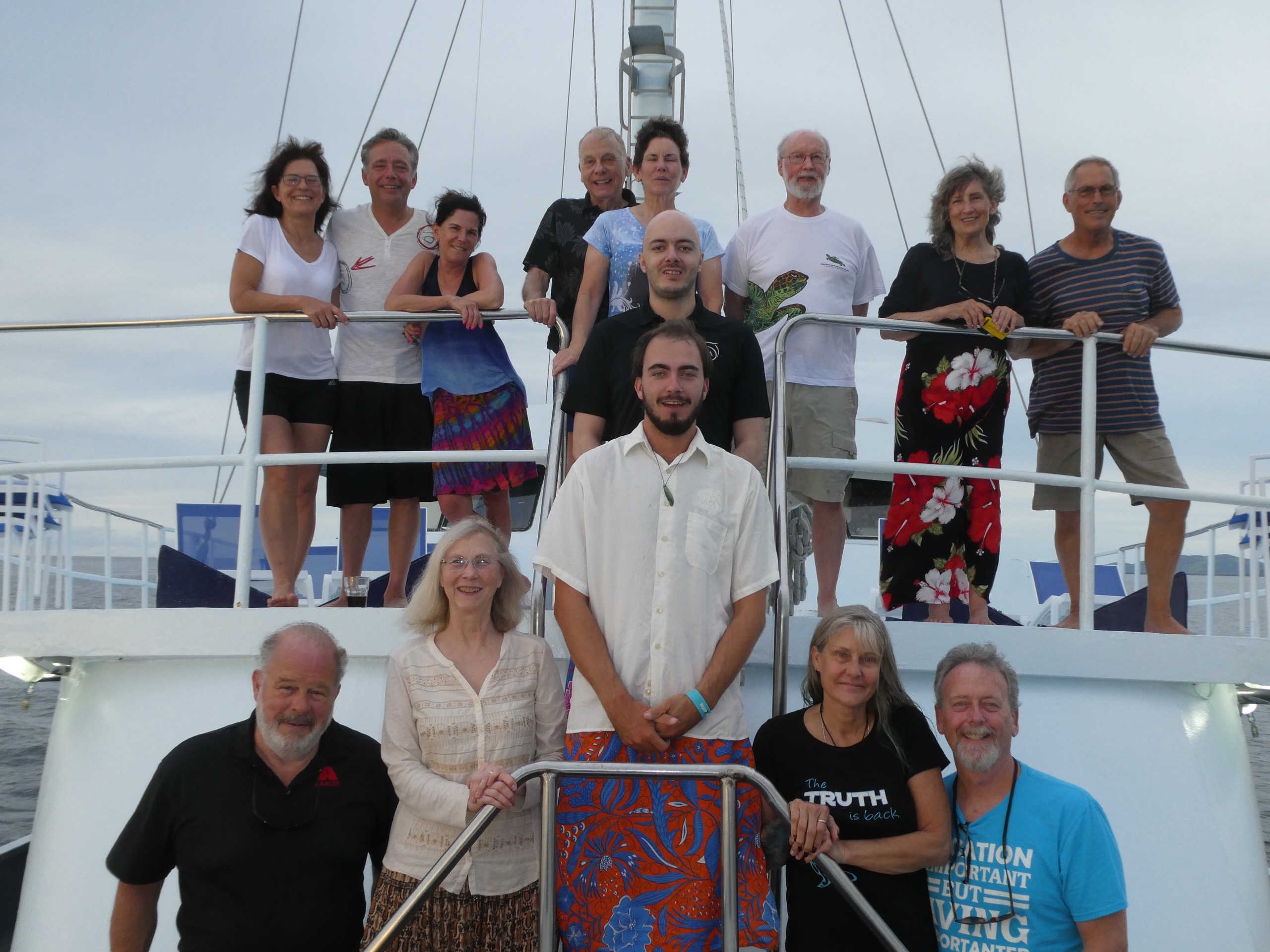 Comments
"Thanks for team of NAI'A ship!!! For the best time what I spent in Tonga whale watching trip. "

~ Damir, Kazakhstan. 12 years old