Fiji Got All The Colour!
Destination: Vuya, Namena, Wakaya & Bligh Water
Trip Date:
Mar 22nd - Mar 29th, 2014 -
Comments
Author: Amanda & Joshua
Welcome Back: Carl, Aurora & Lureen
Congratulations: Heather and Trina on reaching their 100th dive, Ken on reaching his 1000th dive, Liz and Trina on celebrating their birthdays onboard
We're back out at sea with a fresh batch of keen divers. Although only three were returning guests, most of them were familiar with the friendliness of the Fijian people, but not with the abundance that is Bligh Waters. The temperature had dropped a couple of degrees in the past week, which came as a welcome relief to hard corals that have been struggling with a long, hot summer.
After a great start in the Vuya area with sunny weather making our gorgeous reefs really shine, we headed to Namena for 2 days. Half moon meant the current wasn't strong at all, so we lacked some of the fish life at Grand Central Station in North Save-a-Tack, however Kansas played ball and we were treated to an extremely rich dive nonetheless full of mini critters including pygmy seahorses, ornate ghost pipefish, flabellina nudibranchs and Shultz's pipefish to name but a few.
At night near the bird rookery of Namena Lala, we had our kava party. As many guests had flown in the day the charter began, they didn't party deep into the night, but they would more than make up for it towards the end of the trip. A couple of guests, however, really got into it that night. Jim dived into the kava and Carl, who brought his own ukulele and song booklet from home, jammed with the crew.
The next day was Ray-day. Some were lucky enough to get a great sighting of a beautiful Tahitian stingray gliding elegantly around Tetons 3, and Lu was treated to her own private viewing of a mobula (devil ray) at Schoolhouse "…or maybe it was an eagle ray, I don't know! I was too EXCITED to remember to turn my video camera on!!"
Namena, expect the unexpected.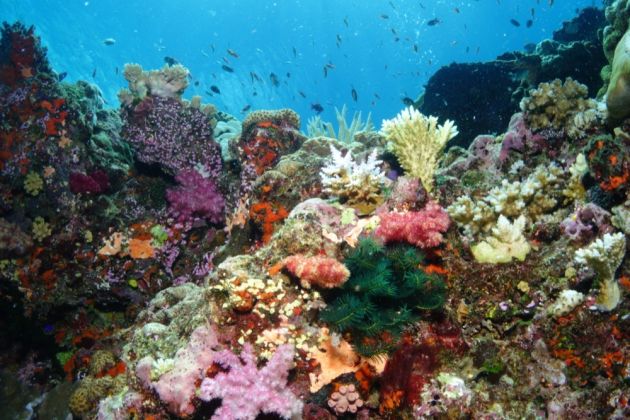 Beautiful reef top - by Cindy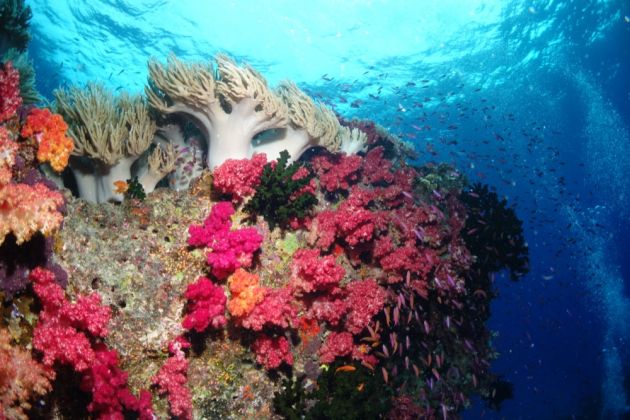 It's what we're famous for - by Cindy
Underwater smurf - by Cindy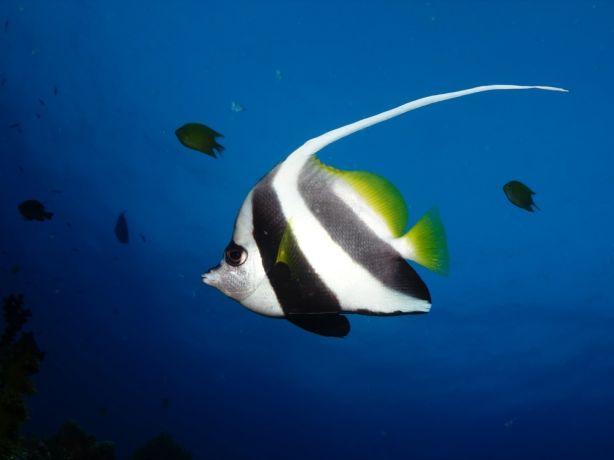 Bannerfish - by Cindy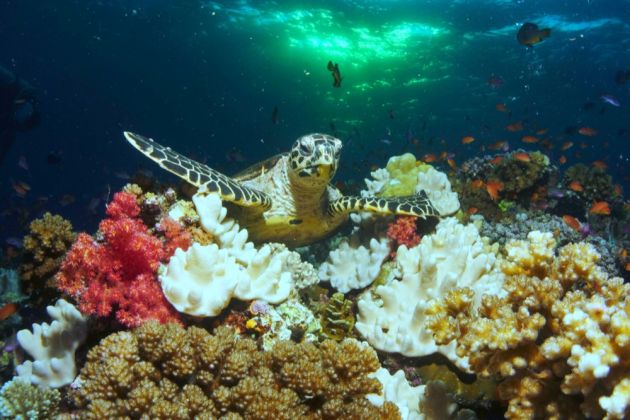 Get off the coral! - by Cindy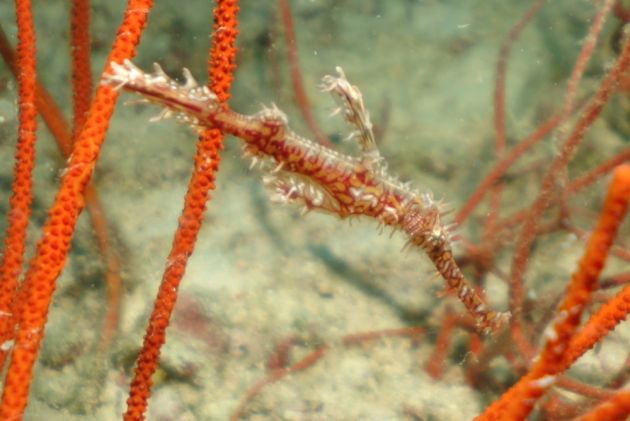 I am a GORGONIAN. Go away - by Cindy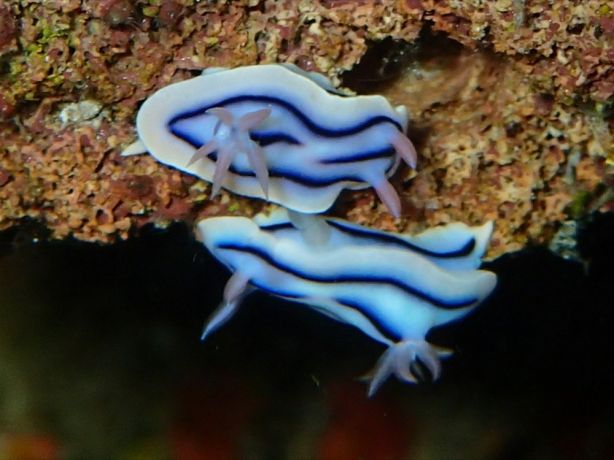 Hey handsome! - by Heather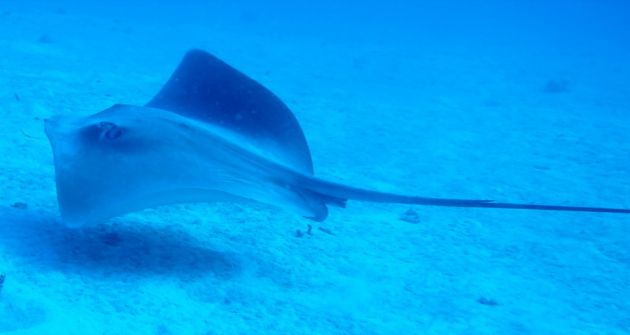 The Tahitian beauty - by Ken & Ruth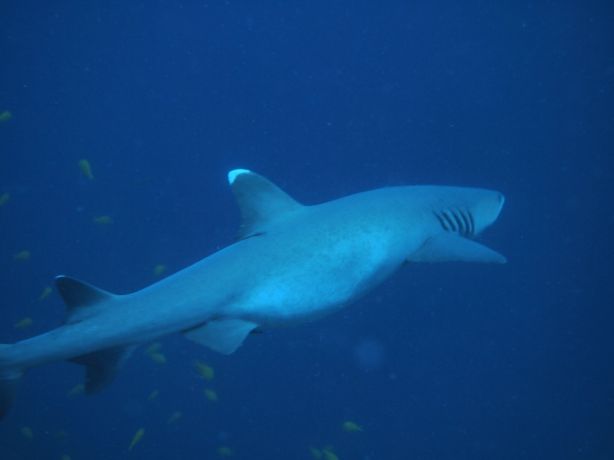 5 months along? Or has it just been a long winter..? - by Ken & Ruth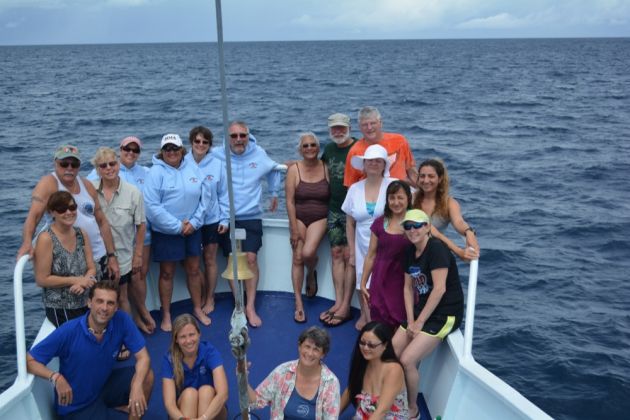 The whole boat - by Lu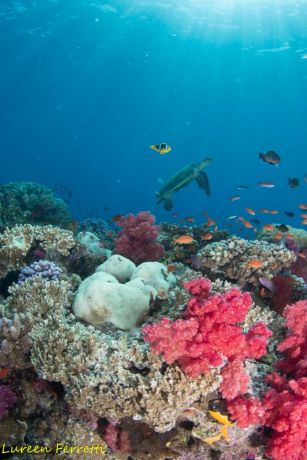 Sun-shine - by Lureen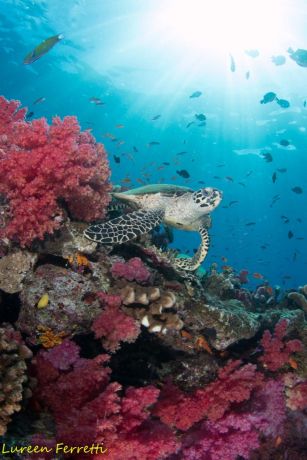 OK I'm here, I'm swimming over the reef just like you asked...how do I look? - by Lureen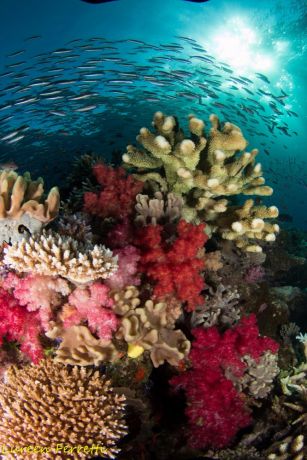 Fish-eye - by Lureen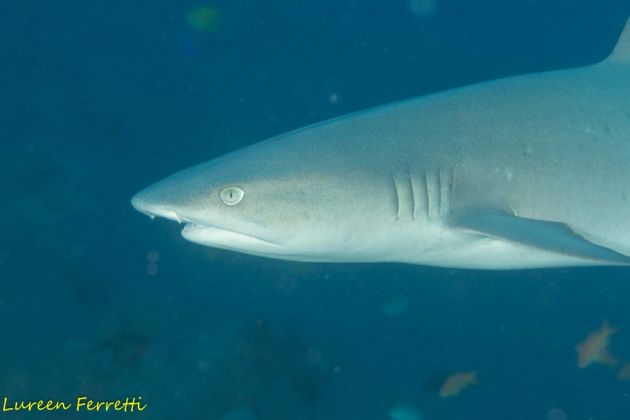 On the prowl - by Lureen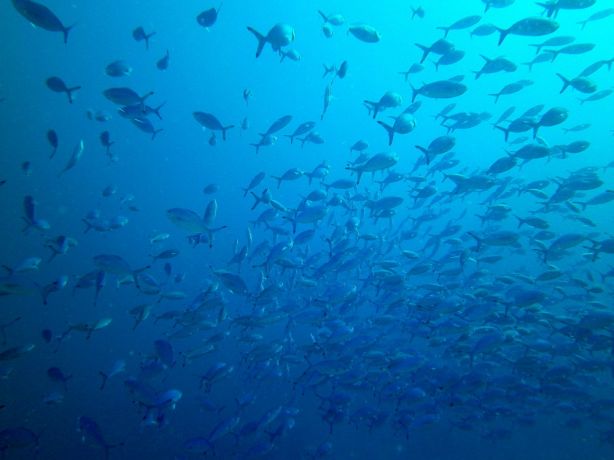 Fusiliers? Yeah, one or two - by Steve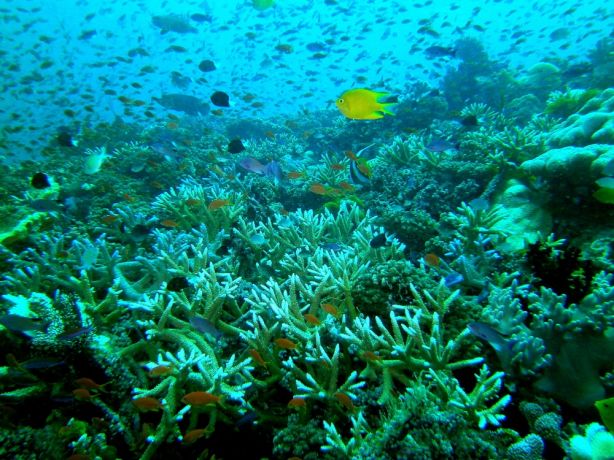 Busy reef - by Steve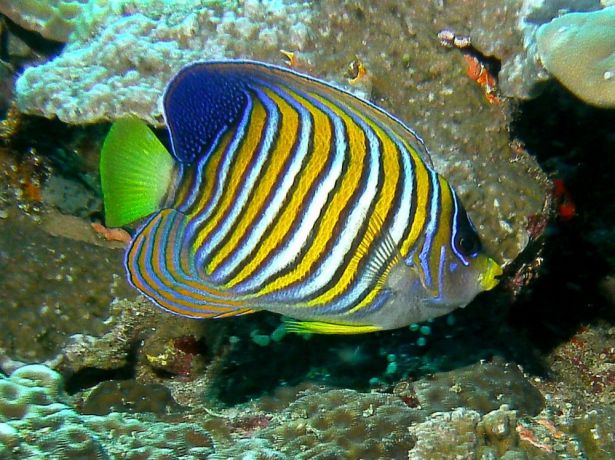 Angelic - by Steve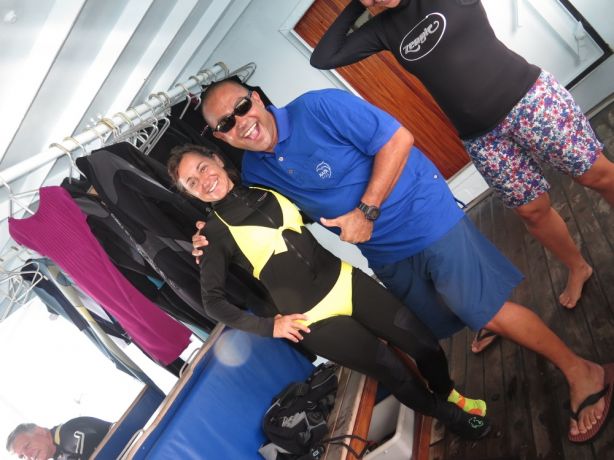 How to make Captain John happy! - by Trina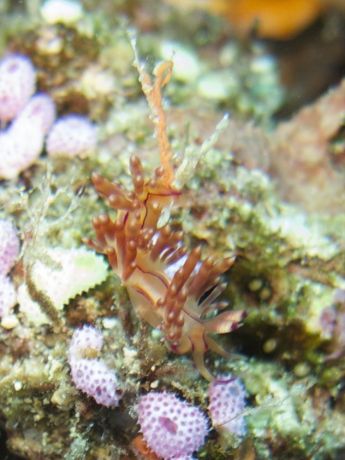 Fabulous flabellina - by Trina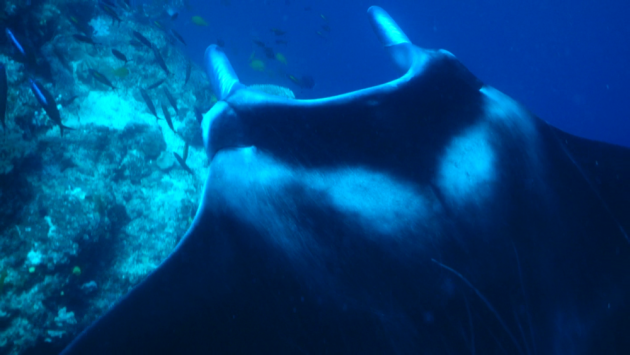 Everybody's favourite giant - by Cindy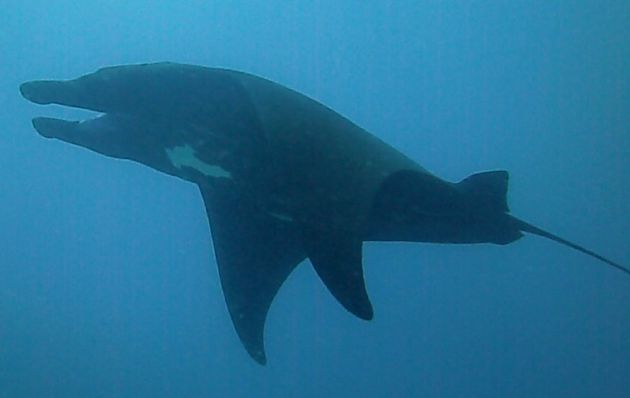 Big, black and beautiful. Fiji's finest - by Sandy
Dive instructor Sandy and her dive buddy Lu arrived with some impressive looking free-diving fins this week. Early in the charter, they asked Joshua about the potential of seeing hammerheads. He answered that the chances were good, but that you would need to swim as fast as your dive guide to get a good look at them. In her Florida drawl, she immediately responded, "Well, you better get out my way, cuz I'm gonna smoke your ass!" Having previously worked for both the US coast guard and then the US Secret Service, Sandy had no problem being candid and provided many great sound bites throughout the week! Her running commentary extended to underwater as well. During one particular dive at a South Namena soft coral pinnacle, she extended her arms and said quite clearly, "This is ridiculous! How did Fiji end up with all the color?"
It's funny how often divers mishear things, something to do with water in your ears, but this trip was particularly amusing. Early on Cindy looked suitably shocked following one of J's briefings when she heard him say that the "poor" people would dive UndeNAI'Able Wall while the others would go to the Pinnacle. It's all part of the service we provide to keep the riff-raff separated from the moneyed folk on this boat… Or maybe he said "port." Damn those heavy dive hoods!
This week, the weather was really on our side. The strong winds and rain that had been forecast on Day 5 disappeared, allowing us to head to the beautiful island of Wakaya in full sunshine just in time to celebrate Heather's 100th dive. This was our second such milestone this trip with Trina reaching the same point a couple of days beforehand. So it was with a lot of finger crossing that the skiffs headed out to the reefs that morning and we were not disappointed. 3 manta rays including an almost entirely black candidate, which we see regularly here in Fiji, chose to dance by the divers from the "poor" skiff. Just as well, they needed a bit of a boost, poor things.
The hits continued in the middle of Bligh Waters, where, on Day 6, we dived the towering pinnacles of E-6 and Mount Mutiny. It was at the latter site where Jim, now convinced that Joshua wasn't delusional, followed him into the deep blue to see a hammerhead passing very deep and fast. They're there. You just have to know where to look. We also spotted big schools of blackfin barracuda and tiny flabellina nudibranchs clinging to the vibrant soft coral walls.
Now that the guests no longer suffered from jet lag, they were ready to party. On the night of Liz's birthday, decorations were distributed by her friends at dinner, including gaudy fish necklaces, glow sticks and glittery Elton John style glasses. This time everyone sang along raucously, Jim kept time on the tambourine, Cindy conducted from the camera room door and Trina did her best to "photo bomb", jump into other people's photos.
Our last days of diving took us to the colorful and unpredictable reefs of Vatu-i-Ra. The conditions (at least at the beginning of the dive) were ideal for the port skiff at Mellow Yellow, with currents causing the brilliant yellow soft corals to bloom and hungry two-spot queenfish to make coordinated attacks on the fusiliers. As the dive progressed, however, the currents shifted making it much more difficult to circle the bommies. Hanging on the dead reef was all Steve to do to keep from being swept away. When he eventually let go, we quickly drifted back and took out the rest of the Fearsome Foursome like bowling pins. When Joshua later bragged to Sandy that he outpaced her against the current without enormous free-diving fins, she countered, "OK, let's have a race and this time, you have to wear Steve!"
Before the trip was over, Sandy was on the phone with friends and colleagues back in West Palm Beach, Florida to start amassing a group to book a full charter (or two) in 2016. We'll see you then… and the race is on!
"I came on this adventure with great friends, and made more once I got here. For many, a trip like this is just another on a long list, but for me… a dream come true! This crew is amazing, the boat is beautiful and the diving breathtaking! Special thanks to Amanda and Joshua for the great times and laughs and to the crew, you give a gift that very few do… a sincere look at your culture, traditions and lives… Thank you so much! I will never forget my time with you and consider you now my friends… and I love my friends!"
-Sandy
"As time marched on, Carl's question was, "When are we returning to dive the NAI'A?" And in March, 2014, Carl's 70th, we finally came back to a renovated & beautiful boat, most of the same amazing crew, young, enthusiastic and knowledgeable Cruise Directors & AMAZING food & service. The colorful reefs of Fiji complete this little ole diver's heart."
-Aurora & Carl
Our Guests...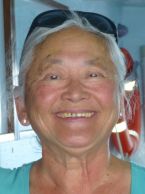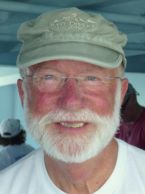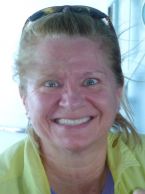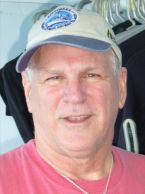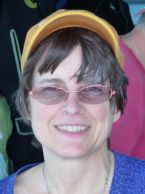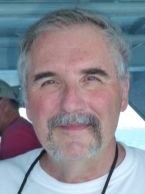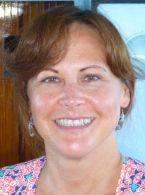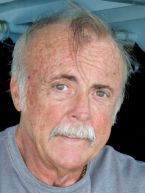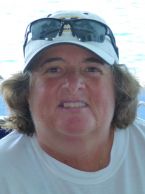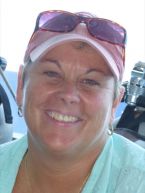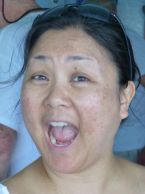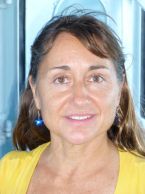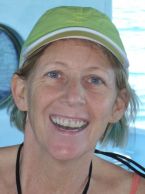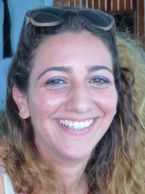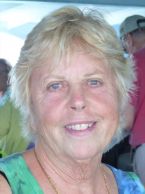 Comments
"Any country with coral reef like this has a national treasure that should be protected. Fiji is one of the few lucky countries."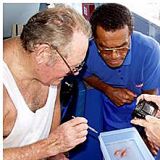 ~ Roger Steene, photographer, author, naturalist