Fish-Heads
Destination: Fiji's Bligh Waters
Trip Date:
Feb 13th - Feb 23rd, 2015 -
Comments
Author: Amanda & Joshua
Congratulations: Don on his 1000th dive & JoAnne on her 70th birthday (sort of)
So after bidding goodbye to our previous guests, we had a mere six hours to turn this boat around and get back out to sea. With all hands on deck we managed it with time to spare, almost as if we'd done it before….
Our new group was the second part of what should have been Paul Humman's back-to-back ten-day charters. While obviously disappointed that he wasn't joining them, they weren't going to let that spoil their holiday. So off we set once more, this time weighed down with no less than six of his fish identification manuals nonetheless!
It was a rare all-American group this time, not even a Canadian to mix things up, unless, that is, Lawng Island counts as a different country…? Luckily they speak slowly in that foreign land so even Amanda could understand. Among our guests were grandparents in-law, Brad, Mary and Beth. They met and started diving together through their children who married each other and delivered them a mutual grandson.
With the weather promising to be even more favourable than the week before with not even a sniff of impending cyclone behavior, we settled back into our usual schedule of a check out dive in Samu reef before heading out into Bligh Waters. This dive yielded a juvenile spotted parrotfish, which kept our visiting fishy people happy and pair of zebra lionfish, which, after they'd realized it wasn't the common lionfish currently plaguing the Caribbean, also kept the visitors happy, and not reaching for their spear guns.
For a moment after we surfaced from our first dive the next day, we suddenly felt as it we'd been transported back to Tonga. While we were submerged, our crafty engineer Joka spotted some sort of cetacean near NAI'A. When he pointed it out to Cassandra, she shouted "whale!" and within seconds everyone was up on the sundeck with binoculars. We're not sure exactly what it was, but we're pretty sure it wasn't a humpback whale since they're all down in Antarctica by now busy filling their stomachs with krill. It was some sort of odontocete (toothed whale) who hung around near NAI'A for quite some time that morning. Our guess is a pilot whale or false killer whale. Either way, it boded well for the rest of the trip.
It looked like our tremendous luck with ghost pipefish was set to continue with an amazing tally of five on our very first day in the Vuya area. Two ornate, one slender and one halimeda ghost pipefish before lunch, and just to complete the picture, a hairy ghost pipefish in the afternoon. Either there really are more to be found, or Mita has been sneaking extra carrots into our food…? In the afternoon at UndeNAI'Able pinnacle, Amanda showed the port skiff the rare and beautiful eel bornella nudibranch, also known as the swimming nudibranch. Later, on that same dive site, Joshua found his first spider squat lobster. What are you doing awake at this hour?
The next day at Vatu-i-Ra, the currents were eerily subdued, much to our guests' delight, and we had a fabulous day of diving, scoring yet another tiny ghost pipefish. This time it was an ornate ghost pipefish that Joshua found hanging next to a black coral on Gomo. It politely stayed around for everyone to "ooh" and "ahh" on the next dive, apparently happy with the little nook he'd found… maybe he's there to stay?
Even though our guests this week were confirmed fish geeks, they also appreciated the invertebrates and other critters we found for them. The award for the most expressively appreciative divers goes to JoAnne and Mary who both did something that we came to dub the "warm fuzzies". Both ladies would look so enraptured with what we found that they'd all but curl up in a little ball and purr. Then there was Cassandra, who would let out an audible "ooh!!" especially if it was something she'd never seen before. Thanks, ladies, we love our job but it's really great to be so appreciated! Linnea, for her part, kept meticulous notes in her dive log, recording a flasher scorpionfish and Alpert's tambja during the night dive at Coral Corner.
Onwards we travelled overnight to the crowd-pleasing Namena Marine Reserve. Most of our favourite friends were there although it was with much sadness that we found one of our most freakish critters to be absent. The whip coral crab on Two Thumbs Up, who we'd begun to think of as a beloved and permanent fixture, turned out to be only the former and not the latter. We hope you've moved on to greener pastures and not, well, you know… perish the thought. All was not lost however and new critters were also found. A pair of new pygmy seahorses discovered by Amanda at Tetons II, and a great spotting of a juvenile blue ribbon eel by eagle-eyed Kathy at Tetons I. Our friends the pygmy seahorses of Kansas were curled up together on a tiny benthic hydroid. Dim the lights and queue the Barry White; maybe they were getting ready to make really pygmy seahorses.
That evening, while calmly at anchor we surprised everyone by turning off all the lights after dinner to allow Suli to bring in a candlelit cake, while the rest of the crew entered singing "Happy Birthday". Whilst looking around to see whose birthday it was, probably the most surprised of all was JoAnne when the cake was set in front of her. JoAnne's 70th birthday was actually six days before, but they hadn't been able to celebrate properly since they were already travelling. Her husband Don had sweetly contacted us to ask if we could help out with a belated celebration. Surprise!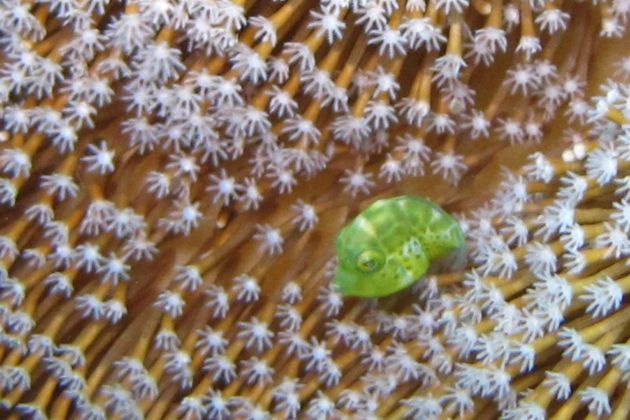 Wee mimic filefish... too cute! - by Brad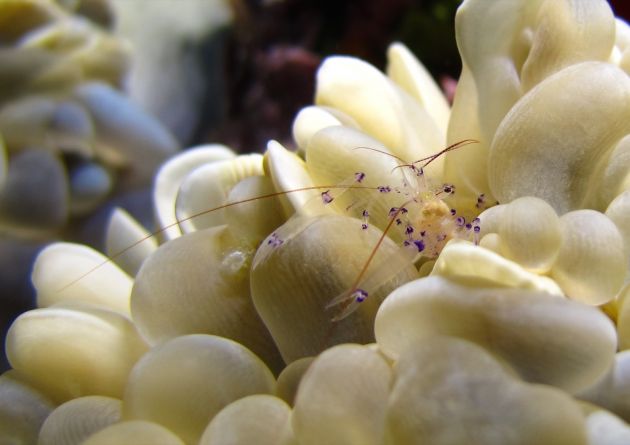 Bubble burst - by Brad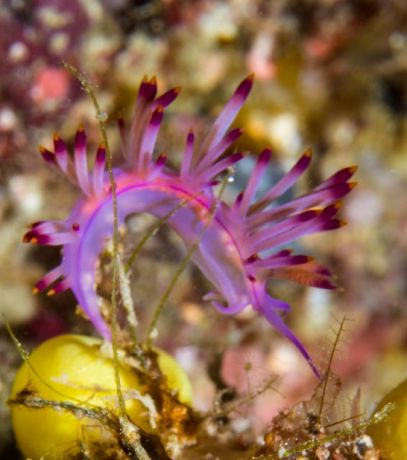 Fabulous flabellina - by Dave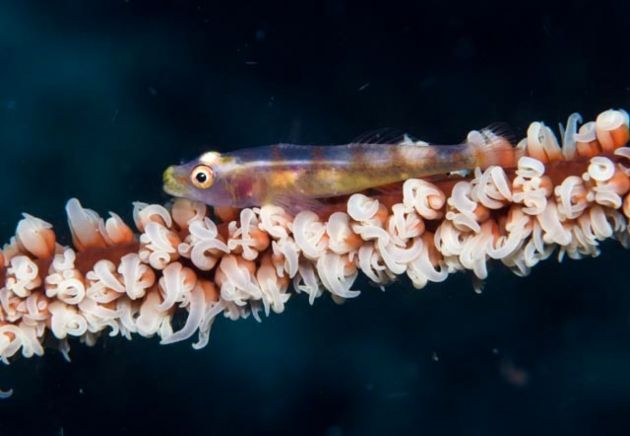 Home turf - by Dave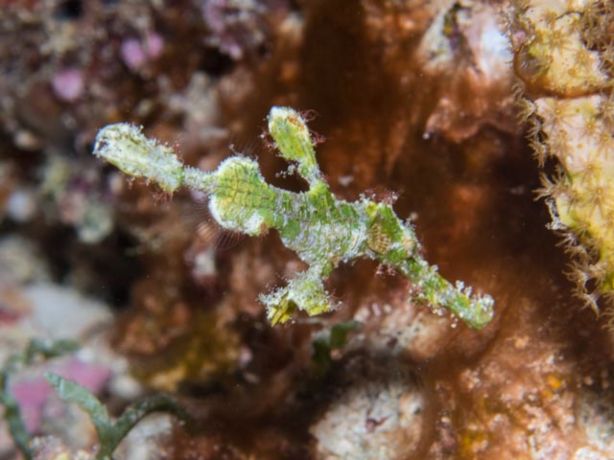 How did you find me THIS week? - by Dave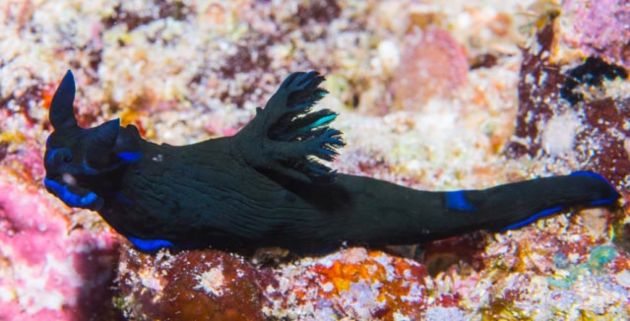 Doom & gloom - by Dave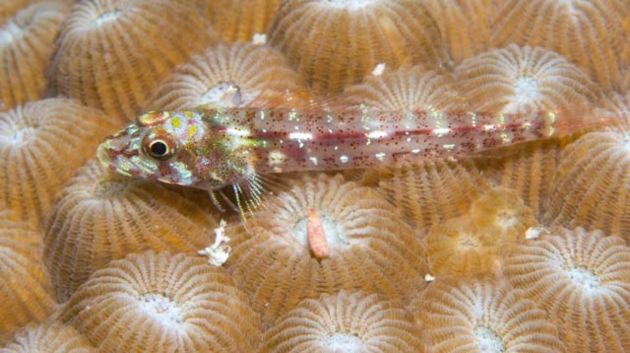 Perched - by Dave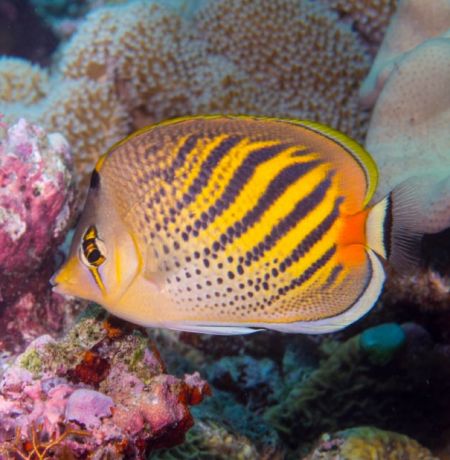 Vivid - by Dave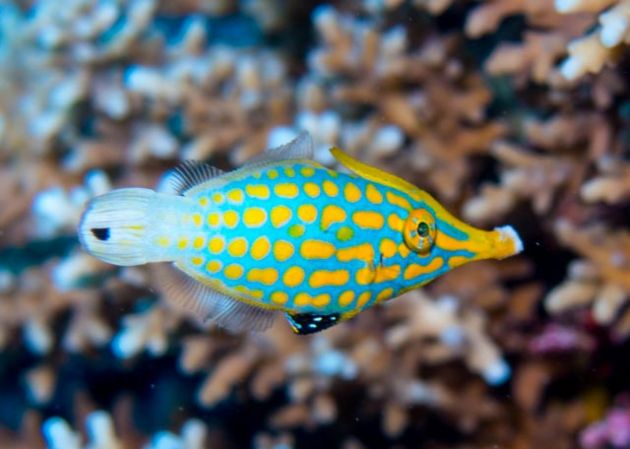 And the 2015 Cutest Fish in Fiji goes too... - by Dave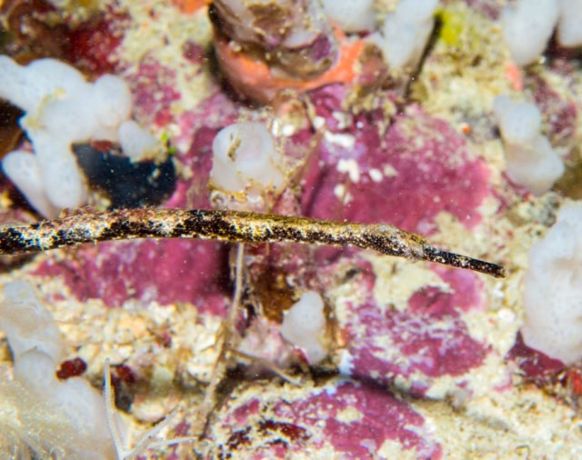 Crusty short-tailed pipefish in E-6 Cathedral - by Dave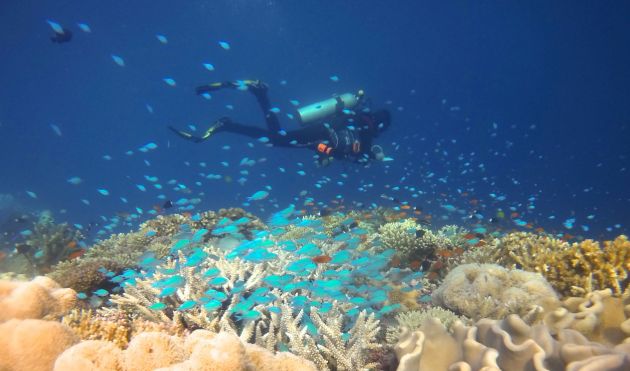 Heads up! - by Big Mo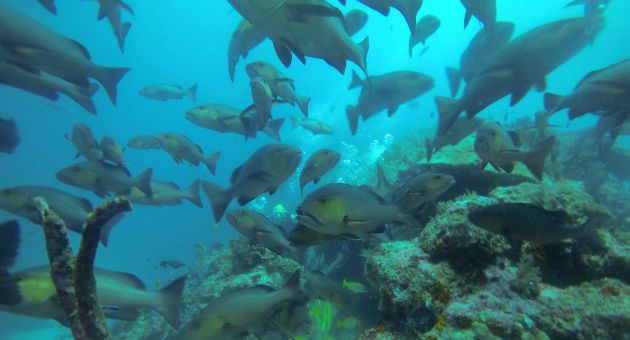 Swarm - by Big Mo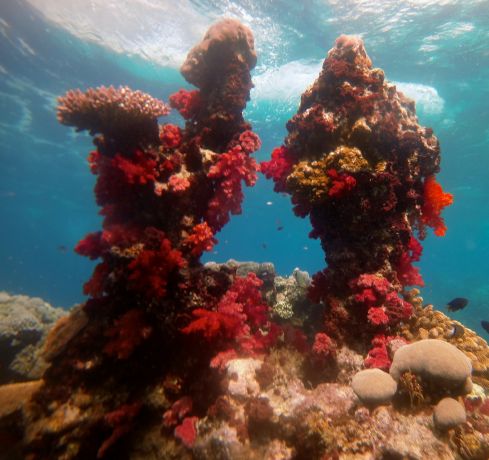 Altar - by Big Mo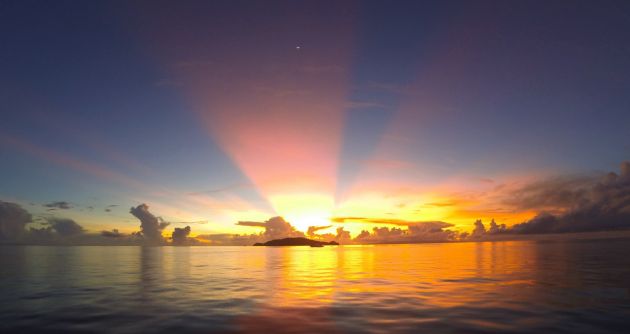 Tranquility - by Big Mo
Who's snapping whom? - by Big Mo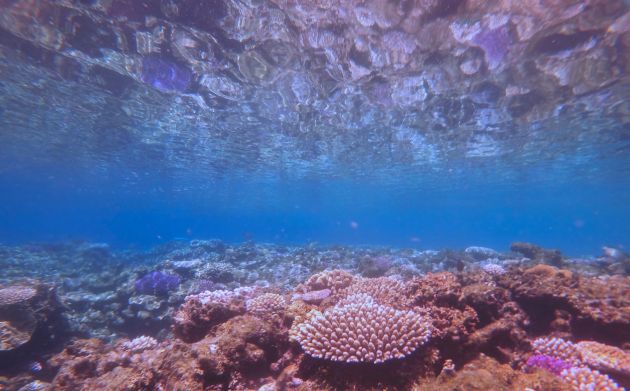 Reeftop - by Big Mo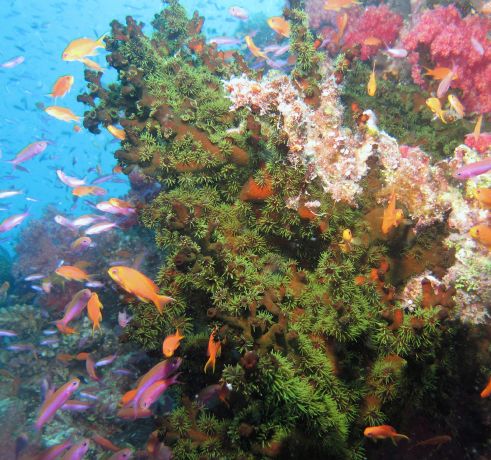 Zest for life - by Mike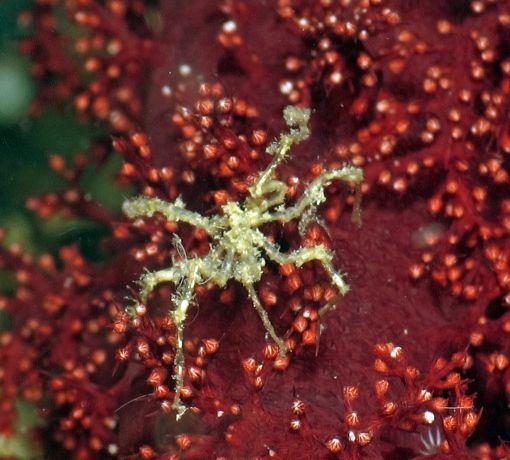 Itsy bitsy - by Mike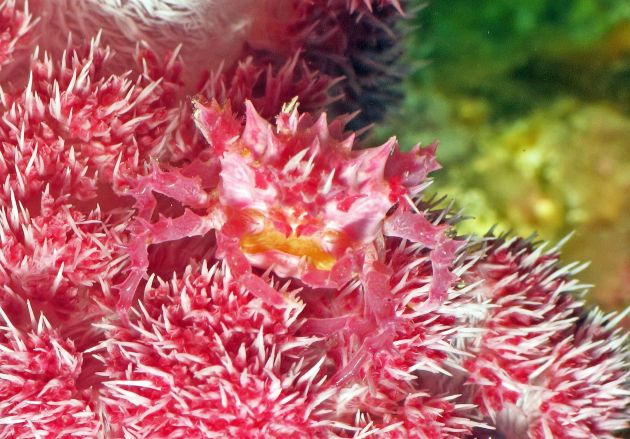 They might be plentiful, but you don't see them often - by Mike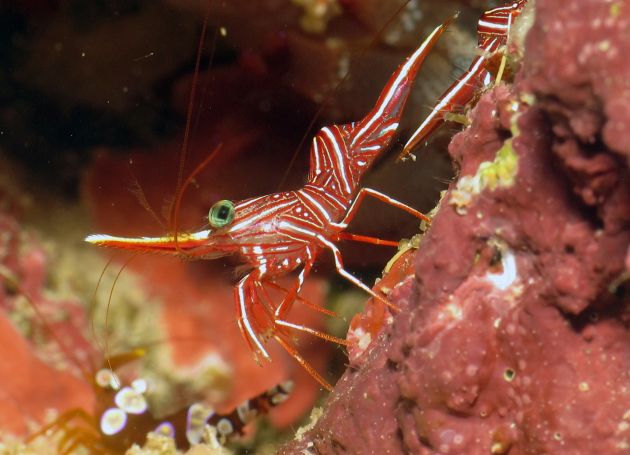 Bite sized - by Mike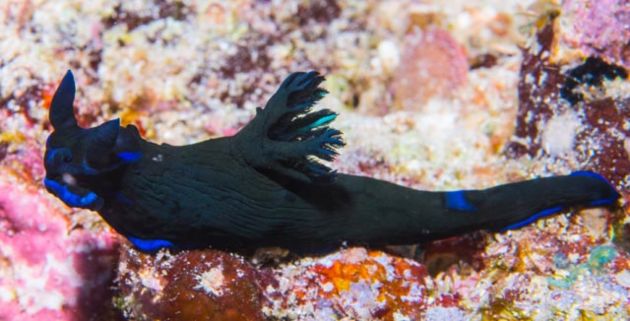 On Day 5, Joshua delivered his daily Environmental Presentation, this time on Fish Feeding Behavior. As we watched images of the tuna streaking through the water, Joshua pointed out how sleek, silvery and capable this predator looks. The boxfish, on the other hand, appears clumsy and awkward, but yet evolution has favored this design. Throughout this explanation, Brad had his face buried in his hands. When his friends finally asked him what was wrong, he lamented, "I'm going to come back as a boxfish!"
During our second day in Namena we found enough underwater delights to keep us mesmerized by the reef environment. Send down fresh tanks and computers, let's stay down! In addition to the schools of plankton-feeders and plankton-feeder-feeders at Schoolhouse, we also came across the brilliantly colored Kunie's chromodoris. And at Mushrooms, we found several nudibranchs we hadn't seen in ages and a new leaf scorpionfish. If all you do is look for them, you might find them at every dive site!
From there it was on to the pinnacles and bommies of Makogai. Here, the reefs are absolutely covered in hard coral, schools of fish and a plethora of strange minute creatures. The leaf scorpionfish and halimeda ghost pipefish are still at Becky's reef, suddenly making this one of the most desirable sites in the area. An ornate ghost pipefish showed up at Rick's Rocks, along with a purple and orange orangutan crab, and some crazy looking rubble covered spider crabs… hidden in the rubble.
That night we hosted our guests for the kava party. Normally a few of our guests go to bed quite early, worn from a full day of diving. While certainly this group is no exception, they all turned up to party in their sulus and clapped along to captivating Fijian folk music. Beth definitely surprised us with her spot-on goat impression. It was just a little bit too good!
The beautiful island of Wakaya was our destination on Day 7. This island is home to some healthy hard coral reefs and spectacular drop-offs that attract big schools of fish and predators. During this visit we saw ferocious Spanish mackerel on patrol as well as a juvenile rockmover wrasse tiny enough to see through. The night dive enchanted the group of six resilient enough to resist wine during dinner. In the bay we saw some large spotted reef crabs, nudibranchs inexplicably drifting through the water and a banded snake eel.
It seems the small angelfish had recently reproduced outside Nigali Passage at Gau Island. Emerging shyly from many overturned table corals were inquisitive but shy bicolor, two-spine and bannerfish angelfishes. How adorable! Our dive through the Passage was particularly memorable. Besides the usual hoards of grey reef sharks (we counted at least 25), red snapper, bigeye trevallies and three species of barracuda, many of our divers also saw a giant manta cruising down the channel!
After our third dive, we disembarked on the island to visit the village of Somosomo. Headman Tom welcomed us with the words, "There are no strangers in this house, only friends you haven't met yet." It had been a while since we were in this village, so it was good to see all of those friendly familiar faces again.
For our last day of diving we headed for the towering sea mounts of Mount Mutiny and E-6. Masquerading as a stick inside the Cathedral on E-6 we found our previously unidentified pipefish again, which we have now discovered is the short-tailed or bent necked pipefish. The same length and width as a whip coral and seemingly covered in algae, he's just the right kind of weird for our liking! It took Amanda a little while to convince Joe she wasn't telling him to take pictures of a twig, but he eventually revealed himself to Joe's eyes and is now immortalized on film… or SD card!
The night dive that night in the Cathedral allowed Beth to finally cross one thing off her wish list. A beautiful cuttlefish gave such a mesmerizing display for us at the end of our dive, that we all forgot the time limit and made it back to the boat much later than expected. The next day we found out that, at the time, Beth didn't even know that was a cuttlefish she was looking at. She just knew it was something she wanted to see. Good friends that they are, Cassandra and Franklin were anxiously waiting up to see that we hadn't been eaten by a seamonster and were much relieved to have their buddies returned to them safely.
Our last day of diving in Vatu-i-Ra gave us our first day of grey, blustery weather accompanied by strong currents and choppy surface. Now this would be enough to put many divers off, let alone snorkelers. Janet, our champion snorkeler, had been a permanent fixture on all dive skiffs this week and wasn't about to be put off by a little bad weather. However, after being tossed around for twenty minutes in the waves and struggling with a strong surface current trying it's hardest to drag her into the lagoon, she surrendered and came back to NAI'A saying "I don't mind current, it just got a bit tough to see the fish!". You've got to love that attitude. Go Janet! The Most Improved Diver Award goes to Beth. She had advice coming at her from several different directions, something that might have overwhelmed most people. Beth, on the other hand, absorbed it all and applied it, improving greatly as a result.
Well, Paul if you're reading this, then we've heard a lot of good things about you and hope that next time you book a trip you are actually able to join us. We've still got an awfully long list of things we want to ask you about fish!
"Great trip, excellent crew, exceptional diving–we feel sorry for those that think diving in Fiji is all about what you see from shore."
-Dan & Linnea
"Thank Moji for pulling me out of the water onto the skiff 37 times!"
-Mary
Our Guests...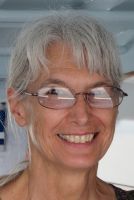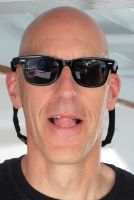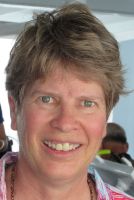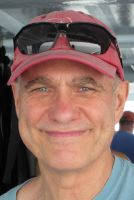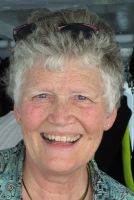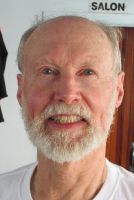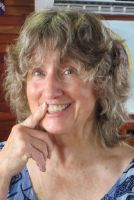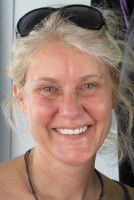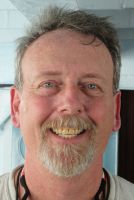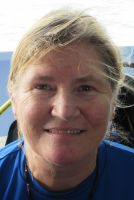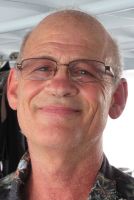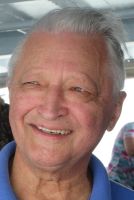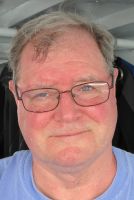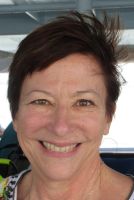 Comments
"I'm sure that it's very difficult for the Nai'a establishment to solve this thorny situation. But, be assured that we, your Nai'a family in a small way, are sympathetic. We realize that the reason we love your trips is that you spend what it takes for a quality voyage. That's why we come back. And that's why we plonk down $10K to sail with you. We know it's worth it."