Generations
Destination: Bligh, Wakaya, Makogai, Gau, Namena, Cat's & Vatu-i-Ra
Trip Date:
Nov 22nd - Dec 2nd, 2014 -
Comments
Author: Amanda & Joshua
Welcome Back: Howard, Rochelle & John
Congratulations: Monica on her 200th dive, Kelly on her first night dive & tripling her lifetime dive total.
A bad weather warning at the beginning of the week was an unwelcome reminder that cyclone season was fast approaching. However, with three more charters before we put the old girl up in dry dock, we crossed our fingers and hoped for the best. 
Our troupe this charter consisted of mainly American guests, including three generations of one family, an Israeli living in America, and for added flavor, our first Pole since starting this position. 
Our first day we headed for the crowd-pleasing seamounts of Mount Mutiny and E-6 complete with a tower of blackfin barracuda at the first, and a tiny sea spider at the second. Then on the night dive, Big Mo found the elusive ornate ghost pipefish sidling up the alley into the Cathedral. We hope you're there next time little guy!
The weather held as we headed to Wakaya to play with the big boys. As our skiff driver Moji approached Vatu Vai dive site, well known for being a manta ray cleaning station, he astutely noticed that there was already a manta stationed on top. Knowing that if he dropped us as normal it would scare the manta, he instead dropped us some way from the site allowing us to approach slowly. This we did and were rewarded with a stunning 30-minute performance from this most elegant of sea creatures.
On the second dive at the same site of Vatu Vai, the other skiff was treated to a visit from the other kind of big player that we are sometimes lucky enough to see here. About five minutes into the dive, a large hammerhead shark swam up over the reef crest, cocked his big head to one side and checked out the group. This gave him a better view and also slimmer profile. Excitedly they swam after it so that everyone had a good look… or so Amanda thought. Apparently, since the shark was turned on his side, only Artur noticed that it was a hammerhead. Kelly and Monica just thought a really big grey reef had swum by and that Amanda was banging her fists against her head (giving the "hammerhead" signal) because she was… mad? 
On hearing that the storm currently lurking over Samoa was about to turn into a named cyclone, we decided to play it safe and changed our plans slightly, heading to the more sheltered anchorage of Makogai, rather than down to the exposed island of Gau. So after three stunning macro dives the following morning, we headed for the village visit.
Our elected Chief for this visit, John, proudly emerged from his cabin wearing the bed sash as his sulu (sarong). The crew thought it was too funny to tell him to change, but we did because we're pretty sure Fijian cannibalism will be re-introduced for extreme circumstances like fashion crimes. All you need to do is watch the fantastic display given by Setoki, aka the loudest man in Fiji, as he does the traditional Fijian war dance, to see that this would indeed be a terrifying experience! During the village entertainment, Megan didn't need to be asked twice before joining in the the conga line, leading the way with exuberant dances which the rest of the line mimicked.
The next day we decided that the weather wasn't going to affect us too much after all and we headed down to Gau. As a support act, Jim's and Anthias gave us some great macro diving in the morning, but the headliner was what we were really waiting for. Nigali Passage was as wonderful as ever with tons of sharks including several juveniles giving us a great show and some good figures to enter into the shark log.
That night we had a long journey to Namena, but with the wind behind us it was a smooth crossing and we all woke up refreshed and ready to go. Grand Central Station was our first dive, where we had a great wake up call, including some nice action on the wall, before being whisked through the arch to Kansas. On his return we asked Big Mo if he saw any of the famed pygmy seahorses to show the guests. He said (best imagined in a strong Fijian accent from an overly innocent looking face) "No, I didn't see any... until I tripped over one just before the arch!"
Another critter that seems to have moved, or rather proliferated, are the splendid garden eels. Whilst drifting along the wall on the way to Purple Hill later in the day, Amanda looked down to see some of our favourite stripey friends even deeper than their normal spot. Just to be sure, she dropped down, followed by Howard, Monica and Ralph and there they were at 101 feet.  They were still there at their normal spot as well, which is very encouraging. Looks like they like that wall as much as we do!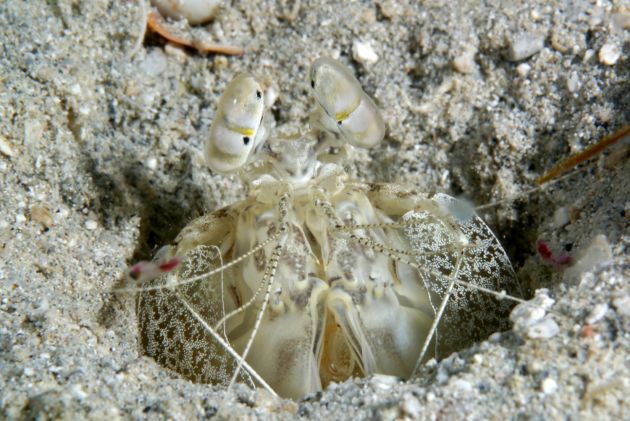 Hexnocular vision. All the better to see you with, my dear - by Artur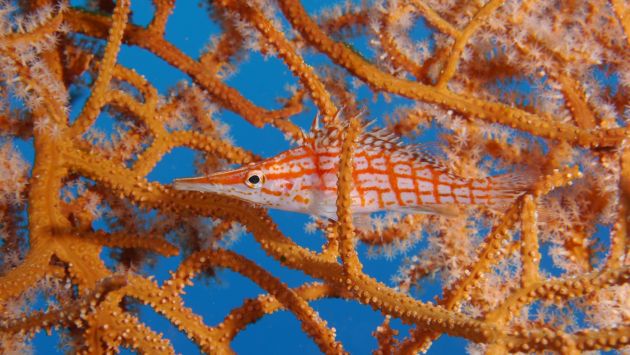 Hideout - by Artur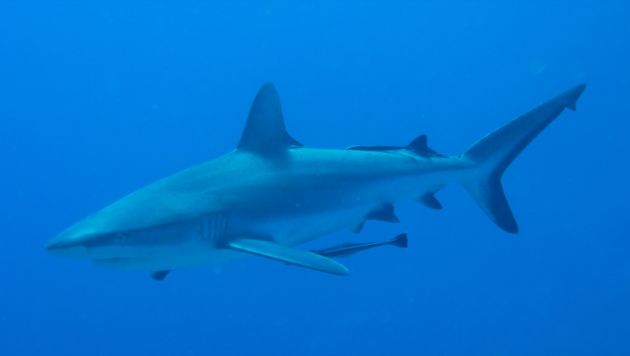 Chalk that up on the Great Fiji Shark Count! - by Artur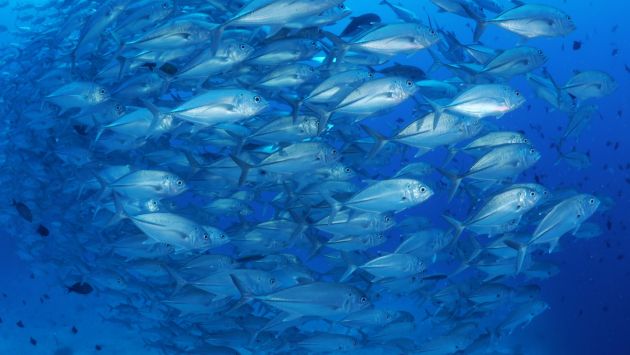 Disco Ball - by Artur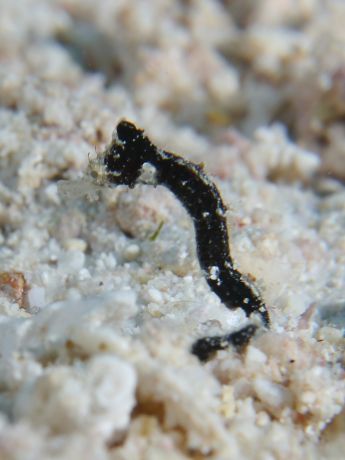 Pygmy pipehorse? Is that a thing? - by Artur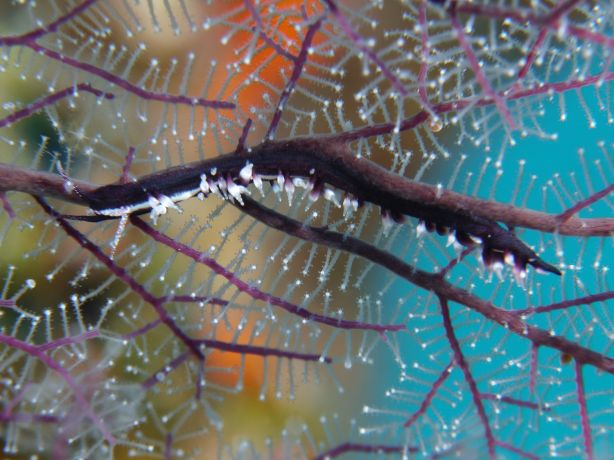 Creeping along - by Artur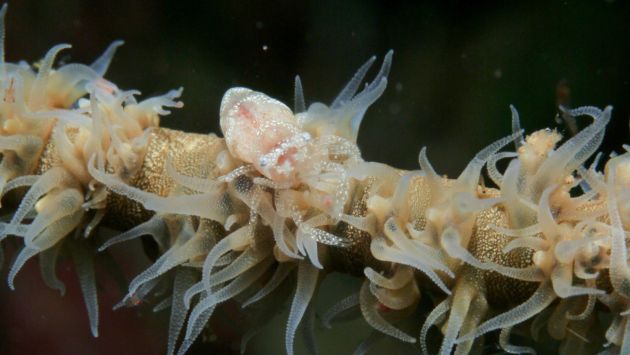 Alien life forms on earth - by Artur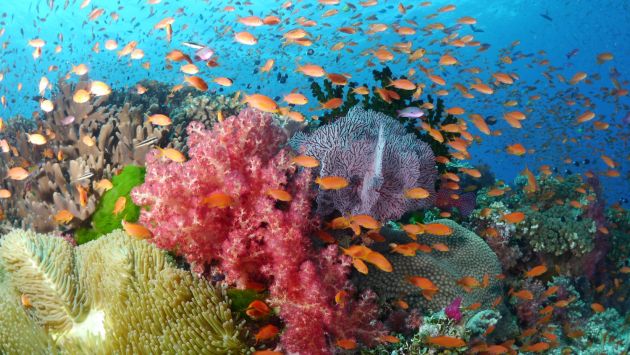 Busy bees - by Artur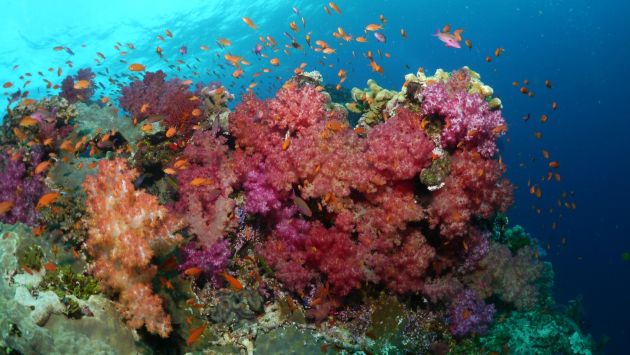 Making a splash - by Artur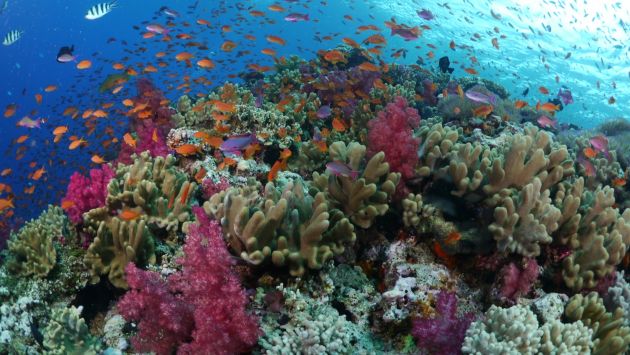 Over the top - by Artur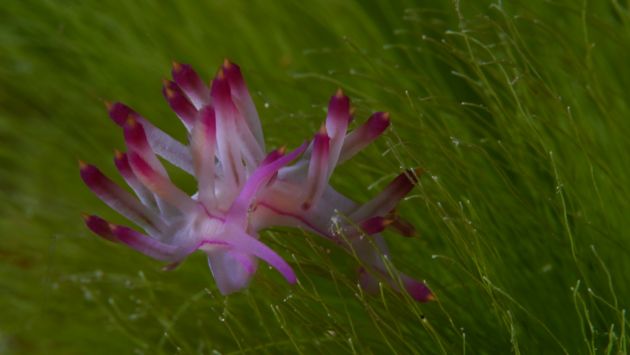 Red line - by Artur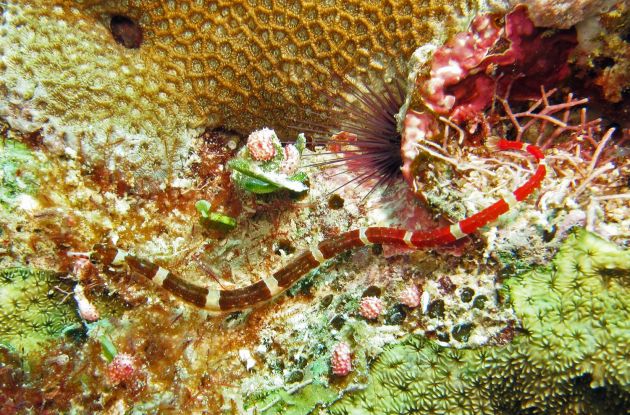 Banded together - by Ralph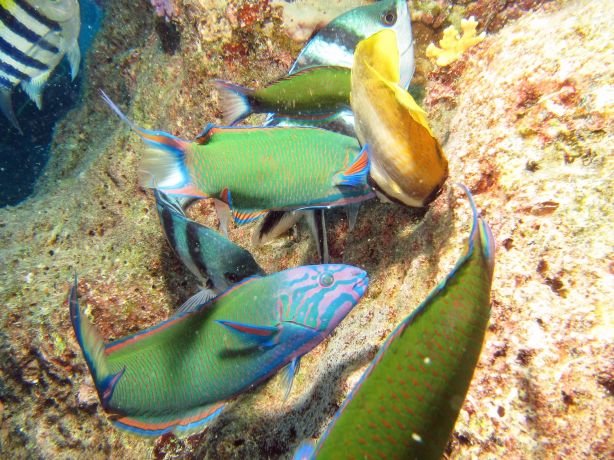 Feeding frenzy - by Ralph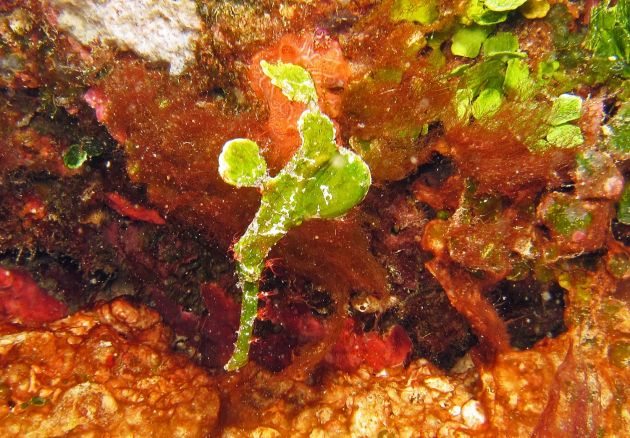 Ghostly fish - by Ralph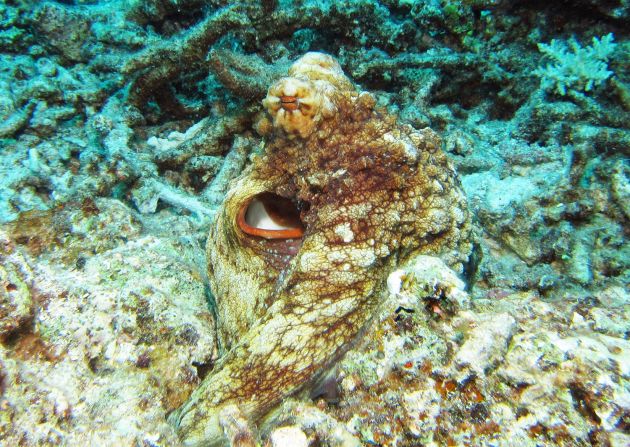 Now you see me - by Ralph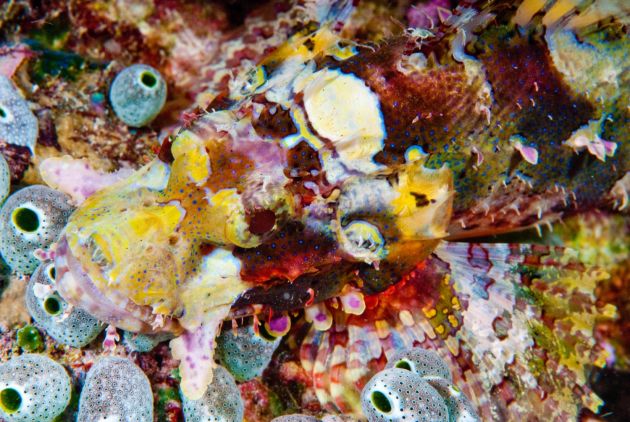 Now you don't - by Tom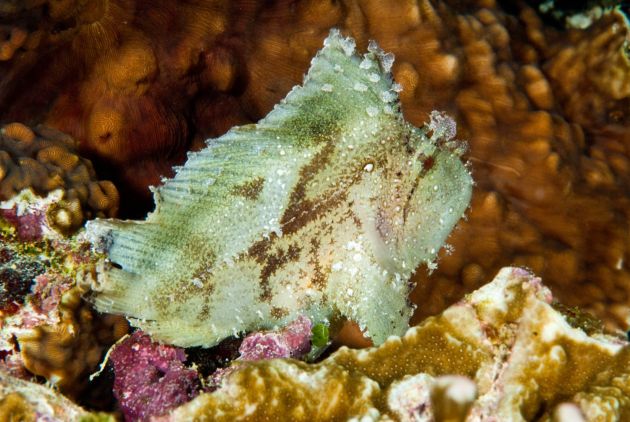 Leaf of paper - by Tom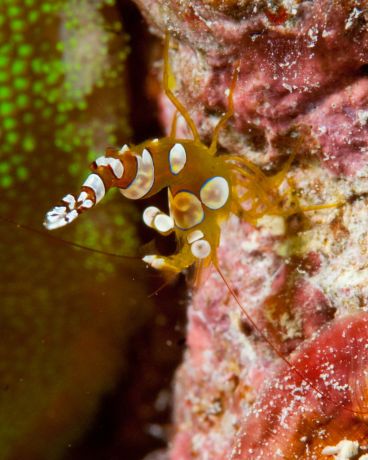 Butt wiggler - by Tom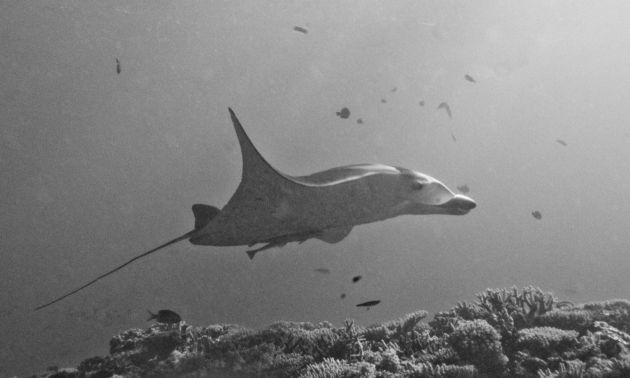 Hang time - by Tom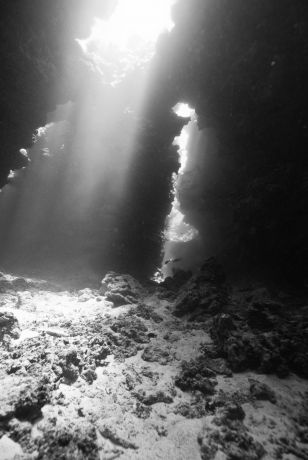 Ambience - by Tom
The afternoon dives were around the pinnacles of South Save-a-Tack, where Big Mo made another great discovery at Magic Mushrooms II. Best described by Megan as she came back to the dive deck shaking her head in disbelief, "Big Mo found something the size of a hair*! I think it was some sort of seahorse. Amazing!" Turns out it was a pygmy pipehorse, close relative of the equally tiny pygmy seahorse found on the north side of Namena. Seems those big fins are doing a pretty good job of tripping over things this week.
*She actually used a different word here, but PC-ness prevails!
With two nights in Namena, we chose the first to have our kava party, which conveniently coincided with that great American feast, Thanksgiving. Mita produced a sumptuous banquet to make any table proud, and John led us all in going around the room saying what we were thankful for. Memorable and heartwarming thanks were given by all, including Megan, our only real vegetarian on board giving thanks for being so far from home yet still being served tofu on thanksgiving! Even Suli joined in, concluding with a beaming smile that she was thankful for this job, which she loves - ahhhh!
So with bellies full of turkey, tofu and pumpkin pie, we put our sulus on and headed out to the dive deck. With (almost) all our best singers on board, the music at the kava party was a treat for the ears. That was, until the audience-participation animal song came around. Apparently Polish bears and Californian lions sound very strange and possibly slightly ill… but the Iowan chicken, very much alive and quite realistic! It was a full turnout though so everyone gets full points for trying.
The second night in Namena, we had the best turnout for the night dive in the whole trip. And rightly so, as it turned out. At Tetons II, Joshua spotted the rare sight of four tailgating elysia ornata nudibranchs as well as a tiny sea spider.
Chief John, as he become known after the village visit, was here with both his daughter Monica, and his granddaughter Kelly, giving us another first on this charter of three generations of one family. He clearly relished having two of his favourite girls with him and had an especially proud moment watching his 13-year old granddaughter Kelly take the wheel of the skiff and navigate skillfully back to NAI'A (under Koroi's careful supervision, of course). She brought the skiff back alongside with great aplomb. Watch out Mum and Dad, looks like she's going to be a driver well before she reaches her 16th birthday!
For the last two days of diving we headed to the beautiful Vatu-i-Ra area. This turned out to be a good idea all round, even for a couple of our guests who had unfortunately been struck down with ear trouble by this stage. As well as some fantastic (and sometimes current fuelled - sorry Miriam!) diving, we also managed an island visit to the uninhabited island of Vatu-i-Ra itself. Uninhabited by humans that is, but very much habited by huge colonies of birds. Many guests opted to spend the afternoon there soaking up some sun and checking out the snorkeling.
Meanwhile on Maytag, Joshua added to the already great tally of pygmy critters this week by spotting a pygmy octopus! He was doing his very best to blend into the pinnacle, seemingly untroubled by the raging current that was blowing everyone else around like flags in the wind.
The diving conditions were so good this week that Captain Keni, who normally does a fun dive or two per charter, dived every day this trip. This included a rare visit to Coral Corner in Vatu-i-Ra, which he hadn't dived in many months. This site was badly damaged by the cyclone that tore through Fiji in early 2013, so much that when we started, back in October 2013 it was dubbed "Rubble Corner" by one of our guests. Steadily, this area has bounced back in a big way, but because we dive it every week, we hadn't noticed the change as much as Keni, who hadn't dived it in a year. It was with delighted surprise that Keni's eyes popped as he surfaced from that dive saying, "Wow, I can't believe how that site has recovered! The coral cover is fantastic - it really deserves the name of Coral Corner again." So whilst the strong currents that favour this area may occasionally scare an unsuspecting diver or two, they are also a huge factor in the recovery and therefore the health of the reef. So keep them coming please!
So ended another great charter. Thanks to the careful planning of Captain Keni, plus maybe a little bit of luck from Thor, and despite the pessimistic weather report, we avoided the bad weather and had sunshine and smiles all week. The fact that we had some fantastic sightings certainly added to that outcome, making us feel pretty happy that despite working with two elements that we can't control: the weather and the sealife, we were dealt a pretty good hand with both this charter.
"This was the best:
⊗ Diving            ⊗ Live Music           ⊗ Crew            ⊗ Village Visit             ⊗ Food             ⊗ Kava

Ever. You guys rock the Casbah."
-Megan
Our Guests...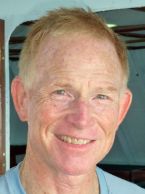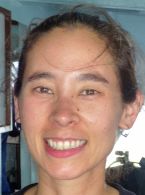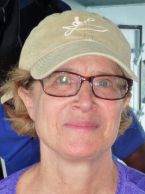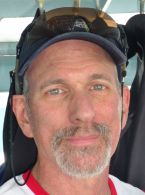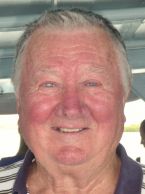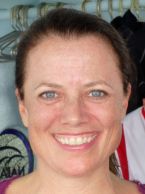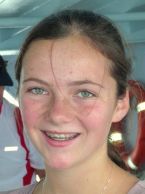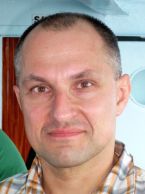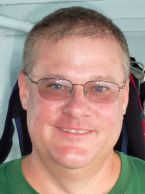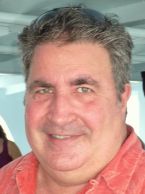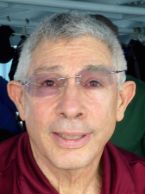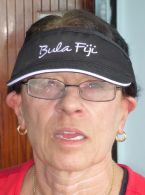 Comments
"NAI'A made a believer out of me! Fiji has been grossly underrated by both divers and scientists. Incredible fishes here and definitely worthy of protection."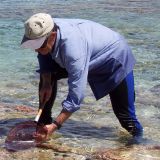 ~ Dr. Gerry Allen, Ichthyologist & Author, Conservation International