Girl Power
Destination: Bligh Water, Wakaya, Gau, Makogai, Namena & Vatu-i-Ra
Trip Date:
Dec 6th - Dec 13th, 2014 -
Comments
Author: Joshua & Amanda
Welcome Back: Annie, Jeanne, Renee, Marvin & Aurea
Congratulations: Marvin on completing his Nitrox certification
In an activity where men still outnumber women two to one, it was a refreshing and welcome change this week to invite five women to only two men among our guests. It is also noteworthy that four of our seven guests had already been on NAI'A since we started as Cruise Directors. Marvin and Aurea had been with us in Tonga and Jeanne and Annie had last been on NAI'A early in our tenure. The weather throughout this week was not in our favor, bringing dark clouds and constant wind… but at least it didn't rain… much.
This week was full of interesting underwater encounters right from the start. During our check-out dive at Samu Reef, besides a curious octopus and slithering lined nembrotha nudibranch, we also found what appeared to be a dead anemone. It basically looked like the anemone had been hollowed out, leaving just the exterior.
We were a bit concerned as we pulled into Vatu-i-Ra for our first full day of diving during the full moon. In an area notorious for strong, unpredictable currents, we had to choose our dive sites carefully. We were rewarded with a delightful mix of creatures both big and small. On the minute side, we discovered the leaf scorpionfish, gloomy tambja nudibranch and NAI'A pipefish at Mellow Yellow and, on the large side, grey reef sharks and schooling bigeye trevally at Maytag.
During the afternoon dive at Alacrity, Joshua found two pygmy squid. Picture a yellow-orange squid with blue spots the size of a grain of rice…with a large bite taken out of it! Marvin found what we like to call Alpert's tambja, the rare nudibranch "discovered" by Joshua, as yet undescribed by science and found only in three different dive sites. This was the smallest individual we have seen, not much larger than the pygmy squid. When he showed Joshua his photo underwater, J immediately recognized it as this rare species and asked Marvin to show it to him. Even more remarkable than finding it once, Marvin managed to swim directly back to this minute creature to find it again. Hey, he would make a great divemaster! On the night dive at this same reef, Amanda found a little ass cowrie. No, we're not making that up! If you don't believe us, check page 262 of the Tropical Pacific Reef Creature Identification.
On the morning of Day 3, we visited the enchanting island of Wakaya in search of the big animals that are often found there, namely manta rays, green sea turtles and hammerhead sharks. Jeanne and David lent a big hand to Joshua by finding the cryptic winged pipefish at Vatu Vai. Don't get us wrong, it's not like he had been searching for very long. They just went down and found them within two minutes! Thanks, guys, for making our job a little easier. Later in that same dive, Dianne and Marvin were leading the way. They were so engrossed in the beautiful hard coral reef and countless reef fish that they didn't notice the manta ray bearing down on them. Joshua was about 25' behind them, but they could hear him screaming from that distance. They turned back to see what all the fuss was about, only to see him pointing in front of them. Imagine their surprise when they turned to see an 8' manta gliding past them! On this dive, we also found a turtle that was so huge it could only be a green, but it had several of the characteristics of a hawksbill. Perhaps it was a hybrid, the result of these endangered species not being able to find enough of their own kind during mating season.
That night we cruised to Gau Island for another day of spectacular diving. Marvin, famous his photos of a snake eating a crocodile, was on the other end of the stick this morning at Anthias. A very curious sea snake approached from behind and happily explored his legs, BCD and tank while he was taking a photo. While other divers thought he had nerves of steel, in reality, he was totally unaware that this highly venomous creature was slithering up his leg! Also on this dive, we witnessed a lot of other curious macro life, including juvenile blue ribbon eels, porcelain crabs and orange-finned anemonefish eggs, photos of which reveal the developing embryos inside.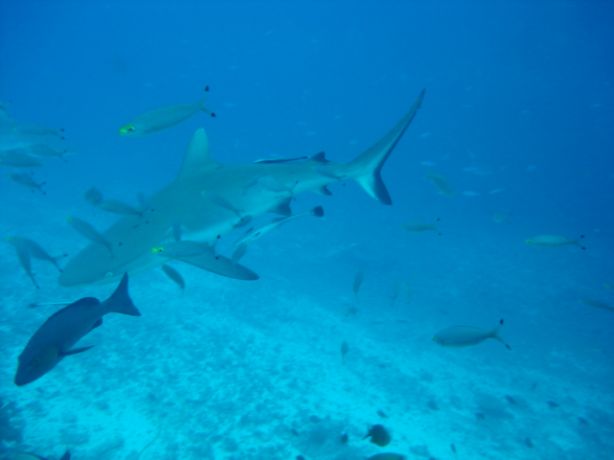 Grey reef shark & entourage - by Aurea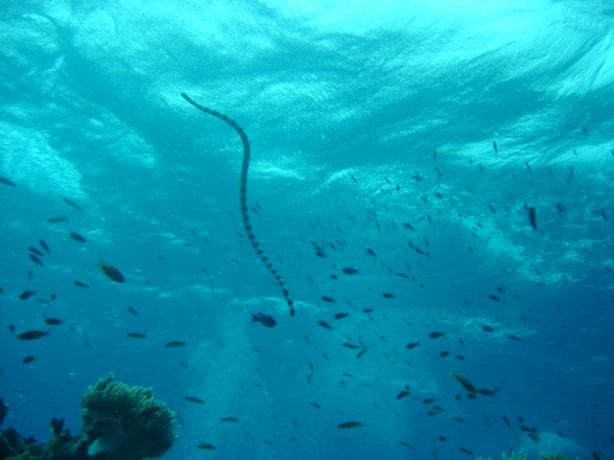 Marvin's best friend - by Aurea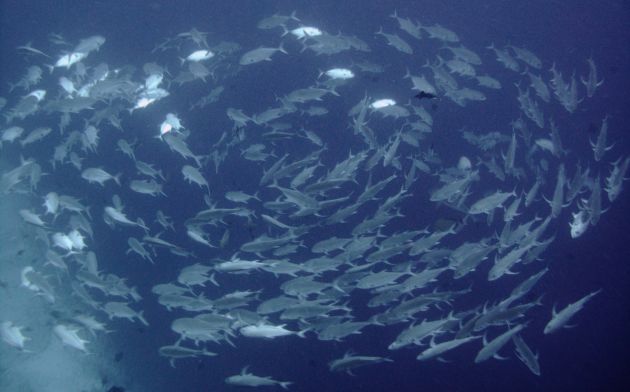 Hypnotic whirlpool - by Marvin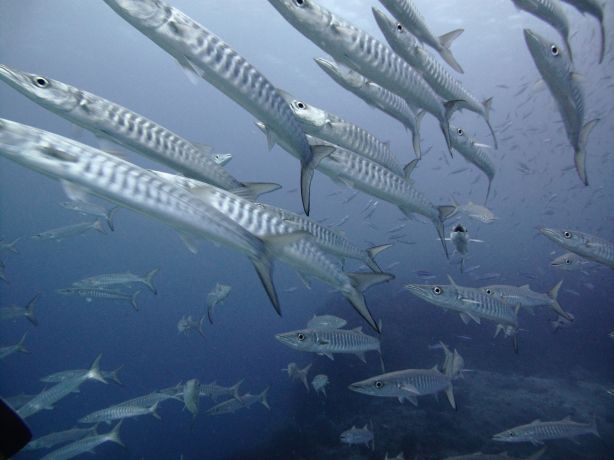 Silver bullets - by Marvin
Whipped into shape - by Marvin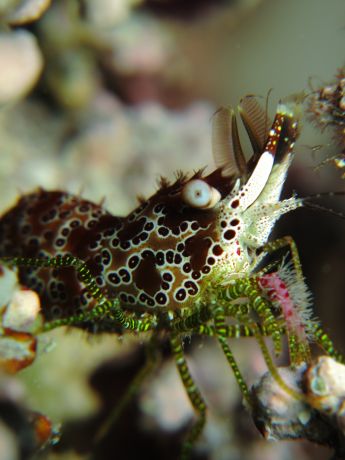 Uncommonly confident marble shrimp - by Marvin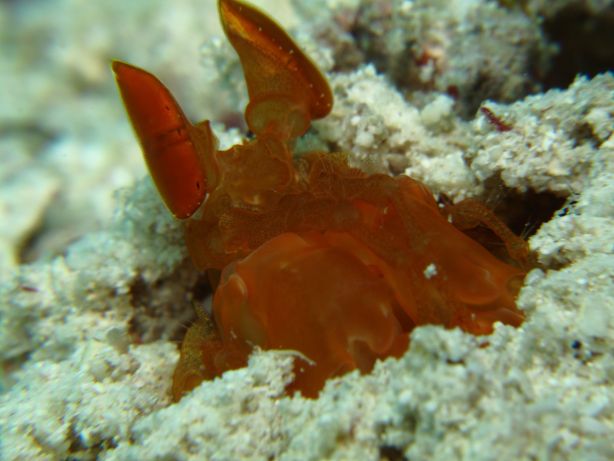 Hexnocular vision. That's a thing - by Marvin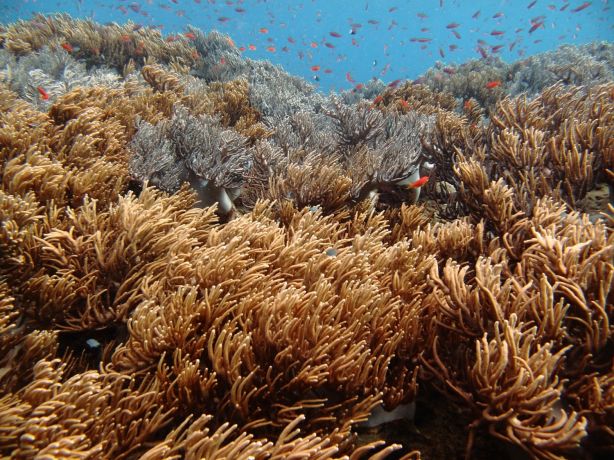 Click your heels three times - by Marvin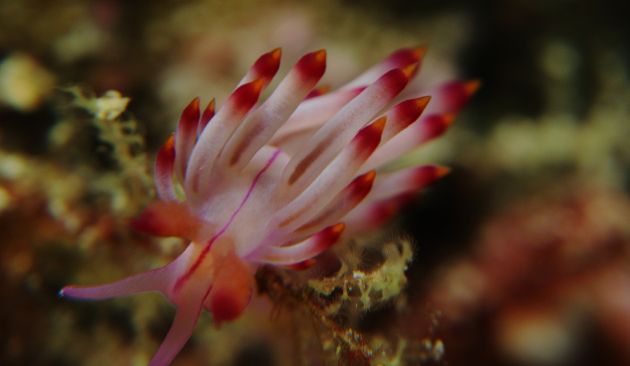 "Rubrolineata" - that's a red-lined flabellina nudibranch to you and me - by Marvin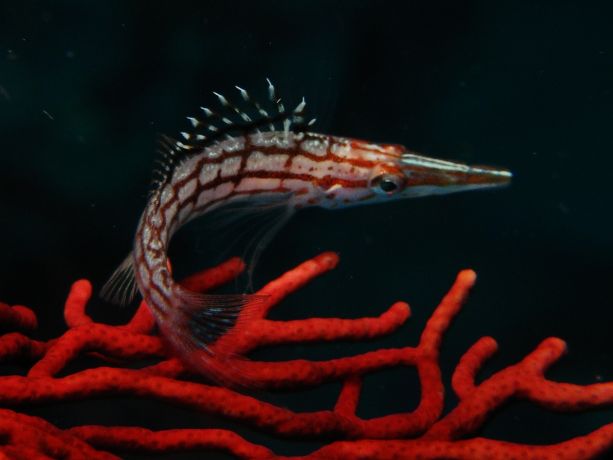 Longnose hawkfish - by Marvin
Our favourite blue and yellow discovery - by Marvin
Juvenile, but still ornate - by Marvin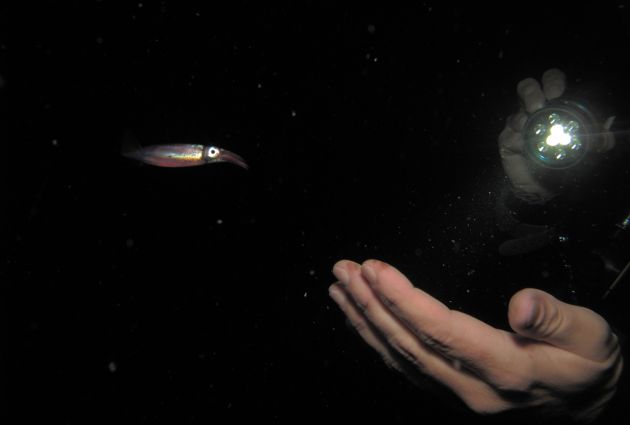 Bigfin? It's all relative - by Marvin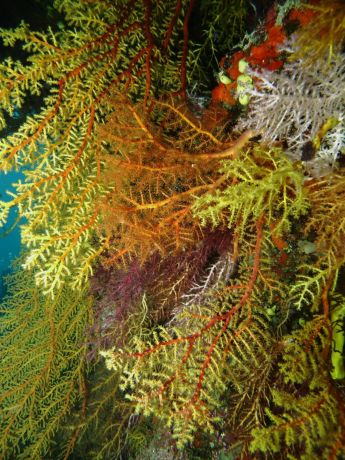 Rainbow wall - by Marvin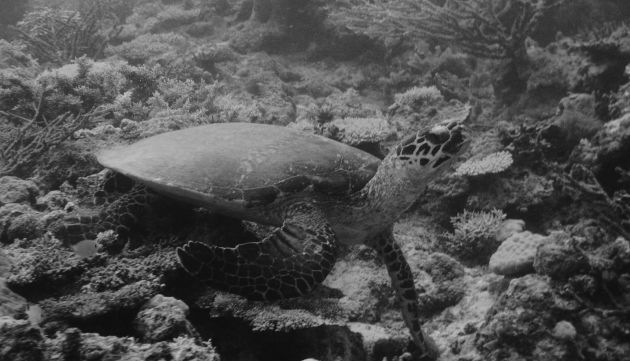 Greenbill? - by Marvin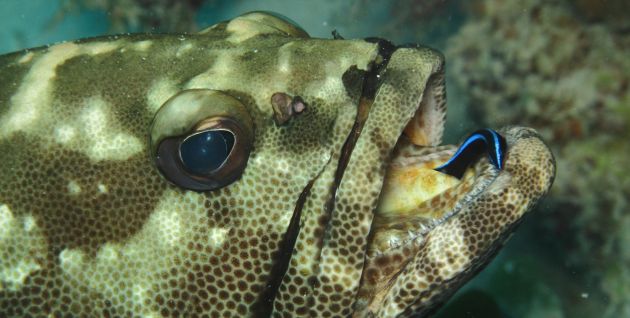 Dental hygiene, not just for humans - by Marvin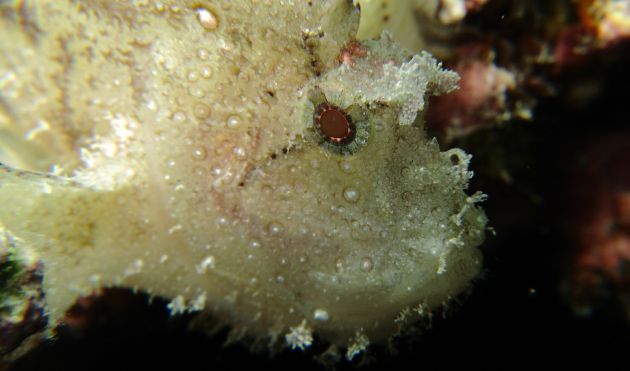 Leaf head - by Marvin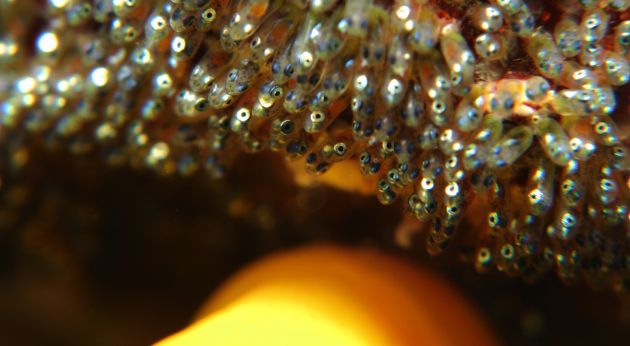 "Stay away from my babies!" said papa bear - by Marvin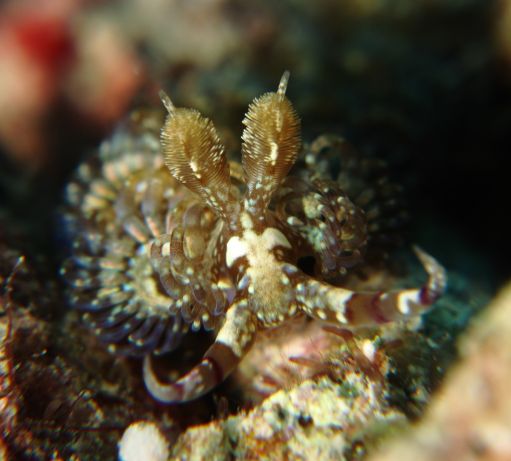 Great illustration of why it's called a blue DRAGON nudibranch! - by Marvin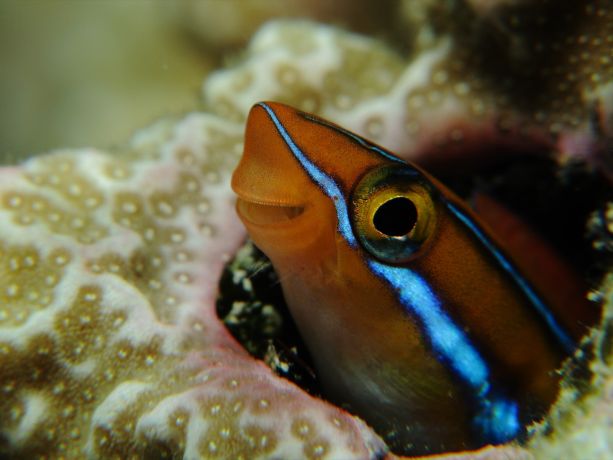 You can smile all you want, but we know your game, mister - by Marvin
In the afternoon, we plunged with perfect timing into Nigali Passage, where a solid current brought in more grey reef sharks than we've seen in months, plus tons of bigeye trevallies, bigeye barracuda, midnight snappers and red snappers circling menacingly over our heads. Much scarier than being surrounded by eight grey reef sharks at one time, were the nesting titan triggerfish towards the end of the dive. During nesting season, these fish become highly aggressive and are known to bite chunks out of divers. Fortunately, Joshua spotted the territorial fish up ahead and ushered our divers safely around their nests. 
The following two days were spent in the magnificent Namena Marine Reserve, famous for its spectacular assortment of colorful and active dive sites. In North Save-a-Tack, Grand Central Station and Schoolhouse were as gratifying as ever, the steady current bringing in plenty of sharks and schooling bigeye trevallies, blackfin barracuda and massive dogtooth tuna on the hunt. The vibrant soft coral-covered pinnacles of South Save-a-Tack served up an equally alluring portion of wonderful underwater sightings, including golden mantis shrimp, brown banded pipefish and dueling longnose hawkfish. Our guides delivered on Jeanne's request of only finding creatures larger than one inch!
We experienced a power outage that evening, giving us a blackout at around 10pm, but our guests hardly noticed because they were too busy clapping along to the catchy Fijian songs during our weekly kava party. While our team of resourceful engineers labored to resolve the electrical issue, the remaining crew more than made up for their absence by belting out their favorite songs even louder than usual. When asked how he'd enjoyed the kava party the next morning, David responded good naturedly saying "very much, Aurea and I stayed up and drank so much kava we went blind!" Some say kava-blind, some say power cut, tomahto/tomayto.
Finishing another charter strong, we spent our last day of diving at the coral-covered lava towers of E-6 and Mount Mutiny. At the edge of E-6's Cathedral, we found the diminutive ornate ghost pipefish, which everybody had a long look at. We're hoping that, because it is so small, that it is young and will stay there for a while. Renee swam opposite to the rest of the group and enjoyed this dive so much that she stayed down for more than 75 minutes, causing a bit of a worry when we couldn't find her. We hastily organized a search party, but there was no need. She was so happy on this beautiful reef that she might still be down there if she had a bigger tank! At last, the sun struggled to break through the cloud cover, illuminating the stunning Rainbow Wall, which is swathed in colorful chironepthya soft coral, and three massive giant trevallies hot on the hunt. We had seen a hawksbill turtle from the skiff before we even dropped into the water, then Dianne & Amanda managed to find another one right at the end of their dive.
So ends another great charter and so departs another group of satisfied guests. Hopefully they'll all be back soon.
"I love NAI'A. It is the best boat in Fiji & Tonga. All the crew are beautiful, helpful, friendly & accommodating. I will definitely be back next December. Great diving & food & kava parties."
-Aurea
"Great to come back on the NAI'A after a great whale trip in Tonga. The dives lived up to my high expectation after constantly hearing in Tonga how good the diving in Fiji is! Thanks for another great trip and the hard work of the awesome crew!"
-Marvin
Our Guests...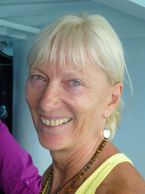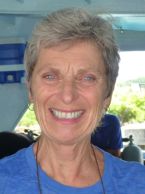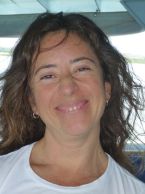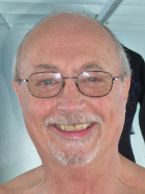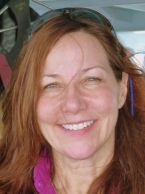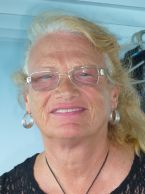 Comments
"Thank you to everyone on NAI'A who makes NAI'A what it is – an exceptional operation and a gateway to underwater wonders. What a fantastic crew! Thanks for an incredible life experience!"