Giving Thanks for Fiji!
Destination: Fiji's Bligh Waters
Trip Date:
Nov 17th - Nov 27th, 2018 -
Comments
Author: Vanessa & Chad
Welcome Back: Joe & Susi, Christian and Scott
Congratulations: Karen & Quint for celebrating an anniversary and a birthday and to Alex & Annette celebrating birthdays
A lovely, easygoing group of Germans and Americans joined us for our last November charter and we knew it was going to be a fun trip from day one! Good company goes a long way but multiple manta rays, tons of sharks and heavenly weather sure do help, too. We celebrated American Thanksgiving in style with a full turkey roast and all the trimmings. We personally give thanks every day of the year for all the beauty Fiji diving has to offer!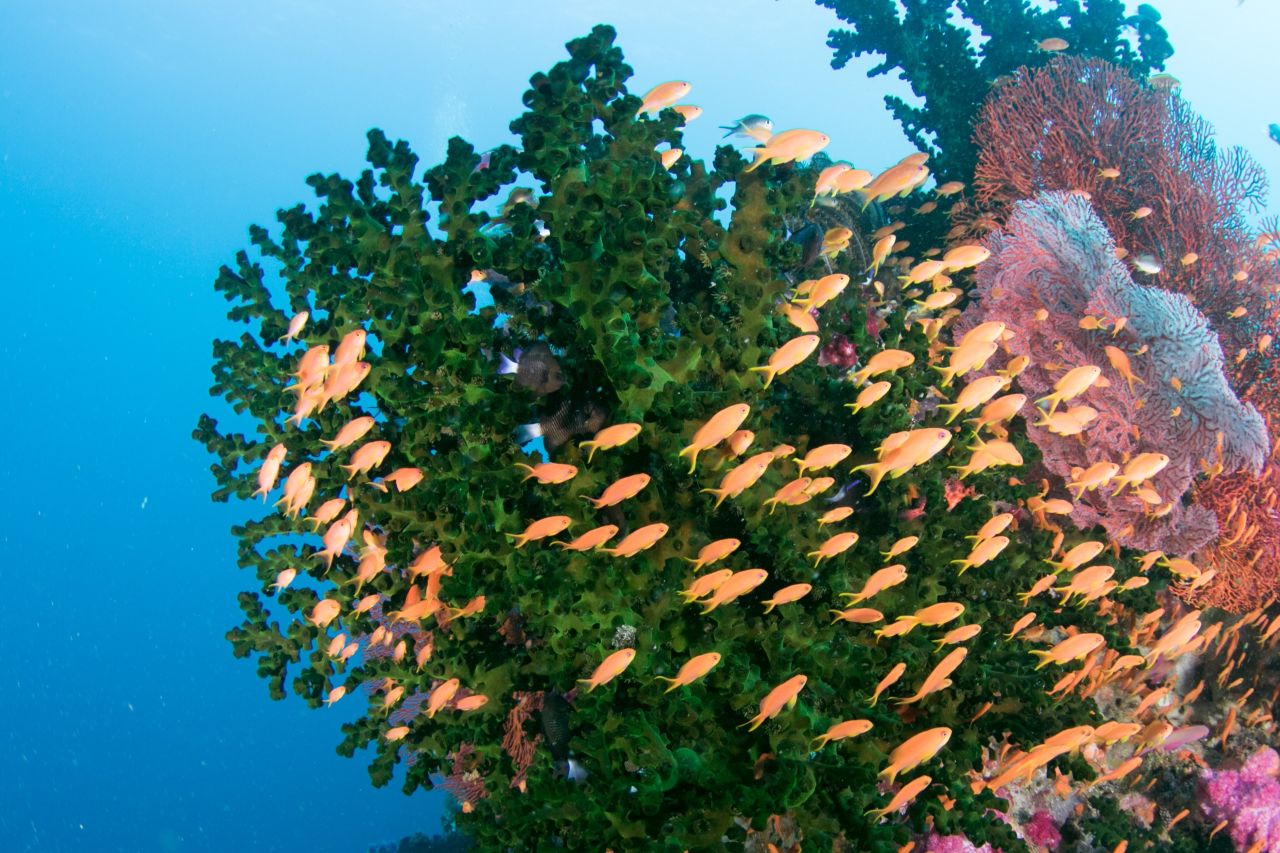 by Amanda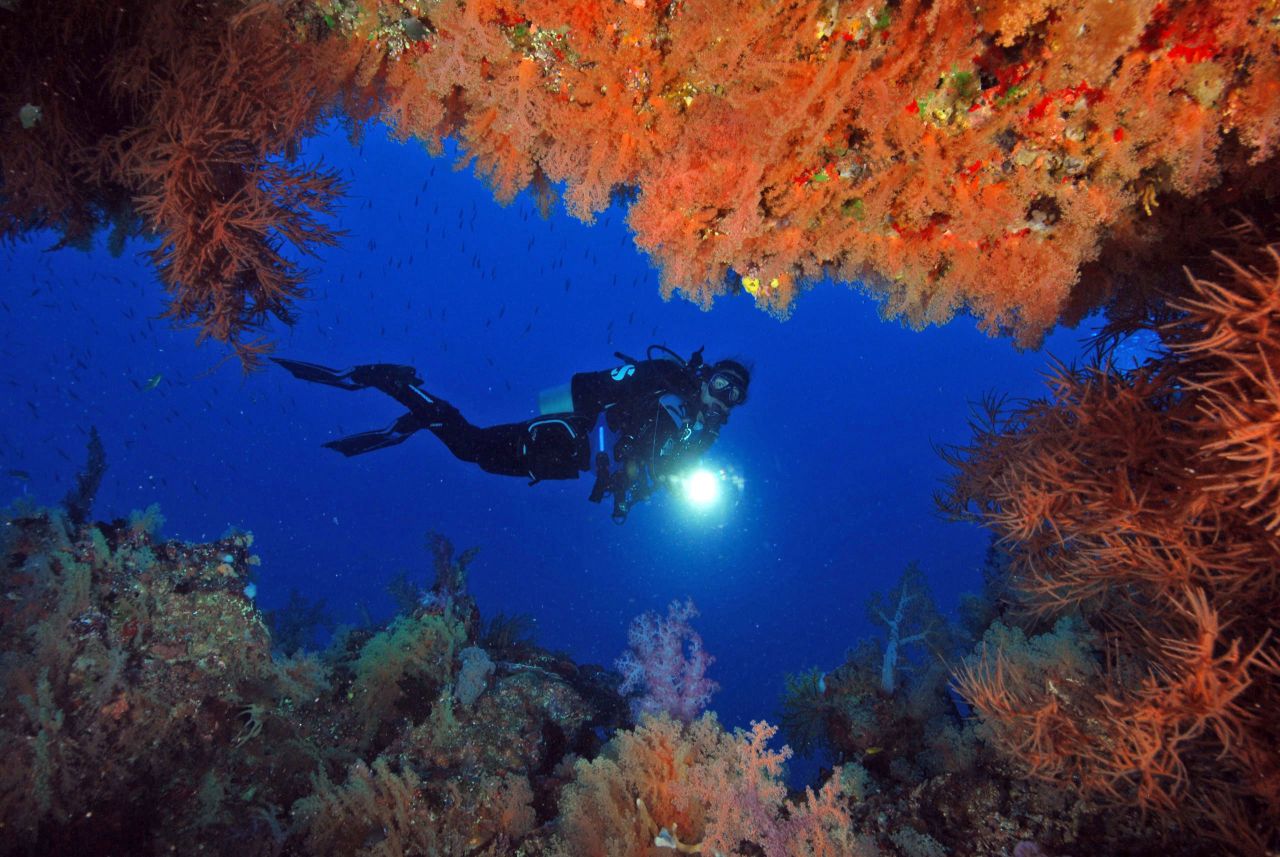 by Joe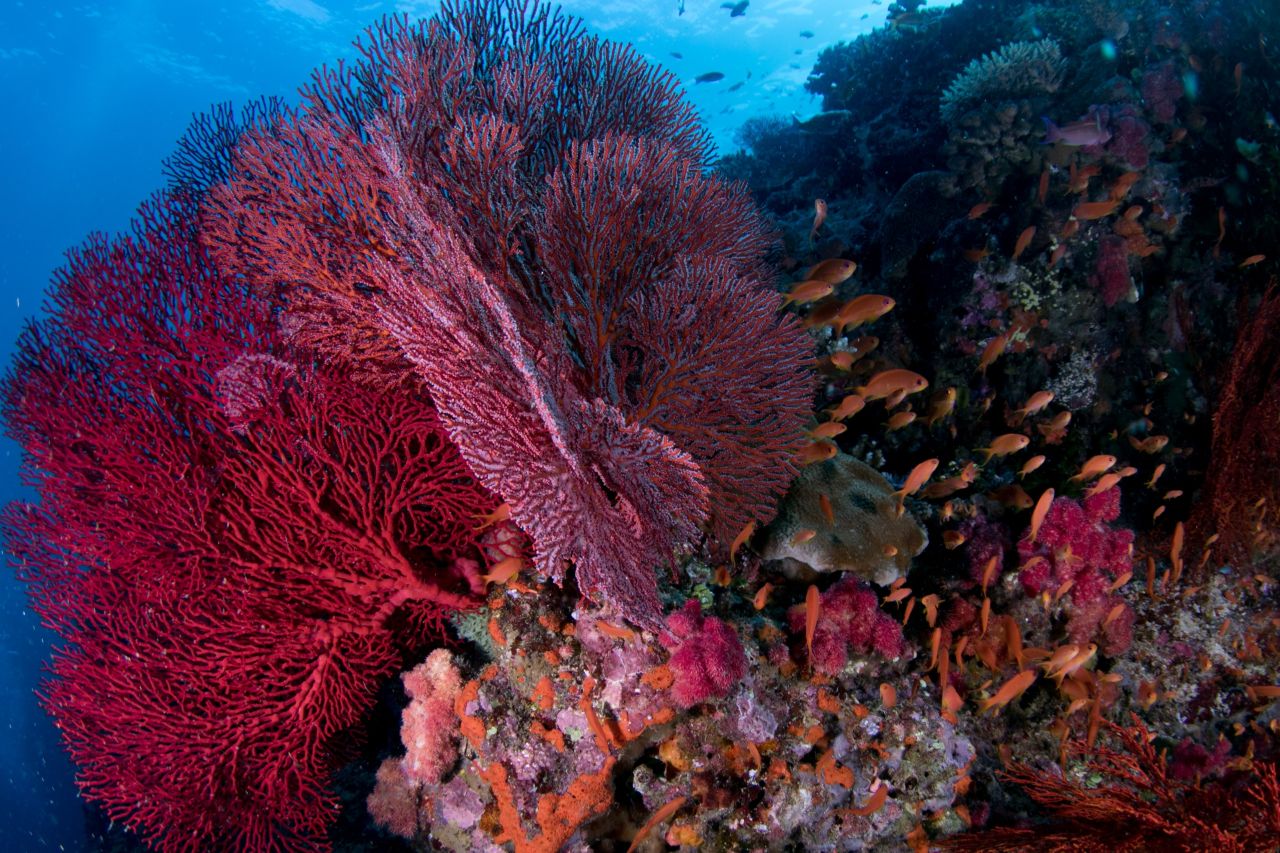 by Amanda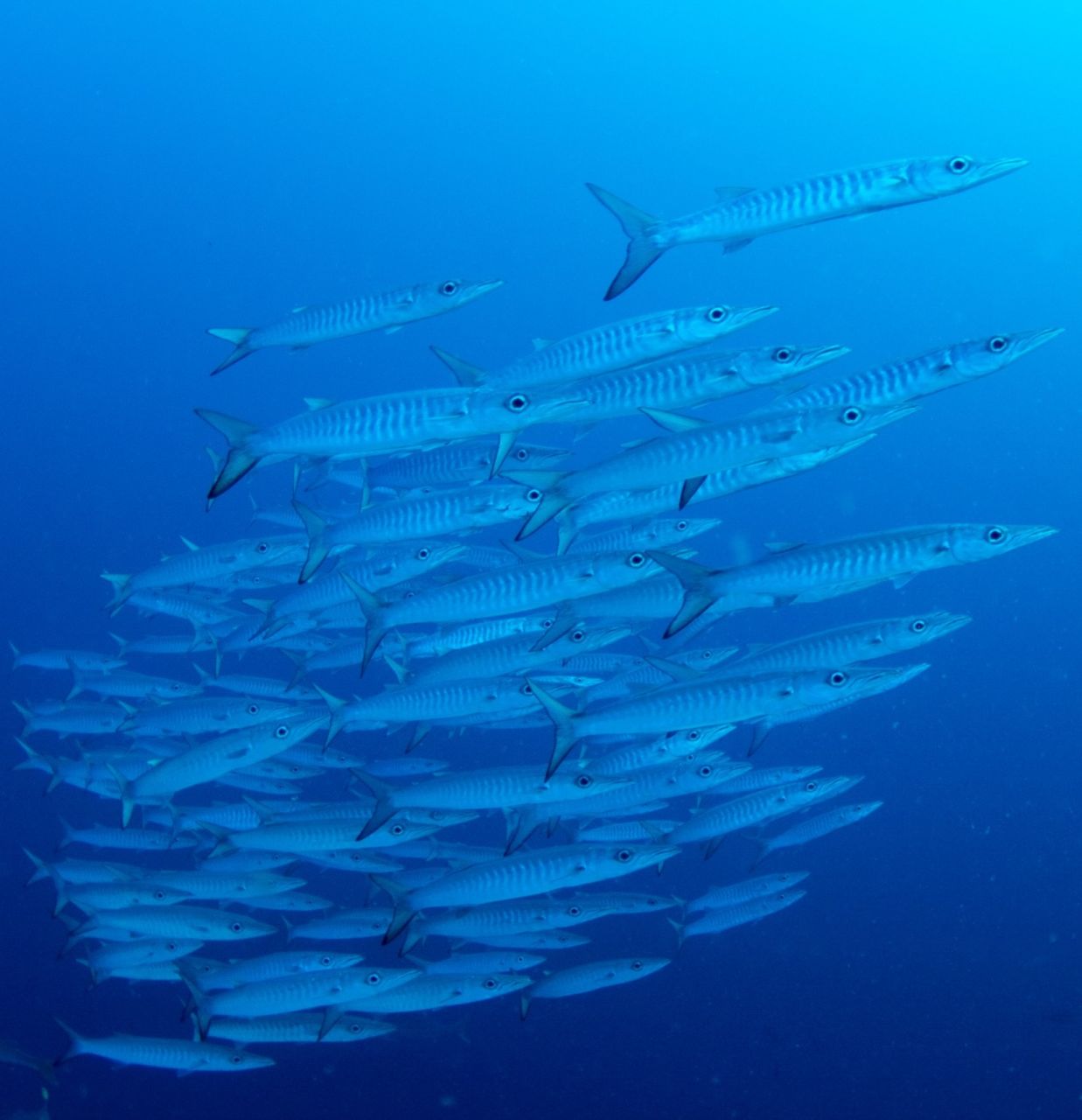 by Amanda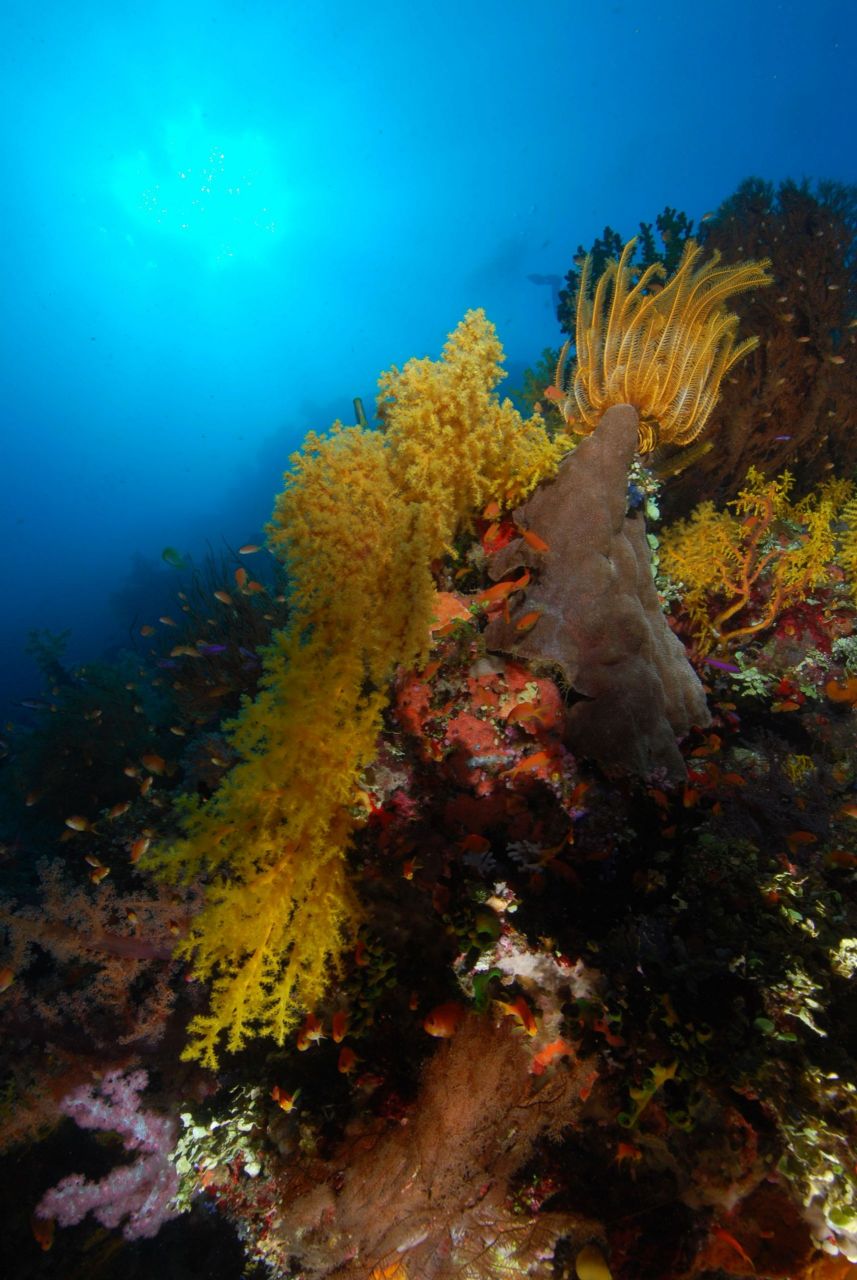 by Joe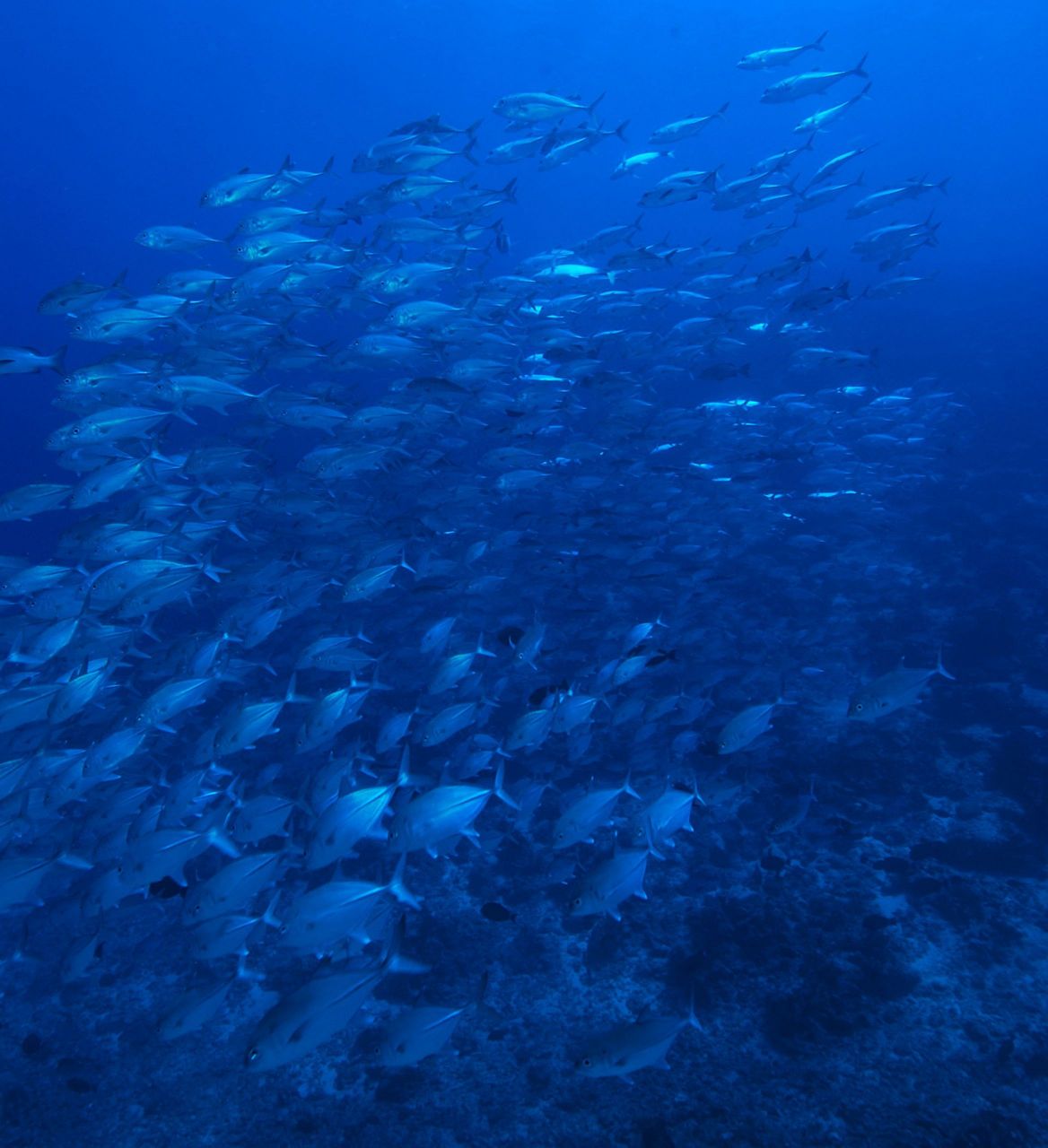 by Joe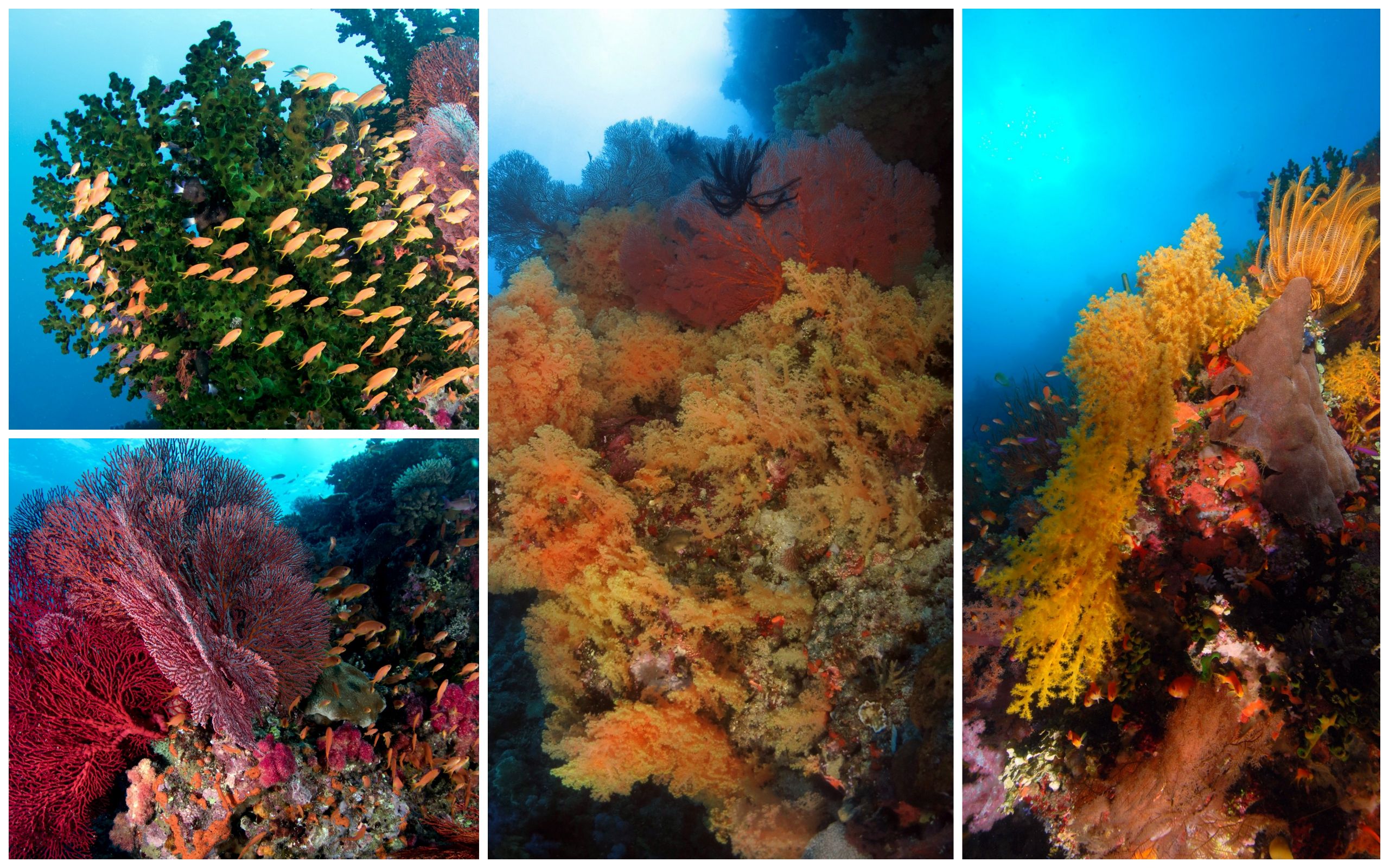 Photo credits (top/bottom left, center, right): Amanda, Amanda, David, Joe
On the first full day of our trip, we awoke in Vatu-i-ra to the most glorious weather – calm seas, clear blue skies, bright sunshine – and that would become our standard in the coming days. We could not have asked for nicer surface conditions! Below water, our gorgeous reefs were looking spectacular with the sun pouring down on them: the soft corals were vibrant, the Anthias were pulsing… And our divers were beaming! It took our divers a dive or two to get used to the Fiji currents – Maytag lived up to its name - but they soon settled in and did a fabulous job managing what can be very challenging conditions. Mellow Yellow was, as always, a firm favorite with many divers commenting they could happily just go and hang out on the top reef at 5m for the whole dive…. us too! We thought it would be nice to offer a night dive to our lovely guests but as the wine came around at dinner it quickly became apparent that wouldn't be happening!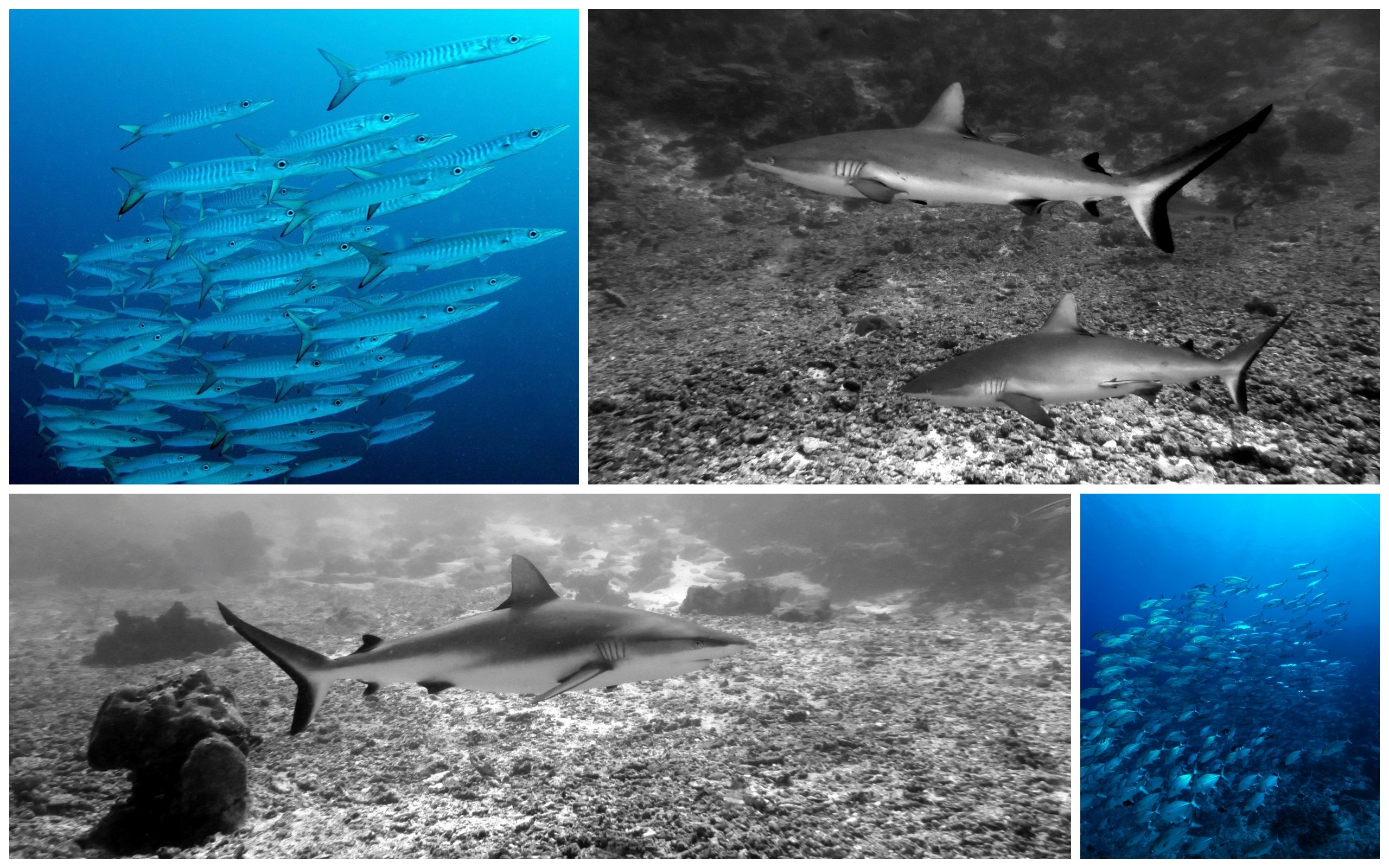 Photo credits (clockwise from upper left): Amanda, David, Joe, David
Leaving Vatu-i-ra we made the long overnight journey south to the island of Gau, where we were treated to two days of phenomenal diving. We tackled Nigali Passage twice over and it was out-of-this-world both times. At one point, we counted 22 grey reef sharks in a single mental snapshot! And we don't think we've ever seen the 'cabbage patch' looking prettier: with the still water and bright sun, its greeny-golden hue was reflected on the surface and looked just magical. Ohhh, and there were also several itsy bitsy juvenile sharks in the passage which makes us so happy to see!
Jim's Alley and Anthias Avenue on the second morning were a bit of a rude awakening before breakfast: there was an absolutely KICKING current but we had a lot of fun riding the rollercoaster! However, when we returned later in the day they had completely calmed down and we had very leisurely dives, even enjoying two octopus showing off for several minutes. Inbetween times, we revisited Nigali Passage – it NEVER grows old and our divers would happily have stayed there the entire trip if we'd let them – and also checked out Jungle Jig which was packed with cool macro life.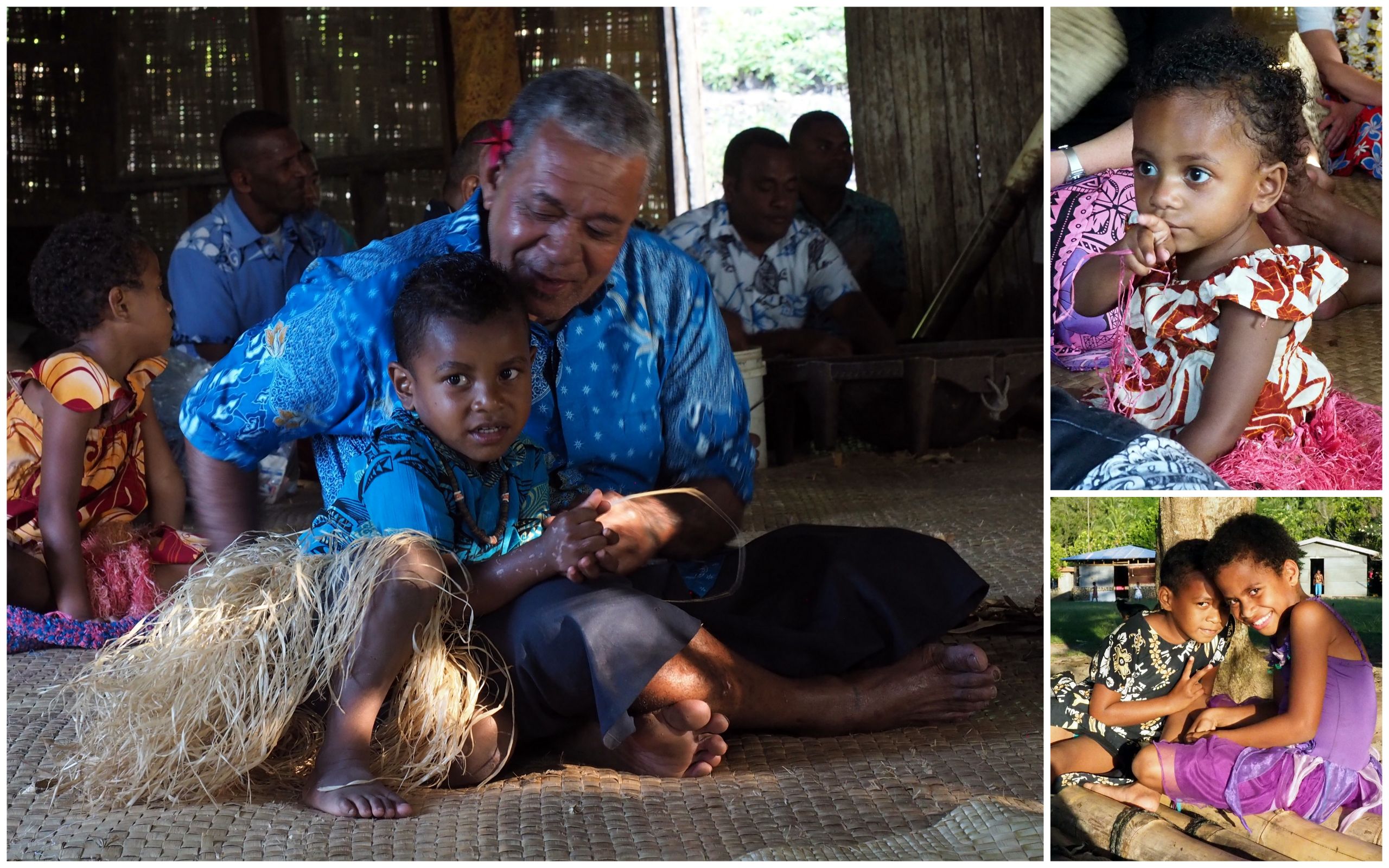 Photo credits (all photos): Annette
During our stay at Gau, we also took a few hours out from diving to go into land and visit our friends at Somosomo: it's always such a highlight of the trip. Our guests enjoyed a leisurely walk around the village – with a little stop to cuddle the ADORABLE little puppies (Vanessa, jealous? Noooooo!) – and then a fun cultural show in the village hall. The 'mekes' (traditional dances) were great fun and several got up and joined in, copying the Fijians next to them as best they could!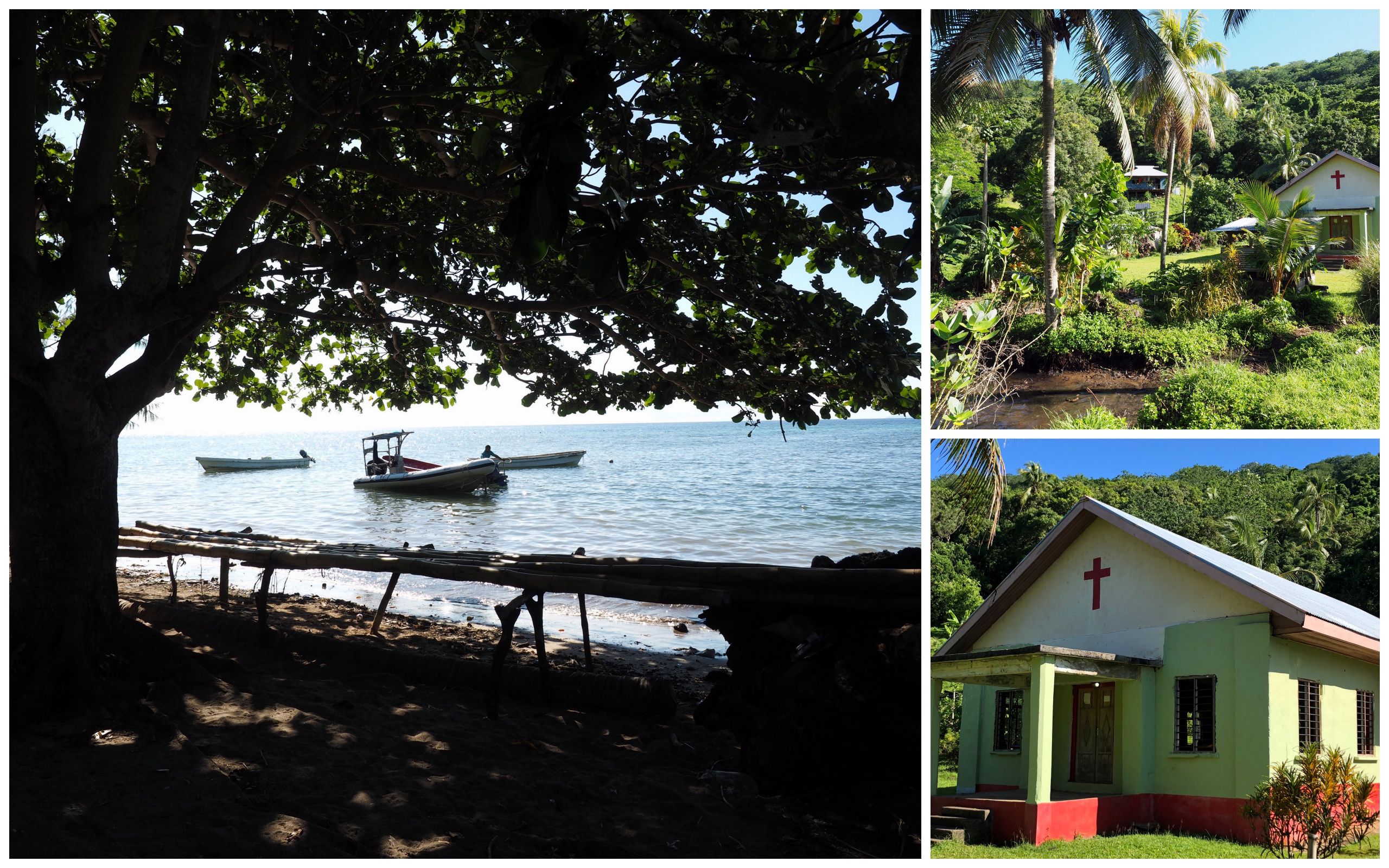 Photo credits (left, top right, bottom right): Annette, Annette, Scott
From Gau, we headed north to the island of Wakaya, where we enjoyed three excellent dives along the deep wall there: Vatu Vai, Blue Ridge and Lion's Den. On the first dive, Chad dropped in to do his current check and pretty much landed on a manta ray! He felt bad that no one else was there though, so didn't say anything and just kept his fingers crossed that she would come back later in the dive for everyone to enjoy. Well, she came back again and again, all day long: three dives, three manta sightings! Whilst this was obviously the highlight of the day, we also enjoyed finding some weird and wonderful macro life, including a winged pipefish and a robust ghost pipefish, both juveniles. That evening, we again offered a night dive and we were again defeated by the pouring of wine at dinner: we're spotting a pattern here, guys!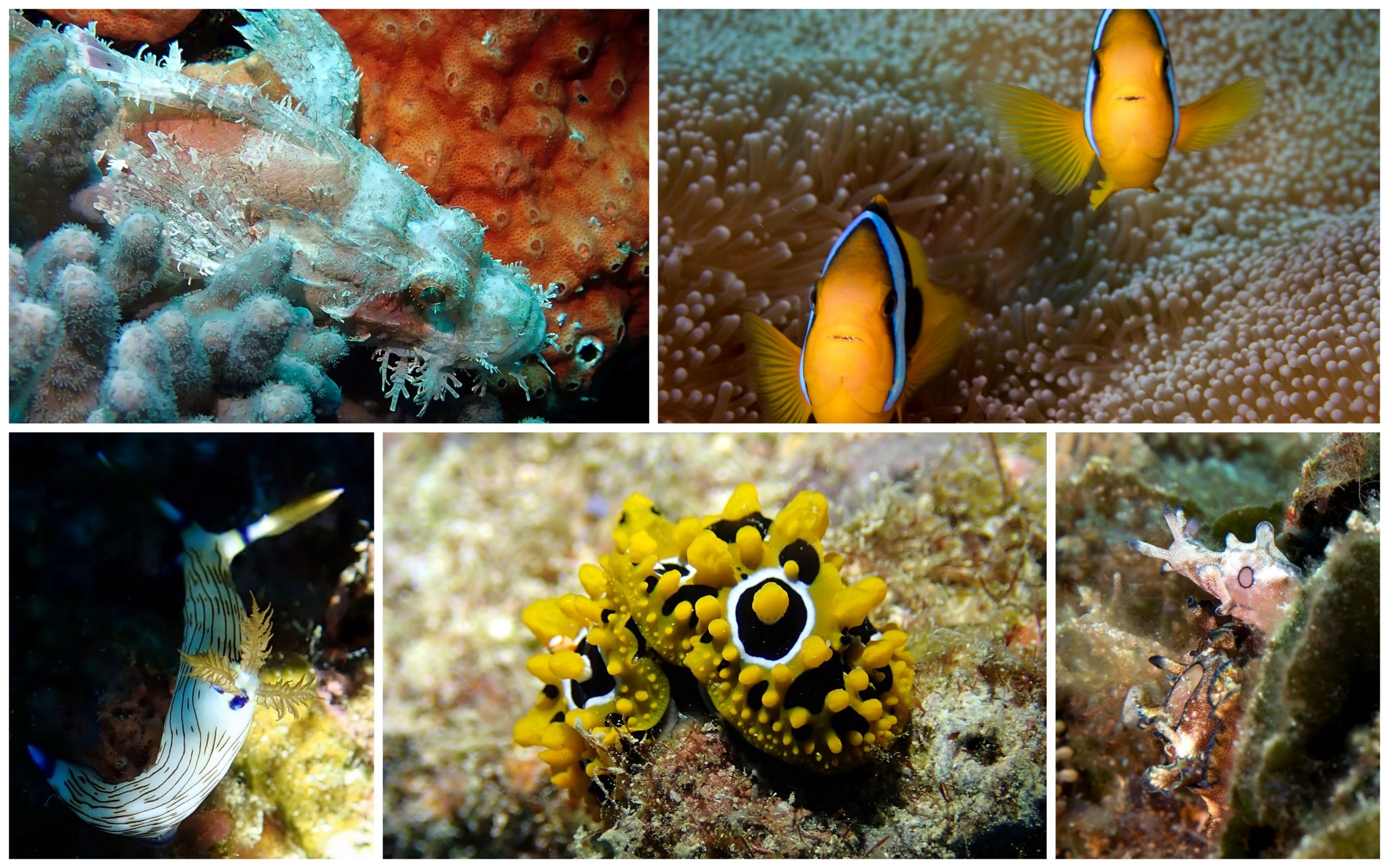 Photo credits (clockwise from top left): Shelly, Amanda, Amanda, Shelly, Shelly
Overnight, we moved further north still, to one of our favorite spots: the Namena Marine Reserve. The pinnacles in the south were looking gorgeous in the bright sun but it was the deep walls in the north that really got our divers excited! At Grand Central Station, we were surrounded by seemingly endless jacks, barracuda and scad and we even had a sail fish come around to check us out. And at Schoolhouse the highlight was three big hammerheads: how awesome! After dinner, taking advantage of a pleasant evening at anchor, our divers had a LOT of fun at our traditional Fijian kava party. We had some pretty weird sounding creatures in the Animal Song that had everyone dying laughing!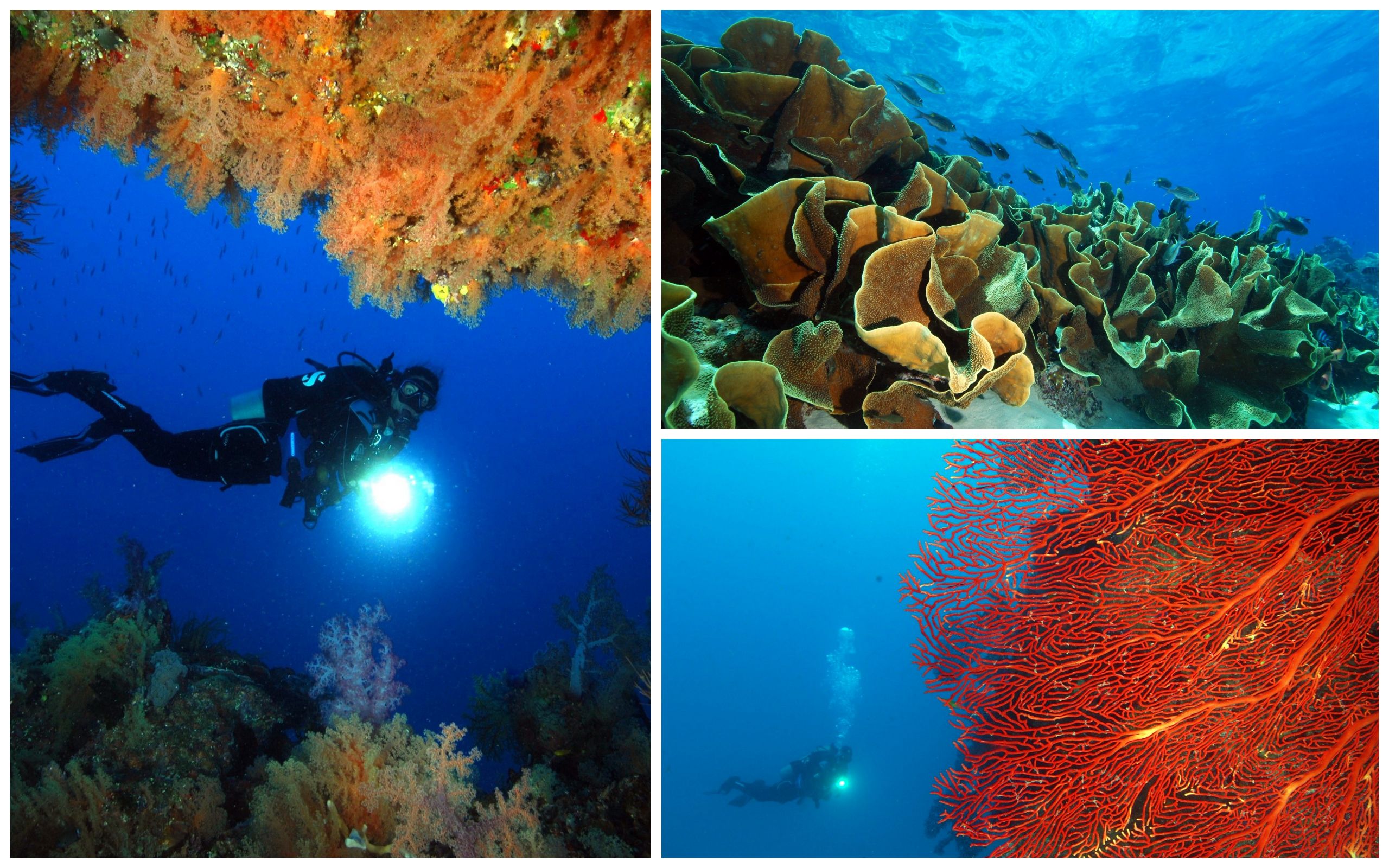 Photo credits (all photos): Joe
From Namena, we began to head back west for our last few days of diving. We spent a glorious two days in the Vuya/Vatu I Ra area, where the seas were glass clam and the sun was blazing. Cat's Meow was looking better than ever in the sunlight, with the healthy current opening up all her soft corals: simply stunning. We did have some crazy, full-moon currents to contend with though and some of the dives were a bit of a wild ride: Coral Corner was an extreme fly-by and Mellow Yellow was way more Yellow than Mellow!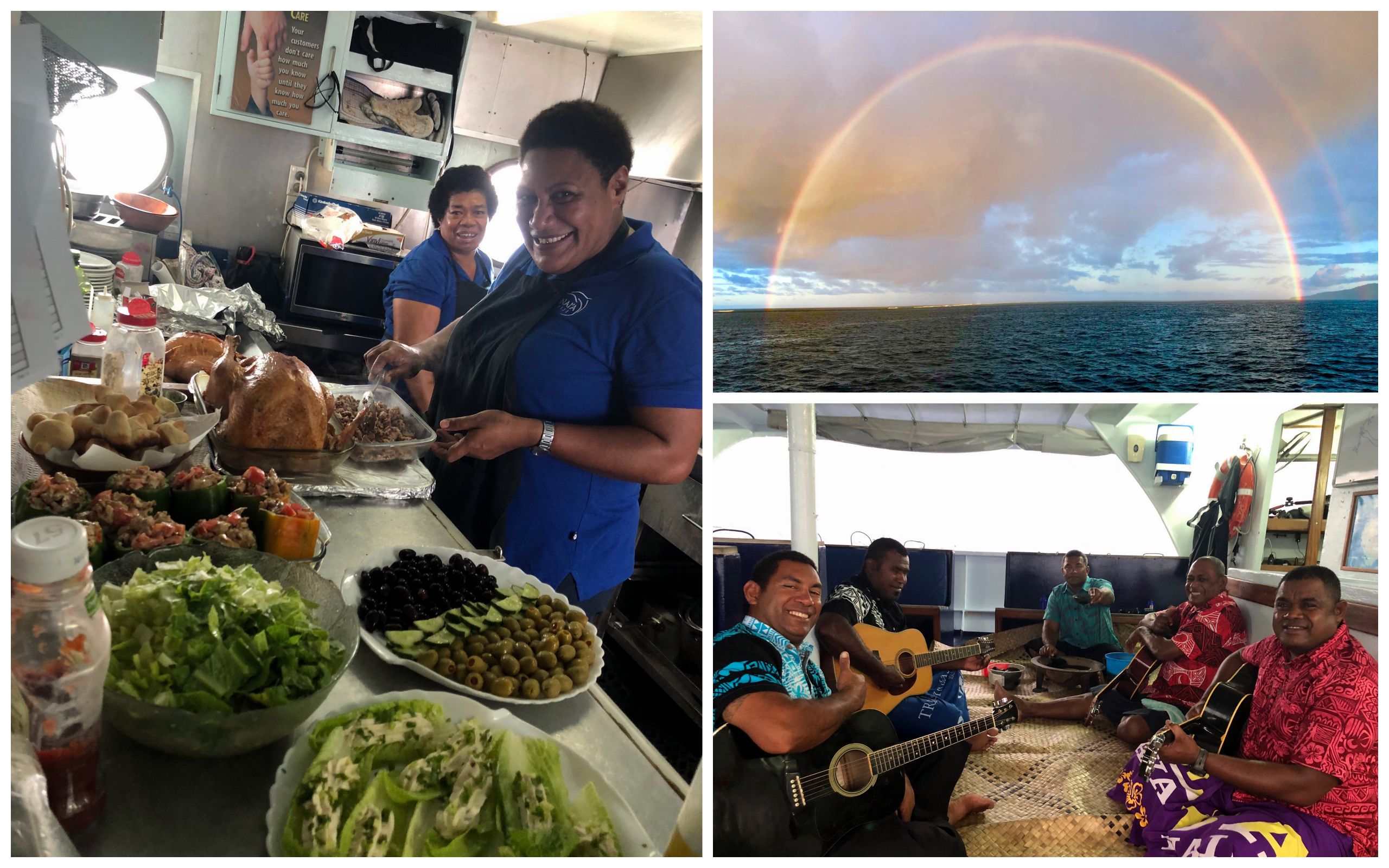 Photo credits (all photos): Scott
Our final day of diving brought us to Nananu-i-ra. We woke up to pouring rain and thought our luck with the sun had finally run after nine perfect days. However, within half an hour it had blown over and for the rest of the day the sun was blazing once again. And the diving was equally impressive. Pinnacles' gorgeous soft coral was blooming and Golden Sunset was looking pretty magical, too, but it was Labyrinth the won the awards that day. Our divers LOVED all the twists and turns and the huge, healthy fan corals layered along all the crevices, some saying it was their favorite dive of the trip. We agree, it's probably one of our favorite dives too!
And, so, we come to the end of a truly incredible charter. Thank you one and all for joining us on this adventure, it's been an absolute pleasure to dive with you all. We hope to see you again before long!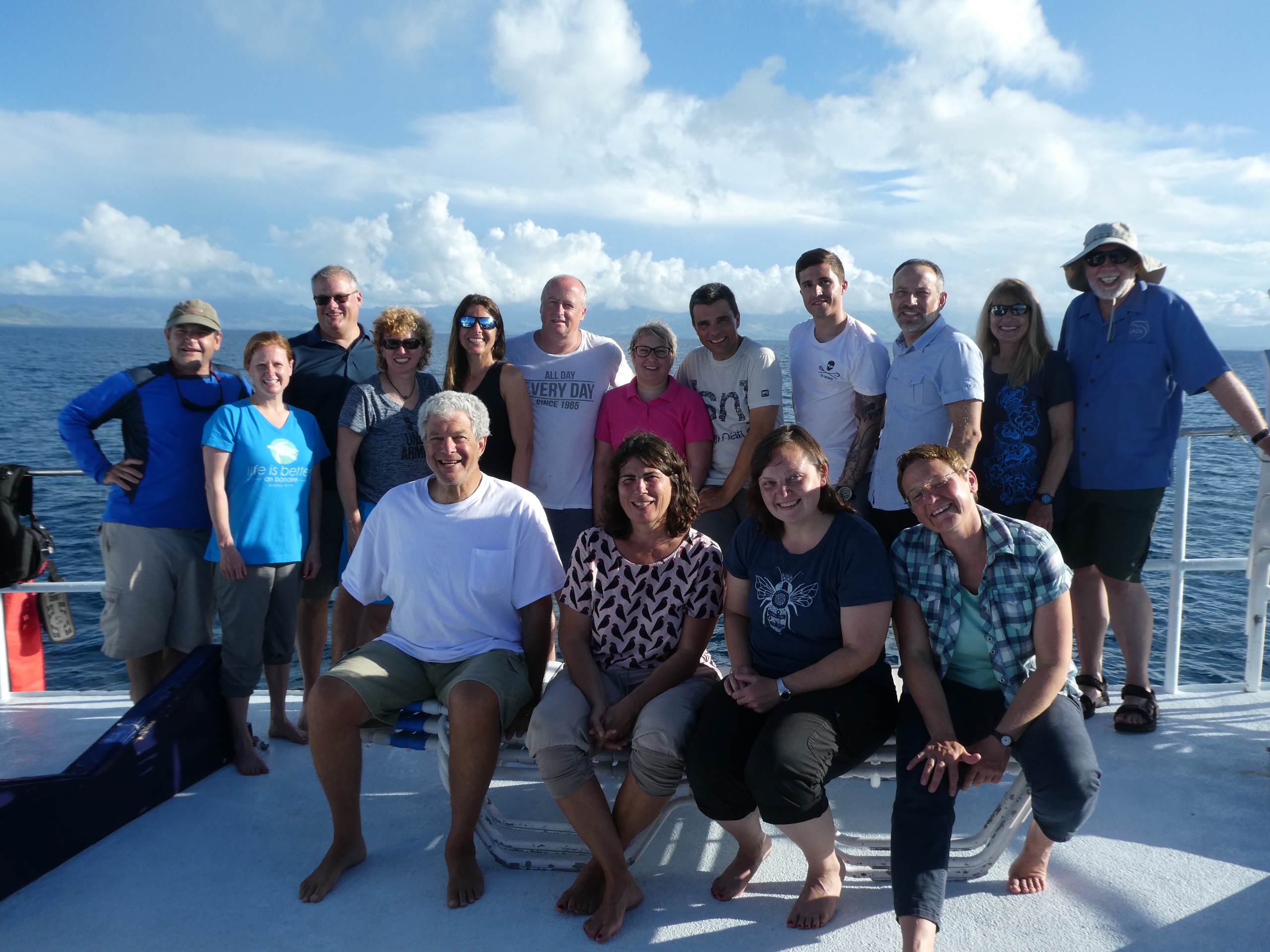 "Thanks a lot for a fantastic tour with great dives and unforgettable experiences."  Team Germany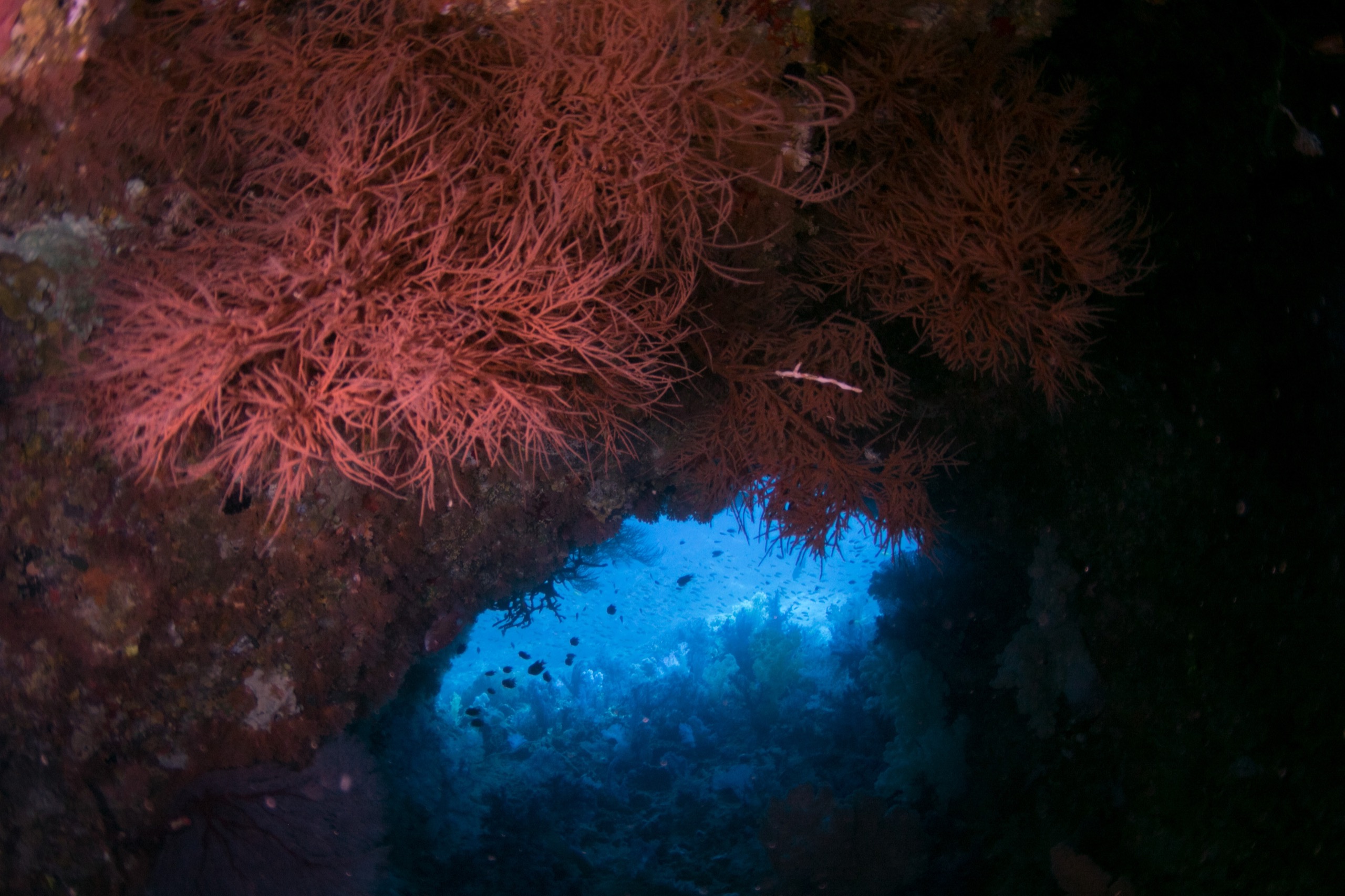 by Amanda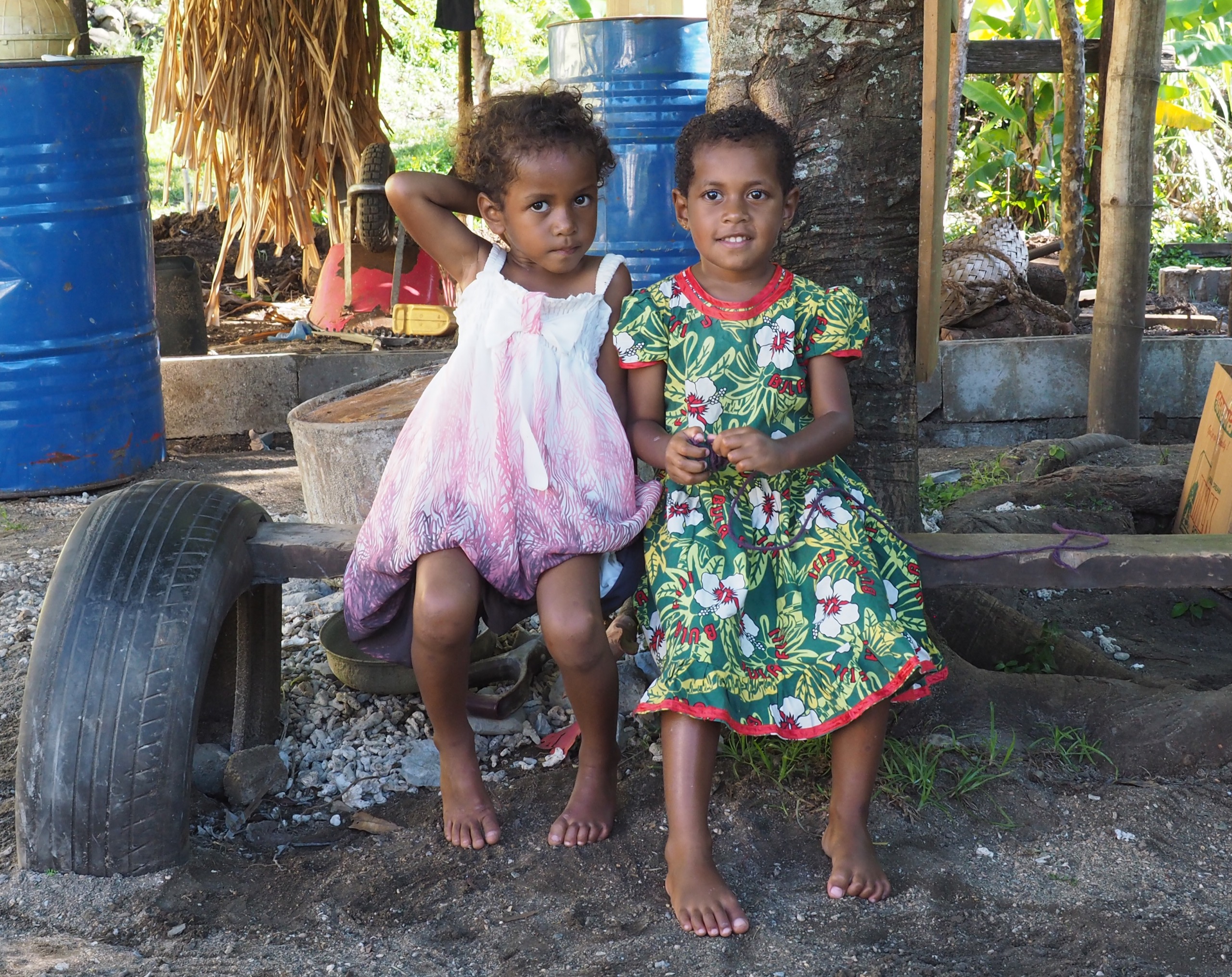 by Annett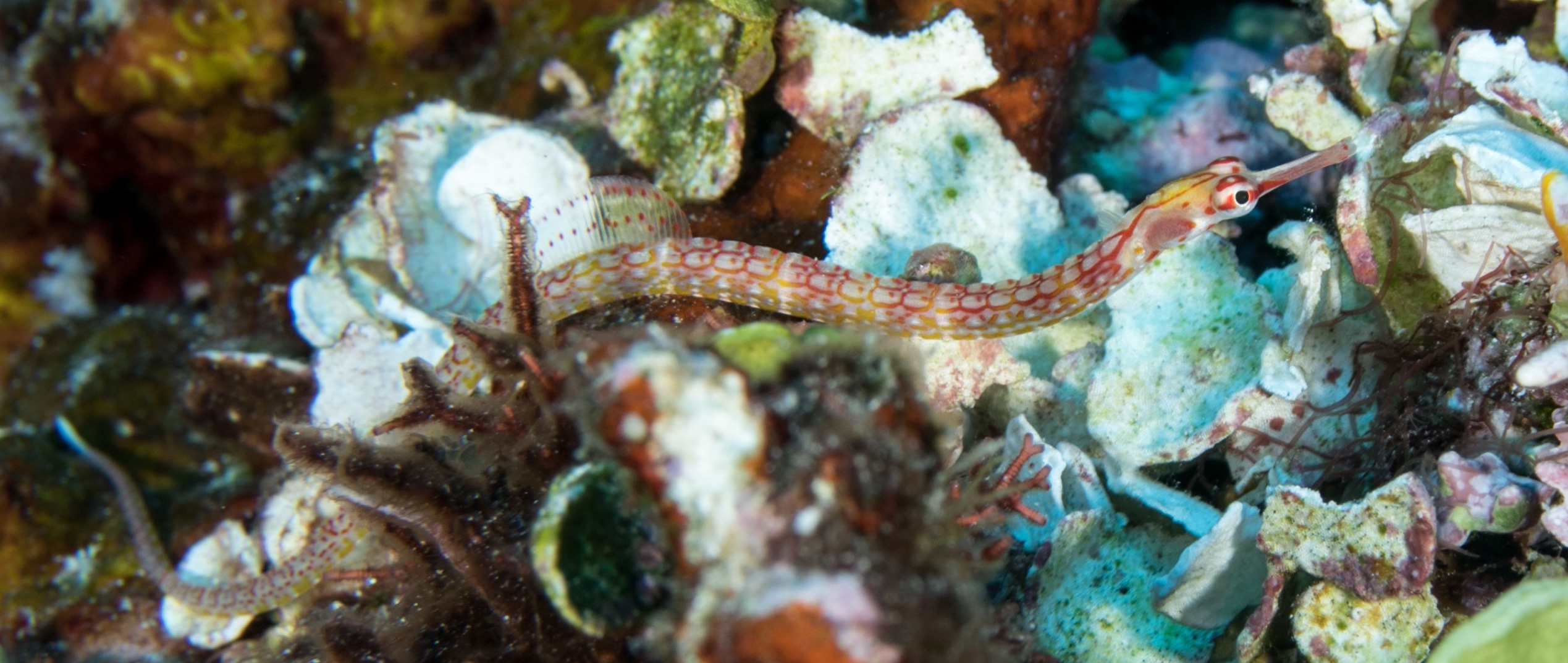 by Amanda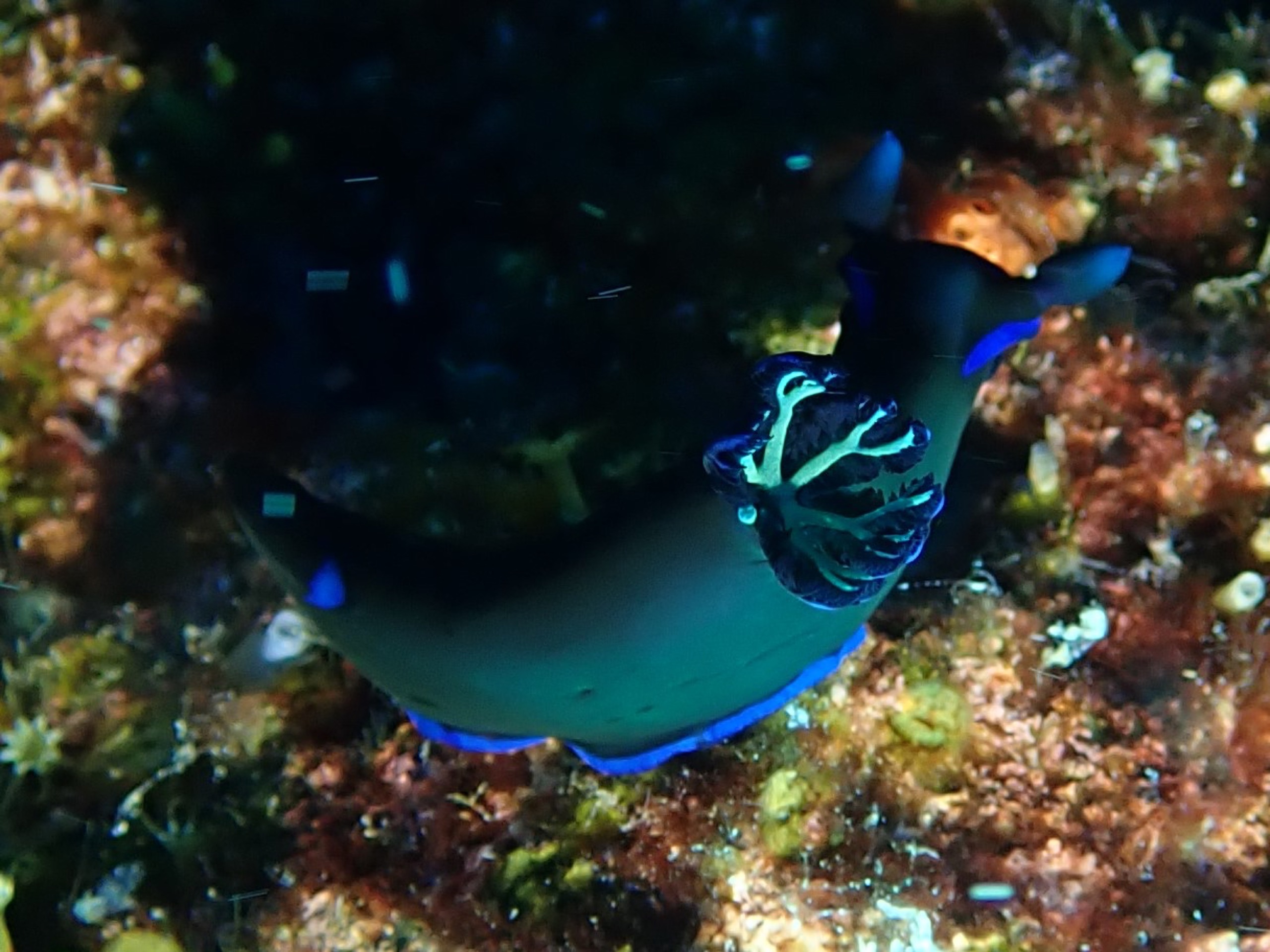 by Shelly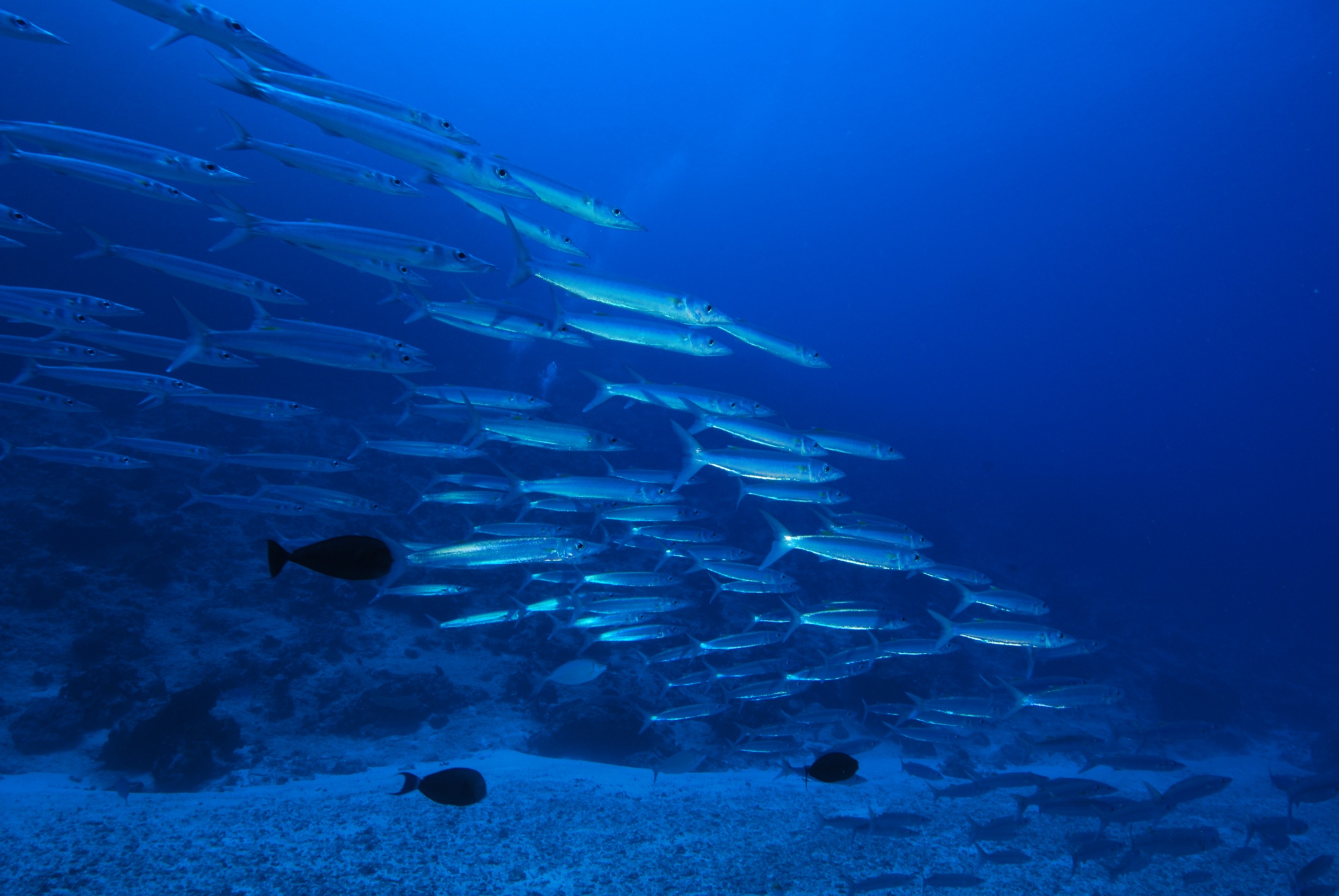 by Joe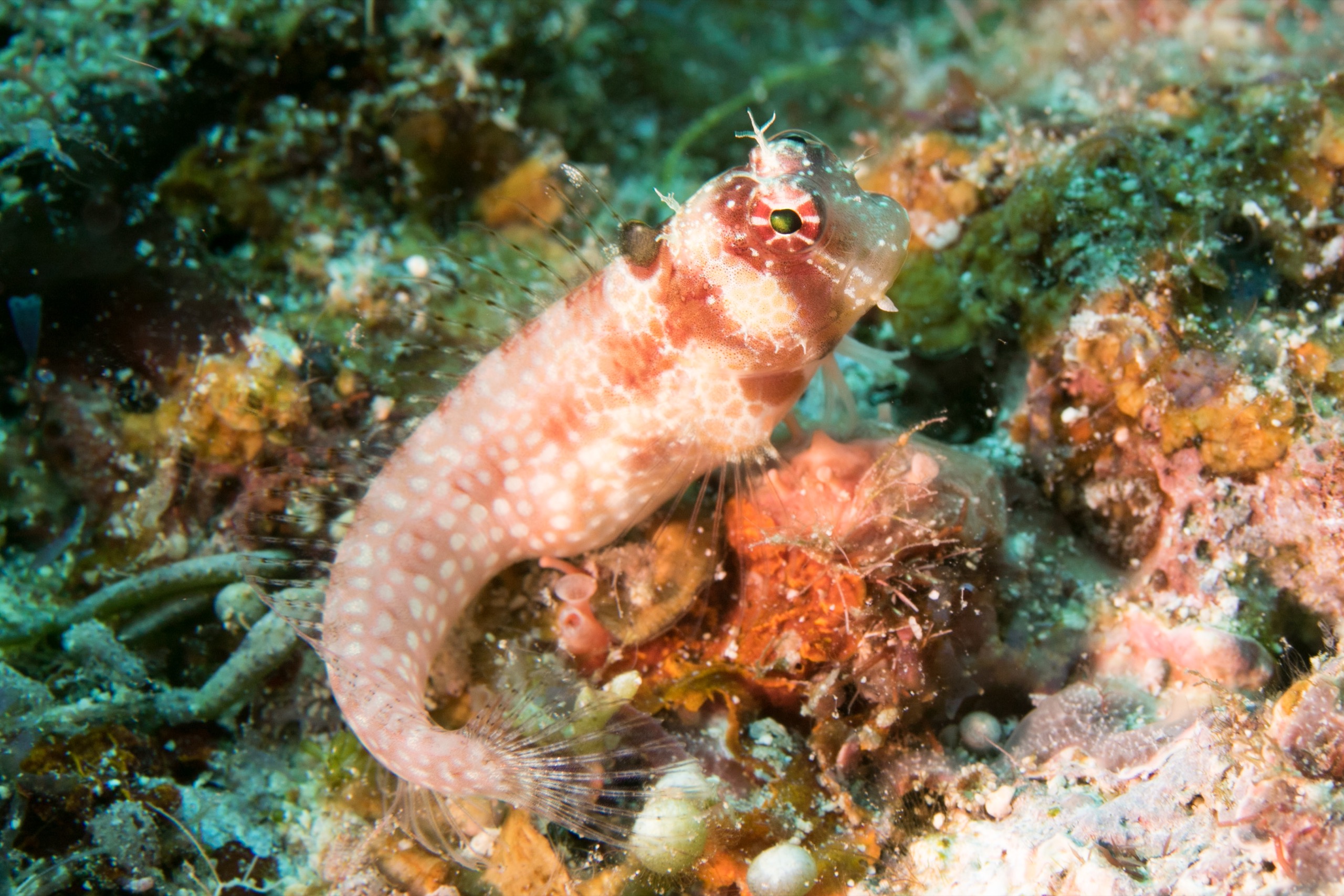 by Amanda
Comments
"I have just had a marvellous 10 days aboard Nai'a. As usual, your Fijian crew are rather special, and all the other guests felt the same. It was so great to be aboard again."

~ Quentin, 6-time passenger, New Zealand