Happy Birthday, Boss!
Destination: Vuya, Namena, Wakaya, Gau, Vatu-i-Cake, Mount Mutiny & Vatu-i-Ra
Trip Date:
Mar 29th - Apr 5th, 2014 -
Comments
Author: Amanda & Joshua
Welcome Back: Rick, Gwen, Dave, Rob, Cat, Malia & Parri
Congratulations: Rick, Justine, Marc, Lynn & Ryan on completing their Nitrox qualification and Rob on his birthday
We had only six hours turnaround before a full boat full of new passengers joined us. Among our guests were the founder and owner of NAI'A, Rob, along with Cat and their two lovely dimpled children, Malia and Parri. We were also joined by Rick, the first employee of NAI'A, an engineer who helped Rob convert the Vela Star into the ideal live-aboard dive ship that she is today. When the divers came back from the checkout dive raving, we knew we had a fun-loving and appreciative bunch on our hands. Well, they had seen a tiny juvenile oriental sweetlips doing his endless butt-wiggling dance, something you don't see every day!
Our first full day of diving took place in the Vuya area. This choice was a tribute to our owners because it was at the dive site, Cat's Meow, where Rob proposed to his girlfriend and fellow Cruise Director 15 years ago. Our return there didn't disappoint, with sightings of schools of fish, passing predators, colorful nudibranchs and a bold hawksbill sea turtle going down in logbooks.
Next, we hit the proven diving area of the Namena Marine Reserve to search for creatures both large and small. Here, currents were back on form and Grand Central Station was a thrilling drift. Besides the usual suspects such as schools of brass-lined and blackfin barracuda, oxeye scad, horse-eye jacks and grey reef sharks, our skilled dive guides also pointed out masterfully camouflaged leaf scorpionfish, ornate ghost pipefish and pygmy seahorses. The ornate is one of the most mysterious reef fish in existence. The one page in the "Reef Fish Identification" book is almost all that is known about this bizarre fish
Continuing strong currents on the south side gave us ideal conditions for remarkable shots of Fiji's famous soft corals blanketed in schools of anthias. We saw many of the more unusual macro life here, such as Indian caloria nudibranchs, Olivar's squat lobster and even a sea spider, which looks like an anorexic spider, but is actually a type of minute crab.
On day four, we dived off the vivacious hard coral reefs of Wakaya, where we were on the lookout for large pelagics. And, once again, the bountiful West Pacific provided spectacular memories in the form of manta rays, hammerhead sharks and even a pod of pilot whales! Cousins of the dolphin, the pilot whale is considerably larger and makes a different sound that alerted divers of its approach. While at first thinking one of her divers had a squeaky regulator, Amanda recognized the sound just in time and led her fearless group into the open blue at a fast swim.  Their hard work was rewarded, arriving just in time to see the pod pass by, a very fortunate sighting indeed. Quite possibly a once in a lifetime!
We had a lively kava party that night, joined by our friends from the Wakaya Resort who seemed to enjoy the party just as much, if not more, than our guests. With not enough percussion instruments for everyone, Marc was particularly resourceful, grabbing a couple spoons from the kitchen to keep the beat!
With time to kill the next day at Gau, we plunged into the unknown, reefs just outside Nigali Passage. We were quite surprised to find a healthy, but young reef teeming with reef fish, including less common varieties of butterflyfish and surgeonfish. Typical of a reef rarely dived, the small fish fled while the larger fish approached us inquisitively. This meant close encounters with grey reef sharks, Napoleon wrasse and a very large Spanish mackerel.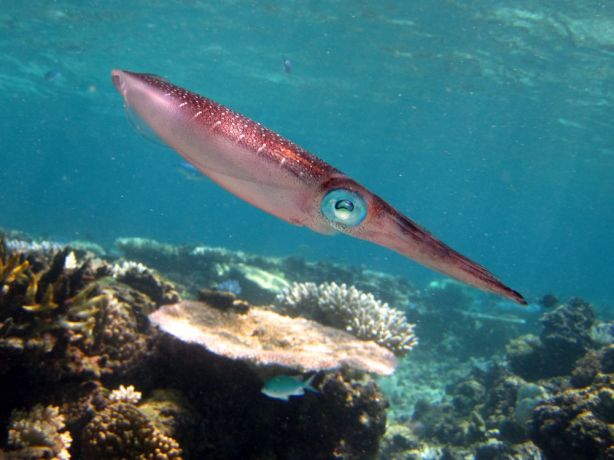 Squid in the shallows - by Cat
17 little squid & 1 big one - by Cat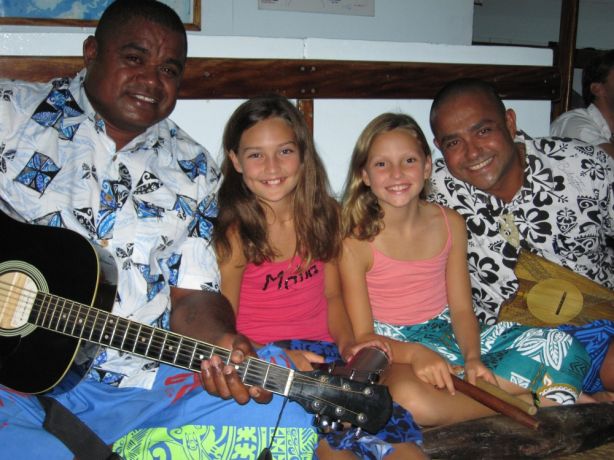 Bula sandwich - by Cat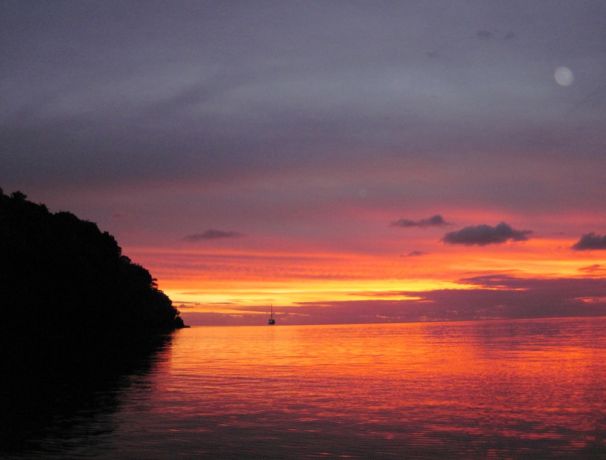 NAI'A in Gau's sunset - by Malia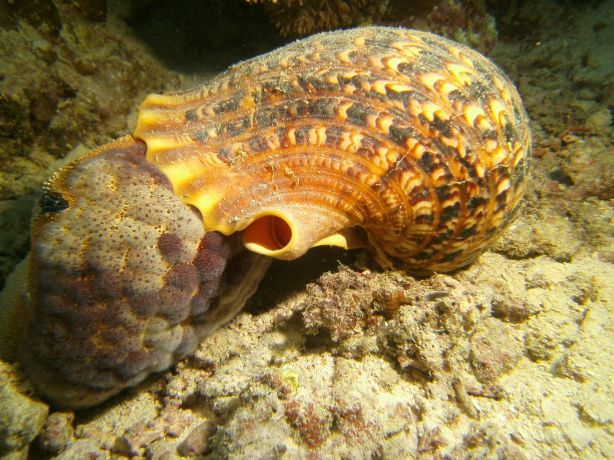 A chance encounter: a triton's trumpet engulfing a cushion star - by Dave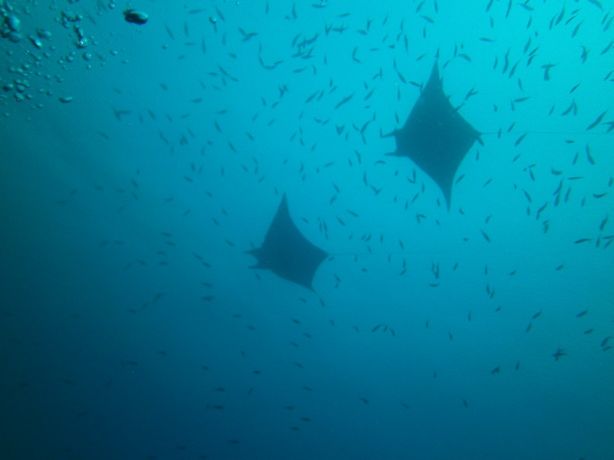 As if Nigali Passage weren't already exciting enough! - by Dave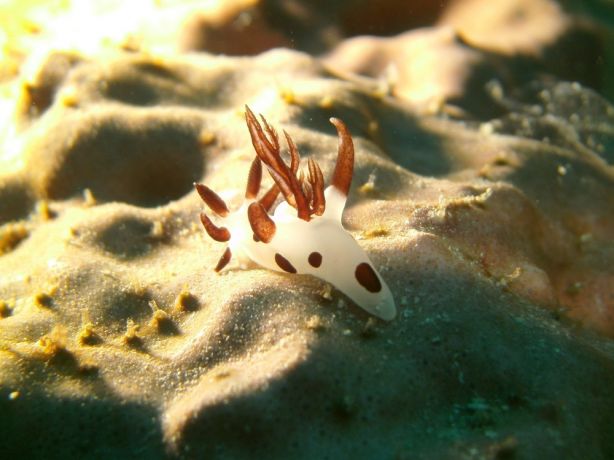 Somber slug - by Dave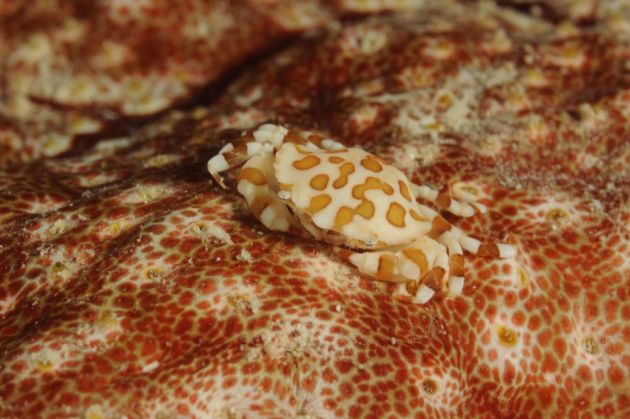 Clinging for dear life - by Franco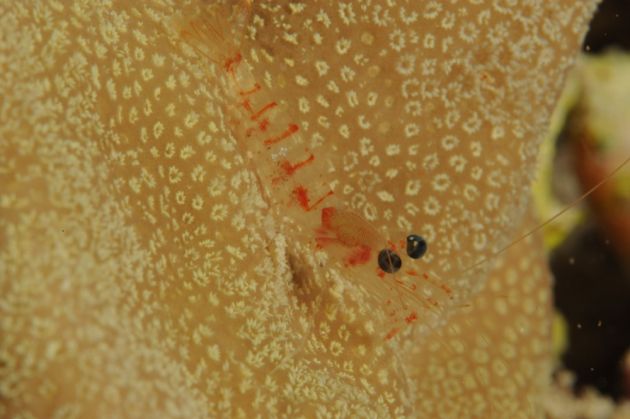 Coral polyps for size reference - by Franco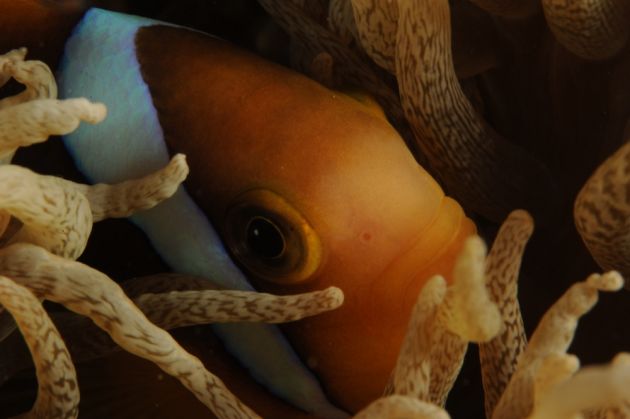 A somber clown - by Franco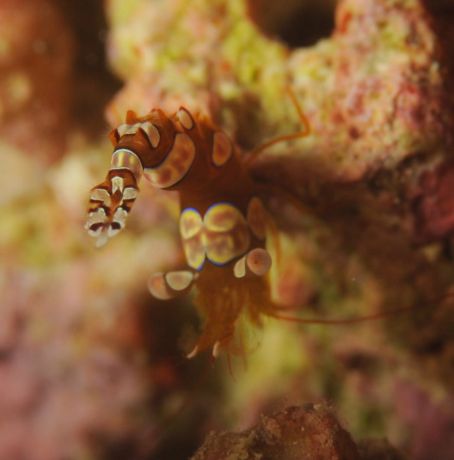 Sexy butt-wiggler - by Franco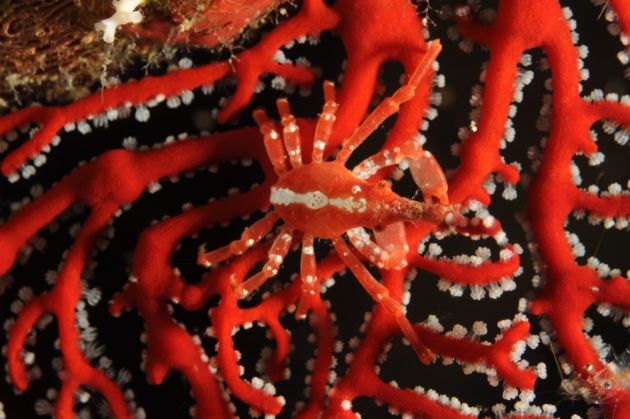 Depressed crab - by Franco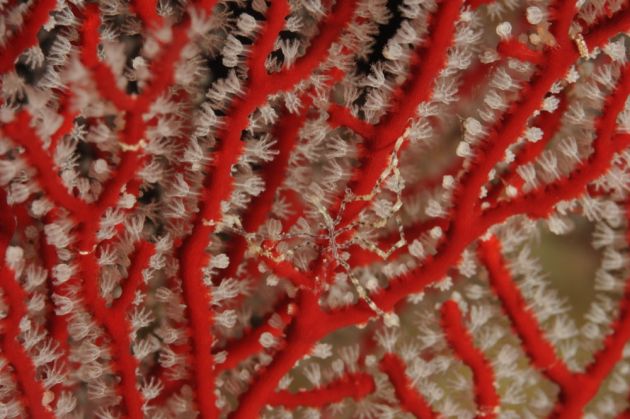 Slender sea spider on gorgonia - by Franco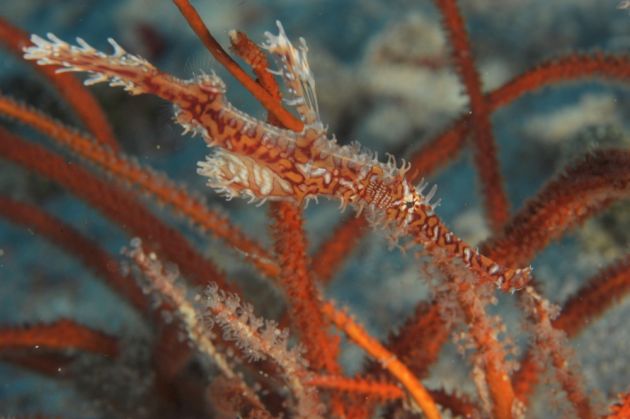 Ornate and ghostly - by Franco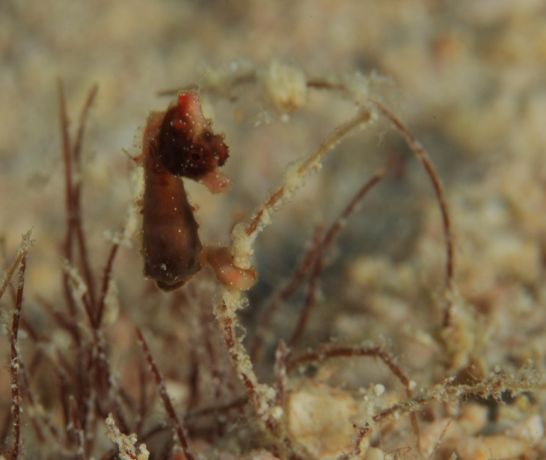 Pygmy... that's a good word for it! - by Franco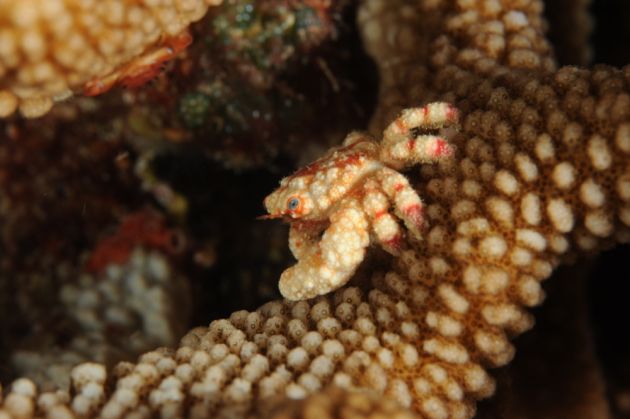 Chunky camouflaged crab - by Franco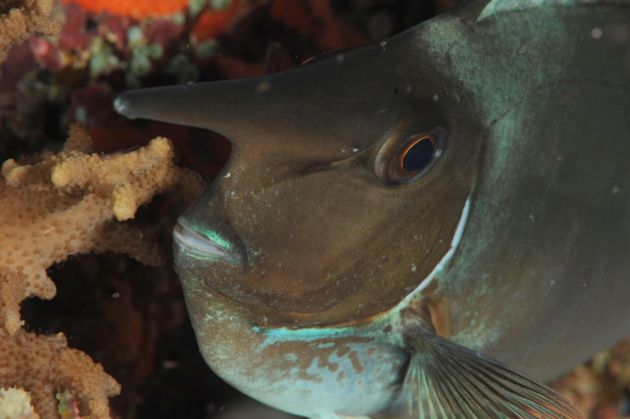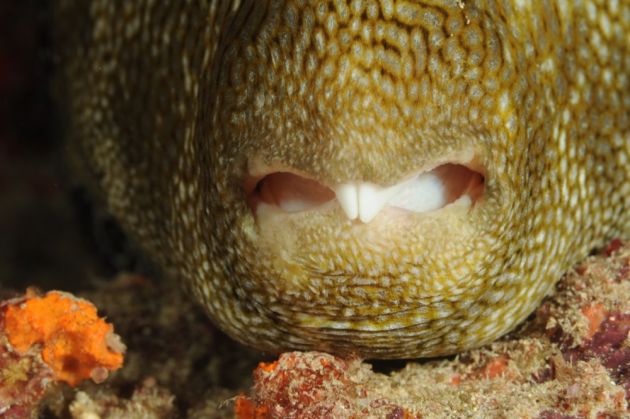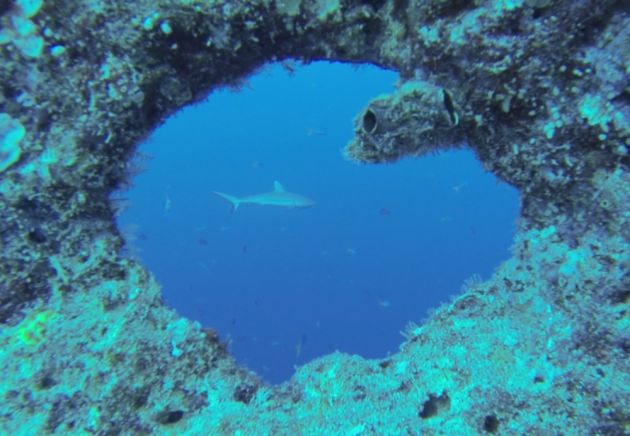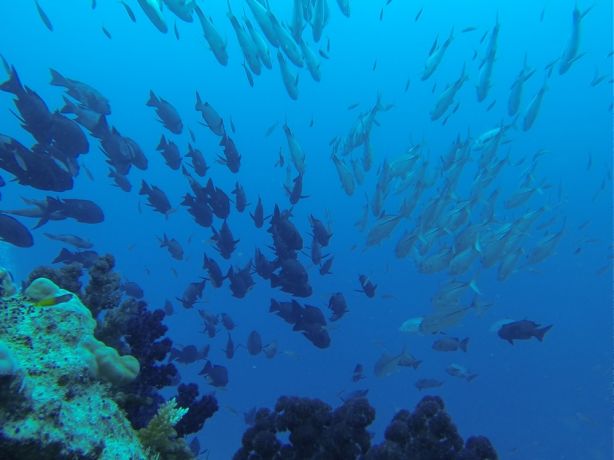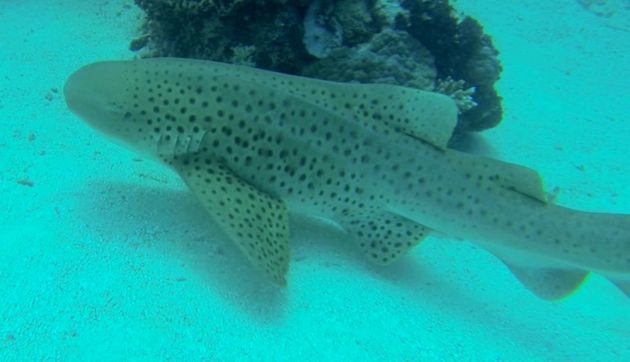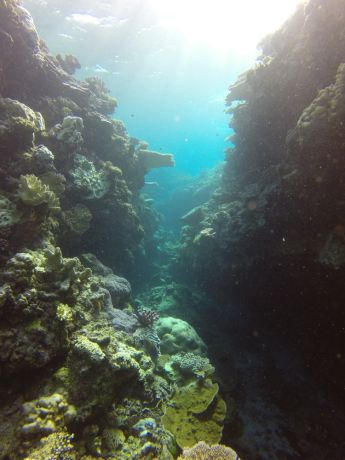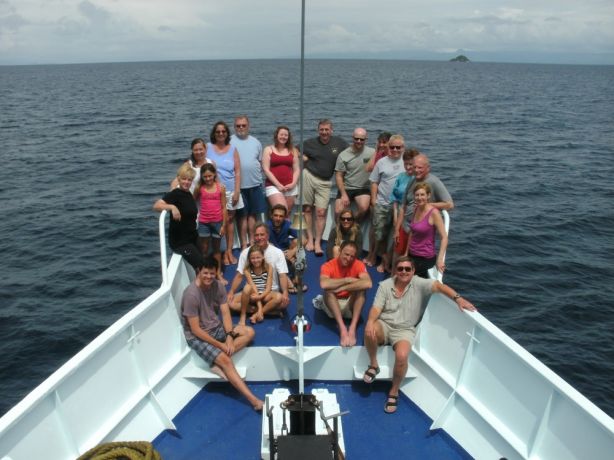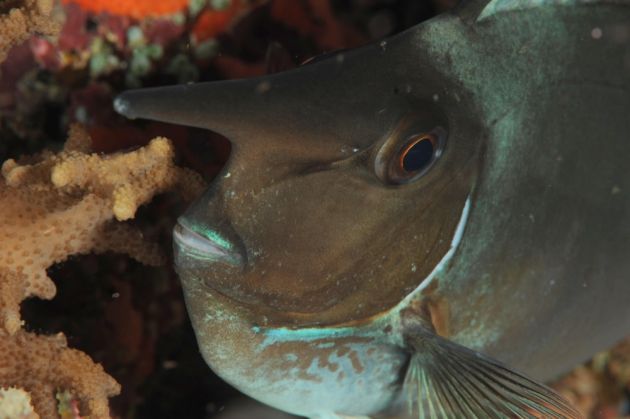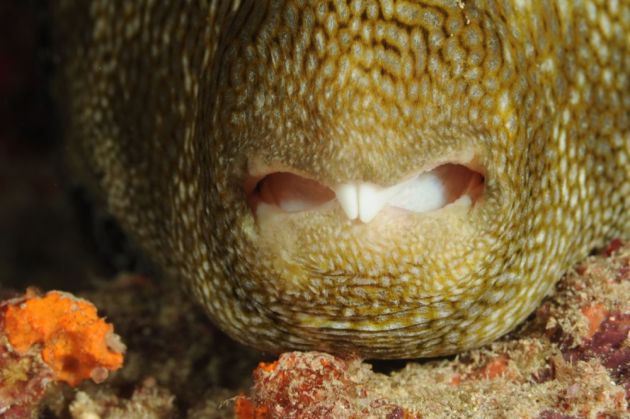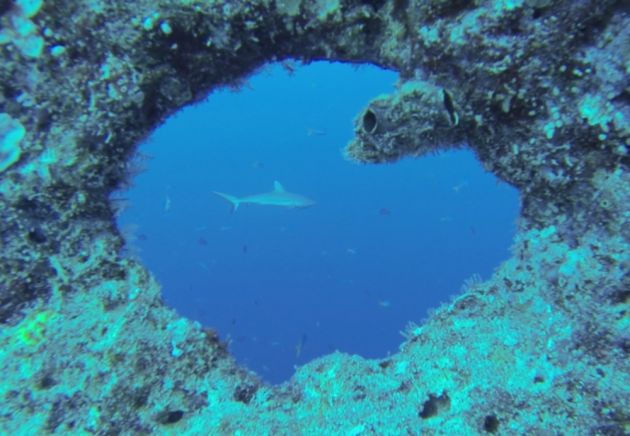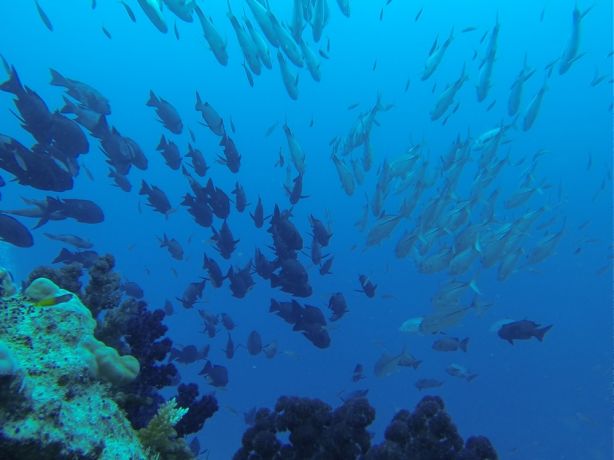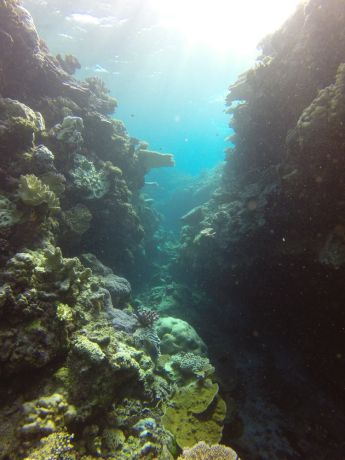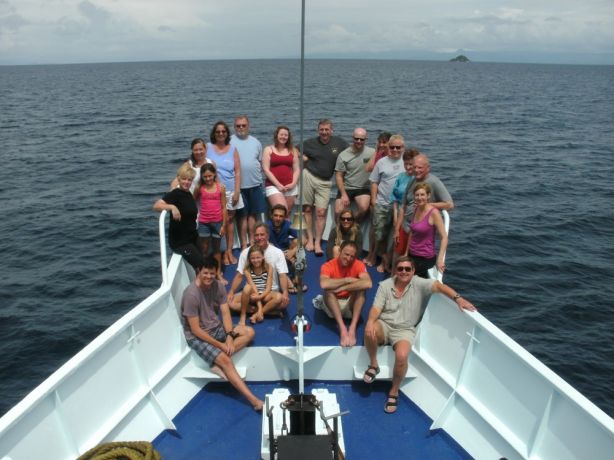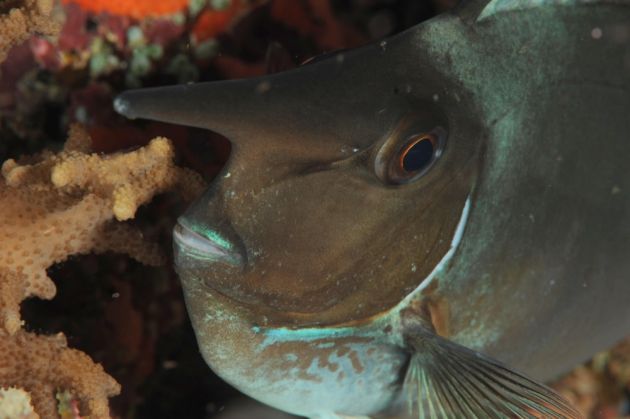 It's not your imagination. It's a unicorn(fish) - by Franco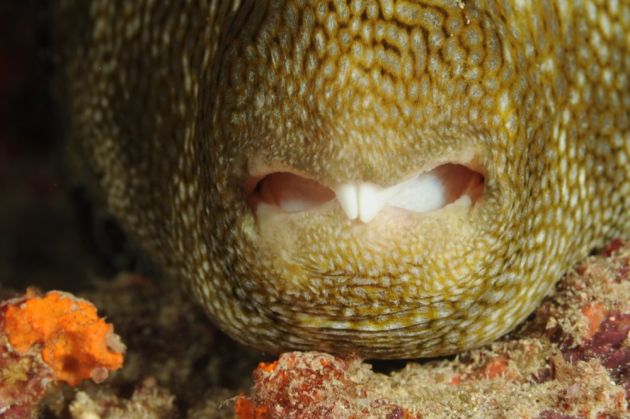 Smile! by Franco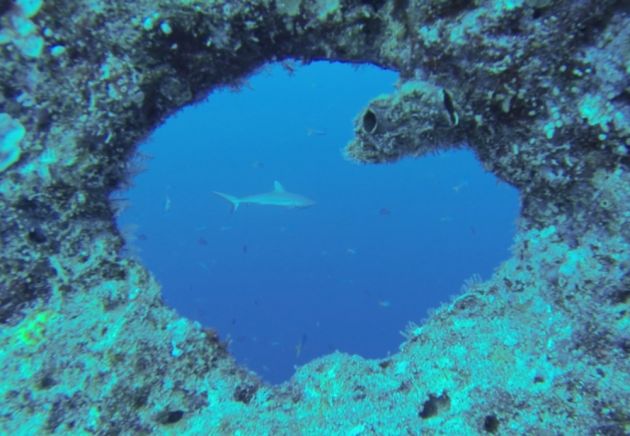 Through the porthole - by Janne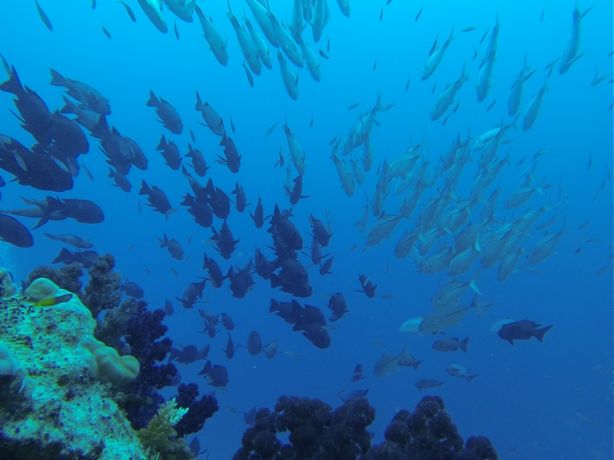 Swarm at Nigali - by Janne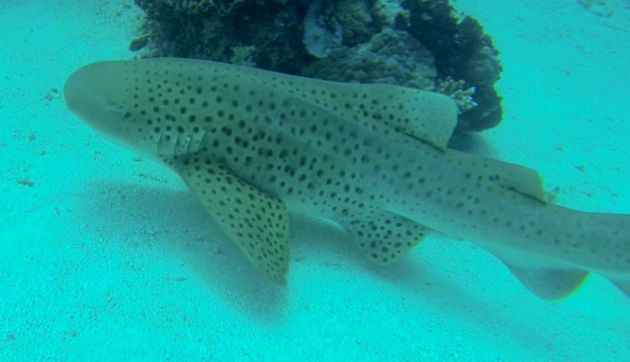 Changing his spots - by Janne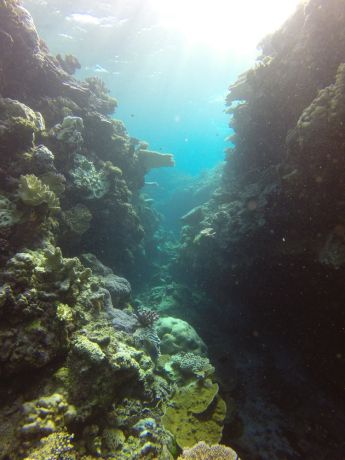 Sunny canyon - by Rick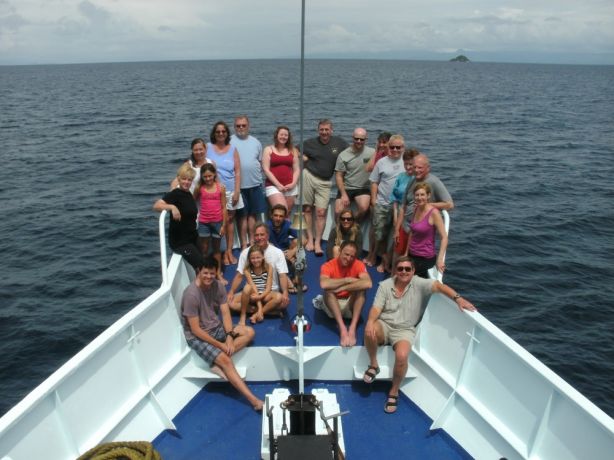 The Gang
"Did you see any turtles?" Asked 8-year old Parri of her mum, Cat, after her first dive in Nigali Passage…. Well, by the time we got to dive the passage itself, the current was running strong and gave us one of the best dives we've experienced in our 6 months on board, so lets start by telling you what happened:
Great vis made the 200 strong schools of brass-lined, pickhandle and blackfin barracuda look really picturesque as we swept along the sandy channel approach; huge silvery schools of horse eyed jacks and snapper vied for space with many grey reef sharks at the bleachers (wait it's not over); two MOBULA (devil rays) flew gracefully over our heads and into the melee and then, just when we thought it couldn't get any better, we let go and drifted over into the lagoon, only to find ourselves face to face with a sea krait and a leopard shark! So no Parri, we didn't see any turtles, but it was still an OK dive!
With everybody on a high, we jumped into the skiffs and headed for the village of Somosomo. Rob gave a touching speech thanking the islanders for a wonderful 21-year partnership, paying homage to their beloved chief who had made it all possible (NAI'A guests diving their reefs) all those years ago but had sadly passed away recently. This went down extremely well and led nicely into the charming dance performances. In Somosomo, they always ask the women to join in with the dancing, and this week our guests continued the tradition, especially Ivana, who joined in with gusto!
Every charter, we suggest what donations our guests might like to bring on the village visits. Everything is always very gratefully accepted, but nothing quite so much as medical supplies – with the possible exception of the football (soccer ball for our North American readers) that Cat brought for the kids! This charter really came up trumps with Gwen & Dave bringing a huge bin liner full, which Amanda handed straight over to the formidable Rosilla, Somosomo's larger than life matron. She looked as pleased as punch as we left having restocked her meager medical cabinet to the brim with new bandages, ointments and meds.
On our last full day of diving, we ventured back to the underexplored area of Vatu-i-Cake. We successfully navigated our way through a number of new dive sites covered in beautiful hard corals, with shark and turtle sightings completing the picture. The last dive of the day was voted the best, a swift drift dive through a reef passage into the north side of the lagoon. Not sated, however, we had a record turnout for the night dive on the island reef, all returning with smiles on their faces having spotted a host of nighttime critters such as squid, flashlight fish and sea stars with arms as longs as a man's.
The last day was also the birthday of the most longstanding member of NAI'A's crew, none other than founder and owner, Rob. In traditional NAI'A style we all sang him happy birthday upon which his daughters came out of the galley bearing a wonderful bright blue birthday cake in the shape of NAI'A herself! A fitting end to a great charter, we look forward to having you back in August Rob, and then again with all your girls in September. See you soon!
Comments
"I have just had a marvellous 10 days aboard Nai'a. As usual, your Fijian crew are rather special, and all the other guests felt the same. It was so great to be aboard again."

~ Quentin, 6-time passenger, New Zealand