A Kadavu Easter Adventure
Destination: Kadavu, Fiji
Trip Date:
Apr 1st - Apr 7th, 2021 -
Comments
Author: Jemma & Scott
Welcome Back: Almost everyone!
We were so excited to be back again with our growing team of Nai'a local guests who have been making the most of exploring with Nai'a whilst we wait patiently for Fiji's boarders to open. We have such a great time with these guys and we were in for another fantastic trip – this time voyaging south to Kadavu.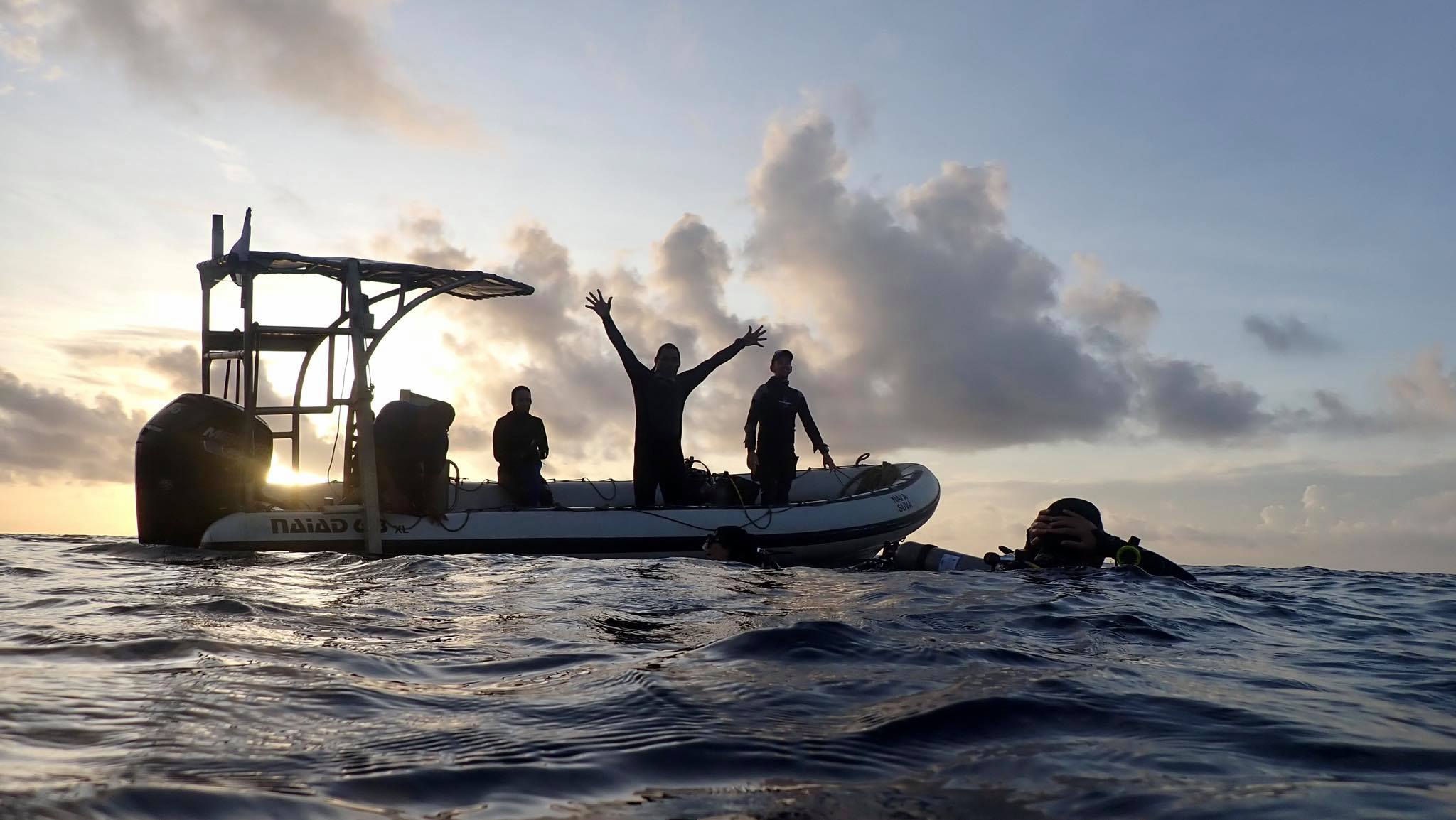 Photo by: Lenore
We picked up our guests (now very much familiar friends) in Pacific Harbour and headed straight down to our first stop on the North Astrolabe Reef. We arrived in the afternoon to do our check out dive at Solo Reef. As soon as they were descending Fareea and Lenore were treated to a beautiful eagle ray to start off the trip, and Jessie and Elliot spotted a Spanish dancer! Those who were keen also went out for a night dive at the same spot. They had plenty of whitetips for company and found decorator crabs and marbled shrimp - we just love all the crustaceans that come out on a night dive. Elliot took his new flashlight (which is now even bigger than Judy's) which also does UV light so it all looked pretty magical.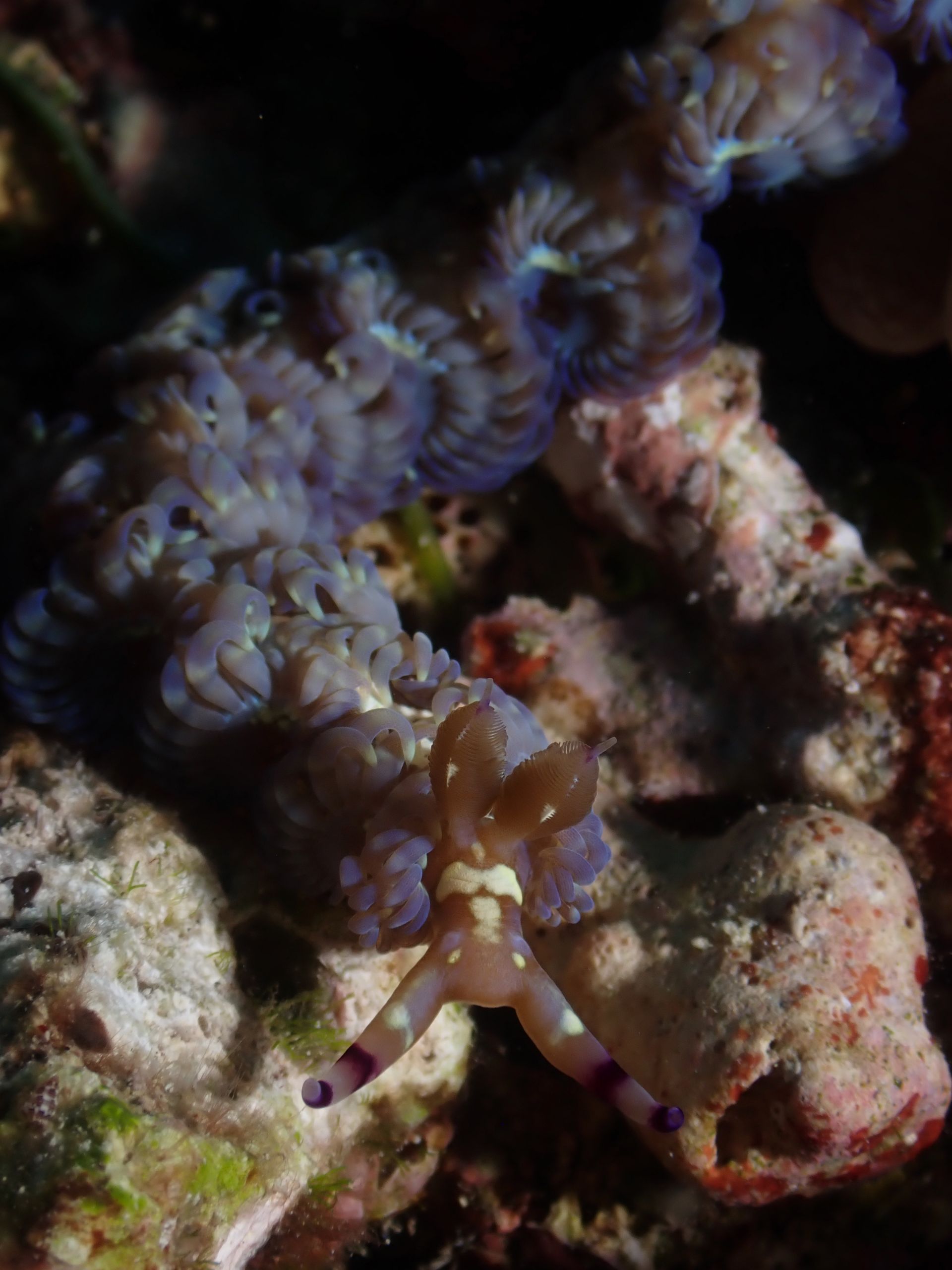 Photo by: Ken
After a nice calm night at anchor we awoke ready to explore more of the reef. Another dive on the north section of Solo Reef with pinnacles and bommies to swim between, before it dropped off into the deep blue. There were hundreds of (my favourite) pyramid butterflyfish, hawksbill turtle and anemonefish. We then moved down to dive on the south of Solo Reef. A different reef topography here with a sheer drop off, and walls and overhangs of soft corals (Dendronepthya plus another – Sangeeta and I are working on it!). More sharks and turtles, triggers (for Judy) and some three spot angelfish.
Over lunch we headed further down to Vanuakula Island to check out the beach. Ken and Fareea paddle boarded over and there were some beautiful corals right off the beach to snorkel. Jayshree spotted a lobster and we found some ribbons of nudibranch eggs. Cyndee learnt to SUP with Alexx, and Elliot and Jessie circumnavigated the island (as standard) on the kayak.  
Later on we went for a dive at Dravuni Passage and explored the reef here as we drifted along the wall.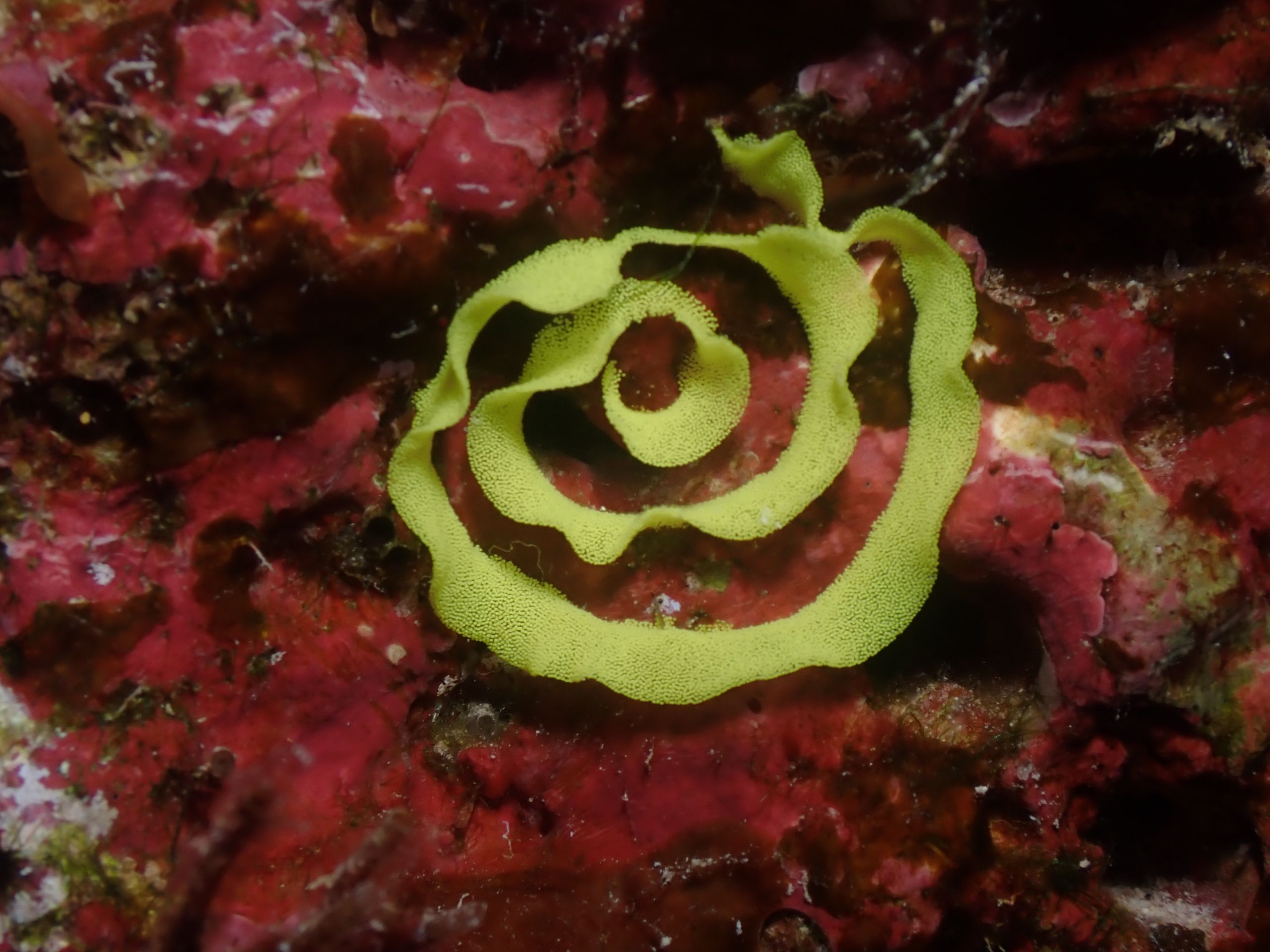 Photo by: Ken 
The next morning we dived a couple more sites at Dravuni Passage but decided as a group that after breakfast we would head to Namara Island. Today was the day for some coral ID lessons – I WILL make you all coral geeks! So we went through 5 common hard corals and then later 5 common soft corals to keep an eye out for here in Fiji.  
Once anchored at Namara, were went to check out some of the fringing reef on a dive finding some anemone fish, upside-down jellyfish (which Ken describes perfectly as looking just like a salad bowl), sea krait and hawksbill turtle. Alfredo got some cool drone footage, and then people headed over to the beach after lunch for a paddle, or relaxed on board (FYI Cyndee is a pro SUPer now!).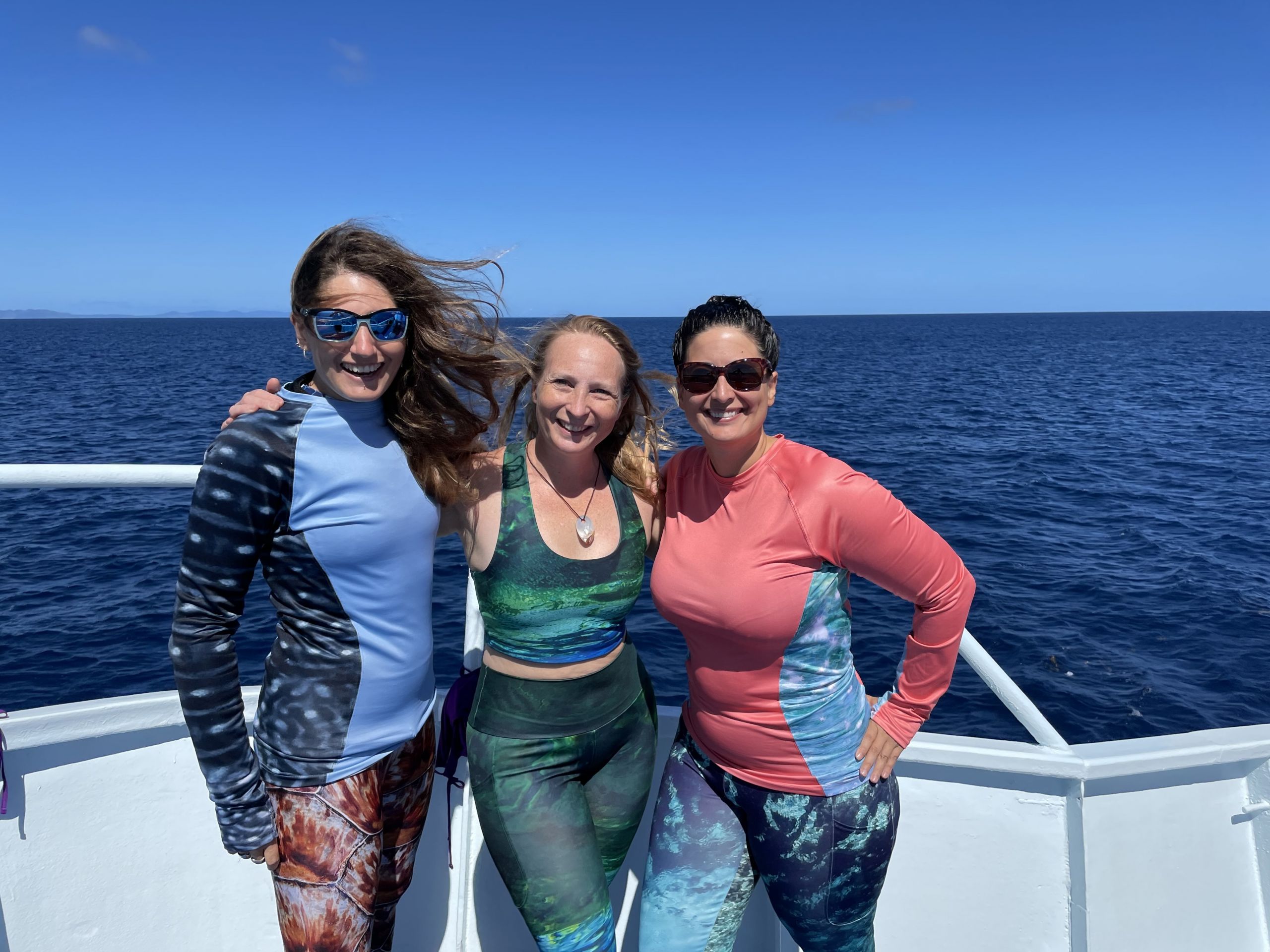 Our final dive of the day was over on the outer reef of Namara. We made our way along the reef, winding around pinnacles and searching for critters in the rubble. A very shocked whitetip reef shark came face to face with Sangeeta and Jessie as he was going about his daily patrol. Vittoria and Ben nodded away as I was pointing out the corals we learned earlier – maybe they were just humouring me (?).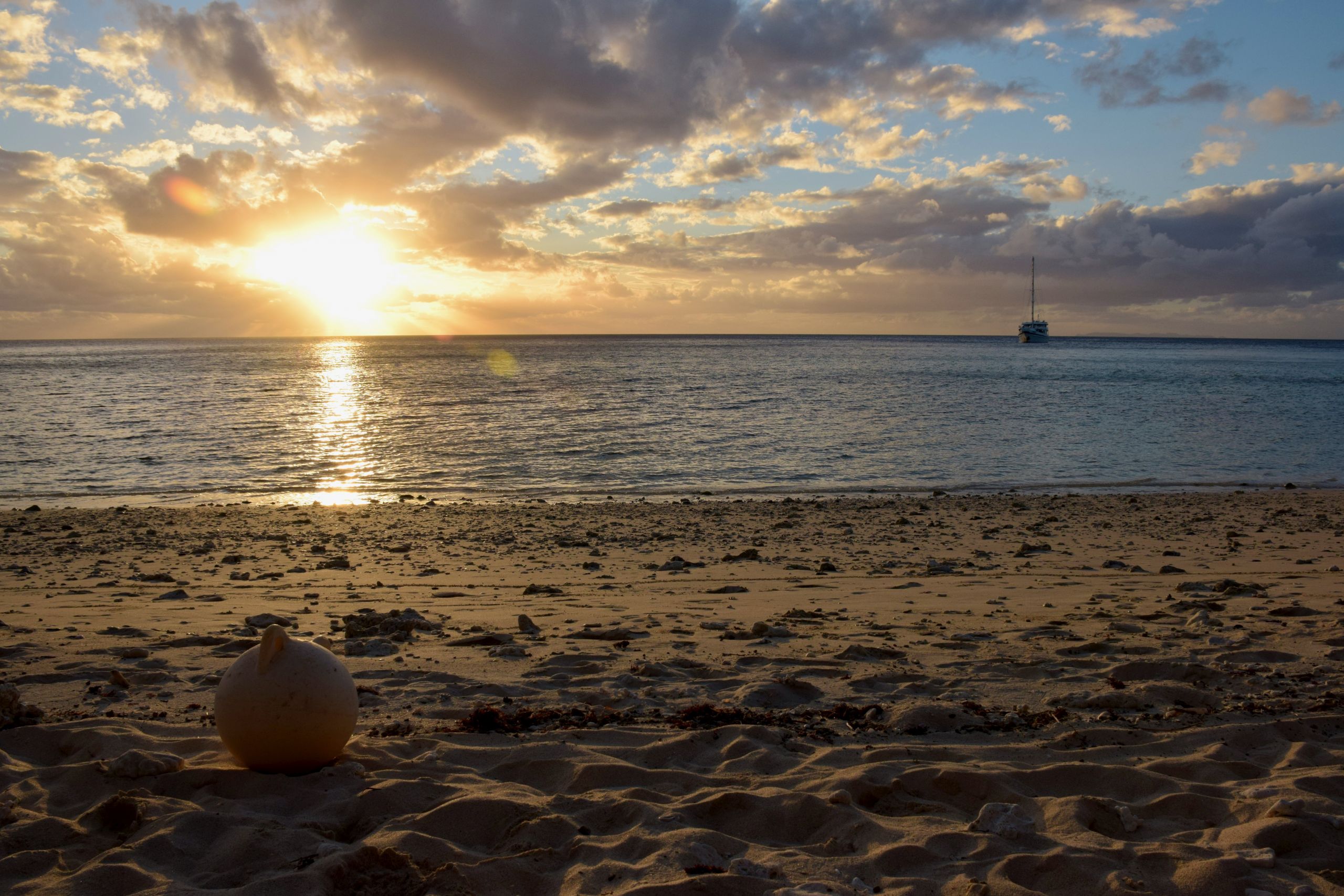 Photo by: Elliot
We awoke to some strong south easterlies so decided to move down to anchor and take shelter behind Ono Island. We did a couple of dives at Alacrity Rocks, and found a nice region with a cluster of bommies with a cool swim though which Dan and Scott found. There was some nice hard coral cover, huge Diploastrea colonies, resting whitetips, Ken found a juvenile rockmover wrasse and juvenile yellowtail coris wrasse in the rubble. Ben spotted a scorpionfish and Elliot possibly the only two Chromodoris lochi in the area (usually we find them everywhere in Fiji)! After the dives we headed into the protected Kavala Bay on the north of Kadavu where we relaxed with Sheldon's bottle of Jack Daniels and the sunset.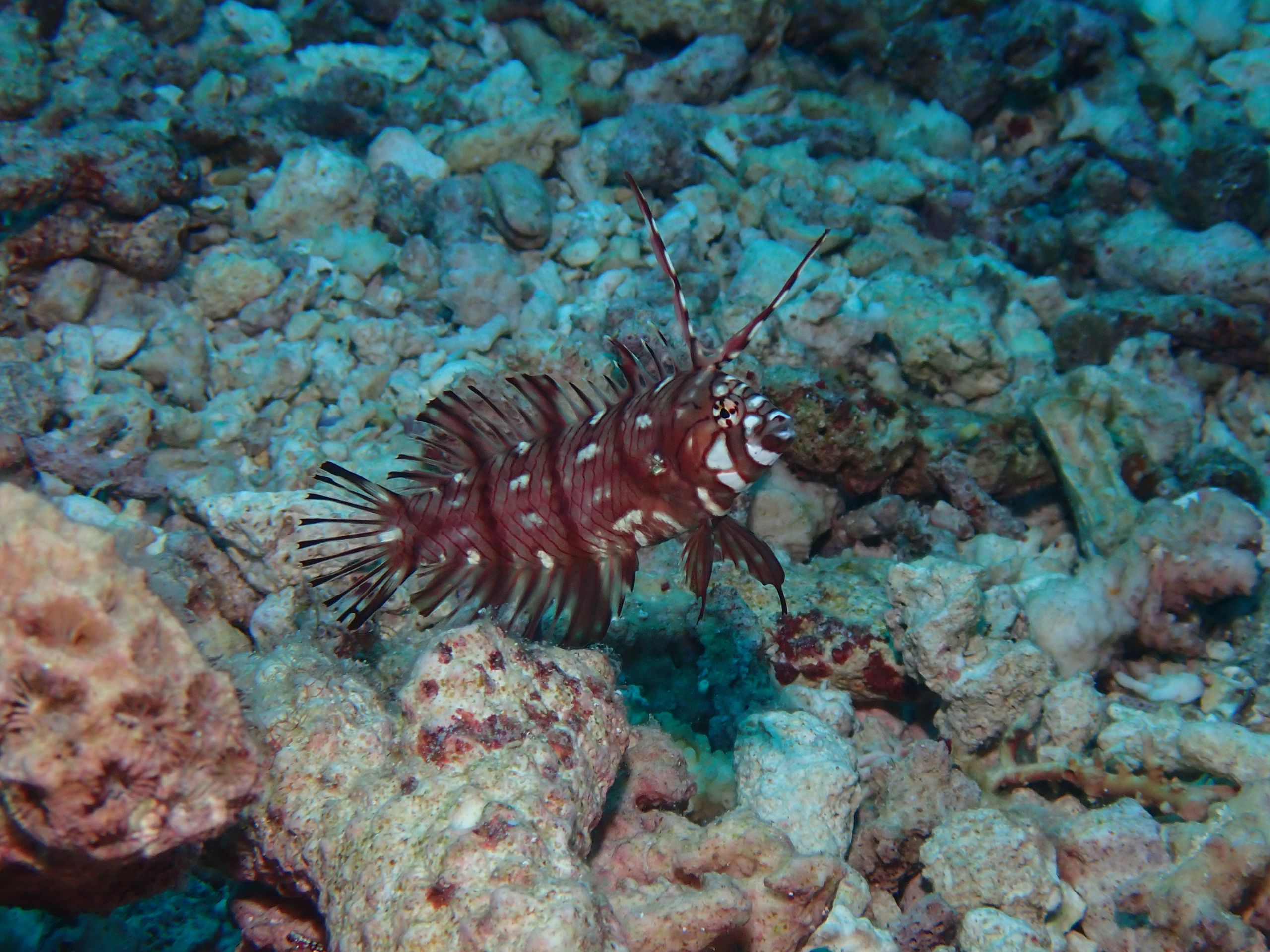 Photo by: Ken
After an early breakfast the next day we took a skiff drive through mangroves and began a hike up to a stunning waterfall with a nice refreshing (cold!) pool. Scott climbed the waterfall to jump off…and then Tai (our guide) aka Spiderman showed him how it was really done! We even heard parrots in the trees (could these be the endemic ones…?).
Meanwhile Judy, Lenore and I went for a little snorkel where Lenore found a spotted eel living on a big colony of Diploastrea (you all know the coral I am talking about – the one with the big fat polyps).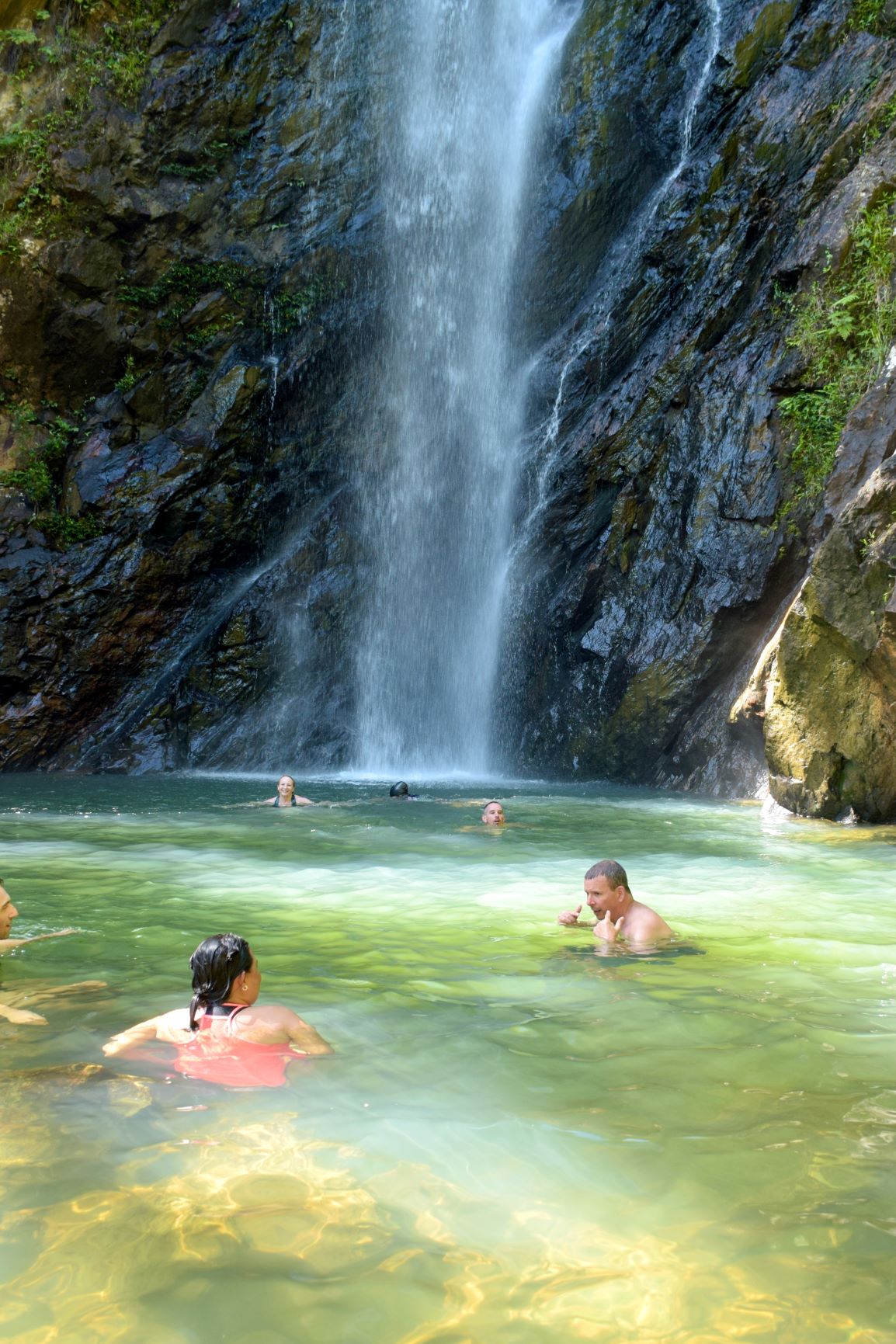 Photo by: Elliot
Over lunch we moved up to Vurolevu and explored some of the reef in that area. The visability was not the best, but we all enjoyed scouring the reef for some cool critters. Kristina was on a role. There were upside down jellyfish, nudibranchs of all kinds, and squat shrimps on anemones. There were blennies and shrimp gobies and I was making Judy cross eyed showing her the tiny boxing skeleton shrimps on the hydroids.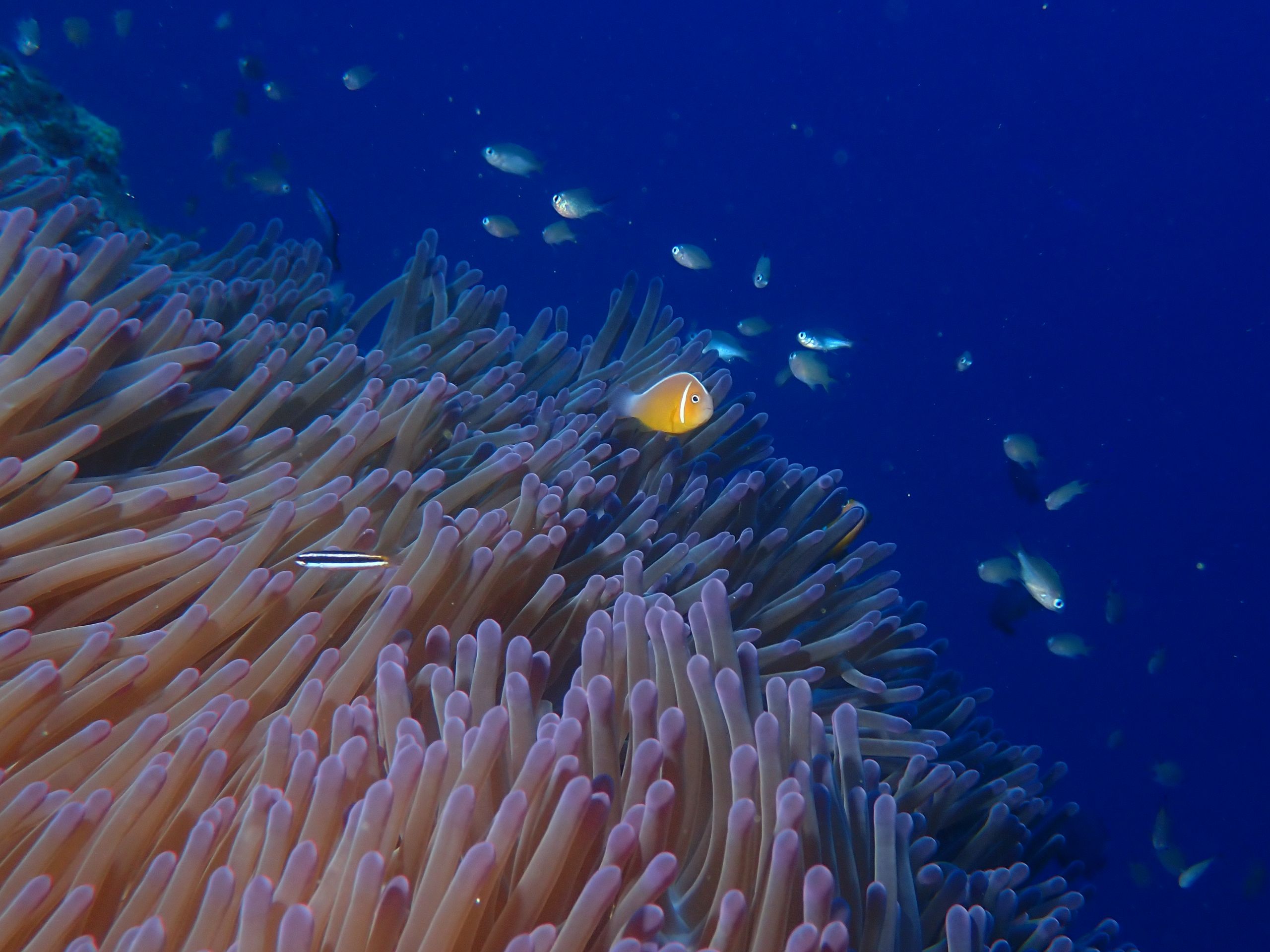 Photo by: Ken
It turned out however that whilst we were all diving, Alfredo had been snorkelling just above us and came face to face with a manta! Meanwhile Alexx and Cyndee enjoyed the peace on the sundeck.
Later that afternoon we moved across to Namara for a more secure night anchorage. We headed over to the beach for sunset drinks and a bonfire, and then after dinner enjoyed a bilo or two and some songs at the crew kava party (Beth's frog noise was fantastic). The shooting stars were out for Kristina and Alfredo (our stargazers) and you could even see the glow of the bright lights of Suva on the horizon.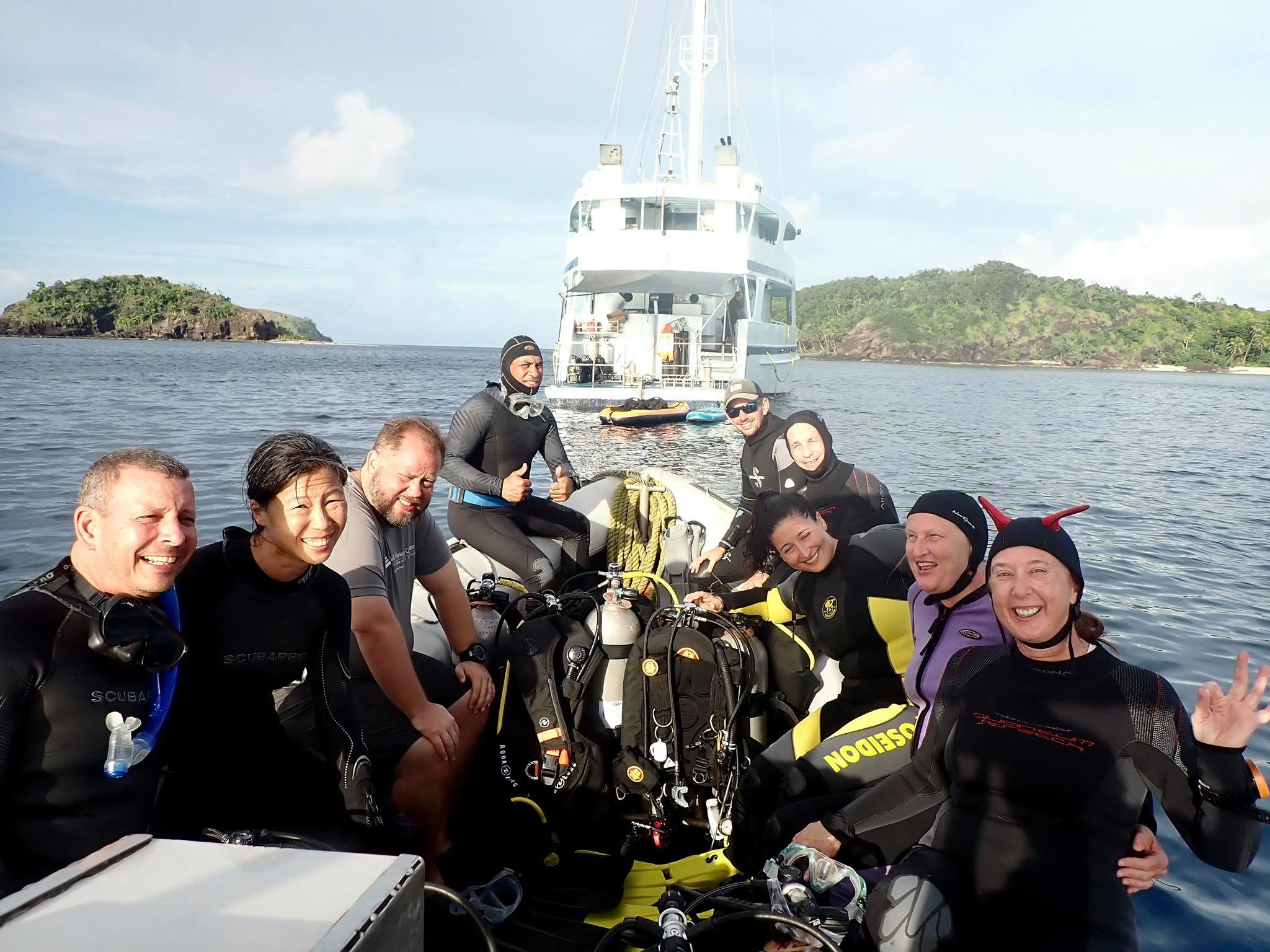 Photo by: Lenore
The next morning we had decided to head back up to explore Solo Reef a little more as this had been our favourite diving spot. So we did a couple of great dives on the east spotting whitetips, turtles, eagle ray, marbled ray and even a huge hammerhead cruising along the wall. There were big smiling faces as everyone arrived back to the ship.
Over lunch we made our way back to Vurolevu to try our luck looking for some mantas. Again the visibility wasn't the best but a delighted scream from Sangeeta meant that Fareea, Vittoria and I also saw a beautiful melanistic manta guide along below us for a few minutes before dropping down off the reef.
After another sunset (and drinks) on the top deck we took a look at some of the photos taken over the trip – I think Ken's cheeky blenny photo was the favourite!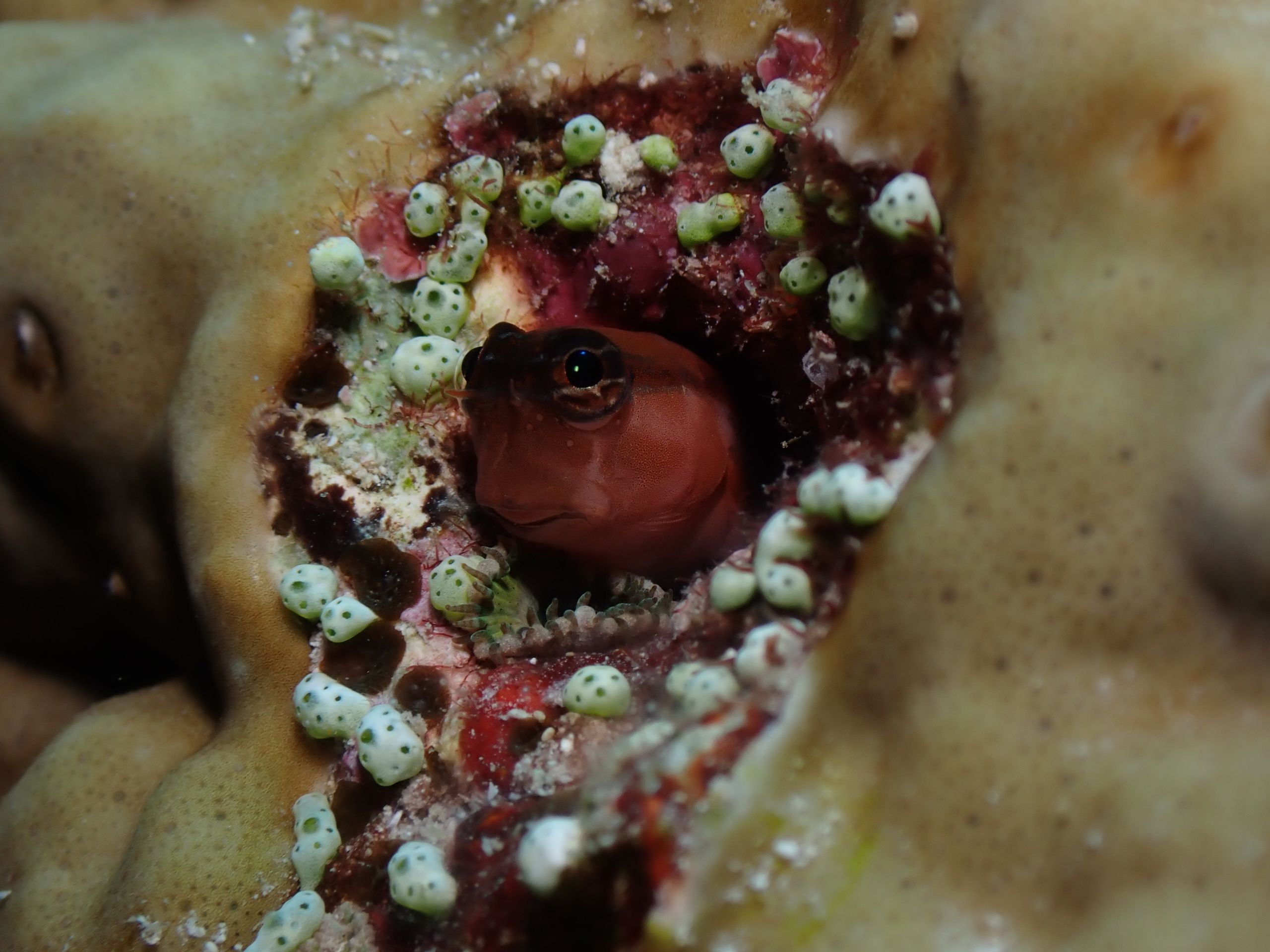 Photo by: Ken 
Later that night (rather than packing) Elliot, Jessie, Dan and I were introduced to the epic game of Wingspan which Ken and Fareea very patiently explained the rules to – my favourite part was when you got to lay eggs (remember Jessie you get an egg too!).
It was great to see what Kadavu had to offer and explore these waters with our fellow adventurers again. I will miss the stories over dinner, sunrises and sunsets, the smell of Beth's Pure Fiji oil, and diving new spots with you all. But worry not – Judy is already organising the next trip!
So what did we learn this trip:                                   
5 hard corals and 5 soft corals (study up team as there will be a test next trip!)
Team Nai'a is taking over the World, with Alexx, Todd, Judy, Beth, Sheldon, Lenore and Jessie all now with matching Nai'a rashguards (the question is - is Sheldon's tight enough?)
Waterlust girls have more fun (and it is clear I need to get some kind of commission!)
Beth and Alexx are the early risers never missing a sunrise (whilst Sheldon is saving the world at 6:30am and Jayshree has the yoga mat out).
There are ALWAYS more soft corals for us to learn Sangeeta!
Alacrity is defined as "a brisk & cheerful readiness" as in "she accepted the invitation with alacrity" - which I have on very good authority (vinaka Rob) that the Alacrity reefs at the Astrolabe Reefs are named after, and probably by, the HMS Alacrity that did survey work in Fiji in the 1870s.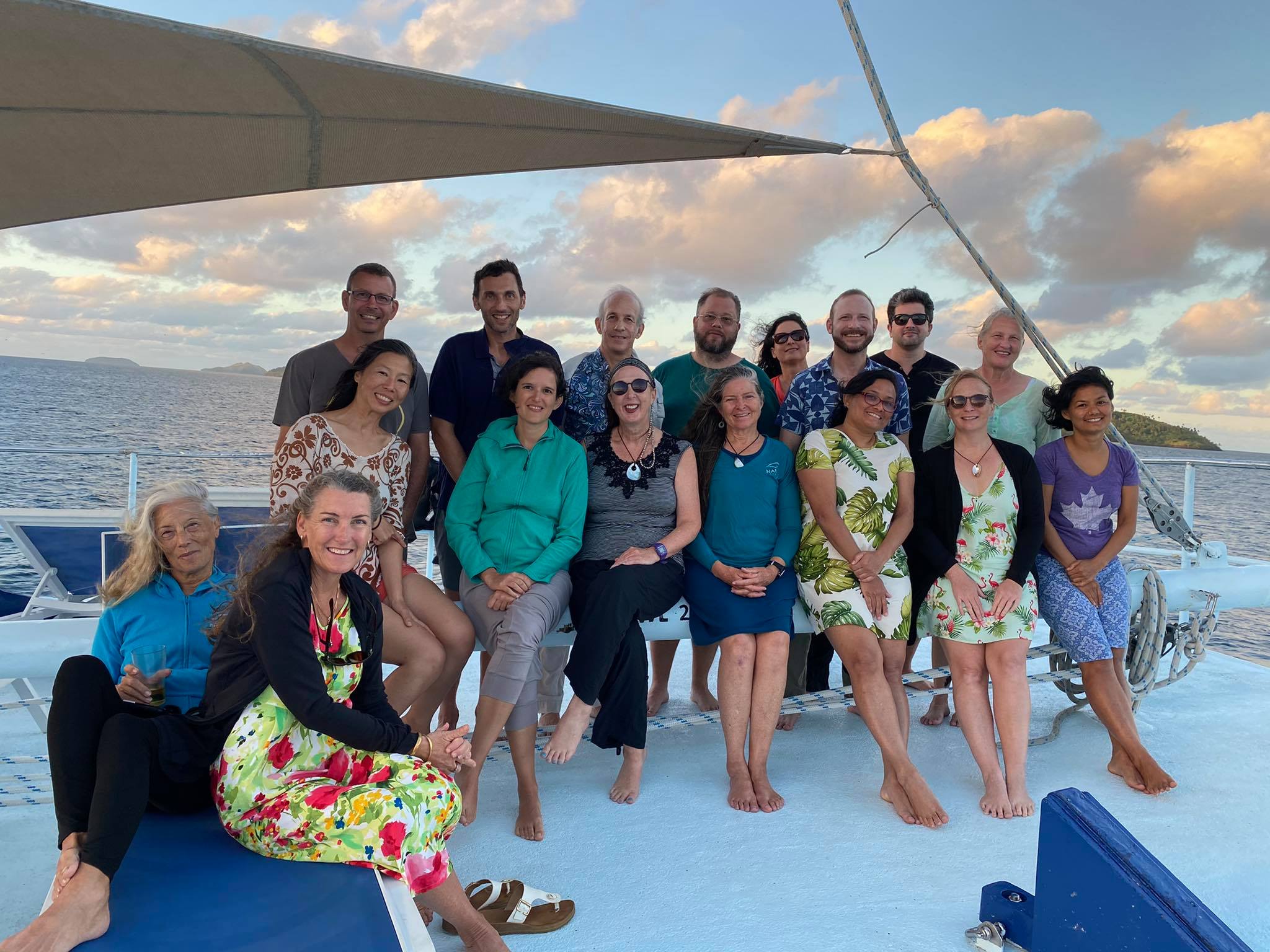 Comments
"Lomaiviti is nationally significant for its important role in reseeding Fiji's reefs and providing fish refuges."
~ Dr. David Obura, Cordio and WWF Marine Biologist