The Lucky 7
Destination: Fiji's Bligh Water
Trip Date:
Feb 13th - Feb 19th, 2016 -
Comments
Author: Joshua & Amanda
Welcome Back: Dick, Juli & Scott
Congratulations: Scott, on his 100th dive!
Every January, NAI'A goes into dry dock for about five weeks to undergo maintenance and enhancements. While your faithful Cruise Directors were shredding the slopes of Mammoth Mountain, our engineering team was busy giving our salon a facelift. The room now features brand new cushy couches and plenty of power outlets so our guests can work on their photos and lounge about in comfort.
Following the break, we returned to our duty of bringing eager guests from around the world to Fiji's bountiful reefs. Due to a group cancellation, we only had seven guests on this charter, which meant an almost two-to-one ratio of crew to guests. As 2016 looks to be a very busy year, we relished making a slow start.
Among our divers were three return guests, all of whom made their last visit while we have been Cruise Directors. So, it looks like we're doing something right! Scott returned to show his wife, Mary, how incredible Fijian reefs and people are and Dick and Juli came back for their eighth trip aboard NAI'A. Diligent loggers, these experienced divers carry with them a list of all the dive sites they have ever dived including lens recommendations and even a rating from 1-10!
Among our new guests were Barry and Jill, a couple that came in having already honed their skills in playful taunting. Prior to the trip, Barry had learned a handful of useful Fijian phrases with which to impress our crew. Before dinner, he confirmed with Joshua the phrase "au domoni iko", which means "I love you" in Fijian. The fact that this only applies to intimate lovers did not dissuade him from expressing this to our head chef, Mita, during the crew introduction. Our demure galley master was as embarrassed as could be expected!
For our first full day of diving, we visited the vibrant and varied reefs of Vatu-i-Ra. Since we left in early January, the water temperature has risen to 84oF/29oC. This means a few things: visibility is slightly reduced, preparation time before dives is cut down drastically and the threat of cyclones is higher. With the warm air and water come cyclones. Throughout this charter, we watched Tropical Cyclone Winston, which threatened to rage over Fiji. There hadn't been a violent storm in Fiji throughout the dry dock period, but a cyclone cut short the charter just before the break and now another one caused fear of another early departure. Fortunately, the cyclone avoided us throughout the trip, but it would delay the start of the subsequent one.
Despite five weeks out of the water, Amanda got right back into the guiding swing of things, finding a NAI'A pipefish, flabellina bilas nudibranch and a golden mantis shrimp on the first day at Mellow Yellow. Later, at the Whole Shebang, the current attracted scores of plankton feeding fish. Dick and Juli, who were happy to hang back from the group, re-discovered a hidden canyon into which they could delve.
Wary of southwesterly winds caused by TC Winston, we decided to explore the reefs of Makogai Island on Day 3. We were able to stick to our normal dive sites in the morning. At Rick's Rocks, Joshua found some photo-fodder, a leaf scorpionfish and a Poss's scorpionfish. He also found a couple of tiny critters, a lance cowrie and a whitecap shrimp goby. They were so cryptic, in fact, that our guests were unable to see them, but believe us, they were there! Towards the end of the dive, most of our guests saw a small banded sea krait (snake) slithering its way among the clouds of anthias. The wind picked up in the afternoon, making skiff entries and exists and little sketchy, so we sought shelter in the bay and did some exploratory diving. At the first point, Amanda's group found a huge emperor angelfish and on the second, Scott celebrated his 100th dive. Congratulations, Scott and may we say, you dive like you've got far more dive experience!
Barry and Jill took Joshua up on an exploratory night dive and it was surprisingly awesome. Sometime during the day, skiff driver Joji had found and marked a pinnacle for us to explore later. At a site we are naming Joji's Dream, we found two grand pleurobranchs, two diminutive scorpionfish, a spiky deer cowrie and, during the safety stop, a congregation of eight red reef crabs engaged in a "meeting"!
The weather held and so we decided to venture into the waters off the breathtaking island of Wakaya. The visibility wasn't great for our first dive at Vatu Vai, but Amanda's group happened upon the brilliantly camouflaged winged pipefish and an enormous Tahitian stingray. The identification of this rare ray was difficult because it was so scratched up, but its eight-foot long tail was the giveaway. The visibility continued to improve throughout the day as the current made its way along the reef. On the after lunch dive, Captain Johnathan pointed out a false stonefish and Joshua found an orangutan crab clinging to a patch of bubble coral only slightly larger than it.
Jennifer was the last diver up every dive. It's true to say that she had pretty good air consumption, but we strongly suspect that it's probably just that Mita's cooking is that good that everybody else in the group was in a rush to get to the next meal..! On this particular dive however, her extra time in the water gave her the opportunity to see a dogtooth tuna so humungous its head was square!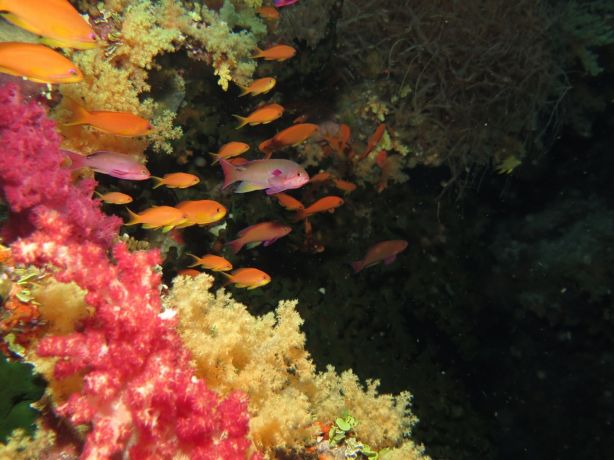 Fire light - by Jennifer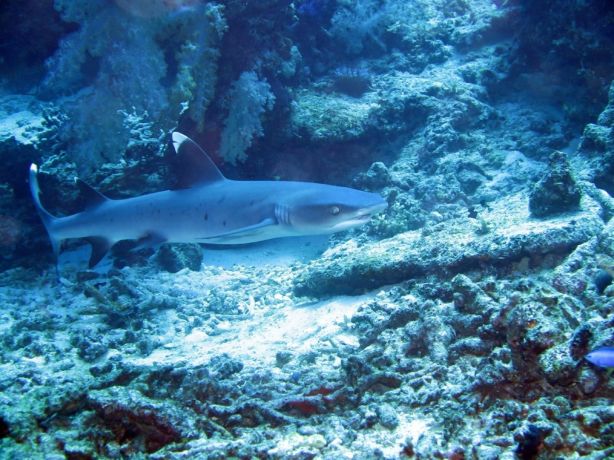 Shark patrol - by Jennifer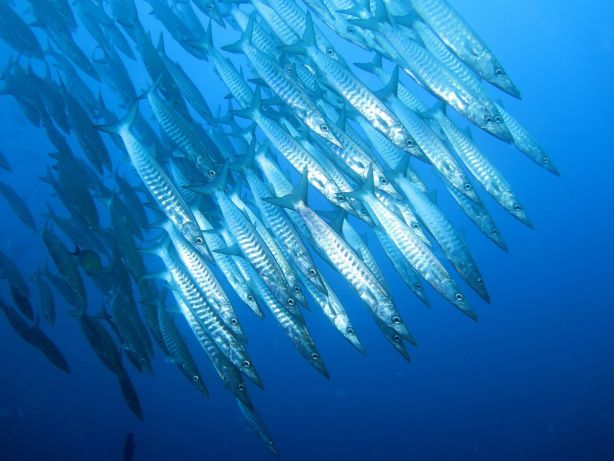 Icicles - by Jennifer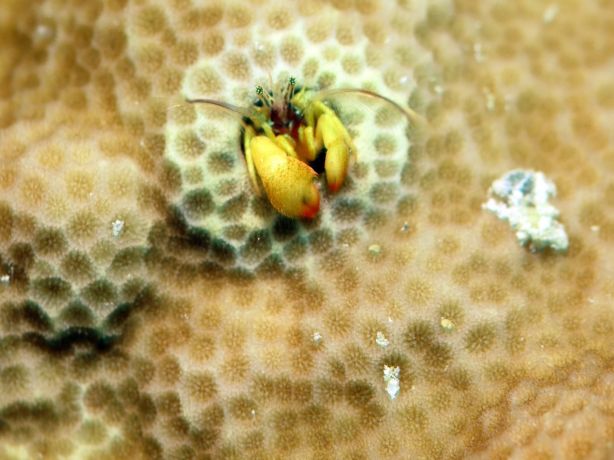 On guard - by Jennifer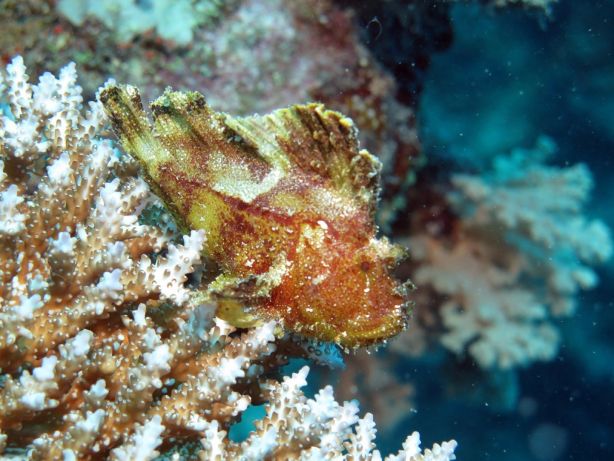 Leafy - by Jennifer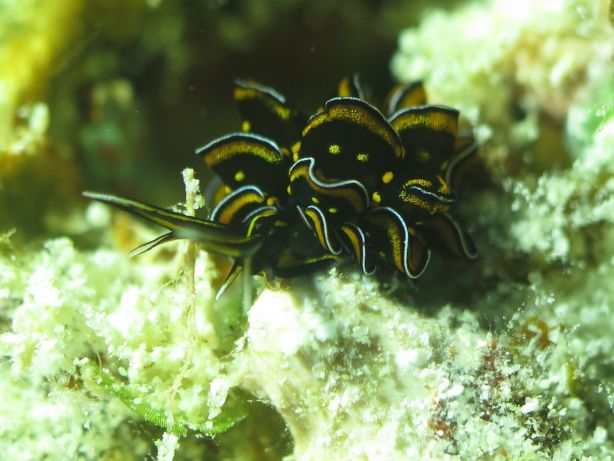 Seldom seen - by Jennifer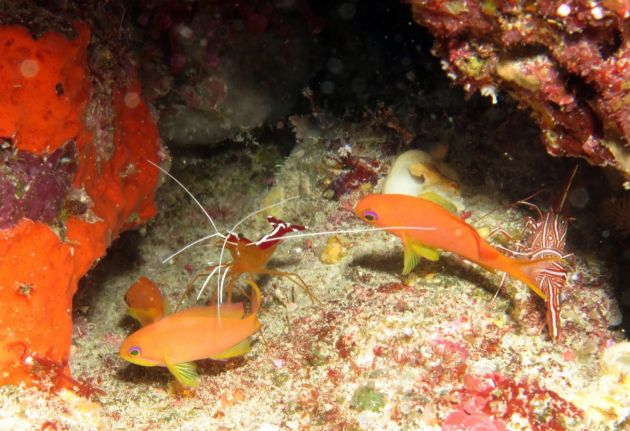 Spic n span - by Jennifer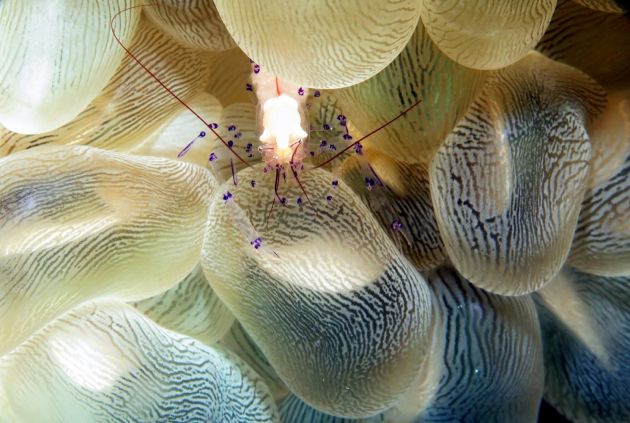 Feelin bubbly - by Jennifer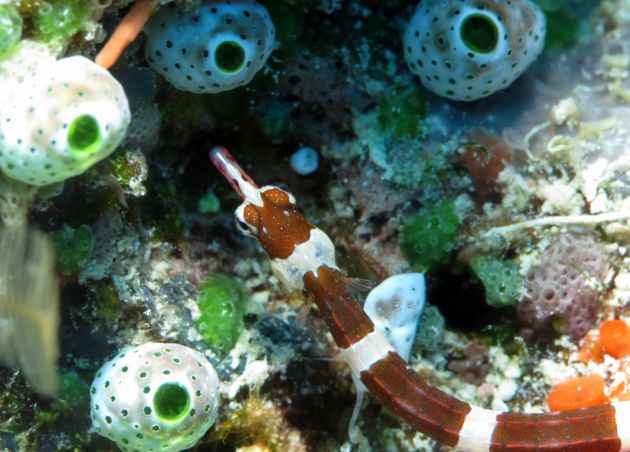 Nosing around - by Jennifer
I smell something fishy - by Jill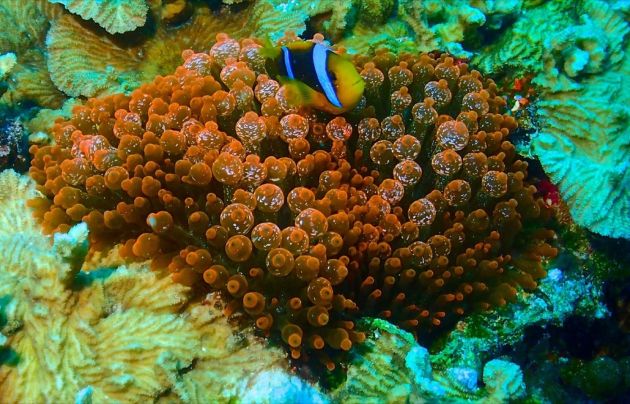 Bouquet - by Jill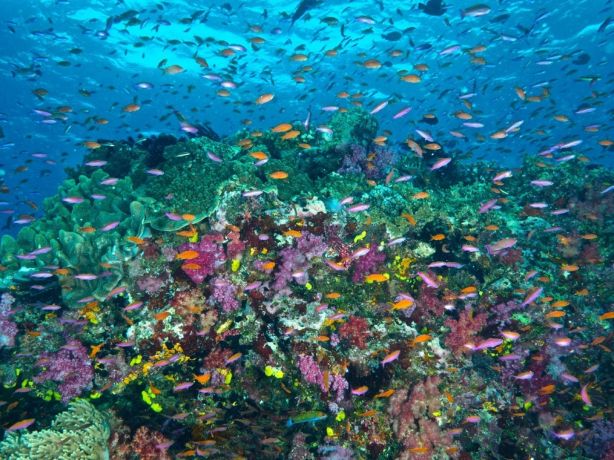 Explosive - by Jill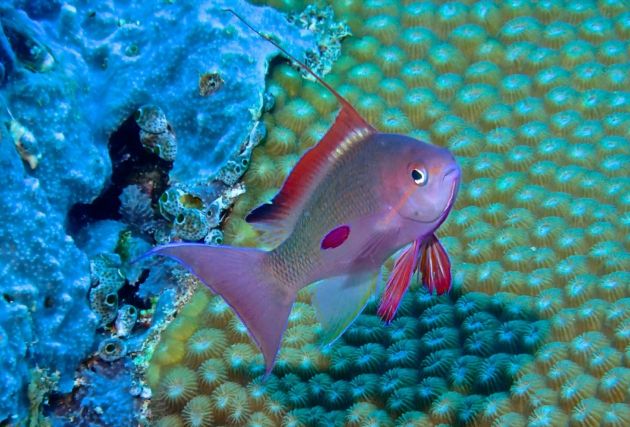 My turf - by Jill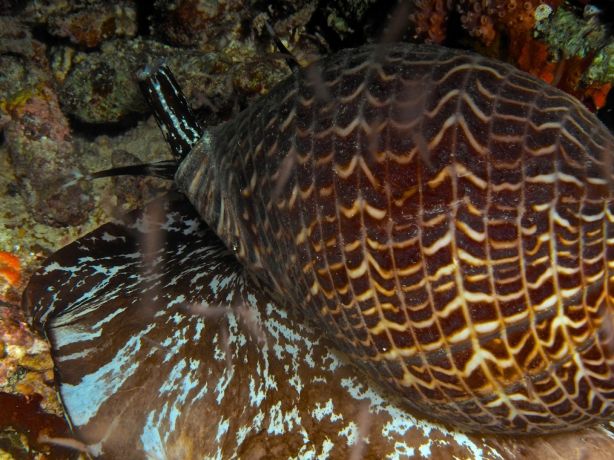 Tuns of fun - by Jill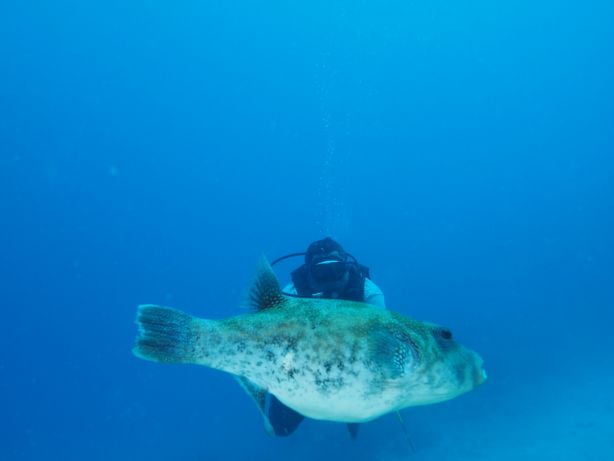 Big Puffer - by Jill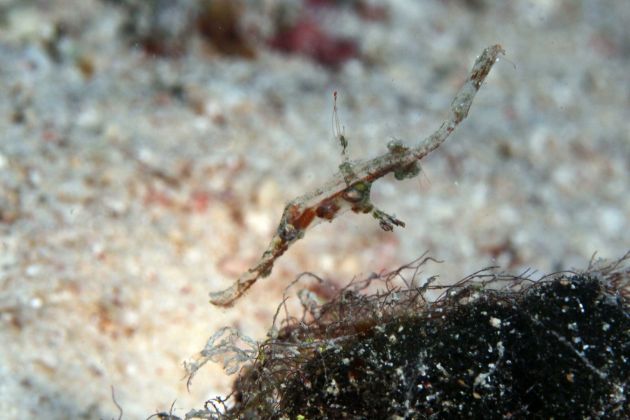 Juvenile ornate ghost pipefish? - by Juli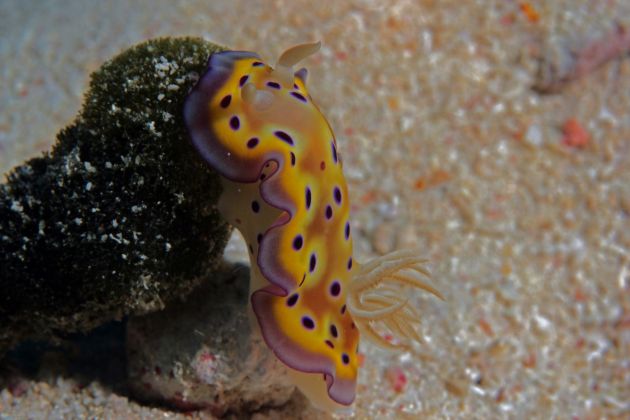 Freeclimber - by Juli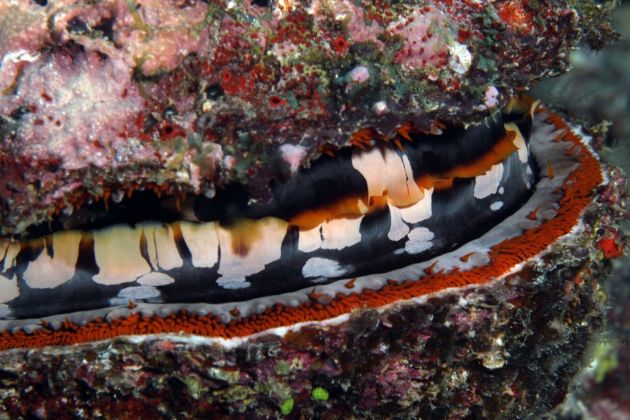 Nice lips - by Juli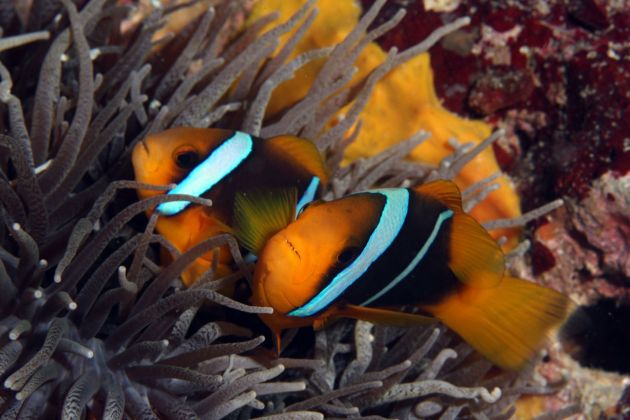 Snuggle bunnies - by Juli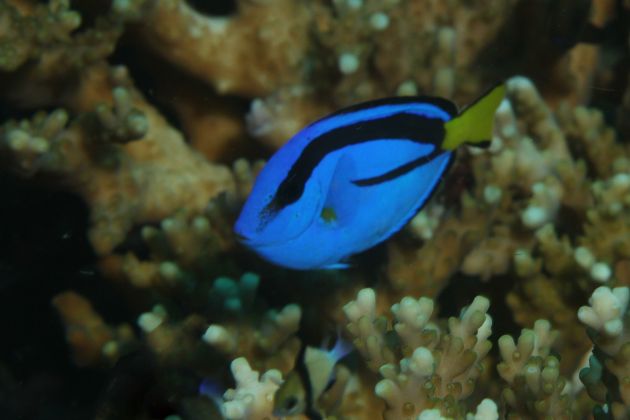 Just keep swimming! - by Juli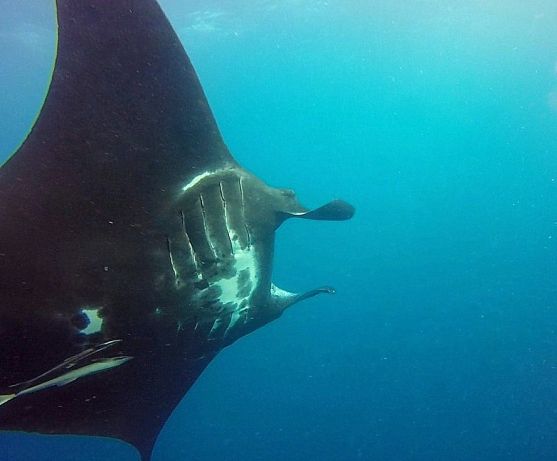 Proof - by Scott
Afraid that Cyclone Winston might turn back and blow out our diving, our group elected to dive throughout the day rather than visit a Fijian village. This was a tough choice because the village visits are wonderful, but our group obviously had their priorities. On the next dive at Lion's Den, Amanda found the rare and exquisite cyerce nigricans nudibranch and a giant trevally that was bigger than the school of whitetip reef sharks amongst which it was swimming. Big Mo led the night dive, the highlight of which was a ribbon worm that was easily six feet long!
By now, Winston had blown over northern Tonga and was tearing apart Vava'u. Some forecasts predicted that it would recurve back towards Fiji, while others had it leaving us in peace. Either way, it was slated to batter Tonga a second time. With calm winds and seas, we were able to dive the amazing Namena Marine Reserve. On the first dive at 2 Thumbs Up, Joshua satisfied his nudibranch obsession by finding a variety of these colorful critters. For Jennifer, however, the highlight had to have been watching him get tartar removed by white-banded cleaner shrimp. She snapped pictures of these industrious creatures so far in his mouth that you could barely see their tails.
As is common when cyclones are nearby, currents can be unpredictable. Today, the current started coming in at North Save-a-Tack four hours behind schedule. This made for less than ideal conditions at Kansas, but when it finally did start to pump, it drew several grey reef sharks and schools of barracuda and bigeye trevally to the wall at Grand Central Station. Add a green turtle and a pygmy seahorse and you know why this may be the best dive site in Fiji!
That night our crew hosted our guests for our weekly kava party. Captain Johnathan, Keni, Big Mo, Moji and the gang won the group over with their soulful voices and captivating melodies. In fact, Barry demanded a solo from Moji, but our skiff driver was a little too shy to belt out songs on his own.
We had a calm night sleeping at anchor and awoke in time for a memorable dive at Tetons I. Big Mo found not one but two slender ghost pipefish between the bommies that lie at the base of the towering pinnacle. One was so strangely colored – it had flashes of orange, aqua and purple on its pectoral fins – that we suspect that it might be a juvenile ornate. But these fish are so strange, who knows? Scott also claimed to see a manta on this dive, but, since nobody else saw it, we all had our doubts… until we saw his GoPro footage. Um, yeah, he definitely saw a manta… either that or a large black sail swam past him and apparently, everybody else!
Schoolhouse lived up to its name by delivering hoards of fish and by throwing some challenging upcurrents at us. Most of the gang went up after an action-packed 45 minutes, but Jennifer managed to accompany Joshua for more than an hour and was rewarded some close encounters with schooling pickhandle barracuda and a massive Napoleon wrasse.
TC Winston stalled north of Tonga and was now forecast to double back and make a beeline for Fiji. As it gathered strength and speed, Captain Johnathan made the decision to do one last dive in Nananu-i-Ra and then race home in time to secure to our cyclone mooring. Having changed their flight to leave that night, Barry, Jill and Jennifer sat out while the rest of the group joined Joshua in a swift current on Pinnacles. The planktivores were out in force and with them the predators. Hungry barcheek trevally, pickhandle barracuda and Spanish mackerel pursued the swarms of fusiliers, circular spadefish and surgeonfish.
We bid farewell to all of our guests that afternoon, then the crew took NAI'A out to her cyclone mooring outside of the port of Lauktoka. Our lucky seven counted their blessings as they were able to avoid the storm unscathed. Joshua and Amanda went to a hotel to take care of our next group while the rest of the crew hunkered down through a devastating cyclone. Fortunately, the entire crew and their families are fine. NAI'A suffered a few bumps and bruises, but nothing major, thanks to a valiant and tireless effort from our captain and crew. We live to sail another day.
"Great diving! Great crew! Au domoni iko!"
-Barry & Jill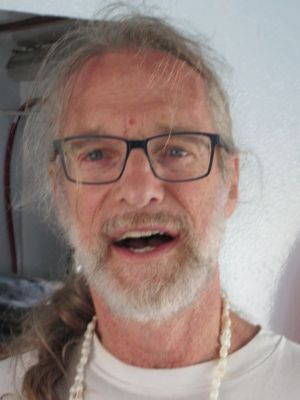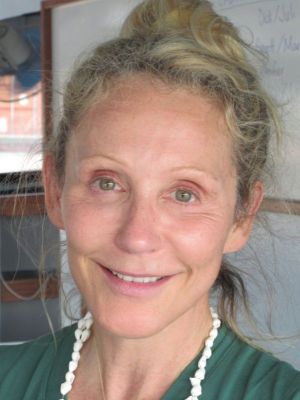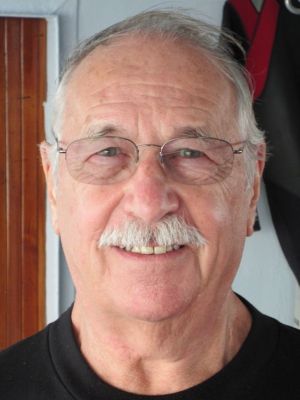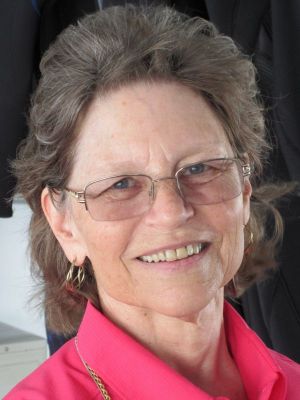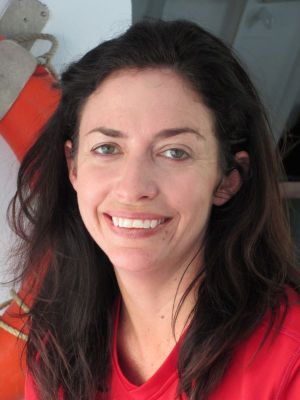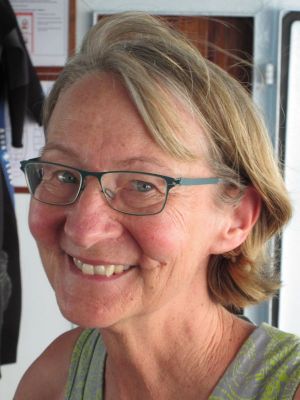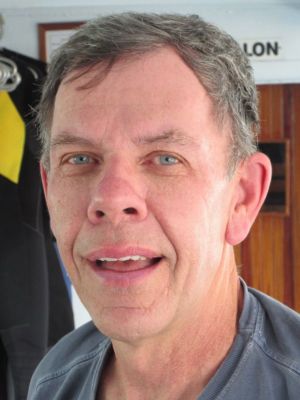 Comments
"NAI'A dives the world's most beautiful coral reefs."