Oh, Jo!
Destination: Fiji's Bligh Waters
Trip Date:
Mar 31st - Apr 7th, 2018 -
Comments
Author: Vanessa & Chad
Congratulations: Happy birthday to Mary K and congrats to Sue on 100 dives and to Matt & Emerson on completing Advance and Nitrox certifications!
We have just spent the last week with the most incredible, upbeat bunch of divers who can apparently take anything in their stride……even a (small) cyclone! A little tropical disturbance by the name of Josie wasn't going to keep these guys down, oh Jo! We enjoyed a week onboard with father and son, Matt and Emerson; Luxembourgish musicians Gilbert and Romain; along with Diane and her gang of 13 divers from Rec Dive in Michigan.
Skipping our check-out dive to make early progress and hide out from N/Westerly winds, we got underway as soon as our guests boarded, boosting right round to the north east of Viti Levu finding shelter behind a little island called Nananu-I-Cake (pronounced Tha-kay!). We nestled in to a gorgeous little bay, surrounded by lush green mountains. And here we would spend the next 36hrs!!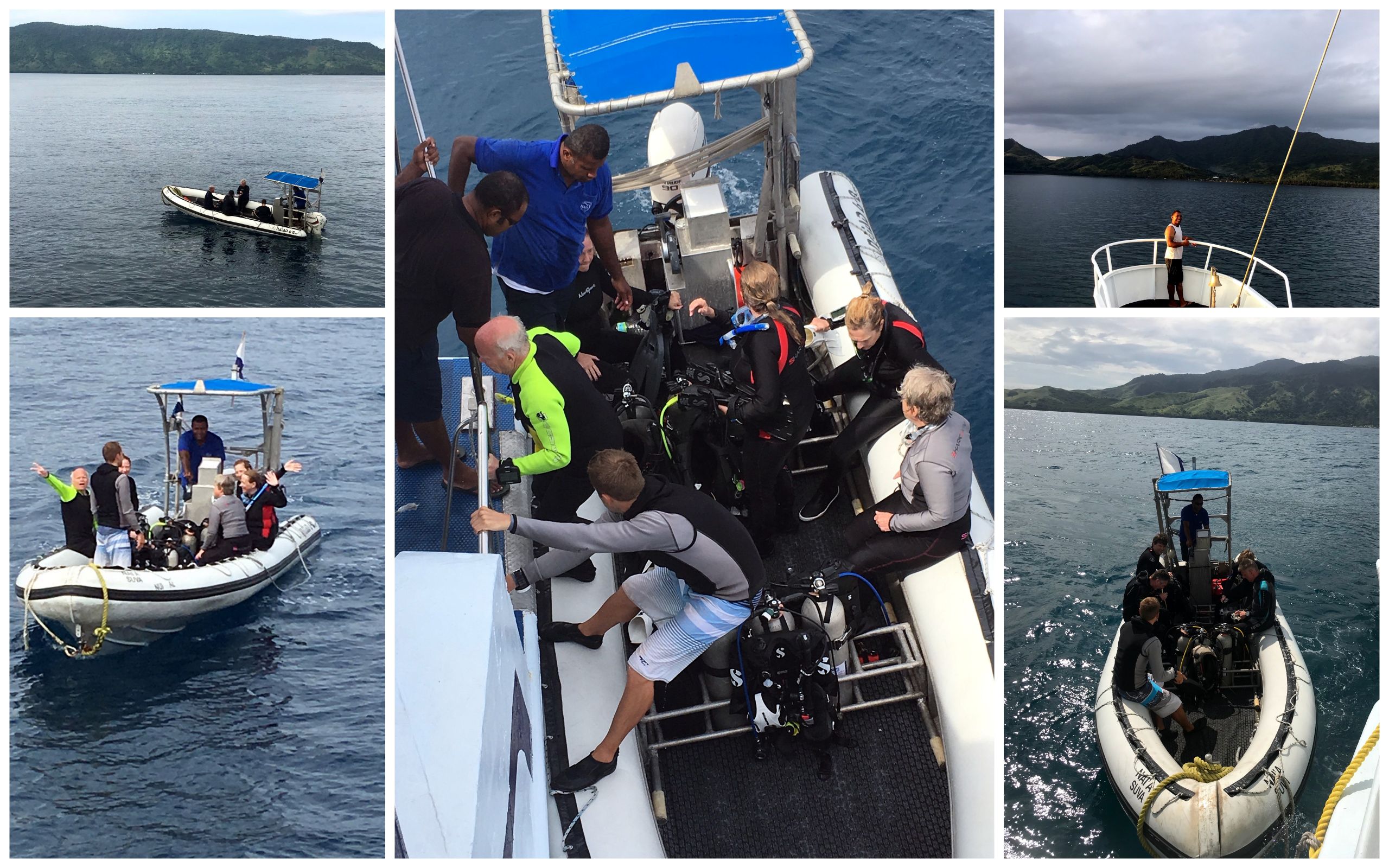 Sadly, Sunday was a write-off as far as diving was concerned as it was just too unsafe to even attempt to get divers in the water: rains were lashing down, winds were howling and lightning was forking through the skies directly overhead. So, we settled in for a cozy Easter Sunday: lots of good food, Scuba School sessions, episodes of Blue Planet II, and some retail therapy at the NAI'A boutique. Matt and Emerson took the free time to tackle the whole of their Nitrox and Advanced Open Water course books: nice work guys! And that evening, after dinner, several of the guests enjoyed an impromptu kava session, jammin' with the Fijian crew. Not the dive-dive-dive day we had planned, but not the worst way to spend a day either.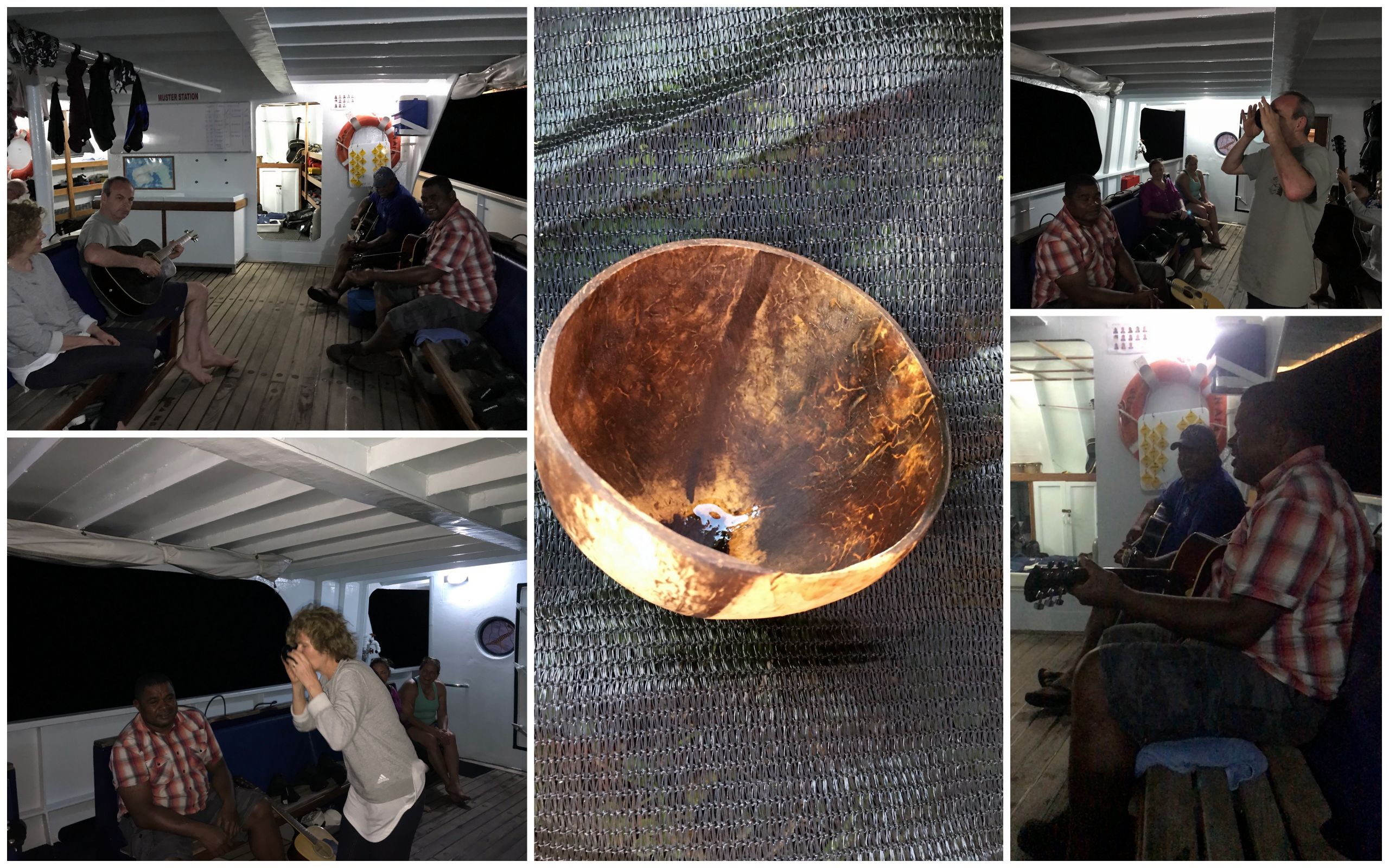 Come the next day, we all had a little bit of cabin fever and so, with the winds died down somewhat, we were determined to get ourselves in the water no matter what! We were still trapped in our beautiful bay but we could at least get the skiffs out to a little reef section close by. Admittedly, it wasn't the world class diving we hoped to be able to offer our guests but, after a day of drying our gills, we were very content to get under there and we did find a few cool creatures. Both Vanessa and Big Mo saw nudibranch species they'd never seen before (pretty awesome after 5000-ish dives!) and Vanessa also saw a new fish, the cute little Pajama Cardinal. By the afternoon, the winds had dropped further still – there was even a little sun poking out the sky! – and we thought it was worth a shot trying to venture out and get to some of our actual dive sites……fail!! We gave it our best shot but were forced to turn back as the waves were too big to tackle. So back to our bay we went! We did manage to get another couple of dives in but headed to bed dreaming of better dives to come.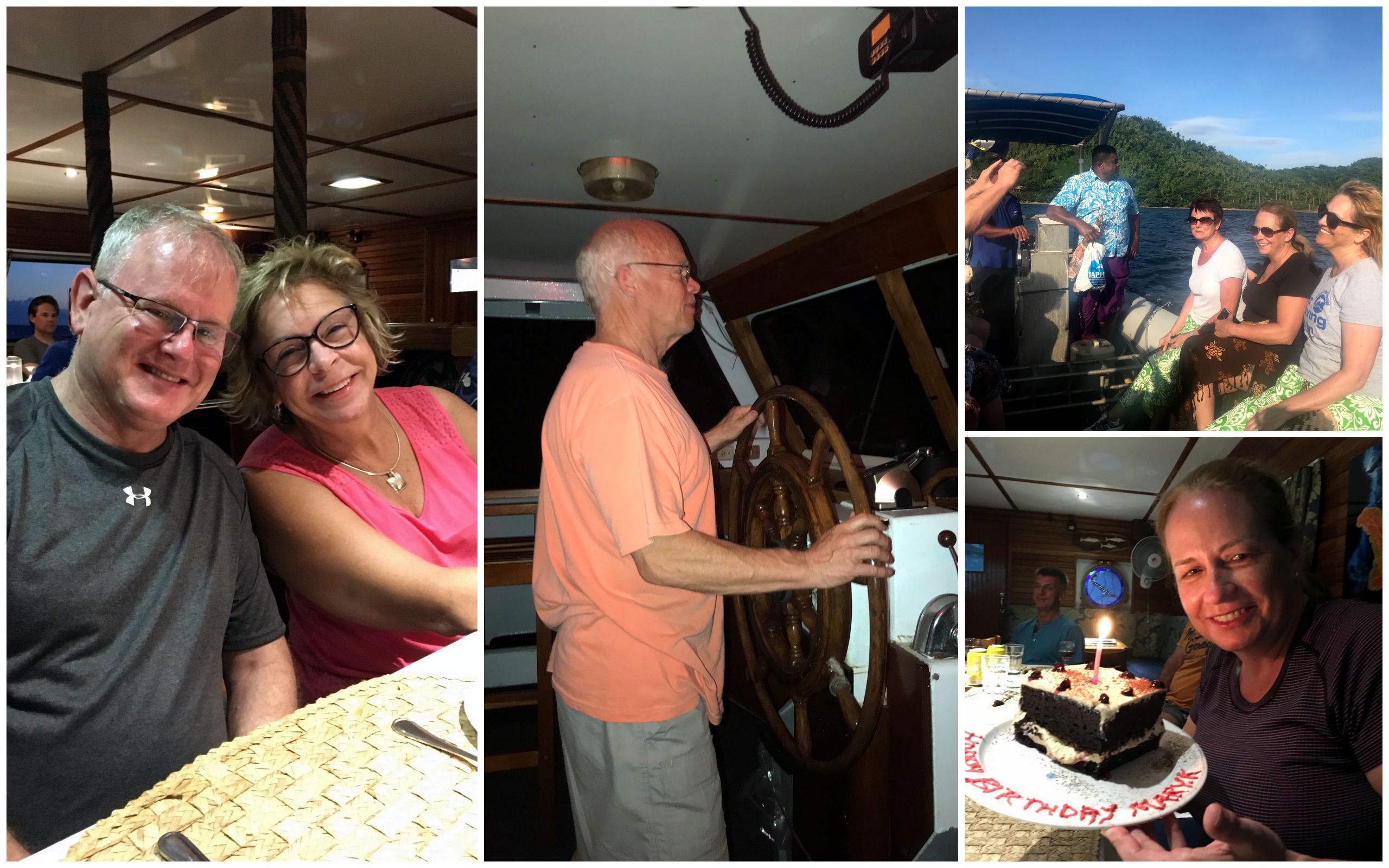 That night, it was calm enough for us to finally break free and so we headed far to the east and made it to the Namena Marine Reserve by morning. We couldn't believe how sunny the sky was and how calm the seas: what a transformation! We kick-started the day with a deep dive at Grand Central Station and Schoolhouse, followed by 3 pinnacle dives at Tetons 1 and 2 and Two Thumbs Up to round off a good full day of diving. The soft corals were looking lovely on the reef crests and we found a load of cool macro life – shrimpgobies, dragonets, blennies, pipefish, nudibranchs etc. – along with a few of the bigger guys such as sharks and Napoleon wrasse. This was also the day Sue reached 100 dives officially (according to the ones she's logged, there may be a few more unlogged ones!): way to go, Sue!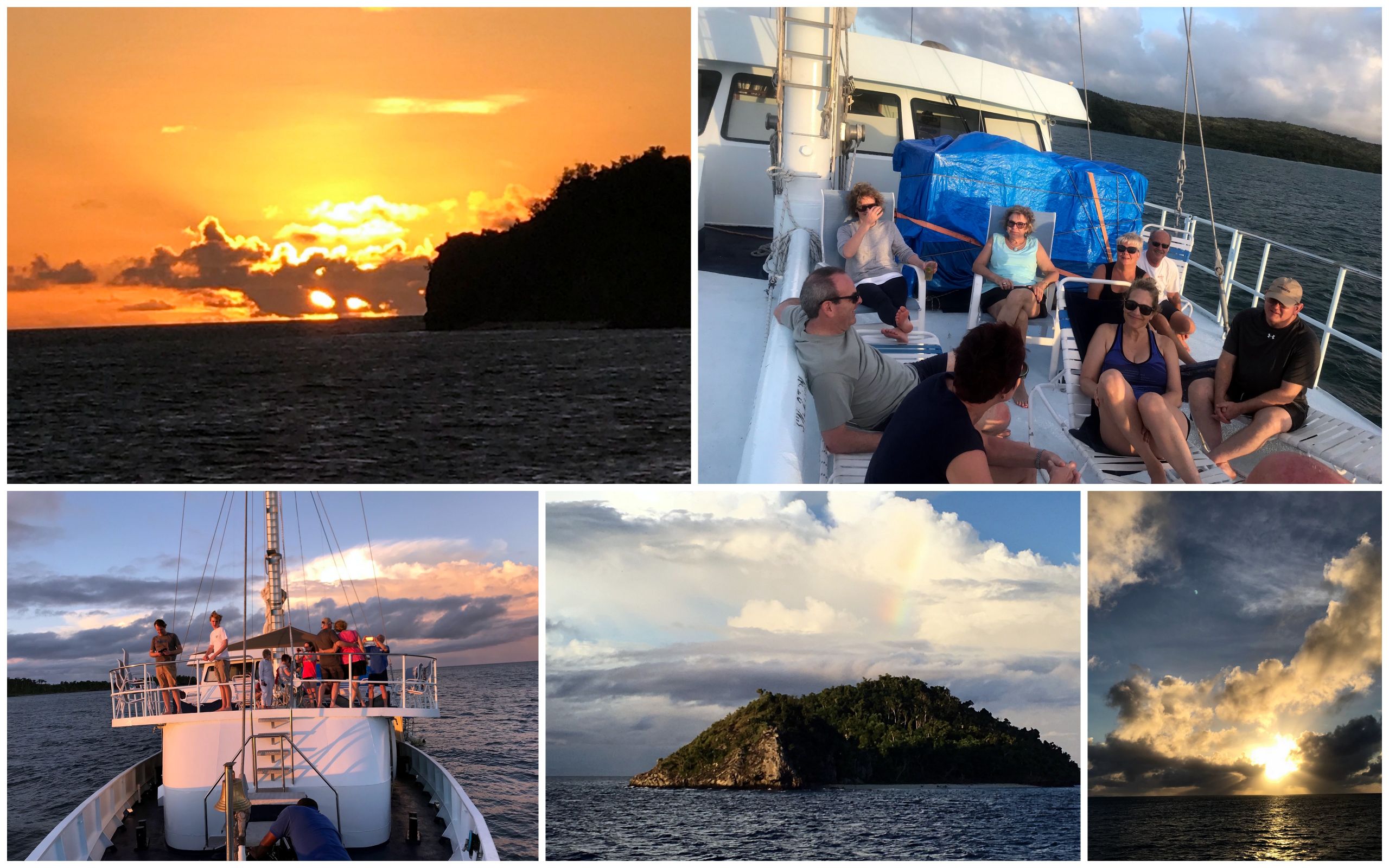 From Namena, we headed south to the island of Wakaya for another day of glorious sunshine and glass-like seas. Here we enjoyed 3 day dives, a village visit at Makogai AND a night dive: go, go, go! The viz was a little 'questionable', shall we say, but it didn't stop several of our divers from enjoying a fantastic manta encounter and some of the others saw sharks, turtles and a gazillion leaf scorpionfish. Oh, and Big Mo found a cool Hairy Ghost Pipefish which our macro fans loved! The whole team – led by Chief Karl - headed in to land for a couple of hours to be shown around Makogai by the legendary Philly: a great time was had by all with singing and dancing and plenty of kava drinking! We all came back feeling very content with life: spending time with such happy people at the village tends to have that effect.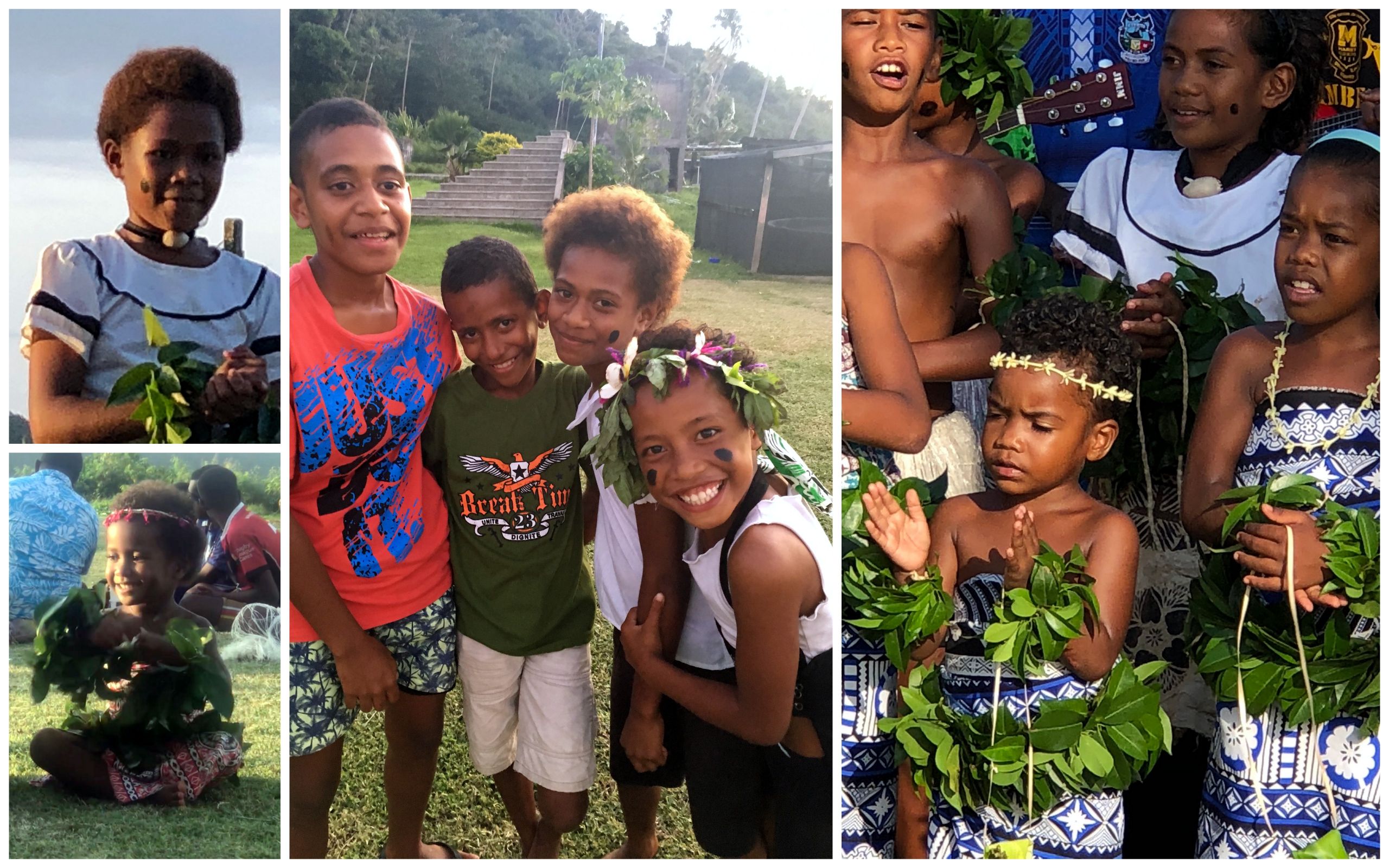 We moved on again that evening, to the island of Gau in the south. The morning dives were pretty challenging – with strong currents and murky waters – but our hardcore divers are tough and gave it their all. And we think Momma Ocean rewarded them for their efforts that afternoon: we had KILLER dives at Nigali Passage!! Sue, in fact, declared it the BEST DIVE OF HER LIFE!! That's the kind of response that gives us the warm and fuzzies. We were so happy to see everyone smiling and buzzing, riding the natural high of an incredible dive! After we got showered and dried off, the whole gang gathered on the top deck for sunset drinks and a hilarious conversation giving Chad and Vanessa advice for a happily married life!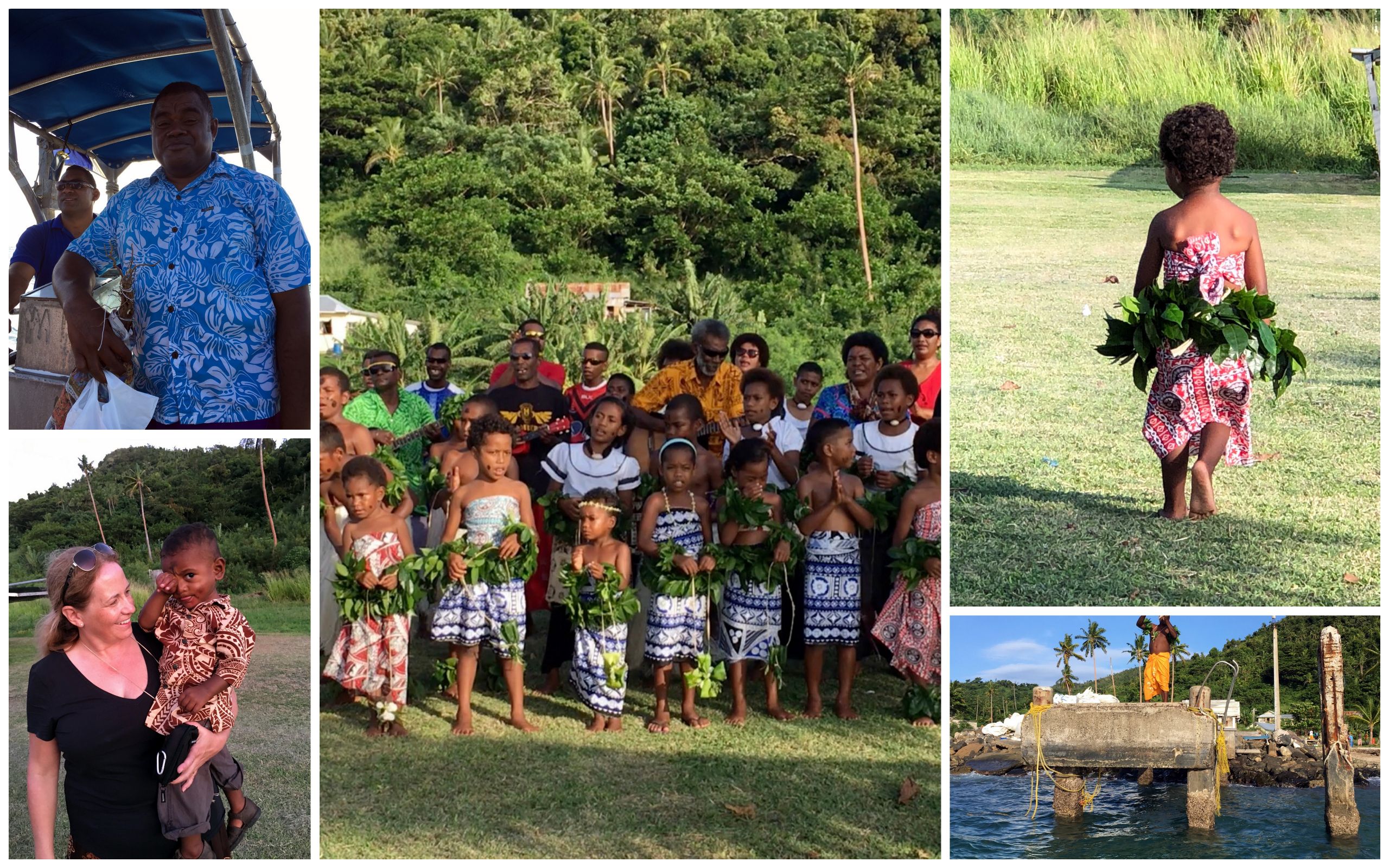 For one final day of diving, we headed far north to Vatu I Ra, between the two main islands – Viti Levu and Vanua Levu – and right in the middle of the Bligh Waters. Here – despite another bout of wind and rain – we tackled three dives and had a wonderful time. It was a choppy rollercoaster ride getting out to the dive sites but, once under the surface, the fish life and soft corals were incredible and well worth the effort. Highlights included: multiple sharks, a school of Blackfin barracuda circling overhead, some HUGE Napoleons and a cute Hawksbill turtle.
And so, we returned back to the west coast and the port town of Lautoka and another charter came to an end. A huge, heartfelt thank you to all our guests for being so upbeat, positive and understanding of Mother Nature and her capricious ways. We hope you've enjoyed and had a small taste of the wonderful Fijian hospitality…..enough to come back for Round 2 in sunnier times!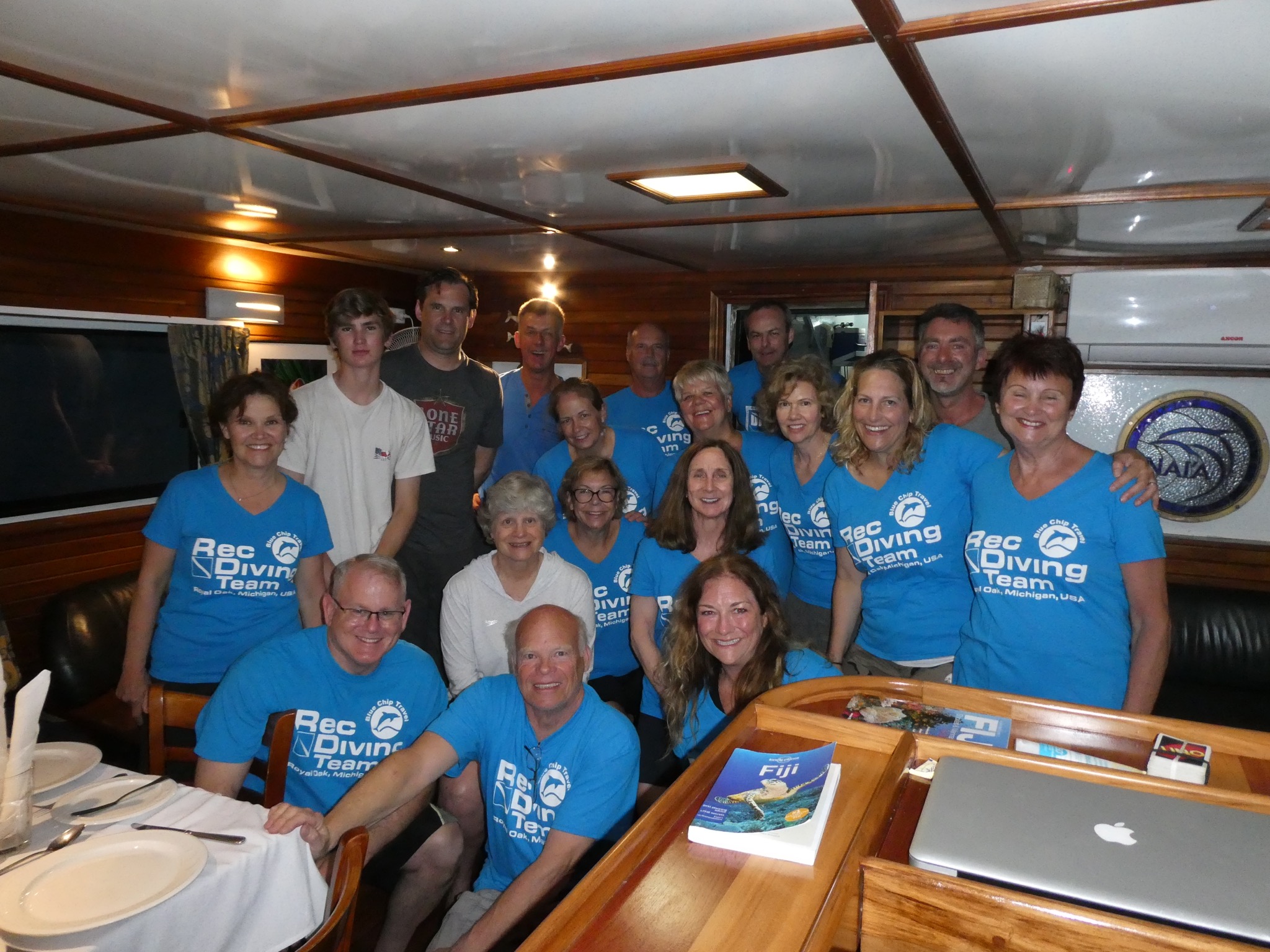 "You all made the experience a great one! The diving felt effortless! And I can't say enough about the food! Best crew ever!" Pauline
"Great trip. Great boat. Great, great crew!" Juanita & Karl
"Vinaka to the directors and crew. Great time and great new friends." Dean & Kim
Comments
"After 60 years of diving all over the world, Fiji still surprises and intrigues me. Fiji is a destination uniquely safe and easy to reach yet it is the colour of our dreams."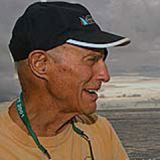 ~ Stan Waterman, pioneering diver and filmmaker