The People vs TC Pam
Destination: Fiji's Bligh Waters & Northeast Coast
Trip Date:
Mar 7th - Mar 17th, 2015 -
Comments
Author: Amanda & Joshua
Welcome Back: Robin, Porter, Keith, Don, Bailey Tally, Doc Webster, Mark, JP, Karl, Lauren, Maribel, Jamie-Sue, Alison
Congratulations: Bailey, Barb, Alison & Porter on their Nitrox certification & Tally on his Night Diver Speciality certification
With news coming in of a cyclone forming north of Fiji, we changed from the norm and skipped our checkout dive in Samu in favour of heading straight for the Namena Marine Reserve. We definitely didn't want to miss this part of the schedule and with the worst due to hit us later in the week, that only gave us a clear four days of diving before we had to consider running for cover. Not that you'd have guessed it however, the first three days were gloriously sunny and calm!
Luckily for us, it was a friendly group of return guests that understood better than most that, while we may produce many wonders on NAI'A, we can't change the weather. We were in fact very proud to be hosting the another joint aquarium trip between Steve Webster's Monterey Bay Aquarium, and Steve Bailey's New England Aquarium groups. We hadn't seen many of these guys and girls since our second charter ever back in 2013, so we were happy to welcome back many familiar faces.
As the tides dictated, we headed for the north side of Namena for our first dive and the famous Grand Central Station. While six divers who knew what they were getting into rose to the challenge, the rest, including Linda whose last dive was the year we were born, opted for a much gentler ride along the inside reef with a shallow sandy bottom. GCS lived up to it's name with the best vis we've had in months and a non-stop display of predators such as grey reef sharks, big eyed trevallies and barracuda moving stealthily amongst the schools of fusilier and surgeonfish.
Linda, who was part of what became known as "Steve's gang" including Doc, Linda and Robin, definitely earned the most intrepid diver badge this week. Her last dive being in 1976 was certainly not enough to put her off, and under the expert tutelage of Doc Webster she managed several dives in her trademark canary yellow swimming hat, continuing even when the weather turned bad. She was probably only trying to keep up with her husband though who had already set the bar pretty high this year by climbing to the top of their local peak in just about 3½ hours, age 95. Apparently age is not an excuse in that household!
With everyone up to speed, we spent the next two days enjoying some fabulous Namena diving. The sun was out, the vis was great and the critters plentiful. We had pygmy seahorses at Two Thumbs Up and Kansas, a banded sea snake at Tetons One, and a school of mysterious large silver fish during a very exciting dusk dive at GCS. Bailey identified them as ladyfish but they were not to be found in our onboard fish ID books. Originally on a mission to find the splendid garden eels at 92 feet, we found ourselves swimming through grey reef sharks, 6-foot barreling hunks of dogtooth tuna and, to top it off, a curious hammerhead who snuck up behind us as we were admiring our orange and white stripy friends. It's a wonder anyone had any air left for the rest of the dive.
With the beautiful sunny weather still holding, we headed for a day in the Vuya area. Cat's Meow was stunning as ever and we are happy to report that Humann Nature, a site very much damaged by the 2013 cyclone, is recovering nicely. We have been diving it periodically over the last six months and it's looking healthier every time. Big Mo even found a hairy ghost fuzzfish. Of course he did, that's what he does! Jamie-Sue, herself a proud owner of a fine head of red curly hair, renamed the animal previously identified as a hairy ghost pipefish. From one red head to another…
Scanning each weather report that came in we tracked the course of the cyclone, which by now had been named Tropical Cyclone Pam. It started as a Category 3 storm, but quickly escalated to Category 5. For now it looked like we in Fiji however had another stay of execution and were able to head to Vatu-i-Ra before her effects started to hit us.
Highlighting this very present threat to our safety, we were lucky enough to have onboard several experts in the field. Anna gave an extremely interesting talk about oceanographic fluid dynamics as it related to the incoming TC Pam. She taught us how cyclones form and behave, and controversially, that contrary to Homer Simpson's ruminations, water goes the same way down the toilet in both hemispheres. Wild! This was followed by a presentation on climate change by Maribel, reminding us how we, if left unchecked, are accelerating our path towards the next big climate change untenably fast. This then segued very nicely into an upbeat presentation by Doc Webster presenting a revolutionary idea on how to stop this mad dash to our own downfall by everyone paying a "carbon fee". If successful, this could bring us back to 1990s destruction levels which may in turn us allow us to change our planets' current course. Food for thought indeed. This charter, if nothing else, had already been extremely educational for all onboard.
Arriving in Vatu-i-Ra the next morning, we started to feel the change in the weather. Seas were choppy and currents were strong. Nevertheless, we managed four great dives showing this fantastic area off the best we could. Amanda managed to show everyone a surprisingly cooperative NAI'A pipefish at Mellow Yellow, while J found leaf scorpionfish and Mark found another hairy fuzzfish at Maytag. We had originally hoped to continue the next day to the sea mounts of E-6 and Mount Mutiny but upon surfacing from dive four, a quintessential Maytag current dive, the grey cloud cover and strong winds that Anna had warned us about had appeared. Despite surfacing in a squall, which drastically reduced visibility, all divers were picked up in seconds and returned safely. It wouldn't be the last time this trip that our amazing skiff drivers would be tested.
Meanwhile, Pam was heading closer on a direct path towards Vanuatu and New Caledonia. Terrifying stories were already starting to come in from the people there, strengthening our decision to stay away from open seas and watch this unpredictable and strong cyclone, very closely.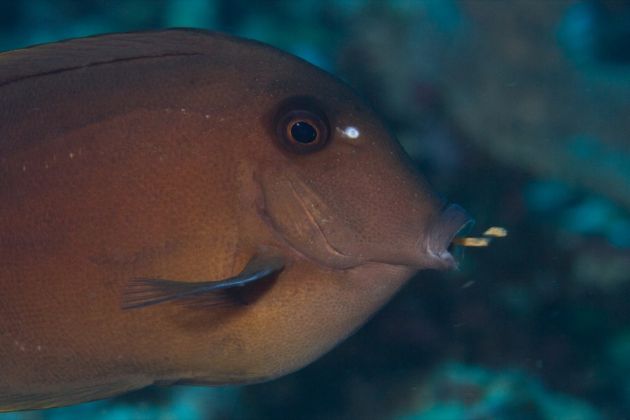 Snack time - by Mark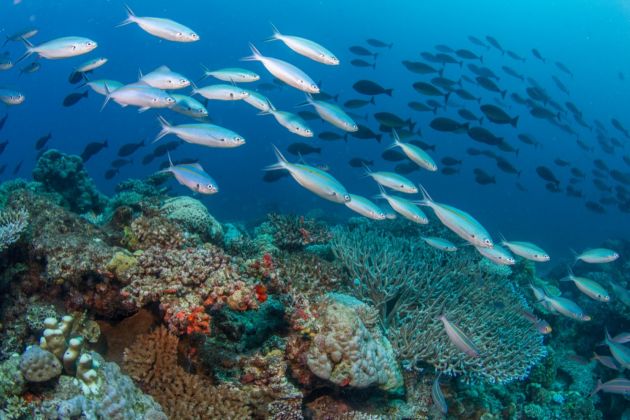 Fish arc - by Mark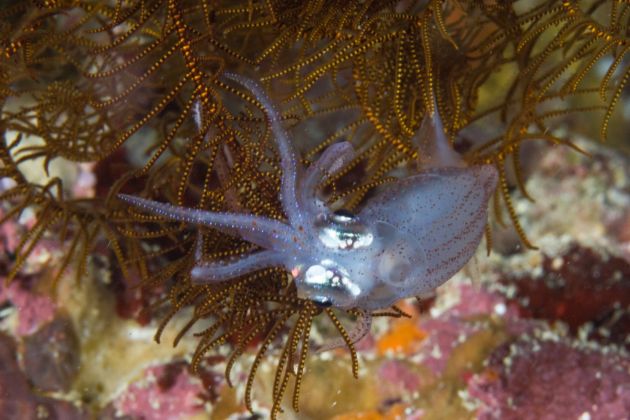 Baby squid found on night dive - by Mark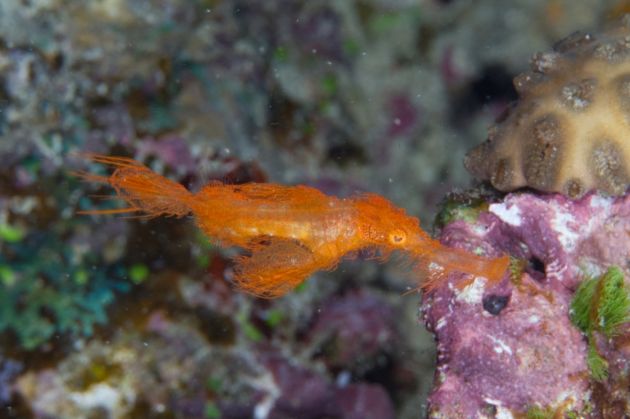 Hairy fuzzfish - by Mark
Sneaky - by Karen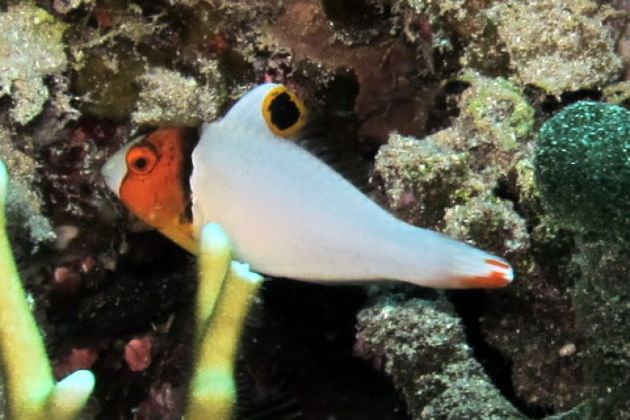 He's not gonna grow up to look like his parents - by Karen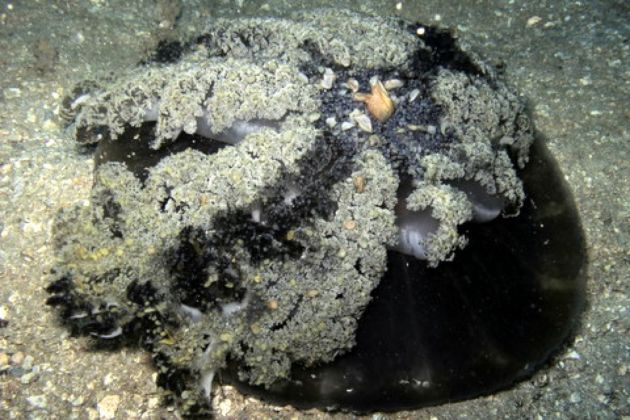 Topsy turvy world - by Karen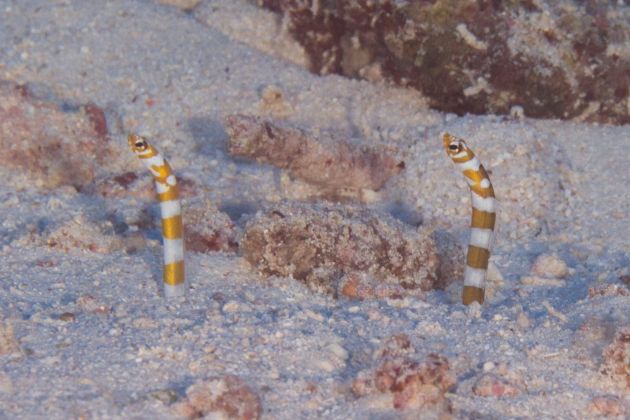 Simply splendid - by Mark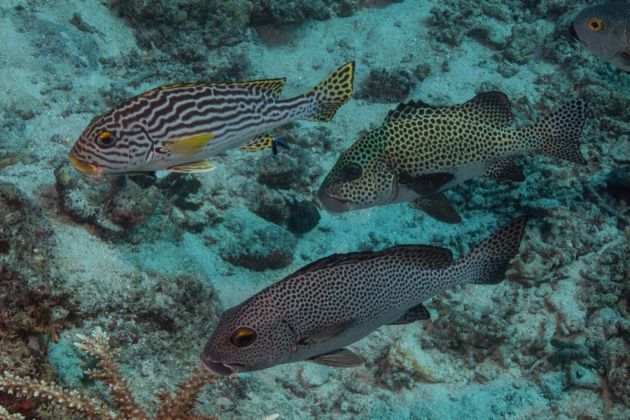 Count em! 3 sweetlips species in one shot! - by Mark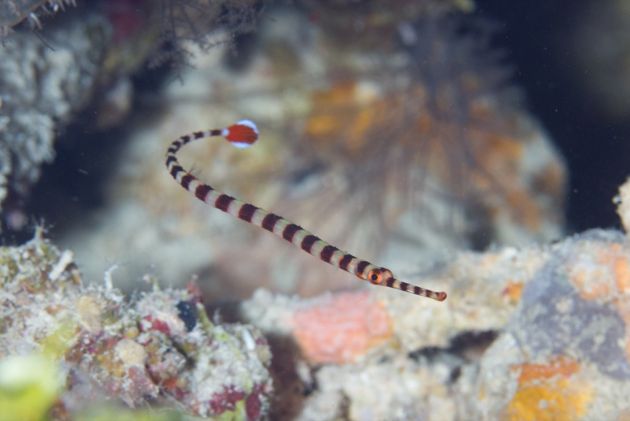 One of the best photos of the NAI'A pipefish in existence - by Mark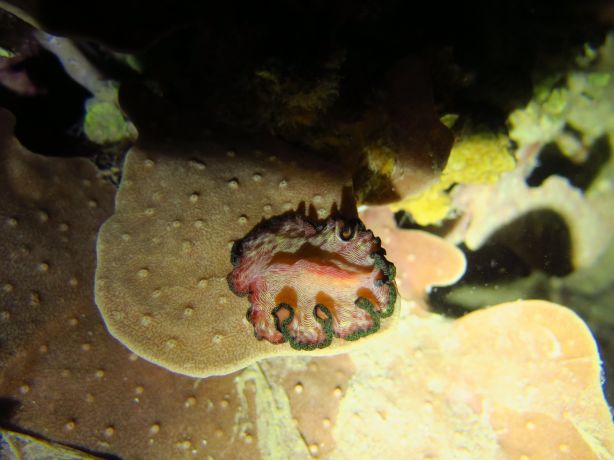 Ruffled feathers - by Jamie-Sue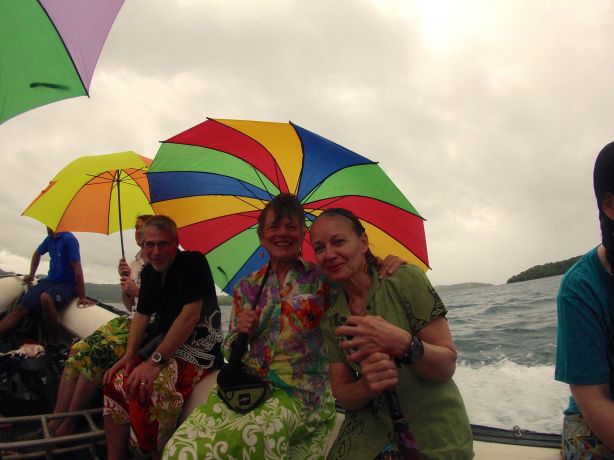 Huddle Up I - by JP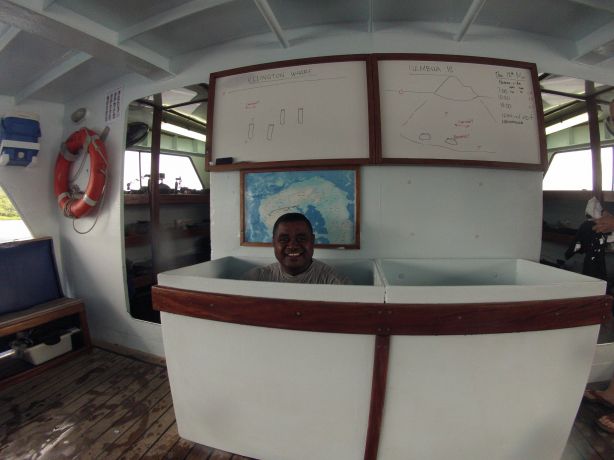 Bath time! - by JP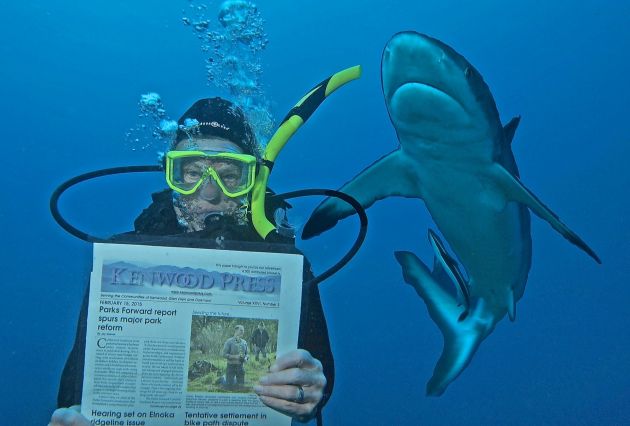 Not much, just browsing the Kenwood Press - by Doc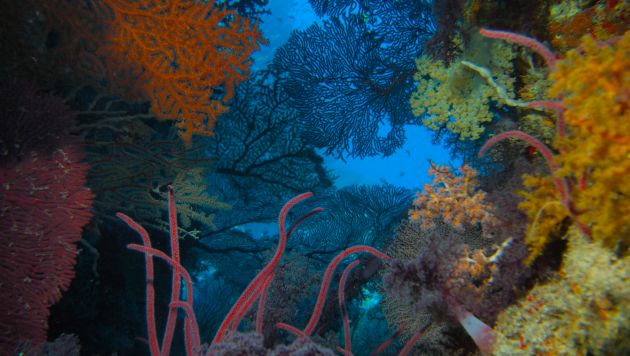 Stained glass window - by Doc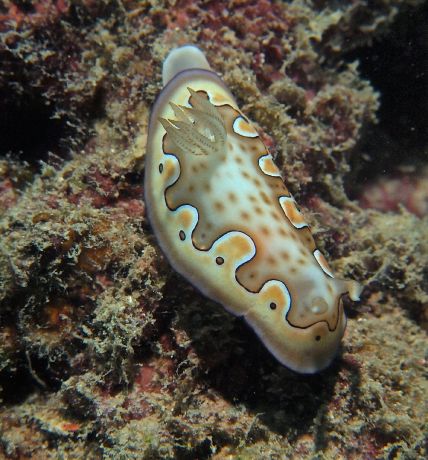 Not coy - by Doc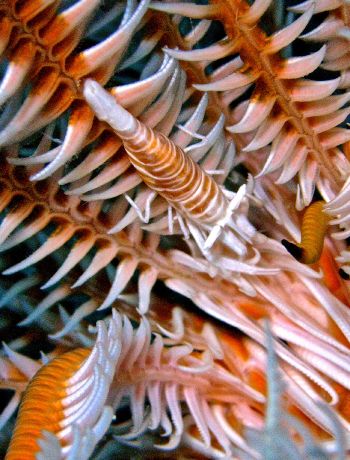 Hidden - by Big Mo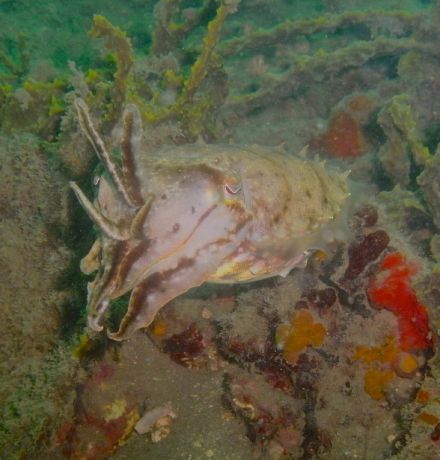 Luck holds up - by Big Mo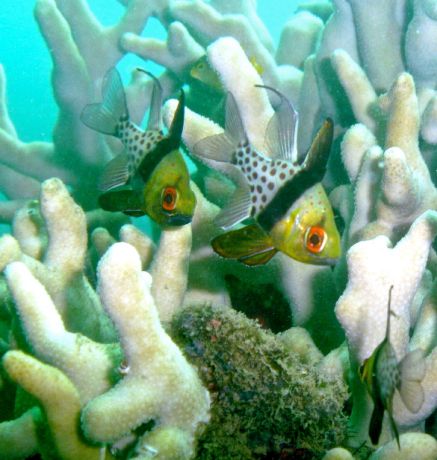 Bed time! - by Big Mo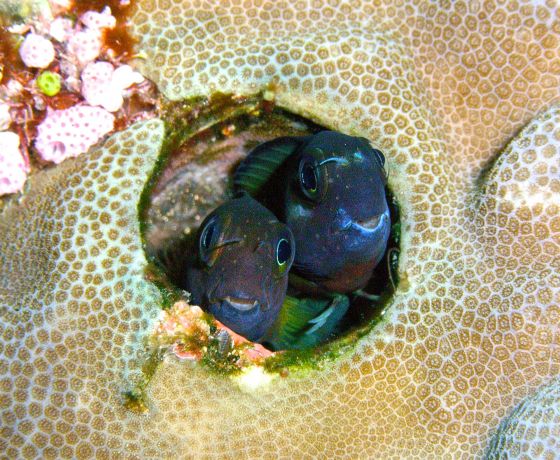 Huddled Up II - by Big Mo
The next morning we woke up to a rather dismal scene. Having high-tailed it after dinner to the safety and protection of Nananu-i-Ra Bay, we were the closest we'd been to land since leaving Lautoka on Saturday. Gone were the sunshine and blue sky we'd been enjoying. Grey skies prevailed. So started the exploratory part of our trip. Not to be put off, everyone was looking forward to something we rarely get the chance to do in Fiji: muck diving! Well, there was no shortage of it. A far cry from the raging currents and 100' vis from the days before, we had to dial it down to a slow swimming speed and a careful eye.
As with all exploratory dives, some were hits and some were misses. The vis varied from "OK", to "I can't see my feet", but it was a new experience for all involved, including the guides. Nonetheless, we found some interesting things to put in the logbook. The first morning around Ellington Wharf we saw many cassiopea (sorry Alison, upside down jellyfish!). And in the afternoon Big Mo, aka the ghost pipefish whisperer, did not let the conditions affect his skills and discovered a halimeda ghost pipefish and cuttlefish off Nabua Island. Several pajama cardinalfish were also spotted. The find of the day however, had to go to Alison. While snorkeling off the reef surrounding the mangroves, she spotted a gorgeous blue/black velvety pleurobranch who everyone came over to admire at length. As everyone knows, spotters' rights dictate that the first to find it gets to name it. And so, Blue Velvet Elvis was born.
While many may have been secretly pining for Bligh Waters, two of our guests were actually happy to be in this little bay. Poor Maribel had managed to take a different route to Fiji than her luggage and had been wearing since she'd arrived the same few clothes that she'd had to the foresight to pack in her carry-on. With her luggage having finally caught up with her in Nananu-i-Ra, Thursday became "New Pants Day" for her. The other guest was Mark. On his eighth trip to Fiji, he was looking forward to ticking off some shore fishes that he had yet to photograph out in Bligh and was hoping to come across in this new environment.
Another positive to come out of this situation was an opportunity to visit a new village. Unable to get out to either our friends in Makogai or Somosomo, we opted for somewhere new. After the third dive and in between rain squalls, we boarded the skiffs and headed for the village of Nakorokula. Here we received a hearty welcome and were treated to a wonderful meke (dance performance) by the villagers. Afterwards, everyone enjoyed hanging out with the villagers, drinking kava and browsing their handicrafts.
The following morning we headed down the coast to Viti Levu Bay in search of mangroves and new dive sites. This bay has a major river spilling in to it and we were hoping to find some interesting critters where the two met. Although the vis didn't improve, we were rewarded with rare sightings of a beautiful phyllodesium (solar powered) nudibranch and an awesome whip coral pipefish. This, followed by sightings of juvenile humphead bannerfish, juvenile semi-circle angelfish and the small but perfectly formed baby barracuda during our mangrove snorkel.
Getting slightly fed up with the lack of vis however, we nosed out for the last dive and attempted to jump in on some outer reefs. This however, required some negotiation with the local villagers and guardians of the reef. Words and, undoubtedly, kava were exchanged and we were able to enjoy what was by then a dusk dive. This was where Lauren discovered Evan, a miniscule baby many-spotted sweetlips the size of a grain of rice. Also spotted were a blunt end sea hare, a jawfish, and some very strange shrimp.
The next day being the worst of the weather we hung close to the coast of Viti Levu, crossing our fingers for better luck the following day. Luckily, to keep us entertained, the imparting of knowledge from the wide knowledge base on board just kept coming. Don entertained us with robot news and inventions, while Keith shared with us a research trip into a South American river delta. Barb also talked about moving bonnethead sharks from South Carolina in a rented and somewhat modified (shhh!) truck, back to the New England Aquarium in Boston.
For our last full day of diving, with skies looking ever so slightly less stormy, we made a somewhat rash decision and headed for what we thought would be a sheltered part of our beloved Vatu-i-Ra. Upon arriving we discovered that the swells were still pretty big. Undaunted however, Keni found us somewhere to anchor and with the greatest teamwork yet, we managed a dive. Getting people on and off the skiffs was the greatest challenge by far, but due to both the muscle and expertise of all available crew, we managed it. Once underwater, of course, it was a very different story. Out of the surge and down at sixty feet the reef was glorious. Finally we could SEE not only the reef, but each other again! This gave us a new appreciation for not only the diversity of life, but also the wonderful visibility we sometimes take for granted on a normal charter. A good day on the coast doesn't even come close to a bad day out in Bligh Water: all is forgiven the erstwhile maligned Makogai, and Wakaya Bay, we take it all back!
With all humans and equipment unscathed so far, we decided not to push our luck and headed back to Nananu-i-Cake to end up the charter. For the last day, with weather continuing to improve, we managed some pleasant but slightly swell-y dives at the mouth of the Nananu-i-Ra passage. Then moving down towards home for our last dive, we jumped in at the Nukurovula Passage. A strong current swept us along a wall giving us a last minute thrill and some great sightings, including schools of buttlerflyfish, snappers, plenty of stingrays and the largest lobster known to man.
And so, having weathered the storm and come out intact, we headed home. Sure we had to miss a few days diving in the famed Bligh Waters, but we have much to be thankful for. Firstly, that it was you guys with us, who, in the best spirit a crew could hope for, both understood, and welcomed the change from the norm. And secondly, that the storm, this time, did not chose Fiji. Our people, our reefs, and our homes, continue to thrive.
"The NAI'A crew is wonderful as always, putting in a heroic effort to get us on the reef diving a tropical storm. My eighth visit here aboard my favorite live-aboard and I keep finding new things!"
-Mark
"After years of hearing about NAI'A from Bailey, I was finally able to experience it myself. I was not disappointed. It was a fantastic vacation for me; from the diving, village visit, to spending time with the crew and making new friends."
-Barb
Our Guests...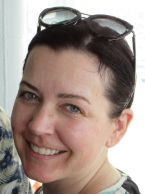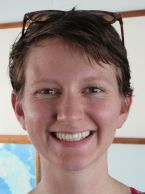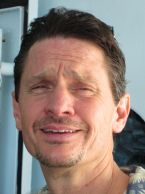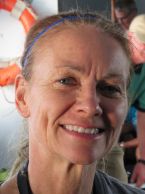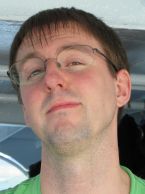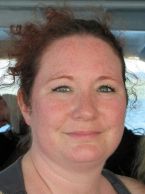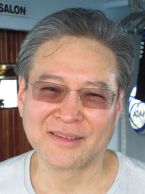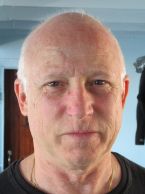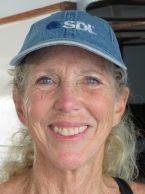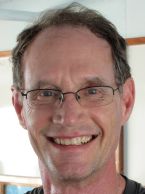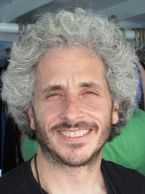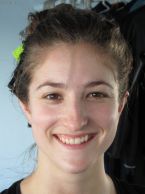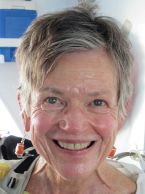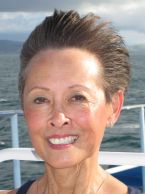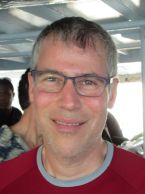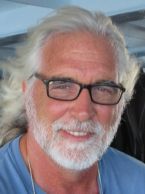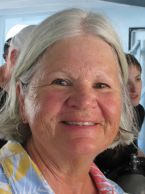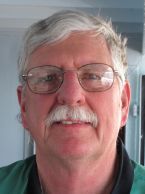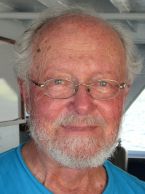 Comments
"NAI'A dives the world's most beautiful coral reefs."