The Razorbacks vs TC Winston
Destination: Bligh Water, Fiji
Trip Date:
Feb 20th - Feb 27th, 2016 -
Comments
Author: Amanda & Joshua
Welcome Back: Rick, D'Ann, Mike, Cece, Curtis, Lisa, Richard, Nancy, Bob, Karen, Jack
At the start of any normal charter, we'd welcome the guests onboard, give the required briefings and set sail for Bligh Water. At the beginning of this one however, we hurriedly welcomed the guests to a hotel in Nadi and gave them a cyclone briefing.
TC Winston was around for 10 days before it came ashore, first moving south between Fiji and Vanuatu, then west to the south of Fiji, then back north along the length of Tonga before stopping near Samoa, intensifying, and coming back again. Once it set its course for Fiji, it came fast. Due to the quick thinking of our office staff, we had managed to secure rooms in what would turn out to be one of the safest places in Fiji for the coming onslaught.
That was Saturday afternoon. On Friday afternoon we had disembarked our previous guests a day early and the crew had taken NAI'A to her cyclone mooring, a sunken barge full of cement, to tie her up and remove everything that could be removed, a decision for which we will be forever thankful. At approximately 10pm on Saturday night, the southern eyewall of the strongest cyclone ever to hit land in the Southern Hemisphere passed less than five miles north of the mooring. As the winds reached a record 184mph, we sat listening to the wind batter the hotel windows and thought of all our friends on NAI'A. Amazingly, we were able to keep in contact with the boat almost the whole way through and by 3:00am the worst had passed and NAI'A had survived. The very force that had made Winston such a heavyweight also made it move with tremendous speed so the impact was terrifying, but quick.
Remarkably, due to a well-executed cyclone plan and the excellent and timely preparation by her crew, NAI'A escaped with very little damage. When we got back onboard on Monday afternoon however, the crew still looked a little shaken. So we took another 24 hours to let everyone who was able to make a quick visit home to his/her family and restock the boat before welcoming our new guests, who had been waiting patiently in Novotel, on to the boat properly, this time! The group faired well in the hotel, except for Curtis and Cece, that is, whose door was blown in by the storm!
Unfortunately for this group, even though we'd given them the option to extend their trip, they were unable to due to difficulties with flights. We set out on Tuesday to make the most of the four days that remained. Having already been diving for the previous week, they decided to skip the check-out dive and head straight for Namena Marine Reserve.
Knowing that this tremendous cyclone had passed directly over our beautiful reefs, it was with no small amount of trepidation that we jumped in the next morning….
Our first divesite was one of our most cherished and one that many of you will remember, Grand Central Station. Unable to find the wall due to bad visibility, we jumped at what we hoped was the Arch and made our way through the very murky water to the Arch itself. Feeling proud that we'd found it made what we saw moments later hit home even harder. Our beautiful reef had been scoured clean. The big school of jacks was still there, even a few sharks, a turtle and a cute pair of oscillated dragonets, but very little live coral. Well, maybe only the Arch was damaged…? But by the time Amanda had seen what was beyond the Arch and had reached Kansas, she was crying into her mask with a broken heart. Cyclones in the South Pacific are a fact of life and part of the natural cycle of life, but as much as you tell yourself that, it doesn't stop the heartache of seeing a place that you love, full of creatures that you've watched fondly for years, brutally ripped to pieces.
South Save-a-Tack had fared marginally better, but again the reefs were not the breathtaking sites full of our favourite underwater friends that we had left just days before. Not even close. The highlight was a close pass by a large scalloped hammerhead off the point on Magic Mushrooms I. Joshua managed to grab Richard and Lisa just in time for them to catch a glimpse of the shark before it disappeared.
Jumping in for the night dive, however, was a sight for sore eyes. It turns out that all the weird and wonderful creatures that only come out at night had been spared. The place was alive, literally crawling with life! All those crafty crabs, wily nudibranchs and sly sea hares were marching all over the dive site like they owned it! Well, I guess they do, for now. All hail, King of the Night!
On our way to Wakaya Island that night, we had stopped at Makogai Island to tell the villagers there that we were coming to visit the following day and had brought supplies. The storm had passed right over them and they hadn't received any aid yet. In fact no one had been able to reach them on the phone at all. The next morning, Johnathan had reported that not only couldn't they find anyone to give this message to, but there was nothing remaining of the village itself. We planned to go back there that afternoon in the daylight to see what the situation was.
A very somber air covered the dive deck that morning as we briefed dives at Lion's Den and Vatu Vai. Although further from the eye's path, we could see much devastation on Wakaya Island and knew that the winds had swept right into the bay itself, so again, we feared for the worst for our reefs. But this time, luck was on our side. We welcomed the guests back to NAI'A with huge smiles on their faces, reports of a healthy reef and to top it off, a fantastic THIRTY-MINUTE manta encounter! There was some damage in the shallows but only in patches, with the deeper reef remaining largely untouched. What a relief!
So back to that manta. In fact, back a little further, to when we had a full-boat charter of Thai people on NAI'A… After another very successful dive at Lion's Den where everyone had had wonderful close passes of a hammerhead shark, the volume and excitement transmitted on the dive deck rose to record levels as they all excitedly recounted the experience in their own language. Fast forward to this week and imagine that level being given off by just one person: Joey. Originally from Thailand, Joey has been living in America for twenty years, but when it came to being excited, she was still 100% Thai! To be fair, it was a phenomenal encounter that not only lasted thirty minutes but also included a rare sight of "mother manta" being so relaxed at the cleaning station, she emptied her bowels right there in front of everyone. Joey told the manta story with such tireless enthusiasm that by the end of the charter, even people who weren't there could recount the exact colour, texture and sound of this apparently enormous event!
So with a couple of good dives under our belts we headed for Makogai Island to see what had become of our friends in the village.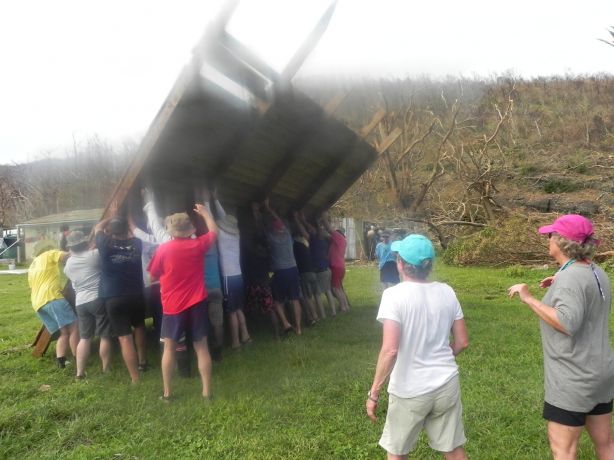 one, two, three, up! - by Don and Pete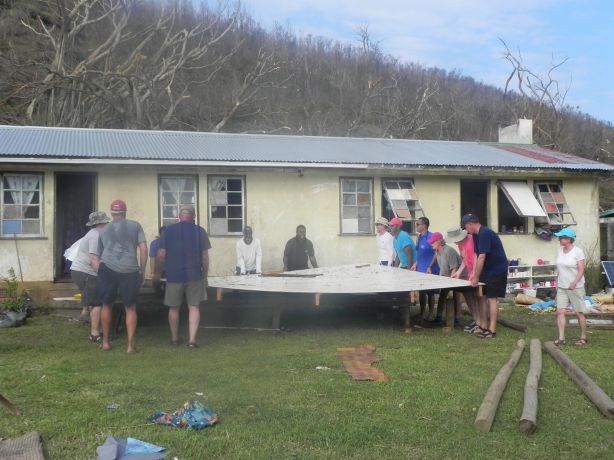 ...and down, phew! - by Don and Pete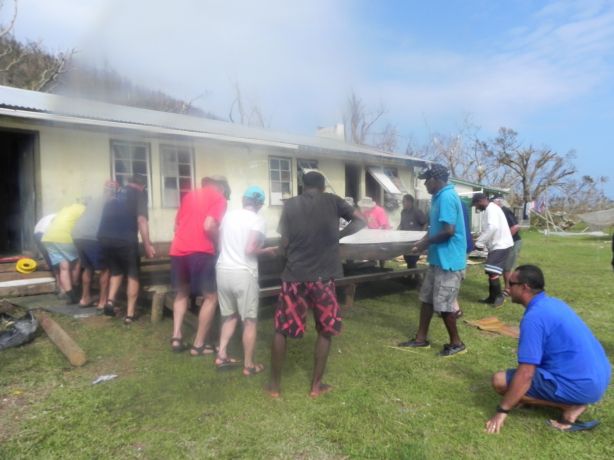 careful placement under the watchful eye of Captain Johnathan - by Don and Pete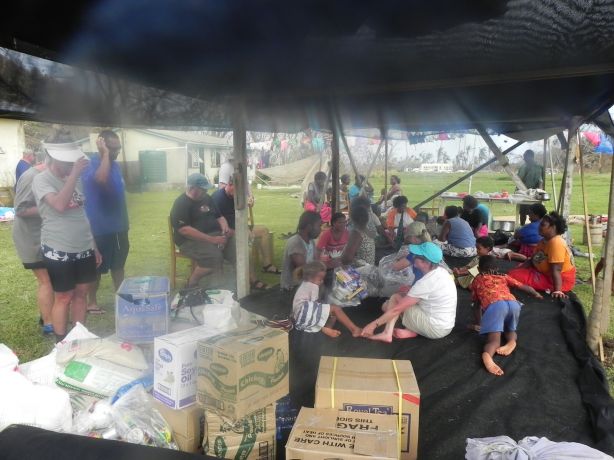 Our emergency supplies that arrived just in time - by Don and Pete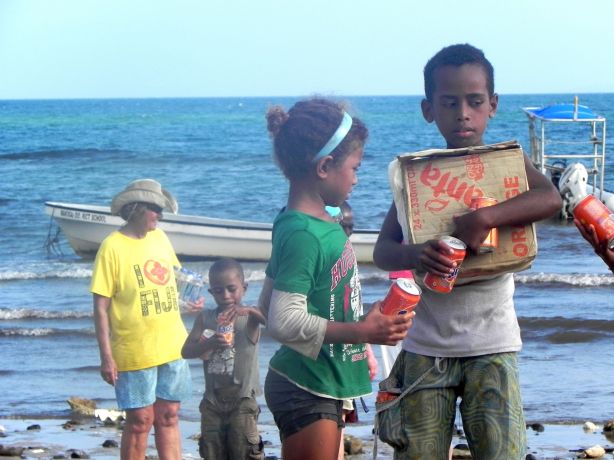 As soon as we found out they had no drinking water, we immediately gave them all our soft drinks as well - by Don and Pete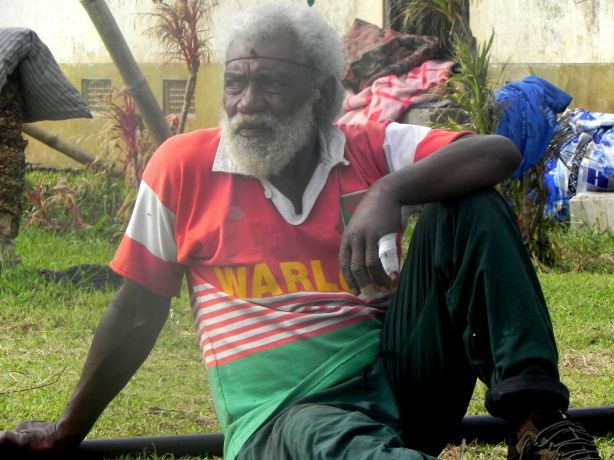 Worst storm ever, even in HIS lifetime - by Don and Pete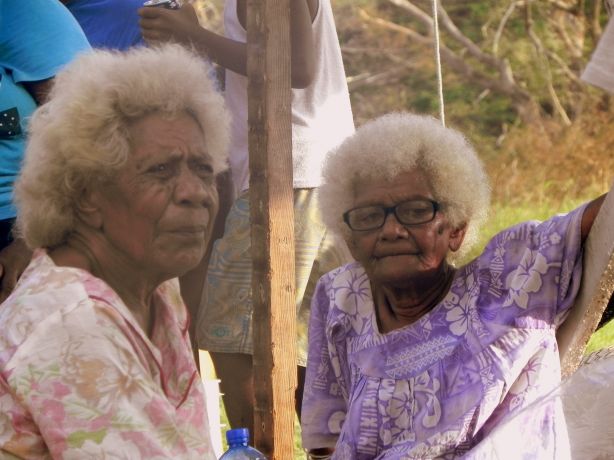 Survivors! - by Don and Pete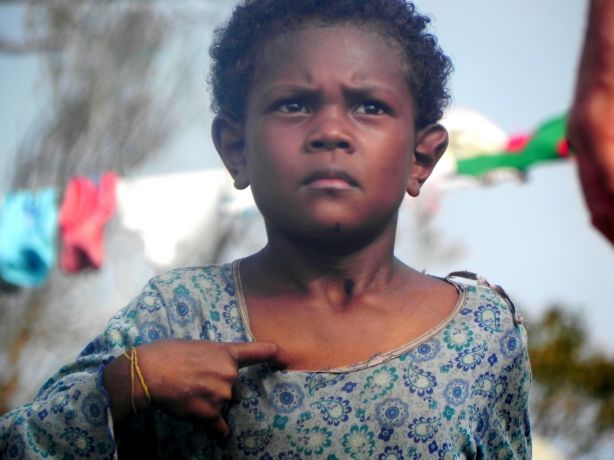 Me? So serious for one so young... - by Don and Pete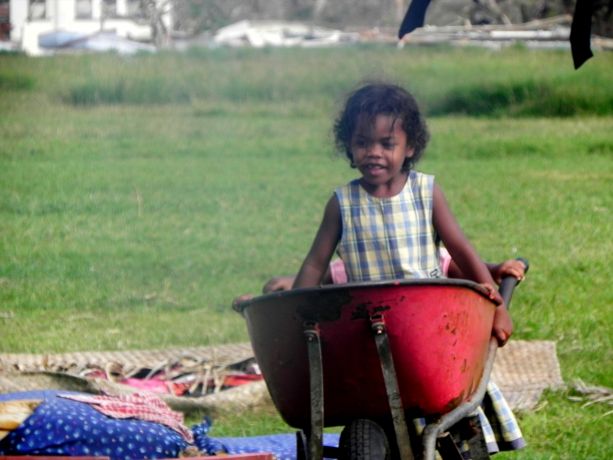 ...while for some, it's still fun and games! - by Don and Pete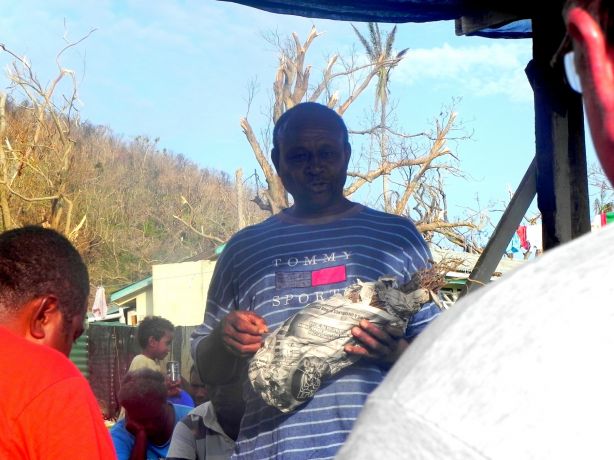 Satoki giving a heartfelt and teary thank-you at the end of the day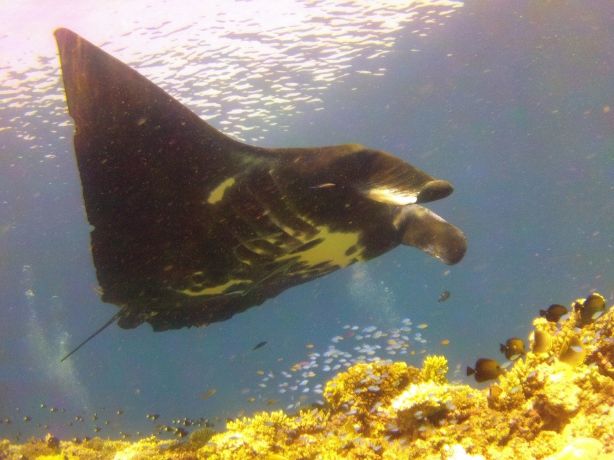 Boo, Manta - by Don and Pete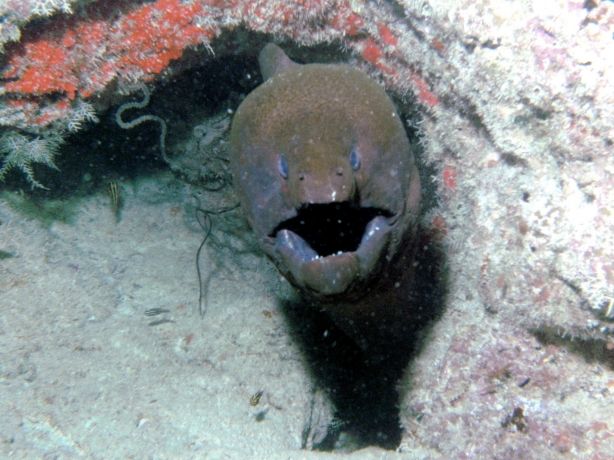 Harumph, is the storm over yet? - by Richard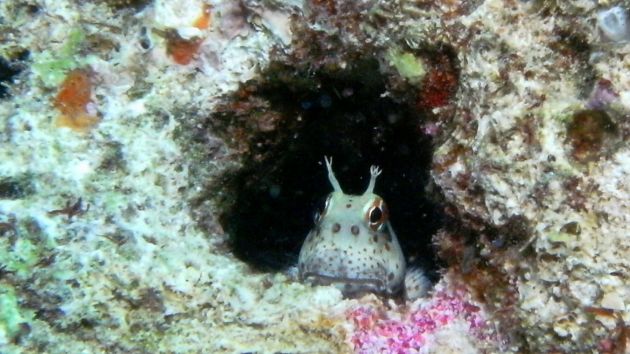 Eek, is it safe yet? - by Richard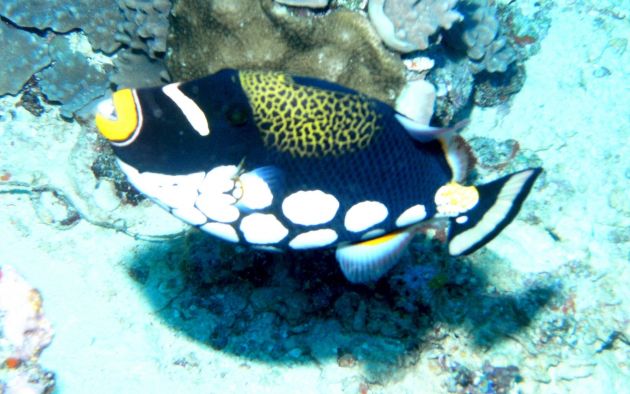 Hey, this is no time for clowning around! - by Richard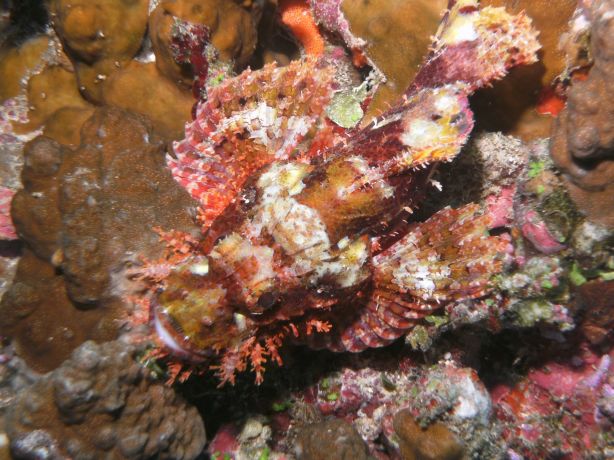 Still not safe to touch the reef! - by Richard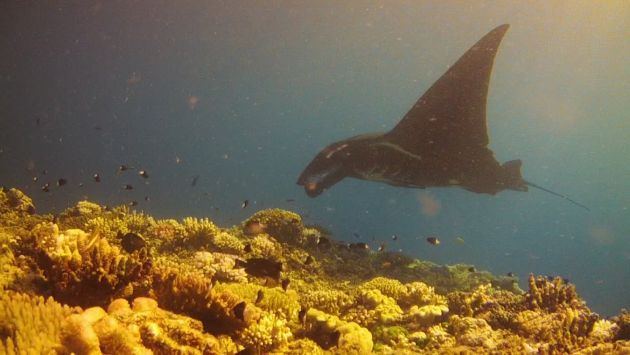 This is my best side - by Don and Pete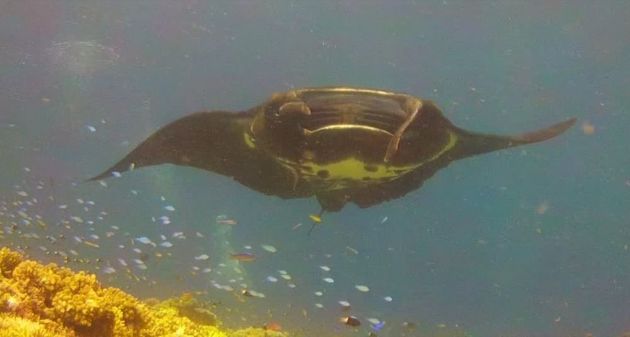 ..or would you prefer a front-on? - by Don and Pete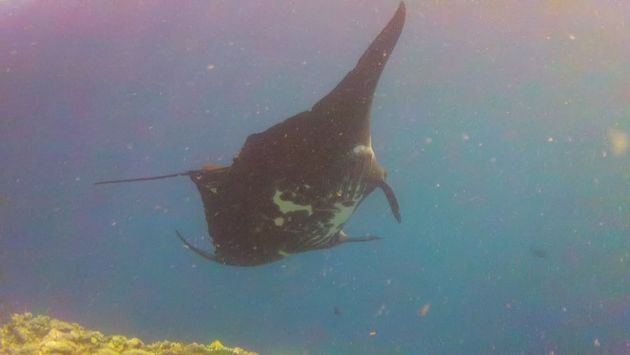 ... or how about my beautiful belly? - by Don and Pete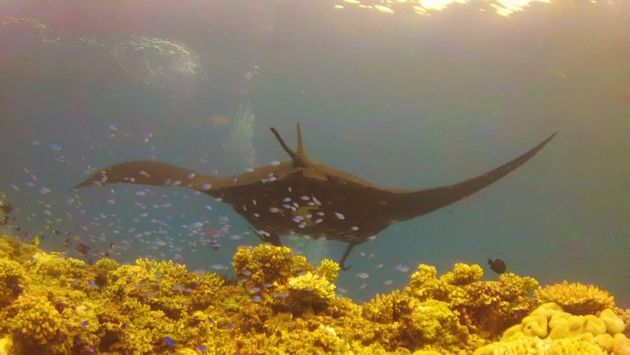 ... or my elegant tail... woah, hang on, we know what's coming! - by Don and Pete
Knowing that Dalice Village was deserted, we headed around to the Nasau Village on the other side of the point. As soon as we got close, a little fiberglass fishing boat full of familiar faces appeared alongside making the hand signal for drink. We were overjoyed to see them and understood that they were so thirsty that we welcomed them onboard. Drinking water was one thing we had not been worried about, knowing that they have both a spring and ground water, but we would soon find out that in a very unfortunate sequence of events, their spring had dried the day before the cyclone and the ground water was now contaminated with sea water and therefore undrinkable. Their cisterns had been smashed up in the cyclone and their water supply and food had run out that morning.
We asked the guests if they would like to go for an exploratory dive or go ashore to deliver the supplies we had and, without exception, the response was a resounding "village!" We loaded up all our supplies, filled up every available container with water, donned hats, sunscreen and bug spray and set off to shore. The sight that greeted us was complete and utter devastation. The school, the church and community hall were all just piles of rubble. This previously green wooded island was stripped bare of any leaves or vegetation of any kind. They were just gone! Of ten houses, only three remained and all 74 villagers were sleeping communally with their rapidly diminishing supplies in the muggy heat. If we hadn't arrived that day, well, the disaster could have been compounded.
Every guest pitched in. Before long, heavy bits of timber had been gathered, an extremely heavy church wall, which took 16 people to carry, had been requisitioned for flooring and a pretty decent shelter was starting to take shape. We fetched, carried, attended to the injured, the pregnant and the needy. Rick got the chainsaw started, to a huge round of applause. D'Ann grabbed a hammer like she had one as a baby instead of a rattle and took it upon herself to fix the "floor". Don, Bob and Rex found shovels to dig and Richard showed them how to make a still to distill water. When Joshua asked them how they knew how to make a still, Rex responded simply, "We're from Arkansas!" These people, who had waited years, spent tons of money and travelled thousands of miles to dive in Fiji, selflessly gave up one of their precious afternoons to help our friends in need. We've gotta say that we felt pretty proud. Nice one, Arkansas!
After a very hot and sweaty few hours the new shelter was looking pretty sweet, so when Big Mo arrived carrying the waqa (traditional offering of kava), we decided it was a good time for a break. We sat in the shade and presented it in the traditional way. The village spokesman, Satoki, received it with such heartfelt and teary thanks for all our help that, even though it was in Fijian, there was no doubt what was being said or how grateful they were. We bid farewell and promised to come back in a few days with more supplies and a solution to their ongoing water problem.
Early the next morning, we travelled to Mount Mutiny ... and held our breath. After having our hopes lifted by Wakaya, this was another crushing blow. Our beautiful seamount was devastated. What stood in its place was a white, gouged out finger of rock. Our gorgeous, world famous Rainbow Wall, we are desperately sorry to say, has been reduced to a few twigs. We were so shattered that it was an effort to finish the dive.
With a heavy heart we pushed on to our favourite marine-park-in-waiting, Vatu-i-Ra, just 20 minutes away. The island was what we had come to expect. A few bare tree trunks stood where once had been one of the biggest bird rookeries we'd ever seen. Many thousands of sea birds had once called this their home. Amazingly, quite a few were still circling around over the island, but not nearly the numbers we had seen before. As Vatu-i-Ra lies directly in line with Mount Mutiny, we had low expectations. Deciding to take it right on the chin, we headed straight for our favourite sites, just to get it over with.
Amanda, who jumped in to do a current check on Maytag, her favourite site since the beginning, expecting to see a pitted white stump, immediately lifted her head out of the water and excitedly shouted "table coral!!!!" back to the confused guests on the boat. Getting back on the skiff, she reported that there was a fully formed, undamaged, healthy looking table coral on TOP of the reef. If that had survived, then there was hope!! And indeed there was. Beautiful Maytag was saved. As we say in England fan-bloody-tastic!! With bells on!!!
The same was also true for Mellow Yellow. Hoorahhh!! Nancy showed her appreciation for every cool critter we pointed out by applauding underwater. Of course, we couldn't hear it, but it's always nice to know that our efforts are well-received. Coral Corner had suffered some damage but so had it when we first arrived two years ago, to the extent that some guests early on dubbed it "Rubble Corner". Over our time here, we have watched it change and grow in to one of the most spectacular sites in Vatu-i-Ra. So with a bit of luck, and a hefty dose of the famous Vatu-i-Ra nutrient-rich currents, we can hope for the same response again.
We headed for home with both sadness and hope, already making plans for the immediate and long-term future. Immediately, we need to help all the people, and after that, the reefs. Well, Arkansas, we've been on quite the journey together and we couldn't have hoped for better companions. Thank you for your patience, understanding and compassion.
NAI'A will leave again on Tuesday for Taveuni, Kubulau and then Makogai, delivering aid to these very needy places that are getting no other assistance, before coming back to Lautoka on Friday for the next charter. We are filling her up with as much as we can possibly afford, plus any donations people are willing to give. If you would like to donate, please contact explore@naia.com.fj with the heading "Cyclone Winston Relief", for information on how to do that.
Vinaka vaka levu.
"CYCLONE WINSTON – Winston could not get this group down. NAI'A took wonderful care of our group from the beginning to the end. We could not have been in better hands. It was a wonderful short period of diving. Our most cherished memories will be the village visit and the opportunity to help those people. I will never forget them. Thank you to a fabulous crew."
-Karen
"Thank you so much for taking care of us. You coming to the hotel to meet us during the storm meant SO much! We had the best week we could have. God Bless All."
-Anonymous
"Thank you for taking care of us so well. Just was over the top. Even after such a terrible storm as Winston. Thank you for the compassion you all have shown to the village people and I know you will continue to support them, seeing that and being able to help them is really what made this trip so great (and the manta, of course!). Looking forward to doing this trip again in a couple years."
-Don & Pete
Our Guests...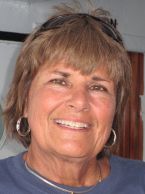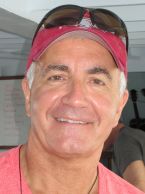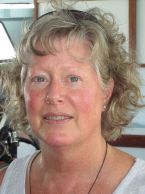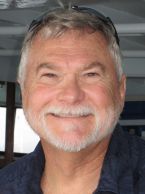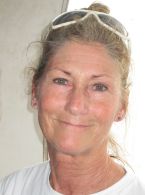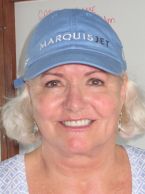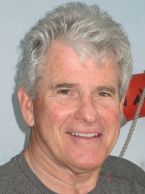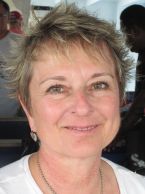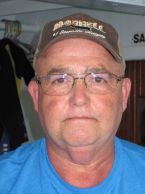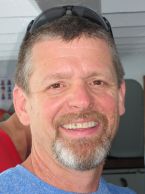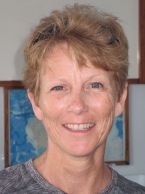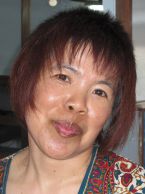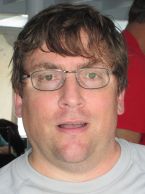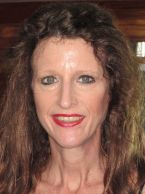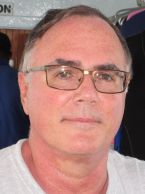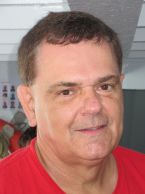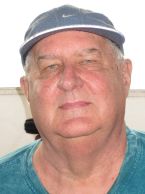 Comments
"After 60 years of diving all over the world, Fiji still surprises and intrigues me. Fiji is a destination uniquely safe and easy to reach yet it is the colour of our dreams."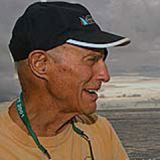 ~ Stan Waterman, pioneering diver and filmmaker