Ready, Set, Kava Time!
Destination: Vatu-i-ra, Vuya, Namena, Makogai, Gau, Wakaya, Sea Mounts
Trip Date:
Apr 1st - Apr 11th, 2023 -
Comments
Author: Bel & Mike
Welcome Back: Craigorious, Dave, Elena and El Chiloso
What a trip we've had! With only 11 guests on board, we toured the best of Fiji with fabulous weather, amazing encounters and an abundance of appreciation for the Fijian culture (Kava time!). And let's not forget Ralph's jokes. We saw a lot of action during this trip, with many sharky dives around the full moon, and a few very special rare appearances such as a leopard shark, a couple of helfrich dartfish and an unbelievable encounter with seven false killer whales. It doesn't get much better than this!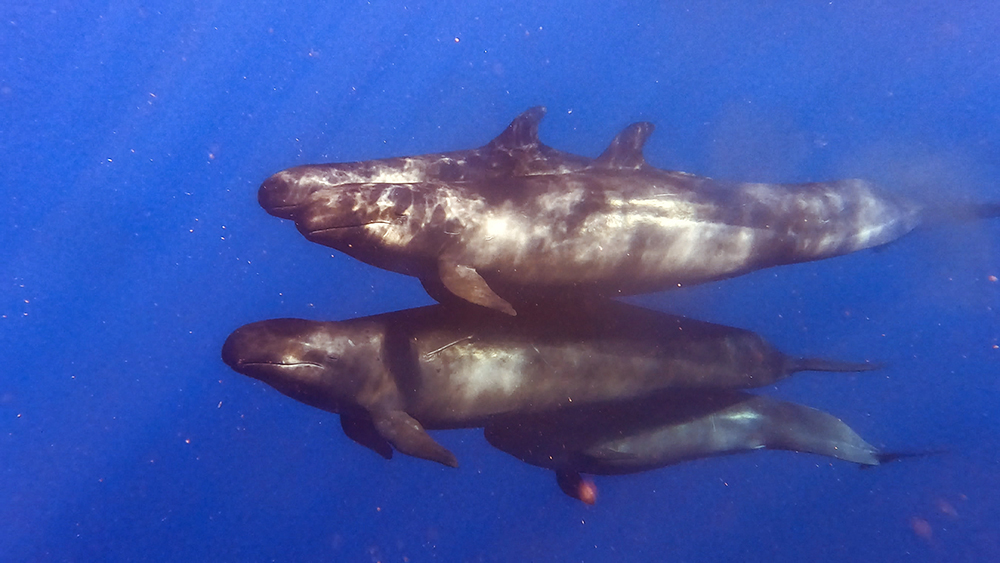 Photo by Kathy: Getting intimate with false killer whales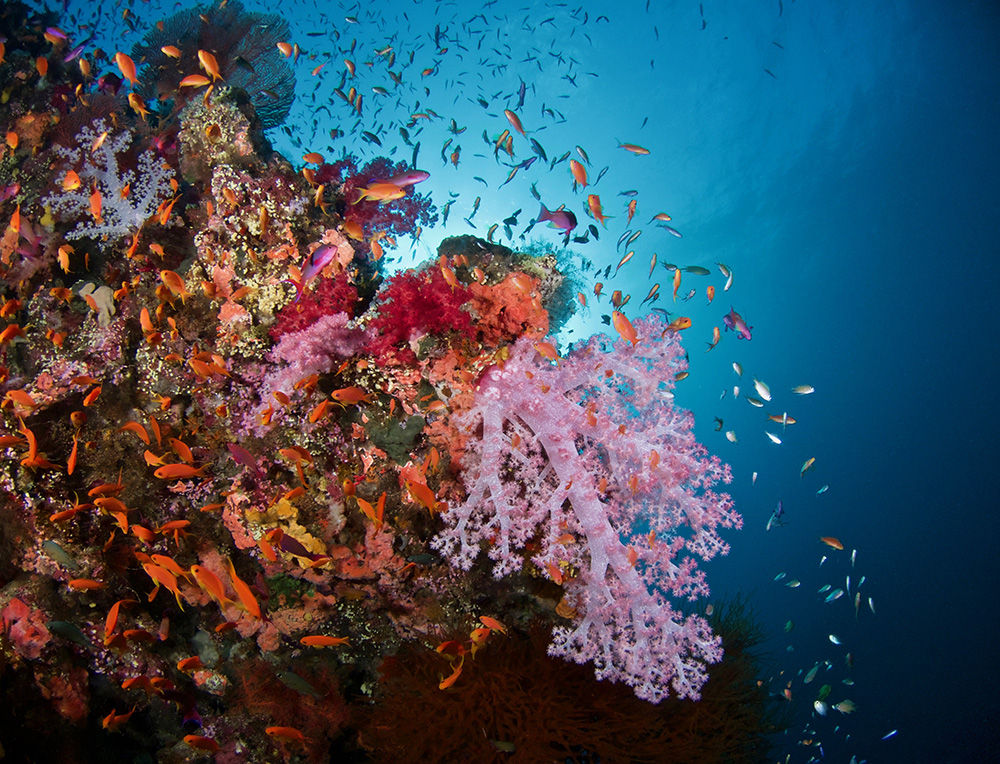 Photo by Ralph: Fiji colors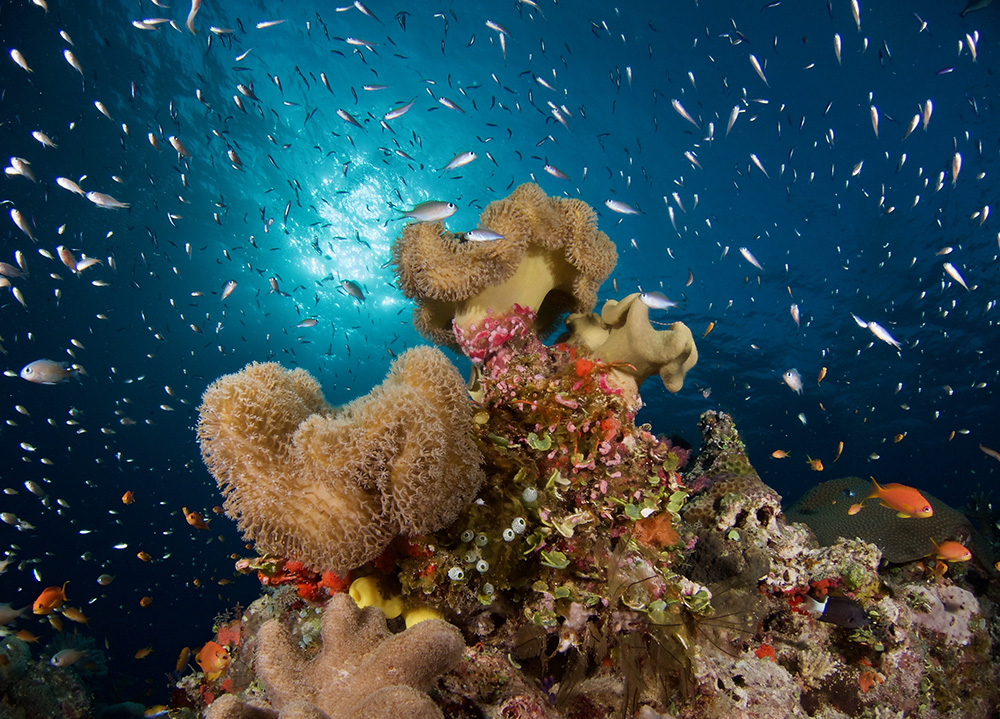 Photo by Ralph: Action!
This trip began at Vatu-i-ra as our new guests got acquainted with our marine life and learned that blue dragon are not worms but nudibranchs, and laughed (above and underwater) at the signs for flasher wrasses. We saw some big crinoid shrimp, a few sharks, a lot of small tunas, big schools of black snappers, some big barracudas and all the fish drama Coral Corner and Mellow Yellow can provide. On the night dive the group saw many scorpionfish and decorator crabs .
We moved to Vuya and had some challenging morning dives at Cat's Meow and Humann Nature, but the current rewarded us with many fusiliers, schooling barracudas and a few turtles. In the afternoon, UndeNAI'Able Pinnacle stole the show with both skiffs having a spectacular dive there. There are no words to describe the clouds of fusiliers surrounding the entire pinnacle, alongside a constant flow of unicornfish and surgeonfish, and a big school of oceanic triggers. Leon, Kathy and Steve even saw a manta ray!!! At night, we saw lots of barchin scorpionfish and a curious white tip reef shark.
Then we spent two days in Namena. South save-a-tack had a fair amount of grey reefs and white tip sharks, as well as orangutan crab, juvenile ribbon eels and golden mantis shrimps, but the real show was at North save-a-tack. On the first day, a wild drift to bommies we had never visited before had many shark sightings as well as an unreasonable amount of barracudas. On the second day, our Grand Central Station dive was one of our best so far. The grey reefs were very active, feeding on an enormous school of queenfish. But the action really increased with the arrival of five massive tunas and a couple of big mackerels. Our night dive featured a very rarely seen cuttlefish, and our kava party was… well, a proper party! Our guests fully engaged, drank as much kava as they could and decided that the Kava Time call was useful for any occasion, whether kava is involved or not.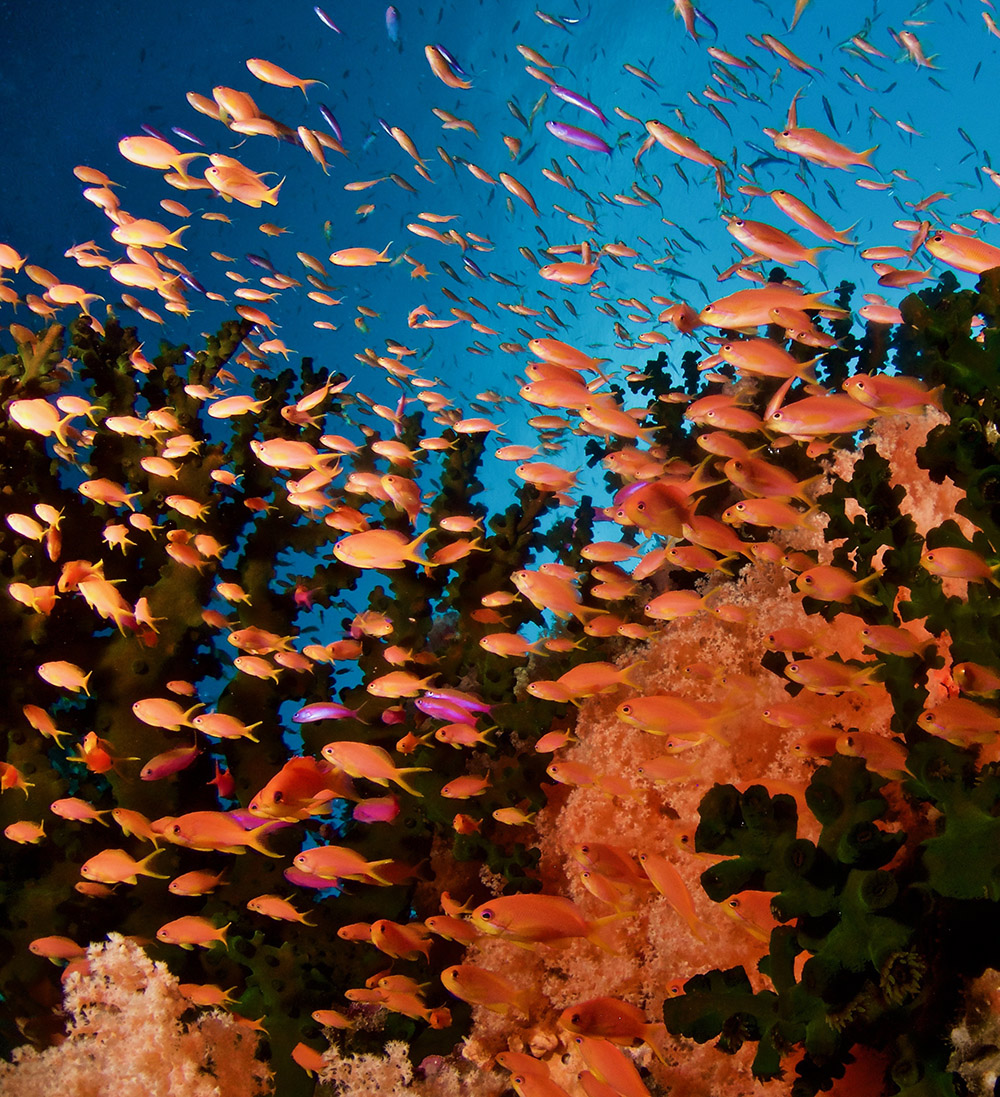 Photo by Ralph: Scalefin anthias, soft coral and tubastrea coral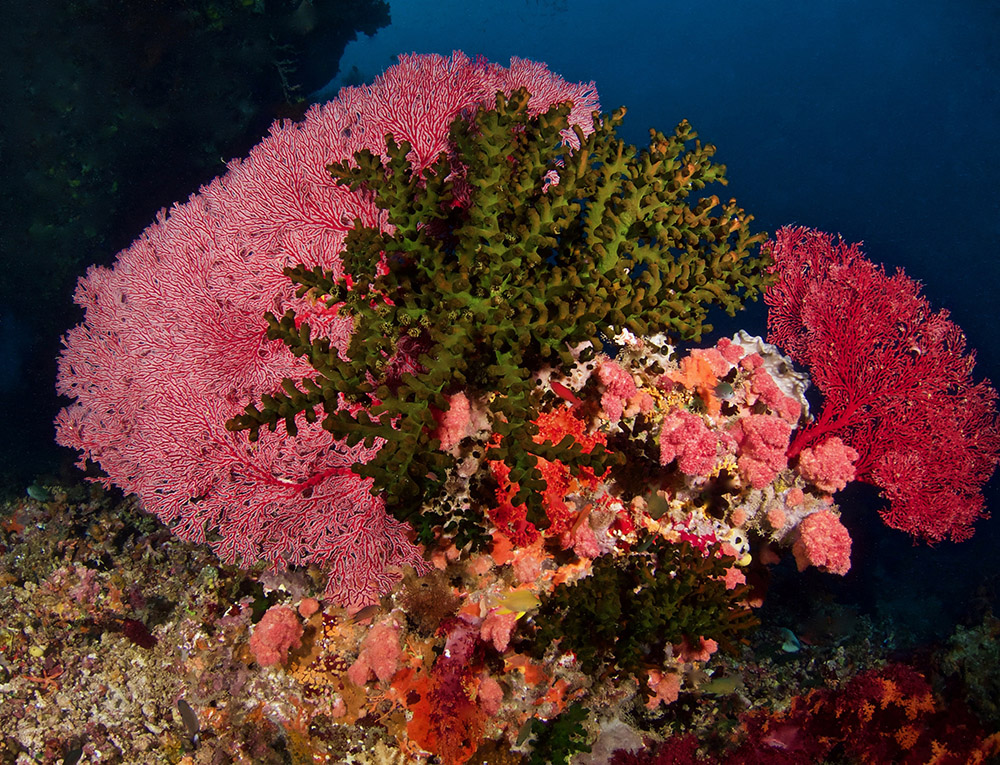 Photo by Ralph: Christmas colors during Easter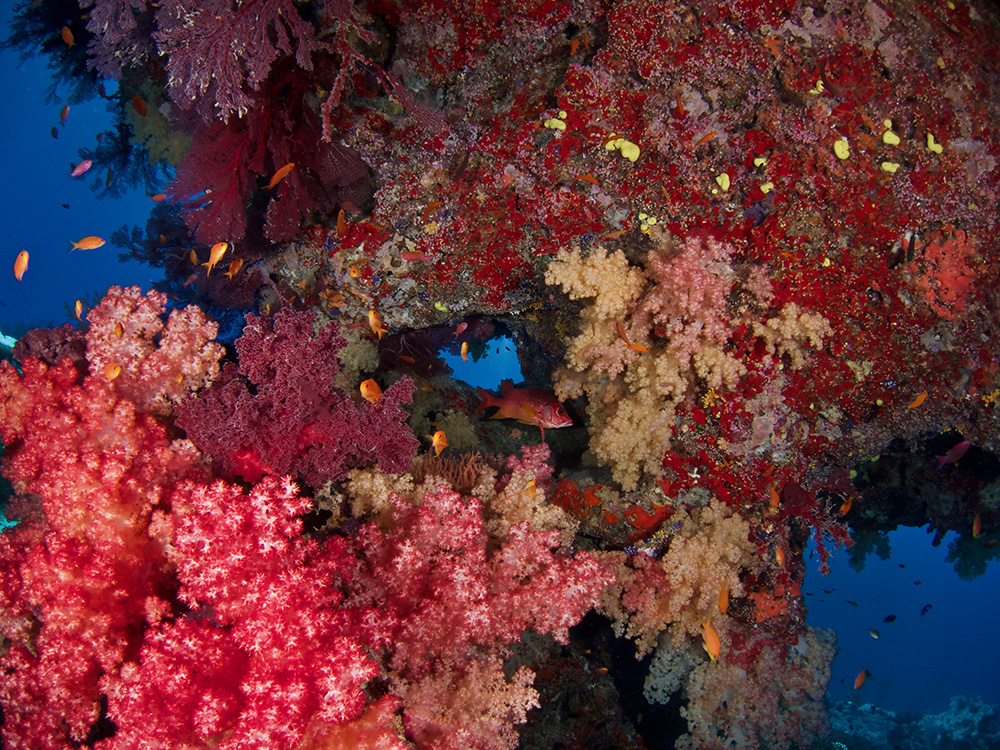 Photo by Ralph: Soft coral galore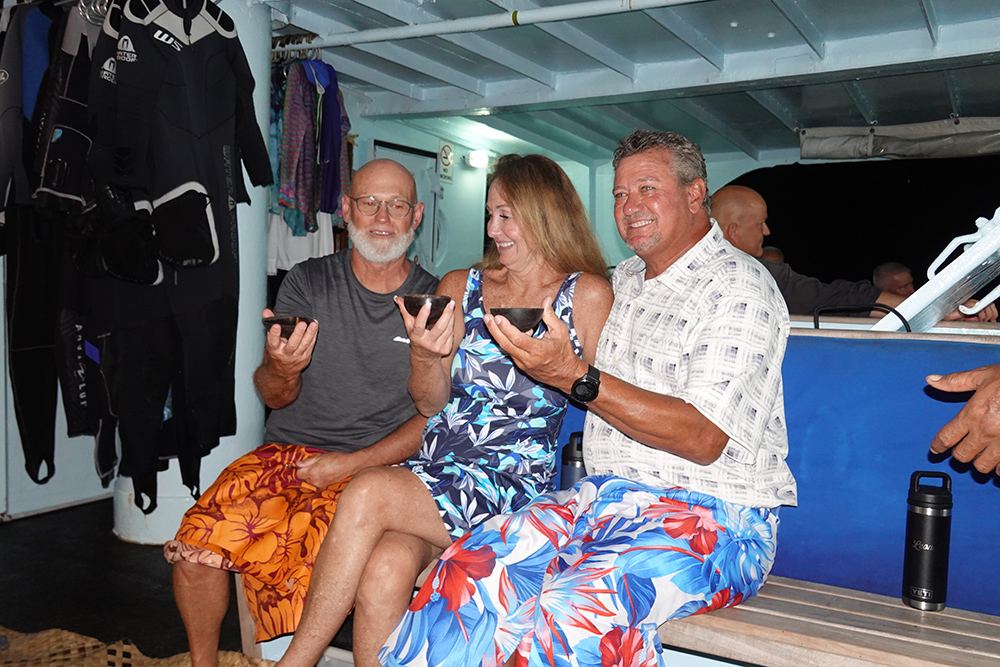 Photo by Dave: Kava Time!!
After that we went to Makogai, and did our first two dives at Vatu Vula, a site we first visited on our last trip. The dives were wonderful, with many sharks, oceanic triggers, barracudas, humpback snappers, surgeonfish, unicornfish and exquisite flasher wrasses. Turtles on both dives got very close to the divers. We moved to the bommies in the afternoon and Mike found a leaf scorpionfish and both groups saw a lot of nudis. On the night dive, a sleeping turtle and a slipper lobster were the highlights.
But the winner of the day was most definitely the incredibly intimate encounter we had with seven false killer whales right after our first dive. Bel heard them during the dive, and upon ascending decided to go looking for them… we drove for less than 2 minutes and there they were! The group did as instructed and respected their space… and they came to us! They were just so curious, turned around and got closer, swimming straight towards us and under… Dave and Elena never missed a 7am dive after that!!
We cruised to Gau for a day filled with great sightings. Koroi showed Brett a couple of helfrich dartfish, Bel and Mike saw a rare leopard shark, Steve found an octopus, Lars had an intimate moment with a remora (that made Mike flood his mask), Scott found a peacock mantis shrimp and everybody saw all the sharks, big and small, pregnant and babies. Also around us, tons of black and midnight snappers, barracudas and fusiliers. One of our best days in Gau so far. We followed with a heart-warming village visit with all 11 guests. The visit is always a highlight of the trip, but it is extra special when all guests join and truly appreciate the experience. The kids, home from school, each adopted a guest to call their own, and Ralph almost stayed to be picked up at a later date.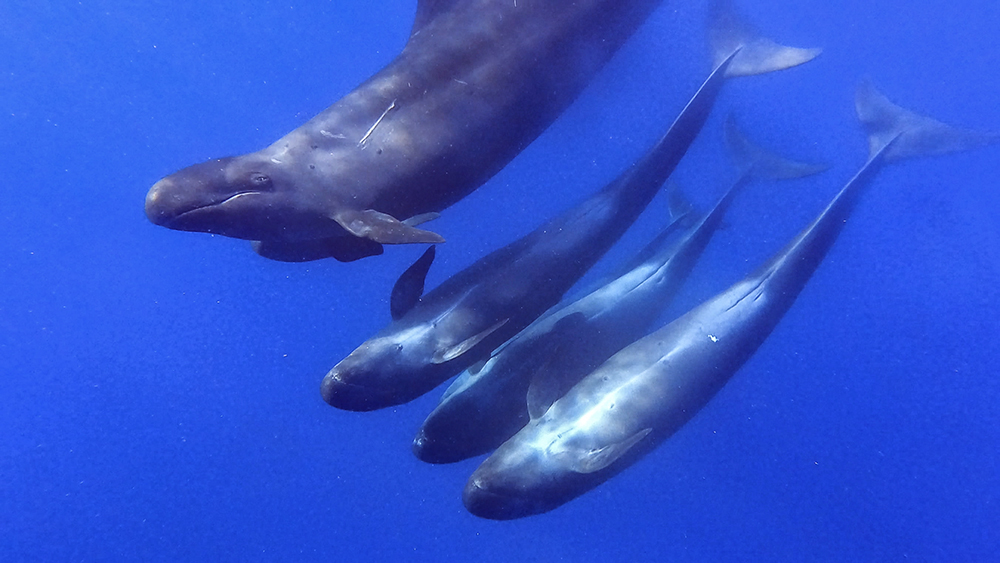 Photo by Kathy: Eye to eye with false killer whales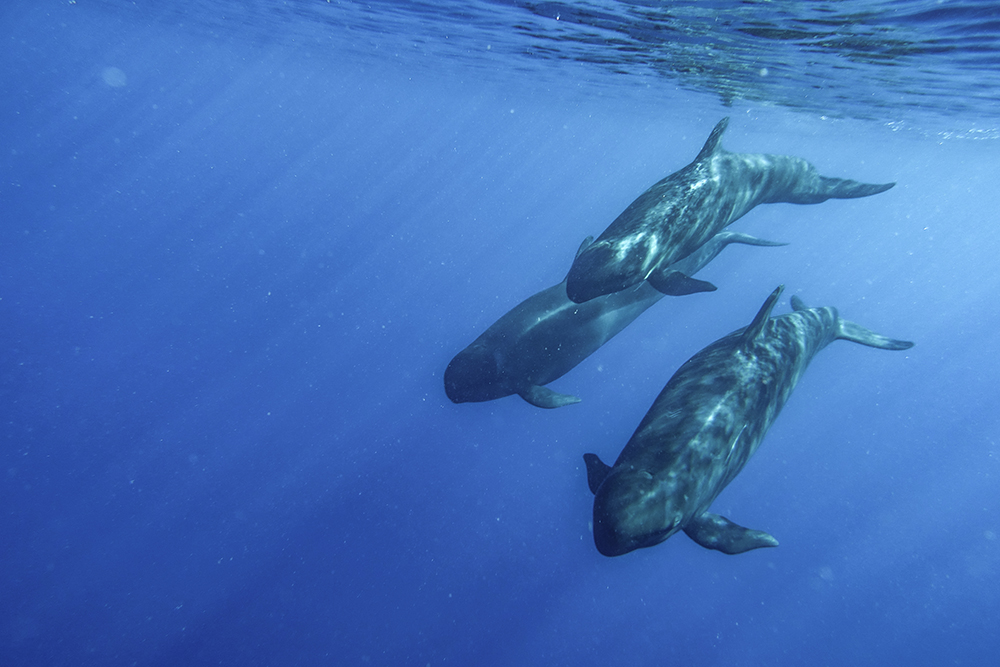 Photo by Dave: He never missed a 7am dive after this!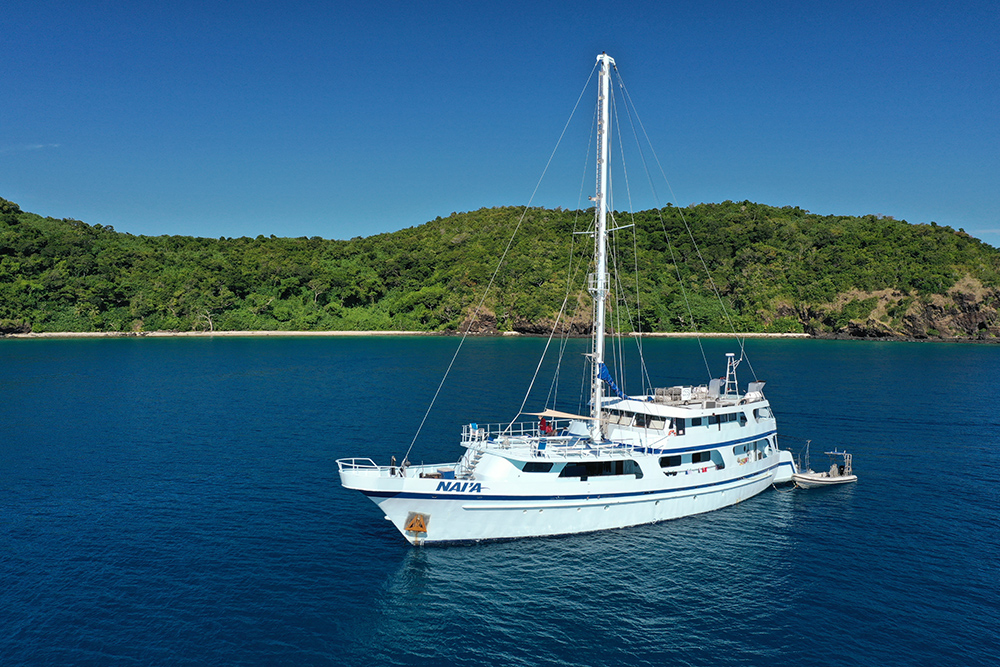 Photo by Dave: Nai'a
Photo by Dave: Scott makes music in Somosomo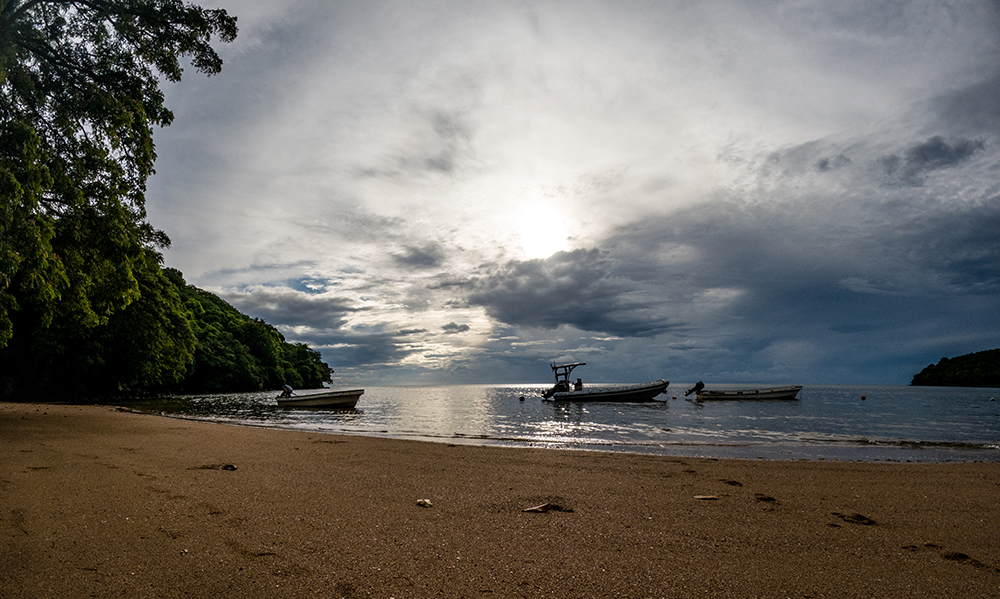 Photo by Bel: Somosomo sunset
We followed that with a day at Wakaya. Still not around in big numbers, Kathy, Lars and Brett saw one lone manta. But we had a huge blotched stingray in the channel, purplequeen anthias, lots of barracudas, schooling pinjalos, active white tip sharks and a few huge humphead wrasses. A turtle followed mighty righty's last dive and on the night dive the guests hung out with a squid.
Our following destination were the always fabulous sea mounts. Aside from the gorgeous reef gardens, we had sightings of small critters like nudibranchs and dragonets as well as bigger fish such as sharks and humphead wrasses.  We encountered a few big schools of pinjalos, bigeyes, trevallies and blackfin barracudas, and a giant trevally bigger than the barracudas! At the end of the last dive, after Craig ditched the group to fly solo, Dave and Elena had a great time with the pelagic jellies (tunicates, sea walnuts and sea angels) and found a magnificent jellyfish! And the night dive… well, let's just say it was a wild ride.
Our last day at Vatu-i-ra we revisited some sites and explored Whole Shebang, where Lars found a black leaf scorpionfish and Scott got to ride Leon's scooter. It was yet another beautiful day with great sunshine and the perfect way to end this magnificent charter. On the way home we tried to figure out who tried to kill Leon, but it would seem we had far too many suspects and not enough reason to clear any of them!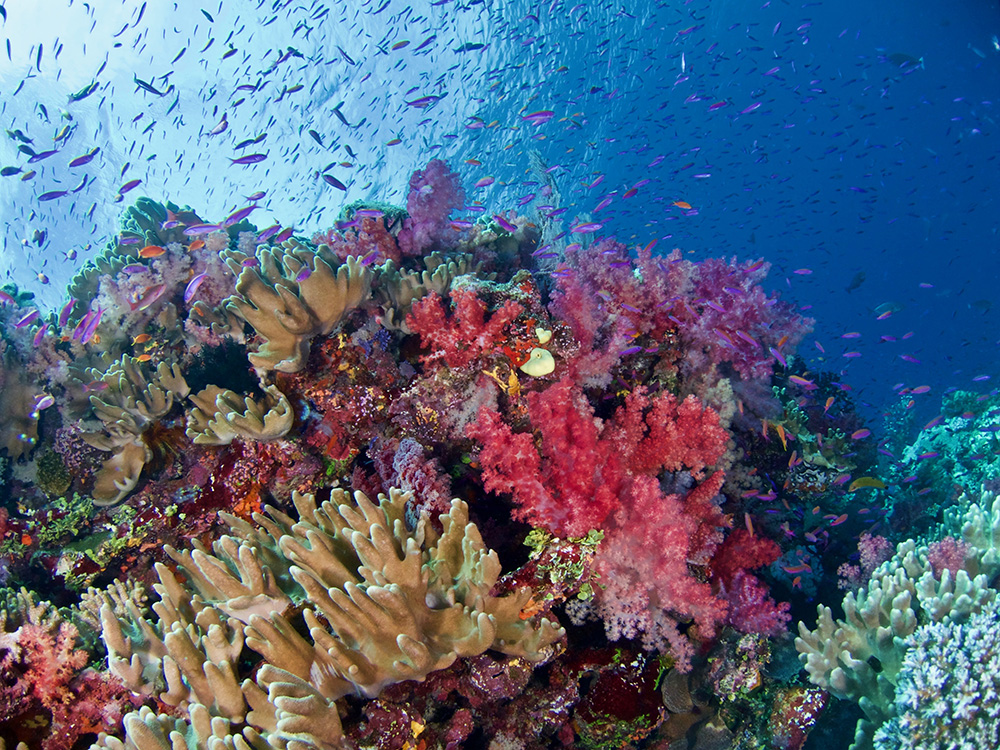 Photo by Ralph: Fiji colors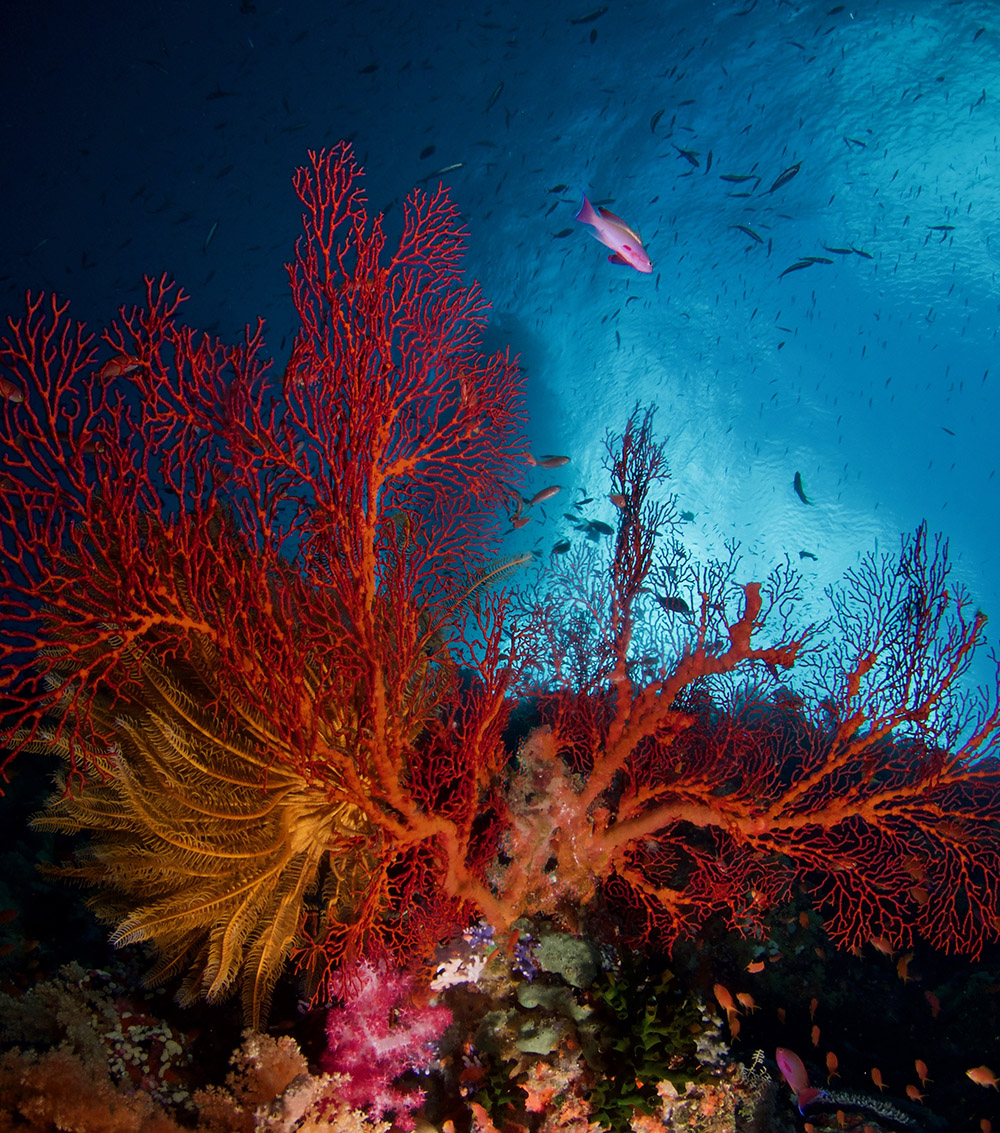 Photo by Ralph: Sea fan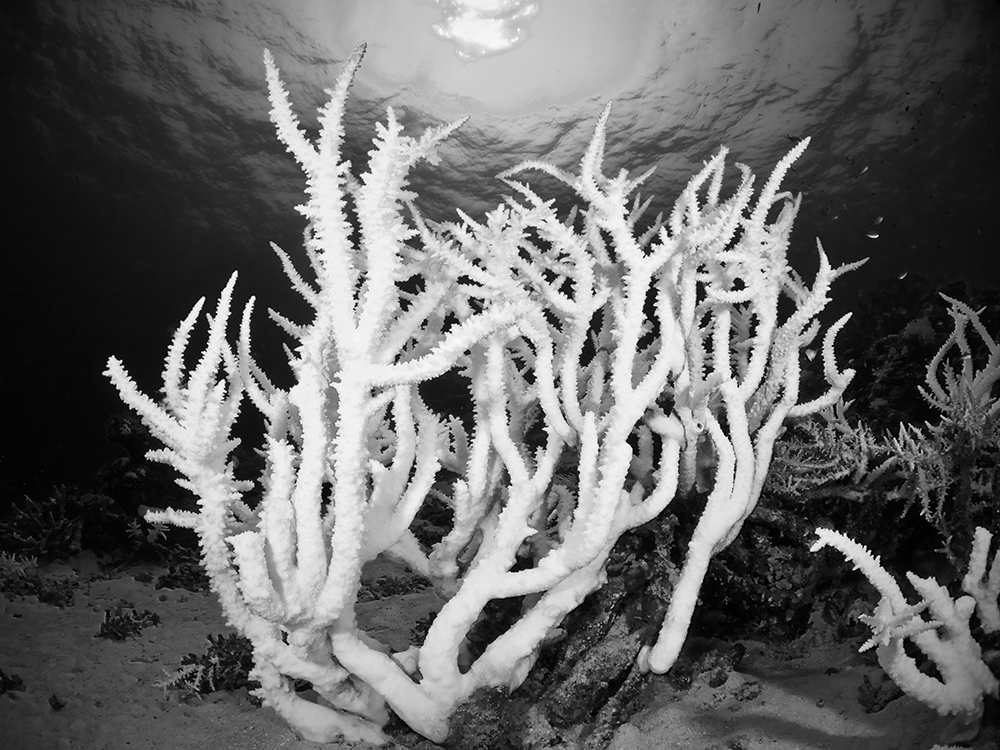 Photo by Ralph: Black & white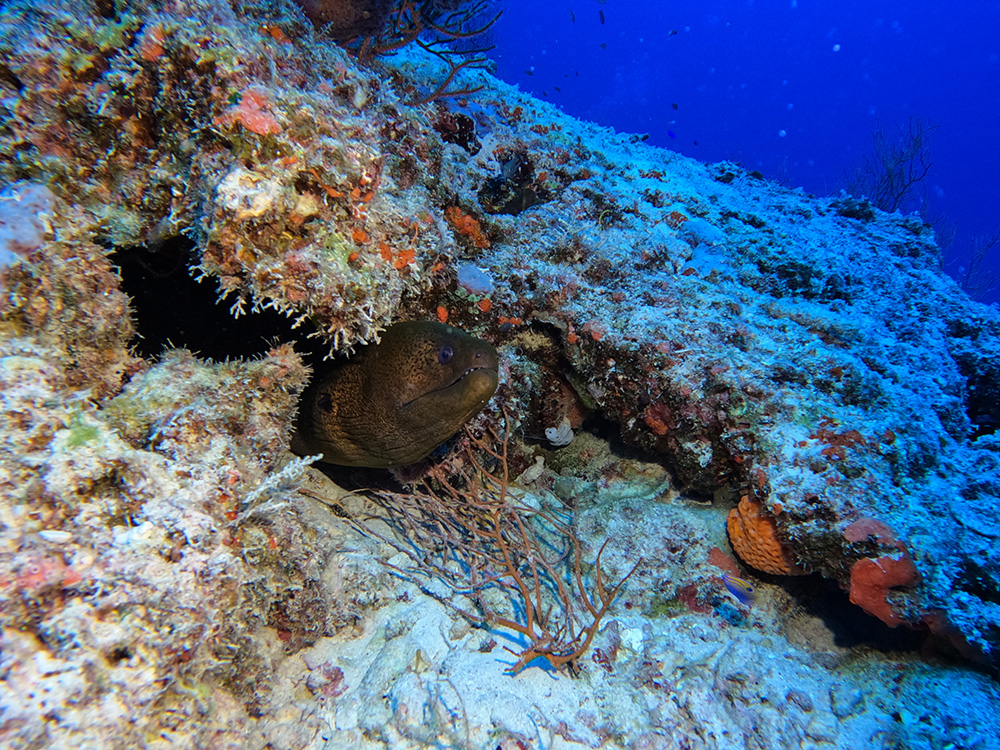 Photo by Dave: Moray eel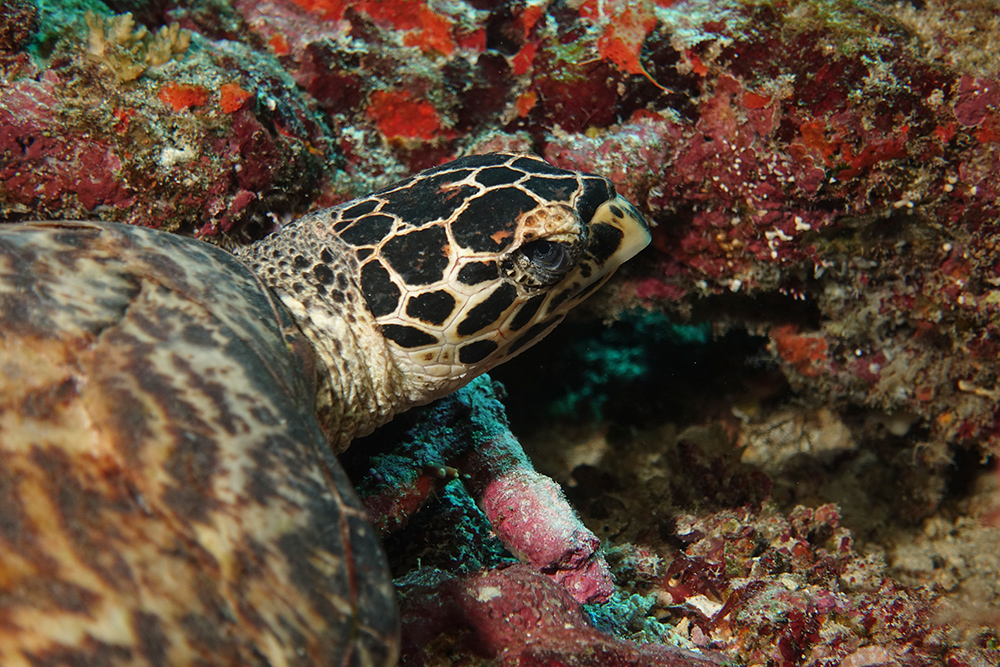 Photo by Dave: Turtle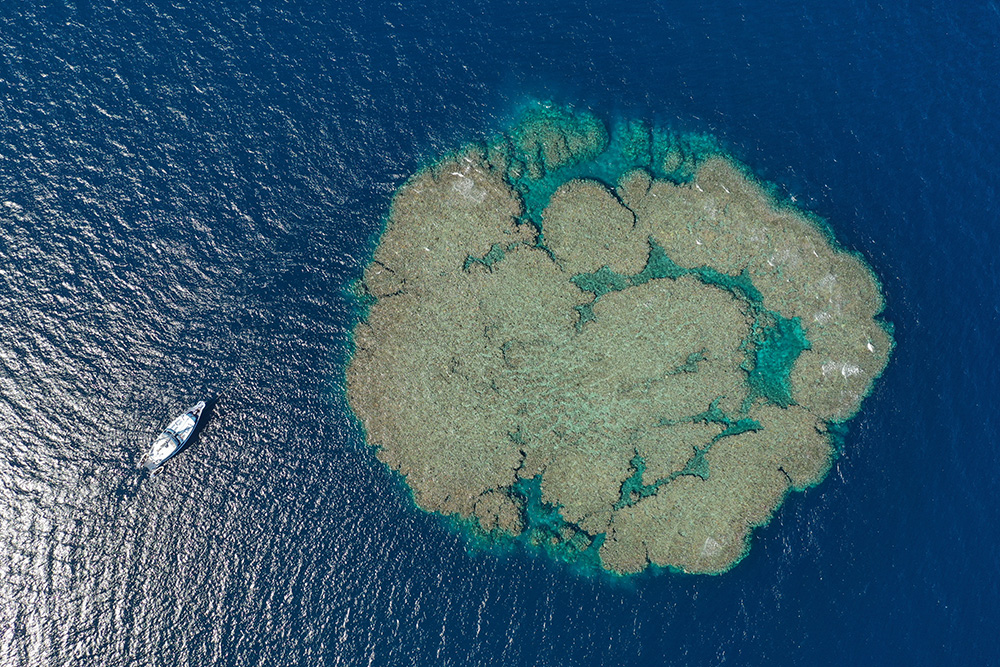 Photo by Dave: Nai'a and Mount Mutiny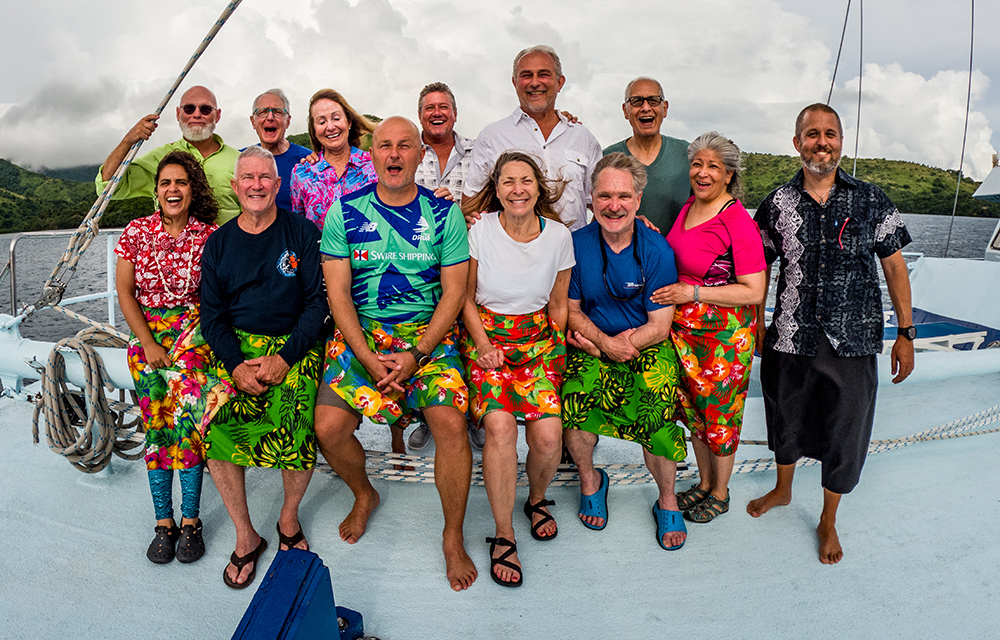 Group photo
Comments
"Lomaiviti is nationally significant for its important role in reseeding Fiji's reefs and providing fish refuges."
~ Dr. David Obura, Cordio and WWF Marine Biologist