The Road to Recovery
Destination: Fiji's tenacious reefs
Trip Date:
Mar 5th - Mar 15th, 2016 -
Comments
Author: Joshua & Amanda
Welcome Back: Dianne, Nancy, Janet & Greg, Sue & Jack, Carl & Suzi
We schedule breaks throughout the year to allow rest to our crew and boat. During these precious days off, we make the most of our time by repairing and improving all facets of the vessel. As you have read in a previous blog post, following two consecutive charters interrupted by Cylone Winston, we took our scheduled week off to provide relief to some of the areas of Fiji most affected by this unprecedented storm. We loaded NAI'A with 11 tons of supplies to deliver to Makogai, Kubulau and Taveuni, while your Cruise Directors independently ventured to Ba district to assist the Ministry of Disaster Management in their efforts in that area.
Two special guests joined us on this crucial cruise in assessing cyclone damage to our reefs and seeking out new dive sites that escaped impact. Former Cruise Director and co-finder of most of our divesites, Cat Holloway, lent her expertise to propose new itineraries, while Sangeeta Mangubhai, of the Wildlife Conservation Society in Suva, recorded changes in the reefs based on years of research. Fortunately, all eight of the rest of our guests were returnees, so they were very patient, understanding and curious about the prospect of discovering the next underwater treasure of Fiji.
Although our checkout dive site, Samu Reef, was battered by Winston, our wonderdivemaster, Big Mo, found juvenile many-spotted and oriental sweetlips. For our first full day of diving, we headed to the area that has miraculously escaped Winston's wrath, Vatu-i-Ra. We had explored part of this region after the cyclone and found some areas to be affected and others nearly unblemished. Wanting a good start, we took our guests to two dive sites that were unaffected by the cyclone, Mellow Yellow and Maytag. Big Mo found a leaf scorpionfish and peacock tailed anemone shrimp among the scenic wall of yellow dendronepthya soft coral and another leaf scorpionfish and plenty of grey reef sharks at the pinnacle. Later we dived the Whole Shebang, an area we hadn't visited since the storm, and found quite a bit of damage in the beginning, but improving throughout the site.
It's a good thing Dianne wears a trifocal mask because Joshua caught fire by finding a slew of spectacular nudibranchs and flatworms. Upon being shown each crazy critter, she would show her appreciation by emitting an audible "oooh" sound and throwing her fists out to the side. At one point in the dive, she chased him down to applaud him again for a particularly beautiful find! At the close of the day, Amanda found that Coral Corner was still in great shape. The slope had been reduced to the condition it was in when we arrived 2.5 years ago after a previous cyclone, which had since in that short time bloomed into one of our favorite sites. It is still quite good, however, and poised to quickly return to full health. The walls on the other hand are still covered in soft coral and fish still abound!
On Day 3, we found ourselves at Gau Island. Because it is far south of the path of the eye of Winston and the vegetation on the island looked relatively unscathed, we were hopeful that the reefs would still be in excellent condition. The current came in ahead of schedule at Nigali Passage and we were delighted to revisit the hoards of grey reef sharks, three species of barracuda and bigeye trevallies that gather there. Joshua held his breath as he approached the Cabbage Patch and was relieved and elated to find that this very shallow patch of unique coral was in nearly perfect condition! Unfortunately, Greg and Janet missed out on this feature of the dive because he was swept into the blue lagoon by the ripping current! With good humor, he later reported that there was nothing worth seeing out there… Having split up into several groups to survey the whole area, we covered both walls either side of the passage, the coral garden beyond Nigali and the sandy stretches inside the lagoon. And everybody came up smiling; Nigali had been spared! In the afternoon, at Jim's Alley, our guests witnessed an anemone devouring a medusa and, after the dive, swam with three feeding mantas on the surface! So far, so good.
After the third dive, we visited the village of Somosomo. Because Koroi had gone ashore to alert the villagers of our visit, we already knew that they were barely affected by the storm. In fact, they had no idea the cyclone was very bad until they saw pictures of the destruction in the newspaper from around the country days later. In response, this small community who themselves have very few possessions, all donated something from each household to send to the nearby island of Batiki, which had suffered badly. When we arrived that afternoon, we were greeted by the Pastor standing proudly by a huge pile of boxes containing kitchenware, clothes and food, ready to set off to help their neighbors. In our brief experience of relief work, this is just one of many heartwarming stories of astounding charity and kindness in this wonderful nation of friendly Fijians.
The village and its residents looked as fresh and welcoming as ever. The children didn't spend much time with our guests, however, because they were constantly taunting Joshua to chase them around the village. Everyone was in good form during the entertainment session. While the ladies were dancing, a couple of them kept making eyes at Sangeeta, inviting her to join them. When she finally did, we could all see that all that practice many years ago in year eight had paid off, as she danced right in time with the women!
On a roll now, we spent the following morning off Gau's southwestern shore. Our first dive was to a place recently rediscovered by Joshua, a lush and towering pinnacle just off the barrier reef wall we'll call Jungle Jig. Completely covered in hard coral and fans, the top of this pinnacle is just above 80' and plunges to well over 150'. There, we found loads of masked groupers, Lori's anthias, Russell's snappers, small scorpionfish and black-breasted pipefish. On the main reef there was a hungry banded sea krait and even a manta, the latter spotted by Suzi and Carl. We left Gau after another wonderful dive down the ripping current of Nigali Passage where Amanda found a teeny juvenile rockmover wrasse and nesting triggerfish.
While Cat and Joshua explored the possible dive sites off Batiki Island, Big Mo and several other crew ventured ashore to ask village leaders permission to dive there. This is done by performing the traditional sevusevu, a gift of kava and, in this case, a donation of clothes. We discovered several reefs with real potential to revisit and settled upon a late afternoon dive at "8 Is Enough". A series of pinnacles joined side-by-side attract a variety of schooling fish, including midnight and red snappers. The reef showed signs of cyclone damage, but the fish life was prolific. While we were diving Jack and Sue returned ashore with some of the crew to donate some of the tremendous supply of goods they brought to hand out to needy villagers. While all of the villages on Batiki's west side were unscathed, the village opposite was completely wiped out by the huge tidal wave that followed the cyclone. Jack and Sue's donations were brought to that side of the island, to very grateful recipients.
On Day 5, we cruised north to Wakaya Island for a fantastic day of diving. The weather was brilliant and the sea flat calm and we are delighted to confirm that the reefs here still look great! On our first dive, we cruised along the wall towards Lion's Den. As we got closer to the end of the dive site, a very excited Cat appeared swimming towards us, beckoning us over to Lion's Den itself to show a large manta getting a cleaning. We all lined up next to the pinnacle and watched it circle for several minutes. Just then, a smaller one arrived and the two immediately took off together.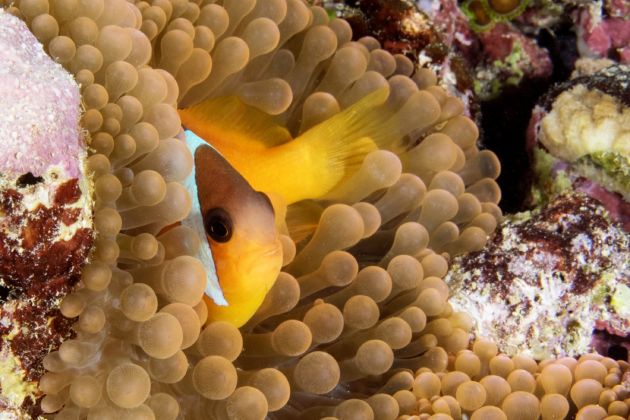 Hidden beauty - by Dianne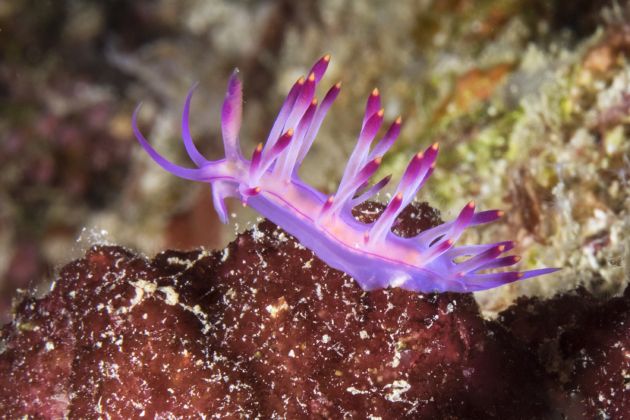 Nudist - by Dianne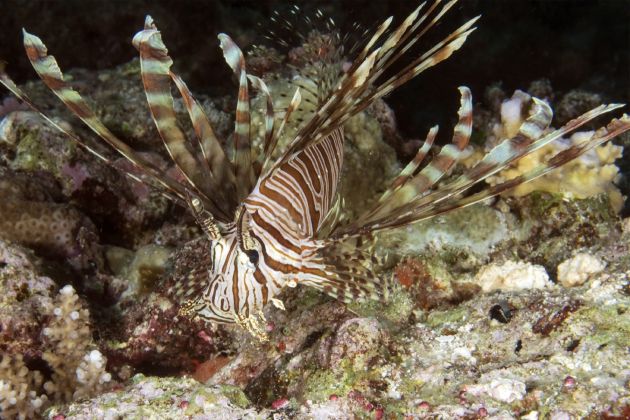 Lion's pride - by Dianne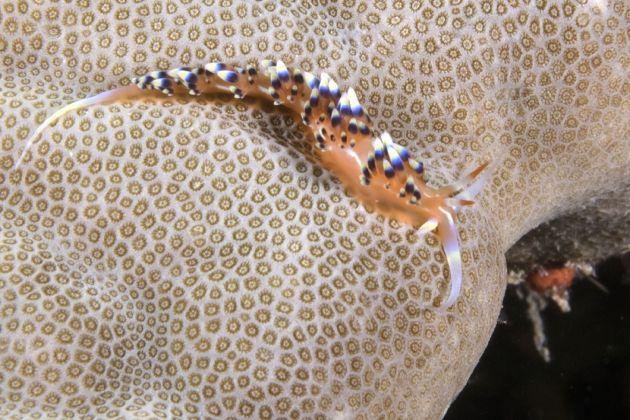 Slithering - by Dianne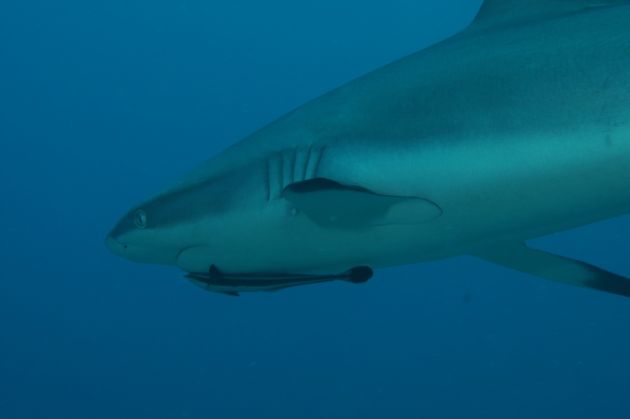 Here, sharky, sharky! - by Janet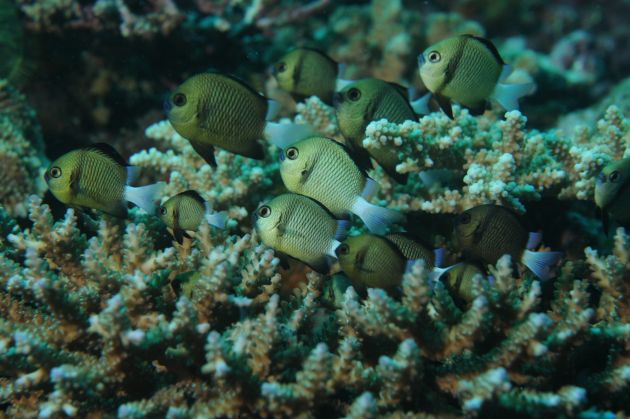 All your ducks in a row - by Janet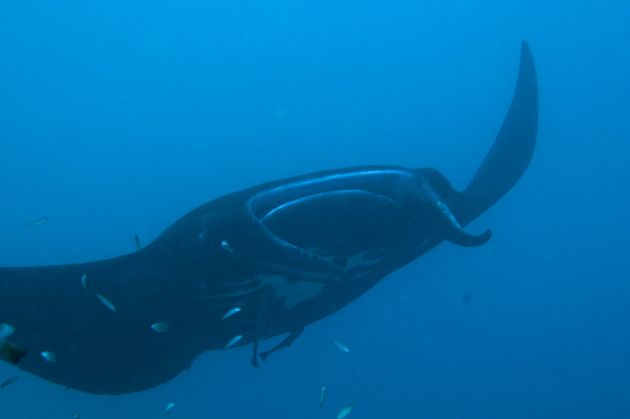 Gulp! - by Janet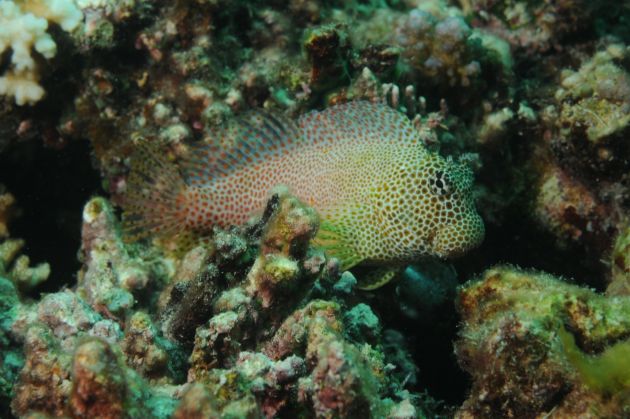 Reeftop resident - by Janet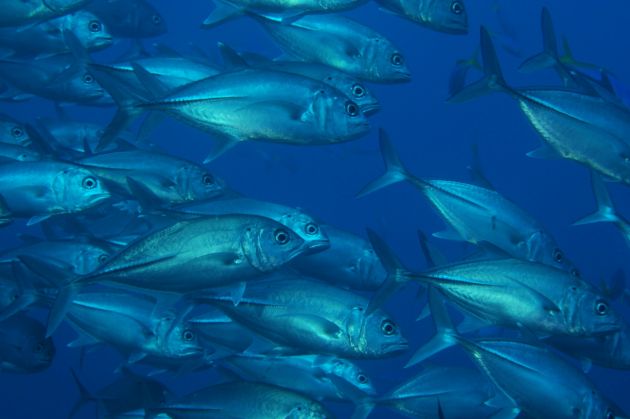 Silver river - by Janet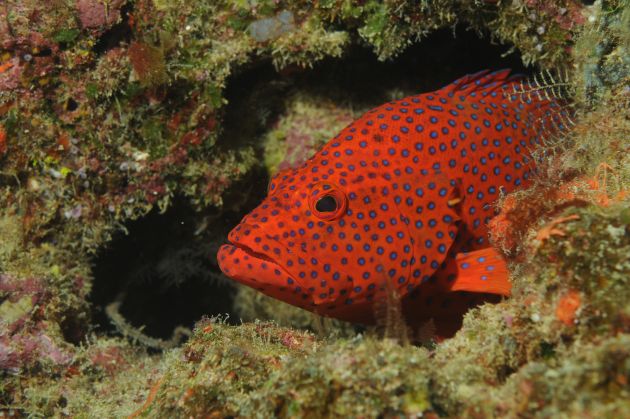 What's goin on out there? - by Janet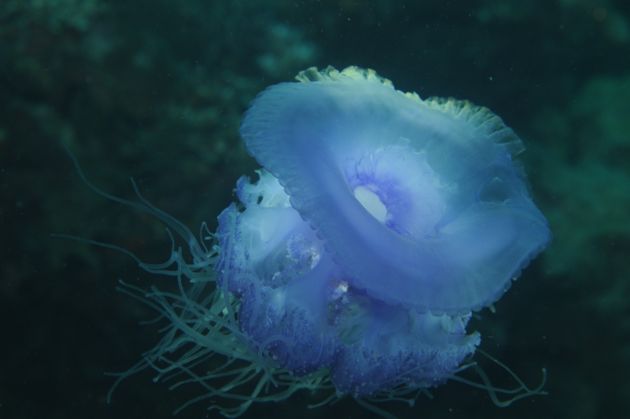 Stung - by Janet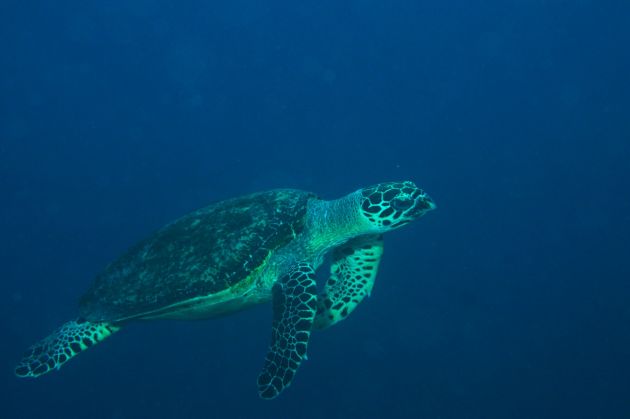 Gliding away - by Janet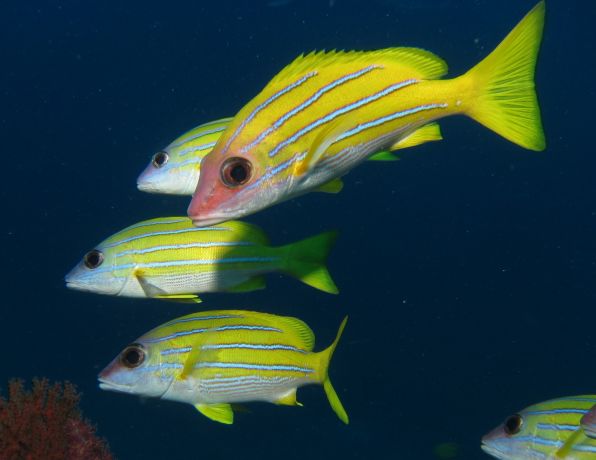 Small fry - by Nancy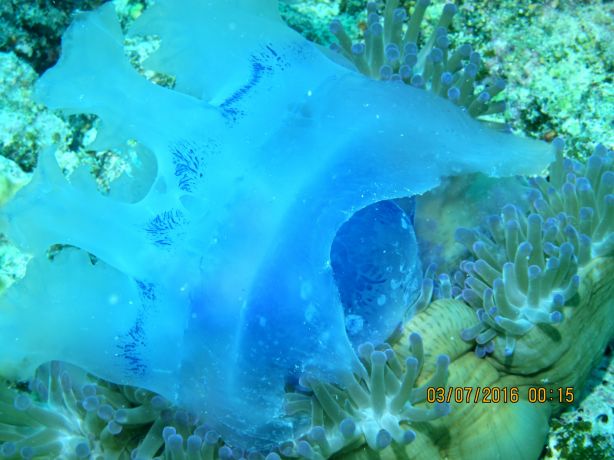 Anemone devouring medusa... cool! - by Nancy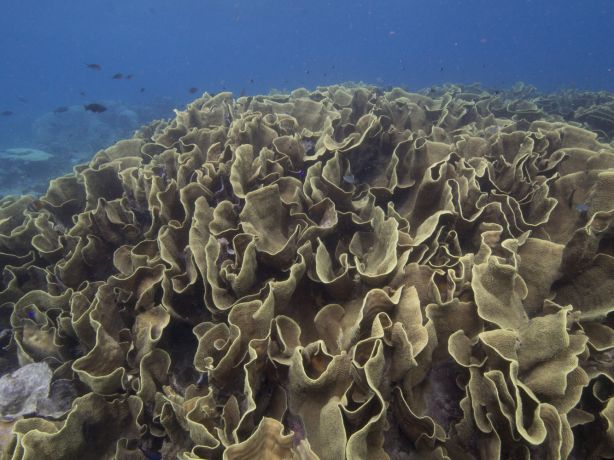 The Cabbage Patch survives - by Sue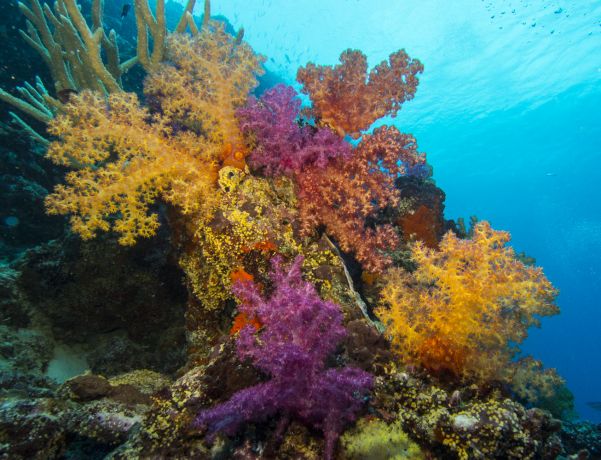 Wonders of color - by Sue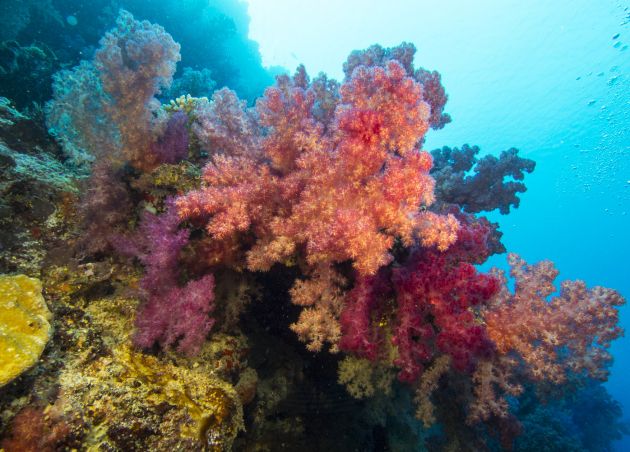 Famous Fiji - by Sue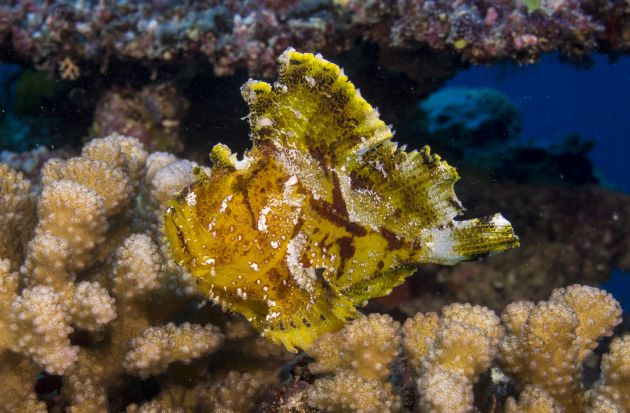 At attention - by Sue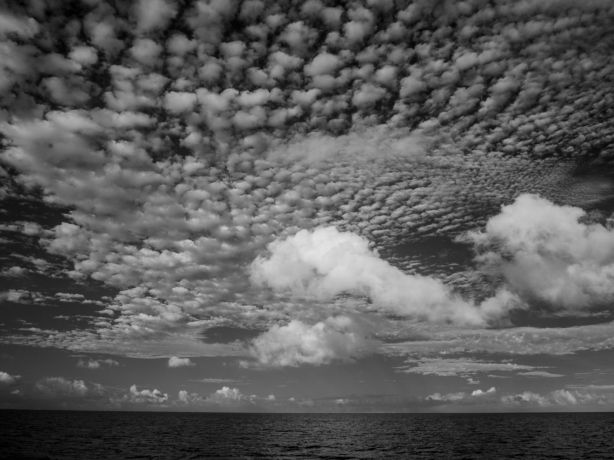 Infrared skies - by Jack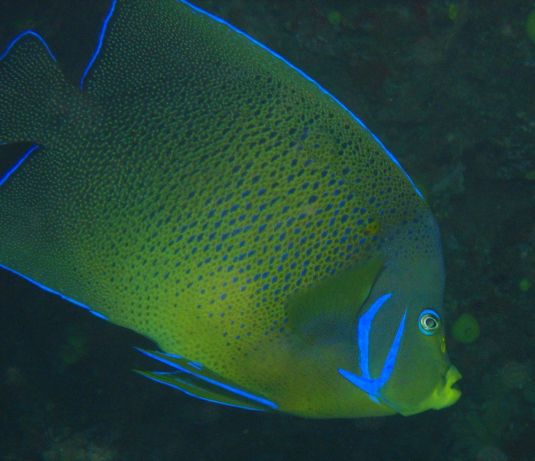 No wings - by Suzi
The manta frenzy continued on our second dive at Vatu Vai as our skiff drivers spotted one getting cleaned on the bommie as we arrived. We all dropped in and approached the graceful beast circling the lush bommie for several minutes. During an hour dive, we barely covered 50' of reef edge because we kept finding cool critters: the endemic juvenile monocle bream, ocellated phyllidia, a tiny orange and grey margin flatworm, a winged pipefish, a purple false stonefish and a whitecap shrimpgoby. While Dianne was preoccupied shooting a blackspotted pufferfish, Joshua spotted another manta gliding towards them. "Pardon me, Dianne, I do hate to interrupt, but would you mind terribly turning around?" A few moments later, while Joshua showed Dianne the winged pipefish at the bottom of the pinnacle, Amanda, Suzi and Sangeeta enjoyed yet another manta soaring over the top. We saw four mantas on that dive and a total of ten over the entire charter!
From Wakaya, we steamed north to revisit the Namena Marine Reserve. NAI'A was instrumental in the creation of the marine reserve more than 20 years ago and continues to be a primary supporter of the communities that maintain the area. Although we had seen considerable damage in our previous visit to Namena, it had only been a brief visit and we wanted to return here to fully evaluate our old dive sites and explore new possibilities. On our first dive, we went to a place we hadn't been to since Cyclone Winston and, due to its depth and orientation, we were optimistic. Schoolhouse really does, still rock! The deep reefs fared very well, especially the northern end. Schools of bigeye trevallies, bannerfish and anthias swarmed the first pinnacle and, in fact, the reef here was so beautiful that most of our divers didn't even leave that spot! In the afternoon, we assessed 2 Thumbs Up and, while the sea fans suffered on this reef, the majority of the site is intact and still covered in lush marine life, from white tip reef sharks to whitecap shrimpgobies and of course plenty of colorful nudibranchs.
Only Suzi and Carl took Joshua up on his offer of a late afternoon dive at Kansas. While they enjoyed finding many interesting critters like tiny nudibranchs, orange-spotted and brown banded pipefish, the raging current made this dive a real challenge. Those who chose to enhance their photos while sipping chardonnay were confident in their decision! Meanwhile, just for old times' sake, Amanda jumped on North Save-a-tack Wall, aka Grand Central Station, the site of so many wonderful memories, just to see if anyone was in residence… and we're happy to report that the fish don't care one bit. Well, hundreds of bigeyed trevallies certainly don't! That night was time for our kava party, which despite lacking in guests, did not lack in enthusiasm.
Day 7 was spent exploring the northern reaches of the Namena area in search of more viable dive sites. Fantasea was just as we briefed it: very strong current attracts a bounty of fish life. After the first morning dive, we met up with members of the Kubulau area – protectors of the Namena Marine Park – to hand over another huge bag of supplies to the villagers. Jack, Sue, Carl and Suzi contributed a very useful haul of water purification, tools, medicines and clothes, which will be distributed to families in need.
We then continued north to explore a channel north of the main reserve. There, Amanda's group found a very vibrant pinnacle and a shy green sea turtle, which we'll keep in our back pocket for future reference. For the afternoon dive, we went to a dive site we have only been two once or twice before since we began, NAI'A Flya. We rarely go there because it is not close to any other dive sites and because it often has a strong current, can be hard to co-ordinate. The incoming current was indeed strong and, amongst the patches of scarred rock, we found many bommies covered in deep purple soft coral, blue trevallies, yellow boxfish and anthias.
Next we headed westward to assess the Vuya Reef area. Nasi Yalodina and Humann Nature were heavily marred by the storm and, although Cat's Meow received a beating as well, much of its characteristic soft coral and fish life remains. Amongst the black coral we found longnose hawkfish and many Fiji anemonefish clinging to their fluorescent red anemones. That afternoon, while Amanda guided a group on the UndeNAI'Able Pinnacle, a reef that has been slightly rearranged, but still houses a bounty of marine life, Cat and Joshua rediscovered another inviting pinnacle that we have not dived in many years, Blueberry Hill. It was so good, we went back there on the fourth dive. Only Nancy and Janet made the dive, but it was worthwhile, with a clearfin lionfish, juvenile trumpetfish, reticulated halgerda nudibranch, hawksbill turtle and a cool blue medusa.
For our last full day of diving, Cat led us to a collection of bommies just north of Cat's Meow called Ravai's Wives, named after the fictitious romances of a former captain. We were able to find and dive four of them. Apparently there are two more, but the other four don't know about them. The bommies varied in quality, but all had huge schools of fusiliers gulping up the plankton that abounds at the moment. Wife number one was definitely the favourite of the day with a fun swim-thru, tons of gorgeous soft coral and caves of glassy sweepers. There were several interesting macro critters like nudibranchs and flatworms, including one free-swimming Hyman's flatworm, as well as passing hungry Spanish mackerel.
For our last dive of the day, we checked out E-6, a longtime favorite dive site. The once vivacious hard coral reefs here had been in slow decline lately and have now suffered a setback at the hands of the cyclone. A large chunk of reef even fell out of the ceiling of the Cathedral and now lies on the rubbly bottom. Many lively points still jut out from the main reef, cloaked in soft corals, black corals and plenty of fish. Bigeye barracuda and massive cornetfish still stalk their prey on the reef.
On our last day, we returned to beautiful, Vatu-i-Ra. Despite lying in the path of the cyclone, several sites in this area are as stunning as before. Now more than ever, it becomes apparent that Vatu-i-Ra should be a marine protected area. Large schools of blackfin and pickhandle barracuda and grey reef sharks still prowl this vibrant, colourful coral reef. At Maytag, the leaf scorpionfish still waits sedately for its next meal, while a large school of bigeye trevallies and several grey reef sharks are not quite so patient. Coral Corner still features healthy soft corals and fans that divers flock to Fiji for, plus an entire wall just covered in vibrant purple and yellow soft corals. And Mellow Yellow, a favourite amongst our guests, remains untouched.
Since the storm, the waters around Fiji have already dropped 3-4°F, so, while turf algae already coats bare stretches of reef, blennies, surgeonfish and a whole army of herbivores will mow the lawn and coral will grow back. From death and destruction comes new life – and competition. There are still plenty of exciting dive sites in Fiji and NAI'A has some of the best dive guides in the business, so leave it to us to find you interesting marine life, regardless of the condition of the reef. We were very fortunate and grateful this week to have had a half-boat of return guests who understand the cyclical and powerful nature of nature. While we are saddened by the loss of reef, we are very excited about the prospect of renewal and regrowth. As cyclones and bleaching events in Fiji's past have demonstrated, our reefs will recover and once again shine in their resplendent glory. Until then, we will dive the remaining beautiful reefs and reveal the abundant fish and macro life that continue to make Fiji a prime dive destination.
NAI'A is the standard that all diving should aspire to! Everything from pre-cruise information to the final slide show was perfect. We realize that this was an extremely tough time, following a week after the cyclone but the fabulous NAI'A crew made it so great! As guests we were part of the evaluation of the reefs and even after a storm of this magnitude - the diving was fantastic! We will be back.
-Suzi
Our Guests...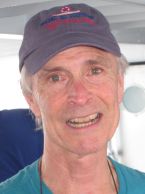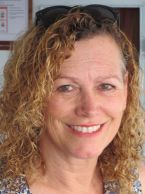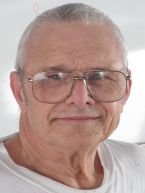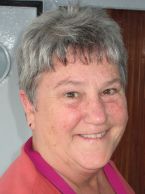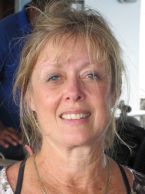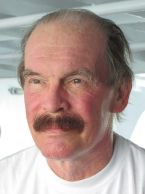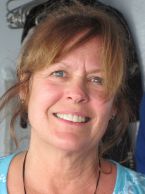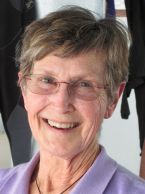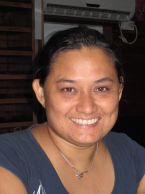 Comments
"Lomaiviti reefs are in extremely good condition compared to Indonesia and PNG. Immediate action must be taken to conserve this unique region."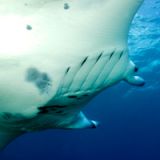 ~ Dr. Michael Marnane, Marine Biologist, Wildlife Conservation Society