Showcase
Destination: Fiji's Bligh Water & Somosomo Strait
Trip Date:
May 28th - Jun 4th, 2016 -
Comments
Author: Joshua & Amanda
For the first time in months, we welcomed a group of divers onboard who had never experienced NAI'A diving. Besides 15 Americans, there was Steffan, the lone Swiss. Among the group was a family of three generations of divers: Tom and Kay, their son Hardin and his wife Crissi and their 13-year old daughter Bailey. All too familiar with the ripping currents sometimes occurring in Fiji, we were nervous about how Bailey would handle it… until we saw her dive. Although this group was relatively young, they did not lack experience. Rob, Allison, Ronnie and Will all had closets full of technical diving gear to attest to that.
Right from the start, we found much of the interesting marine life that make the diving here so alluring. Although it was Joshua's job to find the pygmy seahorses at Cat's Meow, Ronnie actually beat him to the punch. These are the only ones we know about at the moment, but it was a treat that everybody got a chance to check out these diminutive fish. The current was just right, which meant the soft coral was exploding and the anthias were in a hurry. Rob was keen to capture Fiji's famous soft coral surrounded by iconic anthias and he was not disappointed. On the subsequent dive at Vatu Vonu, it was macro critters he was after, so Joshua served up a rare okenia nudibranch and a flatworm so rare it is not found in the creatures ID book. Vatu Vonu means "turtle rock" in Fijian and the dive site lived up to its name with hawksbill turtles for both skiffs.
In the afternoon, we motored to UndeNAI'Able Reef. Amanda was keen to check on the condition of the Wall, which we hadn't visited since Cyclone Winston, and, although she was disappointed to find that it was pretty badly damaged, she found an unusual lined sea hare that was really out of place during the day. Both UndeNAI'Able Pinnacle and Blueberry Hill were big winners for the night dive. We found Joshua's rare and endemic wolverine tambja, sponge and tunicate decorator crabs and Hyman's flatworm while Koroi's starboard (that's the right side, Crissi) found a sleeping hawksbill turtle and plenty of flashlight fish at the latter site.
It was a long but smooth passage overnight to Somosomo Strait, the narrow body of water sandwiched by the southeast corner of Vanua Levu and Taveuni. Patchy clouds and gleaming sun made for a spectacular morning. Amanda caught the current just right for everybody to enjoy the splendid glacier blue dendronepthya coral of White Wall. As if that dive site weren't interesting enough, there were also white tip reef sharks, nudibranchs and an orangutan crab to delight all divers. A small but steady incoming current brought the fish out at Rainbow's End, where the starboard skiff enjoyed a fluorescent orange anemone, huge dogtooth tuna and a sea spider for Spiderman. (Hardin was easy to spot underwater because he wore a fantastic custom Spiderman costume wetsuit.) Living up to his alter-ego, Hardin often hovered head-down to view marine critters and shot invisible web at his nemesis, the lionfish.
After our last dive, we headed ashore to pay a visit to the people of Kioa Village. Originally from the Pacific nation of Tuvalu, 1000 people live here on a beautiful piece of paradise. The robust villagers entertained our guests with singing, dancing and heart-pounding drumming, while Joshua entertained the children by throwing them into the air. Bailey and Hollyce weren't shy as they got up in front of everybody and danced to the rhythms. After dinner, we adjourned to the dive deck to host our guests for our weekly kava party. This seemed to be the part of the trip Sophia was looking forward to most, frequently mentioning her desire to sample the South Pacific's favorite beverage. Although they didn't know each other before this trip, she and Steffan instantly gelled as dive buddies due to their similar diving styles. Their friendship turned into a rivalry during the kava party as they challenged each other to a kava-off. Don't worry, it didn't get too crazy. The competition ended in a tie around 10pm.
For our first dive the following day, both skiffs went to Jerry's Jelly, where we found a perfect mild current. Koroi also found two peacock mantis shrimp and a blue ribbon eel, while Tom found the ribbon eel on the other skiff and Joshua found an inquisitive octopus. Will returned from the dive grinning, "Best dive so far!" That smile was wiped from his face during our next dive at Rainbow's End, where a building current swept him up onto the top of the reef. He called for his buddy for assistance, but Ronnie seemed very content at the calm base of the reef, so Joshua met Will at the top and helped his fellow Duke University alumni by dragging him back down the reef. Both blew through 300psi in less than three minutes, but it was worth it because it definitely prolonged the dive.
With such a strong current, the predators were out in force. Spanish mackerel, big dogtooth tuna and fearsome giant trevallies were actually hunting together, causing panic among the rest of the reef fish. When Hollyce returned from the dive, she exclaimed, "that was one of the coolest things I've ever experienced!" We certainly love enthusiasm and appreciation and few show it as much as her. We had never been to The Ledge before but it is definitely a place to which we will return because it was a huge seamount full of diverse coral. It made for an especially inviting night dive because it is so big and full of such a staggering array of marine life such as a green sea turtle, perfectly camouflaged devil scorpionfish and a sculptured slipper lobster that Tom managed to capture on video.
Ronnie and Will definitely took the prize for cutest divers and they had some stiff competition (e.g Bailey maintains a "Gratitude Jar" for goodness sake!). This California couple was often seen holding hands during the dives and Ronnie made a tremendous effort to ensure that her buddy saw every cool critter she did. During safety stops, they often held both hands while facing each other! Now that's pretty cute!
Shiny splinters of fish - by Hollyce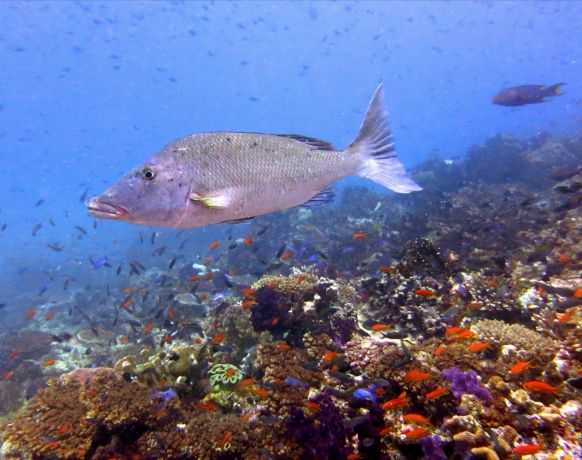 Emperor of my world - by Hollyce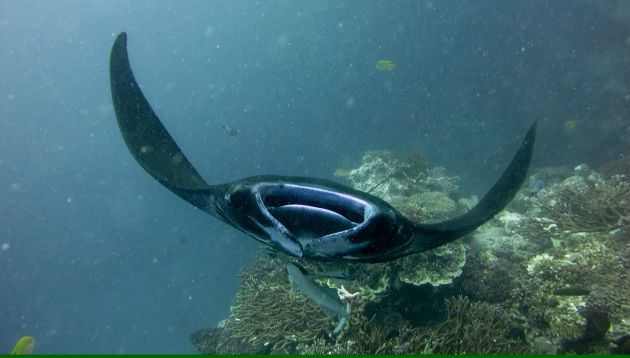 We have liftoff - by Hollyce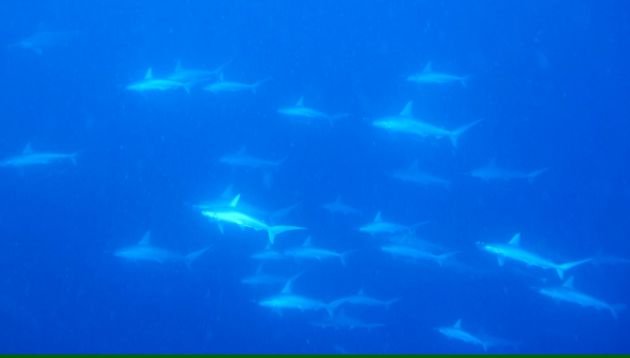 That's 40 hammerheads! - by Hollyce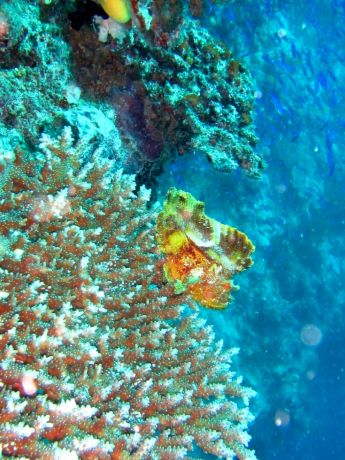 Autumn leaf - by Martin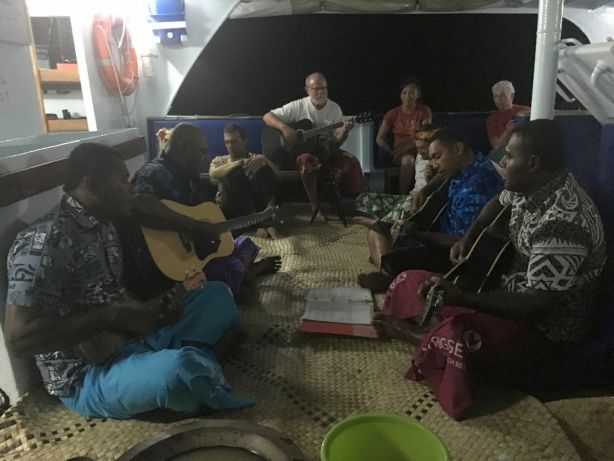 Kava time! - by Martin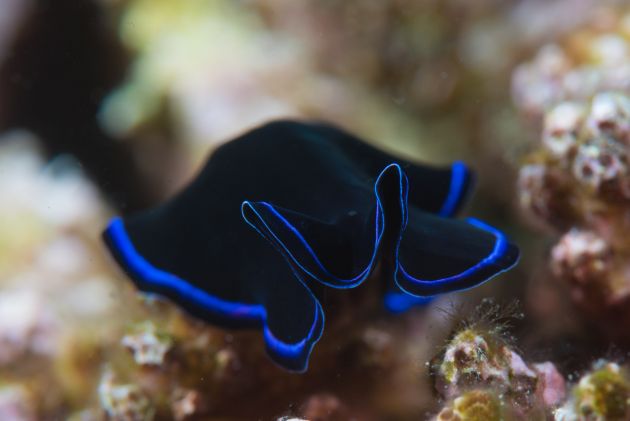 Sapphire gem - by Rob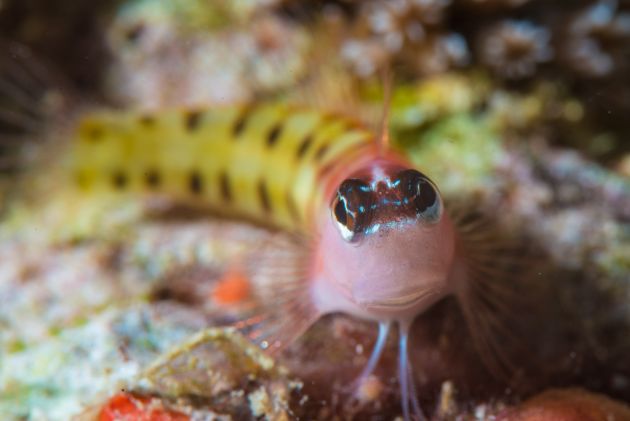 Quit clowning around - by Rob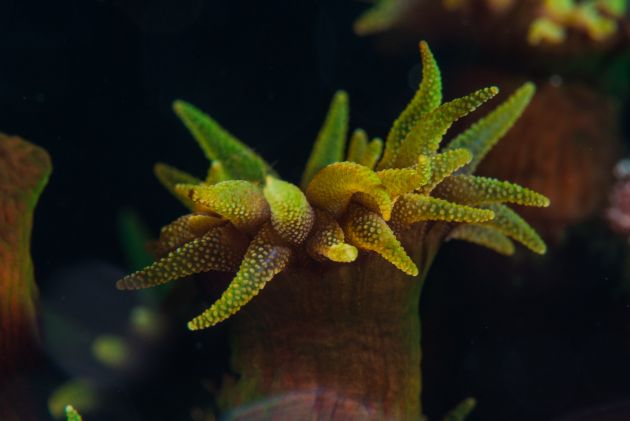 Fiji palm - by Rob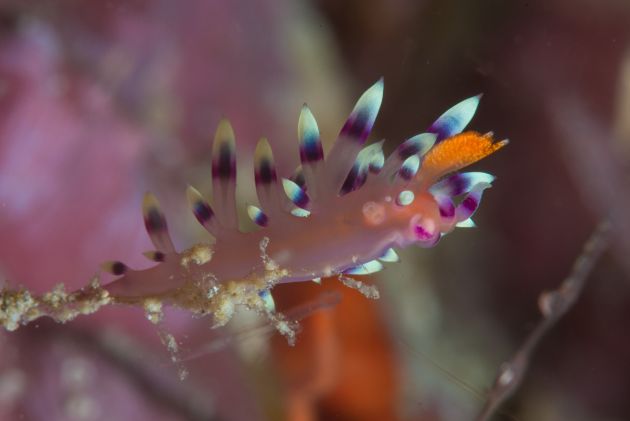 Macro madness - by Rob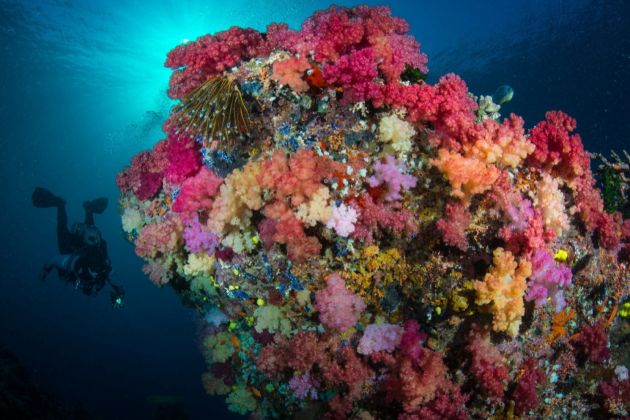 Profusion of color - by Rob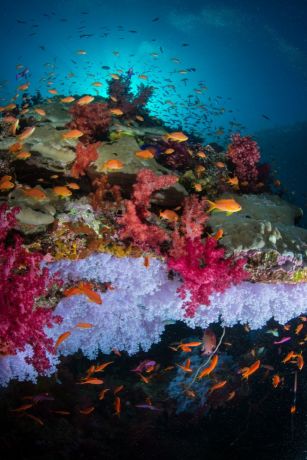 Fiji at its best - by Rob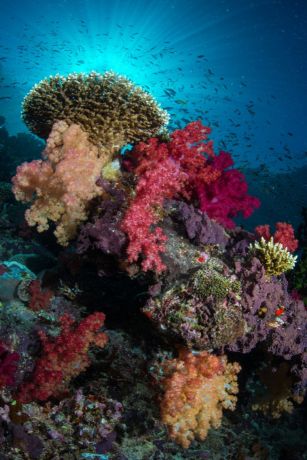 Rays of sun - by Rob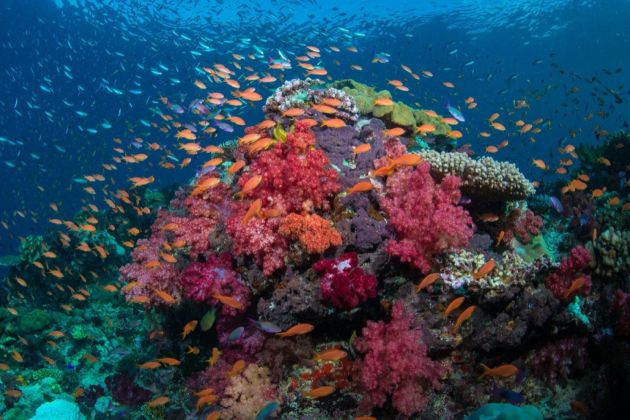 Anthias abode - by Rob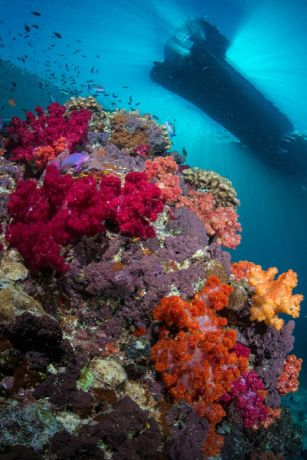 Color below - by Rob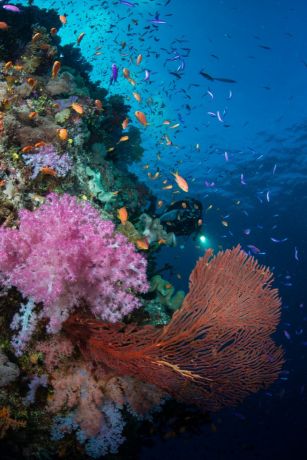 Wonderwall - by Rob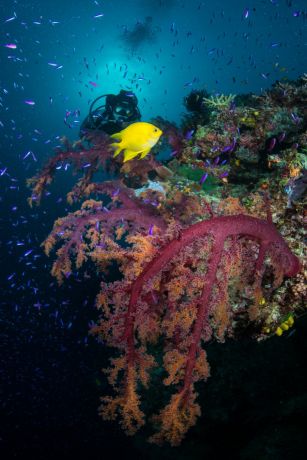 Sublime soft coral - by Rob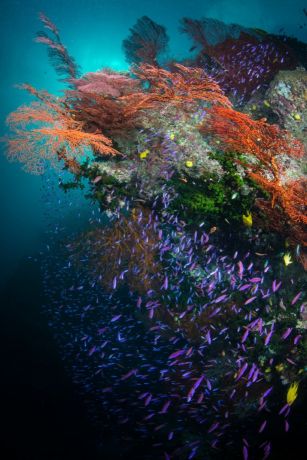 Reefscapes - by Rob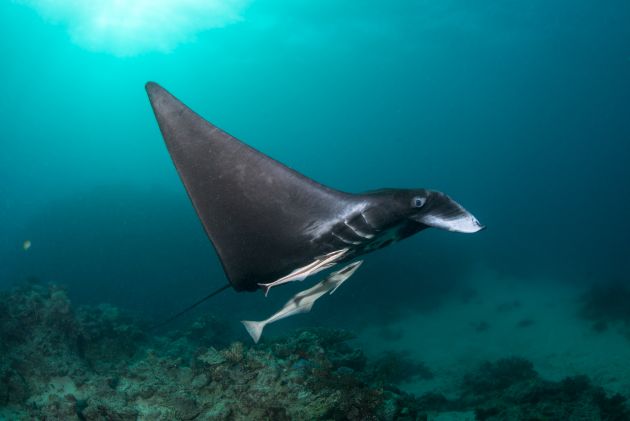 Wing & a prayer - by Rob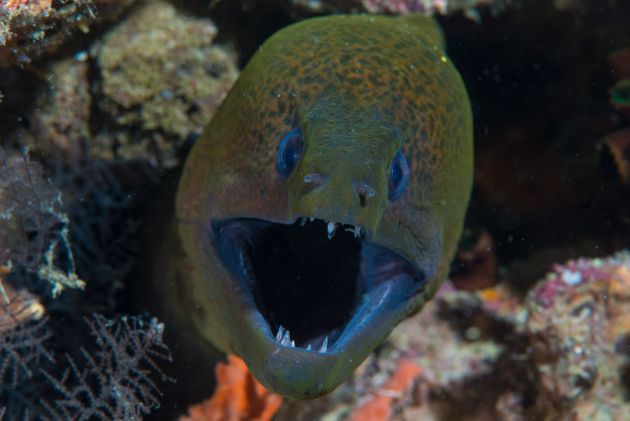 Aarrgghh! - by Rob
Although he had never been on NAI'A before, Rob had been diving in Fiji, including the famous Namena Marine Reserve. Several years and one powerful cyclone later, he was very anxious to return to photograph the vibrant soft coral pinnacles of Two Thumbs Up. He and his buddy/wife Allison also always showed their appreciation when shown some cool critters. First, they indicated that they had seen the subject by making a big slow circle with their lights, then signing "shaka". When Rob was particularly impressed, he would squeal with delight! In addition to the great soft corals of Two Thumbs, our guides found Debelius shrimp, brown banded pipefish and a heavily lobed scorpionfish.
When Hollyce woke up that morning, she gazed longingly at the photo of the hammerhead shark hanging in the salon and said to no one in particular, "I really want to see one of those." Little did she know, the ocean had an extra little treat up its sleeve that day. With very little current, the port skiff swam slowly up Schoolhouse reef, glancing out occasionally to the blue, but with little expectation. Big fish like current and there wasn't much of it that day. All of a sudden however, Ronnie witnessed what she later described as "Amanda going ballistic" – banging frantically on her tank and swimming as if her life depended on it out in to the blue. They needed no further invitation. Everyone followed her and as they finally caught up, they saw what at first Hollyce thought looked like a school of rays, then took shape as definitely sharks and then came in to focus as a school of what turned out to be in excess of thirty eight (we counted in the photo later) hammerhead sharks.  These graceful creatures swarmed beneath them, seemingly unconcerned by their audience, giving everyone a stellar view (and Hollyce some stellar video). What incredible luck! Afterwards everyone swam back to the reef and dazedly checked their gauges (swimming like mad after hammerheads at 100ft sure burns through your air!) and ended up having a pretty short dive. Upon surfacing, Hollyce proclaimed that it was the best experience of her life. Now that's the kind of enthusiasm we like. 
Our luck with the big stuff continued on the next dive as Joshua's port skiff skirted the crest of the dropoff at Grand Central Station, where we found close encounters with plenty of grey sharks and huge schools of bigeye trevallies and blackfin barracuda. Rob provided lighting for Allison as she filmed dense schools of fusiliers. The weird creatures came out at night as Koroi pointed out a large peacock flounder and Amanda discovered an enormous green sponge crab and an india caloria nudibranch crawling across a pink scorpionfish on Kansas.
With such an enormous school of hammerheads in the logbooks, we had set the bar high, but Wakaya Island offered its fair share of excitement the following day. We saw mantas on nearly every dive, in some cases very close. Steffan and Sophia even saw another hammerhead over the top of the reef at Vatu Vai, as well as the cryptic winged pipefish and juvenile rockmover wrasse. Ronnie assisted the divemaster once again by finding a curious juvenile octopus poking its head out of a hole in Lion's Den while Amanda showed her starboard skiff three peacock tailed anemone shrimp tussling over turf. The night dive before dinner was also memorable as Joshua's group found several large red reef and hairy crabs, a fimbriated moray, two pink scorpionfish and two anguilla bornella which caused Rob to squeal before he snapped some stunning pics of this beautiful and bizarre creature.
For our last day of diving, we ventured to the colorful reefs of Vatu-i-ra. Amanda and Koroi found the bright yellow leaf scorpionfish at Mellow Yellow. Before their dive at Maytag, Rob threw down the gauntlet for Joshua by announcing that he was shooting macro. He answered the call by finding two gloomy tambjas, three scorpionfish, an undescribed flatworm and Co's chromodoris. Joshua was actually disappointed when he saw Rob at his safety stop before the 50-minute mark; he wasn't done finding critters! Coral Corner was the big winner for the day because, although the visibility wasn't great, the incoming current brought in tons of grey reef sharks. That same current nearly swept Tom and Kay inside the lagoon, but Joshua dragged first Kay, then Tom down to a safe depth, gasping through 1000psi in nine minutes! Spiderman could only watch as Spidergrandpa and Spidergrandma were rescued by Super Duke. Joshua's next thought was, "Oh no, Bailey wants to see the swim-thru at the end!" They made it just fine though, with Bailey and her Spiderdad floating along the absurdly colorful yellow soft coral wall and through the epic chimney to their safety stop.
We were fortunate to have an exceptionally skilled group of divers this week and the reefs, we're sure, are suitably grateful. Our guests, in turn, were very fortunate to have perfect weather throughout the week and a fabulous mix of marine life large and small to create memories for a lifetime.
"This was my 1st liveaboard diving experience and the bar could not have been set any higher! Thank you to the wonderful, warm-hearted, and professional crew for making this such an outstanding experience. I immediately felt at home up on stepping aboard NAI'A and I now feel as though I am leaving family! The diving was world-class and I can say with 100% confidence that swimming with the school of hammerheads of the Island of Namena is my most-treasured life experience yet! Many thanks to the crew who went above and beyond, always with a smile, to make this such a beautiful week! I will be back!"
-Hollyce 
"Thank you for taking such wonderful car of us on our trip. Everyone was so warm and welcoming, we had a truly amazing time above and below water. We were absolutely blown away by the whole experience. P.S. Please keep Ronnietopia in good shape in my absence."
-Ronnie & Will
Our Guests...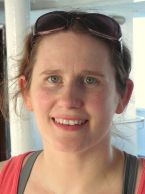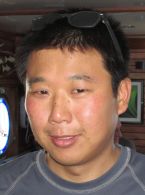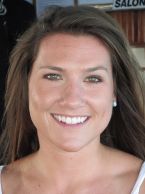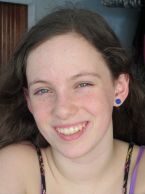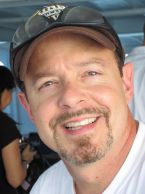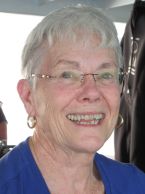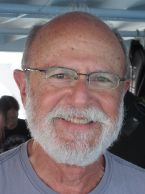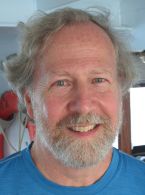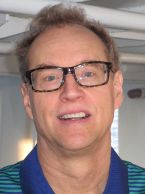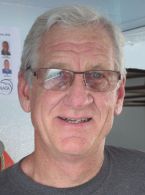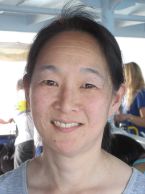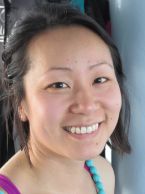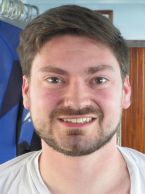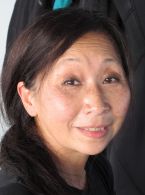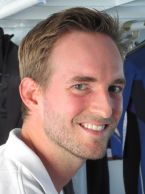 Comments
"This was my first visit to Fiji and my first time on a liveaboard. I must say it exceeded all expectations….Food, diving and hospitality was 5*"