Soft Coral Lovers
Destination: Fiji's Bligh Water
Trip Date:
Nov 14th - Nov 24th, 2015 -
Comments
Author: Amanda & Joshua
Welcome Back: Clark
Congratulations: Paulo on making all 40 dives!
It was with great pleasure that we welcomed Adriana and her 17 merry men and women onboard for this ten-day charter. Conditions recently had been very good with calm weather, great vis and lots of sunshine, so that all boded well for this group of very seasoned and experienced divers, many of whom had been diving and travelling together for many years.
A number of these guests had already been in Fiji for a few days and were already familiar with our amazing soft coral from a few days of resort diving, so we were eager to take them out to Bligh Water and show them the rest of the hotspots.
Running from a tropical low bringing rain and wind to the north, we headed down south to Gau as fast as we could, stopping for a day at E-6 and Mount Mutiny on the way. The current at Mount Mutiny took us around the seamount with the reef on the left for a change, but this still made for a great dive. Rainbow Wall was as spectacular as ever with the addition of some nice sightings of dogtooth tuna, a rare (for this area) black tip reef shark and an octopus. Vis was great at E-6 that afternoon with a ton of schooling fusiliers peppering the reef crest making for a very pretty picture.
We soon realized that the group on the port skiff enjoyed not only diving but also freediving and spearfishing together. This meant a couple of things; five of them had the long, elegant freediving fins, were interested in big fish and beautiful reefscapes, shot wide angle and tended to give each other a lot of space! So it was not unusual to drop in with eight divers and within seconds, have only one or two left with the guide. This was clearly an M.O. they were very comfortable with however and everyone seemed very happy with the arrangement.
The night dive after dinner produced some very interesting imagery. Both Adrianna and her husband Clark were working with UV light, trying to find the best hard corals that glowed in the "dark".
A long journey overnight that night ended at Gau Island. Normally the highlight of this area is Nigali Passage, a natural (un-baited) shark dive at the south of the island, so we were not quite ready for the treat that awaited us on the first dive at Anthias Avenue and Jim's Alley. Now, when you drop in on a manta ray from the skiff, over white sand in clear vis, it's already a good sign that the morning is going to be a good one. That was the scene at Anthias. Annette then spotted two more mantas throughout the dive with Amanda spotting a fourth at the end of what had otherwise been a very nice dive featuring a Kunie's chromodoris, various other nudibranchs, pipefish and some beautiful soft coral on the top reefs. Something to keep everyone happy. As we were getting back on the skiff, skiff-driver Joji frantically pointed, saying, "three big mantas there, on the surface!" Three turned out to be at least four (five if you're Phil) beautiful mantas doing loop upon loop right in front of us in the clear blue. By this stage the other skiff from Jim's Alley had joined us and we all swam around on the surface with these guys for twenty minutes, desperately wishing we'd brought snorkels with us of course, but enjoying it nonetheless. And we hadn't even got to the headliner at Nigali yet!
The sharks turned out in force that afternoon with people seeing between twenty five to thirty grey reef sharks and five to eight white tip sharks. It was a good day for the logbooks of the "Great Fiji Shark Count" to which we are contributing this whole month of November. This important project, now in its fourth year, has shown that our Fijian sharks are, against all odds, managing to hold their own and keep their numbers steady. Long may it continue.
That night, with no suitable night dive spots in the area, Skip gave a presentation on swimming with humpback whales in Hawaii. While NAI'A conducts trips to do just that in Tonga during August and September every year, in Hawaii, this privilege is reserved for a select few researchers and professional photographers. He had some amazing footage of "competitive groups", a bunch of rowdy, forty-ton animals, barreling through the water at great speed, fighting for the attentions of the closest lady whale. To be in the water with this group is definitely dangerous, but no doubt extremely exciting. Either way it made for a great movie, thanks for sharing!
The next day we woke up next to the island of Wakaya. This is the place we normally come to see some of the larger animals, but never anything that could top the manta experience of the day before. Which was just as well, because there was not a manta in sight all day. Cele and Bob S however got very lucky sticking next to Big Mo as he pointed out a hammerhead swimming around Vatu Vai. Meanwhile at Lion's Den, Amanda pointed out a white cap shrimpgoby, the beautiful Lori's Anthias, two leaf scorpionfish and four gigantic dogtooth tuna. Keen spearfisherman John spotted them and eagerly got down deep to their level in prime position to shoot them, only to realize that he had the wrong settings. Doh! Luckily for him this time he was on scuba so he had enough air to wait for them to come back and make another pass. Luckily for them this time he was shooting with nothing more deadly than his GoPro.
Following in Skip's footsteps that night, while the Brazilian team went night diving, Clark showed us some wonderful photos. Again the setting was open water, but this time something very different. A baitball that he and Adriana had encountered far off the coast, with a rare school of sailfin hunting relentlessly from below and frigate birds fishing from the top. Again, something that not many get to experience in their lifetimes.
The following day led us to Makogai in preparation for our village visit. We had a very successful morning there with everyone loving the beautiful, colourful top reefs and our own superstar Big Mo finding two ghost pipefish at Rick's Rocks – a slender and a juvenile ornate. Nice one, we hope they stick around! Our village visit was as usual a great success, with our nominated chieftess Adrianna leading us with grace and confidence. Paulo's medicinal skills were called upon for various aches and pains, which he attended to generously, along with his donation of a whole box of medical supplies complete with English translations of the Portuguese instructions.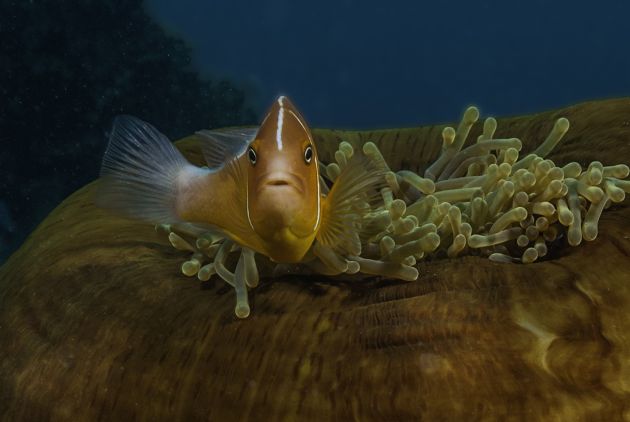 Stare down - by Bob H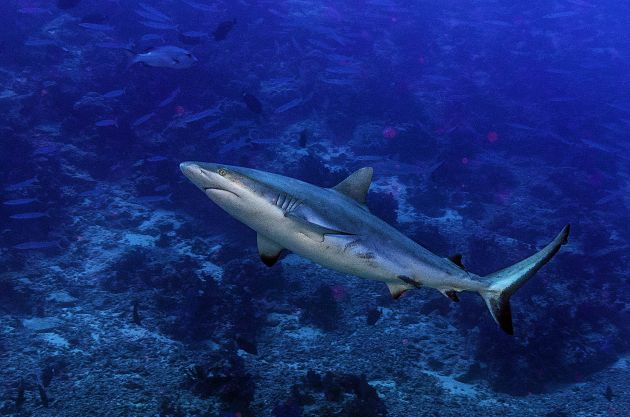 Shooting the gap - by Bob H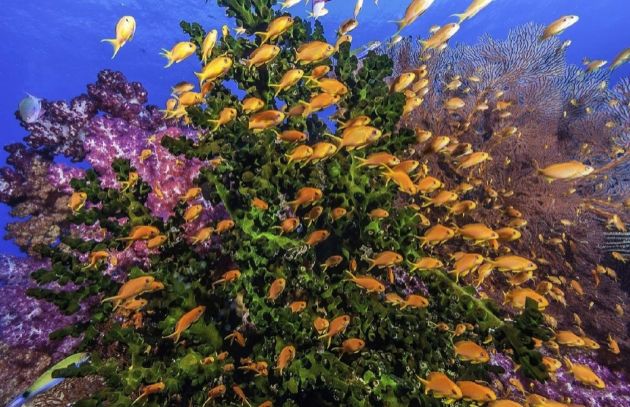 Anthias burst - by Bob H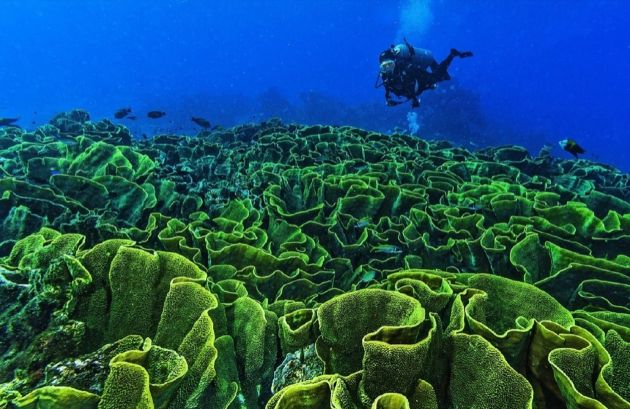 Cabbage patch - by Bob H
Fish fury - by Bob H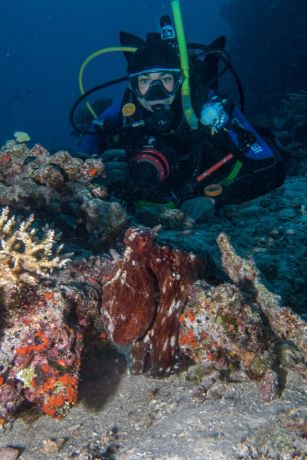 Who's looking at whom? - by Jeff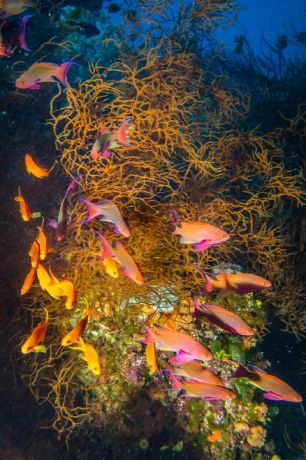 Main attraction - by Jeff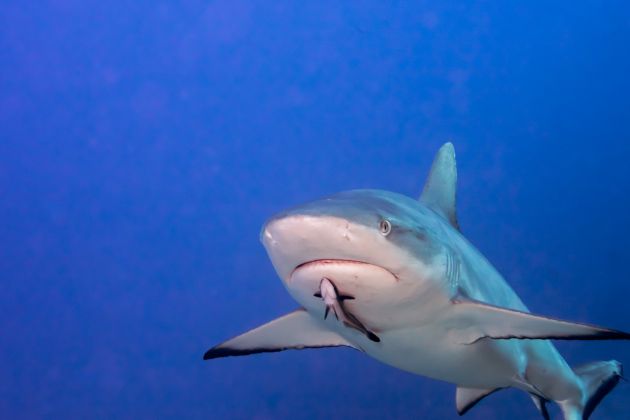 Fishy goatee - by Jeff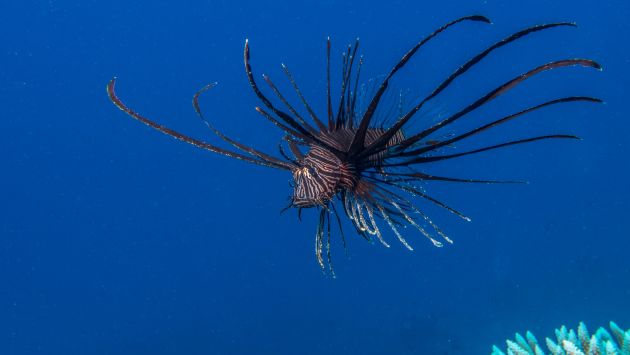 Lion's mane - by Jeff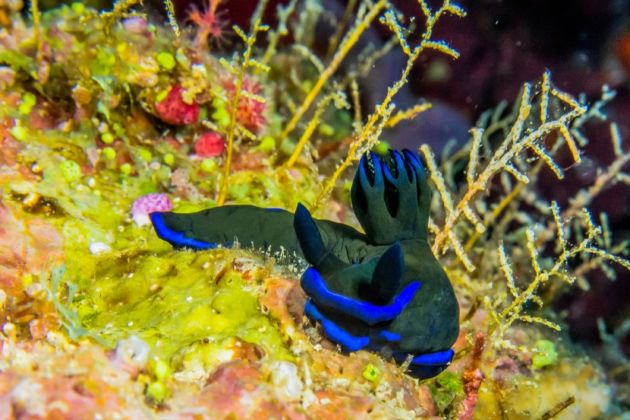 Doom & gloom - by Jeff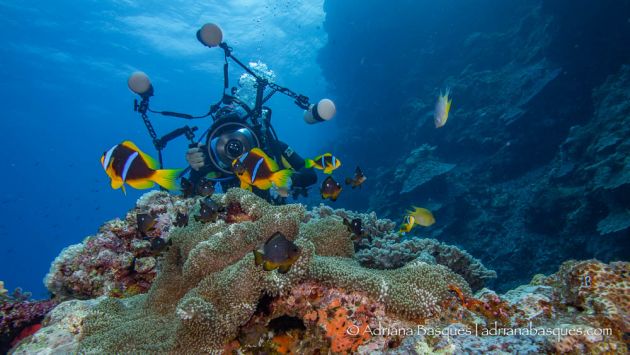 Here comes the sun - by Adriana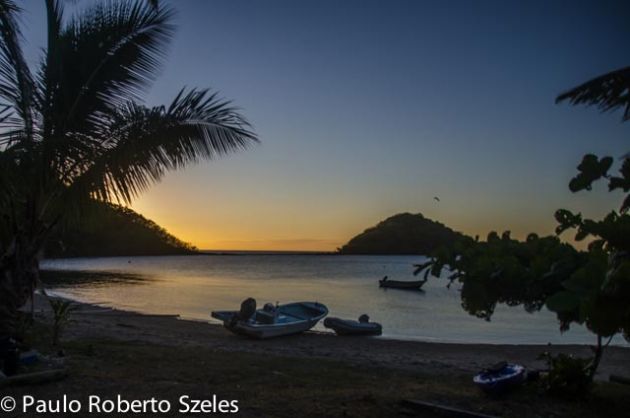 Village scene - by Paulo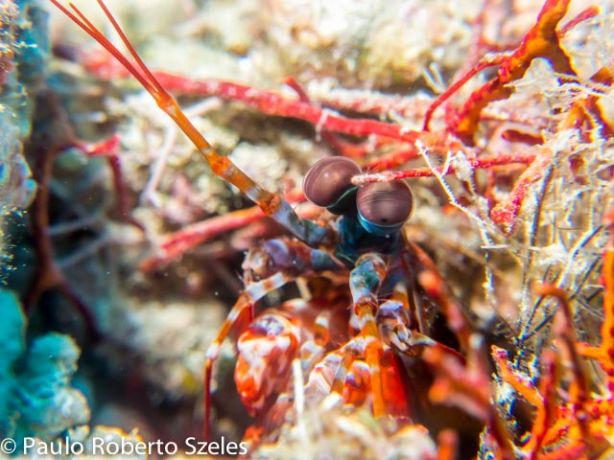 Hexnocular - by Paulo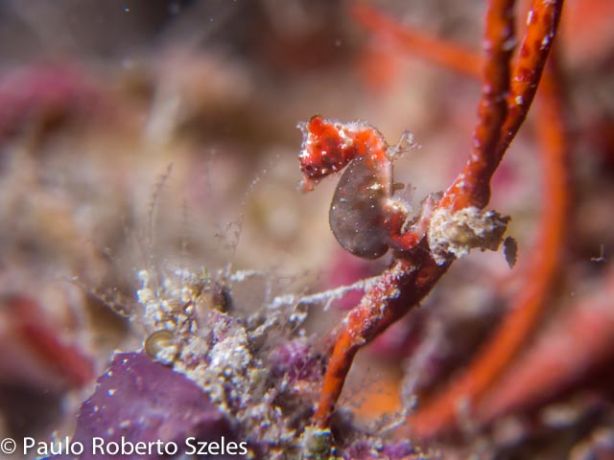 Imagine how tiny those babies are going to be - by Paulo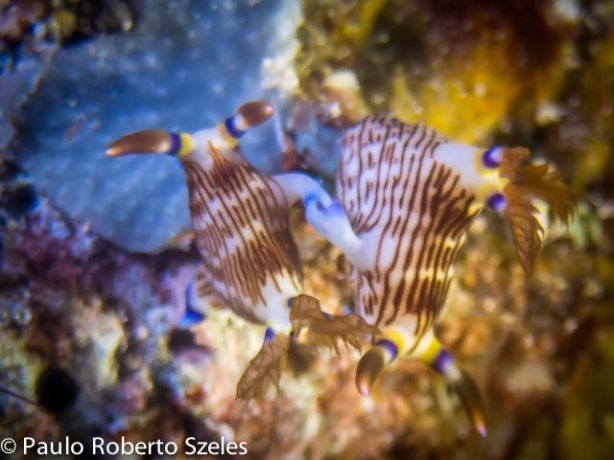 Nudi love - by Paulo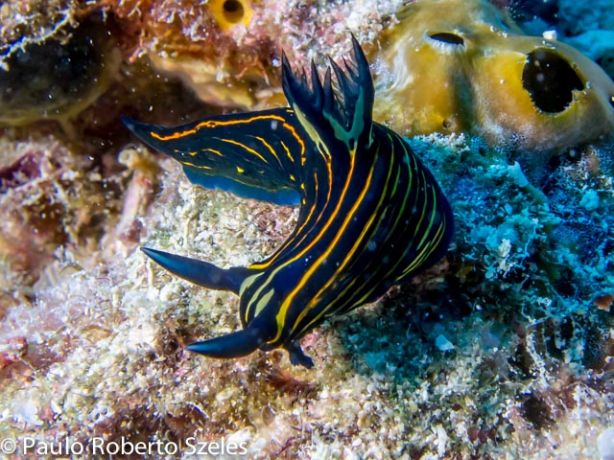 Extremely rare (in Fiji) yellow-lined roboastra - by Paulo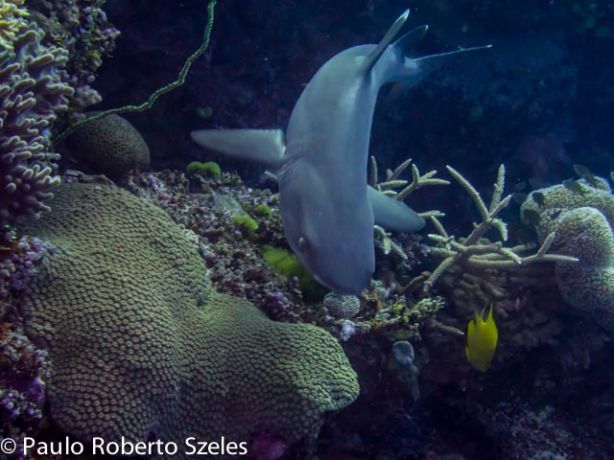 Shark tale - by Paulo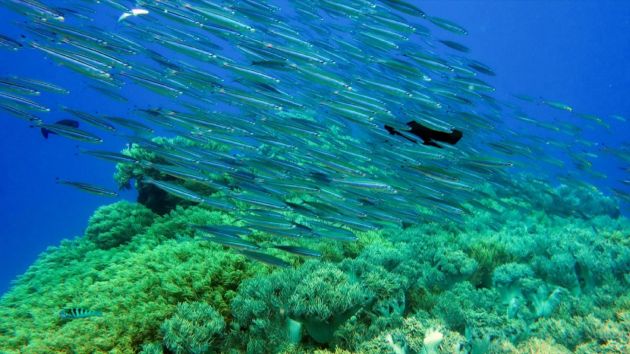 School's out - by Skip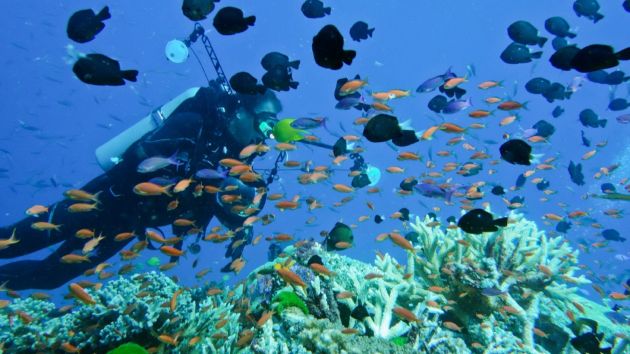 Bad vis, Fiji style - by Skip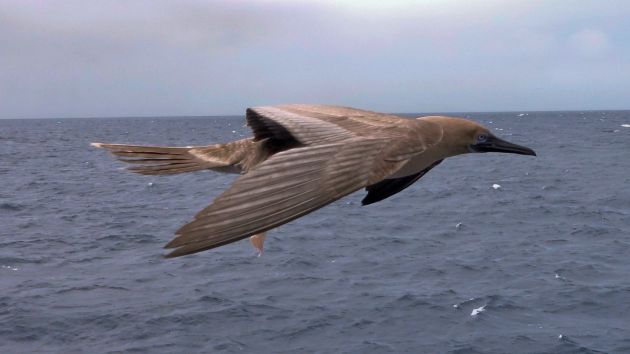 In flight - by Skip
As is often the case with longer charters, we had a few people who came down with ear troubles. The worst however was probably Susan S, who arrived with an ear problem, so was out of the water for the first half of the trip. A natural ball of energy however, she did not sit around feeling sorry for herself. No, Susan, aka the arts & crafts lady, got to work. She made her own Scrabble board (even though we have one onboard), fashioned a palm frond fan and used fabric paint to decorate and label her possessions. Then, in response to Joshua's ribbing that she hadn't made a wine glass, she immediately rose to the challenge and fashioned him a chalice, no less, out of a Fiji water bottle and palm leaf. Joshua, also out of the water at that stage for a similar ear complaint, then toted it around proudly as a consolation prize, despite the constant risk of cutting his lips on the sharp plastic rim!
We then traveled to the headliner, Namena Marine Reserve. While currents were not behaving quite as expected in the north, the south side was as spectacular as ever. So beautiful was Magic Mushrooms II, in fact, that Susan D clean forgot all her fears and was persuaded by Big Mo to take her gloves off to get cleaned by shrimp whilst hovering at the top of the pinnacle. This may not sound like a big deal to many of you, but just a few days before, at the beginning of the week, this would have been very different picture.
Susan had not dived for 16 years and had a shaky start with the checkout dive not going entirely as planned. While talking after the dive, she stated that her goal was to do one dive a day at the most. So we took it back to basics. On the second day, when everyone else was exploring the Cathedral, Susan and Amanda nestled themselves down in a beautiful, quiet patch and went through some training in the shallows. Luckily, in the right conditions, she was an excellent student. Everything flooded back to her and by the end of the trip she confronted Fiji's challenging conditions with determination and managed ten dives. She definitely gets the "most improved" prize!
That night at the kava party, Jeff surprised us all by playing the spoons. Pretty well too. Skip, in the meantime, fit right in, looking natural in "sulus" from Thailand and Burma.
The following morning we started off again on the south side of Namena where Big Mo discovered that our friend the pygmy seahorse at Two Thumbs Up had found a boyfriend. We are therefore glad to announce the imminent arrival of many more pygmy babies! Even we will need magnifying glasses for those! We then had a fantastic two dives in the north. A little current, great vis and tons of fish at Schoolhouse followed by a stunning re-visit to Grand Central Station. Koroi pointed out a hammerhead to Cele and Bob S, who declared it the best dive of the trip so far. We're so glad you loved it as much as we do!
That morning, we were joined by a special guest, Didi, a representative of the Namena Marine Reserve. Jeff first came into contact with him through his involvement with the Coral Reef Alliance. We were excited by the great strides the local people have made to protect the crown jewel of Fiji and determined to overcome the hurdles that remain.
Having largely missed the rain earlier in the week due to some clever planning, we were fortunate with pretty great weather until this point. That all changed on Saturday however. Winds picked up to twenty to twenty five knots and made skiff boarding a slightly more challenging venture. We persevered though, and managed two beautiful dives at Cat's Meow with just enough current to keep everything awake, but not too much to blow us off the reef. We then headed to the UndeNAI'Able region in search of new dive sites and more shelter. We didn't find the shelter, but what we did find were two stunning intermediate African Pompano showing off their long, flowing fins at UndeNAI'Able Pinnacle, so that was quite a treat. Joshua tracked down the pygmy seahorse there. Not only is it tiny and the exact color of reef sand, but at it's in a really tight nook in the reef. Rosie was happy to watch that scene from a distance! The wind had not relented and the choppy seas made Daniella miss her first dive of the trip that evening. Lisa announced that she could not go diving without at least one Brazilian and found herself responsible for "accounting" for them throughout the trip. So along with Clark and his amazing psychedelic camera, we headed out into the choppy darkness.
On Day 9, Vatu-i-Ra offered up grey, overcast skies, the ever-present threat of rain, strong winds and some raging current. Not surprisingly, only half the guests went on the morning dive, wisely waiting until the sun came out to brighten the day. That never happened, but something else did that brought a smile to everyone's faces later on when they found out… Many divers these days opt for the harness-style BCD, which more often than not includes a crotch strap fastening that goes between the legs. This is normally a very useful and comfortable addition to the traditional arrangement. However, as Clark found out that day, it's worth paying special attention that before you click the latch shut, it hasn't, say, inadvertently gone through the rope looping around the side of the skiff as well. When he backwards rolled in, the skiff quite literally, left him hanging! Luckily wife Adriana was there to save the day and swiftly unclipped him. Fortunately, one might have thought, as she was the only one there to witness his distress, Clark would have escaped further shame, but by dinner time the story had circulated to much hilarity. With friends like these…
Just before Joshua jumped in for their last dive the following day, he noticed a plastic shark tied to his tank. His initial instinct was that Susan S or Jeff had tied it there, but they professed their innocence and hinted at Skip. This highly experienced scuba and free diver does have a cheeky streak and we wouldn't put it past him. After the dive, J asked him if rinsing the shark in freshwater would be harmful to its health, to which he responded, "I think you killed it." His response was confession enough.
For that dive, Joshua prepared a surprise for Paulo to reward him for performing all 40 possible dives during the trip. In the beginning of the dive, he snatched his camera from Paulo and handed him the F.O.M.O. (Fear of Missing Out) Award. Congratulations, Paulo, on making the most of your Fiji getaway.
Congratulations, we feel, are also due to Adriana. What a great group of people you've managed to put together, one of the (OK we say this every week, but really this time!) nicest groups we've had on NAI'A. Just before leaving, Jeff commented that Fiji should start exporting smiles. At the moment, they just seem to export sugar and rugby players. Until they find a way to ship smiles to, you'll just have to come to here to share Fiji's famous spirit for yourself.
"Bula & vinaka. We loved you all and the diving too. Best live-aboard experience ever (out of 8). Fijians should rule the world, it would be a better place. Coming back soon."
-Jeff
"Adriana and I would like to thank the entire NAI'A operation. Everything was done professionally and with great care. Special thanks to Joshua and Amanda. We hope to see again in the future. Best wishes to the crew and good health to all."
-Clark & Adriana
Our Guests...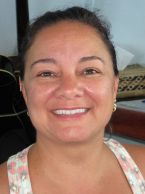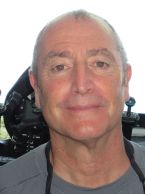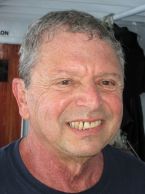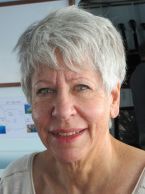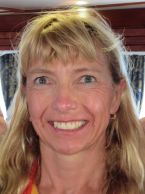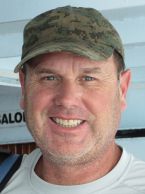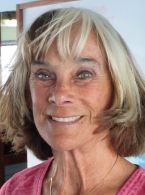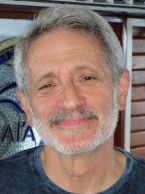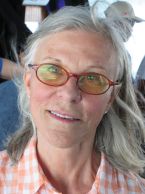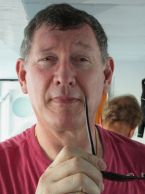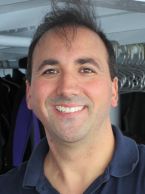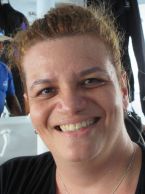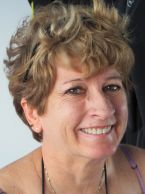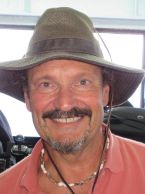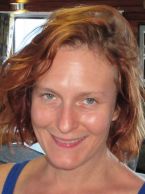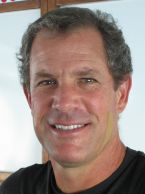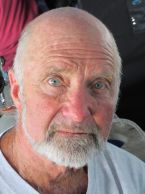 Comments
"Any country with coral reef like this has a national treasure that should be protected. Fiji is one of the few lucky countries."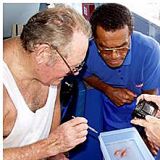 ~ Roger Steene, photographer, author, naturalist