Something Fishy
Destination: Fiji's Bligh Water
Trip Date:
Mar 19th - Mar 26th, 2016 -
Comments
Author: Amanda & Joshua
Welcome Back: Marilyn
Congratulations: Diane on her 500th dive and Diane & Dave on their 25th anniversary
Hot on the heels of his wife Cat, Rob Barrel, founder and co-owner of NAI'A, joined us this week for another seven days in Bligh Water.
For our checkout dive we explored a new area called Nuku Reef. One skiff was accompanied throughout the entire dive by a golden trevally. Our first full day of diving was in Vatu-i-Ra, home of beautiful Mellow Yellow. This site was one of many we dived that day but still comes out as a firm favourite with guests and guides alike. In the morning Joshua found four sea spiders, a comet, a teeny juvenile mimic filefish, plus a multitude of flabellina nudibranchs and in the afternoon Amanda's group was treated to a rare and wonderful display by an eagle ray! The current had built a little by this stage and many fish were out enjoying it, including an unlikely alliance between a huge giant trevally and an absolutely massive Spanish mackerel. You would have thought that they would have been competing with each other, but, as it turns out, they're just ol' hunting buddies. All the soft coral was out and proud, the reef was alive with anthias and at the end, they found a leaf scorpionfish so brightly coloured he must have been there since the eighties. What's not to love? So loved was it, in fact, that everyone decided to go back one more time for the last dive. The current was still running but that didn't bother Brent, who could be found just hanging in the sweet spot, where the current striked the face of the reef, with a grin on his face. A huge pod of spinner dolphins accompanied the skiffs all the way back to NAI'A!
That morning, while our guests were busy enjoying Maytag, Rob and Amanda went off exploring down the western edge of the reef in search of new dive sites. They didn't find anything they wanted to go back to with guests, but Amanda did discover that snorkeling with sharks can be slightly more adrenalin-filled than diving with them. A young male grey reef shark took a particular fancy to her, prompting her to call Joji back with the skiff a little sooner than expected. After that they decided to swim in the same rather than opposite directions. As keen as we always are to find new dive sites, we don't really want one called "Nibbles".
By the evening, a northerly wind had picked up leading us to anchor close to the island of Vatu-i-Ra for the night and so Brent decided to miss the only dive of the trip.
The second day was devote to exploration. Our first stop, Rob's Knobs, was promising (once we "perfected" the drop in!) with a nice drift and plenty of fish. We then re-visited an area that we had explored a couple of times in recent years, but hadn't seen since the cyclone, Vatu-i-Cake. We gave it our best shot, but apparently, so had Winston. The northern channels were horribly ripped apart, but the southern channels had fared slightly better. There was definitely a lot of damage, but we had a nice drift and once you see a big ray, then suddenly the sun shines a little brighter, whatever the weather… about half way through the dive we got treated to our second eagle ray in as many days!
From the start, we'd noticed that as soon as we had any down time, Ange always had her nose in a puzzle book. So, she likes crosswords, we naively thought. Silly us. Ange has taken puzzles to the next level. To be a member of her puzzle club you have to be at least at the level of a CIA code-breaker, or NSA… she added, helpfully. Her ears pricked up the most, however, when she heard her father, a high level banker and part time mindfulness and awareness coach, mention from across the table one mealtime that a certain elite bank in New York was creating a puzzle team for a yearly competition. They immediately started making plans to somehow get her on to that team as a ringer. Now, we meet a lot of interesting people on NAI'A, but puzzler for hire, that's a first!
We awoke the next morning next to the still beautiful, but somewhat bedraggled island of Wakaya. Thankfully, its stunning reef fared a lot better in this instance than the island itself, giving us a fabulous day of diving along that great wall. Koroi set the bar high early on by finding not one but two cryptic winged pipefish at Vatu-Vai. Joshua's group saw the third eagle ray of the trip at Blue Ridge while Amanda showed a delighted Marilyn our darling little Helfrich's dartfish at the bottom of Lion's Den. One of the most serene divers we've seen in some time, Marilyn would seem to never move, but always be there when we found something cool… spooky. A former Buddhist (raw foods only), she now eats cooked food, but seems to have retained the serenity that goes with that very peaceful way of life… It's actually a good thing that she's an open circuit scuba diver, because sometimes you can only tell she is still alive by her tiny bubbles.
The third dive saw the fourth eagle ray of the trip (wahh!) and Rob saw his first ever whitecap shrimpgoby. After a gazillion years of diving, largely in Fiji, we didn't think that was still possible. Something about old dogs and new tricks…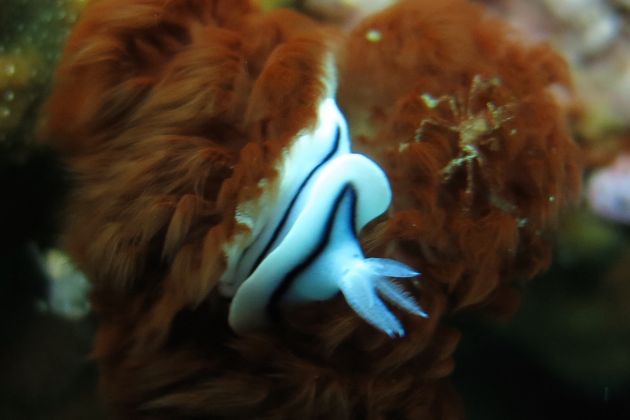 Lucky crab shot - by Ange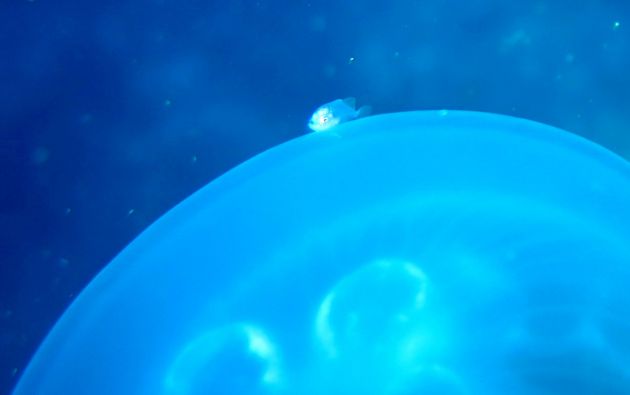 Hitching a ride - by Ange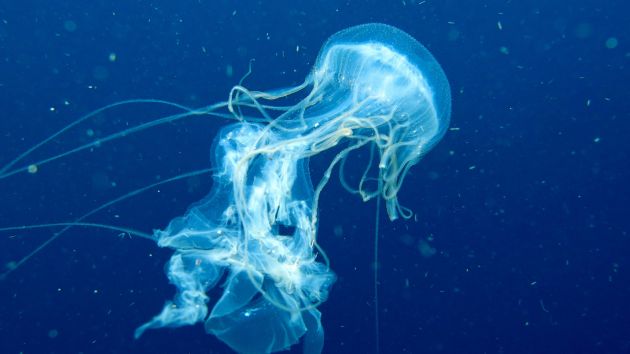 Tangled up in blue - by Ange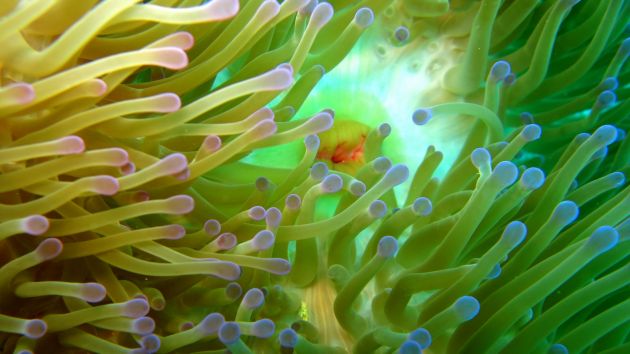 Hungry anemone - by Ange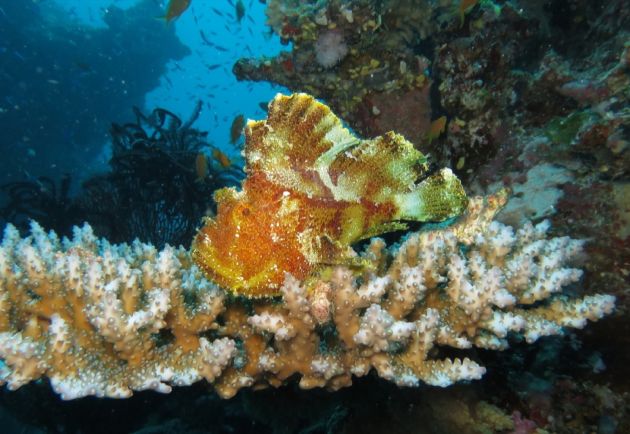 High alert - by Diane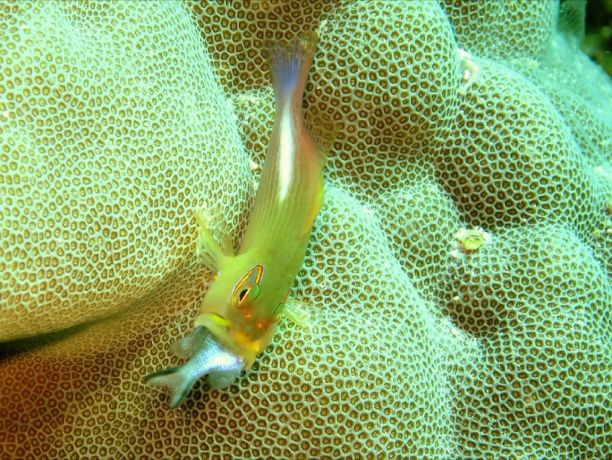 That's a mouthful - by Diane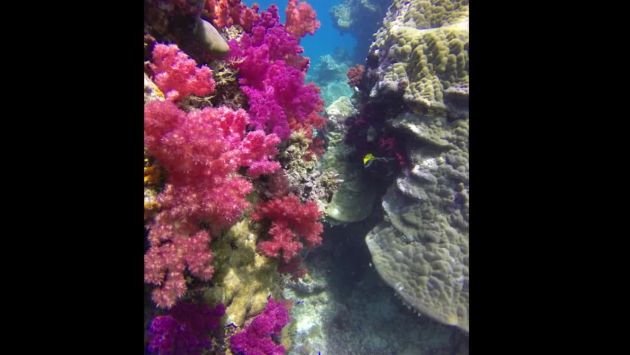 Colorful crevice - by Mark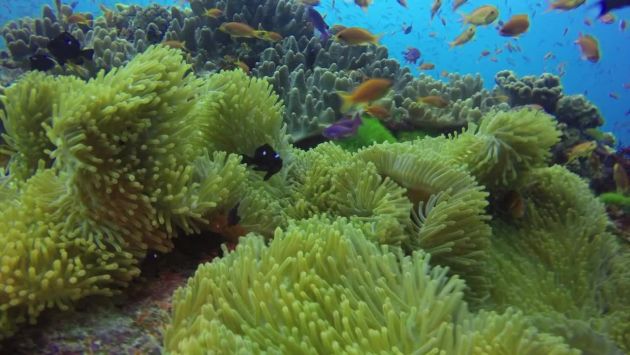 Anemone garden - by Mark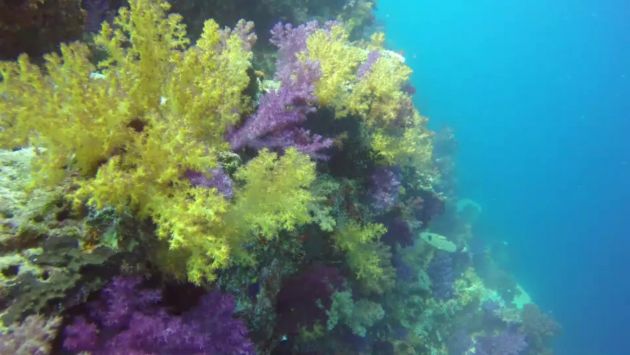 Fiji has all the color - by Rob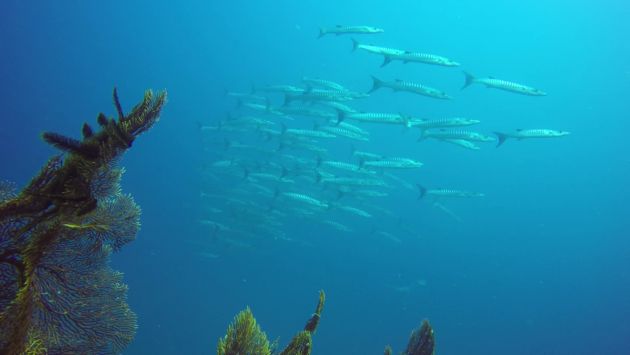 Cutting ties - by Rob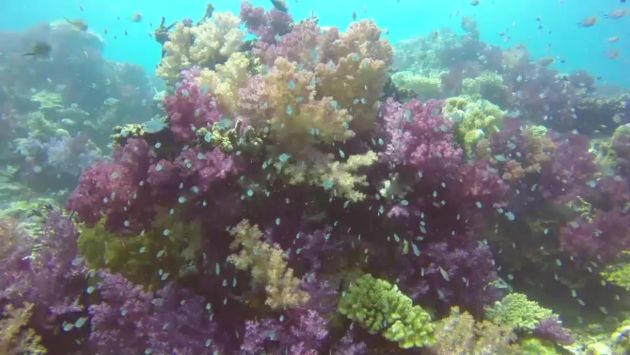 Submarine splendor - by Rob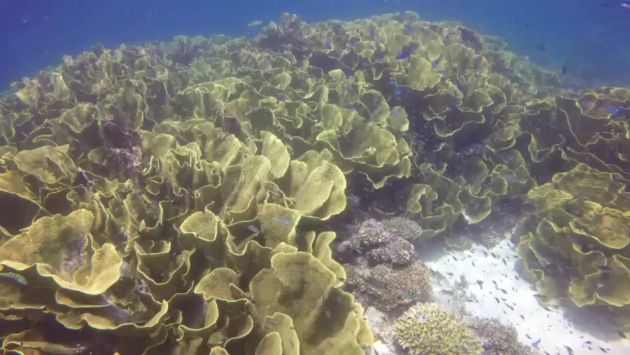 Rabbits not invited - by Rob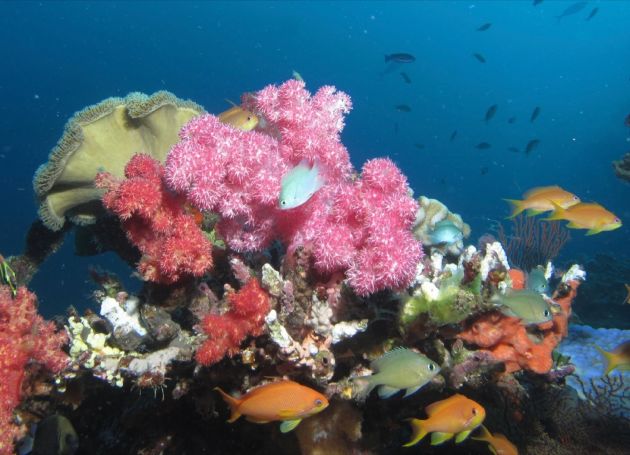 Making a splash - by Scuba Dave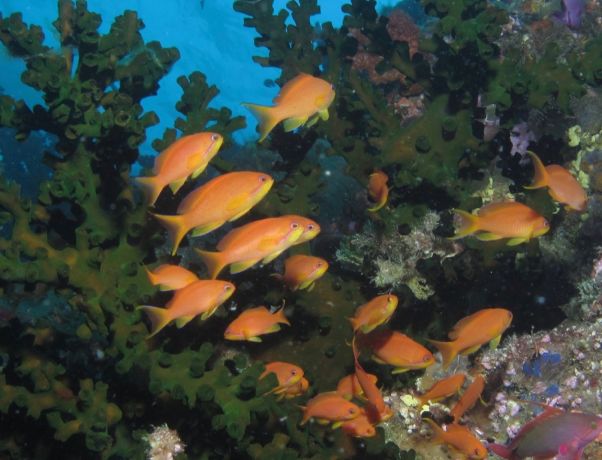 One way ticket - by Scuba Dave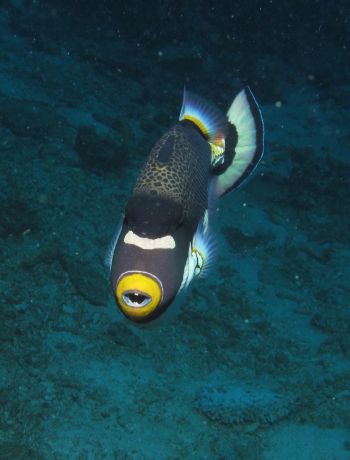 Comin atcha - by Scuba Dave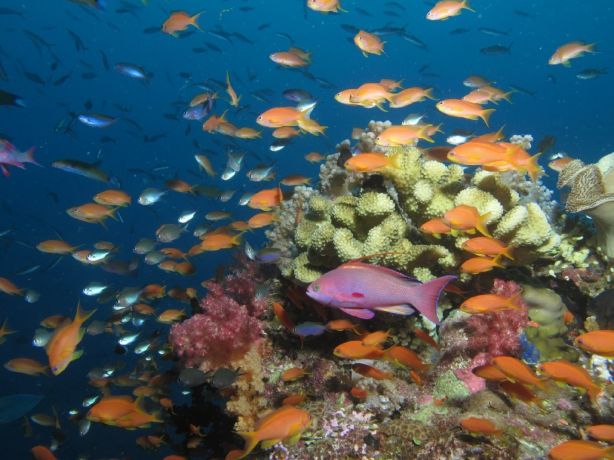 Anthias avenue - by Scuba Dave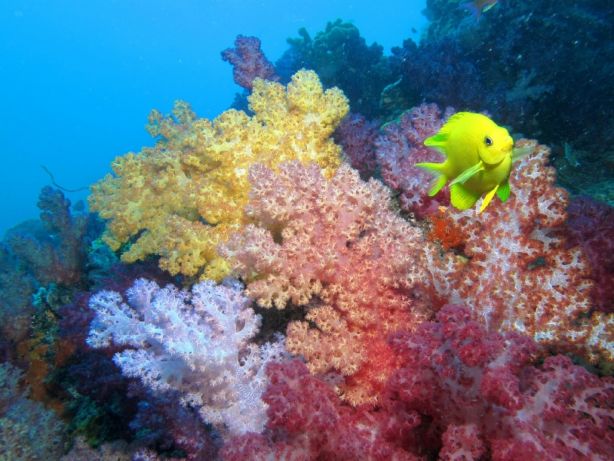 Mine all mine - by Scuba Dave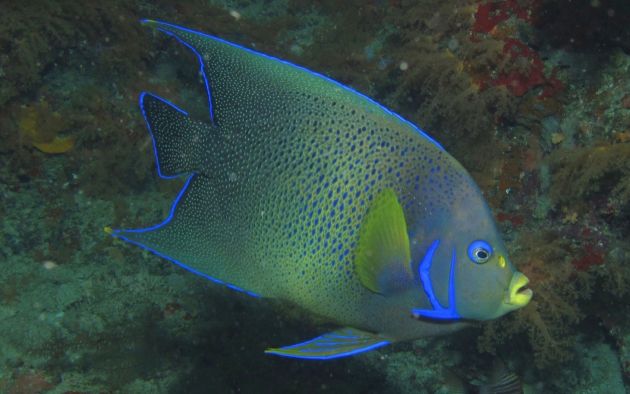 Angelic - by Scuba Dave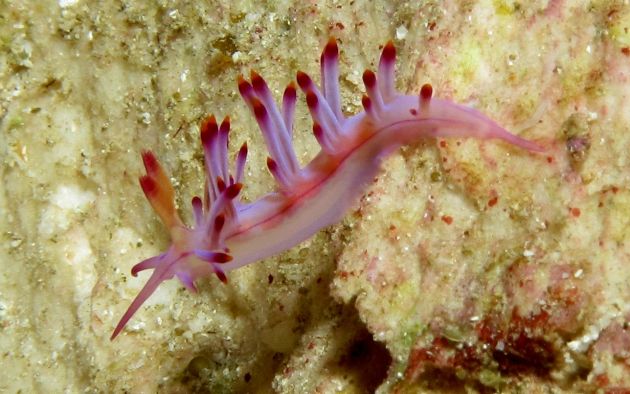 Red line - by Scuba Dave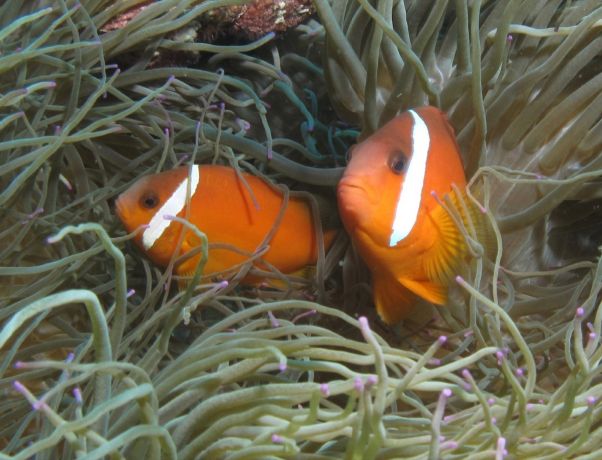 Brothers - by Scuba Dave
That night, Brent followed Amanda back out to Lion's Den for what turned out to be a very exciting night dive. They jumped into a good strong current threatening to blow them out over the wall and into open ocean. Not to be perturbed, however, they hugged the reef and were rewarded with a nice sighting of a beautiful marble ray gliding elegantly over Lion's Den itself along with a white tip reef shark. They then turned their attention to three octopus, out and about enjoying the night time breeze, and two overly curious white tip sharks enjoying stalking a couple of unfamiliar and increasingly uncomfortable humans. I mean, it really destroys your concentration if, when trying to enjoy watching a hunting octopus, you get bumped on your leg by a shark, even if it is only a white tip! Luckily, Brent was extremely relaxed about it, but we might re-consider taking anyone even slightly less experienced there. Not for the faint-hearted, that's for sure!
Then it was time for Nigali Passage. Untouched by Winston's destructive force, this area remains as stunning as ever. Gorgeous soft corals line a channel full of barracuda, culminating in a stunning show of our resident grey reef shark population. This was followed by a perfectly manicured garden of beautiful hard and soft corals, finished off, for those with enough air left, with a beautiful sandy slope full of all your favourite sand-dwelling fish. To top that, we even also had a manta and a leopard shark. On our second day there, while plunging into the healthy hard coral garden of Jungle Jig, we found many more of our blackbreasted pipefish – a species rare everywhere but here, a sea snake and another manta. Two days was almost not enough time to fully explore its beauty. While celebrated for its rich collection of big stuff, Ange, who had missed the first day due to ear troubles, found one of the smallest things in the ocean, in that very same channel. Upon surfacing from the second dive, she could be found on the dive deck excitedly reminding everyone not to forget to "look at the garbage in the water, as well as the stuff on the reef". Having done exactly that herself, she'd seen a larval seahorse drifting along in the water column. How cute! 
In order to tell apart the two "Daves" on this trip, one opted to be called "Scuba Dave". Scuba Dave, it would appear, loves not only diving, but also fishing. He had a habit of carrying a fishing lure, which he immediately pulled out of his BCD pocket at the sight of any predatory fish. The shiny bobbing shape definitely draws the fishes' attention for some great video footage! It works, especially in the Nigali Channel. It's fine though, what could possibly go wrong? It's not like barracuda, tuna and sharks have big teeth!
Whilst we were down south, we also found time for a village visit to our friends in Somosomo, on the island of Gau. Even though it was a swelteringly hot day, Marilyn somehow found the energy to join the ladies in their traditional dance and Ange very sweetly taught the kids patty-cake.
That evening, the crew entered the salon to sing an anniversary song for Dave and Diane, who are celebrating 25 years of wedded bliss. After Amanda turned off the lights and the crew entered singing a song, we could hear Diane say, "It must be somebody's birthday." So you can imagine her surprise when Suli put a yummy cake decorated with candles and "Happy Anniversary Diane & Dave" in front of her! She was so engrossed in the music, Suli actually had to tap her on the shoulder for her to turn around and see what they'd been given! Following dinner, we provided the perfect antidote to the heat. Back on NAI'A, we all headed up to the sundeck straight after dinner for our kava party. What better way to cool off than by drifting into a pleasant kava haze while listening to the sweetly melodic sounds of our crew under a starlit sky? None, I would say.
Our last day was a selection of the top picks in Bligh Water. After starting off in Cat's Meow with just a gentle current allowing us all to fully explore the reef, we then headed to UndeNAI'Able Pinnacle and then ended on the crowd-pleasing Mellow Yellow. A fantastic end, to a very enjoyable week. Four eagle ray sightings, a leopard shark, two mantas, a marble ray, an abundance of both soft and hard corals and even a baby seahorse. Fiji, it would appear, is very much still worth a visit.
Ange & I enjoyed our trip immensely. We are so glad we came post Winston to support this wonderful country. The dive briefings & particularly environmental briefings were very educational. The warmth of the crew and rapport among the guests was special. Looking forward to our next trip.
-Mark
Thanks for a great trip. We will always remember our 25th wedding anniversary onboard the NAI'A. The serenade by the crew and the lovely cake were incredible. This was a very special week of diving!
-Diane
Our Guests...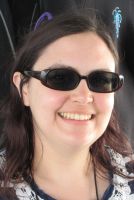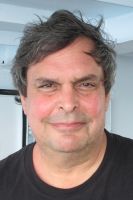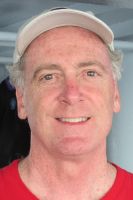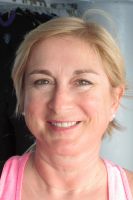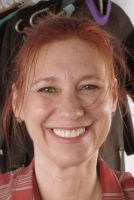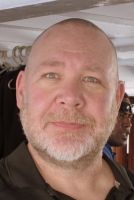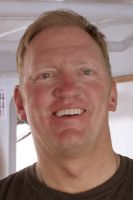 Comments
"We loved every minute of our time with you in Tonga! It could not have been any better. Each and every member of the NAI'A team was outstanding and each of you made our whale expedition unforgettable. The whales, the hospitality, the guides, the skiff driving, the dinners and the singing and kava… Everything was wonderful. It was the best honeymoon ever!"