Southern Lau Epic Exploration
Destination: Fiji Bligh Waters & Lau Group
Trip Date:
Jan 3rd - Jan 15th, 2021 -
Comments
Author: Jemma & Scott
Welcome Back: Renee, Judy, Elliot, Jessie, Kristina, Alfredo, Alice, Alex and Alfie and owners Alexx & Todd.
Congratulations: Elliot & Scott - Happy Birthday
Another in a series of Covid-special Fiji exploratory expeditions for Fiji locals and expats, we spent 12 days rediscovering old sites and finding new ones in the remote Lau Group.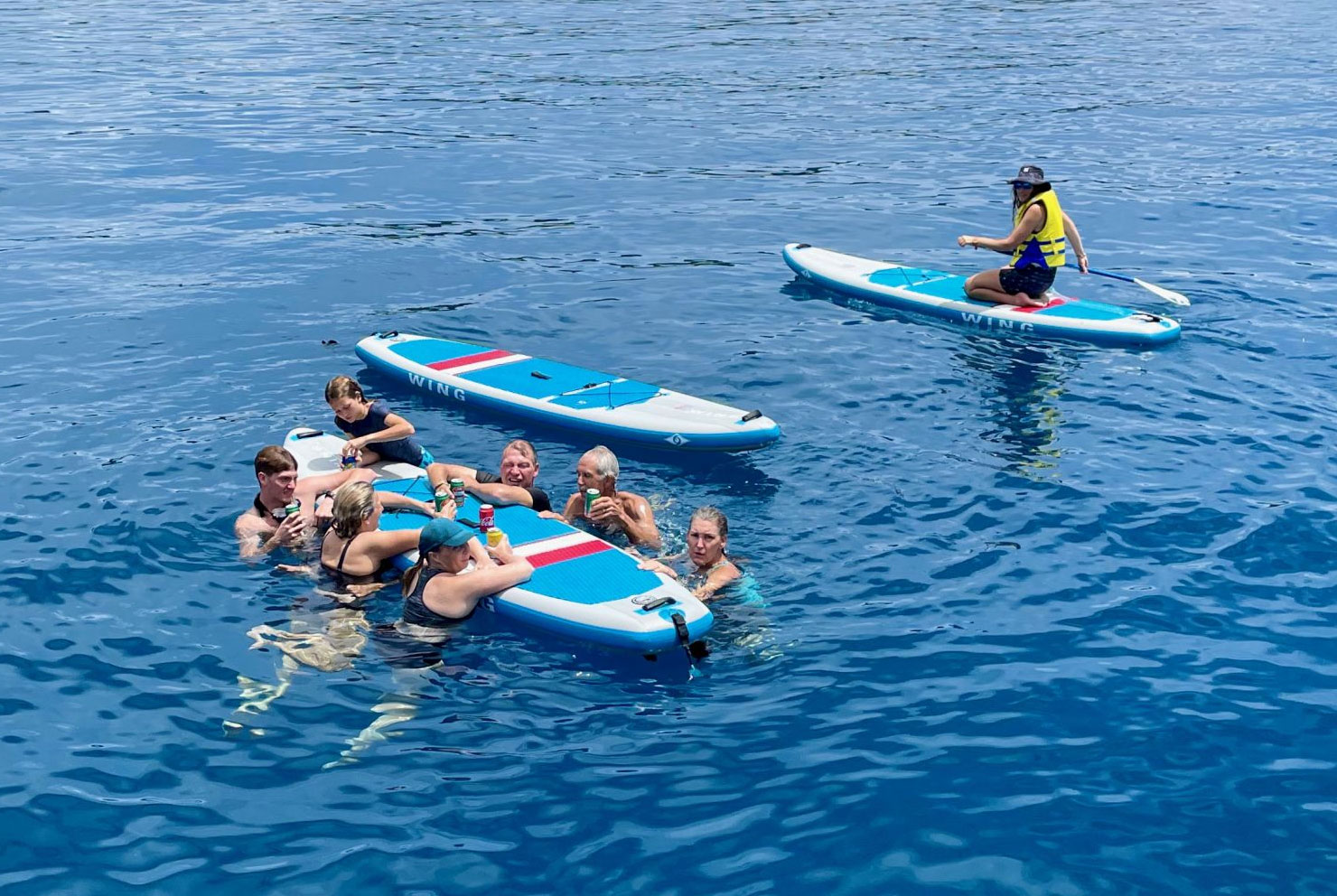 Photo by: Jessie & Elliot 
We picked everyone up at Volivoli and headed straight to Vatu-i-Ra for an afternoon of diving. We did our check out dive at Howard's Diner, and then dived at beautiful Mellow Yellow and the Whole Shebang (a new spot for Judy!). Mellow yellow was pretty mellow but was so fishy up on the top of the pinnacle, with blue and yellow, lunar, and ruddy fusiliers; clouds of scalefin anthias; lionfish; a huge moray eel; and of course the golden damsels.
Over at Whole Shebang there were lots of hard coral and an insane amount of fusiliers. Judy said that when she looked up she couldn't see the surface for fish, plus a huge Napoleon wrasse, and a pink fleshy thing (later confirmed to be a sponge).
Alfie and Elliot headed out with Big Mo for a dusk / night dive back at Howards Diner. All the crustaceans came out to play with decorator crabs, box crabs, shrimps, a tiny flat worm and some whitetip reef sharks.
The next day we awoke after a clam crossing at Namena Marine Reserve where we spent the day diving the north and south save-a-tack reefs.
First up, a relaxing dive over on the soft coral wheat fields of Kansas. Big Mo found a peacock anemone shrimp fighting a porcelain crab with a squat shrimp spectating (it is not confirmed who won). There were also tonnes of chromodoris lochi, Kristina found a couple of species of pipefish (network and brown banded), and there were some baby Dori's (palette surgeon fish).
After breakfast we all headed to Grand Central Station. We had great visibility and a little current as we were greeted by hundreds of redtoothed triggers as we descended. We worked our way along the wall and sat on the edge of the drop off watching grey reef sharks, schools of barracudas and jacks. We then made our way up through the arch to explore the shallower coral crops.
We moved in closer to Namena Lala bay for the afternoon and dived over at south save-a-tack to Tetons 1. This dive had one mission; to find and be cleaned by cleaner shrimp - mission accomplished with some manicures and dental work. We spent some time with the garden eels and shrimp gobies in the sand, found some chubby clingfish in the crinoids and identified the Fiji anemone fish from the other anemonefish.
Over at Tetons 3 we toured the soft coral covered pinnacles and had a grey reef shark hang out with us. There was a huge phyllidia nudibranch, trevally and anthias. Elliot found a couple of blue dragons, Jessie spotted lots of brown banded pipefish and whilst Alfie wasn't on the menu to get a cleaner shrimp clean, he found seven tiny chromodoris lochi together.
Straight after our dives we hauled anchor and set off to the Lau Group.
The next morning we arrived at our first stop in Lau – Yacata. We found a sheltered spot behind Kaibu and went for an exploratory dive. A great result, lots of nice hard coral cover on a sloping reef ending with some interesting swim throughs and channels. A couple of huge goliath groupers, dart fish, longnose (or are they forceps Lily?) butterflyfish, some grey reef sharks, whitetip sharks and a turtle in the distance.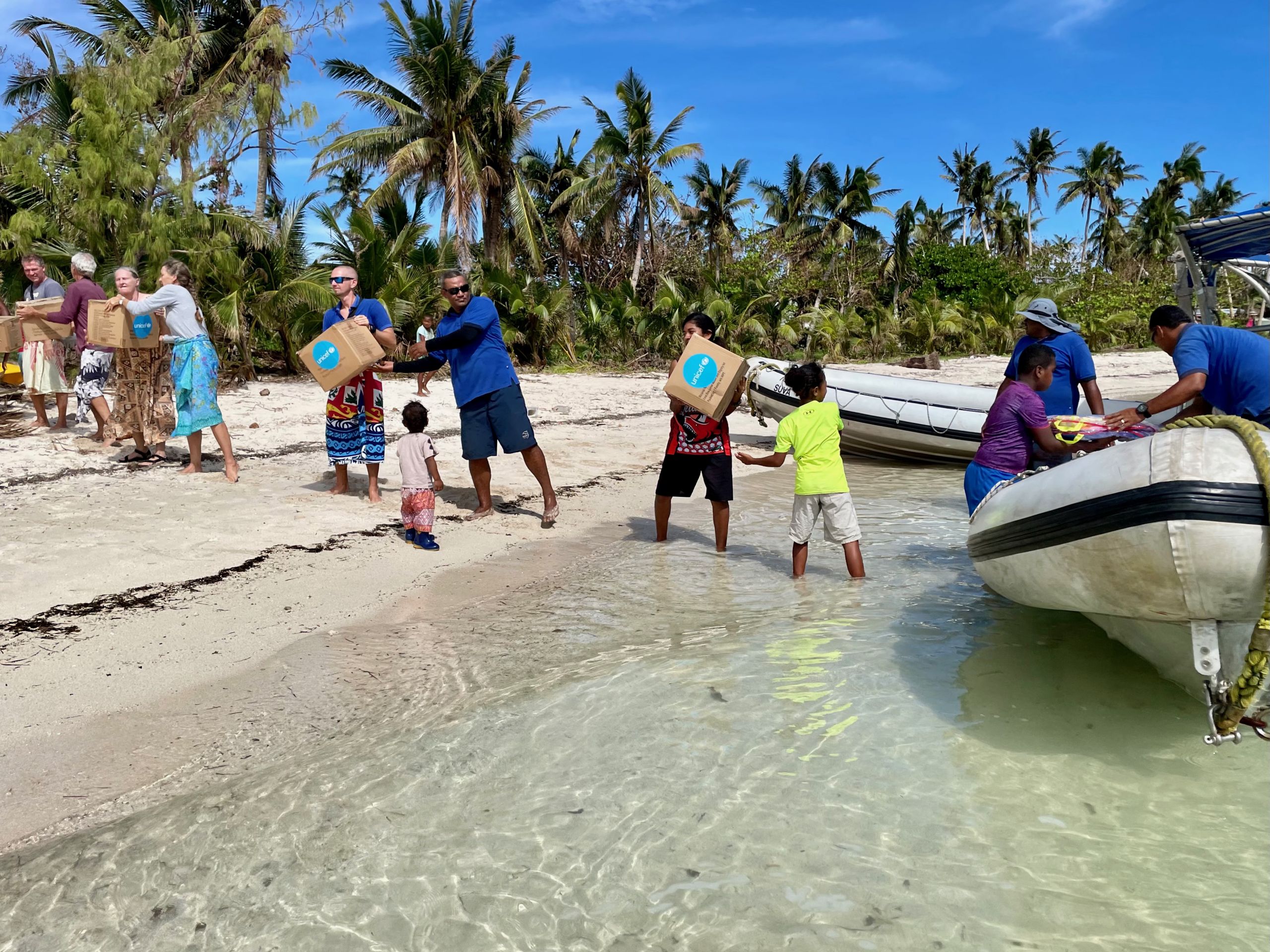 Photo by: Jessie & Elliot 
After breakfast we dropped off cyclone aid at Yacata village and then steamed over to Vatu Vara for an afternoon of diving.
Due to the north easterly winds we sheltered in the lee of the island and dived the south east reef on the first dive. There was a huge male hawksbill turtle, sea kraits, Napoleon wrasse, pyramid butterflyfish and Ollie finally saw an eagle ray. Alfredo and I went for a snorkel and had a close encounter with a loggerhead turtle, grey reef sharks and barracudas.
For our next dive we dropped in further around on the north reef where there was more of a drop off.  We saw melanistic (all black) longnose butterflyfish, we all (eventually) saw a marbled ray, grey and whitetip reef sharks, Kristina saw an eagle ray, and a huge dogtooth tuna kept its eye on us all dive. Ollie named this dive site I-sala Reef (hat in Fijian) due to the distinctive hat shape of Vatu Vara. Over dinner we made our way to Vanua Balavu where we anchored that night for a nice peaceful sleep.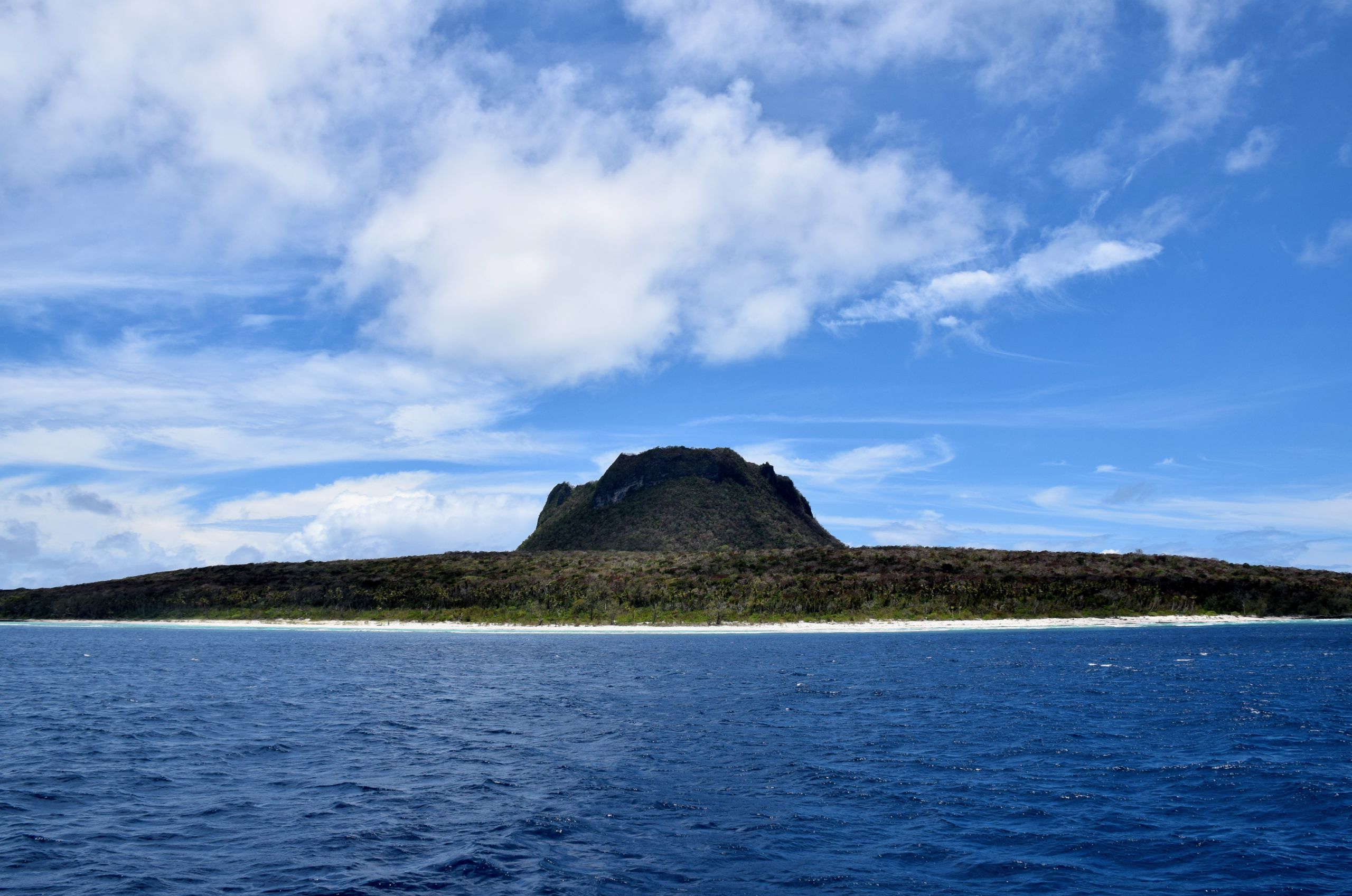 Photo By: Jessie & Elliot 
We awoke the next day in the stunning lagoon of the beautiful Bay of Islands of Vanua Balavu. After breakfast most of the group headed on the skiff around to Bavatu Bay where they hiked up the steps, across the plantation and to the stunning view point out over the Bay Islands where they spotted the Nai'a. They even saw Renee, Judy, Ollie and I snorkelling! We had a great snorkel around some very fishy coral patches with huge Porites and Acropora table corals. Ollie found 2 pipefish, which we determined are messmates.
Kristina headed out for a SUP and there was some pre-lunch top deck and monkey island jumping fun. This led to the invention of the SUP floating bar – genius!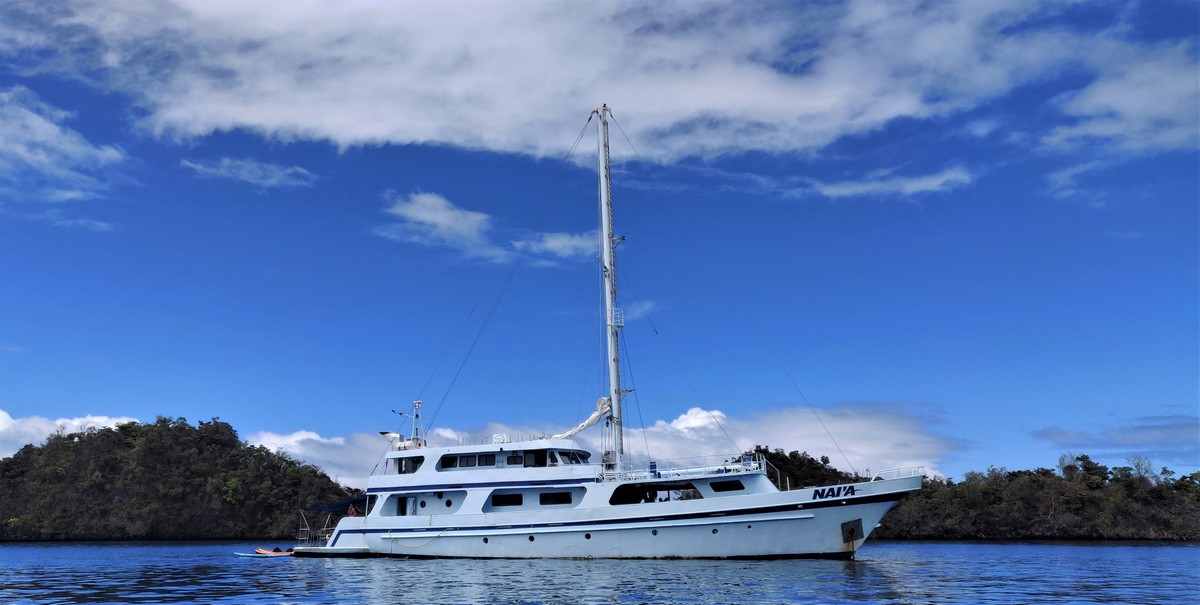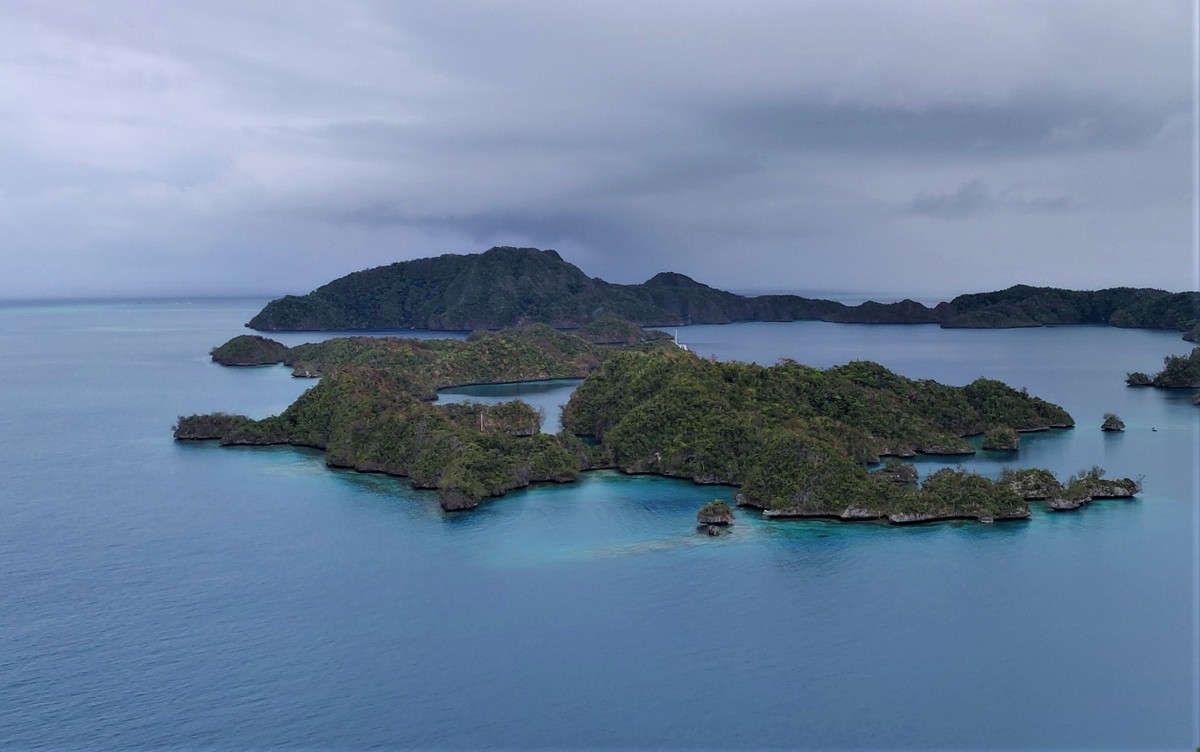 Photos by: Alice
After lunch we went on a skiff tour of the islands, followed by some paddling and an epic snorkel session. Kristina and Judy had to be dragged out from the stunning coral covered top reefs after 3 hours! Kristina had 5 pilot fish hitchhiking the entre time. Lily, Alfie, Alice, Alex, Helen paddle boarded over to another spot and then snorkelled the ledge finding the blue (or was it purple?) coral and the biggest Porites with so many Christmas tree worms.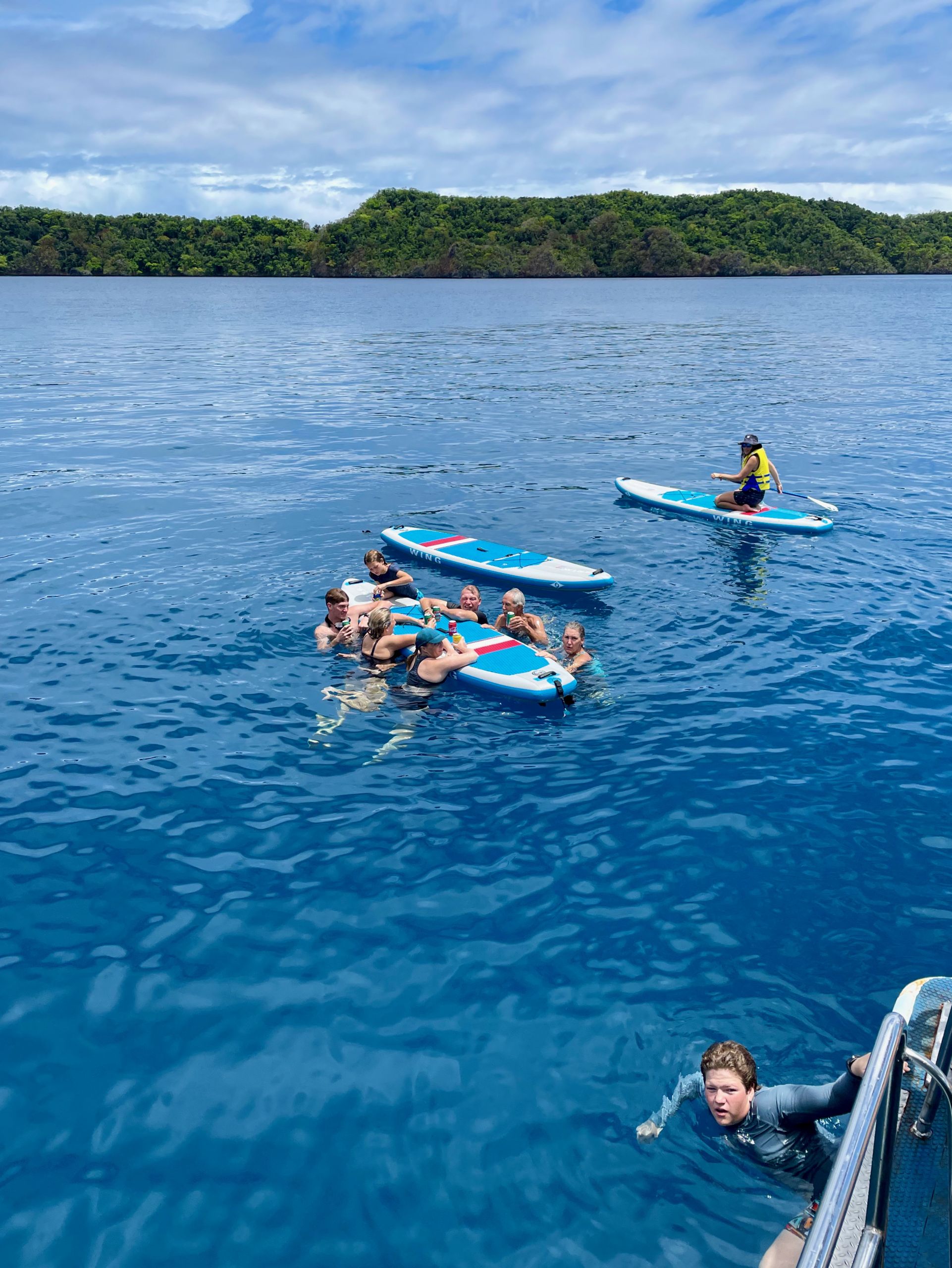 Photo by: Jessie & Elliot 
Before we knew it, it was time for sundowners on the bow before diner, to end a wonderful active day in a very special spot.  
The following morning we awoke to the Nai'a approaching Katafaga Island. Over breakfast Scott headed out with Clayton to scope out potential dive spots, whilst Alexx and Todd went over to the island to check out the beach. Scott came back after a while tentatively saying he had found a "possible" good spot, and Alexx and Todd returned saying the bay was as beautiful as they remembered it from last time they were there.
So after breakfast the whole diving team headed out to explore. We dropped in and were just amazed! Straight away we were surrounded by schools of barracudas, trevally and jacks as we descended onto a bright white sandy plateau filled with huge Porites boulder corals. The coral structures formed a couple of channels leading off to a sloping drop off and the visibility was insane.
As we made our way down the channel a schooling batfish circled us. No one knew where to look or where to go first, all just amazed. Whitetip and grey reef sharks passed by, groupers and sweetlips sheltered by ledges and Christmas tree worms covered the boulder corals. I will never forget the vision of Big Mo in the sand looking up "conducting an orchestra" of schooling fish (as I always say – the real life King Neptune). FYI Ollie saw and eagle ray! Everyone emerged and began chatting excitedly, joking with Scott who had under played his find just in case the schools of fish and sharks he had seen on his scoping mission had gone. Lily was set with the the pressure of naming this dive site.
Photos by: Alex
Before lunch we headed over to walk the beautiful beach where we spotted green turtle tracks, and then circled the island in the skiffs.
After lunch there was no way we couldn't return to our unnamed site again so out we all went, including Alfredo with his snorkel this time. Again fantastic! Just as amazing, and this time including Napoleon wrasse. Alice was the last to surface and ended up on her safety stop with ten of them hanging out with her! EPIC Dive site which Lily eventually settled on naming it Magic Roundabout – a very apt name for a magical site you could just circle forever.
Jessie and Elliot headed off for a paddle and ended up having quite the adventure; including more turtle tracks on the beach, turtles in the water and a pod of 30 spinner dolphins!
After a rocking and rolling night, we awoke in the Bukatatanoa Reef to some big swells so decided to postpone the first dive planned and continue on down the reef to find a more sheltered spot. After breakfast the swells had dropped and we went out for a dive, then moved even further along and went for another. A highlight of the second dive was an octopus that Scott had initially spotted either playing with, or getting frustrated with some pesky damselfish! We also found some amazing blue coloured Acropora coral! After our dives we moved over to Oneata Island to find a calm anchorage for sundowners and dinner.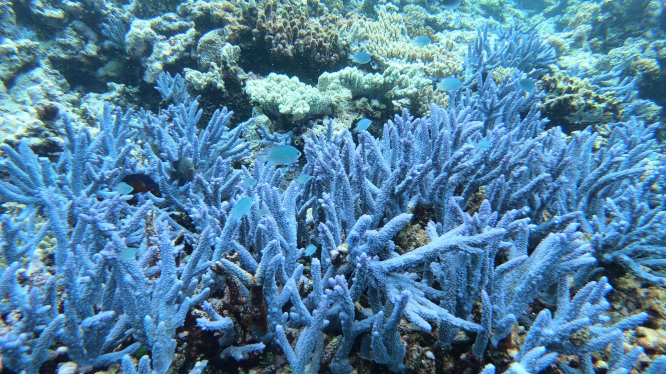 Photo by: Kristina 
We had a much calmer night that night, catching up on sleep and waking up fresh to dive the Yagasa Cluster. As we dropped in for our first dive we descended into a school of pyramid butterflyfish! It was a lovely rolling reef leading to a deep drop off. There were lots of fish diversity and coral coverage. We saw batfish, barracudas, groupers, clams, a giant moray, a hawksbill turtle, an eagle ray, grey reefs and whitetips (including a baby shark hiding in the reef). We also saw some species we haven't seen before including the pinstriped angelfish (both male and female), and bundoon fangblenny (more often seen in Tonga). As soon as I emerged I claimed this site Pyramid Point (after the butterflyfish seen throughout).
After breakfast we checked out another part of the reef further along. Again a great dive with plenty of coral and life. Alice named this one Coral Carpet (referring to the rolling reef covered with hard and soft corals).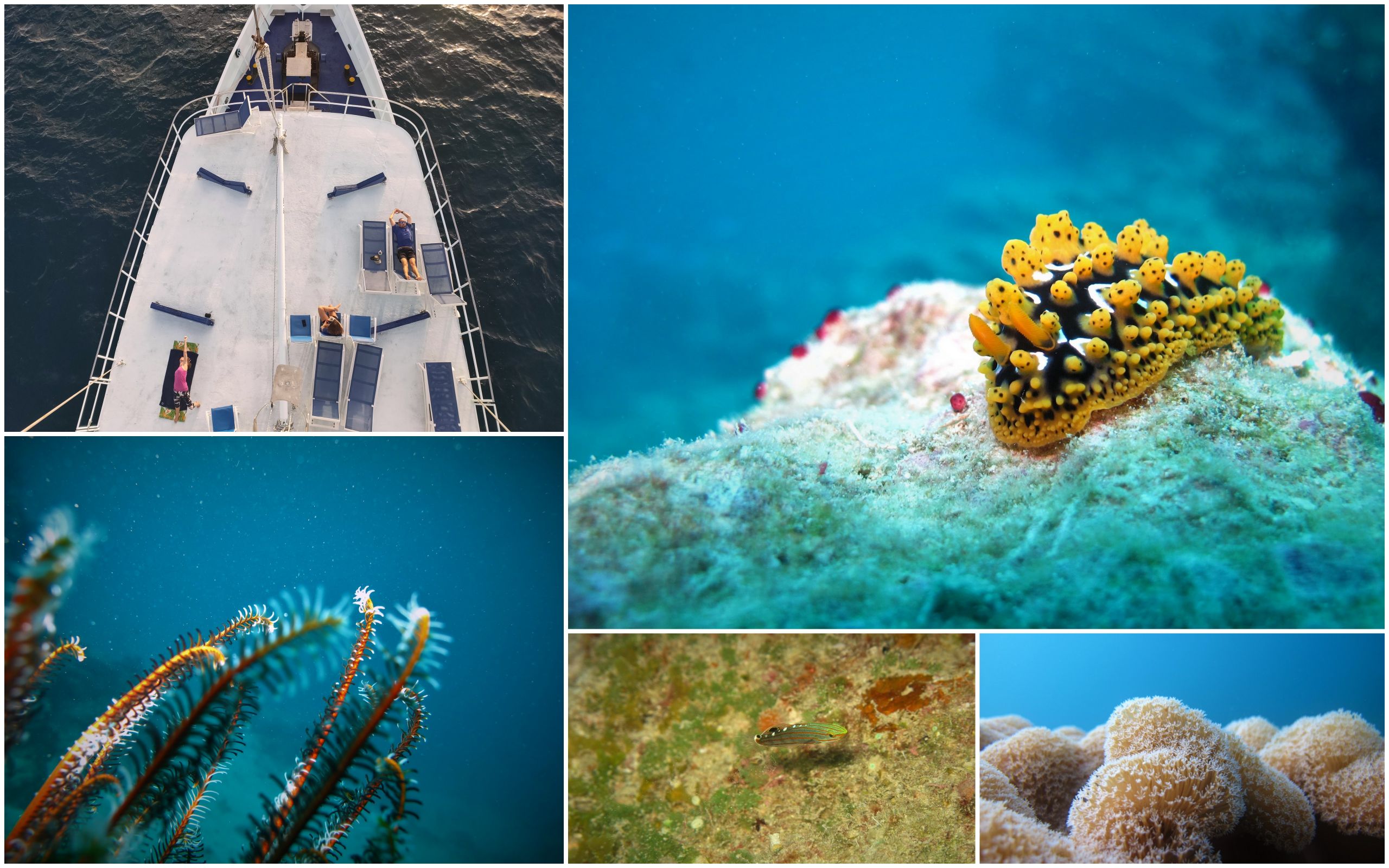 Photos By: Alfie
Over lunch we moved over to Ogea and jumped in to dive in the channel. A bit of a murky dive at first, but we dropped in on a spot with big Porites coral, blue fin trevally, jobfish and plenty of grey reef sharks. Then the biggest Napoleon wrasse I have ever seen came into view next to Big Mo – I am not kidding when I say they were the same size! We worked our way around the corner of the channel to dive along the deep drop off wall. More grey reefs, whitetips, nudibranchs, and dogtooth tuna.  Renee hung out shallower in a group of eight, huge Napoleon wrasse and watched below laughing at Jessie who was hiding behind Big Mo as the whitetips circled. Lilly counted 20 chromodoris lochi, and Elliot and Judy found a pipefish.
Meanwhile Todd, Alexx and Helen went for a paddle over to Ogea Levu and were surrounded by green turtles and a possible manta!
After the dives we loaded up the skiffs with cyclone relief supplies and headed over through the maze of mushroom islands to the beautiful village of Ogea. Here we did our sevusevu and wandered around the village.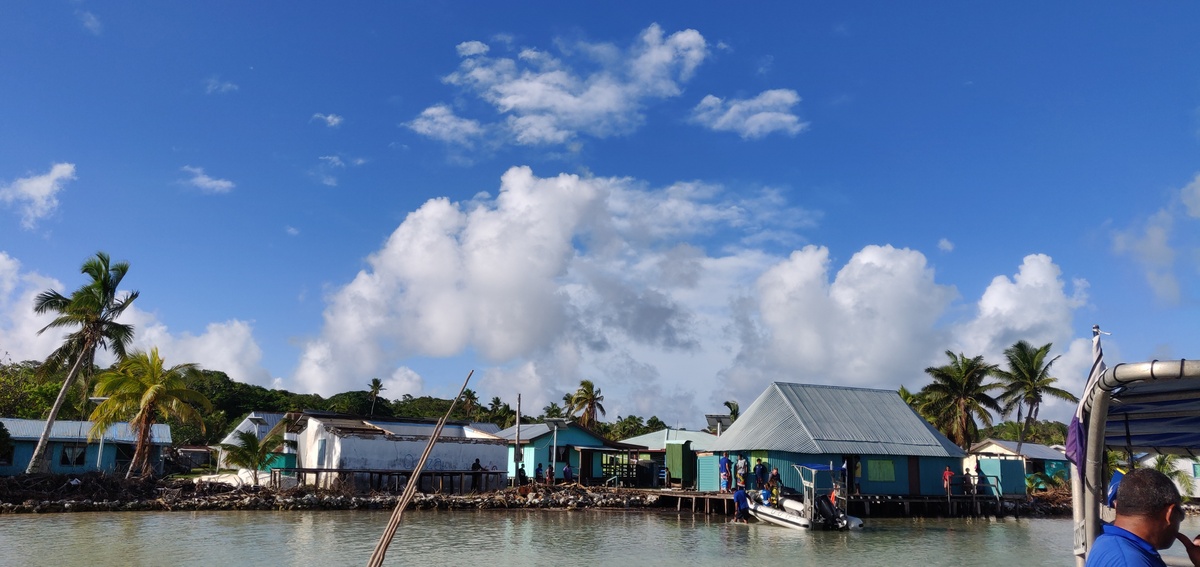 Photo By : Alice 
That night we had our kava party out on the top deck singing and passing bilos under the stars. We even had an ISS flyby and the odd shooting star! Magical.
After a great night sleep at anchor, we awoke ready to explore Ogea further. After breakfast we headed out on the skiffs to tour the spectacular bays around Ogea Driki and Ogea Levu. It really is a stunning spot, just when you think Fiji cannot get any better – you find yourself here in Southern Lau winding in between tree topped islets in crystal waters.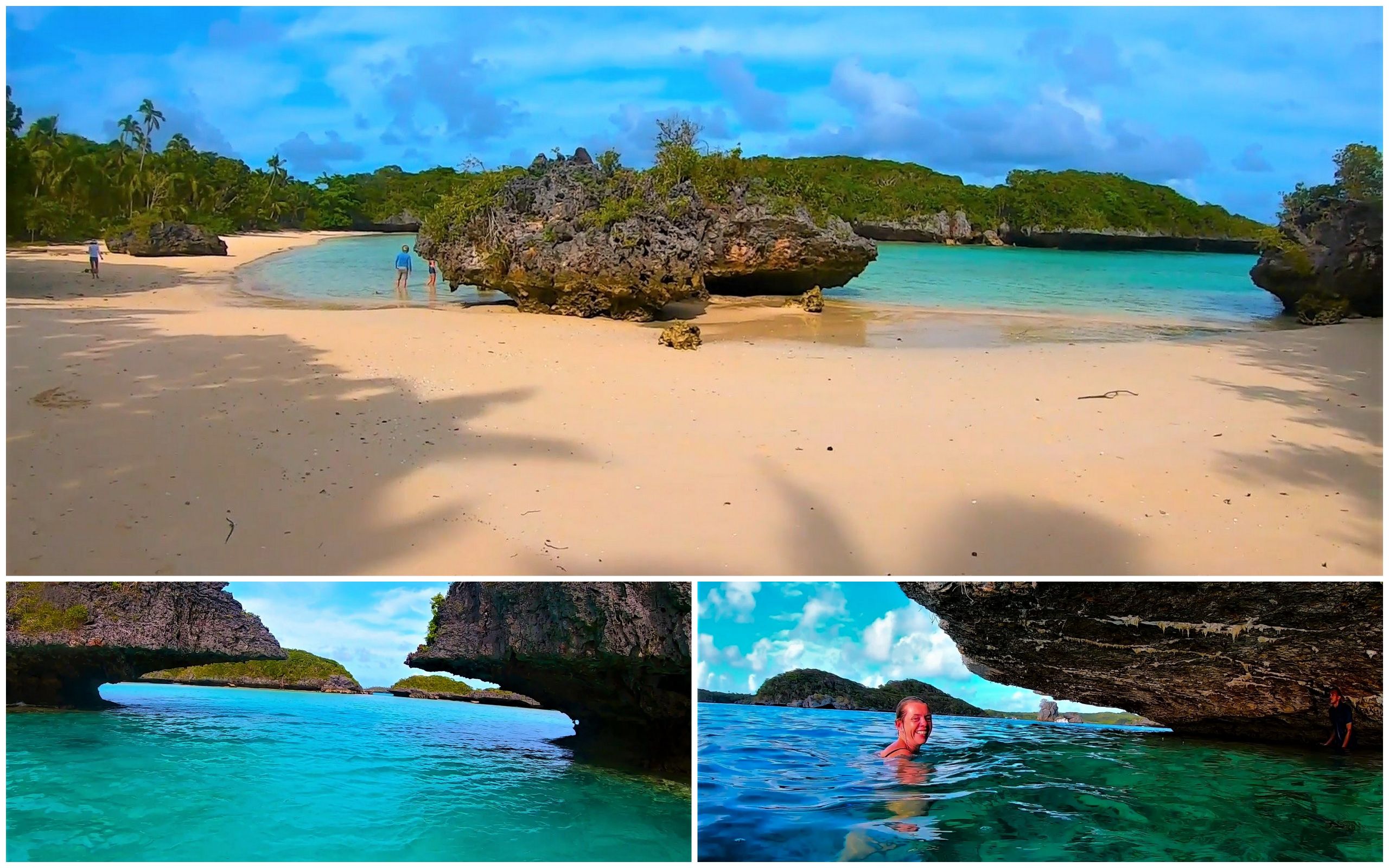 Photos By: Scott
We found secluded beaches, collected coconuts, wandered along looking at all the rock formations, and snorkelled and kayaked in the turquoise waters. Alfie and Ollie found the biggest nudi ever…and then Judy another nearby. They were big beautiful Spanish dancers, very excited as we don't usually see them. We also saw pipefish, other nudibranchs, anemone fish and Kristina and Alfredo found a juvenile moray. In the trees and mangroves we spotted some tropic birds, the Ogea Monach (endemic to these two islands only – very exciting to see) and bats everywhere.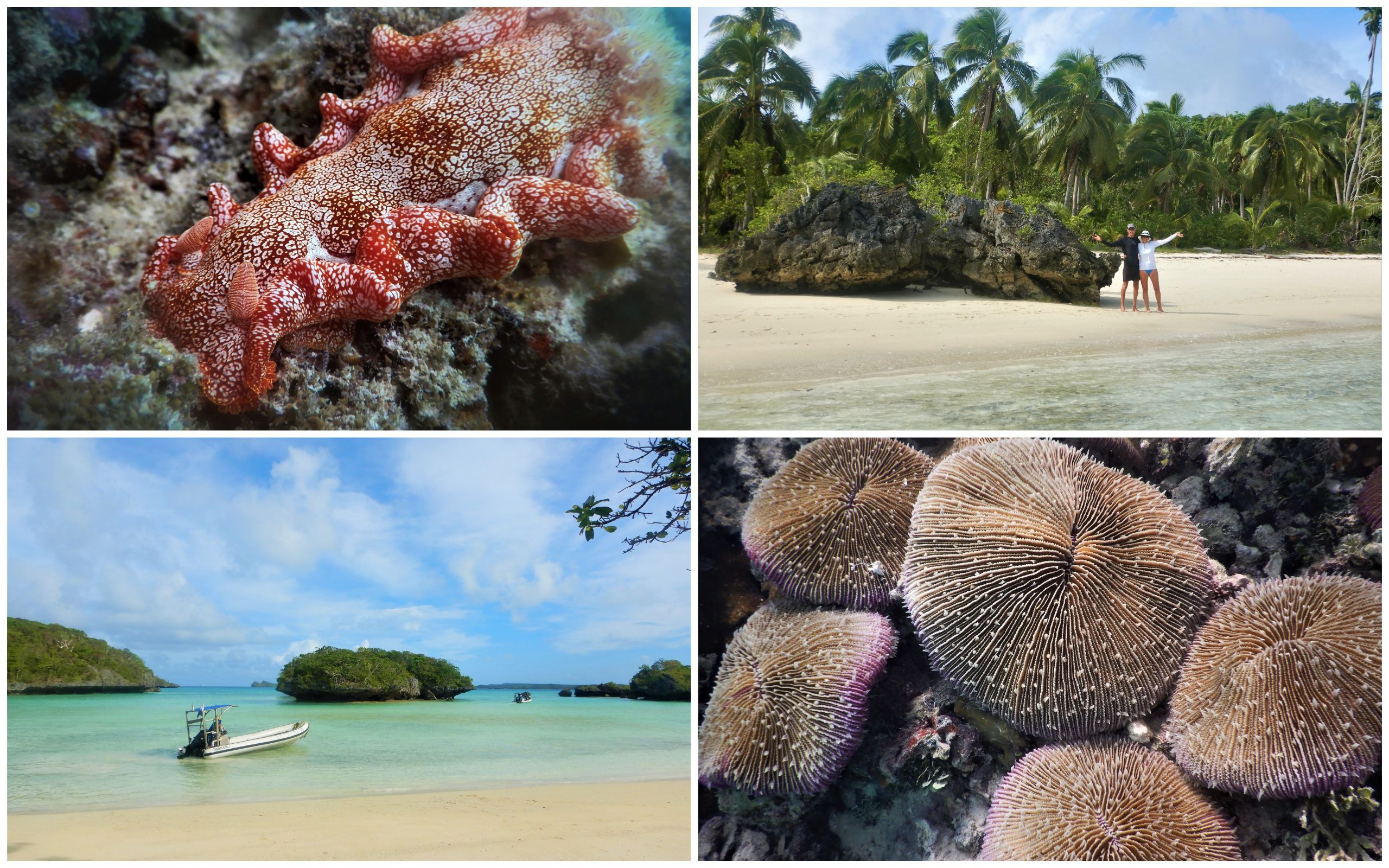 Photos By : Jem 
After lunch we picked up anchor to make it across to our next stop in paradise – Fulaga. We had to time our arrival perfectly to hit it at the tide we needed to get into the lagoon through the narrow passage in the reef. The Nai'a crew worked as team, with the skiffs helping to guide the ship through safely.
Once anchored we decided to dive the passage we had just come in through (as Scott had scouted it out whilst checking the current ready to get the ship through). We dropped in and had a super interesting dive along hard coral covered walls, around huge Porites bommies, a sandy channel and huge bank of branching Acropora and Pocillipora corals. It seems to be nesting season for yellowmargin triggers as there were so many of them in the channel chasing each other here and there (Big Mo was hiding behind Judy). There were whitetip reef sharks gliding past, schools of barracudas circling Elliot, Ollies token eagle ray, flame hawkfish (yes Judy!), juvenile rockmover wrasse, leopard wrasse, Alex's juvenile goliath grouper, and a couple of butterfly fish to get excited about – the dotted and the black butterflyfish (rare to see)! The result? Some very happy divers pledging to return to the passage the following day to dive with an incoming current. Alfredo and Helen also enjoyed some snorkelling on the top reef.
We ended another wonderful day with the traditional top deck sundowners, then dinner followed by another night at anchor.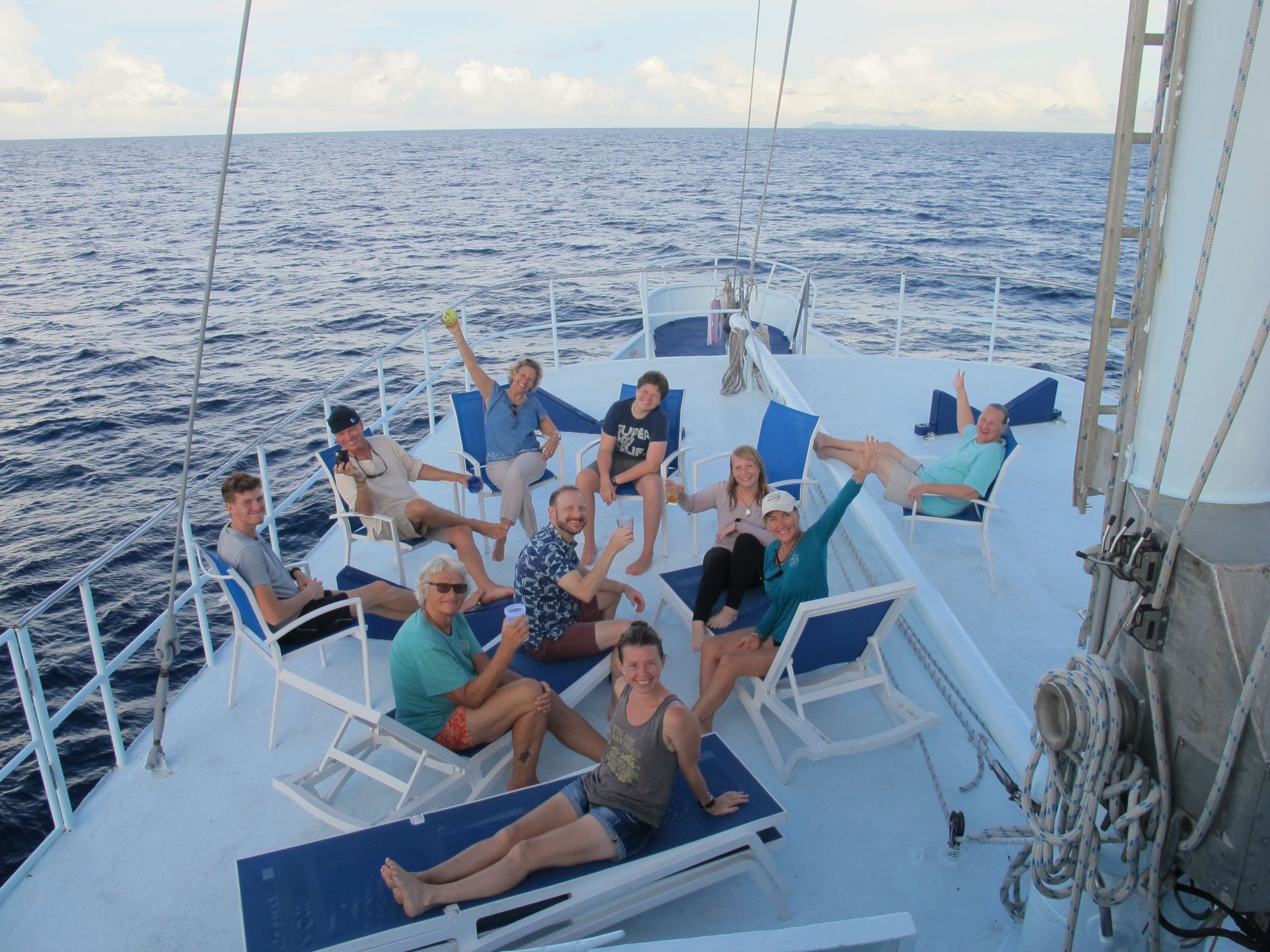 Photo By: Lily
The following morning after breakfast we loaded the skiffs with the relief aid and all headed over to drop it at Monothaki village. Alex, Alice, Alfie, Lily and Helen walked the route into the village with the crew to do the sevusevu and spent the morning in the village. They met the chief, took a tour, had morning tea and even visited some ancient caves filled with skulls.
Meanwhile the skiffs headed off to explore and snorkel the beautiful inlets and mushroom islands in this spectacular lagoon. Lucky Lefty found a gem of a beach, so we all went over for Judy to snorkel, Alfredo to drone, and Alexx, Todd and Kristina to SUP. Jessie and Elliot kayaked to and from the beach.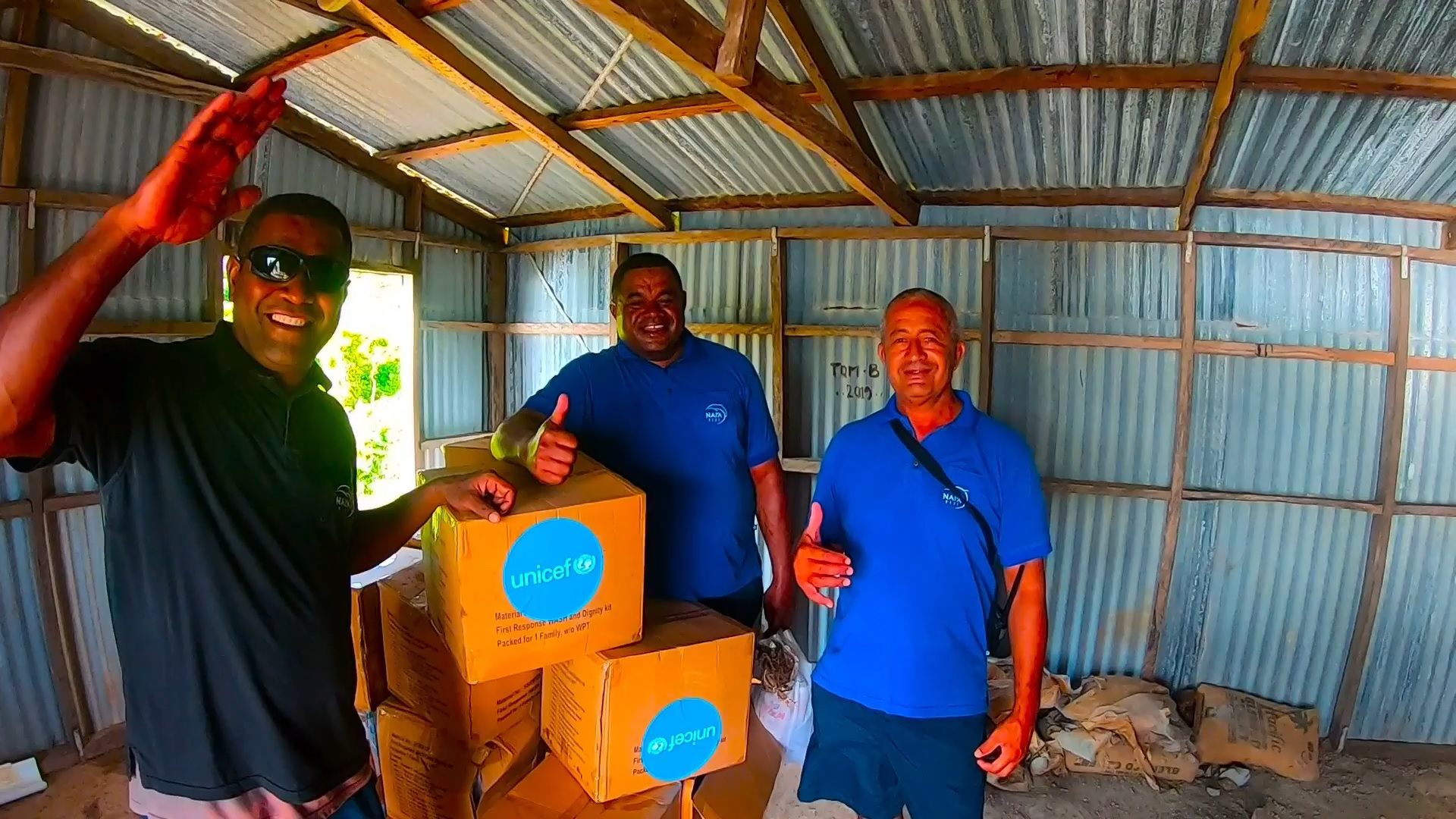 Photo By: Scott
After lunch we went back out to dive the passage with the incoming current, and boy did we fly! The point we ended our dive at yesterday after an hour – we passed right by after 5 mins this time! We dropped in on a school of barracudas and Big Mo and Todd saw some humongous bumphead parrotfish. As soon as we reached the channel we were off – all making our way down in our own style…ducking in behind the massive Porities corals and holding on to rocks when needed to find our buddies etc. the current calmed down as we reached the lagoon and we spent the last part of the dive meandering through the yellowmargin trigger lairs and checking out the coral crops and bommies we came across in the shallows.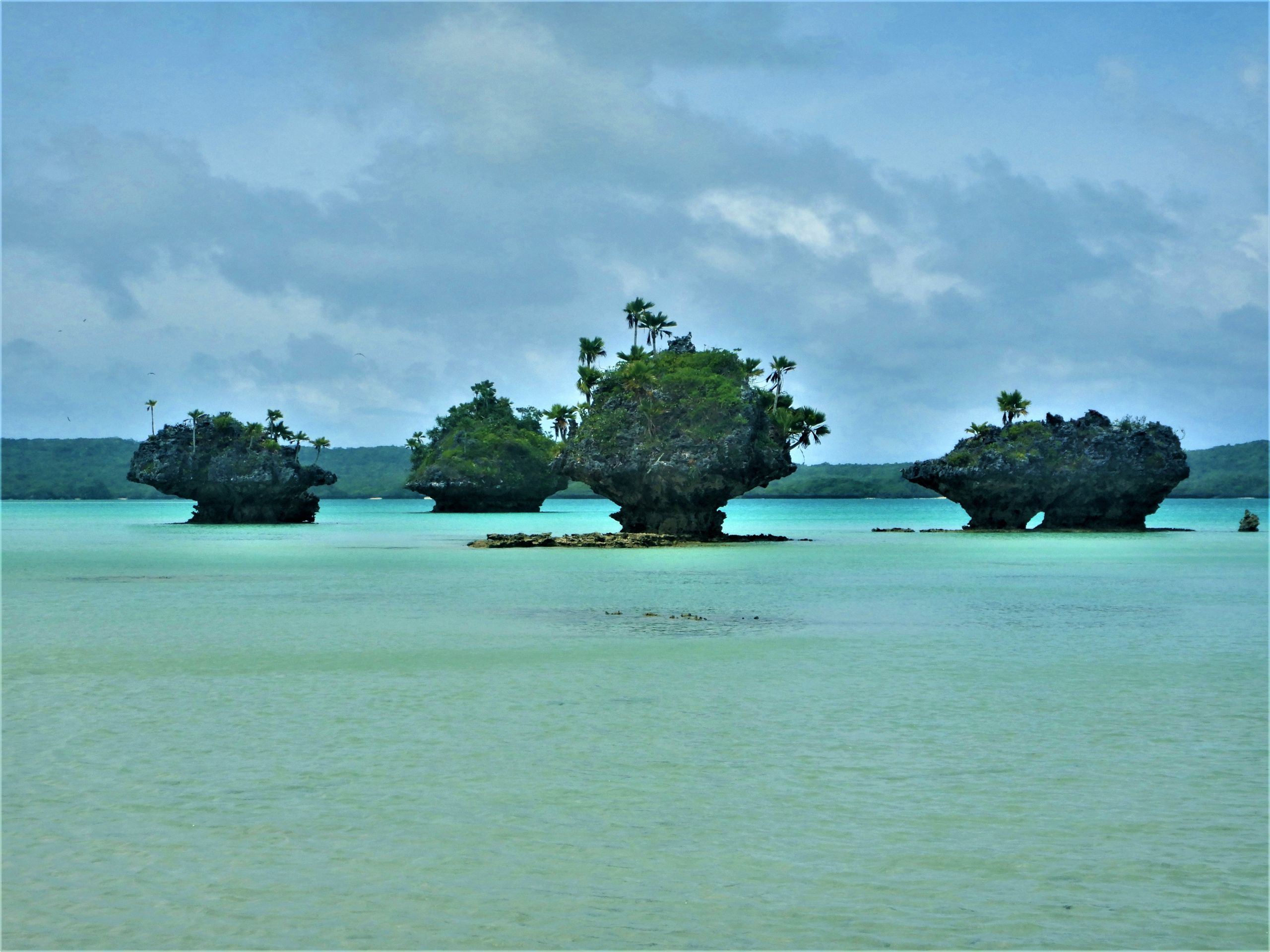 Photo By: Jem 
Once we were back we navigated out of the passage, again timed at slack high tide and sheltered in the lee of the island for dinner. Then off to our next stop - to explore the island of Totoya.
We arrived early morning and passed through the reef passage into the channel called the Gullet. We ate breakfast as we moved through to our anchorage in the caldera. Big Mo headed over to the village for sevusevu and we got ready to dive.
We dropped in at the Gullet and dived along the reef wall finishing up on the top reef. The wall was scattered with chromodoris lochi everywhere, plus a goniobranchus kuniei (aka Marilyn Monroe) and a few phyllidas thrown in. There were scorpionfish, a whitetip and a very large grey reef shark who definitely wanted to know what we were up to. Ollie found an octopus and there were lots of cushion stars and bubble coral. Right on the top were big Porites corals and lots of soft corals.
After lunch we dived a spot right in the middle of the caldera. There was a shallow reef were we dropped in and Todd, Alexx, Kristina, Alfredo and Lily snorkelled. One group went reef to the left, the other reef to the right. We were amazed by the sheer diversity and coverage of hard and soft corals covering the reef. There was more bubble coral than we had ever seen before – Scott searched in vain for an orangutan crab, and there were clams of all sizes; tiny, huge and the empty shells suggesting we were likely in octopus territory. We found more nudis (which resulted in arguments among the Hills regarding species), lots of crinoid feather stars, sea cucumbers, and tonnes upon tonnes of Fungia mushroom corals scattered all over.  Ollie also spotted an awesome pipefish (we think – but will send photos to the experts for confirmation of species). Such a lovely dive that it was agreed before we had even got back into the skiff that we would be back to that spot later.
So back we went with groups swimming in opposite directions this time. We were again wowed by the coral, and Alfie and Lily got practising their underwater photography skills. Big Mo found that elusive orangutan crab of course – sorry Scott! After some deliberation, Jessie's suggestion of Bubble Bath was a winner for this dive site name due to the insane amount of bubble coral here.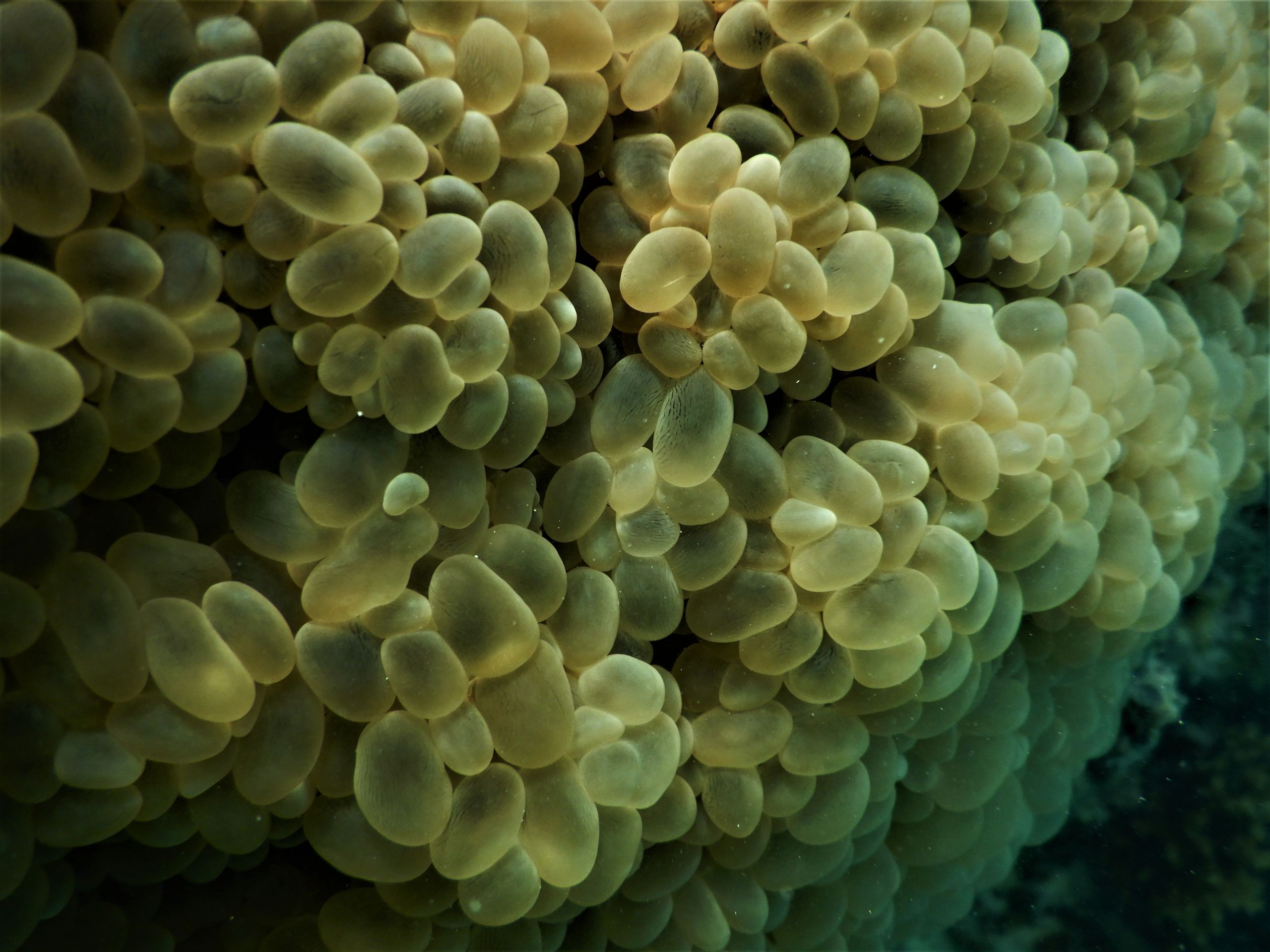 Photo By: Jem 
After a fantastic full day of exploring we set off in the early hours for Moala.
Another morning; another channel to navigate through. We anchored in the bay of yet another beautiful Fijian island in Southern Lau - Moala. After our sevusevu we headed out to dive Cakova channel.  With a bit of current running we drifted along the wall past huge Porites coral (yes I know this is a theme, but they really did just get bigger every place we dived), massive colonies of Pavona coral, Acropora branching, and colourful soft Dendronepthia and leather corals. We saw a few whitetips, barracudas, nudibranchs, an eagle ray, sea kraits, moray eels, crescent-tailed bigeyes, groupers, Napoleon wrasse, and a school of black snappers. Ollie trumped his eagle ray sightings and joined the manta ray club!
We dived the passage throughout the day at different times in the tide with varying degrees of visibility and current. Alice and Alfie had a blast meandering through the top reef between the Porities finding shrimps and juvenile fish in the rubble areas, whilst Helen geeked out with all the corals.
A few of the group popped over to the village, had a walk around, visited the school and Alex searched for the elusive Moala Bear.
Photo By: Scott 
The following day we were back in familiar territory in the Lomaiviti Group for our last stop - Gau. As ever a beautiful sunrise (and my last early morning coffee with Helen on the top deck – how will I cope?). We haven't been to Gau since March so were really excited to be back.
We did our first dive of the day at Jim's Alley where we dropped down on to a nurse shark. Then we used the current to drift down the line of pinnacles then made our way back along the tops to finish our dive facing the current getting engulfed in anthias, damsels, butterflyfish and unicornfish. Just beautiful! We hung out with a super active sea krait, found some shrimp gobies and counted many, many nudibranchs.
After breakfast we moved around to dive the Nigali Passage where the water was like glass. We sat and watched the channel, waiting for the current to start running. Once it did we staggered the skiffs and were able to fit in two pretty special dives! We glided along the passage past the wall of barracudas and into the bleachers. Plenty of grey reefs were awaiting, some whitetips, and schools of jacks and snappers. We were also treated to a hammerhead sighting and some manta ray encounters! Fantastic!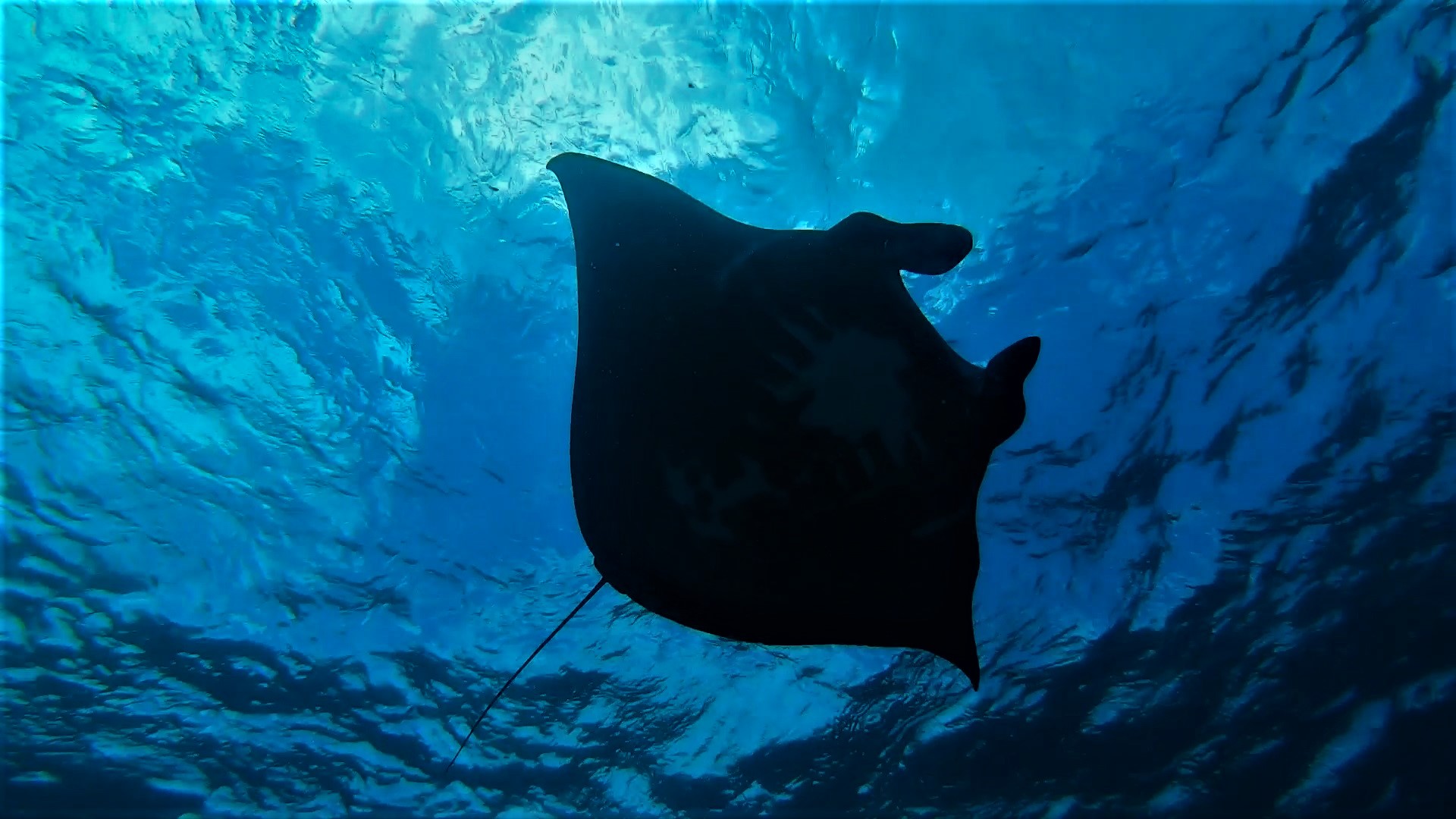 Photo By: Scott 
We still had time to fit in one last dive so headed over to Anthias Avenue, where the site earnt its name as the current was running and the top of the pinnacles were teeming with life making them perfect spots to just sit and watch the show!
Over dinner we began our steam back to Volivoli.  Given half the the chance we would have picked up supplies (the important things like milk, chillies, Campari, and sultry amber rhythm (with hints of black rum, leather & mint) air freshener) and gone round again!
Well what an epic adventure we shared, voyaging and exploring the remote islands of Southern Lau. We covered many, many miles from the beautiful Bligh waters, across the Koro Sea to Northern Lau, passing the Exploring Isles, down into Southern Lau, and back up into the Lomaiviti Group.  We had an absolute blast and it was such a pleasure to share this incredible experience with you all.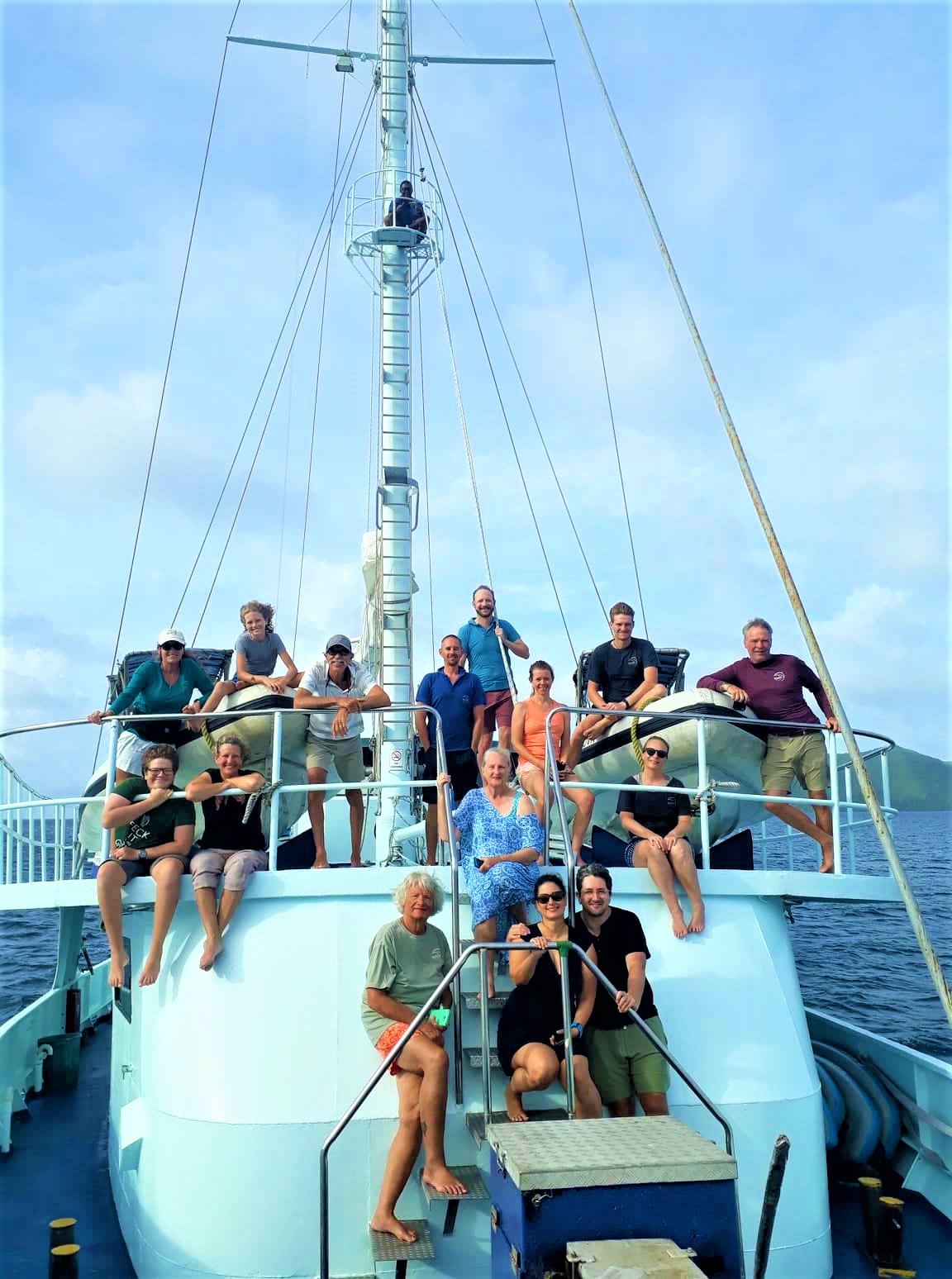 Comments
"NAI'A made a believer out of me! Fiji has been grossly underrated by both divers and scientists. Incredible fishes here and definitely worthy of protection."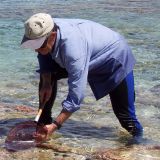 ~ Dr. Gerry Allen, Ichthyologist & Author, Conservation International