The Great Fiji Staycation
Destination: Fiji Bligh Waters
Trip Date:
Jul 15th - Jul 20th, 2020 -
Comments
Author: Jemma & Scott
Welcome Back: Renee & Judy
What can we say, a dream trip with an amazing group of people. After 4 months of patiently waiting the crew were finally back to doing what they do best…sailing the NAI'A around the best diving spots in Fiji…and boy were we rewarded for our patience! The weather was amazing, the water was calm and dive conditions stunning.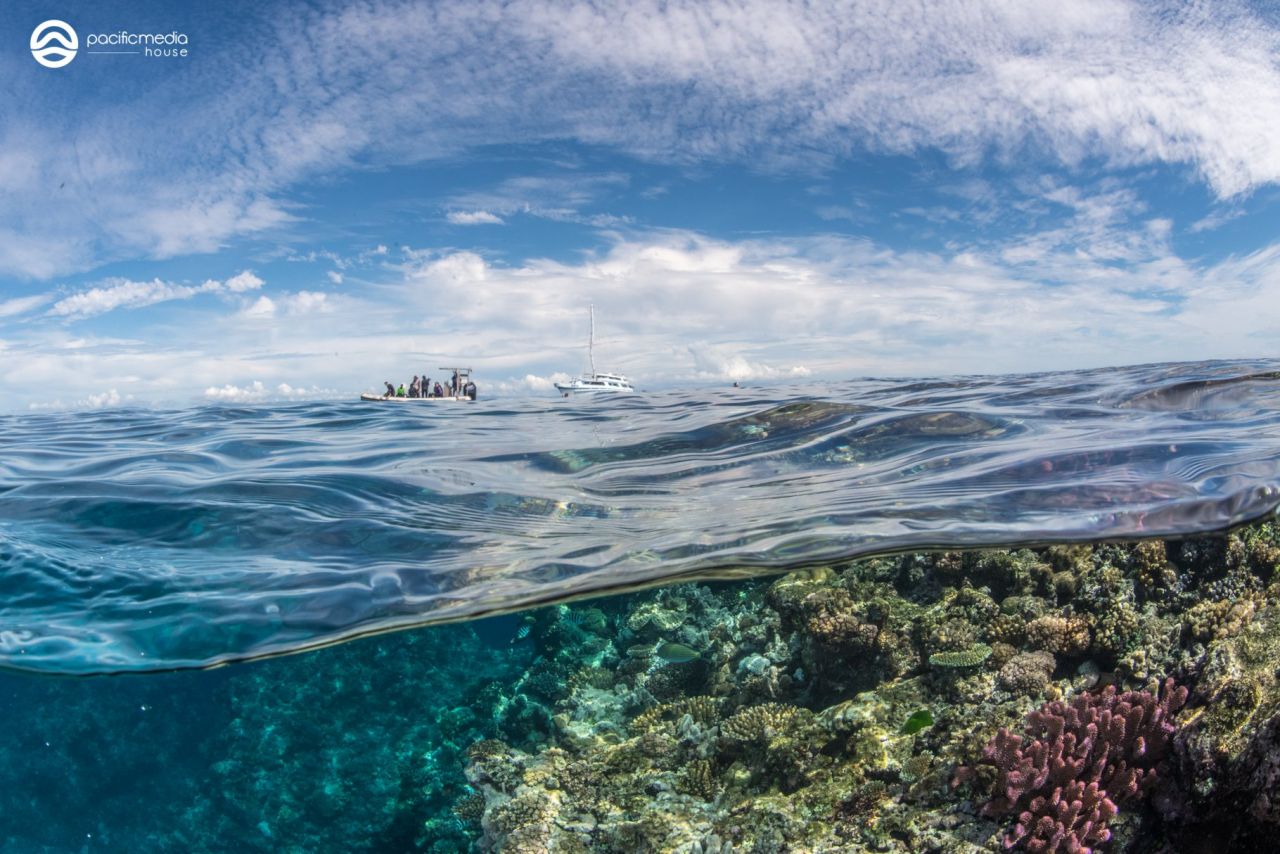 Photo by: Tom Vierus - https://www.pacificmediahouse.com/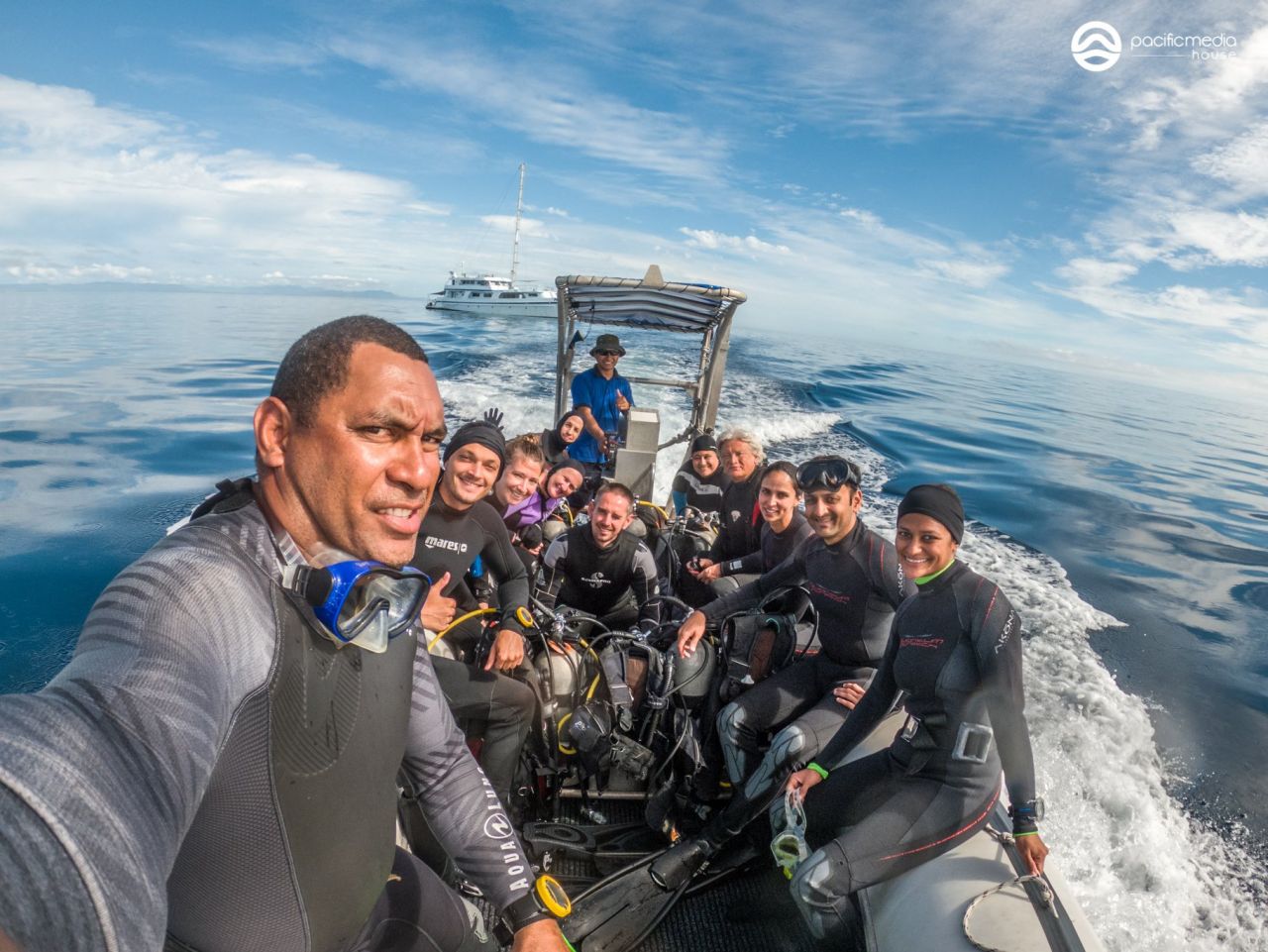 Photo by: Tom Vierus - https://www.pacificmediahouse.com/

Photo by: Tom Vierus - https://www.pacificmediahouse.com/
Photo by: Tom Vierus - https://www.pacificmediahouse.com/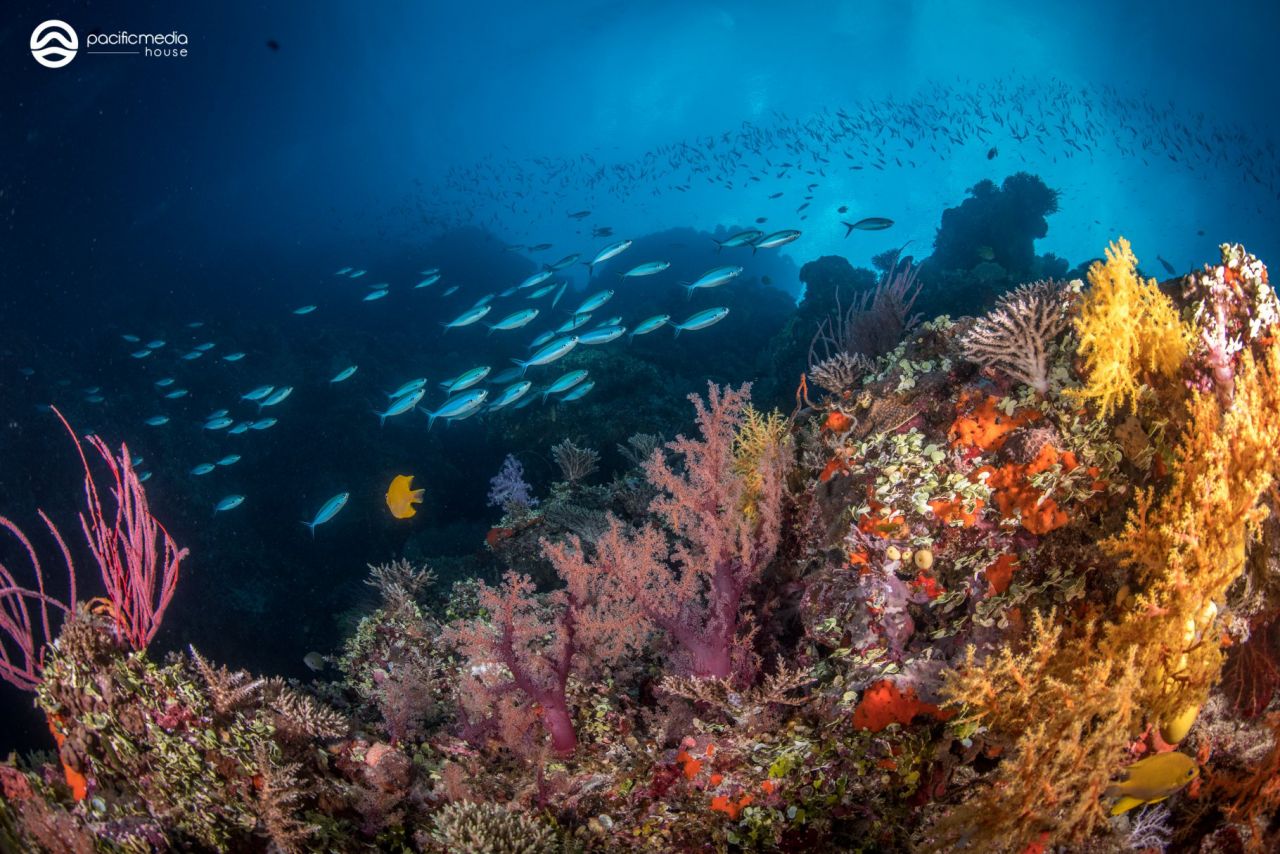 Photo by: Tom Vierus - https://www.pacificmediahouse.com/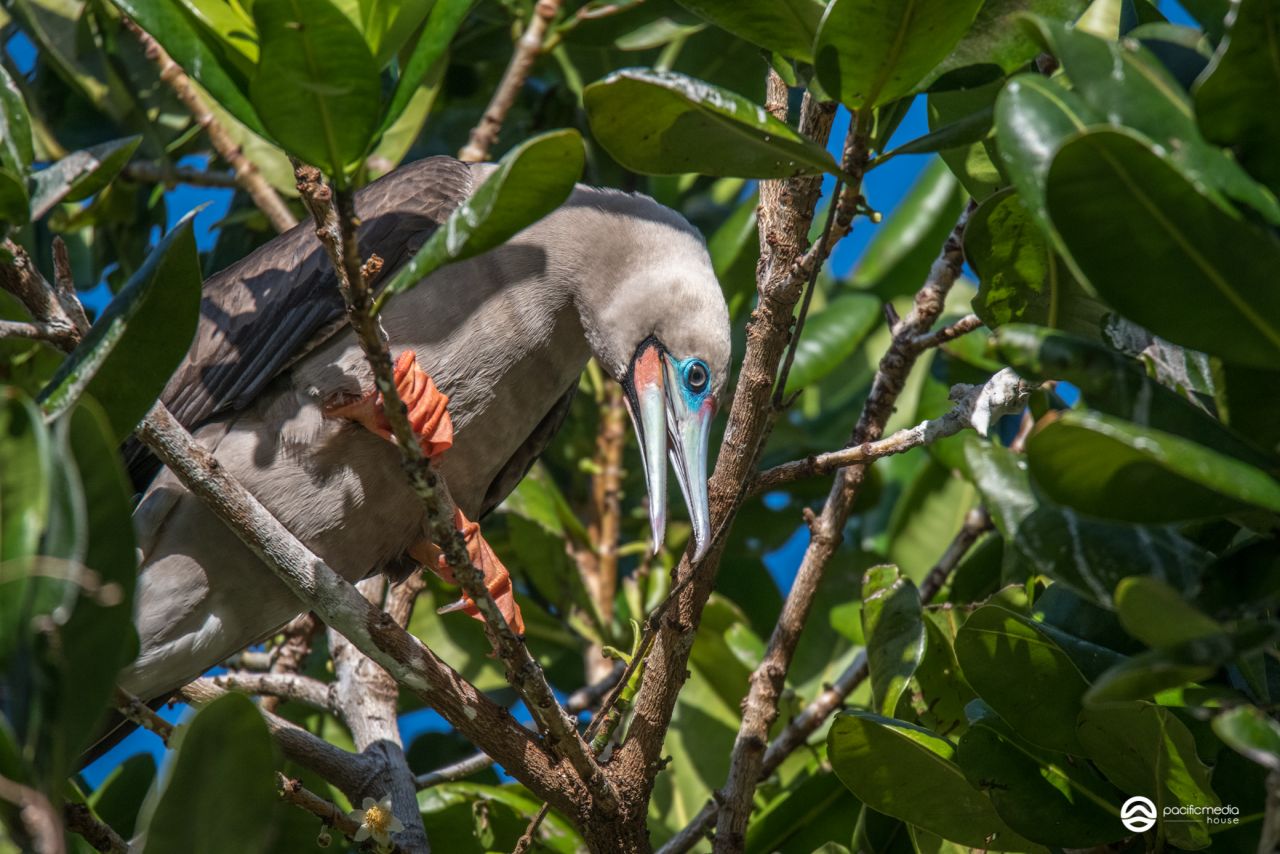 Photo by: Tom Vierus - https://www.pacificmediahouse.com/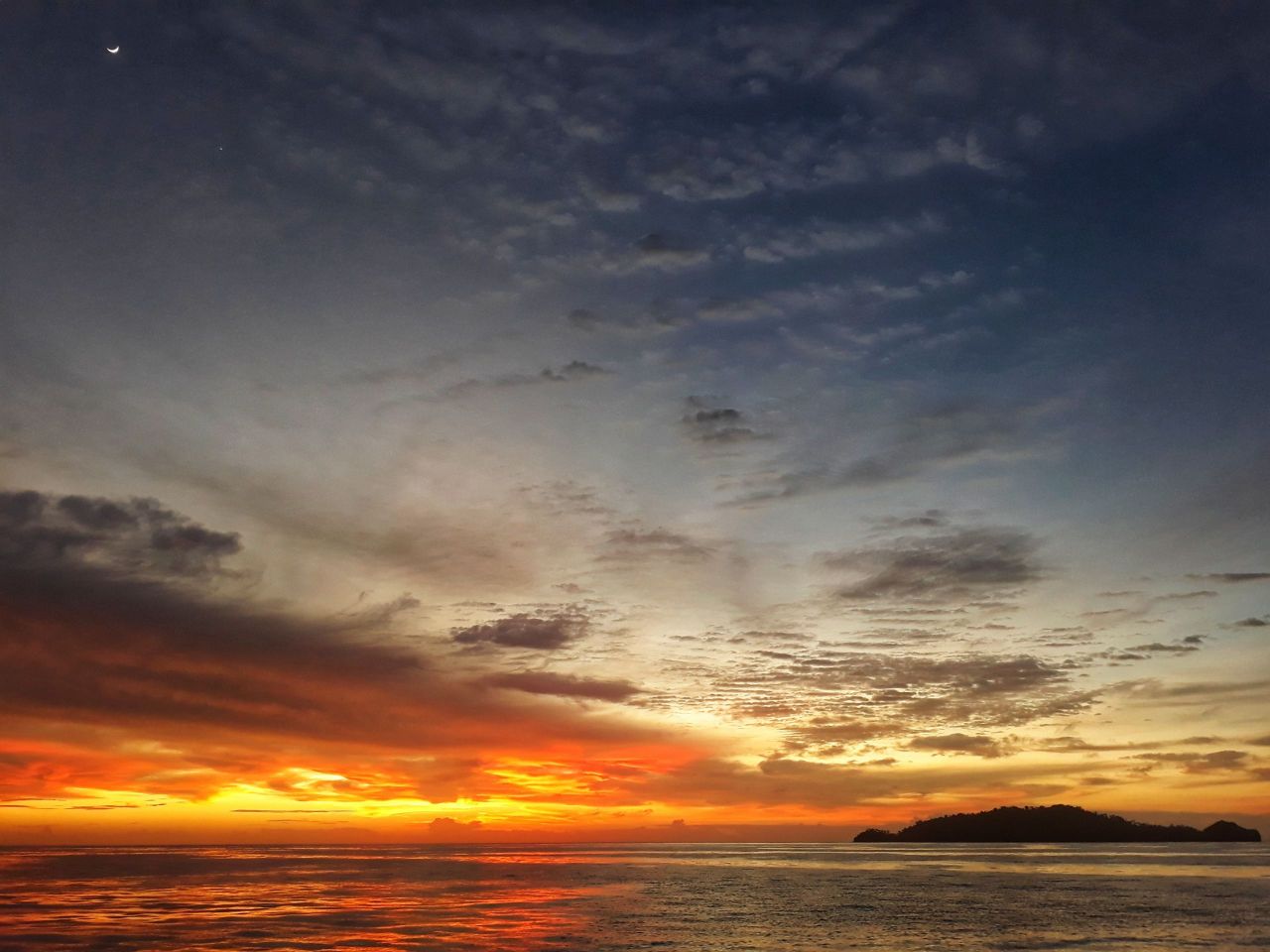 Photo by: Jemma
This was a local charter for guests who currently live in Fiji, some already friends of the family, and others new to the NAI'A. Straight away we knew it was going to be a fantastic trip with everyone getting on great and discovering random connections and friends of friends in Fiji etc.
After our check out dive I had found my fish geek buddy as Judy was sat busily flicking through the ID books and filling her log book with new species she had seen.
We awoke on our first full day of diving in Vuya to an amazing sunrise (in fact every morning treated us to amazing sunrises!) and prepared for our morning dives at Cat's Meow and Humann Nature. After the initial shock of the cooler water (hey we were last diving in March!) it was as if we had never been gone. Circling the pinnacles we were met by swarms of anthias, damsels, fusiliers and a big school of barracuda. On the top reef were anemone fish, longnose file fish and striped surgeons.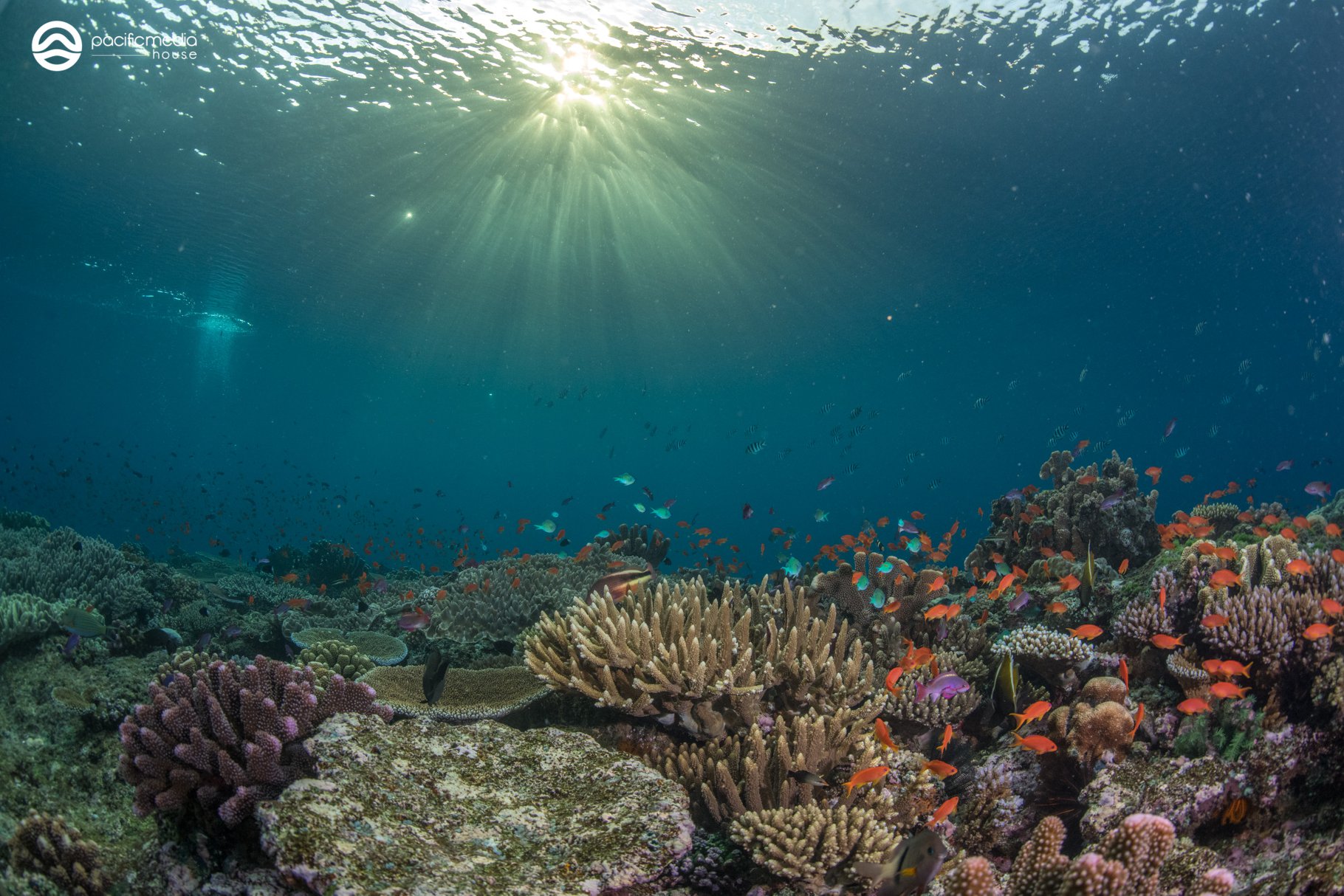 Photo by: Tom Vierus - https://www.pacificmediahouse.com/
After lunch we moved over to the UndeNAI'Able region to dive the pinnacle and main reef. At Pinnacle we got our nudi fix with chromodoris everywhere, as well as a cluster of flabellinas on some hydroids in one of the swim throughs, an active "Marilyn Monroe" nudibranch and some huge blue dragons! Over at the main reef the dendronepthya soft corals were puffed up, lining the reef channels with their beautiful golden glow…so inviting that Ayisha was left waiting patiently outside a channel as Jekin and Nikita explored the system ending up emerging the other side of the reef (oops)!
Sunset beers on the top deck was too tempting for most, so it was only Amerika and Sheldon who joined the night dive at the main reef. They saw the coolest alien looking sea cucumber, nudibranch eggs, marbled shrimp with their hairy legs and Scott was snuck up on by a white tip (a typical occurrence on his night dives).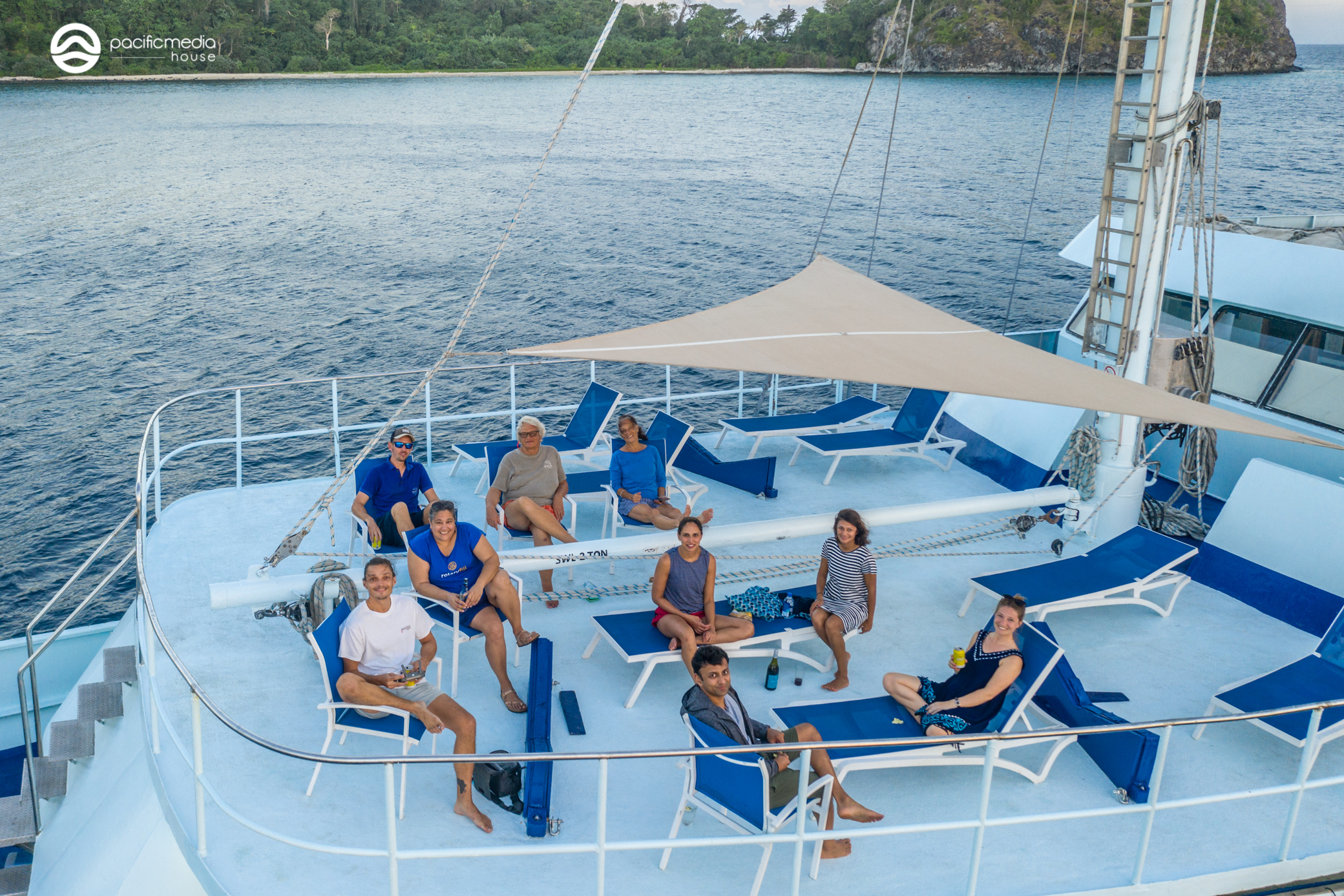 Photo by: Tom Vierus - https://www.pacificmediahouse.com/
After a super calm overnight crossing we arrived at our spot for the next couple of days….Namena Marine Reserve! Another stunning sun rise to start another epic day. We headed out on the skiff across the glass like water to dive Tetons 1. We dropped down and found the square spot anthias and decorated dart fish, then shallowed up circling the tall thin pinnacle meeting the anthias and "raining" fusiliers each time we met the "sweet spot" of the current. We spent some time just on the top reef hanging over the edge watching the trevally dart in and out of the schools of fish. We also realised WE were being watched by a huge barracuda patrolling his pinnacle. Whilst searching for critters it was a nice surprise to come face to face with an octopus, and Renee found her happy place just watching the anemone fish do their thing!
Second dive of the day was at Tetons 3 where we had the rare treat to see two bumphead parrotfish off the pinnacle! We also found a pair of ribbon eels, and an orangutan crab hiding out in some bubble coral.
Meanwhile Cyndee was off on her own snorkel adventures…after getting on that darn wetsuit eh?
After lunch we moved over to the North of Namena and had an awesome sharky dive (oops sorry Ayisha) at Grand Central Station (honestly Renee…we didn't mean to see a hammerhead!).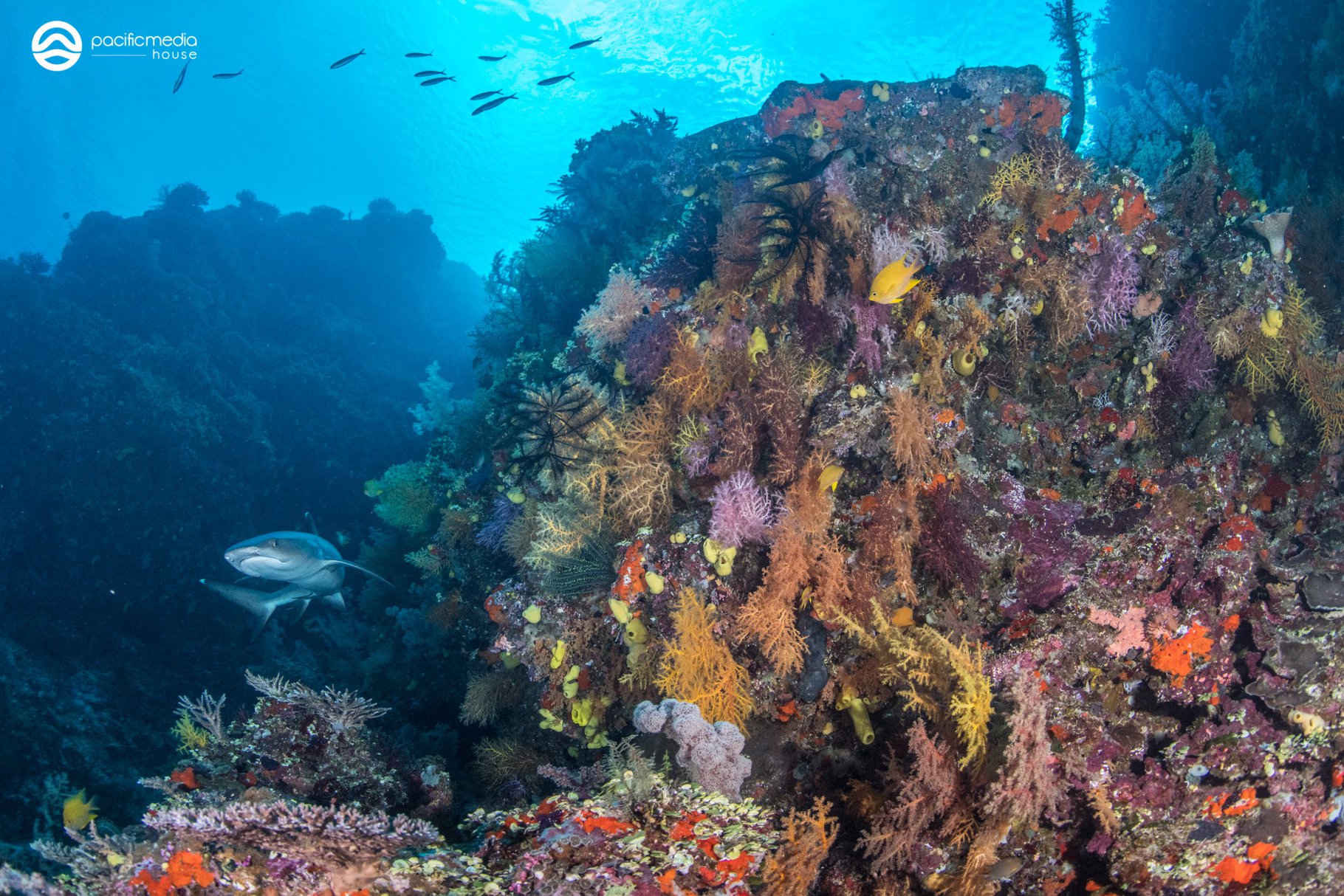 Photo by: Tom Vierus - https://www.pacificmediahouse.com/
After the dive we headed over for a little adventure on Namena Island! We got in close on the skiff and were able to see lots of different types of birds nesting including some super cute fluffy chicks! We walked up and over the island and were treated to some stunning views. Down on the beach Cyndee spotted turtles out in the shallow bay bobbing their heads up out of the water. Tom got some great shots of the birds and it was a nice treat to explore the island.
That evening was our kava party…living in Fiji everyone knew the drill and we enjoyed some tsunamis and songs with the crew! Everyone was impressed with Toms Fijian…especially after the amount of kava he had consumed…and poor Scott somehow drank more than the crew!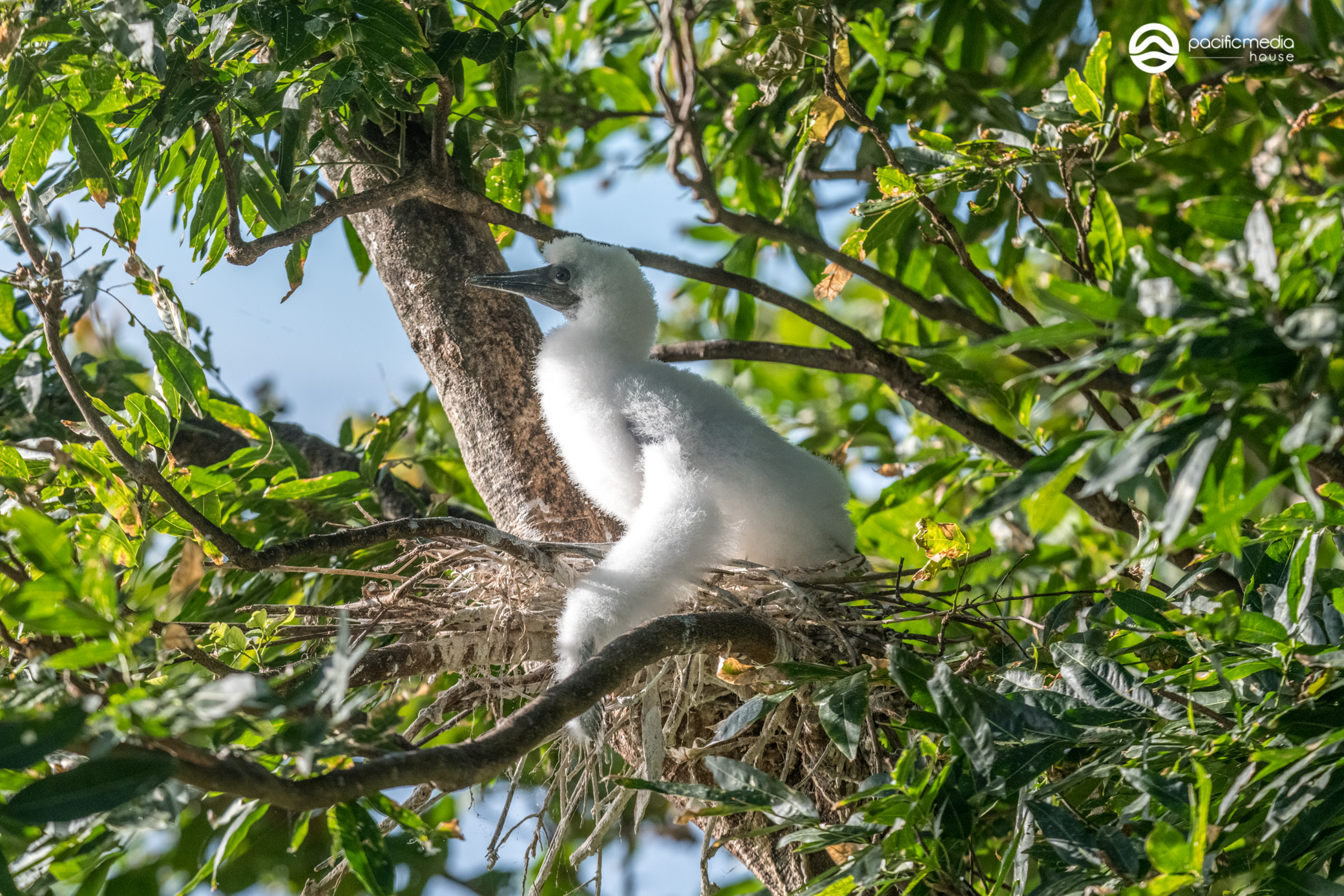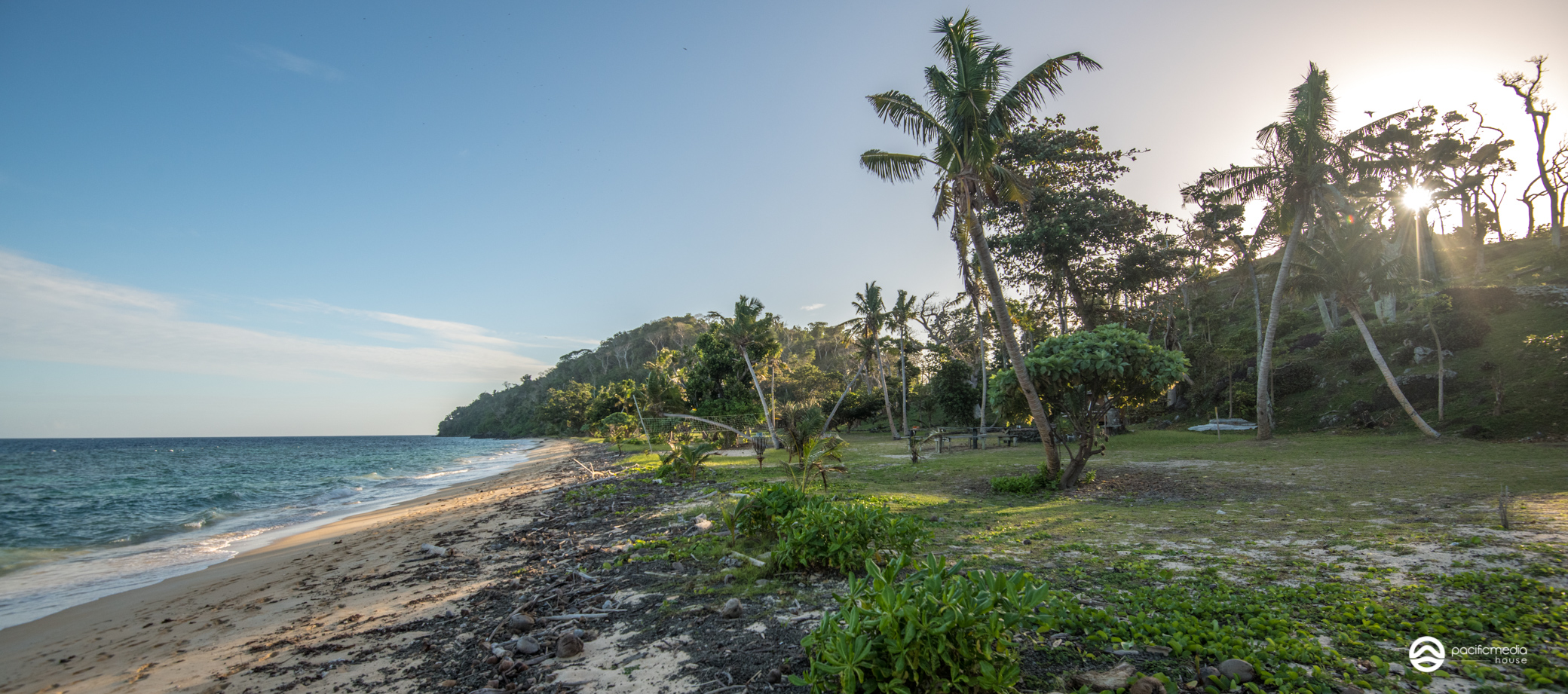 Photo by: Tom Vierus - https://www.pacificmediahouse.com/
Our second day in Namena we started in the South again, diving first at Two Thumbs Up. I was super happy to see the whitecap shrimpgoby and our friend the leaf scorpionfish were still in their usual spots! Nikita got her eye in spotting pipefish, and Judy started to find the crinoid clingfish! With some current the soft corals were puffed up and the anthias were teeming making the site as beautiful as ever.
Next up was Tetons 2 where the highlight was some mating octopus which we rudely interrupted as we descended down! Amerika however hung out with them for most of the dive and found her zen with the cephalopods!
After lunch we returned to Grand Central Station by popular demand and spent some time off the drop off with the grey reef sharks, then worked our way through the arch and reef finding dory, and a flame hawkfish party!
Next up was Kansas where we found a couple of morays, various pipefish and a huge lionfish. Sheldon spotted a grey reef shark and we all hung out in the sinularia soft coral wheat fields.
Whilst we had a night dive planned, a lightning storm put a stop to that…so there was no excuse for Anna not to top up those wine glasses!

Photo by: Tom Vierus - https://www.pacificmediahouse.com/
The next morning, after another smooth crossing, we couldn't believe our luck as we glided across the calm sea on the skiff to dive our first seamount of the day, Mt Mutiny. The stunning rainbow reef wall of soft coral, the impressive hard coral cover on the top, the hunting white tips and the 8 scalloped hammerheads earned this dive the title of best dive in Fiji to date for Tom! Amanda was amazed by the healthy coral cover and everyone came back buzzing from the dive!
We dived the next seamount after breakfast, E6, where everyone enjoyed the cathedral swim through. Tom got some amazing shots to rival our saloon photo at E6 (amazing work modelling with the torch Amanda).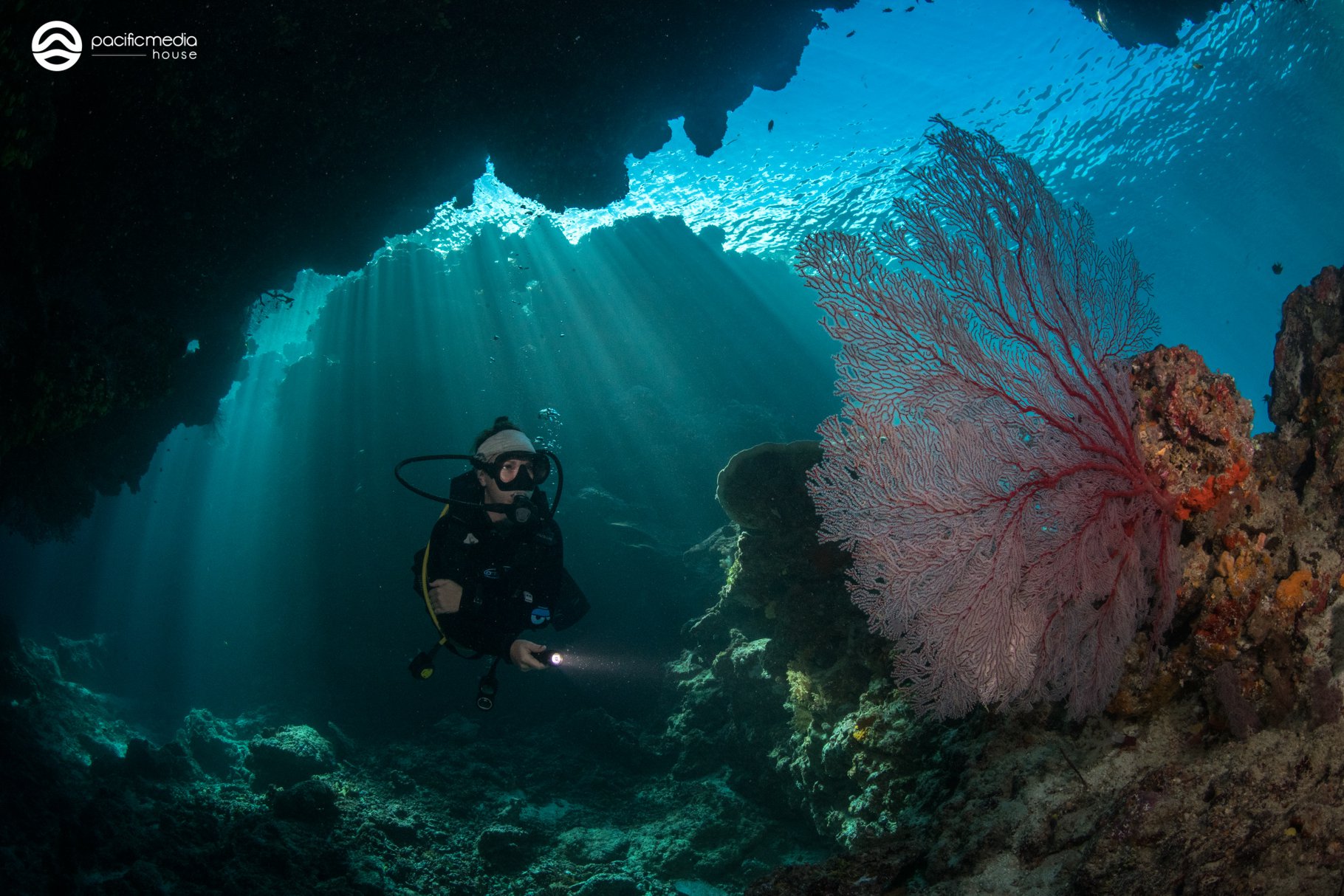 Photo by: Tom Vierus - https://www.pacificmediahouse.com/
We headed across to Vatu-I-Ra for the afternoon diving coral Corner first. An unusual current meant we cruised down to the corner, then back on ourselves, then back again….but the soft coral was plumping up and the orange and purple anthias were as active as ever and Judy found some sleek unicornfish…you know the ones without the unicorn horn?!
Next we dropped in at Mellow Yellow (I had been waiting all trip for this) and as it was the fourth of the day we spent a bit of time deeper with the yellow dendronepthya soft corals (found our little peacock shrimp friends), then shallowed up to hang out on the top reef, surrounded by fish watching all the different species and schools do their thing! As we moved onto the top we came across a super chilled hawksbill turtle that just loved Tom's camera. Sheldon and I found a huge titan trigger, and Nikita became the queen of spotting lionfish that were just everywhere all getting ready to hunt as the sun was about to set! We basically had to drag Amerika out who had found her happy spot, holding onto the mooring line on the top of Mellow Yellow!
Everyone passed on the night dive as were so content with the day of diving…plus those sunset drinks are just too tempting (by the way I am sure Jekin was the instigator each night). After dinner Tom put up a slide show of some of his photos…just stunning…I can't wait to see the rest!
Photo by: Tom Vierus - https://www.pacificmediahouse.com/
Overnight we made our way back along the Viti Levu coast to Nananu – I – Ra (we translated this to dreaming of the bottom…thanks Chief Officer Angus). As it was the last morning Amerika and Judy headed out with Scott for a sunrise dive (we waited for you Sheldon) at Labyrinth, and we then went back at a more respectable time to get suitably lost in the channels and swim throughs!
We bid farewell to Amerika and Judy who jumped ship at Voli Voli, and pulled up anchor to set sail back to Lautoka. That reminds me, Judy, I forgot to check if the fish ID book was still on board or if you had smuggled it off!
A pleasant rest of the day heading back, making the most of the sunshine, and enjoying the views of Viti Levu coastline. I believe Nikita almost made it back without opening up her work emails…almost!
Vinaka vaka levu we had a great Fiji Staycation with you all and will miss the diving, laughs and most of all Sheldon's new stylish sock and wetsuit combo. We didn't want the trip to end and can't wait for you all to come back on another adventure. Amanda, surely you can come back and call it a research trip? You did look for cyanobacteria mats everywhere you went…completely justified I think!
Now someone just get inventing that wetsuit dryer and we will be set!
Sota Tale our new Fiji friends!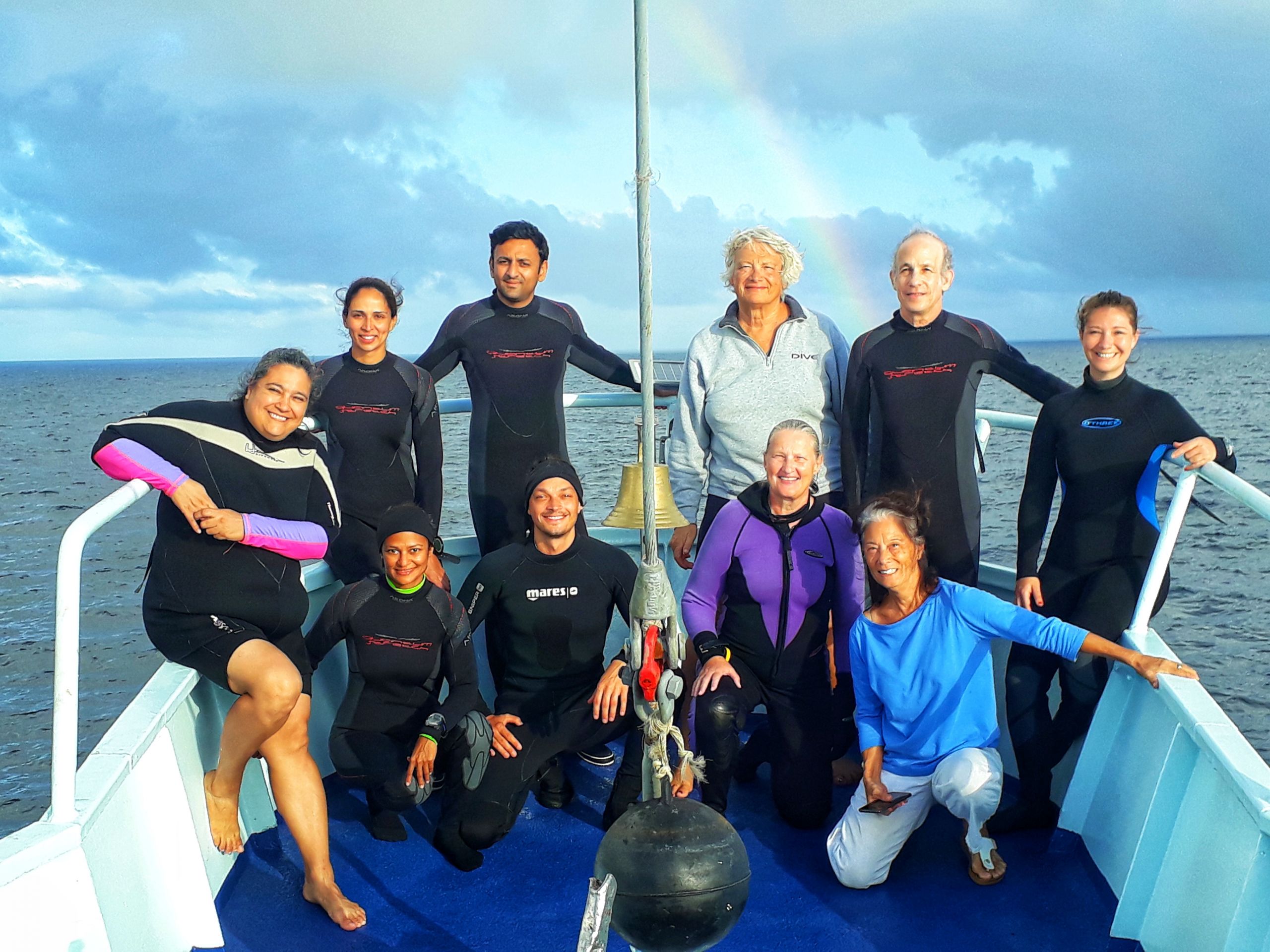 Comments
"NAI'A made a believer out of me! Fiji has been grossly underrated by both divers and scientists. Incredible fishes here and definitely worthy of protection."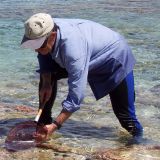 ~ Dr. Gerry Allen, Ichthyologist & Author, Conservation International