True Facts
Destination: Fiji
Trip Date:
Jun 18th - Jun 28th, 2016 -
Comments
Author: Joshua & Amanda
Welcome Back: Jim, Enid & Lew
Congratulations: Geri on her 100th dive, Geri & Joe on their 1st Anniversary, Lisa on her Nitrox certification and Jim on his Naturalist and Navigator Specialty Certifications
Here we will explore True Facts about diving in Fiji with NAI'A. With only seven divers on this charter, our crew outnumbered our guests by almost two-to-one. Almost immediately, however, we were down one crewmember, as our stoic and resilient divemaster Koroi left the boat with a stomach condition. Three of our seven were return divers, including Jim, who was on our very first voyage as Cruise Directors. The other returnees were Lewis and Enid. It turns out that Enid and Joshua are linked by very special degrees of separation. Enid's parents began dating at a summer camp in upstate New York owned by Joshua's grandparents. In fact, Enid's grandparents were close friends with Enid's, playing poker together regularly and Joshua's mother had a "huge crush" on Enid's Uncle Tommy… so, well, you can figure out the rest.
Right from the checkout dive at Samu Reef, the unique underwater sightings began with a school of baby catfish eels and a large painted lobster. Among our group was Jim's buddy from the northern Virginia area Ken. He had limited experience and needed some coaching to tackle Fiji's challenging conditions. Fortunately, we had a very small group and Amanda, one of the best instructors in the business.
Also among our group was Geri, who, although an experienced diver, had little experience with current, so she latched onto every word of advice from Joshua so that she would be well equipped to handle the full moon currents to come. Being a very experienced member of ski patrol in one of the more challenging areas of the States though, she was no stranger to a little excitement, which certainly helped her stay calm under pressure! Mysteriously, the current was blissfully slack as we jumped in on Maytag for our first dive in Vatu-i-ra. There was just enough current to attract hungry grey reef sharks and give Geri a good introductory course, but not so much to create the washing machine effect that the name implies. Here, we found the first of several leaf scorpionfish this charter, just one of the creatures that caused Lisa to squeal with delight underwater. Meanwhile, Amanda worked with Ken on Coral Corner, where a drowsy white tip reef shark napped in the sand while they practiced skills. They also saw schools of blackfin and pickhandle barracuda, plus a hawksbill sea turtle. Later on that site, she found a juvenile rockmover wrasse and Joshua pointed out a golden mantis shrimp. On Koroi's second and final dive, he led a night dive at Alacrity, where our divers found a variety of pleurobranchs and scorpionfish and Lisa spotted an inquisitive octopus.
As the wind picked up, we stayed close to home, diving the dramatic pinnacles of Nananu-i-ra on our second day. Current 101 class continued on Pinnacles, as Joshua showed our group flatworm and Indo-Pacific sergeants and Geri and Joe found a sea snake, a first for us on this site! Lisa threatened a mutiny as Joshua ditched her and the rest of the group, leading Jim into the Labyrinth for the second dive. In reality, he waited for ages for the group to follow, but they were apparently too caught up in the curious critters of the reef. Amanda's night dive on that site yielded a plethora of fascinating invertebrates, including a black and white Pokemon nudibranch, comet, lots of crabs and a textile cone shell that sped off so fast that they lost it while looking at a nearby nudibranch. You did know that some of the Pokemon characters are based on nudibranchs, right? Google it!
With calm winds and clear skies, we cruised into Navatu Bay on the southern coast of Vanua Levu, to handover more supplies to the villagers of Kubulau. The guardians of Namena Marine Reserve were devastated by Cyclone Winston and have received very little aid. From previous visits and coordination with their chief, we arranged to bring in much-needed school furnishings like desks, tables and filing cabinets. The villagers sped out in their fiberglass boats at daybreak, gratefully receiving the donations, which went over without a hitch.
From there, we headed out to the South Save-a-Tack area, where Geri would pass her intermediate course at Two Thumbs Up. It was the Winter Solstice and full moon, so we found some dynamic currents. On consecutive dives there, we found a ton of enthralling marine life like brown banded pipefish, a baby flasher scorpionfish, several sleek grey reef sharks, a geometric chromodoris flapping its mantle and white striped cleaner shrimp that tended to Lewis, Ken and Jim. The highlight of these dives however was one of the most unusual decorator crabs we have ever seen. Through skill and fortune, Amanda found this cryptic creature on a ledge, a mass of algae, sponge, hydroids and tunicates completely enshrouding its spindly body. In fact, one could only tell it was a crab by poking it and watching the pile of debris crawl. When Joshua poked it to show his group, another smaller decorator crab covered in filamentous red algae jumped off its back! Now, we've known that all sorts of species can be found on the back of a decorator crab, but we never imagined that we would find another decorator crab living on the back of a decorator crab! The current was just right for our afternoon dive at Schoolhouse, attracting many schools of fish, grey reef sharks and a mammoth dogtooth tuna. The advanced course in current was a little too much for Geri as we dived Kansas in a steady current for the night dive. We still managed to find some great critters, however, including a tiger cowrie and the exquisite Anguilla bornella nudibranch and Lewis spotted a yellow headed moray swimming up the reef.
On Day 5, we motored south towards Gau Island, where amped up winds made for a rocky crossing. As Amanda led the group on Outside Nigali reef, Joshua gave Jim the first of his Underwater Navigator Specialty Dives. He passed with flying colors (which is more than we can say for his fish drawing skills), leaving time to explore the reef inside the lagoon. Cruising along the wall, a tuna so monstrous passed us by that a large school of red snapper adroitly moved out of the way. On our first dive in Nigali Passage, as Amanda watched the shark spectacle from the Bleachers, Joshua and Ken picked up the rear. They were late descending because Ken had forgotten his weight belt on NAI'A, something that his good friend Jim found endlessly amusing. Although he was ready to abandon the dive, Joshua wasn't having it and it's a good thing they got back in the water because, right before the Bleachers, they found a mobula gliding serenely upcurrent. It was a beautiful sighting of a rare and graceful creature. We're sure that Jim is still making fun of him for that weight belt though!
After our last dive, we went ashore for the only time during the charter to visit the village of Somosomo. Headman Tom welcomed us with blasts from the triton's trumpet and adorable children clung to Joshua and Amanda's arms. Amanda later joined a brave (or kava drunk) Enid who got up and danced with the grateful village women. Continuing to celebrate Fijian culture, we hosted our guests in a kava party that night. Maybe we had worn them out with all the diving because all of the sleepy guests were in bed by 8:30pm, before we had even sung Isa Lei, the traditional a cappella farewell song! That didn't stop our crew however, who continued to down kava and belt out ballads for hours.
For our second day diving in Gau, after a dive at Jim's Alley, where Jim expertly passed his second Navigation Specialty Dive, we returned to Nigali Passage. During our dives over the course of the last two trips here, we have observed first-hand the shark's ablilty to heal very quickly (www.elasmo-research.org/education/topics/p_wound.htm). Starting several weeks ago, we noticed that many of the female grey reef sharks found in Nigali showed wounds, sometimes deep and nasty looking. Over the course of our subsequent visits since then, we have seen those wounds very quickly vanish. We know that they are the same wounds on the same sharks because the patterns of some of them were very distinct. This is just one of a variety of unique powers that make sharks fascinating and fearsome. As we drifted down the channel, Geri spotted a humungous Spanish mackerel and tried to call Joe. It was notoriously hard to get Joe's attention underwater however as he would get very focused on one thing. So while Joshua heard her and saw the great predator from 50' away, her own buddy, who was only six feet away, missed it! After our view from the Bleachers, Joe and Lisa fulfilled their wish to drift through the enormous school of bigeye trevallies. They coasted through the fish perfectly and hopefully got some killer video out of it.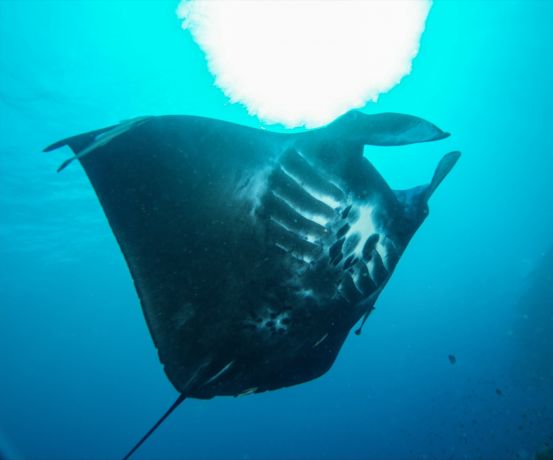 Beautiful belly - by Enid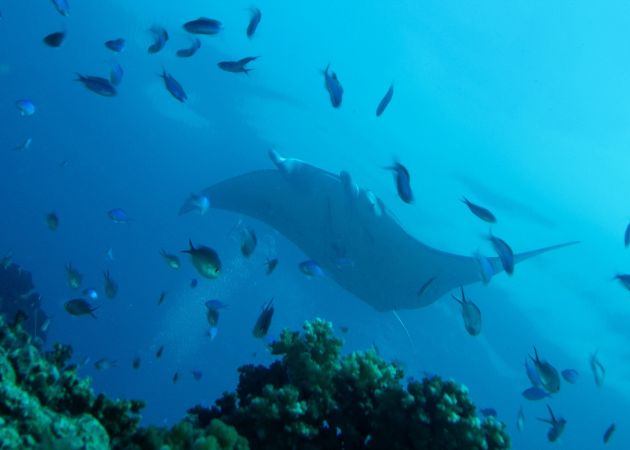 Just cleaning up - by Enid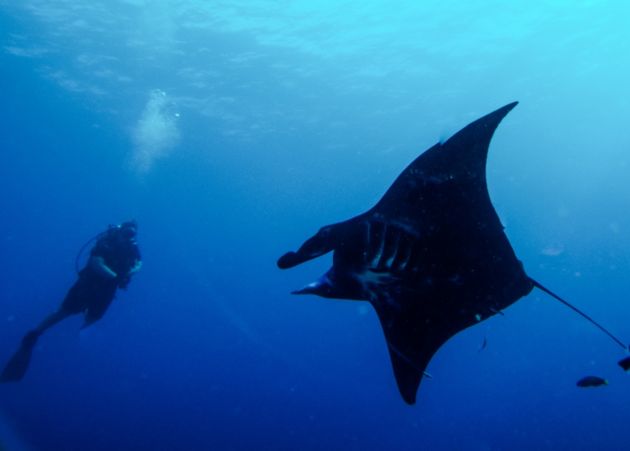 The tale of Lisa and the manta ray - by Enid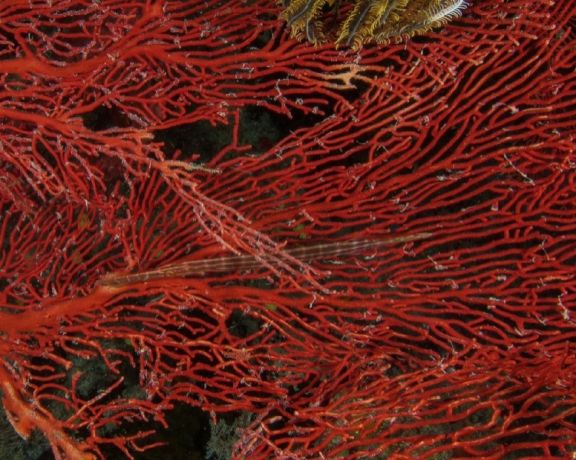 Piccolo - by Enid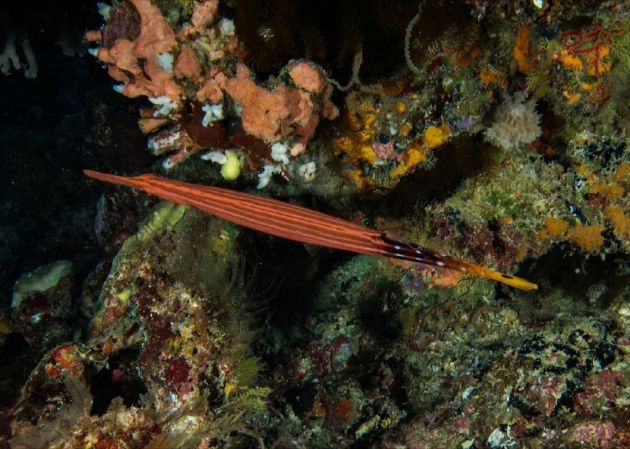 Big Daddy - by Enid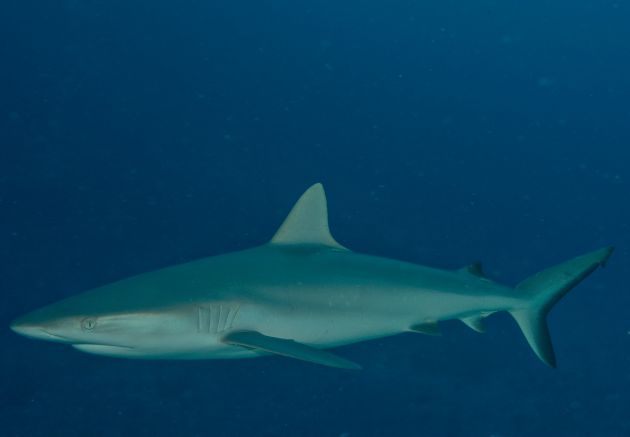 Lady in grey - by Enid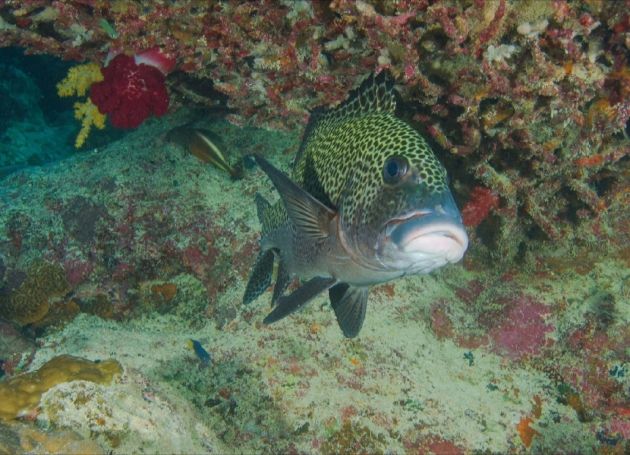 Mwah - by Enid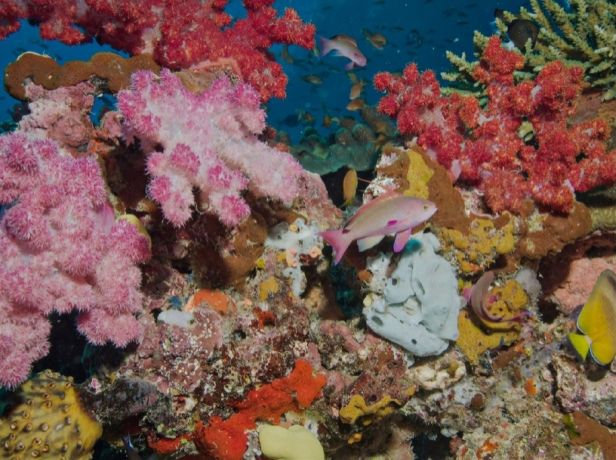 Where's your hareem? - by Enid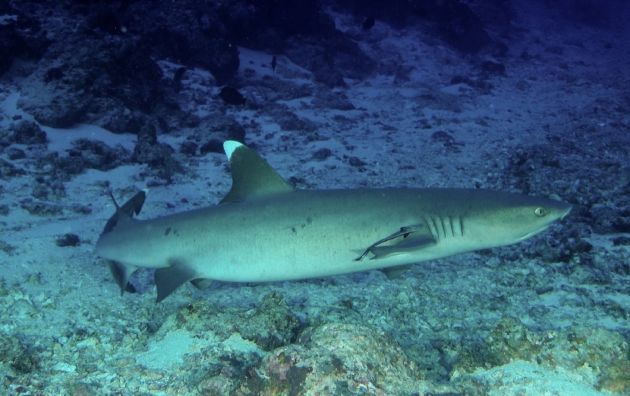 Sleepy head - by Enid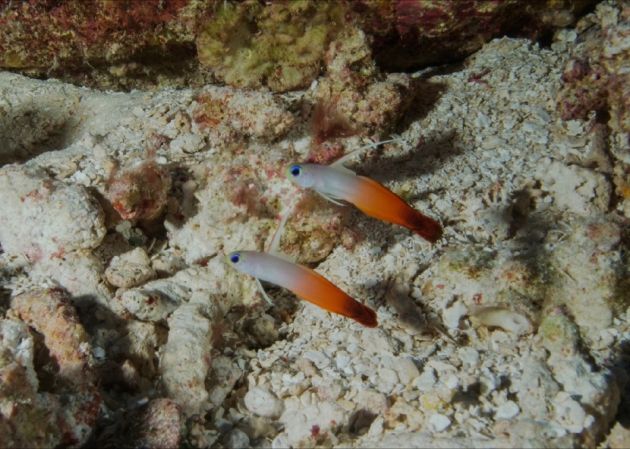 Two of a kind - by Enid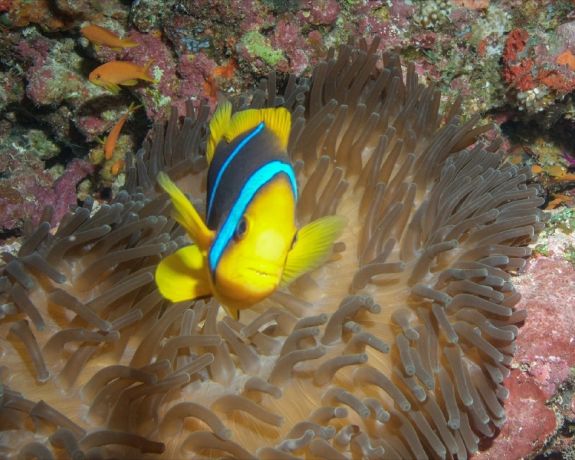 Grrrr - by Enid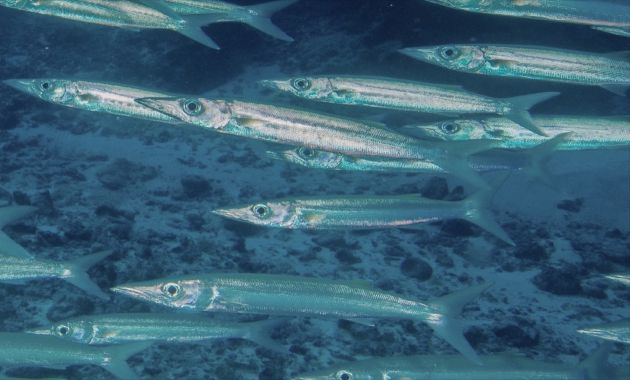 All the better to see you with...! - by Enid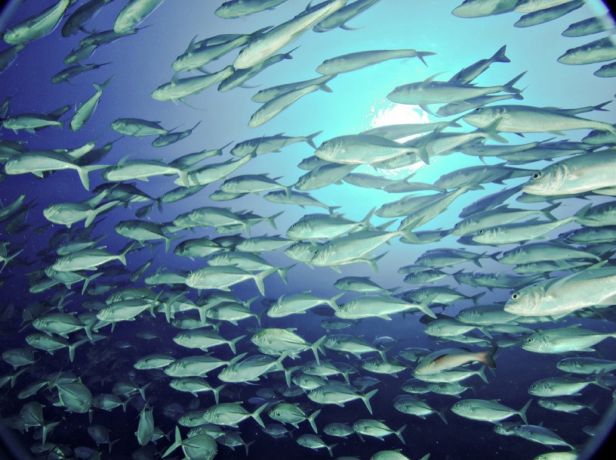 Silvery river - by Enid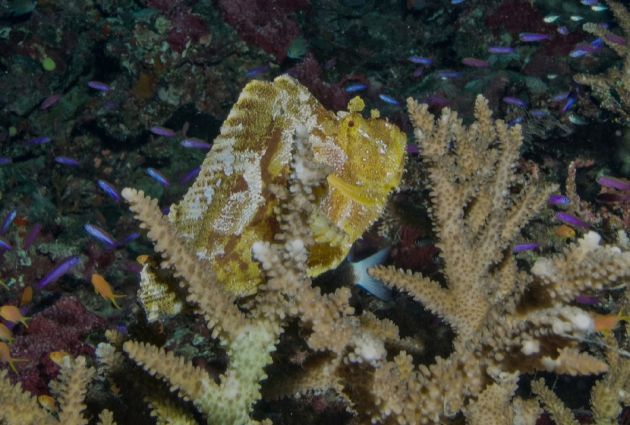 Leaf in a tree - by Enid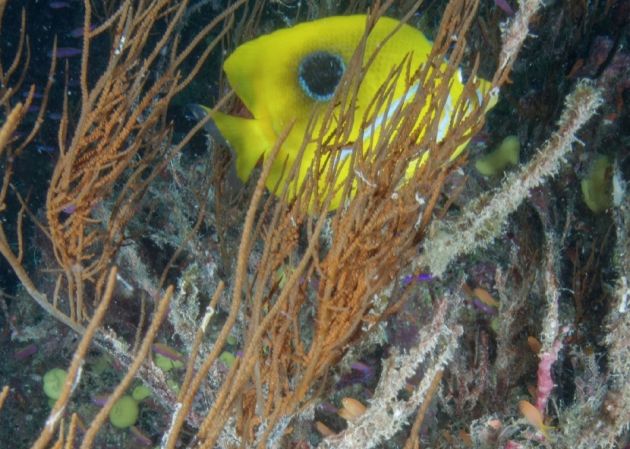 The lesser known forest butterfly - by Enid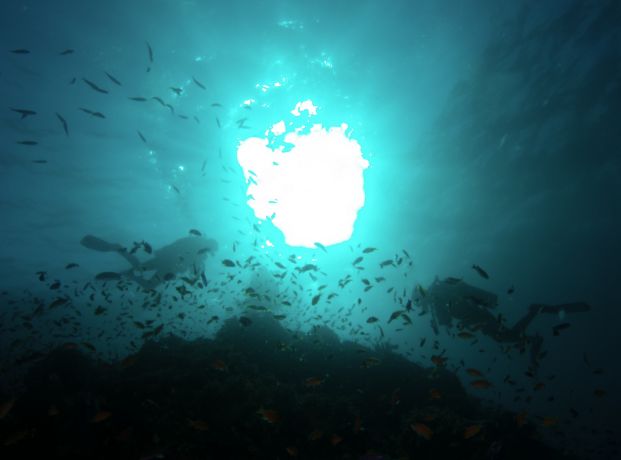 Honeymooners - by Enid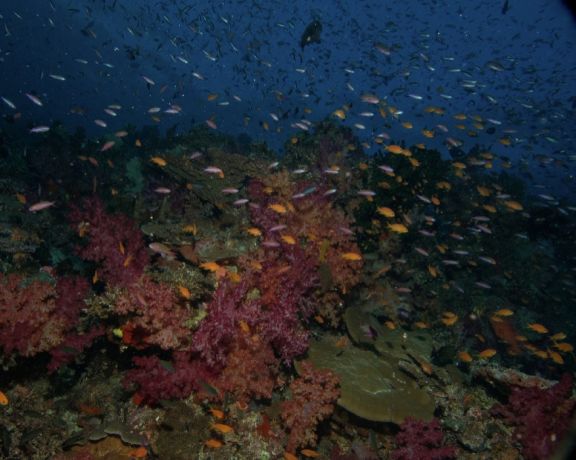 The best kind of bad vis - by Enid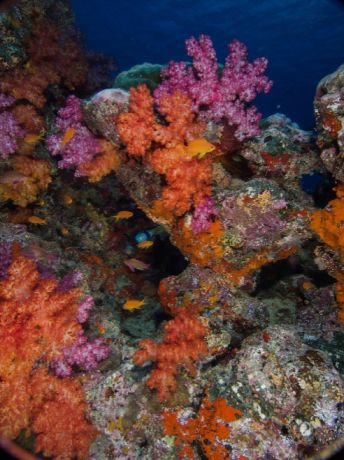 Purple & Orange Heaven - by Enid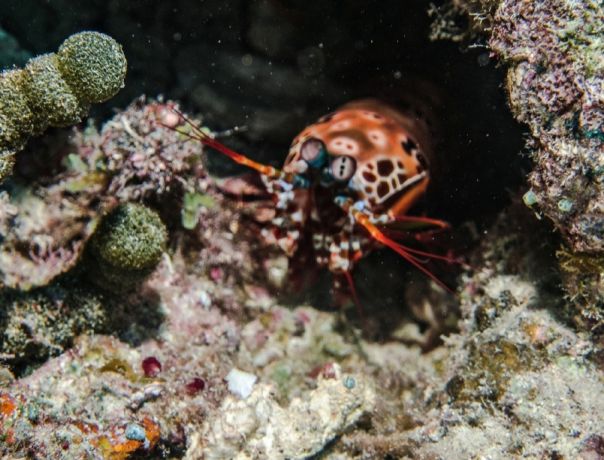 Just like the modern clown, it has a psychopathic killing instinct - by Enid
It was a long, but relatively smooth journey to the world-famous Rainbow Reef, tucked in the narrow Somosomo Strait, which divides Taveuni and Vanua Levu. We had warned our guests about the potential current here and deferred coming here until as long after the full moon as possible… and it paid off! As she plunged into the depths of the dramatic wall at the Zoo, Amanda pointed out a spotted eagle ray on the run. Joe and Geri chose to follow Joshua, who stayed with Ken at a shallower depth, and this turned out to have been a lucky choice. Joshua discovered a purple scorpionfish and a pair of piggy-backing sea hares, Joe later found a perfectly disguised white devil scorpionfish and then Geri saw a huge marbled ray cruising over the top of the reef. Once again, she yelled Joe's name and, while he was too busy filming a something-or-other to notice, Joshua once again turned in time to see this large and rare specimen. We caught the current just right for a splendid dive at Jerry's Jelly, but the real excitement came on the way back from the dive. As the skiff sped along, Amanda saw a large black animal splash through the surface. A manta was exploiting the ripping surface current and Joji maneuvered the skiff into perfect position for us to jump in and drift towards it without scuba. We managed to hang with it for a minute, but the strong current pulled us all off the reef as the elegant manta effortlessly stayed in place gulping plankton.
As we pulled into the picturesque Viani Bay for the night dive, we discovered a beautiful superyacht named SI or SJ (we never did figure it out and they didn't invite us over for aperitifs). Although the reef there is not particularly inviting, we found some bizarre critters that made it worth it. We found a couple of locust lobsters, Cassiopeia medusa, a large spooner crab, and a corallimorph decorator crab. But the highlight was a sponge crab unlike any we have ever seen. Joshua spotted a purple sponge about the size of a finger clinging to the reef. Something about the shape didn't look quite right, so he nudged it. As the edges of the sponge peeled back, he discovered a tiny yellow crab no bigger than the tip of a pinky finger! This cute little guy was walking around with a disguise about 40 times bigger than itself!
On Day 8, we continued to explore the fast-paced reefs of Somosomo Strait, starting at the appropriately named Fish Factory. As soon as we dropped, Joshua saw a silvertip shark speeding off into the blue. He banged on his tank and gave chase, but only Lisa was quick enough to catch a glimpse of this rare predator. Again, we caught the current perfectly, so as we drifted across the towering pillars jutting up from the reef slope, we gazed in awe at endless schools of fusiliers, pyramid butterflyfish and schooling bannerfish. Lewis seemed to continuously find himself smack in the middle of them as Ken pulled his spread fingers away from his head, his underwater hand signal for, "My mind is blown!" At Rainbow's End, we found the perfect balance: tons of fish, but not enough current to sweep anyone away. The gang returned abuzz from the night dive at the Ledge because they saw three octopus, plus something we have only seen in documentaries, flatworm penis fencing. Joe captured on video this violent sexual struggle.
But wait, there's more! This charter would reach its crescendo the following day at Wakaya Island. When we brief the dives here, there is always a fear of building up too much expectation, but the unique marine life of Wakaya did not disappoint. With the clearest visibility we have had in months, Joshua led the group on our first dive at Blue Ridge. Towards the beginning of the dive, a big eagle ray approached him to within a few yards, before turning and darting towards the deep. Lewis managed to put himself in position to catch a great view. A few minutes later, Joshua banged on his tank and darted into the blue. As the school of fusiliers parted, the group could make out a pair of scalloped hammerheads cruising side-by-side, checking out the entire group. When they reached the last diver, they turned and swam back alongside us and we managed to stay with them for a couple breathtaking minutes. Everyone was pumping their fists in jubilation at that encounter! Then, at the 38-minute mark, Lisa began frantically banging on her tank, pointing out a small black manta on top of a cleaning station. We all rose to 35 feet and watched it circle the bommie for 12 minutes. After most of the group ascended, Joshua followed Lisa and Enid towards Lion's Den's twin bommies where the ladies found the same manta getting cleaned. Lisa coasted within inches of the manta and Enid drifted directly under it, snapping an award-worthy photo before her bubbles spooked it and it cruised up the reef crest to a waiting Jim and Joshua, who calmly watched it getting cleaned just a few feet away! Now that's a dive for the logbooks! After that dive, the guests just wanted to dive Lion's Den again and again and who are we to refuse? On the next dive there, we saw six mantas, one with another hammerhead dashing just behind it, three leaf scorpionfish and an enormous school of bigeye barracuda. On our final dive there, Amanda spotted a manta from the surface and we all dropped in right next to it, fighting the current to get ourselves into a position to watch it getting cleaned. Again, it was Jim and Joshua who lucked out, parking themselves in the rubble just a few feet from a 9-10' manta on a cleaning station.
Although the reef of Wakaya Bay is not much to speak of, Joshua promised his only takers for the night dive, Joe and Lisa, that they would see something to make it worthwhile. Early in the dive, Lisa spotted an octopus (she claims…!), then a short time later, a broadclub cuttlefish. This they watched for ages while it hypnotically glided and changed colors. In the closing minutes of the dive, Joshua found a free-swimming Berry's bobtail squid, a green-gold jewel of a thing about the size of the last knuckle of a thumb. After it settled to the bottom, Joshua prevented it from burying itself so we could watch it for a few minutes. Finally, we let it bury itself, which is just about the cutest thing you can imagine! As it nestles into the sand, it siphons water to force it deeper. Then, using its tiny thin arms, brushes sand over its head. Imagine trying to bury yourself with sand, one fistful at a time. That is how a bobtail squid do!
On Cat's Meow, the first dive on our last day, Geri reached #100. Despite encountering currents with which she had no experience and overcoming ear troubles, she completed a full quarter of her lifetime dives on NAI'A. As our readers know, there's nothing we appreciate more than appreciative divers and Geri won us over by cooing at every remarkable creature we showed her and sometimes even blowing it a kiss! When we next dropped into Vatu Vonu, Amanda swam straight to another decorator crab she had found before. It was still in exactly the same place. I guess when you look like a pile of debris, you can hide in plain sight. Besides a thick covering of red algae, this individual sported tunicates, hydroids and even xenia soft coral. Its act was so convincing that it didn't even bother to move much at all when prodded.
On our way home, we were escorted by an energetic pod of spinner dolphins off our bow. Dolphins can echolocate fish even through sand and sleep half their brains at a time. That is how a dolphin do. This has been True Facts about the NAI'A 10-day diving trip in Fiji. Thank you and join us next time.
"Finally made it to NAI'A. What a wonderful way to spend for first anniversary. Many vinaka vaka levu's to the entire crew of NAI'A. Our trip could not have been more enjoyable. All the best of everything to you all. Hope to return someday. Keep well & keep smiling."
-Joe
Our Guests...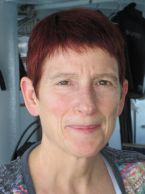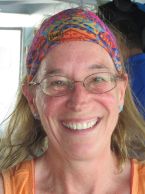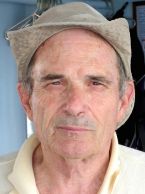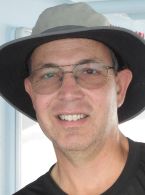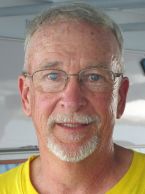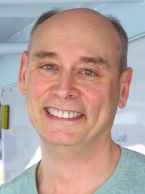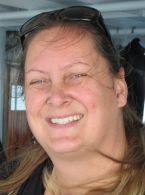 Comments
"Fiji is a hot spot of biodiversity. We're here for the rich colorful soft coral reefs as well as the unusual stuff - the strange little creatures and endemic fishes."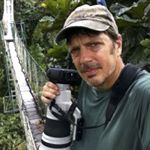 ~ Dr. Tim Laman, biologist and National Geographic Photojournalist