Up For A Challenge
Destination: Fiji's Bligh Waters
Trip Date:
Apr 7th - Apr 17th, 2018 -
Comments
Author: Vanessa & Chad
Welcome Back: Bruce H, Harry, Bruce & Wesley, Gail
Mother Nature sure did try and test us on this 10-day charter, throwing strong winds, monster waves and some, errrr, very 'healthy' currents our way. Well, never to be defeated by a challenge, NAI'A and her crew set out with 17 awesome, resilient guests ready for one heck of an adventure! We were joined by Bruce and his team of 8 divers from the Chicago area, along with another Bruce and his wife Wesley (NAI'A returnees!), diving buddies Jane and Gail, honeymooning Austrians Peter and Ingrid and professional videographers from Quebec, Michel and Julie.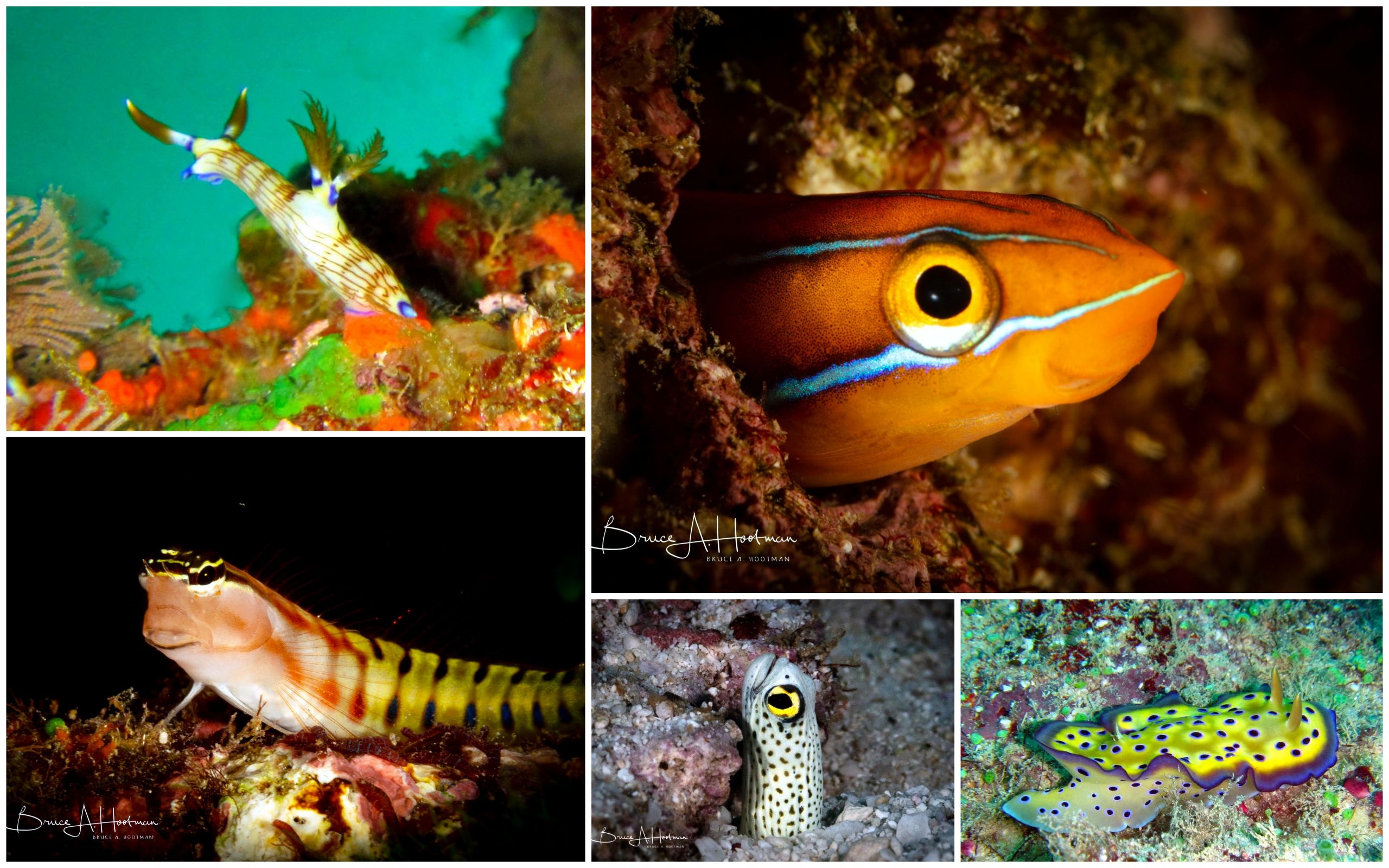 Photo Credit (Clockwise from upper left): Big Mo, Bruce H, Big Mo, Bruce H, Bruce H
After getting all of our guests and their bags (and big cameras!) onboard, we hauled anchor and set straight off around the north coast of Viti Levu and right across the Bligh Waters overnight, to reach Namena Marine Reserve by morning. Here we would spend two full days, diving the impressive deep walls of the north – Grand Central Station and Schoolhouse - and the pretty-pretty pinnacles of the south – Two Thumbs Up and our multiple Tetons. Kansas was also popular, with Big Mo amazing everyone with his impeccable critter-finding skills…..he found a miniscule white pygmy seahorse, hiding out on huge expanse of white sand!!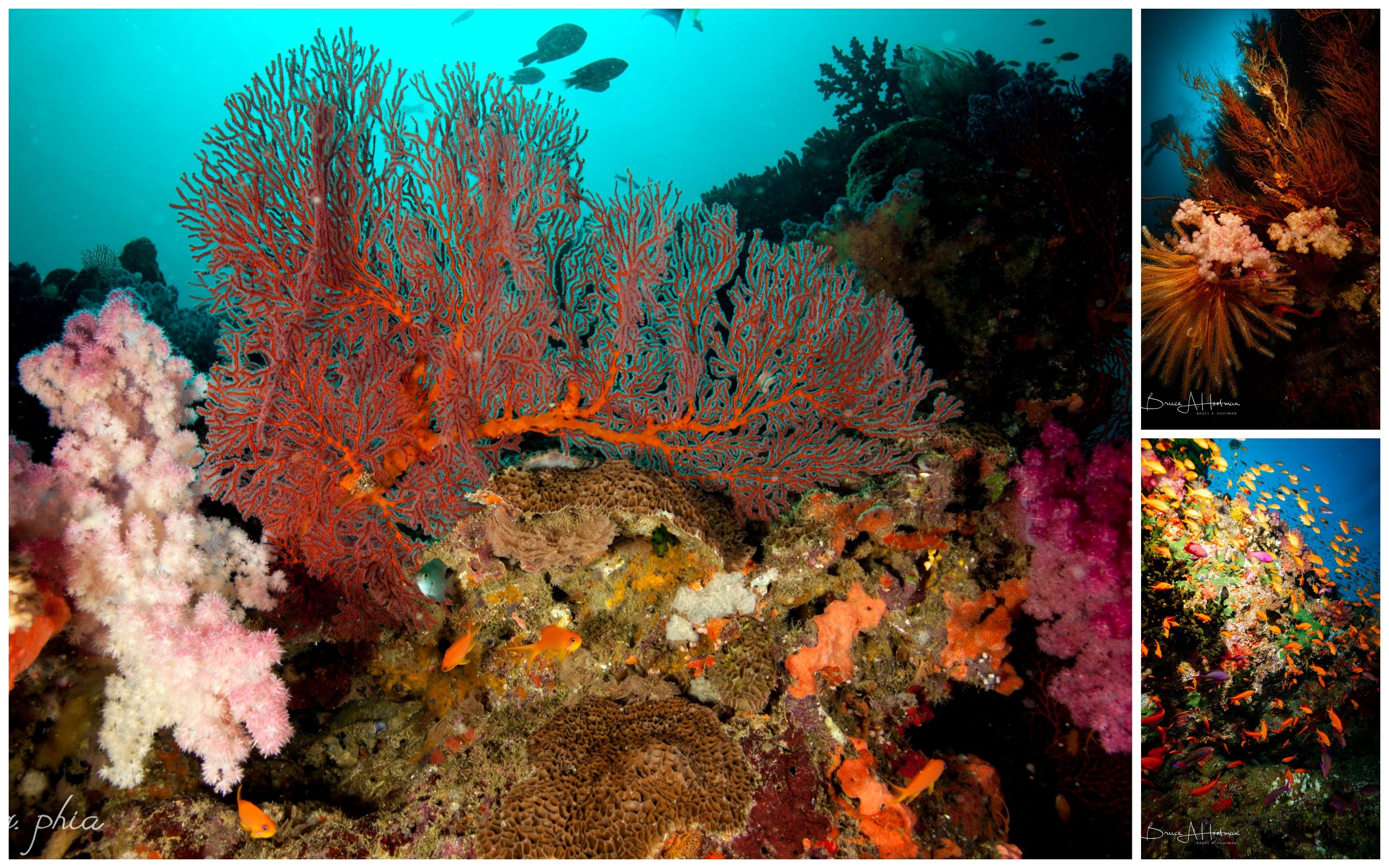 Photo Credits (Left, top right, bottom right): Phia, Bruce H, Bruce H
From Namena, our adventure continued as we headed up to Taveuni. We don't often get to go up to Taveuni but bad weather in the south of Fiji meant it was the most sheltered place for us to be so it was a rare treat and we jumped at the chance! Taveuni is infamous in the dive community for its stunning Dive Site, The Great White Wall. It's a really challenging dive to schedule as the current has to be just so for it to be at its finest (not enough current means the unique icy-blue soft coral is all closed up and too much current means the ten dive is over after 10 minutes!!). We managed to hit it with pretty decent conditions for our first dive of Day 1 in the area and everyone came back impressed by the glacier-like wall, it really is something quite unusual. We then enjoyed another dive in the Rainbow Reef area before heading in towards shore to tuck away for the next 18 hours as the impending storm passed us by. We took the opportunity to hang out with the crew, enjoying our weekly Kava Party. Well, the OFFICIAL party…..there were plenty more unofficial ones as the trip went on! We couldn't believe it the next day when we woke up to sunny skies and perfectly calm seas: it was nearly impossible to believe there had ever been a storm! We took full advantage of the calm waters to get back out to Rainbow Reef where we enjoyed several more dives on the likes of Jerry's Jelly, The Ledge, Jack's Place and Freeway.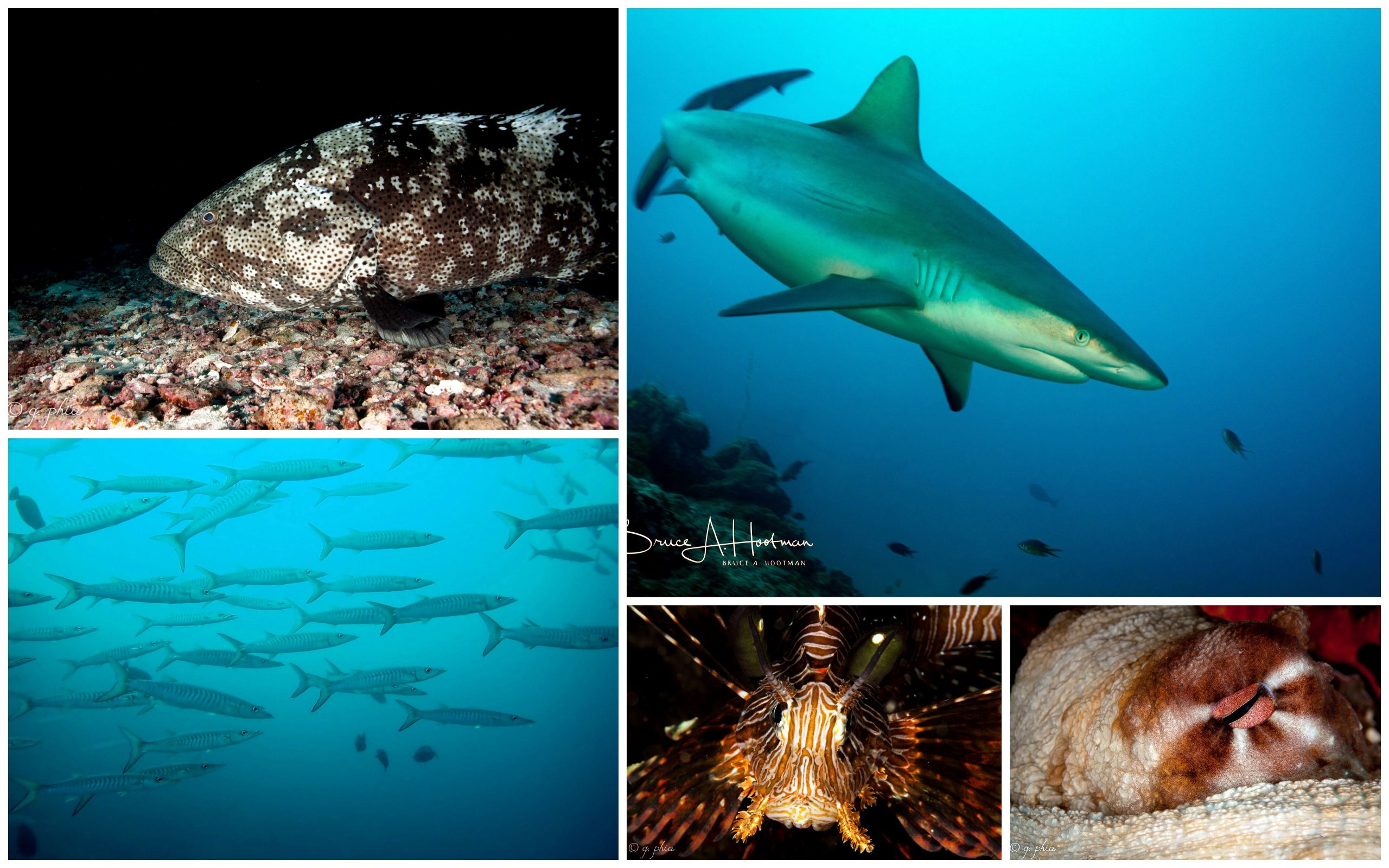 Photo Credits (Clockwise from upper left): Phia, Bruce H, Phia, Phia, Steve
As the winds began to abate across Fiji we made a break for it overnight and made the long crossing south, all the way from Taveuni to Gau. Though the winds had died down, the after effects of the storm were still very much apparent. Usually highly predictable, our currents went CRAZY! In the space of leading to and heading out for a single dive, the current at Nigali Passage changed FIVE times: out, in, out, in, out!!! Big Mo said he'd never seen anything like it in 15 years. And it reeeeeeally makes dive-planning tricky! Everyone managed to get in a good dive down the Passage, though, being met by all the usual suspects: sharks, barracuda and the ever-endearing BFG. That afternoon we headed up to the north of Gau, to dive Jim's Alley and Anthias Avenue. The first dive was a success (if a slightly murky one!) but the dusk dive had to be aborted due to ridiculously ripping currents! When the dive guide goes in to check the current and can't physically stay even close to the reef top whilst finning like crazy, it's probably not too smart to drop in as the sun's setting! We settled in for dinner instead: it had been a challenging day but our quests sure rose to the challenge and gave it one hell of a good shot!
And then we awoke to Friday the 13th…..
…..And Momma ocean kept on throwing those challenges at us! We had hoped to spend the morning down south at Nigali Passage but when we looked out and saw the most ENORMOUS waves crashing not just over the reef but actually right through the passage (to the extent we could barely make out where the passage even was!) we soon realized that sadly wasn't going to be possible. Instead, we dove the inside reef – spotting multiple sharks and turtles – then headed back to the north. We did one dive back at Jim's/Anthias then one 'exloratory' on the outside reef: perhaps not the best dive of the trip but, fortunately, you can always rely on Big Mo to find some cool stuff! We then dried off as we had our village visit planned for that afternoon. We took a little detour on the way, however, to help out another boat in the area. Friday the 13th had hit them worse than us, poor guys: a wave had flipped their skiff completely upside down and it took our boom to get it right way up again! We started to feel a bit better about our own day….. Our spirits were further lifted after a couple of hours spent at Somosomo: it's always such a warm and welcoming time, it's hard to leave not smiling and content.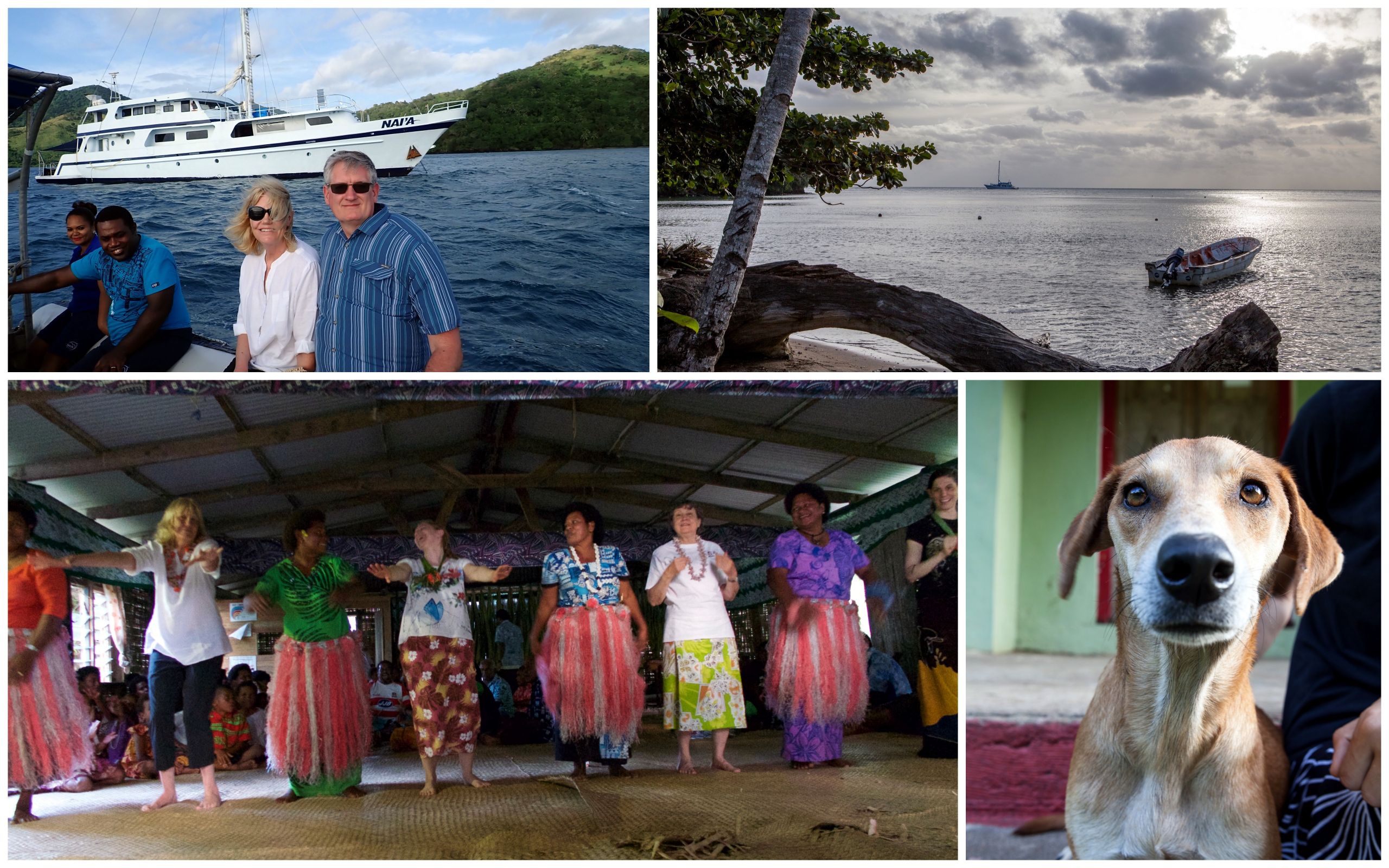 Photo Credits (Clockwise from upper left): Steve, Phia, Phia, Ingrid & Peter 
From Gau, we began to make our journey north, traveling overnight to the beautiful (and very exclusive!) island of Wakaya. Our gang tackled three day dives here: Lion's Den, Blue Ridge and Vatu Vai. We had a couple of manta rays cruise by – always a pleasant surprise! – and Wesley even saw a Hammerhead! For Steve, it was his lucky day: after the second dive he dropped his camera whilst getting back on the skiff and saw it plummeting to the depths below….he took it very graciously and accepted his loss. So, he couldn't much believe it when Bruce came back wielding it proudly after the third dive, what are the chances?! After the last day dive we cruised an hour further north to the gorgeous island of Makogai. Most of our guests were done for the day and relaxed, enjoying the most spectacular sunset. A few, however, still had energy and ventured out for a dusk dive at Anchor By Chance: they were treated to a hilarious, huge hermit crab for their efforts!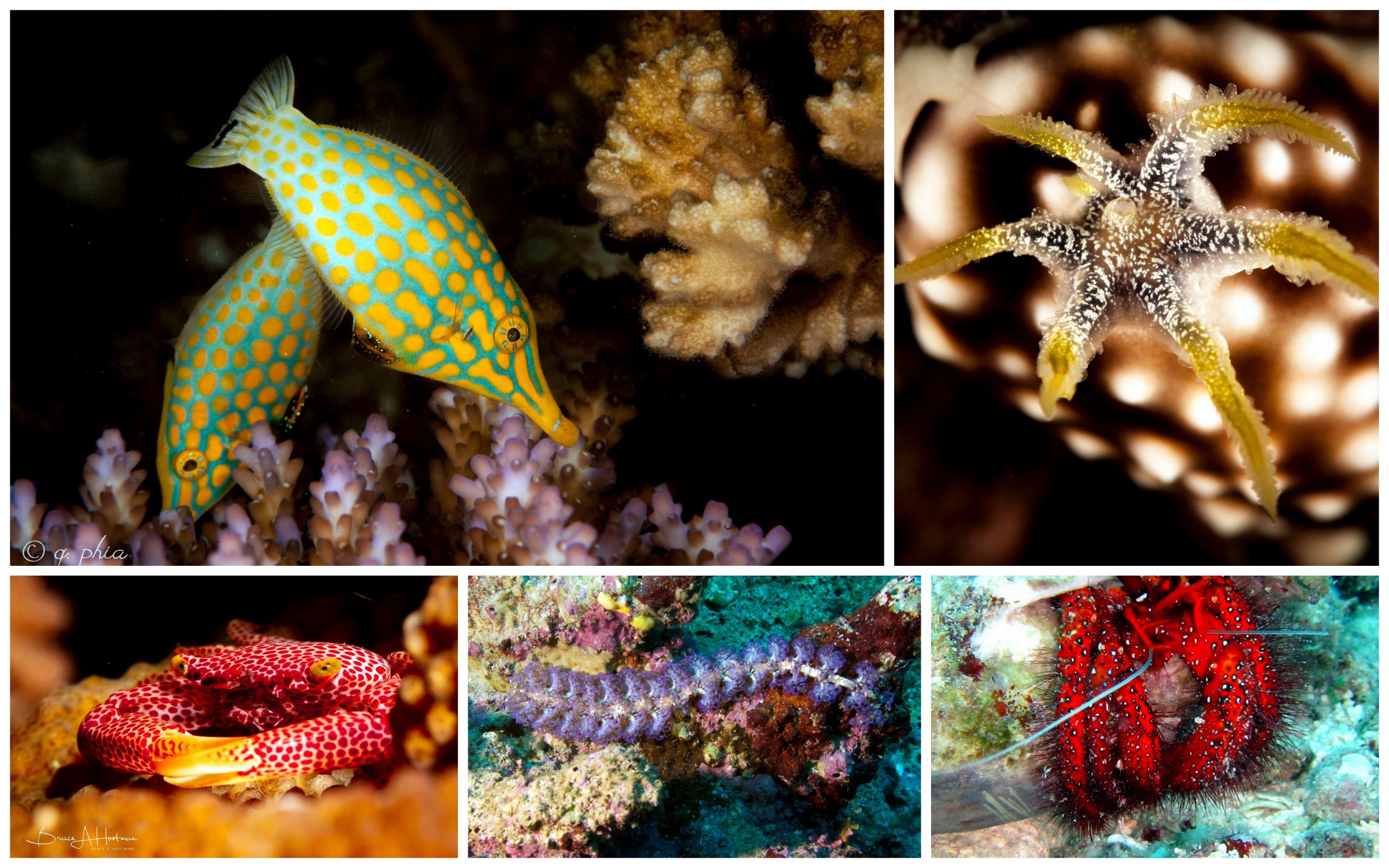 Photo Credits (Clockwise from upper left): Phia, Phia, Big Mo, Ingrid & Peter, Bruce H 
For our last two days of diving we headed right into the Bligh Waters and to one of our favorite dive areas, Vatu I Ra. Currents were KICKING as we approached new moon but all of our divers were excellent sports and dealt with it so well. Port skiff were so determined to dive Coral Corner, in fact, that they kept trying and trying until conditions were ideal: turns out three times really is the charm! And the effort really was worth it: Coral Corner, Mellow Yellow and Maytag really do show Fiji at its finest! Soft corals blooming, anthias pulsing, fusiliers raining down….ahhhhhhh, that's what we love! A great way to end the trip.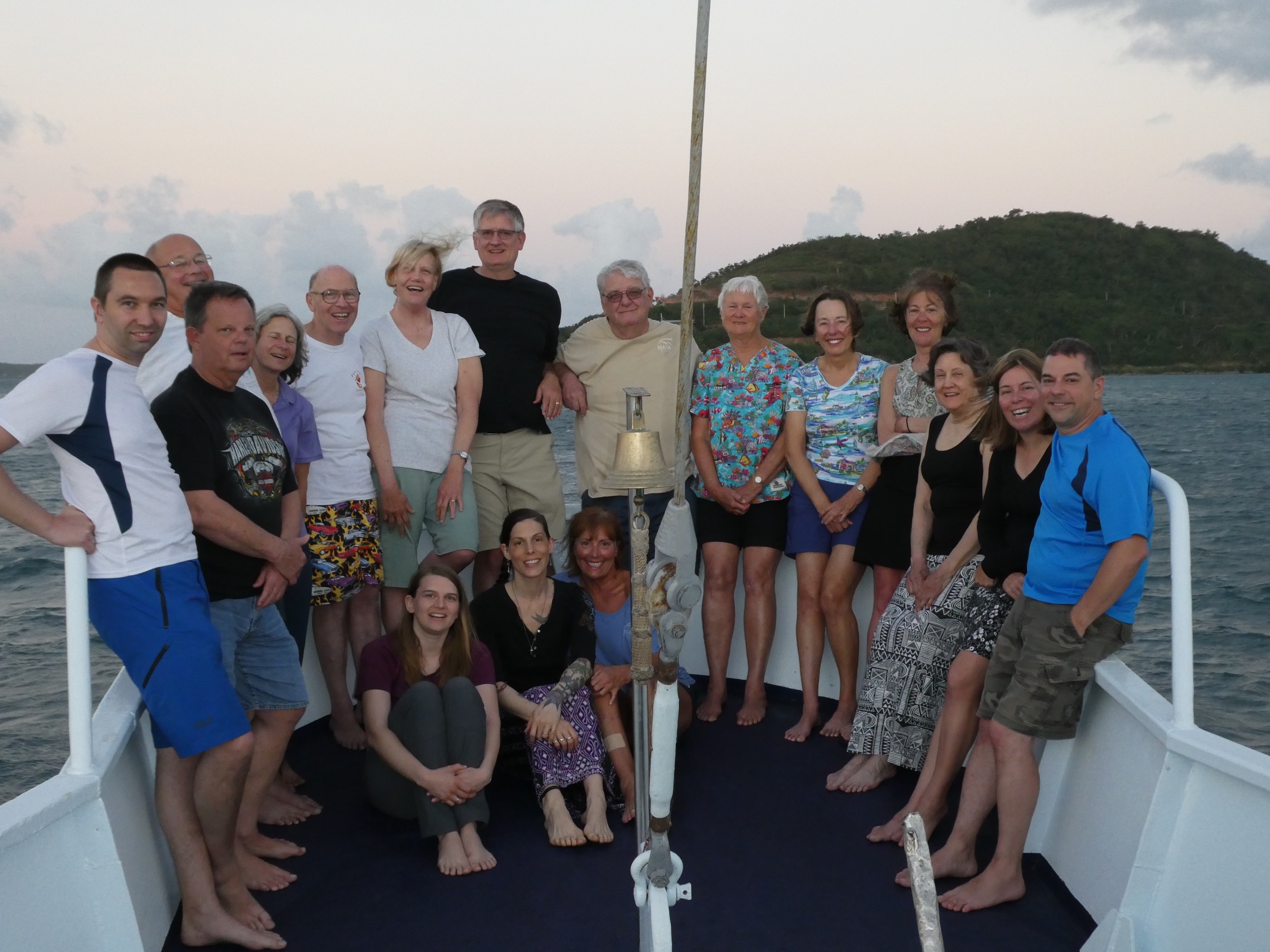 "Great crew, great food! Thanks for everything!" Michel & Julie
"Our second time on NAI'A. Great crew! Great time! We hope to see you all again sometime..." Bruce & Wesley Sawyer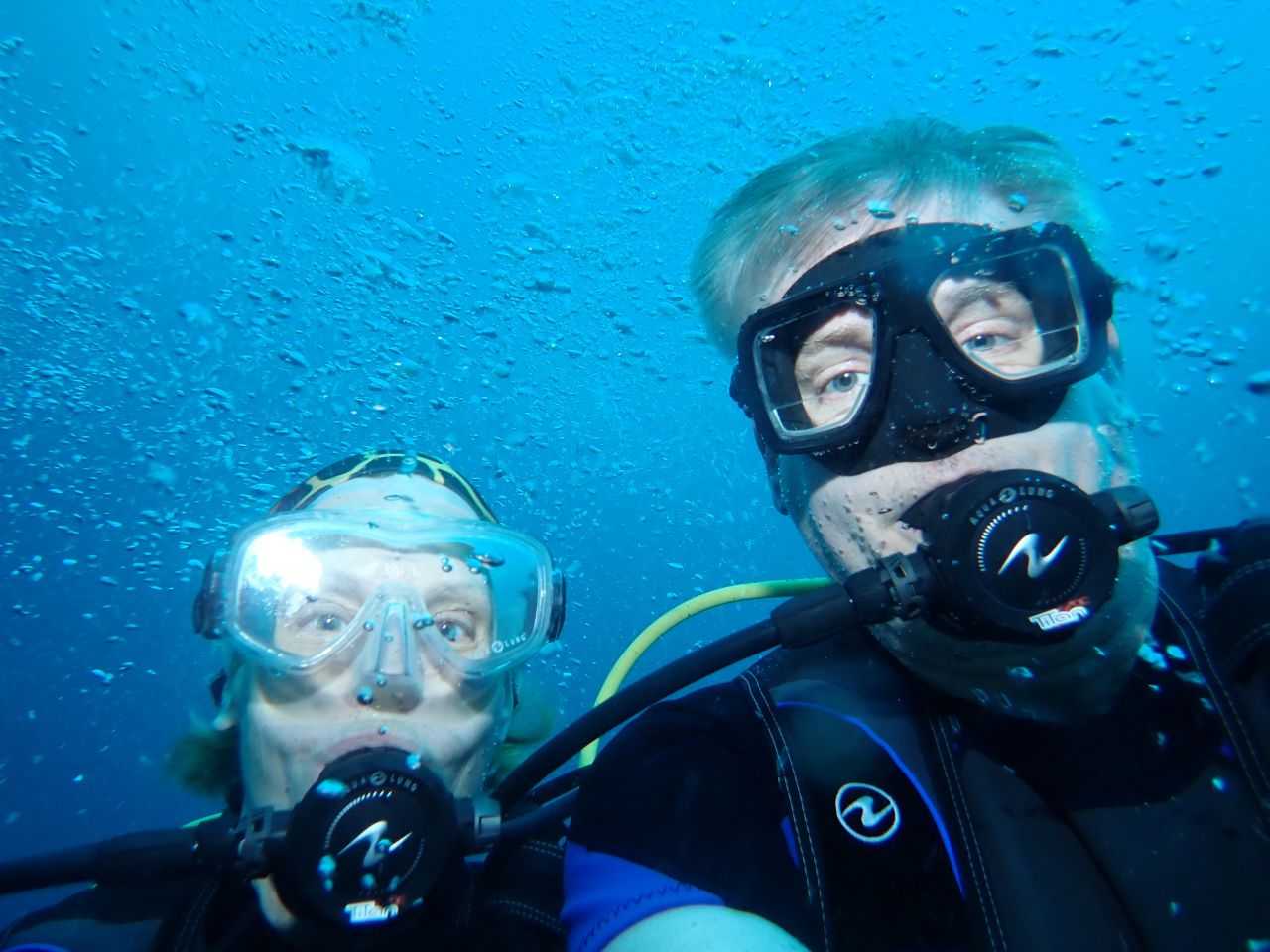 Buddy Love by Steve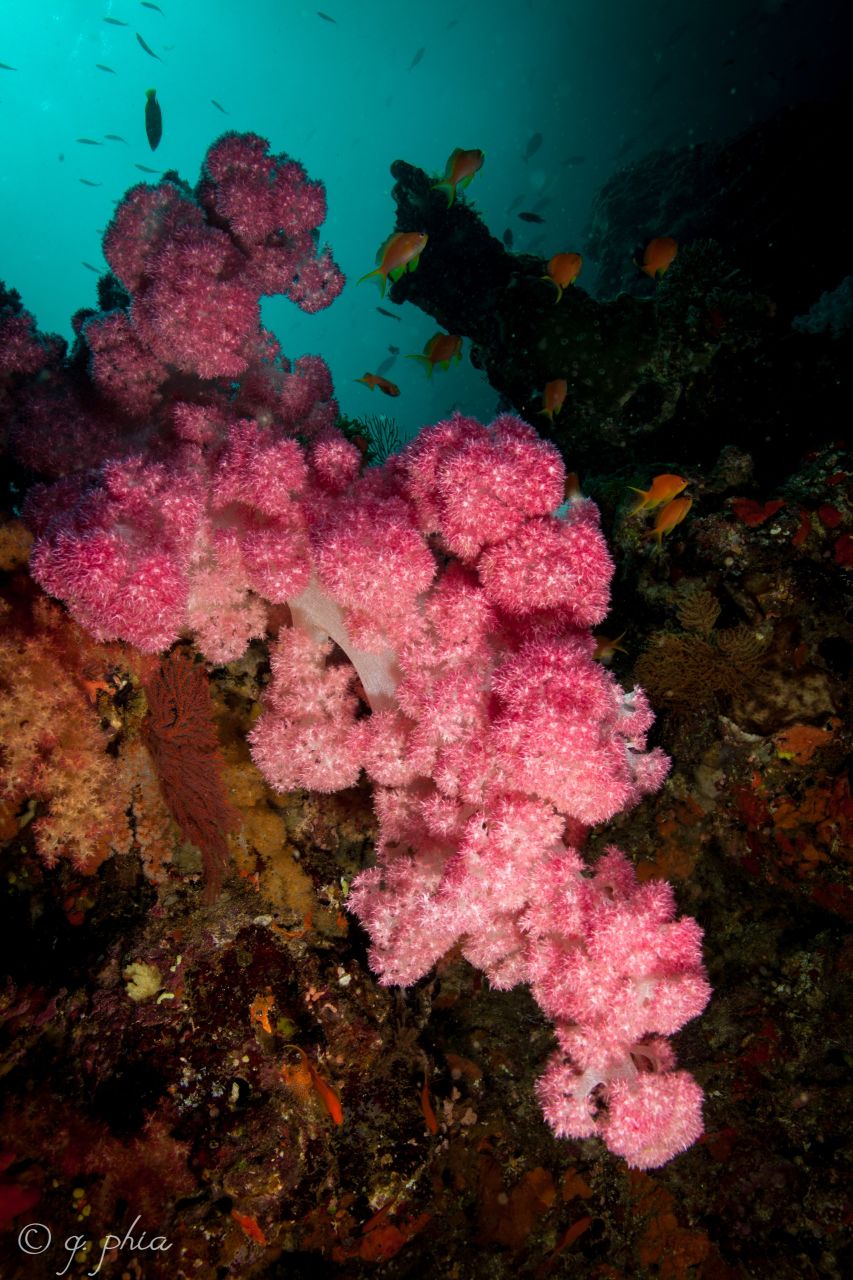 Cotton Candy by Phia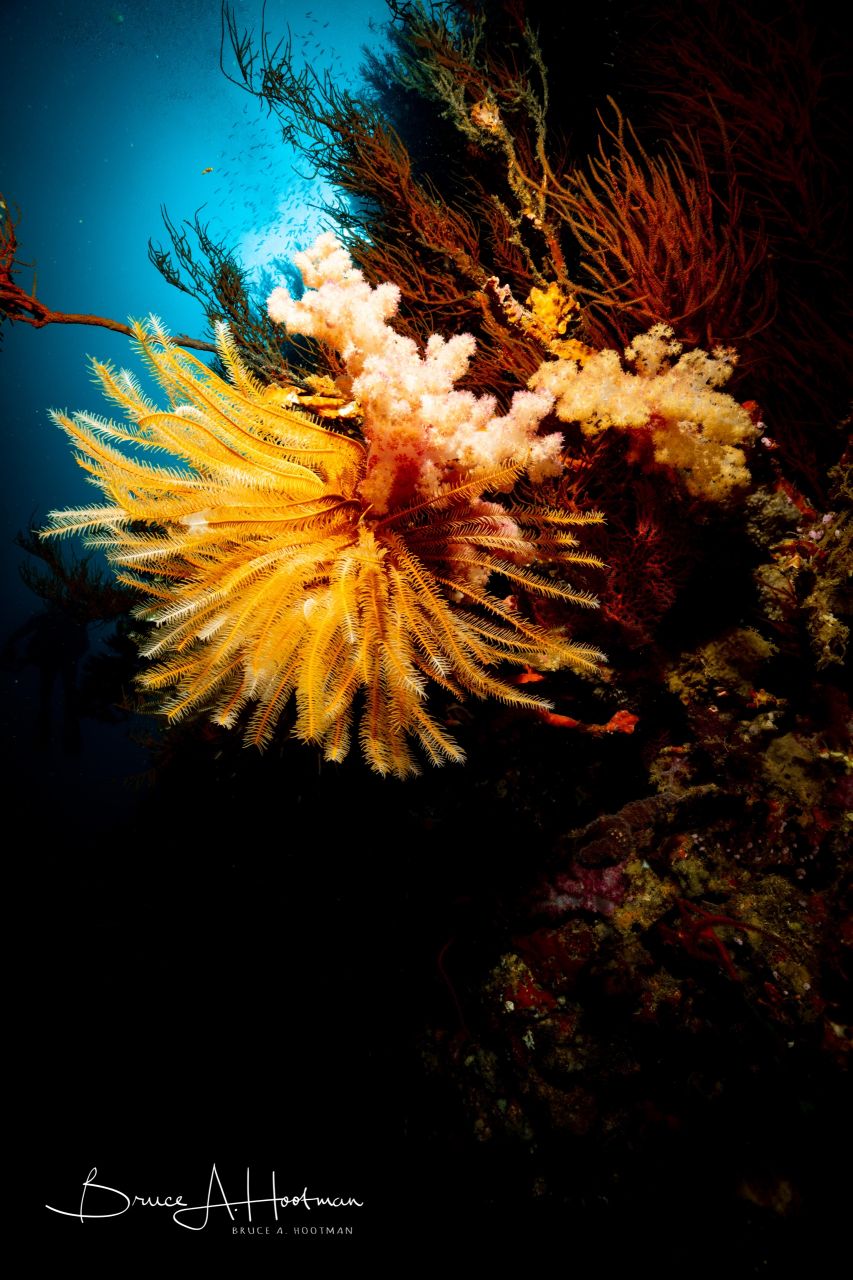 Feather In My Hat by Bruce H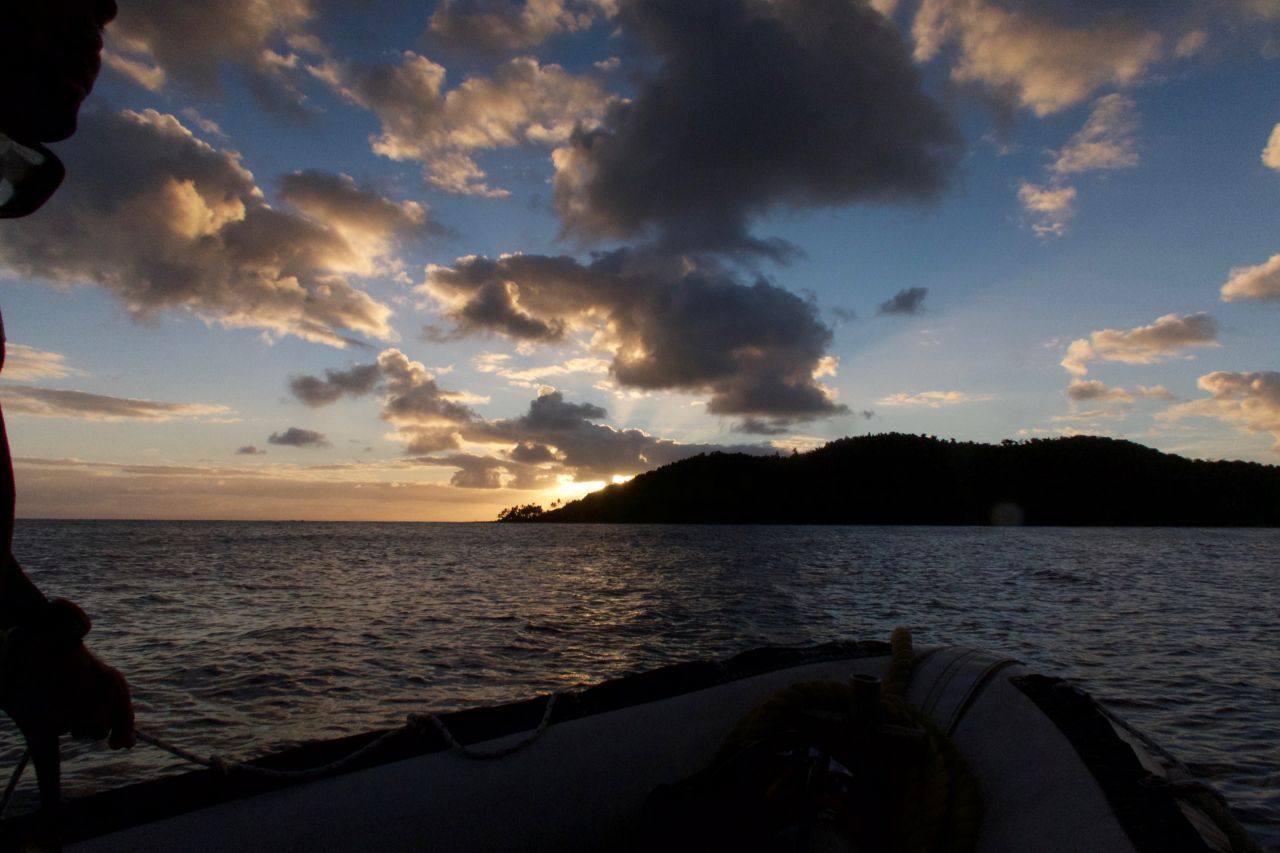 Day Is Done by Ingrid & Peter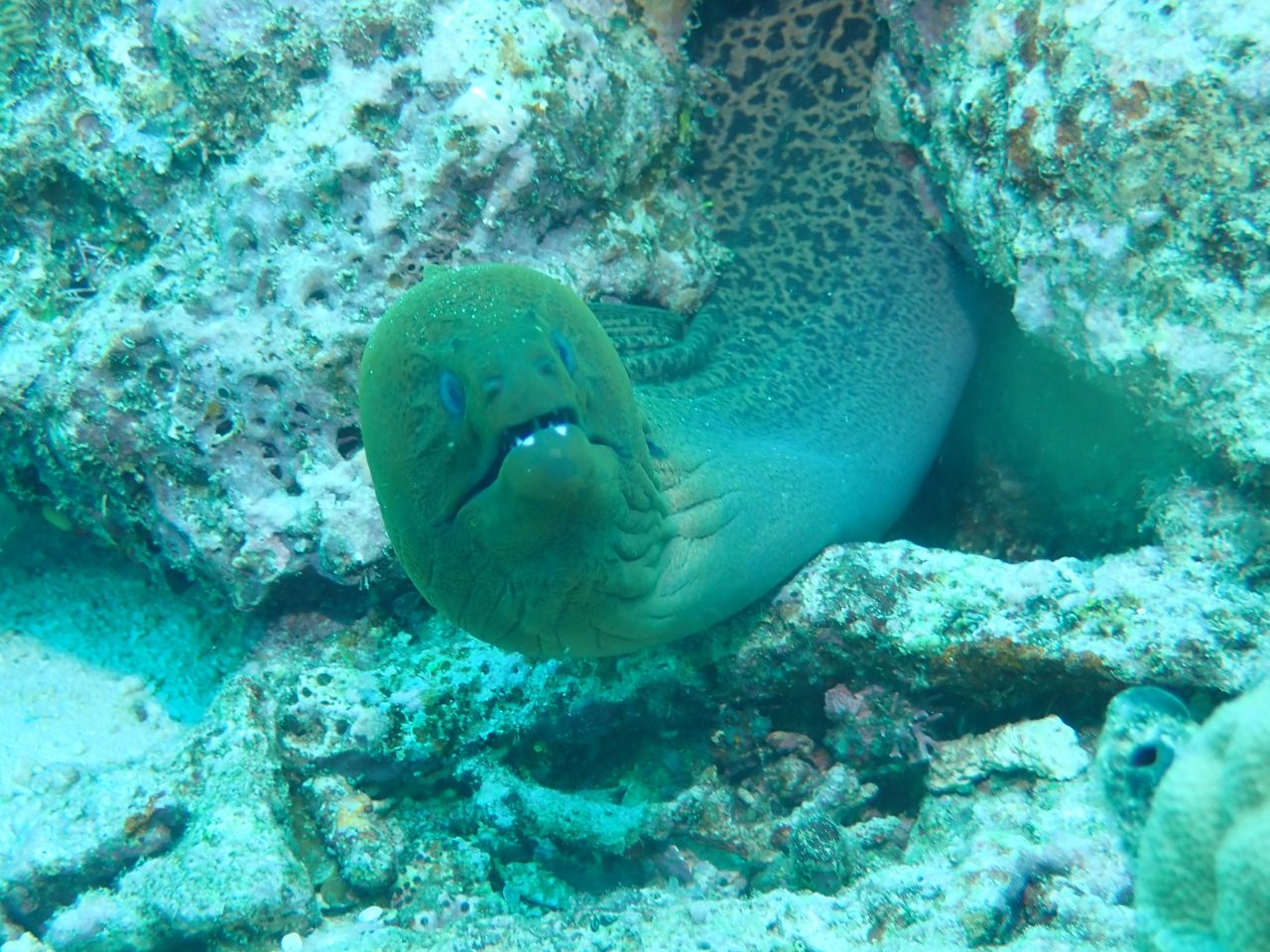 It's A Moray by Steve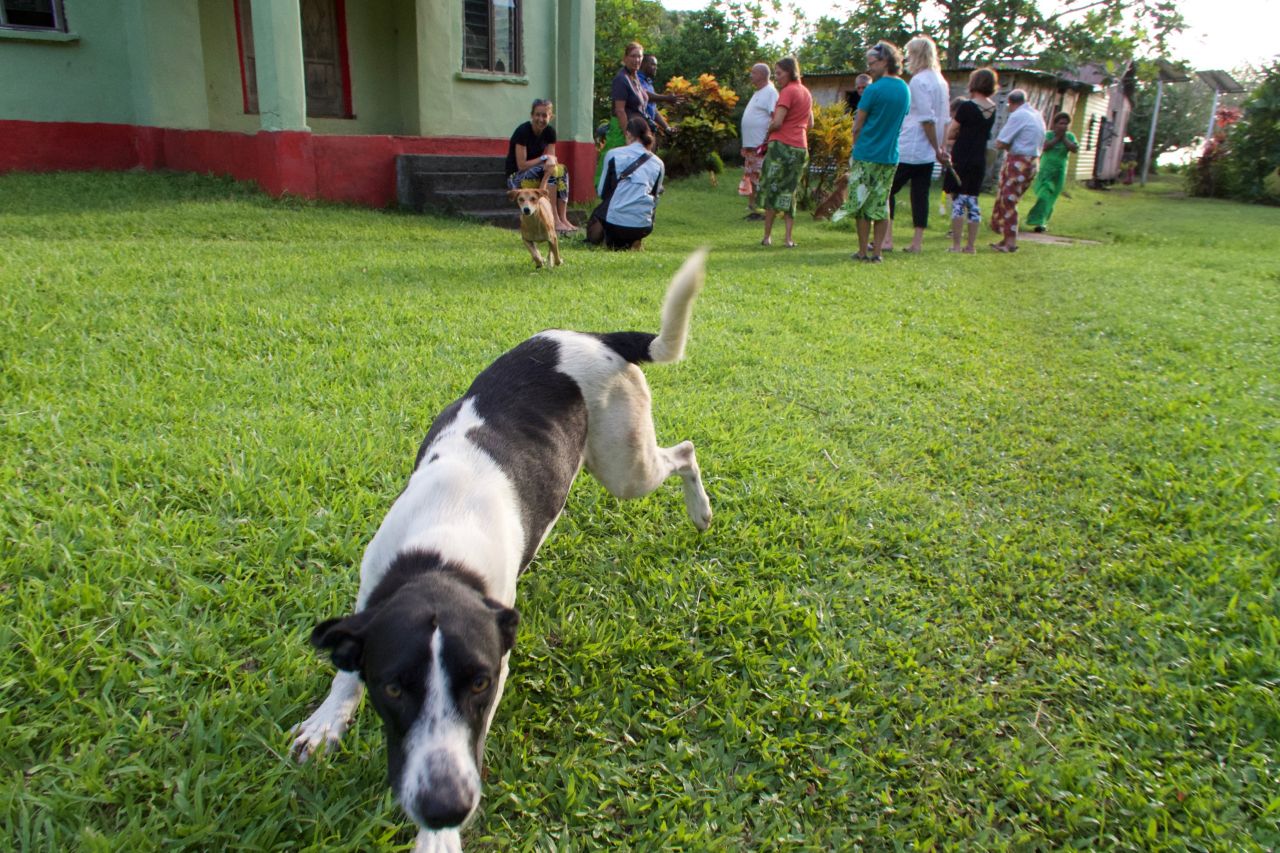 Nut Job by Ingrid & Peter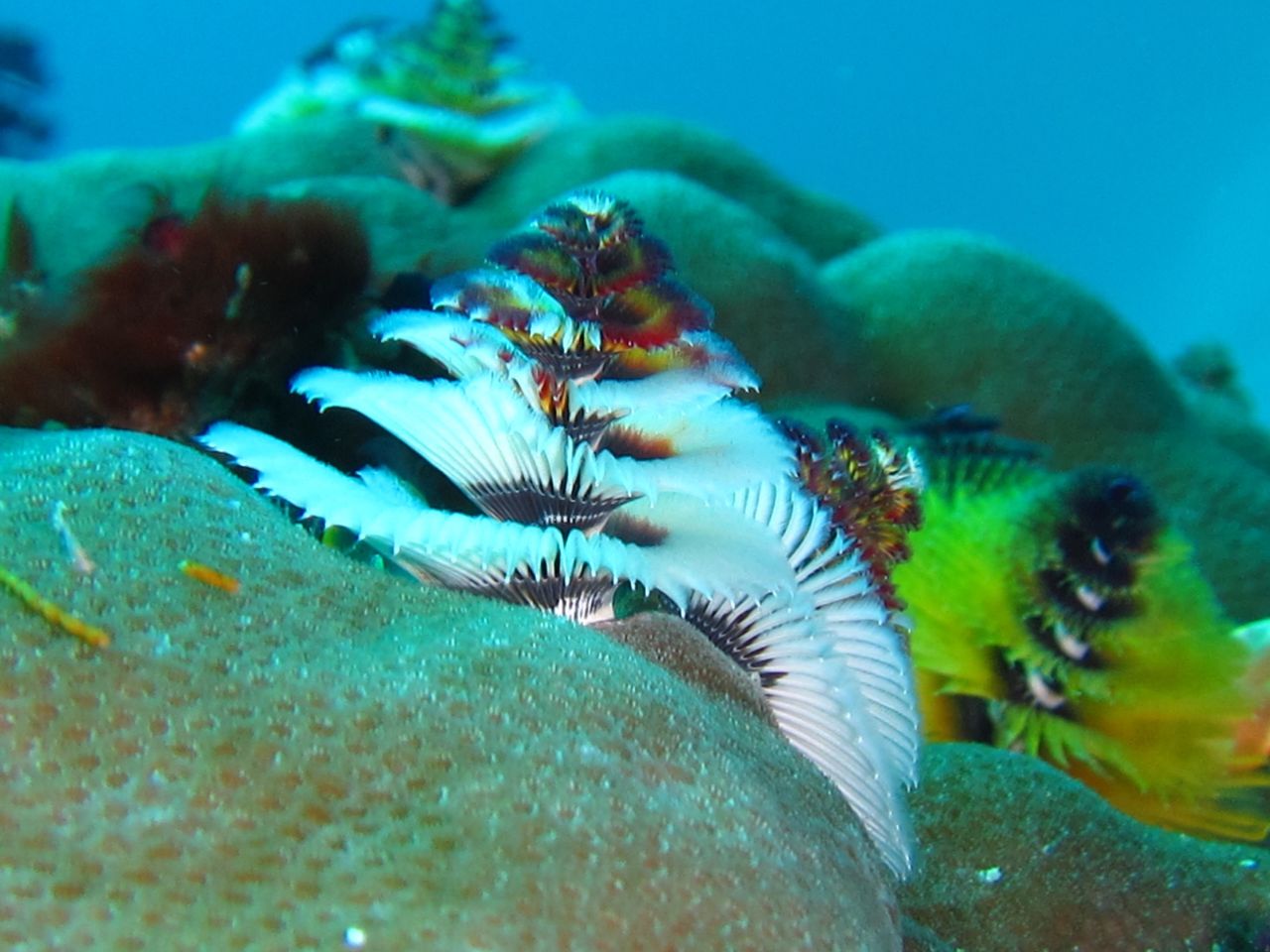 Ocean Forest by Big Mo
Sevu Sevu by Steve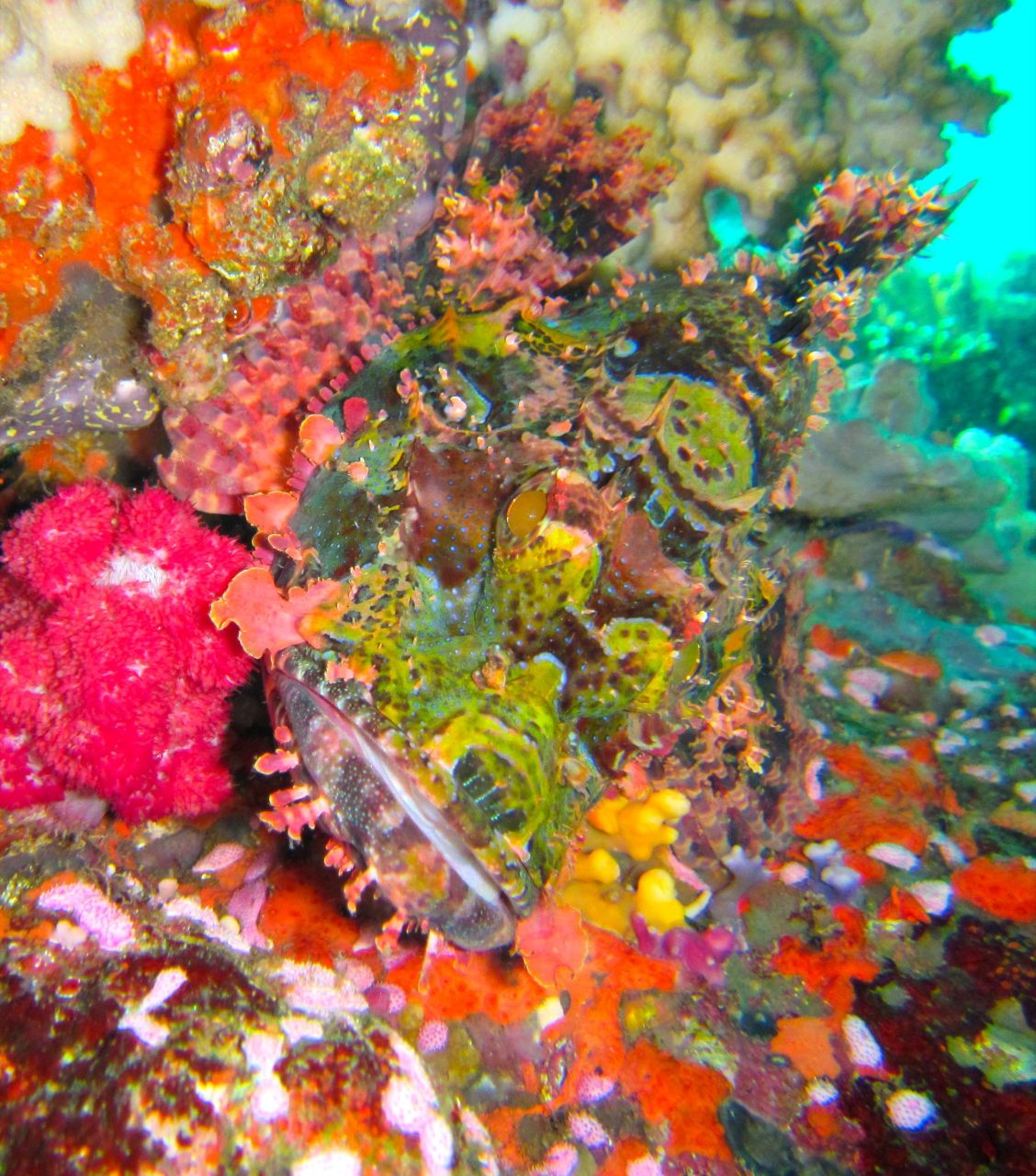 Who Me? by Big Mo
Comments
"Lomaiviti reefs are in extremely good condition compared to Indonesia and PNG. Immediate action must be taken to conserve this unique region."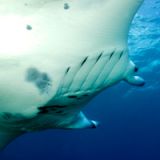 ~ Dr. Michael Marnane, Marine Biologist, Wildlife Conservation Society