Who Wants To See A Manta?
Destination: Bligh Water, Gau, Wakaya, Namena, Vatu-i-Ra, Fiji
Trip Date:
Oct 4th - Oct 11th, 2014 -
Comments
Author: Amanda & Joshua
Welcome Back: Allen, Bruce, James,Theresa & Brandon
Congratulations: James on completing his Nitrox qualification!
Having spent two months away from Fiji in Tonga, swimming with whales (I know, it's a hard life) it was with great excitement that we headed out for Bligh Waters once again. In fact, it was hard to tell who was more excited, us or our new guests. The Tongan whales were phenomenal, and we will miss them for sure, but Fiji diving has a very special place in our hearts.
Descending down the side of Mount Mutiny on our first morning, our first thought was, "I'm not freezing!" (our wonderful whales like to keep it rather chilly in Tonga, so it was a relief to get back to even 25oC/77oF!). We then turned our attention to the reef. Surveying the giant trevallies & tuna thundering around looking menacing, the thousands of fish, the vibrant rainbow coral, and the tiny critters hidden in the reef, we finally felt like we were home.
Waking up on the second morning just off the coast of Gau (or at least getting up… the rough crossing meant some hadn't actually slept much!), we were greeted with grey skies and what looked like very rough seas. We watched dubiously as some very surfable waves crashed over the pass at Nigali filling up the lagoon and refusing to let the current run in. Eventually, after much debate, various plan-Bs being made and many anxious glances out towards the channel willing it to change, it finally did. So, after waiting a full hour and a half after our proposed dive time, the rush was suddenly on to jump in and boy was it worth the wait. 
Strong surge at the mouth of the channel only made it more exciting as we descended straight into a school of big-eyed barracuda, which turned into a big school of horse eyed jacks and further schools of barracuda as we were swept back and forth down the channel. Half way down and much to everyone's delight, an eagle ray thought we were something worth investigating and swam right through our midst. On reaching the bleachers, we held on as at least 20+ grey reef sharks paraded in front of us, including some fairly small young.
So breakfast was late that morning. But when you start your day like that, who cares?
We then ran up to Jim's Alley and Anthias Avenue at the northern end of Gau for a couple more dives, before donning our sulus and heading for the ever-welcoming villagers in Somosomo. For us, it was great to be back after our two months away and, likewise, the villagers were full of questions for us about how Tonga was this year. Our guests, of course, were utterly charmed by the simple village life and the adorable children.
So charmed in fact, that during the part of the visit where we gather in the community hall for the dancing, all the women got up and danced when invited by the villagers, even Brandon and Stig-Arne were dragged to their feet (which they seemed to quite enjoy!).
A short passage after dinner brought us to Wakaya, where we awoke the next morning. We had a light current coming in drifting us slowly along the wall towards Lion's Den giving us great vis and heaps of fish... and then a large Napoleon wrasse and a manta ray glided over our heads. This just before we reached Lion's Den itself where we found an enormous hovercraft-like marble ray hovering over the cleaning station for several minutes with an army of cleaner fish just going to town on it! Add to that a total of five mantas seen on the next dive, including three in a tight row, giving us a total of NINE manta sightings that day; a winged pipefish at Vatu Vai, and a hammerhead shark at White Wall and you've got a perfect day at Wakaya! The hammerhead shark was seen only by our towering twins, Allen and Bruce, but they have photographic proof so we believe them this time… Apparently the shark was just as surprised to see them as they were to see it - they rounded a corner in the reef and practically bumped in to each other. Makes for a good photo though!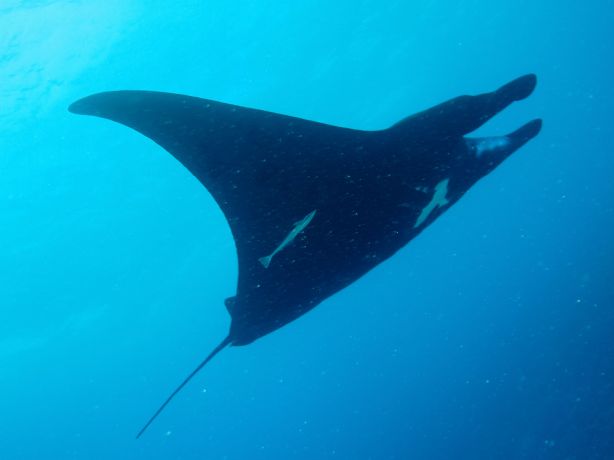 Up, up, and away! - by Allen
Big fish, Little fish - by Allen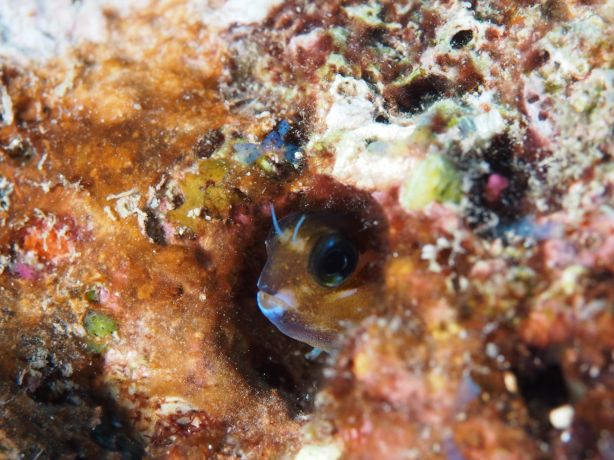 Reef dweller - by Allen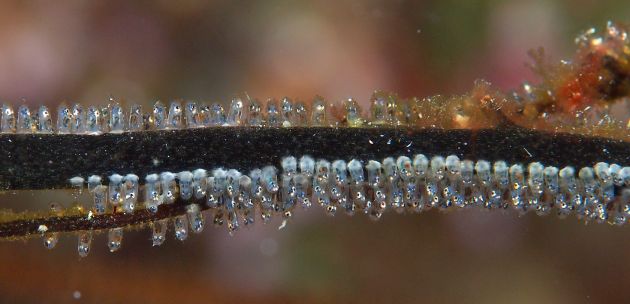 The eyes have it - by Allen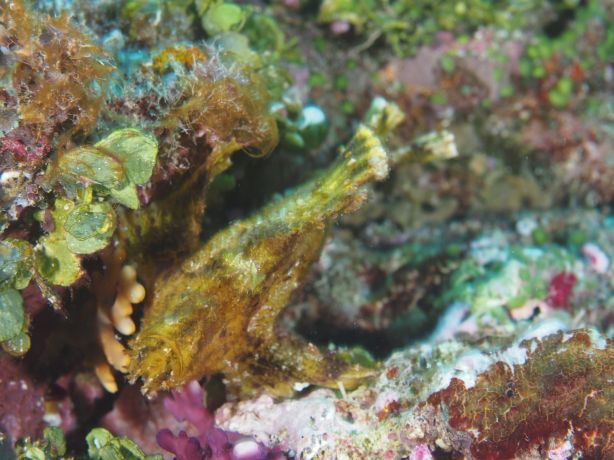 Leafy, face on - by Allen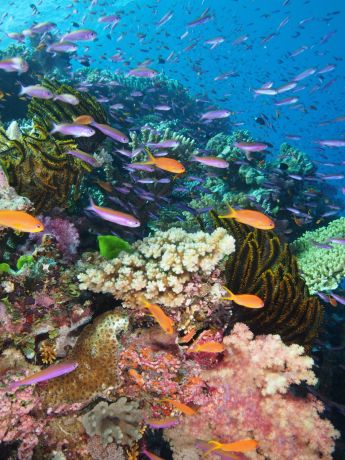 Bad visibility - too many fish - by Allen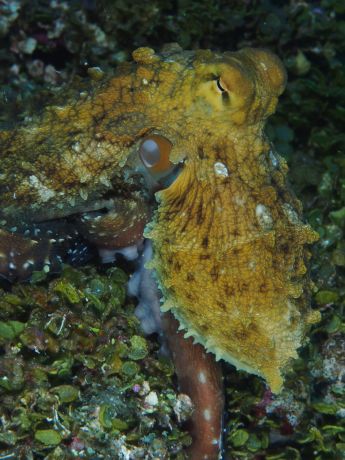 Master of disguise - by Allen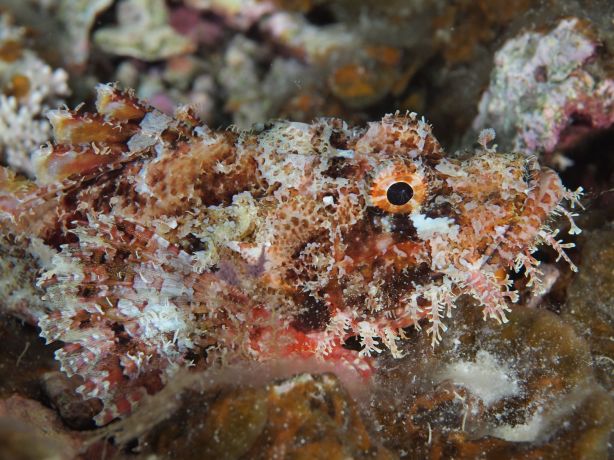 Beards are so in right now - by Bruce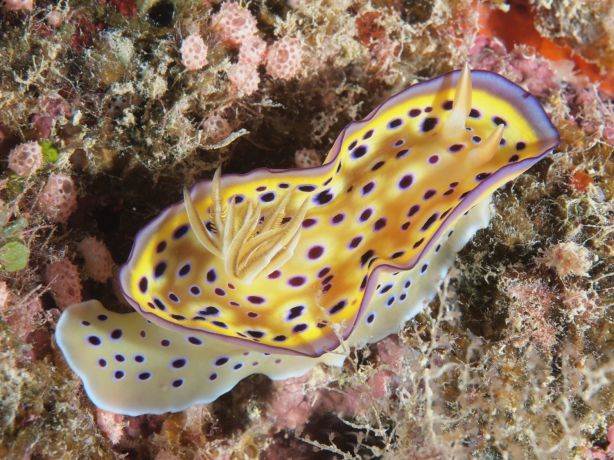 Frilly knickers - by Bruce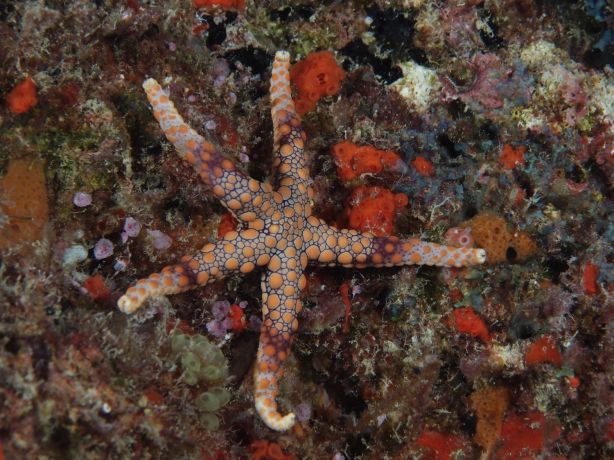 Seaing stars - by Bruce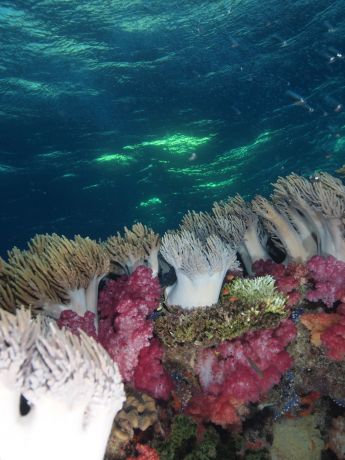 Beautiful Kansas at dusk - by Bruce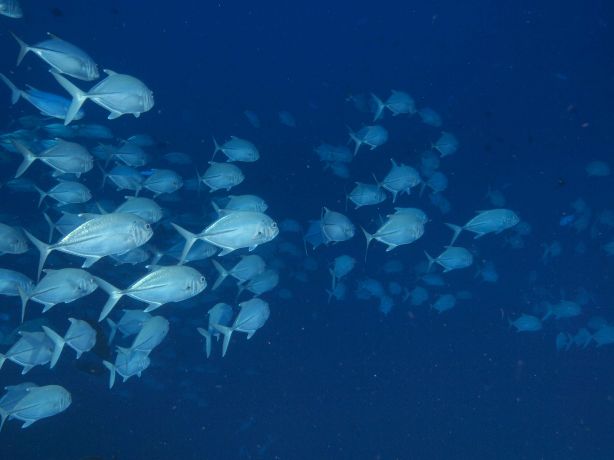 "A sliver river of horse-eyed jacks as far as the eye could see" - by Bruce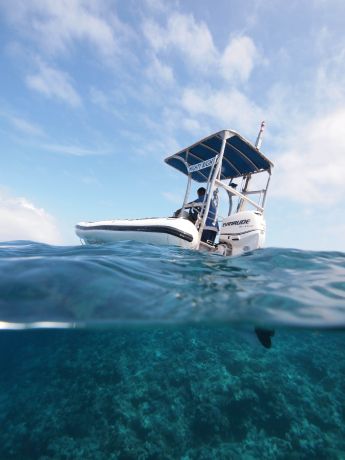 Mighty Righty, mighty reefy - by Bruce
Just a dash of colour - by Bruce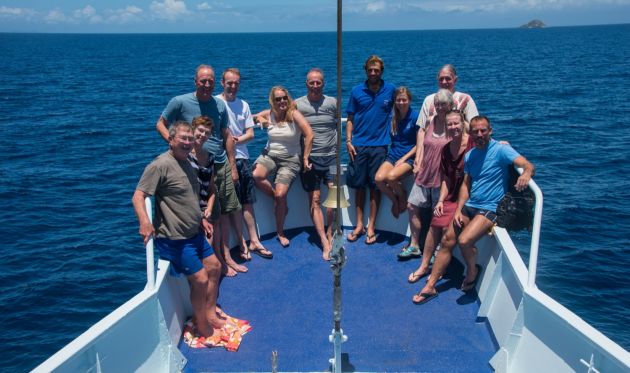 The gang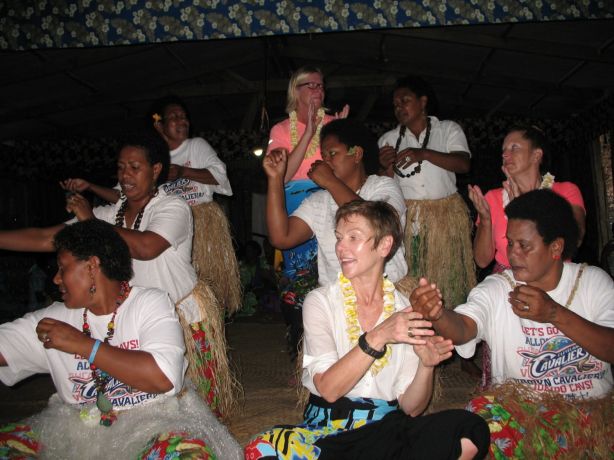 Helen & Kate, dancing to their own tune! - by Gary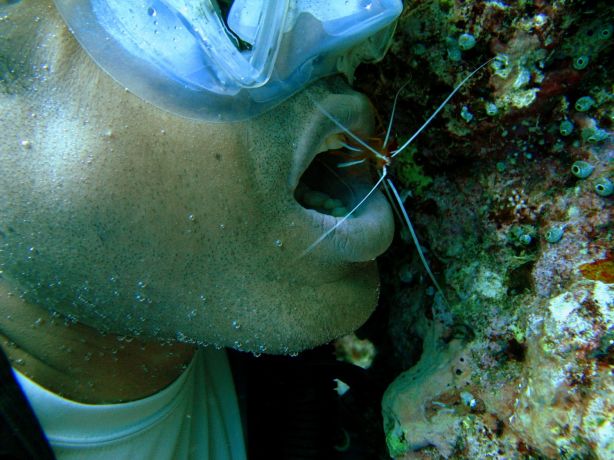 Big Mo's weekly check-up - by Gary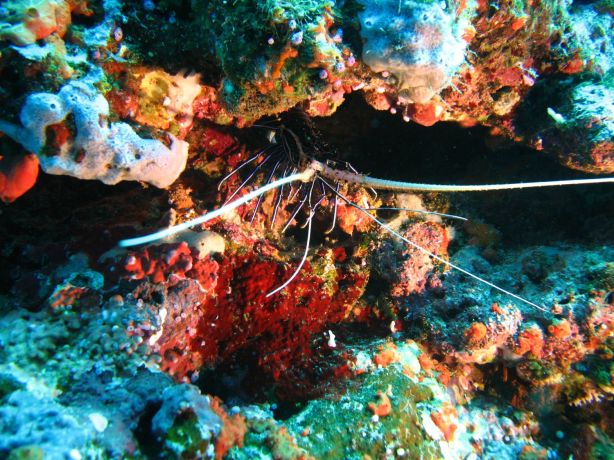 Painted lady - by Gary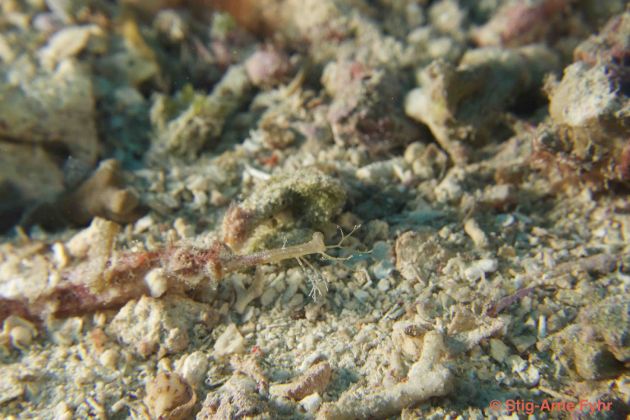 Winged pipefish, if you can find it! - by Stig-Arne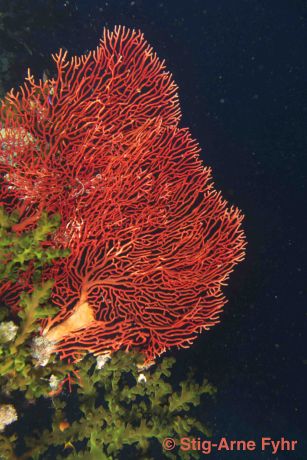 Underwater Christmas - by Stig-Arne
Another bumpy ride after dinner took us to Namena Marine Reserve. The following day, being not only the day before a full moon, but also a lunar eclipse, the currents were predictably strong and err, unpredictable! We battled our way around the pinnacles of Tetons and Thumbs in South Save-a-Tack before making our way to our beloved Kansas in the afternoon. Whilst it was glorious to be back there, the raging current made it hard for everyone to really appreciate the full awesomeness (technical term) of this amazing site. However, despite the full force of nature behind him, Big Mo still managed to find two 5mm tall pygmy seahorses while Amanda discovered an orangutan crab, before we all got washed up on top to do our safety stop amidst the sea of sinuleria soft coral.
That night was special for two reasons. Not only did we have our weekly kava party scheduled, but also it was to be under the light, or lack thereof, of a lunar eclipse! So as we all indulged in another round of traditional Fijian songmaking and kava drinking, we took regular breaks to poke our heads out from the dive deck to check on its progress.
Unfortunately, it was an overcast evening, but as the goat song was belted out, the clouds cleared and allowed us all a good view of the eclipse at it's fullest. The singing continued well into the evening, with Pam, aka the rager from Hawai'i, being the last woman standing. 
The following morning, still in the north, we jumped in at the wall. This time, with very little current, we were able to really take our time and appreciate why it's called Grand Central Station. About four minutes into the dive, we looked down to see a huge shape twisting towards us from the deep. A very large hammerhead shark approached, checked us out and then left, gracefully swishing its tail. We rounded the corner and were faced with tuna, grey reef sharks and white tip sharks all vying for space amongst the schools of fish. As we approached the arch, a river of bright silver horse-eyed jacks engulfed us before flowing out and along the wall as far as the eye could see. We made it to Kansas, but the dive had been far too exciting for anyone to have any air left for anything but the surface!
The next two dives in South Save-a-Tack were as beautiful as ever with Big Mo discovering a juvenile blue ribbon eel and Joshua finding an octopus at Magic Mushrooms.
Following our great success that morning, we went back to Grand Central Station in the afternoon for a final dip, but this time the current was blowing a hoolie! We dropped in to a huge school of horse-eyed jacks, grey reef sharks in every direction and once again a huge hammerhead shark. When the hammerhead approached Joshua and the twins outside of the Arch, we could clearly see the long sickle-shaped dorsal fin that characterizes the great hammerhead. Fish and divers alike reveled in the current as we stayed for as long as our air and computers would allow us, before heading home for dinner.
We heaved anchor early on Friday morning to head to our last dive destination of the charter, Vatu-i-Ra. What with the full moon and the subsequent large tidal movement, the currents here were also raging as they had been all week. But that's what makes it so beautiful, right? Our intrepid divers suited up nonetheless, and we had a fantastic last day being blown around and drifting past some of the most spectacular soft coral that makes Fiji famous. Gary drifted into a school of horse-eye jacks while Pam and Kate examined the diminutive sea spider at Maytag, while the Swedes and the twins had some wonderful barracuda encounters at Coral Corner and GoMo.
Despite the bad weather at the beginning of the week, we sailed back home in full sunshine over glassy seas giving everybody at least a taste of our beautiful tropical climate. See you all next time!
Our Guests...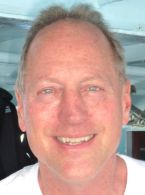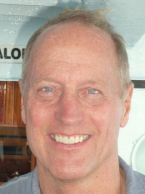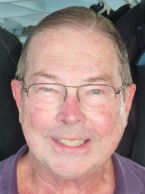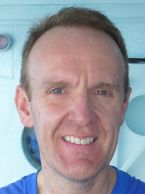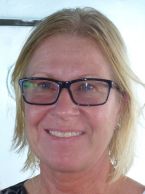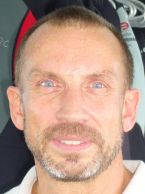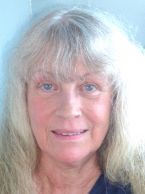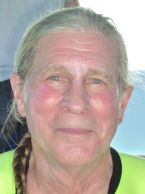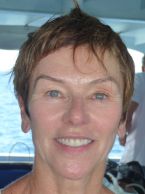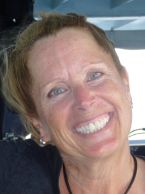 Comments
"Thank you to everyone on NAI'A who makes NAI'A what it is – an exceptional operation and a gateway to underwater wonders. What a fantastic crew! Thanks for an incredible life experience!"