A Fiji Fishmas
Destination: Fiji Bligh Waters, Somosomo Straight, Ringgold Isles & Northern Lau
Trip Date:
Dec 22nd - Dec 29th, 2020 -
Comments
Author: Jemma & Scott
Welcome Back: Sangeeta
Truly a Christmas to remember diving stunning fringing reefs, to atolls, to pinnacles; paddling across pristine bays, to mangroves, to crater lagoons; hiking white sandy beaches, to sandspits, to volcano summits - what a way to end 2020 here in Fiji.
We welcomed our guests aboard nice and early at Volivoli to head straight out to our first dives of the trip at Vatu-i-ra. After lunch we dropped in for our check out dive at Howards Diner giving everyone a chance to get comfortable in the water and sort weighting.
Our second dive was over at Mellow Yellow where we dropped in and circled the two pinnacles. The yellow Dendronepthya was pumped up so we saw it at its best behind the clouds of anthias and damsels. We found peacock-tail anemone shrimp on their anemone, some lionfish, fusiliers of all kind (ruddy, lunar, blue and yellow), so many scale fin anthias, wrasse, and golden damsels; along with Vittoria's swimming moray and Jayshree's slingjaw wrasse. I am also pretty sure I pointed out a phyllidia nudibranch, but I need to check with nudi expert Vittoria...
After our dives we headed straight off to Savusavu and arrived in the early hours of the morning to drop off cyclone relief supplies and donations which we had previously loaded the ship up with.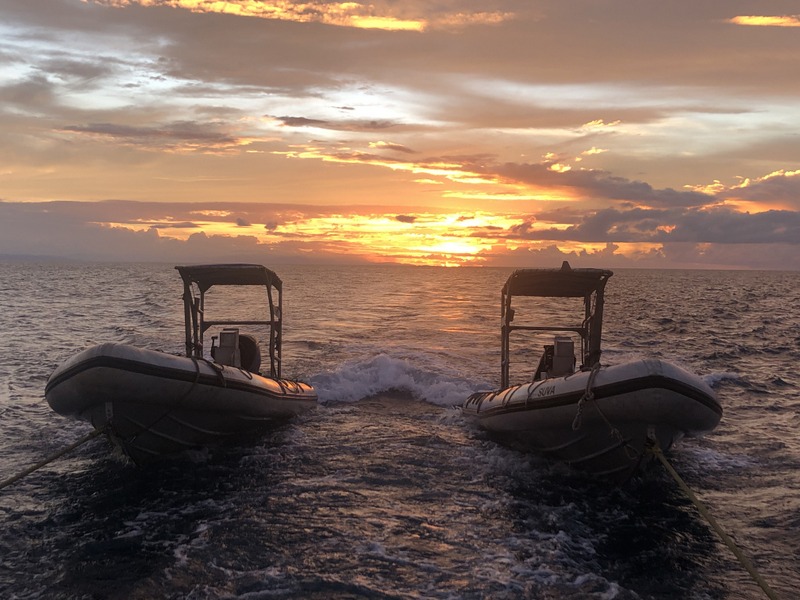 Photo By: Tina 
Then off we went to continue on our journey to the Rainbow Reef. We were just relaxing on the sun deck enjoying the cruise when Tina spotted some dolphins – which tuned out to be short-finned pilot whales. So we jumped in a skiff to get a closer look without scaring them off. To our delight it was a pod of around 20! Some large, some small - just travelling along slowly. After hanging out with them for a while watching them from the skiff we decided to leave them be and headed back to the Nai'a to continue our steam to the Somosomo Straight.
Photo by: Dan 
We arrived at the Rainbow Reef in time for a couple of dives that afternoon. First at Freeway, where we spotted longnose filefish, twotone dartfish and a resting whitetip reef shark (good spot Dan). Next we moved over to dive The Ledge and found a school of pyramid butterflyfish.  
After our dives we moved up to Matei for evening anchorage before setting off to arrive in Qamea for the following morning.
First up we dived at Hard Rock Café (aka Claytons Clam Reef). We found a few clams of varying sizes, dartfish, anemonefish, damsels and snappers. For the second dive we explored another spot further along the reef wall.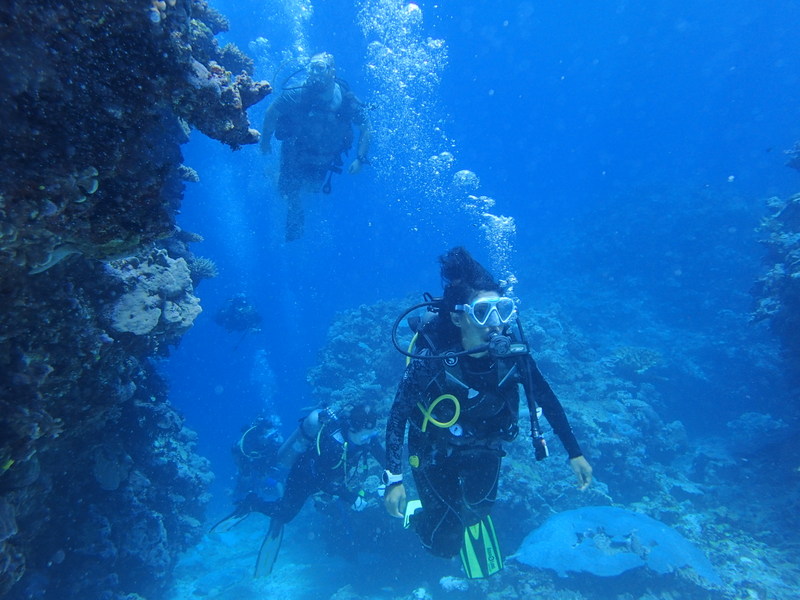 Photo by: Sangeeta 
Over lunch we moved across to Navivi to paddle and kayak through the impressive mangrove forest. We launched from the beach to get a bit of practice on the SUPs and a great video of Tina falling off her board (thanks John).  We made our way across the bay and had a peaceful paddle through the lush mangrove with birds chirping overhead.
Out of the mangroves and Beth continued paddling all the way back to Nai'a (and then swum a few laps around the ship - wonder woman!). The rest of us got the skiff back and spent the rest of the afternoon napping, reading, lounging on the deck, sorting photos and if you are John – having a beer. Sangeeta was on a mission this trip to photo and identify all the soft corals she sees – and before you say anything, yes this is what she likes to do on holiday (coral geek alert woohoo).
A lazy dinner (so lazy Beth fell asleep – standard) and then stargazing on the sundeck to spot the "Christmas Star", or were we really looking out for Santa's sleigh?  Although without a chimney on Nai'a, we decided Santa must just use the towel drop hatch instead – well the Christmas elves do magic them dry.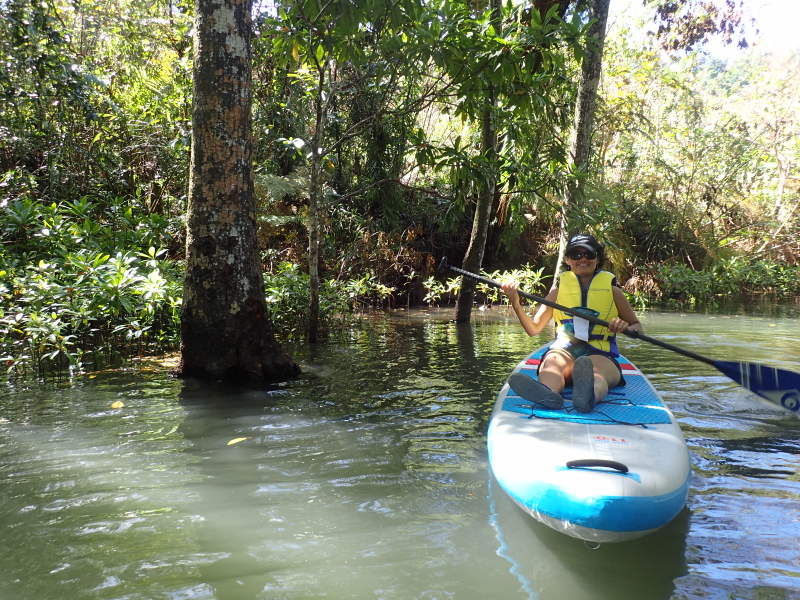 Photo by: Sangeeta 
That night we travelled across to our next spot. We were spending Christmas day at the most northerly point of the Lau group - an atoll called Wailagilala.
Our first dive was in the passage (I have now named Cabbage Passage). Visibility was beautiful and we could see the huge patch of Turbinaria coral – aka the cabbage patch from the surface. Hanging out amongst coral were snappers, soldier fish, squirrel fish, bannerfish and triggers. We explored a little further and came across another even bigger patch of Turbinaria – what a result! Then over to the reef wall, around the corner with overhangs of yellow sponges and Dendronepthya, and along to the spur and groove reef formations. Lots of fish diversity, both reef and pelagic including whitetip reef sharks and a family of grey reef sharks with four super cute baby sharks (do do do doododo).
After breakfast we had a little turtle presentation in anticipation of finding some turtle tracks on the beach as it is nesting season here. Over we headed on the skiff and sure enough we found a couple of sets of fresh turtle tracks which we identified as green turtle tracks – so exciting. Meanwhile wonder woman Beth had paddle boarded across from the boat – spotting a turtle in the water on the way.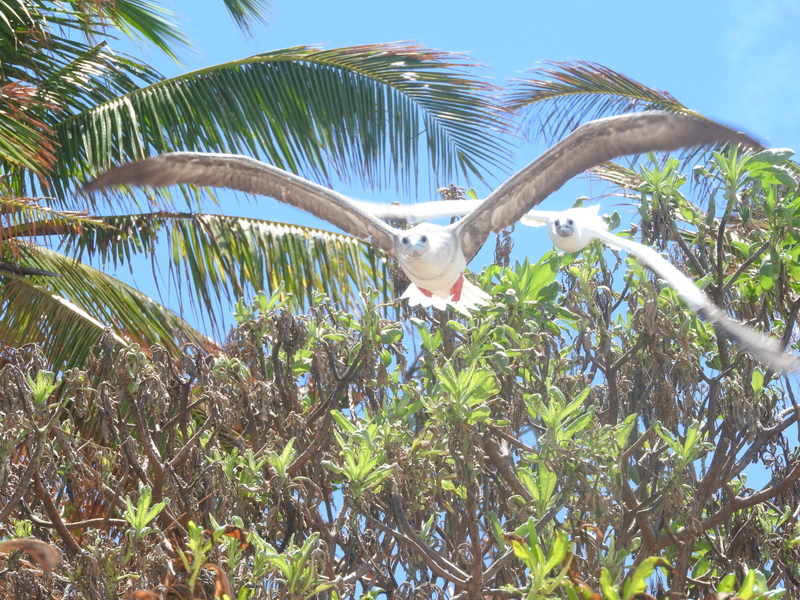 Photo by: Dan 
We then spent a few hours on the island hanging out with the red footed, and brown footed boobies, terns and noddies. Some folks circumnavigated the island through the mangroves and along the sand spit; spotting baby black tip reef sharks, and Vittoria saw a spotted eagle ray. Others took the shaded shortcut through the center to the beach the other side.
Dan had a go on a paddle board, and John decided to paddle back to Nai'a spotting stingrays (or moving rocks) on the way over – bonus Tina got her revenge and caught John on film falling off the SUP this time.
After lunch (and a power nap) we headed back out for a dive; this time exploring around the outer edge. Again nice fish diversity and some more sharks.
After dinner we headed over to the beach for a Christmas bonfire and sunset – which evolved into stargazing with the clear sky showing us the "Christmas Star" again. After a bilo or two of kava with the crew by the fire, we walked the beach to the sandspit in search of mummy turtles coming up to nest. Unfortunately we saw just the hermit crabs running along the beach for us to dodge, but still a wonderful peaceful end to a lovely Christmas day.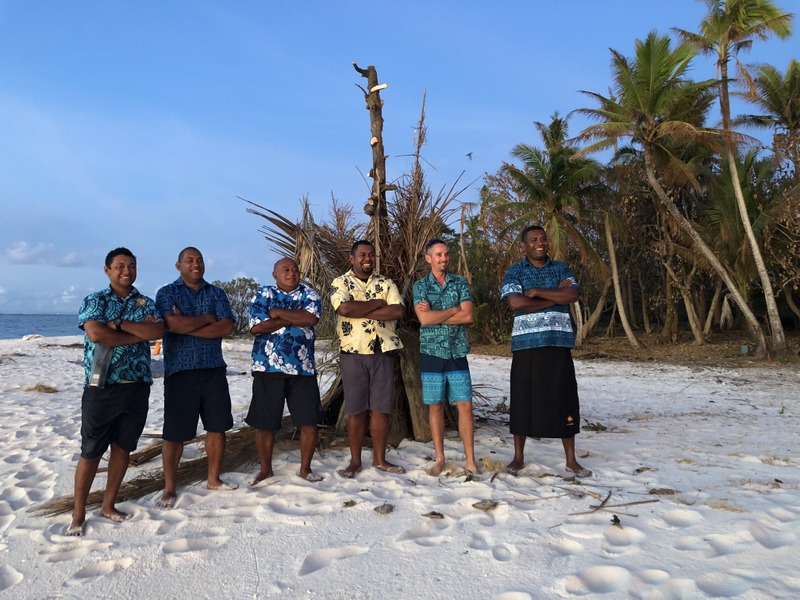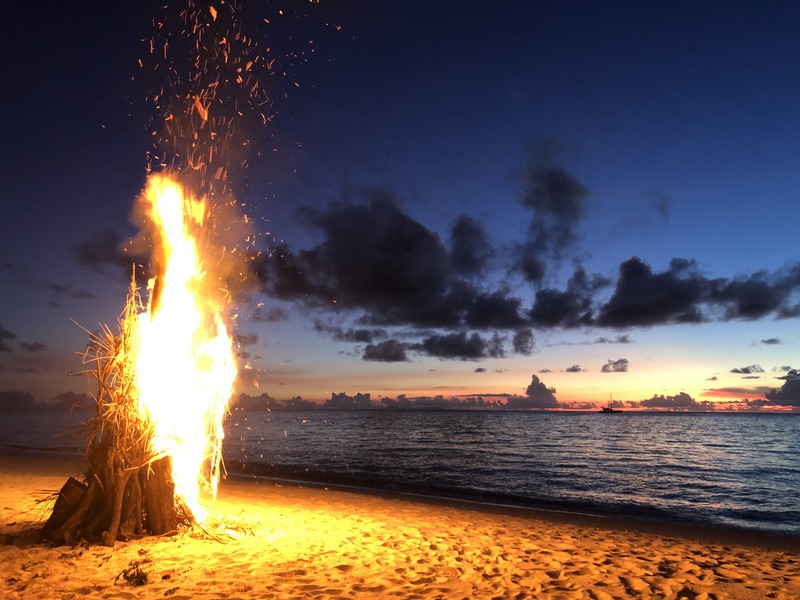 Photos by: Tina 
We awoke the following morning in the Ringgold Isles at the beautiful volcanic island of Cobia for an early morning hike to the crater summit. We were rewarded with stunning views across the sunken crater lagoon, and we even spotted the fruit bats snoozing in their tree, and heard a goat (or maybe it was Sly).

Photo by: Tina 
After breakfast we headed out to dive the outer reef at a site I have named Cathedral Drop Off. The super visibility and interesting topography with channels to swim through and a dramatic drop off into the blue made for a really nice dive. We spotted hawk anthias, anemonefish, a gang of blackspotted pufferfish and a chilled out hawksbill resting on a ledge.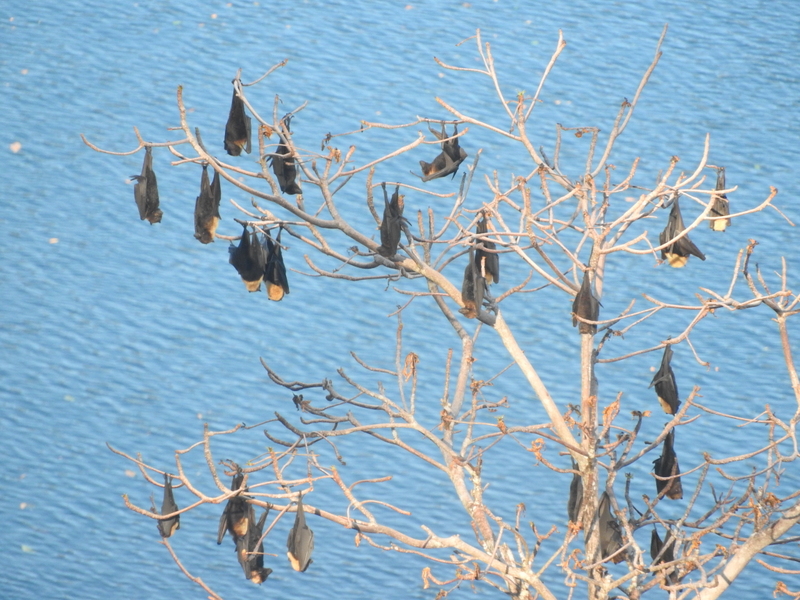 Photo by: Dan 
After lunch Sangeeta, Beth, Dan and I headed out to explore another section of the outer reef (at a site I named Cobia Hills due to the rolling reef structure). Again, great coral diversity and what seemed like a bottomless drop off – true atoll style. Meanwhile Scott, Jayshree, Tina and John paddled across the crater lagoon back to the Nai'a, Jayshree stopping on the way to snorkel on the fringing reef.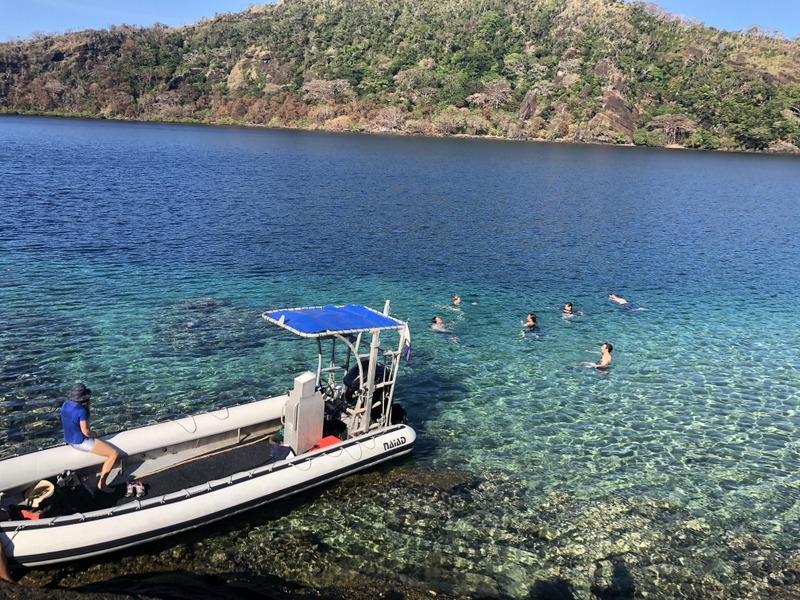 Photo by: Tina 
Late afternoon we headed across with cyclone relief supplies for the village on Yanuca where Scott, Jayshree, Beth, Tina and John popped over for a talanoa and a bilo.
After a smooth overnight crossing we watched the sun rise over super calm waters at Namena Marine Reserve. We started our day of diving in the South save-a-tack at Tetons 3, where Scott found the ribbon eels and his orangutan crab in its huge (!) piece of bubble coral (Tina got a great photo!). There were anthias everywhere, brown-banded pipefish and a "city" of Fiji anemonefish on the top of the pinnacle.
Next up was Tetons 1 and as we were dropping down a beautiful melanistic (black) reef manta glided gracefully below us – what an amazing surprise! We knew they could be around Namena this time of year but never expected to see one at our usual dive sites. Unfortunately only Beth and I saw it, but we had a little manta celebration dance underwater nonetheless.
With a bit of current the pinnacle was full of action with swarms of anthias and fusiliers, trevally darting in and out, and pumped up soft corals in all their glory. Jayshree and Sangeeta definitely found their happy place – right on the top ledge of the pinnacle, facing into the current, enjoying the show. The fishes become accustomed to you and just go about their business – pure bliss!
Next up we moved to North save-a-tack to Grand Central Station and The Arch where we were circled by a couple of schools of barracudas as we headed through the archway. There were feeding midnight snappers, schooling jacks and some chubby little spotted crouchers in the Pocillopora branching corals. Ben, Vittoria and I also glimpsed a flame hawkfish on our safety stop over at Purple Hills.   
Later that day some of us headed out for a fourth dive over at Kansas. We had a chilled dive circling the pinnacle a couple of times, then hanging out in the "wheat field" of Sinularia soft coral.  Beth and Sly had a close encounter with the biggest free swimming moray eel Sly has ever seen and we were joined by schools of unicornfish, as well as lunar, and blue and yellow fusiliers at the top.
After a fantastic day of diving, nobody wanted to leave, so we decided to stay put at Namena for an extra day – we don't blame you!
The following morning, feeling lucky from the manta sighting, we decided to check out a spot in Namena called Manta Mount. After a briefing with the "best dive map ever" we headed out to explore. We dropped in and slowly moved along the sloping reef keeping our eyes fixed on the deep drop off. We saw lots of potential cleaning stations and at about 20 mins in a reef manta glided by just a little deeper than us! John has the video to prove it this time! We explored further and then turned the dive keeping our eyes peeled. No more mantas that we could see (although we were sure they were out there) but a super friendly remora joined the group. Also a couple of turtles – hawksbill and green, and some really healthy hard coral cover all along the reef ridges and bommies.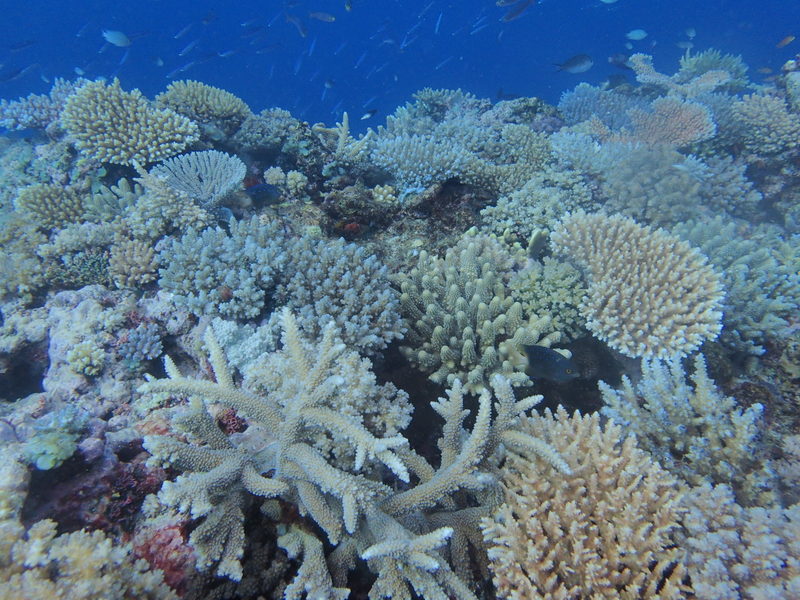 Photo by: Sangeeta
We decided to spend the rest of the day on the south side, so dived 2 Thumbs Up next.  We cruised past the garden eels in the sand and circled the pinnacle finding shrimps, pipefish, Dan's huge starfish, another Moray Eel for Beth and Sly, a cheeky bluestriped fangblenny, and our leaf scorpionfish friend. Again lots of anthias and soft corals making the reef pop with colour.
We enjoyed our final dive of the trip at Tetons 2 where Scott found a golden mantis shrimp.
Photo by: Sangeeta
Late afternoon we headed over to Namena lala to stretch our legs and walk along the beach where Dan got some great bird and fruit bat photos. 
Beth ended the day with a few more laps of the ship (!), before we all enjoyed Vili's last meal and looked at the photos from the trip and John's video.
Lessons learnt this trip – you can put on a wetsuit back to front, it is better to have your regulator in as you descend, there are so so many soft corals to learn, weight belts sink, masks fall off, and Ben will eventually see the scorpionfish.
A huge vinaka vaka levu to you all for joining this adventure and being so wonderful whilst we made our cyclone relief drop offs.
We had a fantastic time and a Christmas to remember with you all. We look forward to keeping in touch and diving together again. Wishing you all a happy new year and many more underwater adventures!  
Comments
"Central Fiji has all the elements of the ultimate ocean wilderness: diverse creatures and habitat, nutrient-rich water, spectacular scenery and owners who respect it."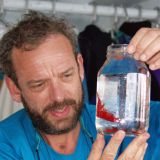 ~ Dr. Greg Stone, Executive Vice President of Conservation International