Many Happy Return(ee)s
Destination: Fiji's Bligh Waters
Trip Date:
Nov 1st - Nov 12th, 2016 -
Comments
Author: Vanessa & Chad
Welcome Back: Ralph & Sue Y, Larry & Rosanna, Doug, Mark Eleanor, Sally, Pam, Sue M, Mary Alka, Heather & Matt, Josh & Liz
Congratulations: Tammy Gibbs & Matt Adams celebrating birthdays with us! Les on completing his Nitrox Specialty with us (just you now Pam!!) and Sally on becoming a Drift Diver Specialist!
So what's the quickest, easiest way to scare the life out of your two relatively new Cruise Directors?! How about telling them that two of NAI'A's original and much-loved Cruise Directors from ten years ago are returning for an 11 day full charter?? Yup, that's what our dear bosses did to us a couple of weeks ago and we were TERRIFIED. But within hours of meeting Josh and Liz and their awesome group of divers, we realized that our fears were entirely irrational and we were in for a treat of a trip: what a lovely bunch of people! The vast majority of the guests were also return customers (Mark outdoing us all with his ELEVENTH charter!!), just adding to the ease. Add to this the fact that nearly all were avid photographers and several were self-confessed fish geeks and the trip just became both fun AND educational!
As always, we began our trip with a checkout dive at Samu Reef, just outside of Lautoka. Conditions were wonderful: a balmy 81 degrees, and great viz compared to just the week before. Vanessa's group were mesmerized by a show-off octopus, a mini juvenile scorpion fish and a shrimpgoby building a veritable mansion with his THREE diligent digger shrimps. Her personal highlight was watching a feather star swim through the water and plant itself firmly right on a giant sea cucumber's face!! Definite invasion of personal space. Koroi's group meanwhile were lucky enough to see a blue spotted stingray hiding in the sand under a ridge.
Our first day brought us to Vatu I Ra and the area's ever-stunning dive sites. On the first dive of the day at Mellow Yellow Chad knew it was going to be a good'un when he dropped right on to a school of barracuda. Sue Y was then spoilt for choice with not one, not two, not three but four scorpion fish to photograph and Alka was delighted with a pretty purple Flabellina nudibranch. After a huge hot breakfast Vanessa tackled her first Scuba School environmental presentation, 20 mins on night-diving creatures. It was a moment she had been dreading for days as all the awesome video footage was the handiwork of Josh and Liz from back in the day and she was more than a little worried she would misidentify something and insult them!! It seemed to go relatively smoothly, however, and everyone seemed to enjoy....either that or they humored her very convincingly! On the next dive at Coral Corner Vanessa was a little confused when upon descent Mark and Josh disappeared directly AWAY from the dive site and into the gloomy abyss. It was to be a common theme however and not as odd as it at first seemed: both are reeeeally in to their fish (Mark is actually in the process of finishing up a Fiji fish ID book) and apparently some of the rarer species like to hide way out in the sand and rubble. Not everyone's cup of tea but kept these guys happy! The rest of the gang stuck closer to the reef and had an awesome time watching grey reefs and white tip reef sharks cruise by. Pam and Alka seemed particularly into the sharkies: little did they know at this stage just how many more would be coming later in the week! On Maytag, Koroi's group saw many of the larger predators – barracuda, jacks and tuna – but really enjoyed the color of the shallower reef, smothered in soft corals and schools of anthias.
The last day-dive saw us return to Coral Corner as the photographers loved the soft coral wall at the end and wanted to spend more time capturing its beauty. It was a bumpy skiff ride out there and kitting up was no easy matter with the waves and huge expensive cameras everywhere. Vanessa was wary lifting tanks around with Josh's beast of a camera taking up the whole front section of the skiff: so much so that when a wave hit and she lost her balance she decided rather than risk the tank hitting the camera the best thing was just to sit down. Which she did. Right on josh's knee. Not awkward at all...... Somewhat embarrassed she was glad to quickly get underwater and was hugely excited late on in the dive to find a NAI'A Pipefish hiding in a crevice. He was super skittish and hard to show off but now we know he's there we'll be back looking soon! Just for the record, a night dive WAS absolutely offered to our guests on Day 1.....but NO ONE took us up on it! (Ah well.....wine all round at dinner it is then!) After dinner that night Tammy was surprised by the crew on her birthday: they sang a hearty rendition of Happy Birthday and presented her with a super yummy cake which everyone helped to make disappear. The day ended with everyone diligently logging their shark sightings that day: November is a key month for the Great Fiji Shark Count and we will be keeping track of all our shark, ray and turtle sightings.
Day 2 and 3 of the trip were spent in Gau, centered around three epic dives at Nigali Passage. The currents, however, dictated that they must be afternoon dives so the group had to patiently bide their time and pace themselves, enjoying a couple of easy-breeezy dives at Anthias Avenue and Jim's Alley before the main event. Both were lovely dives, with photogenic soft corals and lots of critters, but perhaps the best moment of all was watching Matt and Heather contend with an over-friendly Remora: no amount of shaking and kicking would discourage this little guy and he spend the ENTIRE dive jumping from one fin to the other, accompanying them all the way to the skiff at the end! After lunch we got ourselves semi-kitted up then waited for the perfect conditions to hit. We spent the time on the dive deck listening to hilarious stories from Josh and Liz of their time as Cruise Directors. Have you heard the one about the nudist charter? Trust us, you don't want to.... Let's dive Nigali Passage instead!! Boy was it worth the wait. Every diver was blown away by tons of sharks, schooling barracuda and seemingly endless streams of jacks and midnight snappers. Some of the group was extra lucky and got treated to some ray action: two Eagles for Pam and a Manta for Mary and Alka! Pam declared it the 'best dive in the whole world ever'.... can't ask for better than that. In fact, she asked if we wouldn't mind just leaving her in Nigali and picking her up next week!!
The next morning, we did a little exploratory diving, hitting up the Outside Passage and Jungle Jig, sites we don't get out to all too often as we usually only spend one day in the area: with a longer than normal 11 day charter it was great to get the chance to do something a bit different. The deep pinnacle at Jungle Jig's was particularly impressive and boasted a couple of rarer fish for our active fish ID-ers Mark, Sally and Sue M. Mark got a lovely shot of the Orange-Spotted Pipefish, which he's only seen in one or two places on his many NAI'A adventures. That afternoon saw a return to Nigali Passage and, though seemingly impossible, it was even BETTER than the day before!! Alka and Sue Y spotted a huge camouflage grouper skulking behind a rock - a guy they'd seen on their last trip and were happy to know was still around – and Doug spent the entire dive happily parked behind the bleachers just watching the spectacular show before him...why waste energy swimming when it's all right there?! For Sally this dive marked the culmination of her Drift Dive Specialty with Chad.....congrats Sally! All on a natural high after such a spectacular dive, we headed off in the skiffs for our village visit to Somosomo. The villagers were delighted to welcome Josh and Liz home after ten years apart, it was heartwarming to see how many still remembered them. And they were happy to hear that J&L still have the personalized mat the villagers made them as a parting gift all these years later. Everybody celebrates in style...the ladies were 'rocking the dancefloor', quote Josh. We traveled just a few hours overnight to wake up on the pristine shores of Wakaya Island and a day of it's beautiful wall dives. And what better way to start the day than a Hammerhead sighting on dive one?! Awesome spot Eleanor!! The rest of the day saw more of a focus on the little stuff: pipefish, leaf scorpions and a juvenile Spotted Parrotfish the size of your pinky nail. Well done Mary for getting a focused shot of that little guy, too cute. Rosanna and Larry were lucky enough to get a bit of special one-on-one time with a white tip reef shark, off on the edge of the wall while everyone else had their heads in the reef spotting nudis and whatnot! The diving day ended with a dusk dive on Lion's Den, led by Vanessa. Doug and Les enjoyed watching two perfect little dragonets going through their mating ritual: similar to Mandarin Fish, they spiral up into the water column together in a little dance then quickly break apart. This poignant moment was enhanced/ruined (depending whether you're the romantic dragonet or the voyeuristic diver!) by a curious little pipefish who kept getting right up on in there between them! Three's a crowd buddy.....
The next few days saw us dive, dive, dive in Namena Marine Protected Area. We initially only planned two days there but by popular demand happily added a third! Things got off to a wonderful start at Schoolhouse: perfect conditions allowed us to enjoy schooling barracuda, some GIANT tuna and several grey reef sharks checking us out. A few in Vanessa's group were lucky enough to see a Hammerhead in the mix. Only to be slightly outdone by Josh who snuck out deeper and further and found a school of 20! Buzzing after such a fun dive, Josh then found it endlessly entertaining to push Vanessa back into the water every time she tried to kick herself up on to the skiff. By the third time she barely had the energy to fight back, but lucky for her Matt was right there: with perfect comedic timing he gave Josh a taste of his own medicine and sent him flying head first, limbs everywhere, straight into the water!! Cheers Matt! After breakfast we set off for lovely calm dives at Kansas and The Arch. After the adrenaline of the big stuff at Schoolhouse, it was nice to enjoy the littler but equally wonderful critters: pipefish, shrimps, peek-a-boo blennies etc. The afternoon dives saw both skiffs checking out Inner and Outer Thumbs. Our wide angle photographers, especially Tammy, were in seventh heaven, spending 95% of their dive time on the reef crest. Dinner was fabulous that evening: though Alka made the very valid comment that our dear chef Mita "has a perverse disregard for portion control". Ain't that the truth! Chad fended off the food coma and took out the night dive: those who adventured out with him spotted two massive alien-looking sea hares and a yellow head moray, the first Mark (who is writing a book on Fiji fish-life) has seen in Fiji. Meanwhile, back on the boat, Vanessa put Les through his paces with his Nitrox exam, after two days of studying and practicing. Perhaps sitting it after a bottle of wine wasn't the smartest move....but he passed all the same, well done Les!!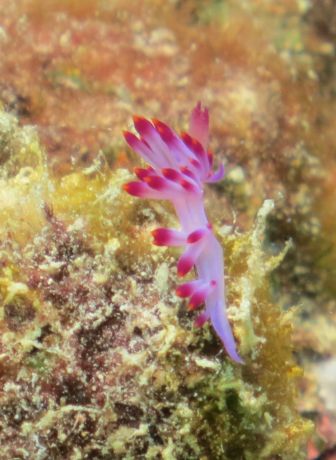 Just For The Frill Of It - by Alka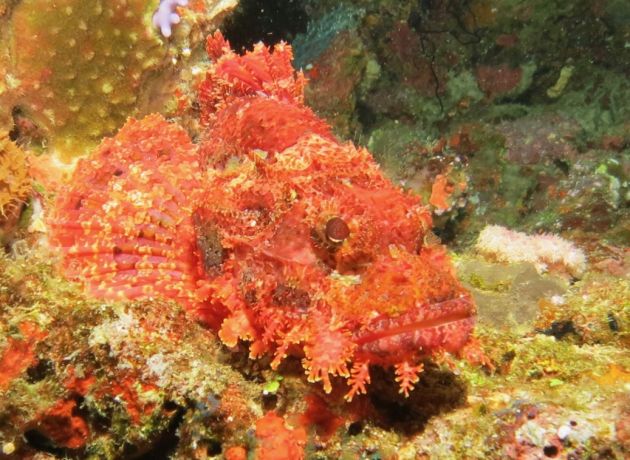 Well Worth The Tassel - by Alka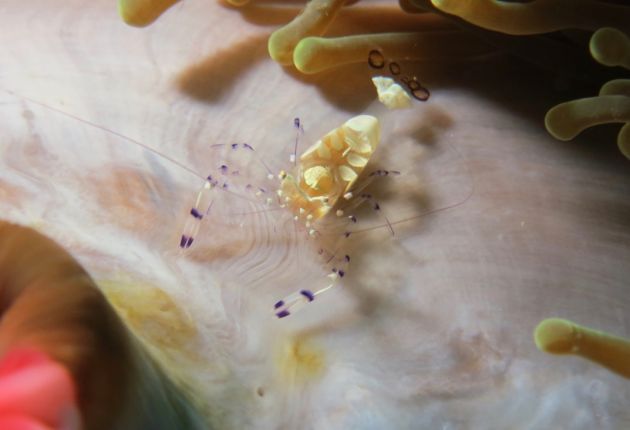 Proud As A Peacock - by Alka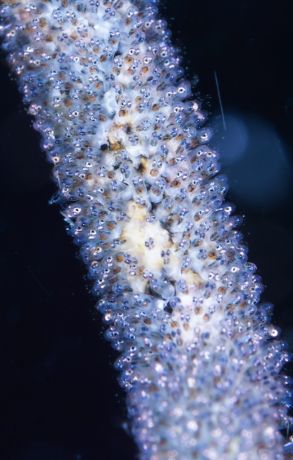 Don't Put All Your Eggs On One Coral Whip - by Doug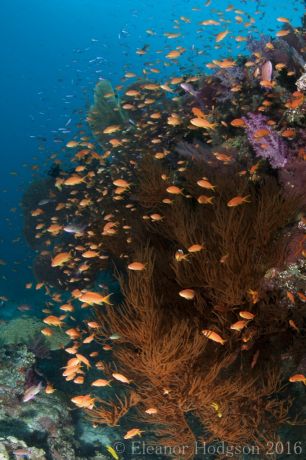 Anthias Afternoon Out - by Eleanor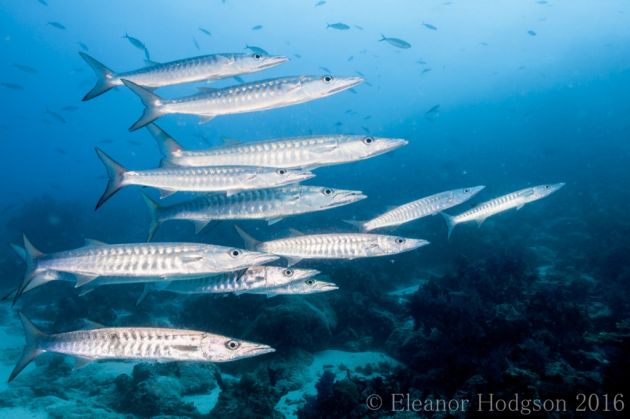 Big Bad Barracuda - by Eleanor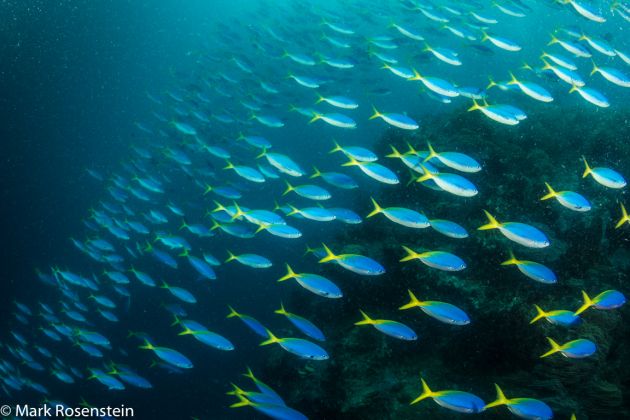 Raining Fusiliers - by Mark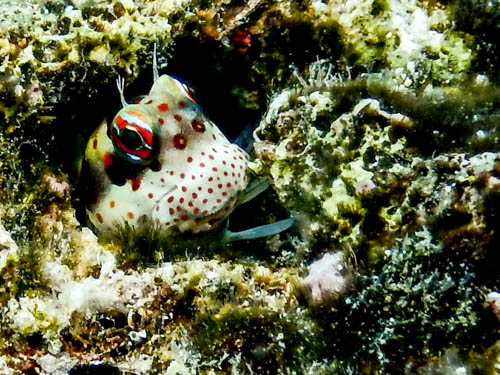 Buddy Blenny - by Mary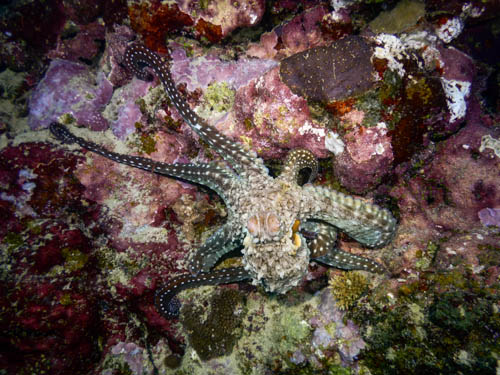 Octo-Stretch - by Mary
Soft Light - by Tammy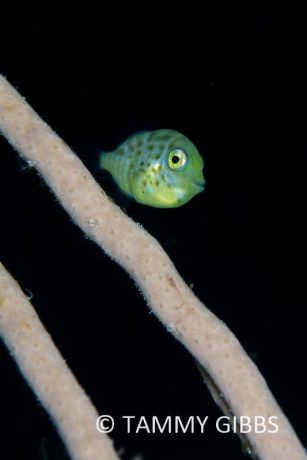 I'm Cute... And I Know It - by Tammy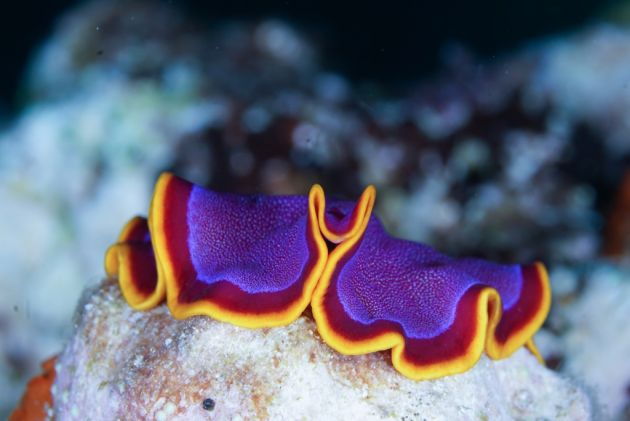 Flamenco Flat Worm - by Doug
Give Me A Cuttle - by Mark
The second day in Namena saw us tackle Grand Central Station first thing: conditions were surprisingly calm, allowing the group to spread out in all directions and really take some space and go exploring. Heather and Matt came across two sleeping white tips, Les saw two huge Morays and a pretty Blue Dragon Nudi, and Eleanor said she had zero idea where she ended up but it was very nice all the same! Next up was The Arch: Vanessa and Mary snuck out to the edges and stumbled upon a MASSIVE school of jacks, and our dear fish geeks were treated to a vibrant flame hawkfish spotted by Sue M on the shallow reef. And their day only got better and better as they then found Squarespot Anthias and Decorated Dartfish on Tetons with Koroi that afternoon! The day came to a perfect end with a busy Kava Party: not only our whole gang was in attendance but we invited over all the old NAI'A crew from the other nearby liveaboard who used to work with Josh and Liz. Josh put in a solid kava effort but Les was the last man standing at something past 1AM!
For our last day in Namena we decided to take a gamble for the first dive and check out an old dive site – Fantasea – that Josh and Liz were familiar with but that NAI'A hadn't dived in several months since Cyclone Winston. Well, errr....it's hit and miss!! Vanessa dropped in on a stunning soft coral wall and had a dive of dreams. Chad, however, got dropped slightly further up the reef and was treated to a 100ft barren desert of nothingness. Oops! Having said that his group still spotted a hawksbill turtle, 2 huge bumphead parrotfish, a shark and an octopus! Not too bad at all. However, we thought we'd stick to an old faithful for the next dive: back to Schoolhouse! Vanessa and Koroi guided and were blown away by how perfect it was: you know it's a good dive when you see a shark chasing a tuna chasing a barracuda!! Chad was bummed to have missed out but he and his group was duly rewarded on his next dive at Tetons with the biggest, fastest Moray Eel known to man (fact). Not only that but also a teeny blue ribbon eel at the other end of the size spectrum. Vanessa took her group to Two Thumbs and spent most the dive with her ever faithful dive buddy Les. They spotted a trifecta of cuteness: a bright orange Phylliidia wart slug, a gold=speckled black flatworm and a blue dragon nudi in a perfect little triangle. That evening, the divers relaxed in the salon, many going through their zillion photos, starting to whittle it down for the end of week slideshow. We also celebrated Mark's 1000th dive with a yummy chocolate cake....thanks for being so dedicated Mark, here's to a 1000 more and another great cake!!
Finally saying a fond farewell to Namena, we traveled by night to the area of Vuya and had some excellent dives at Cat's Meow, Vatu Vonu, UndeuNAI'Able and Humann Nature. On Cat's, our macro divers were thrilled with two very photogenic pygmies, so much so that Vanessa spent 45 mins of her dive showing them off to everyone. Though to be honest, most the photographers were relying on the pro, Josh, to get good shots that they could all steal....shame his camera fogged up in the first ten seconds! Ralph, Matt and Heather had a great time at Vatu, spending near on 20 mins with a show-off octopus who was marching himself all over the reef and striking a pose left, right and center. And Humann Nature was a pleasant surprise for all: it was another gamble site, first check out post-Winston....and it was GREAT! We found a load of cool stuff including an orange $$$$ pipefish, the biggest blue dragon ever (we're talking at least 12 inches long and 2 inches wide!) and a fish-geek favorite, the Wetmorella (coz no one likes a Drymorella).
Sadly our happy vibe was somewhat killed/brutally murdered the next morning with the dire news coming out of America: one word....Trump. With a cloud of gloom hanging heavy over us, we set off diving in the hope of lifting out spirits. Boy, did we judge that wrong! We checked out E6, another try-out we hadn't been to in a while and sadly it only reflected our mood. So in remembrance of that particular day E6 has now been renamed.....Trumped. Oh well, onwards and upwards! Next came Mount Mutiny and the rainbow wall was looking just wonderful: vivid, healthy Chironepthya coral covering one side of the pinnacle from 120' to the surface. In the afternoon we shot for a couple of old favorites: Maytag and Mellow Yellow. Both were looking great in a fairly strong current, anthias and fusiliers just pouring over the reef crest. Many of the divers spent half their dive in just 20' of water right in the thick of it, watching it all kick off just inches in front of them. Howard's Diner was up next, once by day and once by night. By day was nice – Mark was shown an awesome cuttlefish by Koroi – but by night it really came into its own! There was so much going on – scorpion fish, decorator crabs, white tip reef shark, masses of shrimps – but the highlight was without a doubt the flashlight fish. For those who don't know these guys: they have bioluminescent organs on their faces so, put simply, they glow in the dark! In the pitch black with dive lights turned off they look like little phantoms floating around in the back of a cave. Amazing!! And particularly good news for Mark who got their much needed photograph for his book. That night, we celebrated another birthday: congratulations Matt, we're sorry it will forever remind you of a dark day in American history!
And so our last day was spent in Nananu I Ra, a peaceful sheltered area on the northern side of Viti Levu. All the dives were lovely and much was seen. However, only two words really need to be said to sum up this day: octopus porn!!!! On every single dive for both groups they were everywhere, going wild: mating, fighting (it's all the same to these guys!) and showing themselves off to the extreme. It was a perfect way to end the trip and left all the divers with big smiles on their faces. We ended the day relaxing on the sunset: well mainly relaxing, with the exception of Sally and Sue M who scampered up the mast to the crow's nest. We said goodbye to our time at sea with an amazing sunset right over the ocean and then a spectacular group slideshow from our many talented photographers.
Josh and Liz, it was lovely to welcome you home, we hope you enjoyed it as much as we did. To you and to all the lovely guests you brought with you: come and see us again soon!
Our Guests...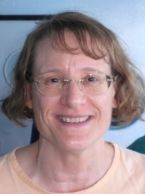 Comments
"This trip was better than I expected. And I expected it to be pretty frickin' great. Thanks to all the crew who made our first liveaboard so memorable."