Pollos y Changos
Destination: Fiji's Bligh Waters
Trip Date:
Mar 28th - Apr 4th, 2015 -
Comments
Author: Joshua & Amanda
Welcome Back: Ivan S, Guillermo, Ivan M & Marifer
Congratulations: Ivan M on his birthday, Daniela S & Sofia on their Nitrox certification & Sonia on her Fish ID Specialty certification
Just six hours after our group of esteemed guests left from the previous charter, a very different group descended upon us. All the way from Mexico City, Ivan S and his group of boisterous, fun-loving Mexicans, arrived on NAI'A. This was the ninth time that Ivan had brought a full-boat charter; expectations were high and the pressure was on us to deliver yet another wonderful diving experience. All of the guests were pleased to find out that Joshua is fluent in Spanish, albeit with a much different accent and vocabulary than that of our friends. The energy level was suddenly amped up to an unprecedented level, thanks to the addition of nine teenagers.
With a clear forecast ahead of us we set off for our first day of diving in Vatu-i-Ra. As usual, with a group who hasn't been to Fiji before, the first day really blew them away. Having only experienced murky Samu Reef the day before, they were thrilled to discover Maytag and Mellow Yellow on their first dive. Several eyes were seen popping out of their skulls and everybody had a huge smile on their face when coming back to NAI'A, although, as we were to discover, this is how they treated life in general. Among our more memorable sightings from this location were grey reef sharks and leaf scorpionfish at Maytag, a Triton's trumpet snail and golden mantis shrimp at Mellow Yellow and a host of nudibranchs at the Whole Shebang.
This was a group who happily threw themselves with enthusiasm into whatever was on the schedule…. although not always at full speed. Our usual very punctual "NAI'A time" became a more relaxed "Fiji time", and then was dialed down to an even more laid back "Mexican time" throughout the week. This was the first charter in which every one of our guests did a night dive. Usually, they prefer to dive into their wine at dinner rather than dive into the dark sea afterwards. With 20 divers, among them two guides and 6 first-time night divers, the dive was a bit chaotic, but we managed to log some impressive underwater critters. Divers from one skiff found depressed crabs and mating flabellina bilas nudibranchs, while those on the other saw decorator crabs and the bizarre skeleton shrimp.
It was during this dive that our guests began earning their first pollos (chickens). Group leader Ivan, a dive instructor and dive magazine editor, had come up with a fun way to ensure proper diving practices amongst his group. Anybody who screws up, forgets something or does something stupid is rewarded with a pollo. Three pollos equals one chango (monkey). Whoever had earned the latest pollo or chango had to clip a squeaky rubber chicken or monkey to their BCD during each dive until somebody else claimed it. At the end of the charter, the diver who racked up the most changos and pollos had to buy dinner for the entire group! So beware, exceed the maximum operating depth, touch the coral or forget your weight belt: Pollo! Of course our Fijian crew took to this game with relish and could soon be heard chiming in with cries of "Pollo, Pollo!" whenever it happened.
Consisting of a number of young and less-experienced divers, this group was excited to dive at Wakaya Island, known for its mild currents and large pelagics. The port skiff started out strong with a winged pipefish and eight minutes with a manta ray! Not to be outdone, the starboard skiff returned to NAI'A boasting three hammerheads. During the dive, buddies Gabriela and Sonia rushed to Joshua pounding their temples with their fists to signal hammerhead. Immediately, he bolted around a bommie, leading the rest of the group close to a very large great hammerhead. Minutes later, a pair of male scalloped hammerheads made a very close pass on Lion's Den, one of them angling his body "all the better to see us with, my dear." Joshua's Duke Blue Devils had just played their way into the college basketball Final Four… and now this? Things were really going his way. Later in the day, we caught sight of large schools of blackfin and bigeye barracuda and leaf scorpionfish, before a strong current caught hold of us. Lately, the current at Wakaya has been acting strange. The result is challenging dives, but lots of fish.
That night was Ivan M's 18th birthday and the group would show us how they celebrate this even south of the border. Despite living in Latin America for more than seven years, Joshua had never seen or heard a birthday celebration quite like this one. It began with our crew singing a birthday song in Fijian, then in English. Then the entire group of guests belted out a Mexican birthday song that was full of kind wishes and gentle teasing. A cake was brought before him and everyone began chanting mordida mordida (bite bite)! With his hands behind his back, he lowered his mouth reluctantly towards the cake when Rodrigo pushed his head into it! More chanting and more singing, followed by a sweet photo montage of his life.
Our luck continued to roll as we pulled up to the island of Gau on Day 4. As we splashed into Nigali Passage, our guests observed a multitude of circling grey reef sharks. It's a good thing the Great Fiji Shark Count hadn't yet started; this would have been difficult to count. As the starboard skiff drifted down the passage, Joshua spotted a hammerhead shark cruising above them. The entire group began swimming to keep up with it and caught a great view. This was the first time we had seen this type of shark in the passage. A grey reef shark of about the same size as the hammerhead came up behind it as if to say, "hey, this is our turf!" The hammerhead seemed unperturbed.
Before the second dive in the passage, Marifer forgot her computer. She returned to the dive deck and began searching frantically for it. Once she had found it in the camera room and hurried back towards the skiff, Moji caught her and handed her the rubber chicken, taunting, "Here is your present!"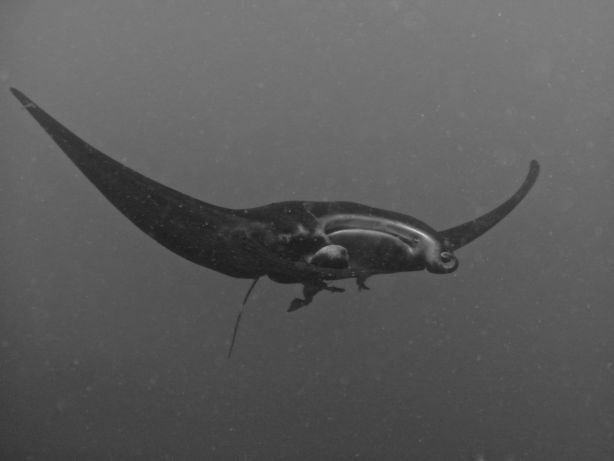 We are clear for takeoff - by Big Mo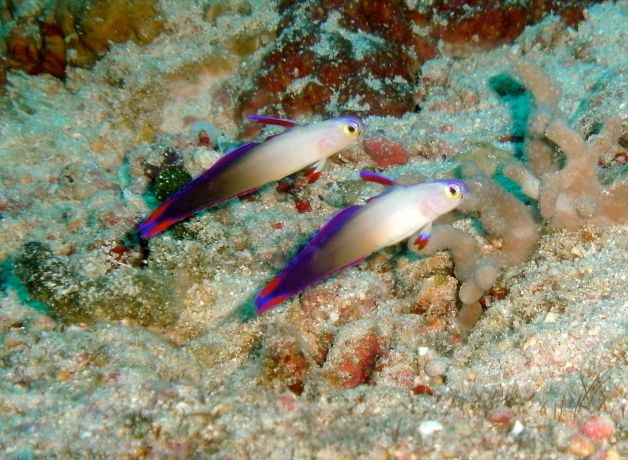 Decorator hues - by Big Mo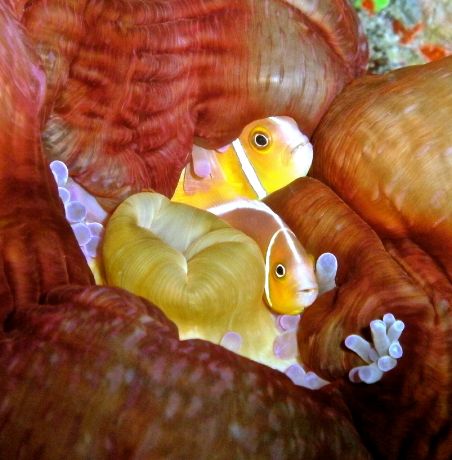 Tucked in - by Big Mo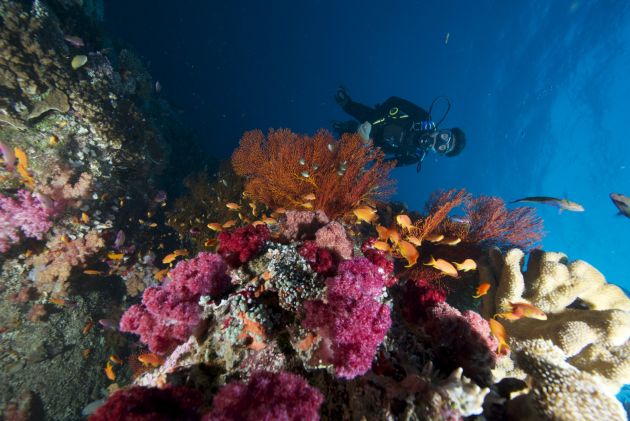 Reefscape - by Guillermo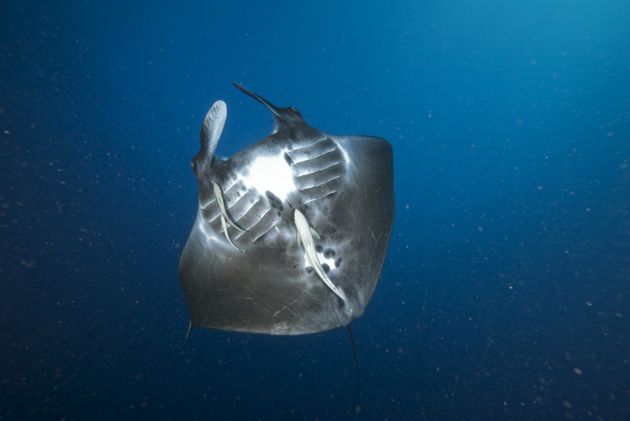 And... liftoff! - by Guillermo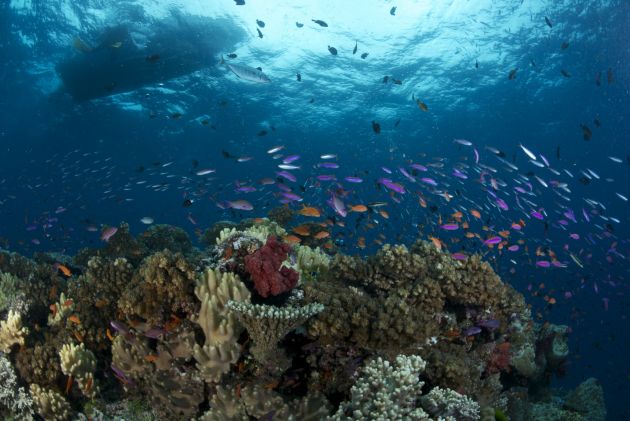 Wonders below - by Guillermo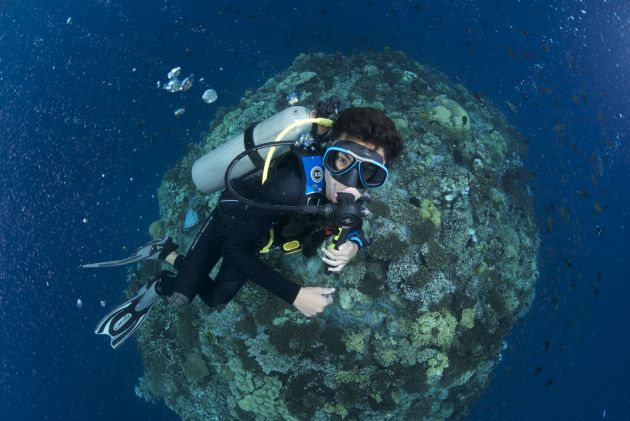 Top of the world - by Guillermo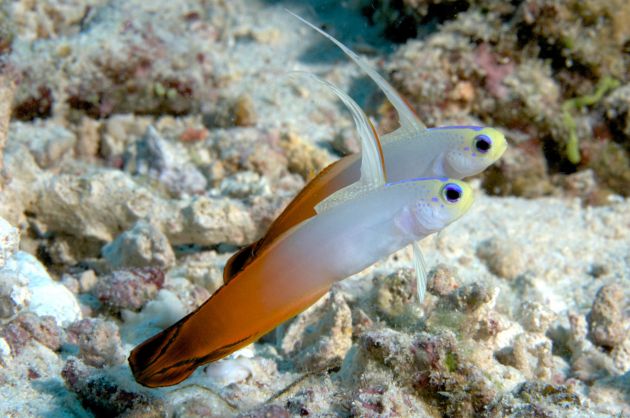 Eternal flame - by Guillermo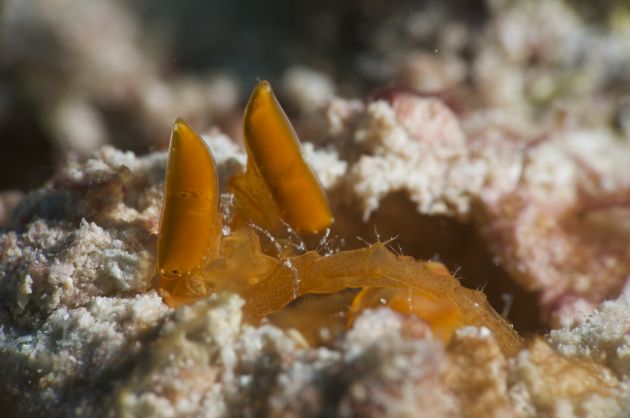 Eyes on the prize - by Ivan S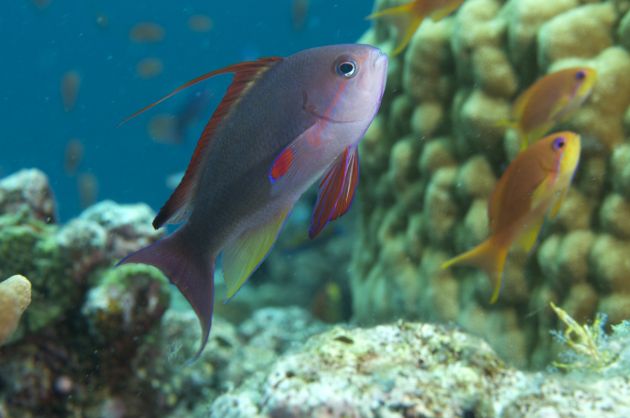 Harem - by Ivan S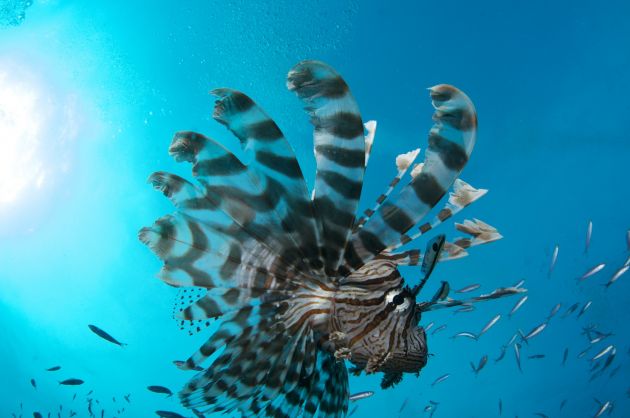 Lion's mane - by Ivan S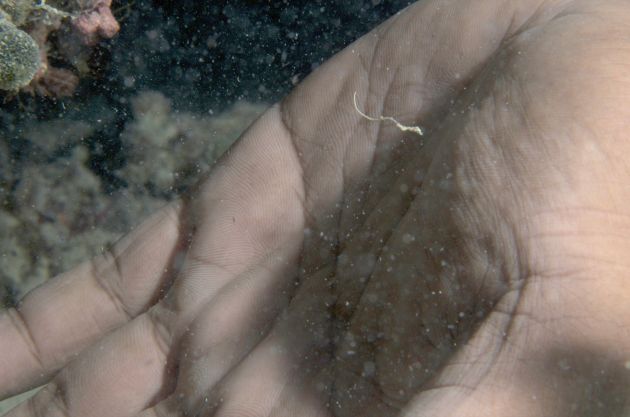 Granted, Big Mo has huge hands, making this rumengani (pygmy pipehorse) look even tinier - by Ivan S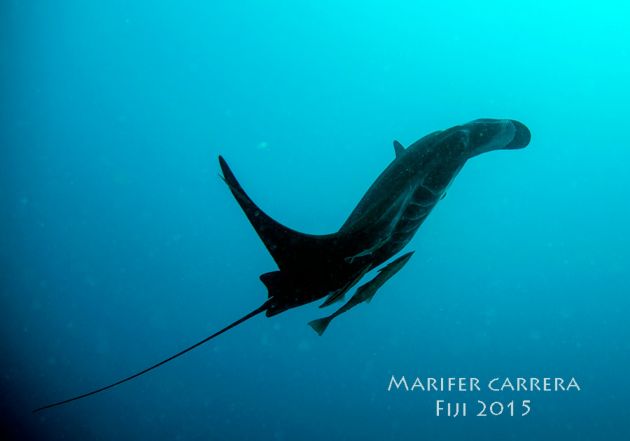 Up, up and away! - by Marifer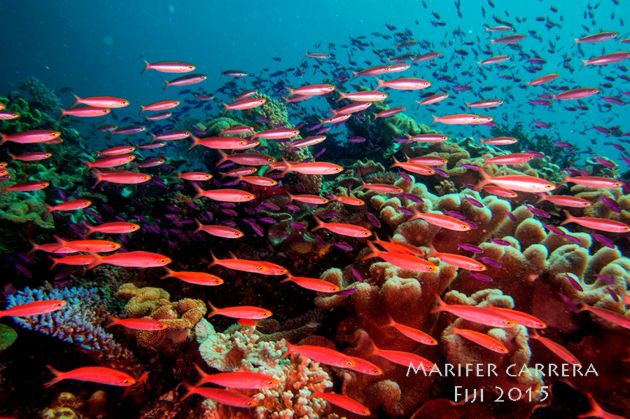 Blaze of glory - by Marifer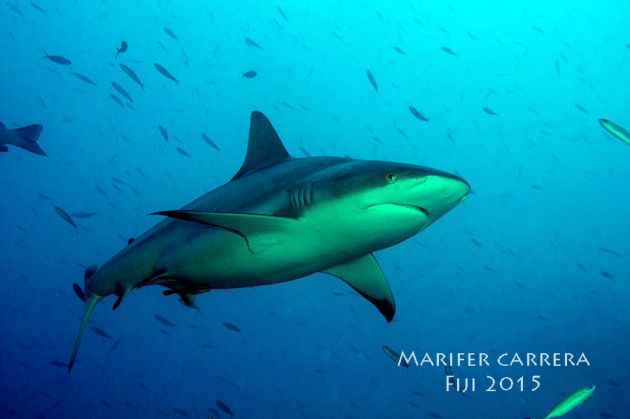 Pregnant sharks of Nigali - by Marifer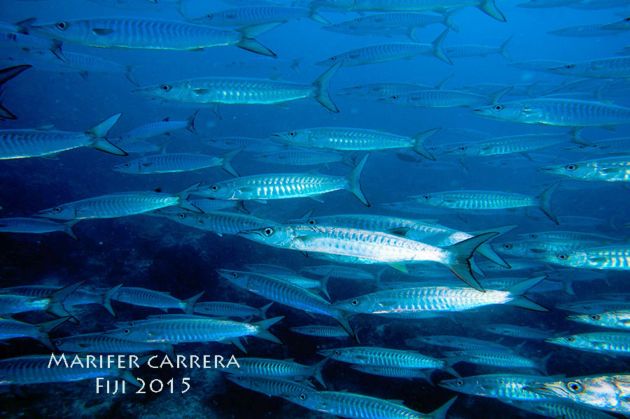 Knife's edge - by Marifer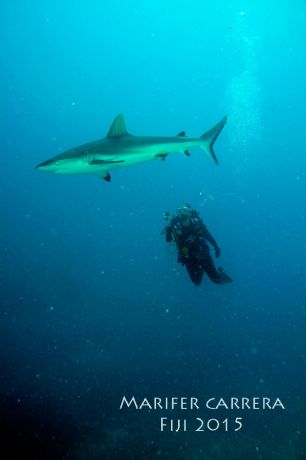 Can you say Facebook profile pic? - by Marifer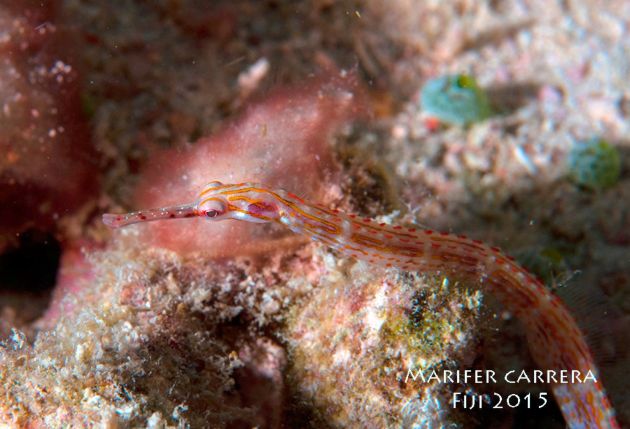 Blending in - by Marifer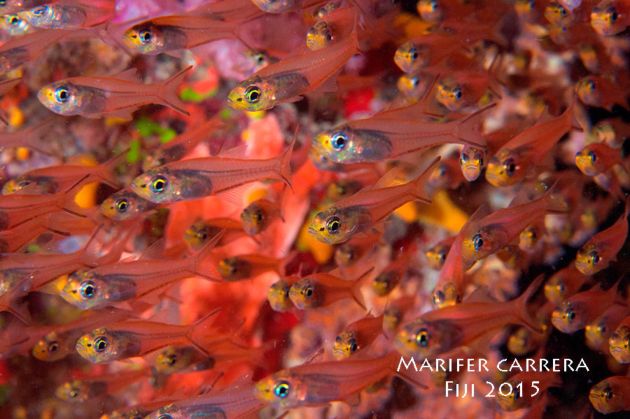 Glass house - by Marifer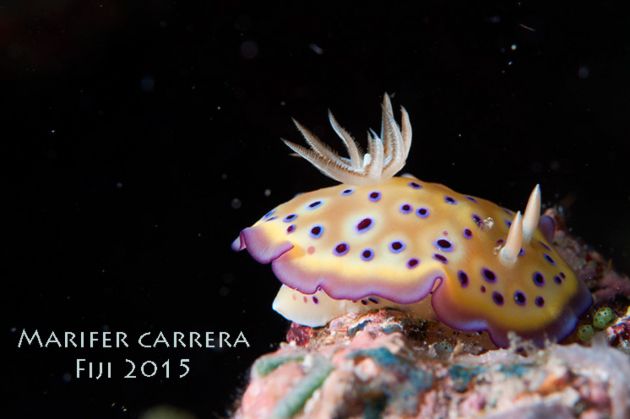 Kootchy Kunie's - by Marifer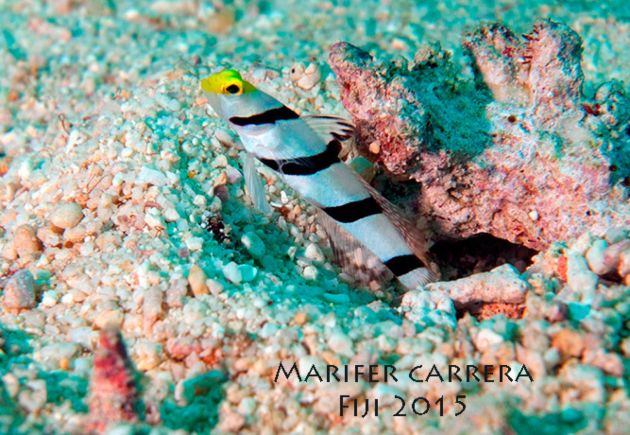 By a nose - by Marifer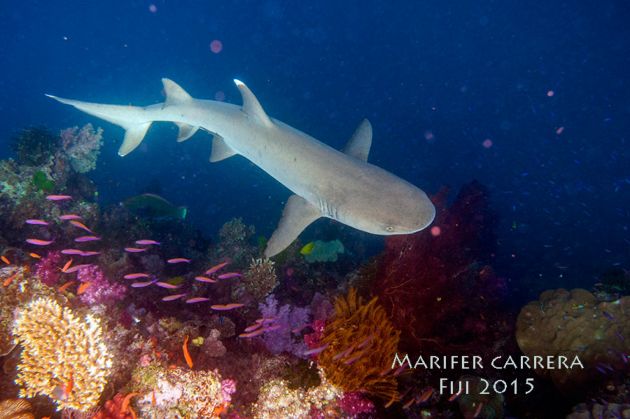 Shark reef - by Marifer
Daniela K's favorite animal is the sea turtle. After nearly every briefing she asked if we were going to see one. Seeing an easy target for teasing, many in the group ganged up against her, repeatedly mocking her query, "are we going to see a turtle?" Well, she would not be disappointed during our second dive in the channel, when she had a close encounter with a beautiful hawksbill. At the end of that dive, when only Sonia remained, we caught a large spotted eagle ray gracefully cruising past. It's extraordinary how many special sightings still occur to those who manage to stay down well after others have finished their air!
After our dives at Gau, we visited the village of Somosomo. Prior to the visit, Joshua, who was bombarded by questions all week, told our guests not to ask him any questions about the village visit until after he gave a detailed briefing that afternoon. Later, just as he was about to start the briefing, the entire group stood up and walked out of the salon. Very confused, Amanda looked to Joshua for an explanation, thinking she had missed something in the language barrier, but he was just as confused as she was. All he knew was that they were playing a joke on him. What exactly the joke was, we're still not sure!
Once again, our guests brought with them all of the enthusiasm and energy for which they would become known. They instantly bonded with the local villagers and really appreciated how, although equally as poor as many Mexicans, the Fijian villagers are much better off because they have food, shelter, clean air and water and strong community support. They tore into the kava supply and danced with the local ladies. Whenever we visit this particular village, the women invite the female guests to dance with them. An average of one or two ladies get up to boogie. With this group, all but one shook their moneymakers. They danced so intensely, in fact, that the villagers cackled hysterically. After the entertainment, they mingled easily with the villagers and it was very difficult to drag them out there.
For our last two full days of diving, we would descend upon the luminous reefs of the Namena Marine Reserve. By this point, I believe, the vitality of our guests began to wane as we tired them out with our full schedule. Even Ivan S doled out fewer pollos and, probably as a result, the other divers began to show up later and later to dives. Of course, we didn't really mind. This was a full boat charter and we were happy to run on our guests' schedule. It's just a good thing there weren't any Swiss people onboard!
Once again, Namena lived up to its outstanding reputation with incredible conditions for colorful reefscapes, huge schools of fish and a tantalizing array of unusual macro life. Tetons I offered orangutan crabs and bubble coral shrimp, while at Two Thumbs up we found juvenile fire dartfish and a gloomy tambja nudibranch. At North Save-a-Tack, our guests tracked down the golden mantis shrimp, flame hawkfish and juvenile palette surgeonfish. The highlight of the day was certainly the dusk dive at Kansas. The wind had picked up and with it, the waves, causing a heavy surge below. This stimulated activity on the reef. Among the clouds of anthias, we found a Kunie's chromodoris nudibranch, our first ever sighting of the bluestripe pipefish (we hope it's in the same place next week) and 14 brown banded pipefish intertwined and getting ready to sleep! When Joshua pointed them out, Ivan S earned himself a pollo by putting his hand on top of them. They all darted safely out of the way, but that certainly didn't help them wind down before bedtime. Later, Ivan would admit that his poor vision should have earned him an ostrich!
On the fifth evening, we hosted our weekly kava party. Once again, our guests took to the kava and music with gusto, but didn't last terribly long. Ivan M and Juan Pablo showed off the chords on the guitar and ukulele that Big Mo had taught them and Rodrigo tipped back the huge bowl usually reserved for serving kava.
We had very little current at Schoolhouse the following morning, ideal for our guests. They were thrilled to find a hawksbill sea turtle, several grey reef sharks and countless lionfish. The current picked up throughout the day and we experienced a challenging dive around the pinnacle of Magic Mushrooms I. Despite the obstacle, Joshua pointed out an unusual color variation of the shortnose pipefish that looked just like a tiny stick. The most chill diver in the group was certainly young Diego, who at 13, has more poise and control underwater than some much more experienced divers. The dusk dive was once again a highlight. This time, on Mushrooms II, we found a leaf scorpionfish the color of wax paper and more than 30 sleeping brown-banded pipefish! Apparently, that's a thing.
The night dive that evening was led by Big Mo, who further cemented his reputation as the God of Small Things by discovering the ridiculously tiny Rumengani pipehorse. This thing is so tiny you could get it confused with a few strands of hair. Ivan S captured a great shot of the little creature floating on top of Big Mo's enormous hand, just so we could all appreciate the perspective.
This week, Sonia took part in the Fish Identification Specialty course to improve her knowledge of fish families and species and ability to distinguish them. She certainly came a long way (although her drawings leave something to be desired!) and mastered a bunch of species by the end of the week. On her final dive, as we descended along the sheer drop-off of Mount Mutiny, Joshua heard Amanda's distinctive shaker. He looked ahead and saw her well off the wall, pointing into the deep. Joshua drifted down until he saw the unmistakable fins of a silvertip shark. He beckoned Sonia then bolted down to 100'. Every silvertip he had seen so far was 2/3 the size of this specimen; everything about it was absolutely enormous. Sonia and Joshua hovered in the blue as the great shark circled back several times, although it was difficult to concentrate when a school of 100 blackfin barracuda pulled in to check us out!
 What a trip and what a colorful group of divers. We look forward to Ivan S and Gabriela's next visit to Fiji and to meeting the next bunch of fun divers he brings with him. And in case you're wondering, it's José who owes everybody dinner!
"Mexico loves Big Mo. We had a great time. Thank you for everything. We'll be back soon."
-Sofia
Our Guests...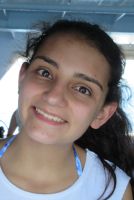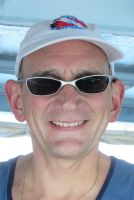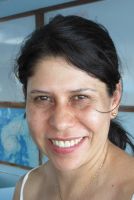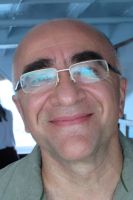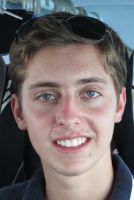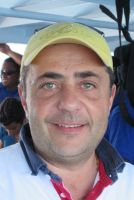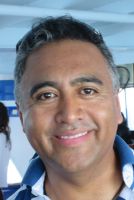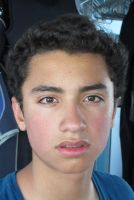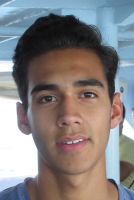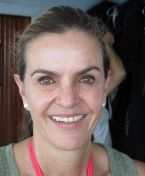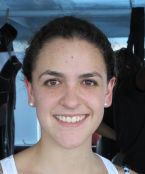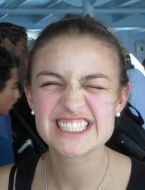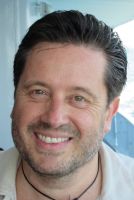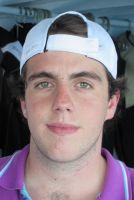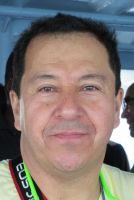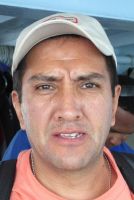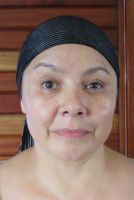 Comments
"Thank you to everyone on NAI'A who makes NAI'A what it is – an exceptional operation and a gateway to underwater wonders. What a fantastic crew! Thanks for an incredible life experience!"