Sea Save Shenanigans
Destination: Fiji's Bligh Waters
Trip Date:
Mar 3rd - Mar 13th, 2018 -
Comments
Author: Vanessa & Chad
Welcome Back: Jay, Georgienne, Carman, Rick, John & Linda
Congratulations: Mike & Valerie on completing your Nitrox certification
This charter we were delighted to be joined by the Sea Save dream team, led by Georgienne Bradley and Jay Ireland. We are HUGE shark lovers here on NAI'A so to be joined by such activists was a real privilege. They brought with them 16 avid divers, some of whom had been on NAI'A previously, some of whom were on their first ever live aboard; a real mix! And a spread of age groups, too, which we really enjoyed; it's always nice to have a varied demographic onboard. Although, we were a little upset when we realized several of our guests were born in the 1990s: you're making US feel old, that's not allowed!  
This was one seriously high energy group: it was prank after prank, ongoing shenanigans and laugh-a-minute for ten days straight! Anyone still finding cookies in their hoodies or gunk in their dive booties?! No, just Mike? We do love a group with a wicked sense of humor, especially when it means we don't have to keep our OWN sarcasm too under control! Thanks for the laughs, one and all.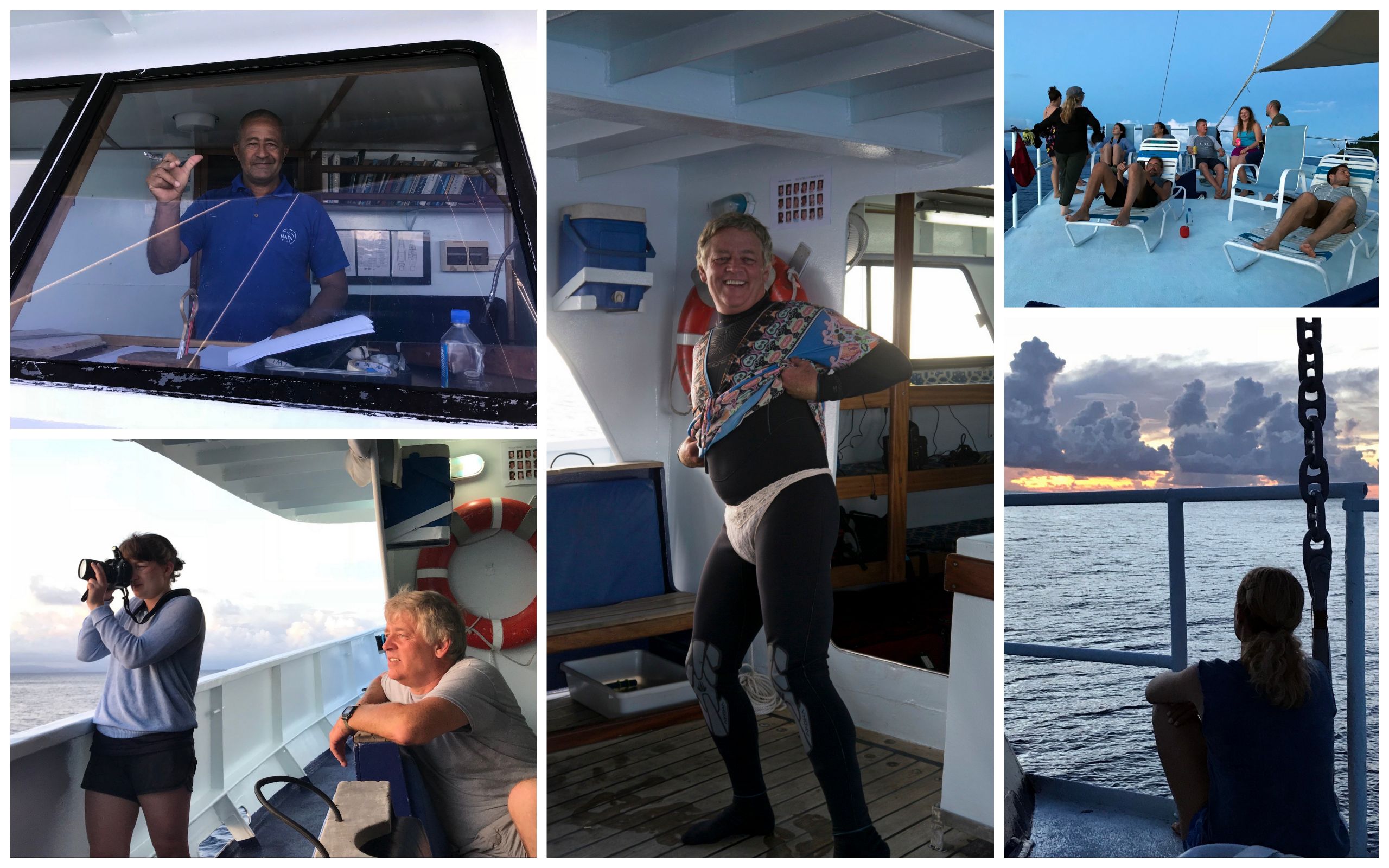 Photo Credit (Left- Top, Bottom, Center, Right - Top, Bottom): Adam, Adam, Linda, Adam, Adam 
We began our trip in Vatu I Ra, where everyone enjoyed some great diving at Mellow Yellow, Maytag, Coral Corner and Alacrity. It was a tight contest but Maytag seemed to just sneak ahead and take the win, with several declaring it their favorite dive so far. We did laugh in the coming days, though, as the diving just got better and better and new favorites were declared on a near hourly basis! Lion's Den….no, Nigali…..no, Schoolhouse!! Not a bad situation to be in.
We sadly had to cancel our first night dive as the wind had picked up incredibly during dinner and the Captain declared it unsafe: aye aye, Capt'n! It had been pretty grey and rainy all day and we were worried it was a sign of things to come. How wrong we were! The next day, we awoke to glorious sunshine and it stayed that way for the rest of the trip. Many a pleasant hour was spent up on the sun deck between dives! Whisky sours at sunset, that's the way to do it.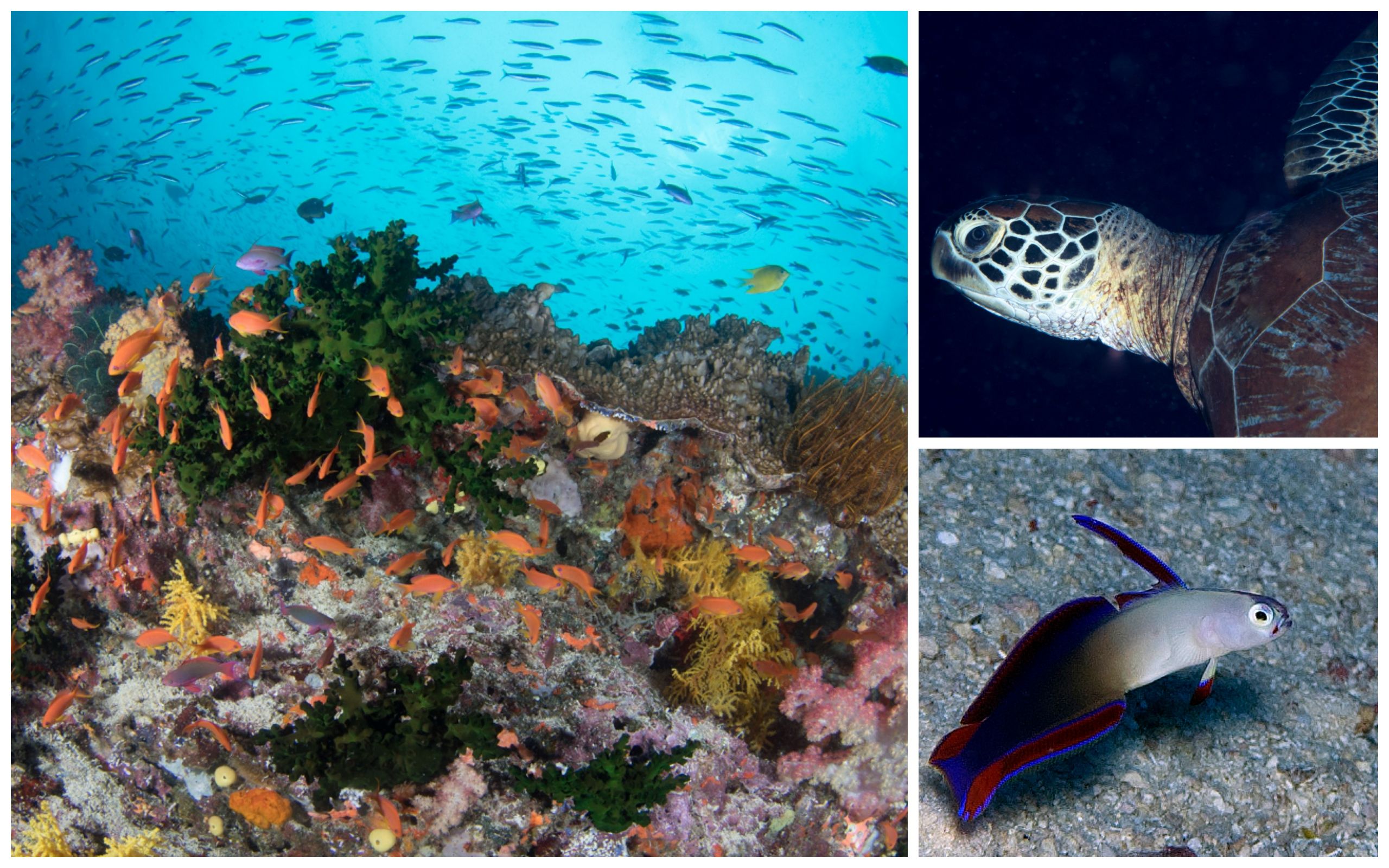 Photo Credit (Left, Top Right, Bottom Right): Rick, Rick, John 
We spent the next day at the island of Wakaya, enjoying blue skies and calm seas. Everyone enjoyed four gorgeous day dives along the wall here, at Lion's Den (both deep and shallow), Vatu Vai and Blue Ridge. We saw a load of awesome macro life – leaf scorpionfish, juvenile peacock razor fish, Randall's shrimpgoby etc – and well as a few sharks and schooling barracuda. Some of our divers were even lucky enough to see an eagle ray casually passing by! That night after dinner we took advantage of the great conditions and headed out for a night dive on Vatu Vai. Divers saw multiple pleurobranches, some huge lobsters, a couple of big crabs and a GIANT moray!
The following two days were spent in Gau. All of our dives were lovely but, of course, Nigali Passage was the clear favorite here! Truthfully, we had some of the best dives we've EVER had there this week. All the usual suspects were out in force – sharks, barracuda, BFG etc – but the sheer 'fishiness' of the Passage was unreal! We could hardly see the sharks for all the fusiliers and jacks getting in the way. When the guides, who do the same dive every week, come back absolutely BUZZING you know it's been a good'un.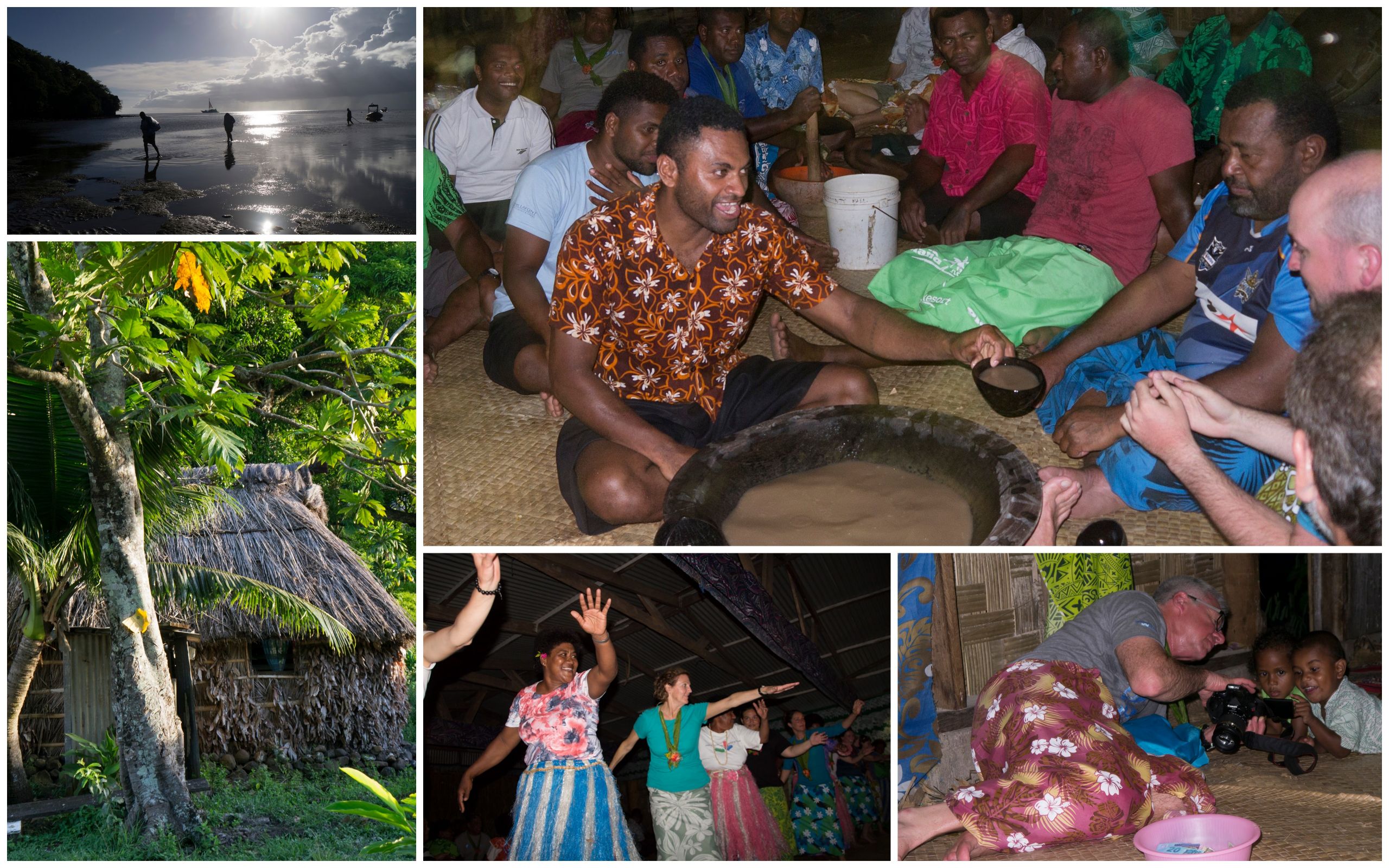 Photo Credit (Clockwise from Top Left): Linda, Linda, Linda, Rick, Linda 
We also took time out in Gau to pop into land for our village visit at Somosomo. Vanessa had been badly stung by a jelly and had to miss the visit for the first time ever, but heard reliable reports that the guys' dancing was like nothing the villagers had ever seen before! She's not sure if that's a compliment or not but she sure wished she's witnessed it!
From Gau, we headed to the marine park at Namena, where we would spend three beautiful days enjoying the pinnacles and walls on offer. Schoolhouse and Grand Central Station lived up to their names with huge schools of jacks, barracuda, triggers, fusiliers and bannerfish buzzing all over the place. And our collection of Tetons proved a great hit, especially the shallow top reefs which were just teeming with life. On the second day, we mixed our skiffs up a little, taking out a ladies-only dive to celebrate Women's Day: we had quite the giggle building human pyramids underwater then went for the most Zen, mellowed-out dive ever. We even had an honorary lady for the dive: Jay, looking goooooood in that pretty dress and fancy underwear!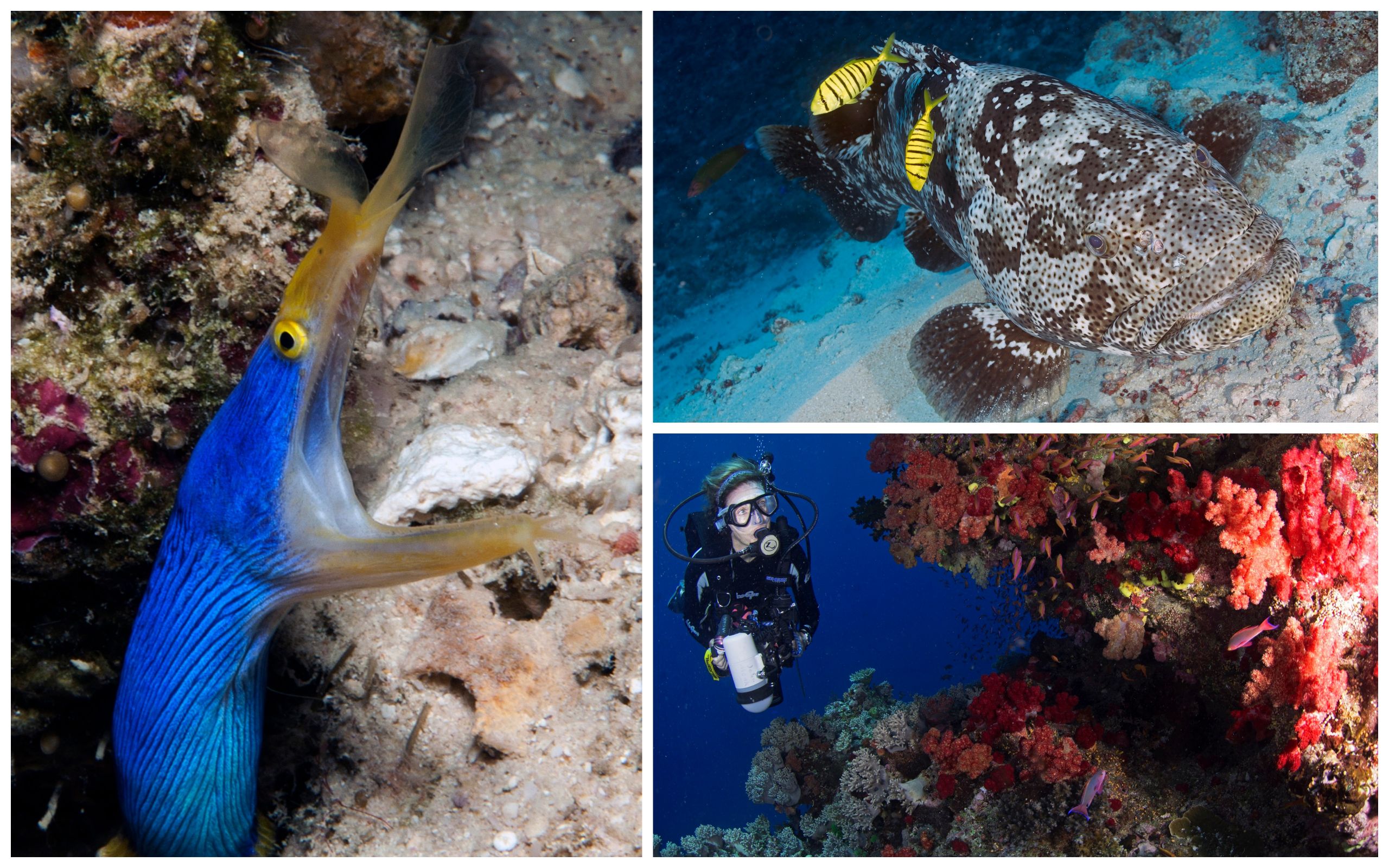 Photo Credit (All Photos): John 
We took time out from our hectic schedule of diving/eating/lounging in the sun to enjoy a raucous kava party with all the crew! 'Kava Time' was being declared with abandon and tsunamis were getting knocked back left, right and center! The Animal Song saw some enthusiastic group participation, with probably the most excitable wolf we've ever heard.
Departing Namena after our last dive, we traveled back west to the Vuya region, enjoying a glorious sunset cruise with cocktails on the way. We were hoping to spend the next morning there but after a rather 'exciting' first dive (ripping currents and questionable viz made precision drop-ins extremely difficult!) we decided to move on and return to Vatu I Ra for the rest of the day. Smart choice! We enjoyed some beautiful dives back on Mellow Yellow, Coral Corner and Maytag. We really focused on the macro life and found some pretty cool critters: four robust ghost pipefish all in a row, a cool halimeda ghost pipefish and a cute little orangutan crab! After dinner that evening two (yup, just two of a potential 12-14 that morning haha!) ventured out for our final night dive of the trip. Though not before everyone had been awarded their personalized and well-researched Chicken S**t award!!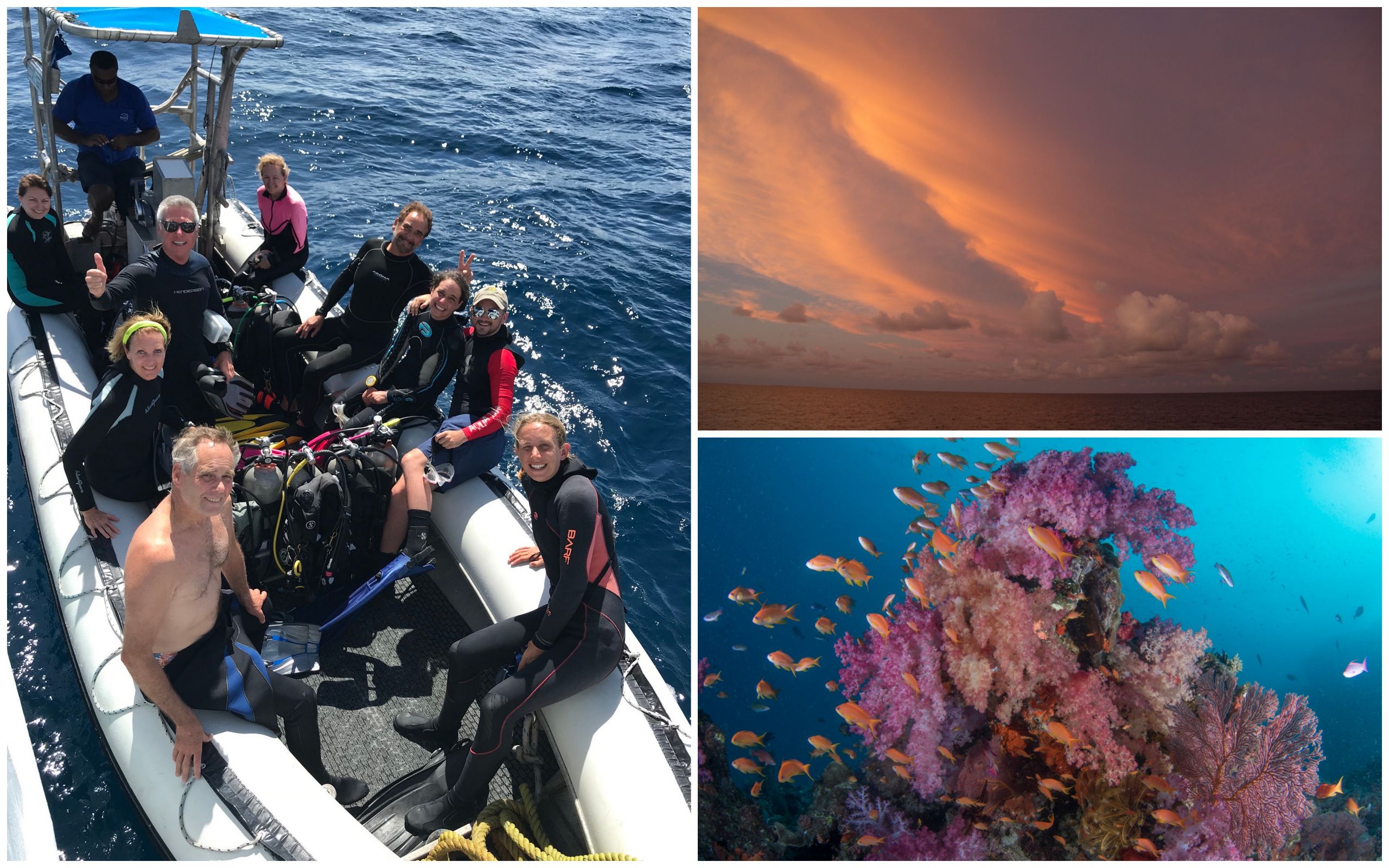 Photo Credit (Left, Top Right, Bottom Right): Adam, Rick, Rick 
For our final day of diving, we headed to Nananu I Ra, where we enjoyed three great dives at Labyrinth, Golden Sunset and Pinnacles.  Everyone enjoyed getting 'lost' in the mazes of these unique reefs….we tried to leave a few down there but somehow they found their own way out!! After getting all the gear washed up and hanging out in the blazing sun to dry, everyone enjoyed a final lazy afternoon gathered on the sun deck. That evening we enjoyed a great slideshow with everyone's photos from the last ten days and the next morning our adventures drew to a close. Bon Voyage everyone: come again soon! Though give us a bit of time to recover first….. ;-)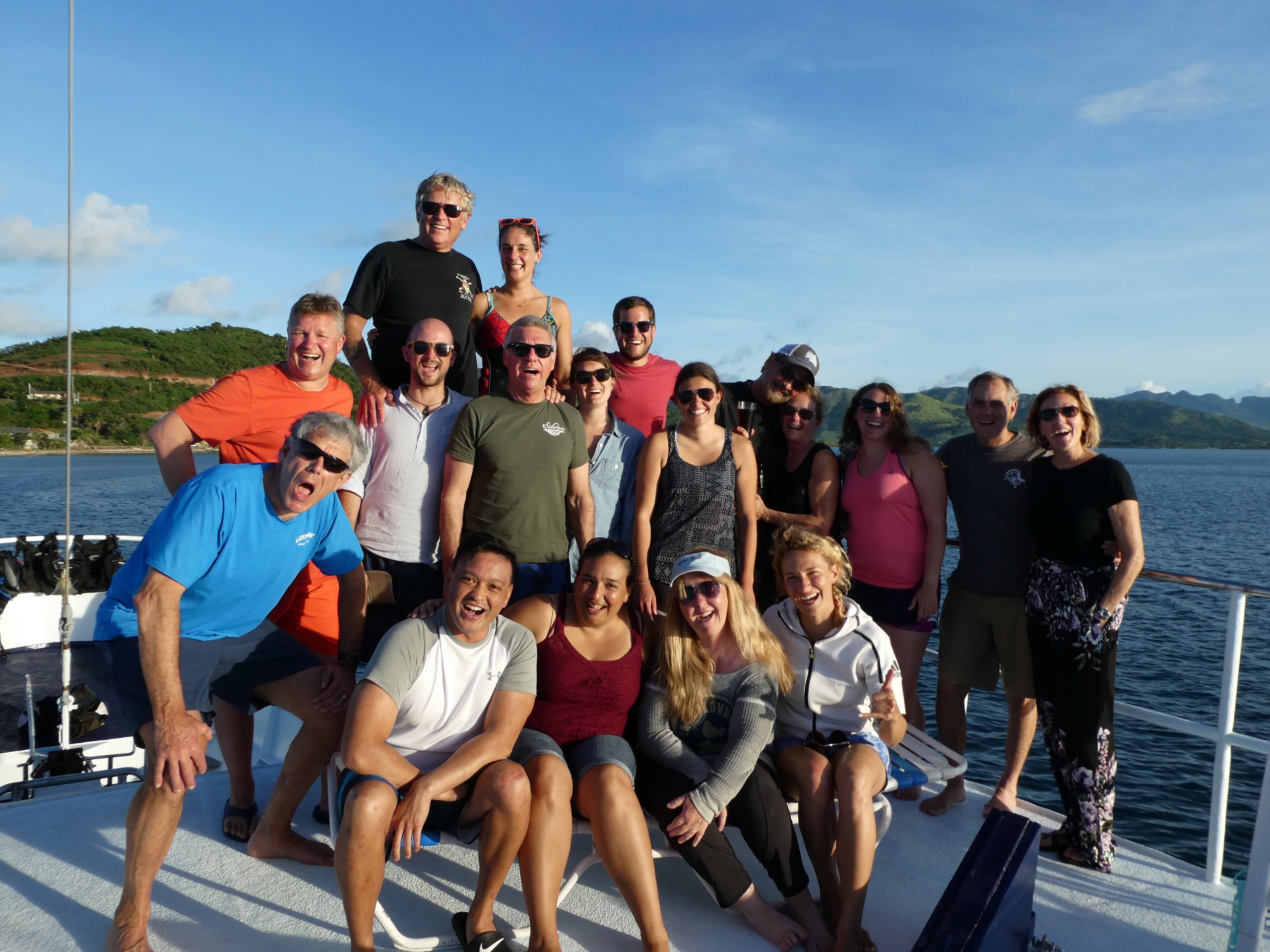 "The best crew and food on any live aboard!" John & Linda
"I'm so full of love and gratitude for the NAI'A and her crew. I hope I will be able to visit again very soon!" Melissa, Ashland, WI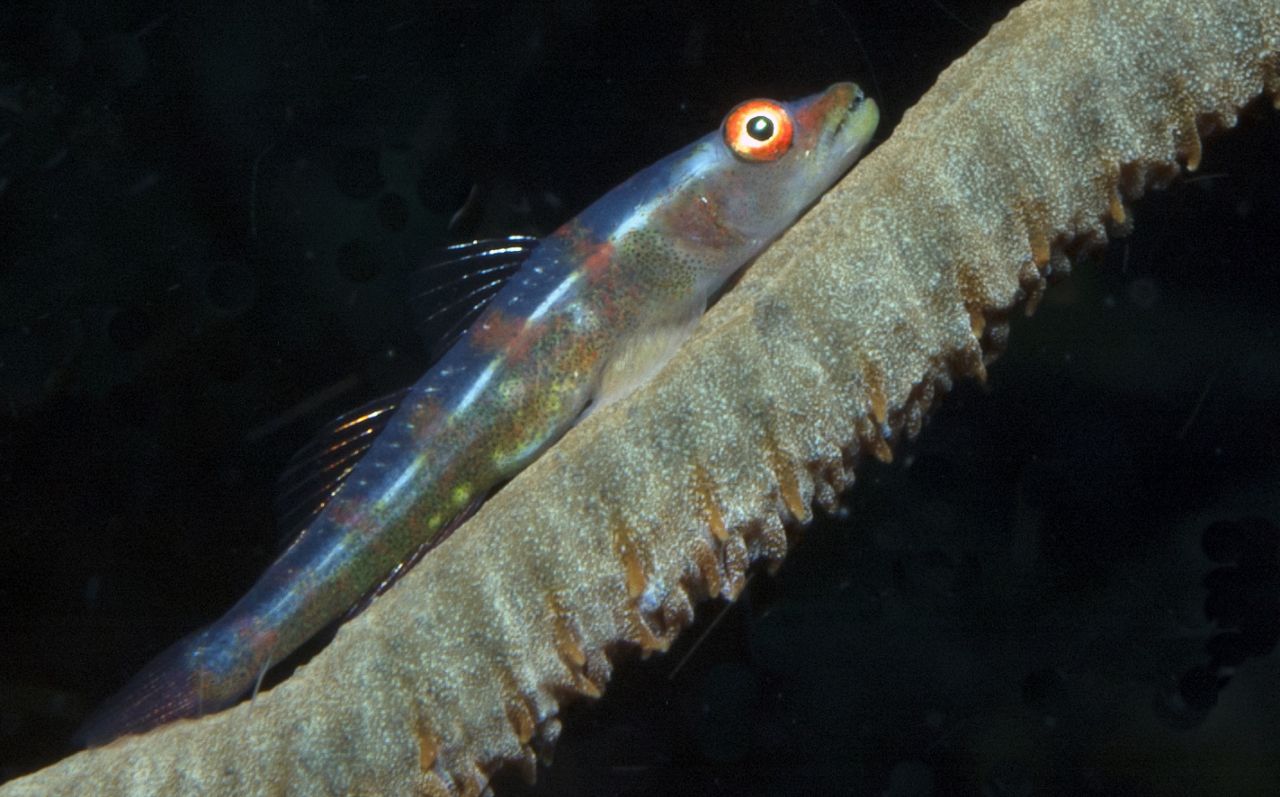 Blending In by John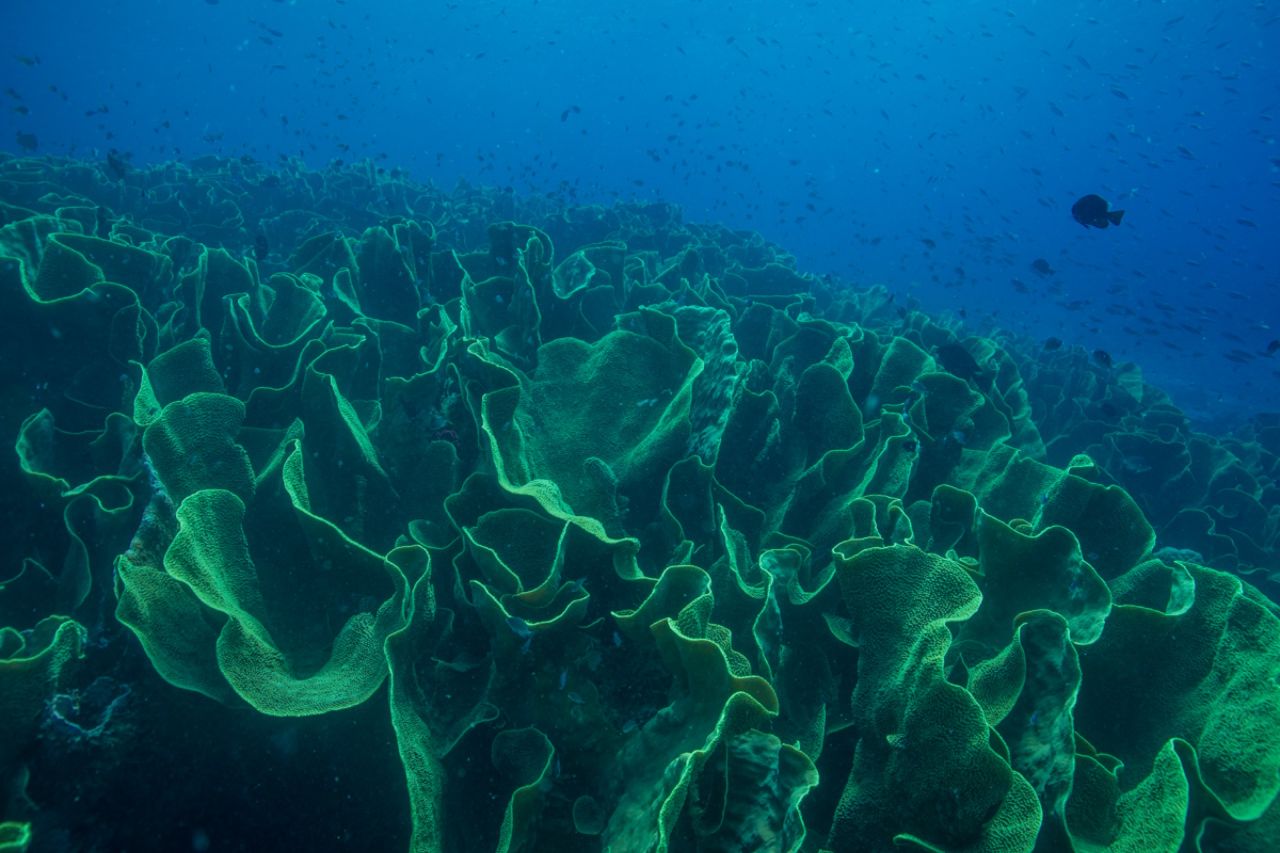 Cabbage Patch by Rick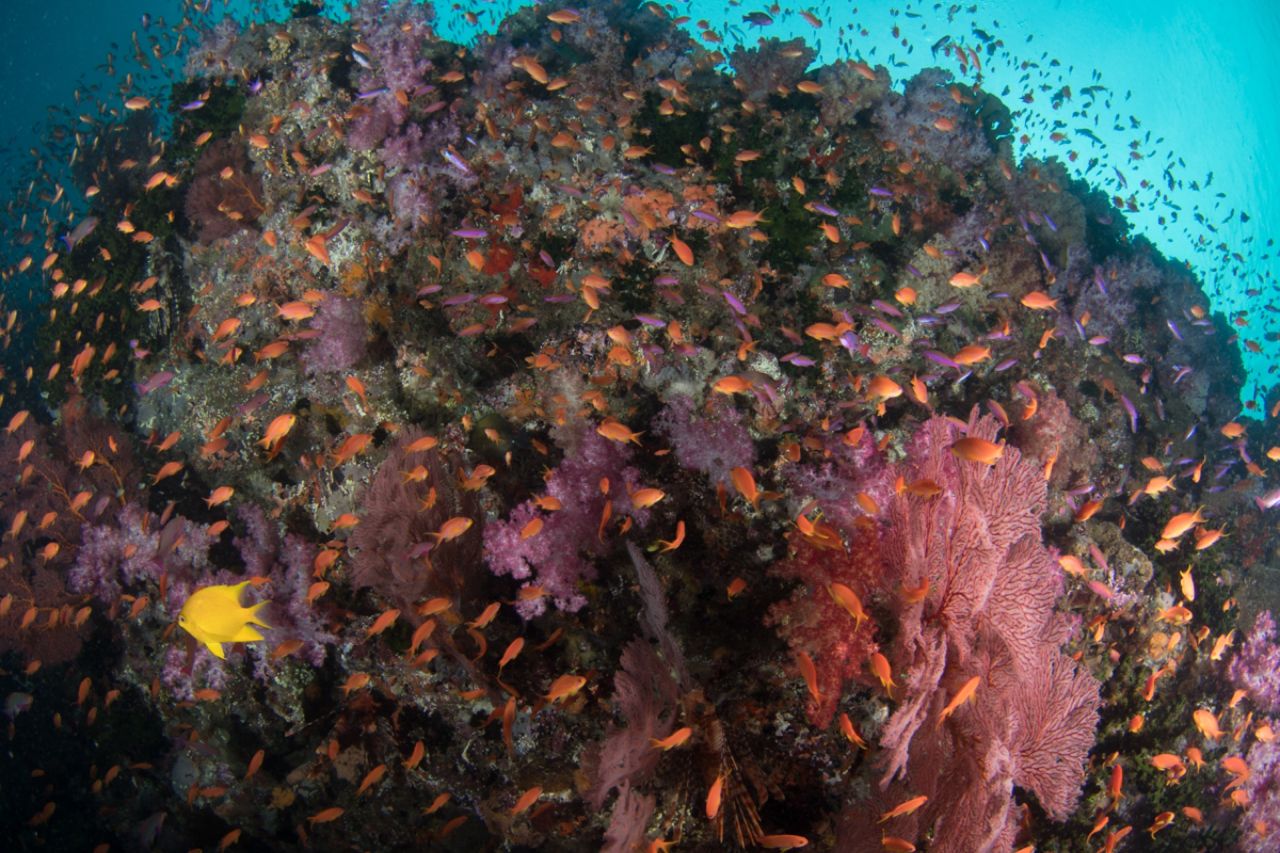 Endless Color by Rick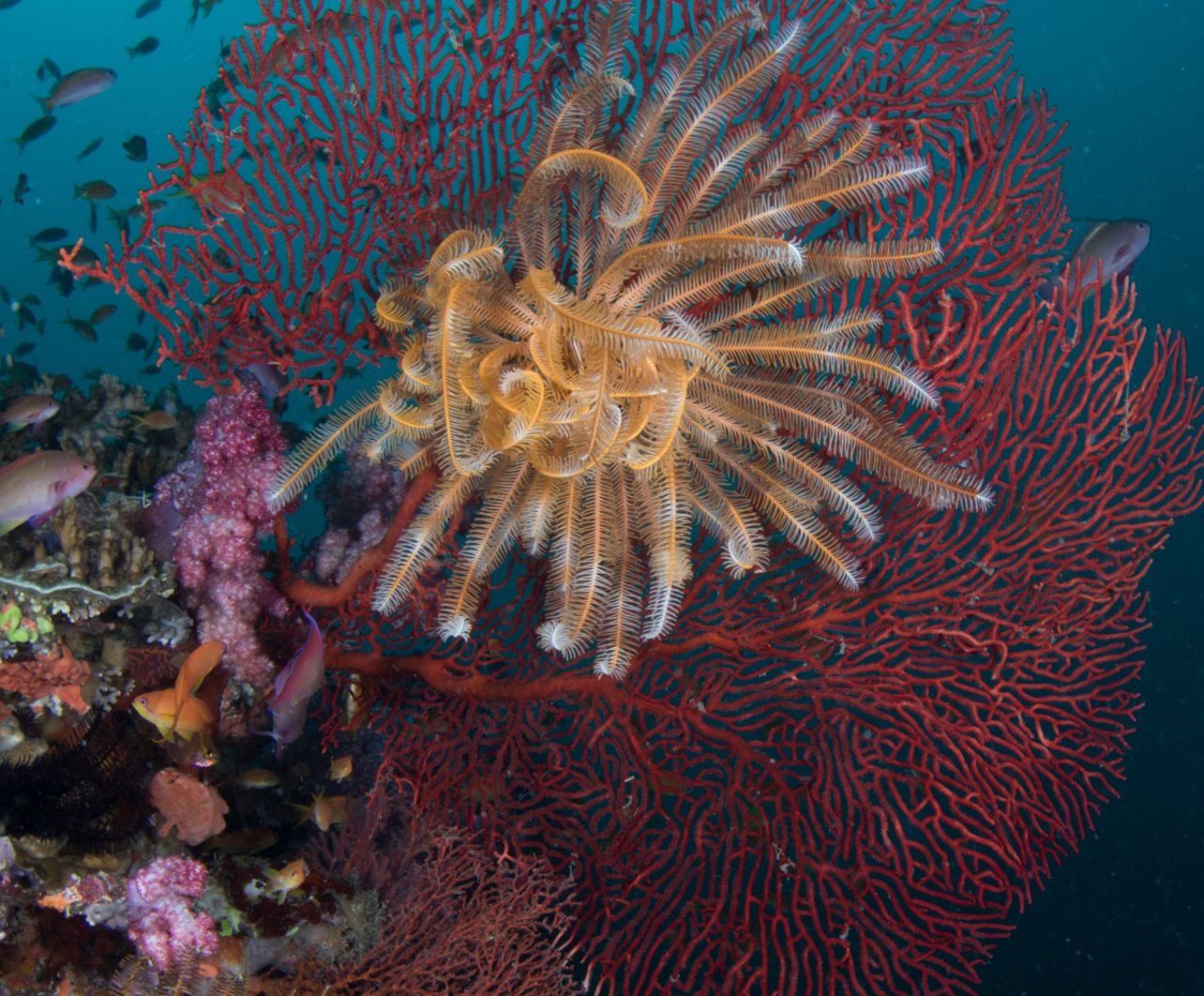 Feathery Fan by Rick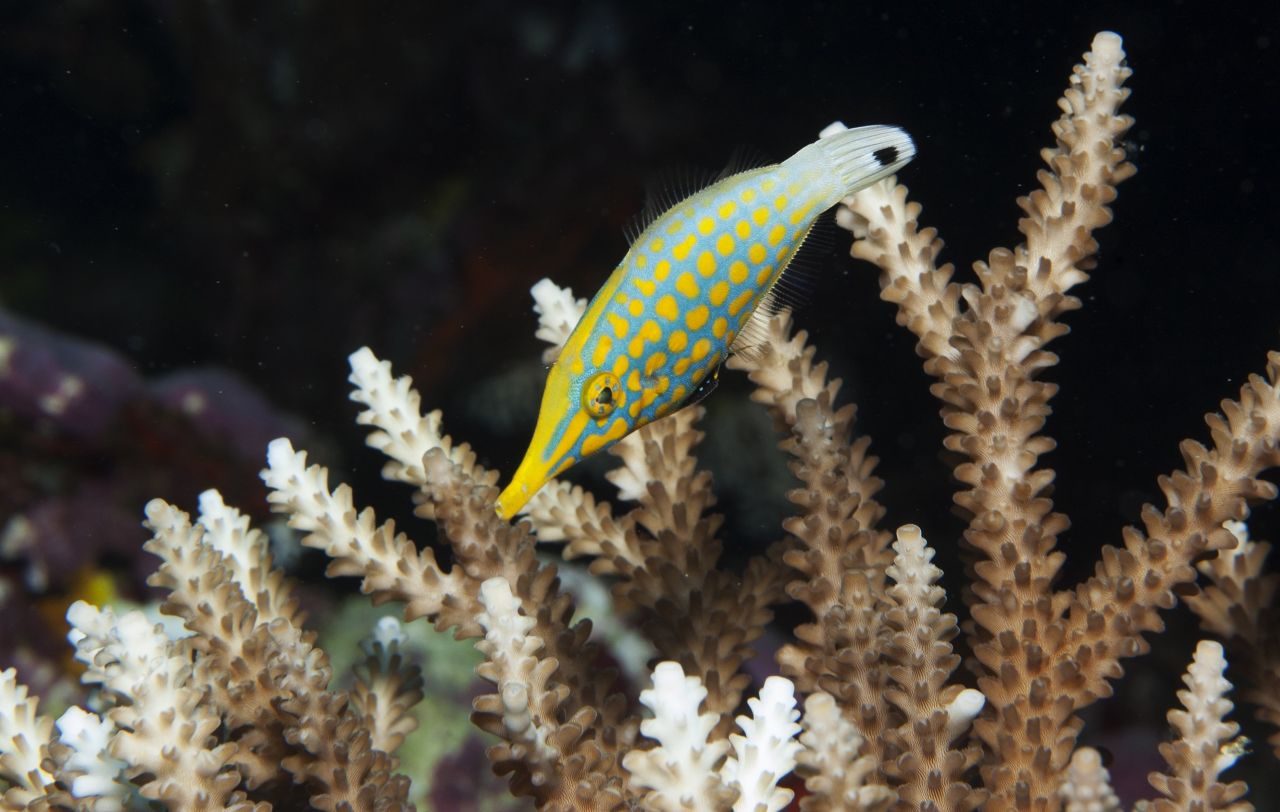 File Right In by John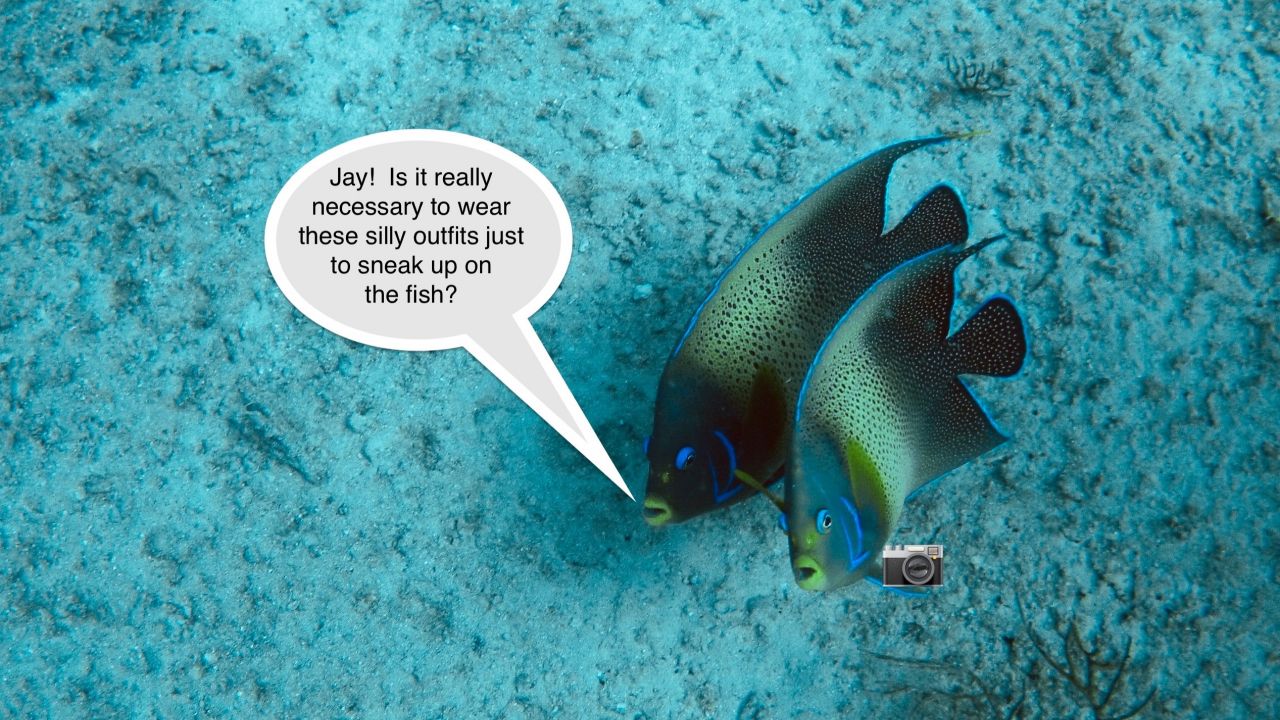 Incognito by Jack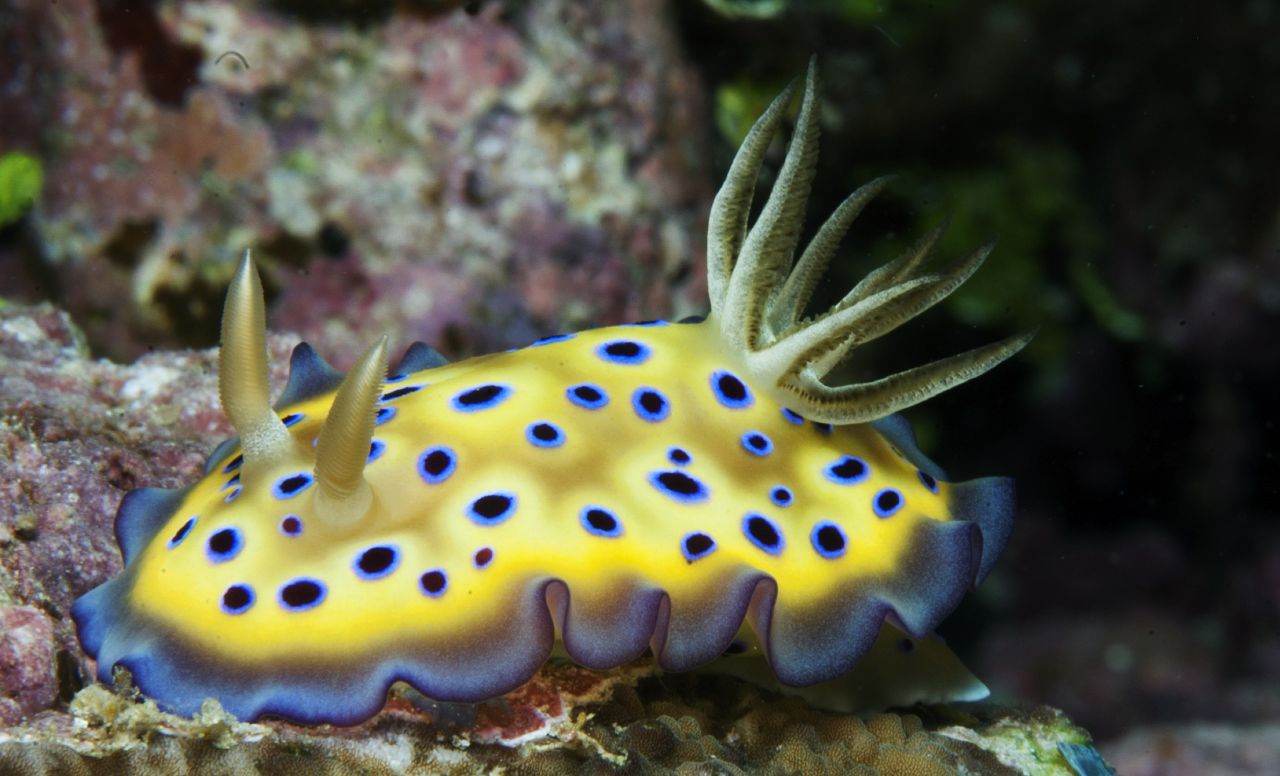 Marilyn by John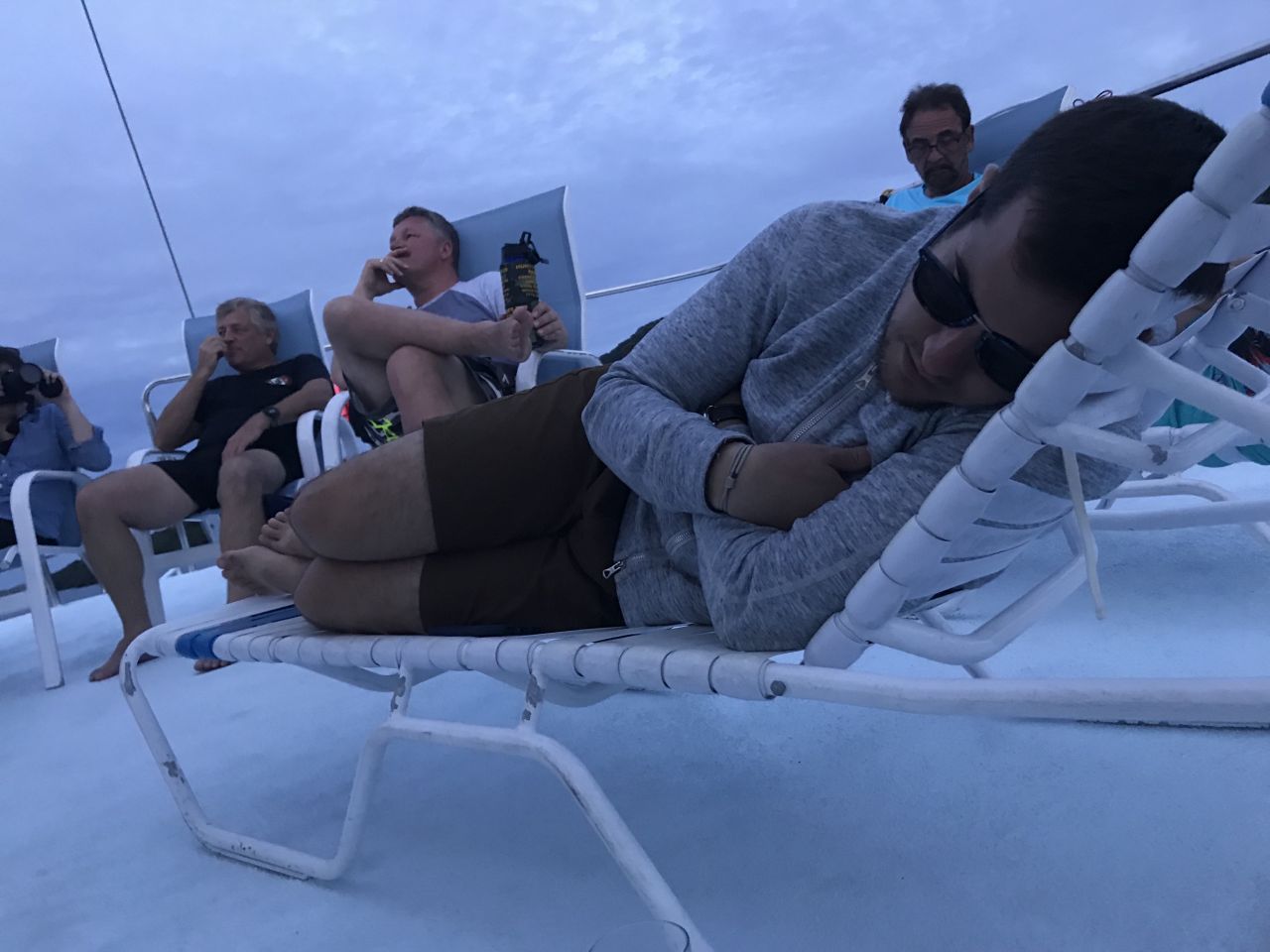 Nap Time (Again) by Adam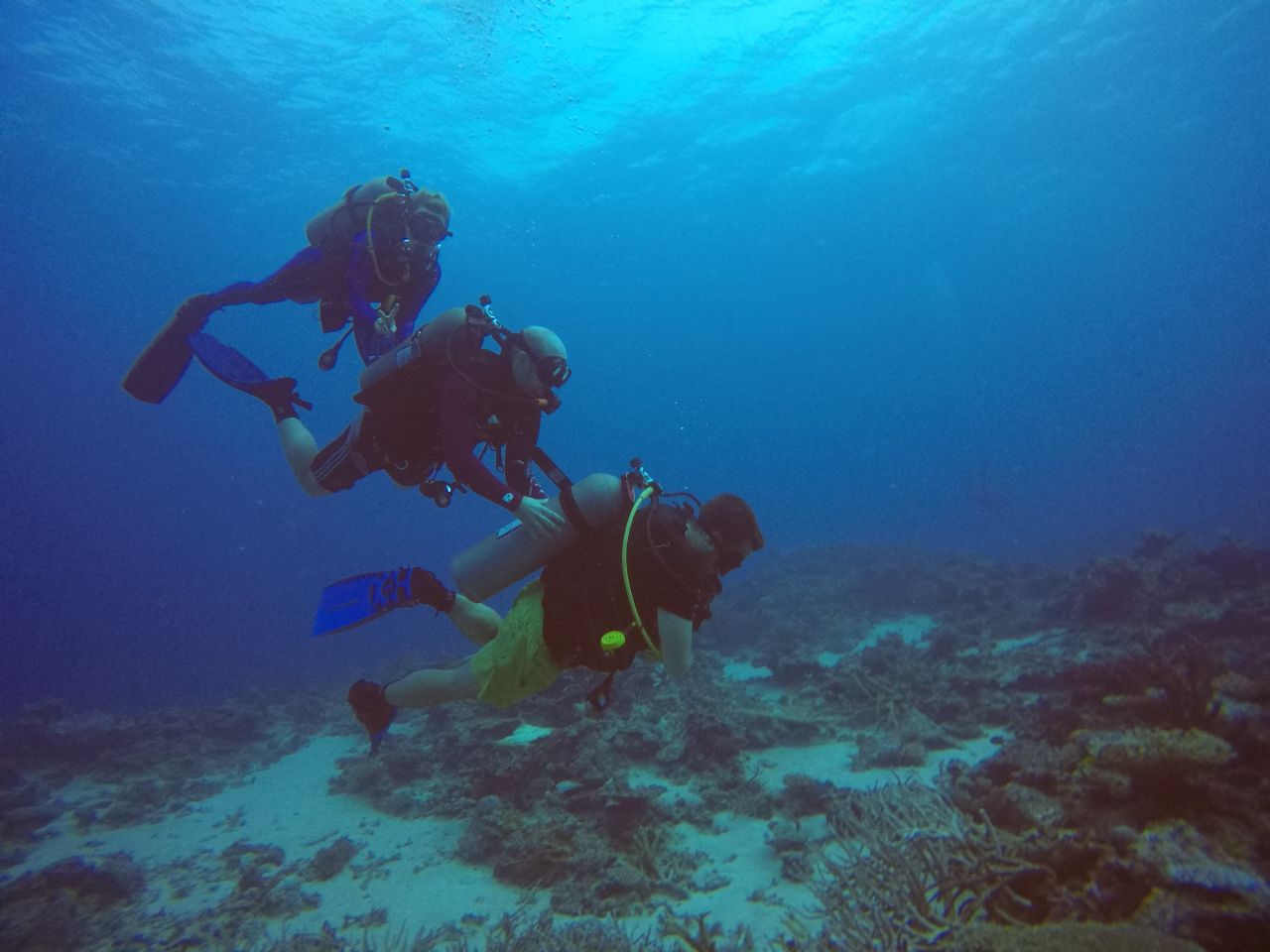 Pile Up by Kristine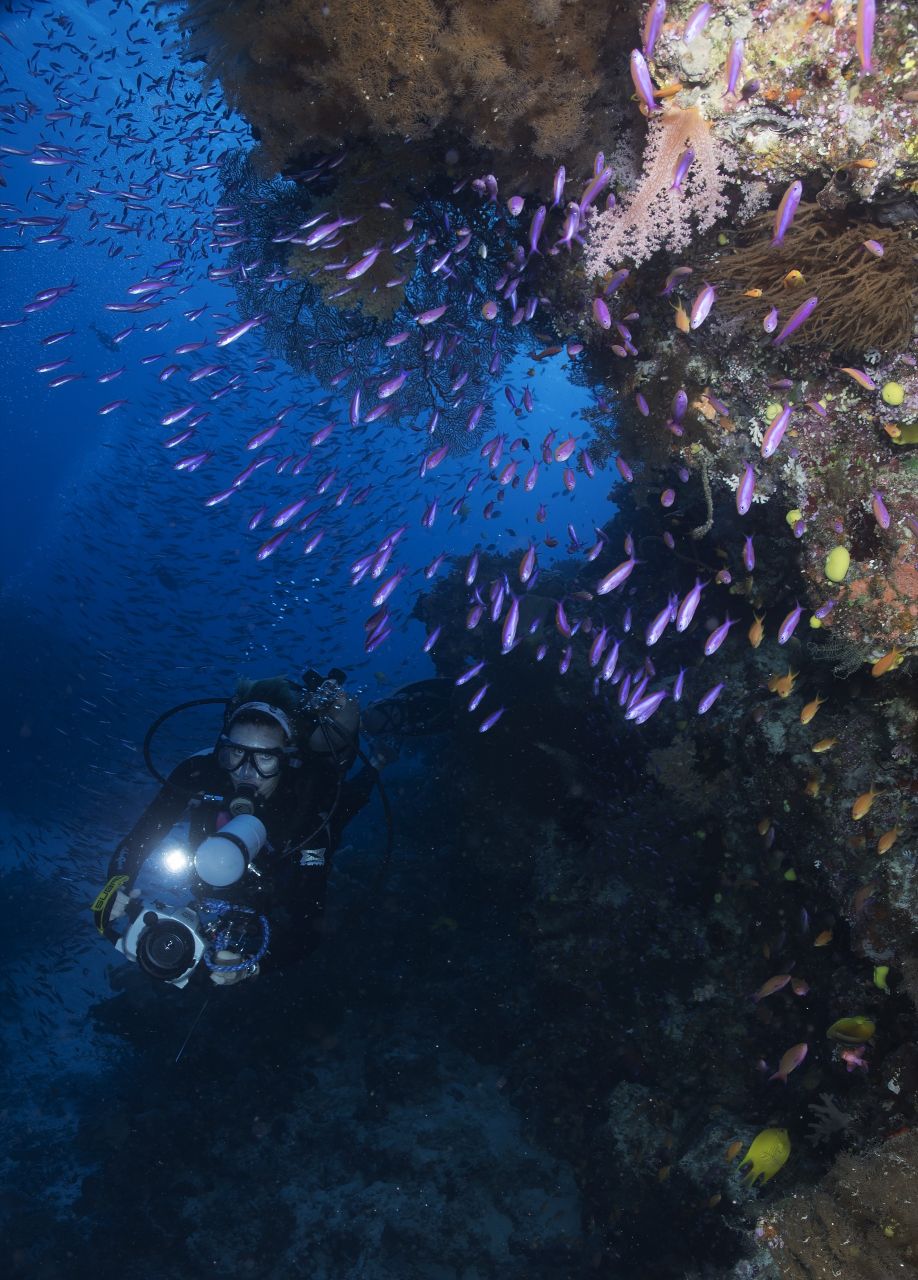 Raining Anthias by John
Ready, Steady, Dive! by Adam
Fierce by Adam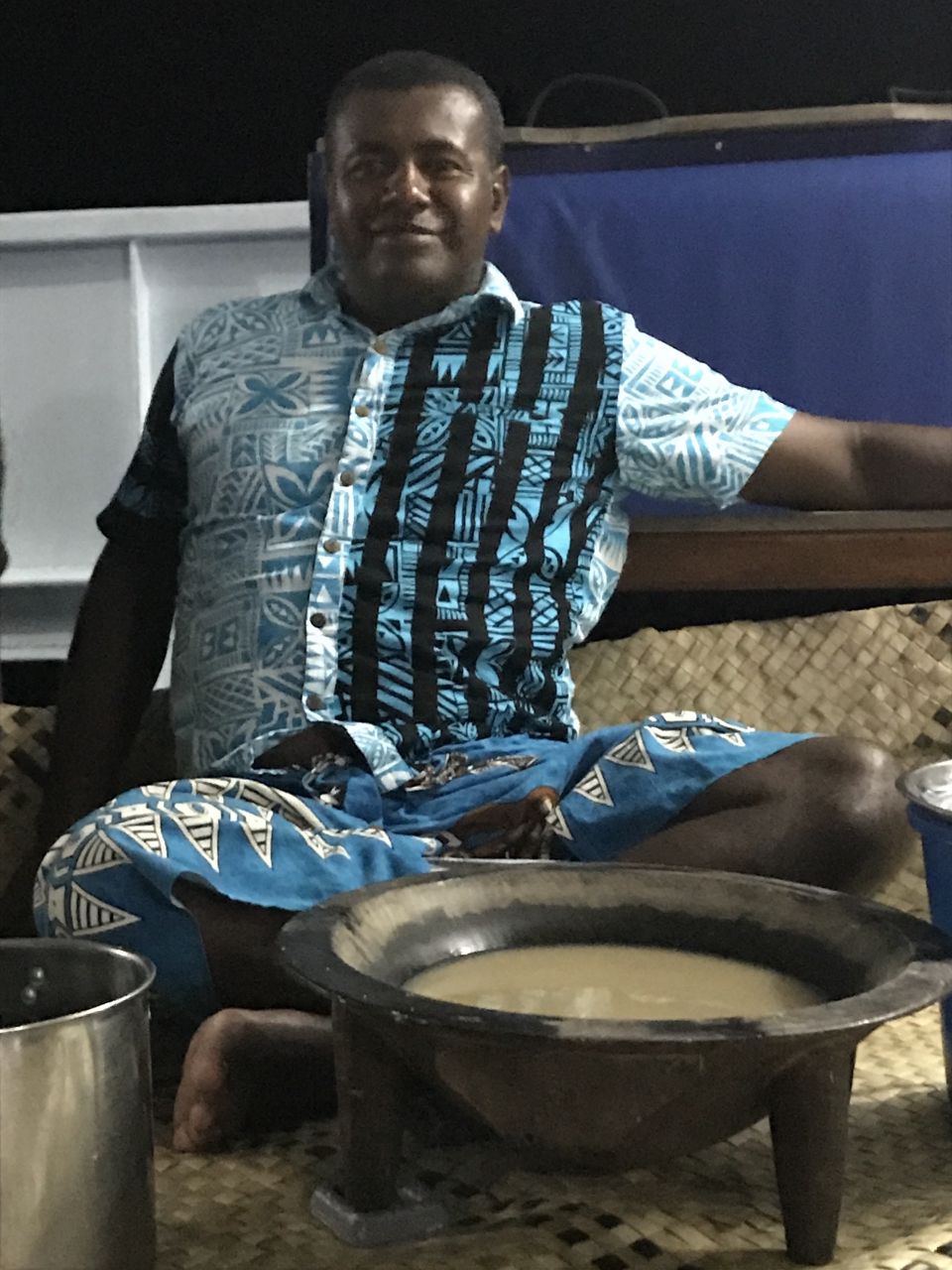 Kava TIme by Adam
Comments
"Any country with coral reef like this has a national treasure that should be protected. Fiji is one of the few lucky countries."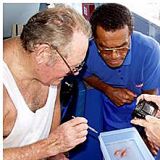 ~ Roger Steene, photographer, author, naturalist