Toledo Hot Shots
Destination: Fiji Bligh Water
Trip Date:
Oct 15th - Oct 22nd, 2016 -
Comments
Author: Vanessa & Chad
This week we had the pleasure of welcoming aboard Jeff Davies and his team of awesome divers, the aquanuts from Aquahut, Toledo Ohio. Within minutes of meeting this group of well traveled, experienced divers who've shared many live aboard trips together over the years, we knew we were in for a treat of a trip! Easygoing, understanding and most of all FUN...what more could we ask for?
Kitting up for the checkout dive at Samu Reef, we soon realized that our aquanuts were more than a little matchy matchy in their gear choices....probably 15 out of 18 sported various shades of Aqualung Hot Shot fins! And so they earned our affectionate nickname the Toledo Hot Shots.
You may well have doubted these guys' energy levels on the first night: absolutely shattered after a long journey from the States, the gang struggled to stay awake through dinner and were off to bed at 8pm. Oh well, early to bed....
.....And early to rise!!!!!! Suli, our Purser and always the first one up in the morning, couldn't believe it when half the guests had beaten her to it and were already wide awake and enjoying coffee at 4am the next morning! By the time the first dive came around at 7.30 they were caffeined up and raring to go. We were in for an exciting day of strong, unpredictable currents: Big Mo took one look at the Almanac and had a quiet chuckle to himself before quietly announcing: 'Ahhhhhh yes....full moon'. And boy did full moon have some fun with us! Cat's Meow as always impressed with its soft corals, pumped up in the flying current, and with the well camouflaged Pygmy Seahorses which Murry photographed wonderfully, showing off Daddy's pregnant tummy. In the meantime, Vatu Vonu (Fijian for Turtle Rock) lived up to its name with Koroi's group having a super-close encounter with a beautiful Hawksbill. Deb returned from her dives, announcing that the reason she likes Fiji so much is 'coz it's just so FISHY'....couldn't agree more!! Up on the sun deck over lunch, a few of the group saw a huge school of silver fish jumping frantically across the horizon....clearly being chased by something BIG. We assume a mahoosive shark of course, but we never did find out for sure....
In the afternoon the wind and waves picked up. Dan took a tumble on the skiff ladder and bashed his shin. Vanessa thought she had convinced him to rest and ice it: after holding it on his leg for a token 30 seconds he hands back the ice pack, ready to dive again and she soon realized that true dive addicts are unstoppable, good on ya Dan! The late afternoon was spent on the sun deck with Jeff sharing various way to deal with a diver who consistently cuts you off underwater: a swift elbow through to throat was his personal favorite. Remind us not to mess.....
Having been forced to take the first day out of the water due to injury, Vanessa was so excited to get involved on the second day of the trip! And what better way to get back in than with a morning dive at Schoolhouse. Her group were pretty darned happy with multiple grey and white tip reef sharks, schooling jacks, schooling banner fish and an adolescent African Pompano. They only felt slightly outdone when Chad's group returned announcing the sighting of 100+ schooling hammerheads....!!!! For Chris this was her first Hammerhead experience, what an introduction. Oh and Chris also likes to sketch all the things she sees rather than just write a plain old log book....good luck drawing 100 of those guys! Later in the day we enjoyed a couple of dives on Two Thumbs Up. Vanessa spotted a cute little pipefish to challenge the photographers's skills along with an adorable pair of Dragonets side by side. Sue and Doug meanwhile spent a happy ten minutes being entertained by an extrovert octopus. And then came the final dive of the day. Oh dear. After missing the drop for Mushrooms in very difficult conditions, Vanessa and her group found themselves (after a hectic swim in the current!) at what she could only presume must be Tetons 1, an entirely different dive site she'd vaguely heard of before! With ripping current and minimal light due to heavy cloud and a low sun it wasn't the most stunning of dives. Somewhat embarrassed, Vanessa curled up and felt like the Shame Faced Crab they'd learnt about in that morning's Environmental Presentation. Suffice it to say, the site is now renamed RCF (Royal Cluster @!#&)!! Though all agreed it might be delightful with calm conditions and something like sunlight.....But no better way to recover the mood than a Kava Party! As usual we started with some beautiful traditional Fijian songs. We soon moved on to the Animal Song, an old favorite where the crew assign guests an animal and at appointed intervals in the song they have to make the appropriate animal noise. The whole dive deck was left dying of laughter when Jeff D was given 'donkey' and in the break of the music, instead of making the usual eeyore noise, calmly announces 'I'm an ass'.
After a peaceful kava-induced sleep, we awoke for another day in the lovely Namena Marine Park. Both groups kick-started the morning with stunning dives on Grand Central Station. The beautiful sheer wall topography was shown off by multiple sharks and barracuda cruising by both above and below the divers. Koroi's group then had a great dive at The Arch spotting some pretty nudis and a show-off octopus. Vanessa's group meanwhile hung in the current and enjoyed a spectacular show of jacks at Kansas with a lone Grey Reef shark circling round and round the outside just asking to be photographed. The afternoon saw a return to the now infamous RCF, this time with calm waters and beautiful light: it turns out the site is in fact quite stunning - with multiple turtles and moray eels and a thick covering of plumped up soft corals - so it is now re-renamed BRCF (Beautiful Royal Cluster @!#&)! The diving day drew to a close with a two man show: only Dave and Jeff L braved the dusk dive, the rest preferring to crack open the Guatemalan rum instead, worn out after a busy afternoon shopping at the NAI'A souvenir boutique! Dinner turned into a raucous, laughter filled affair during which Mulvaney taught Chad an eyebrow trick or two to impress the ladies. Vanessa remains unimpressed. And everyone decided to call it a night when the conversation turned to coleslaw wrestling!!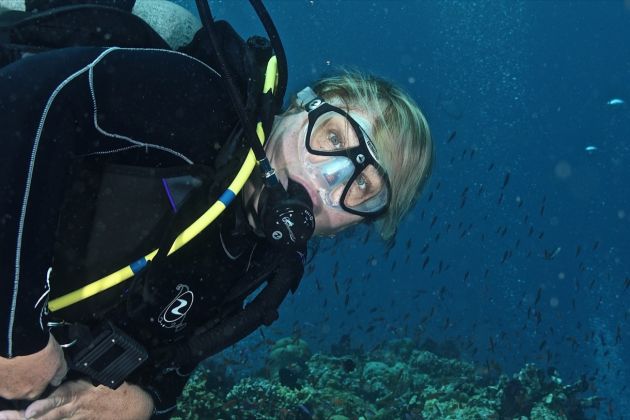 ANNimal - By Doug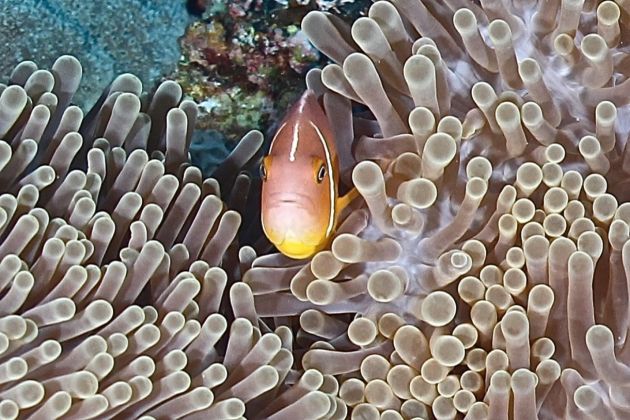 Who, me?! - By Doug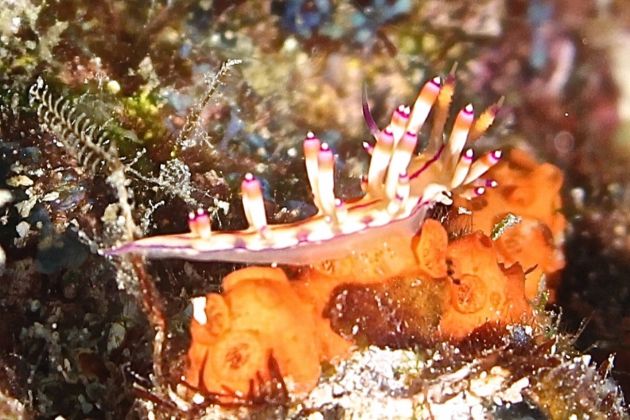 The Big Stretch - By Doug
Porthole - By Doug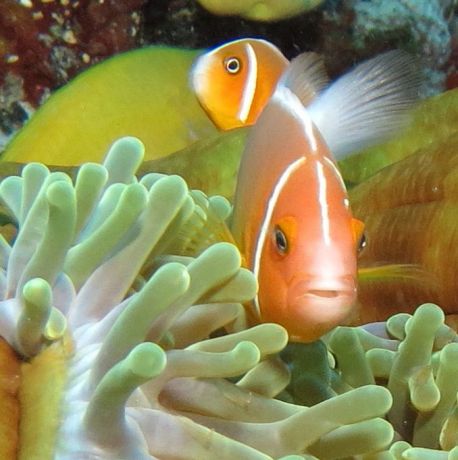 Peekaboo - By Gabe

Dreamy Dragon - By Gabe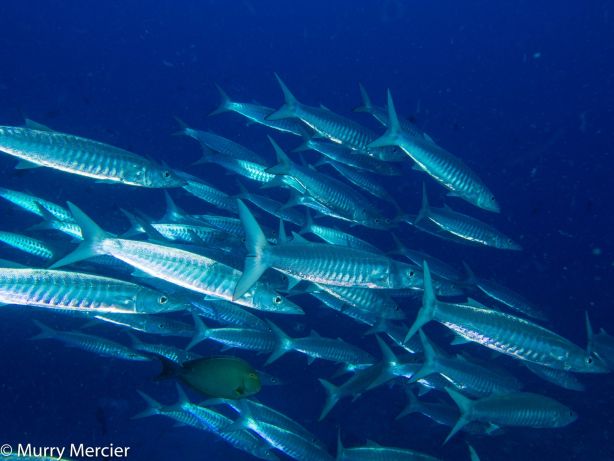 I AM a Barracuda (said the surgeon fish) - By Murry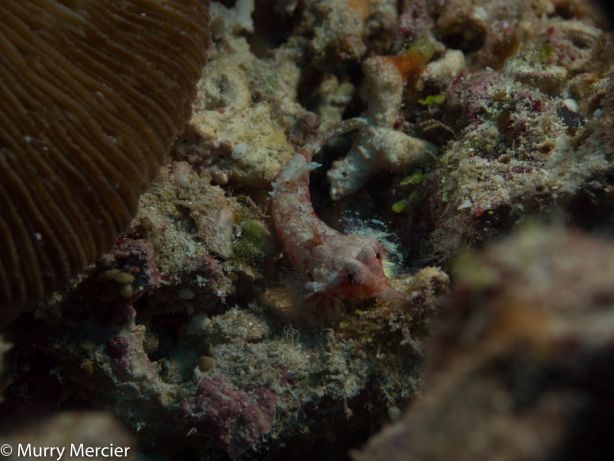 Small but Beautiful - By Murry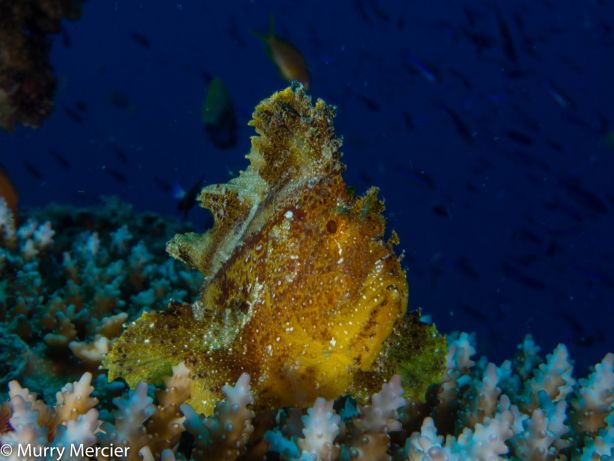 Leaf me Alone - By Murry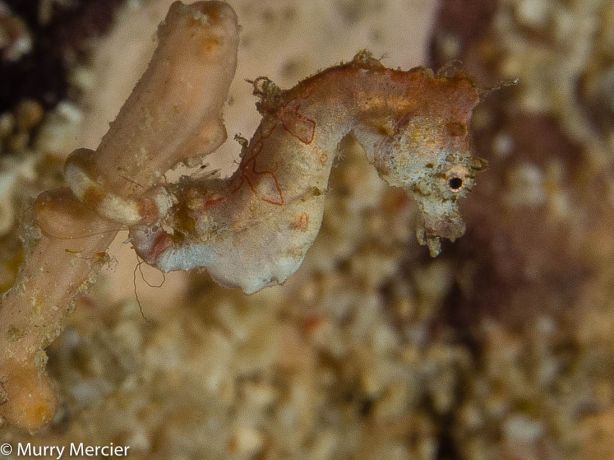 Blowing Raspberries - By Murry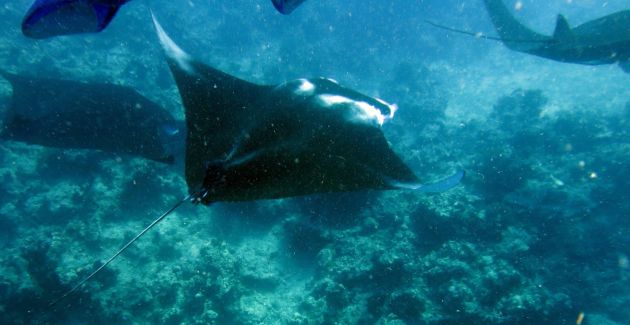 Gentle Giants - By Gabe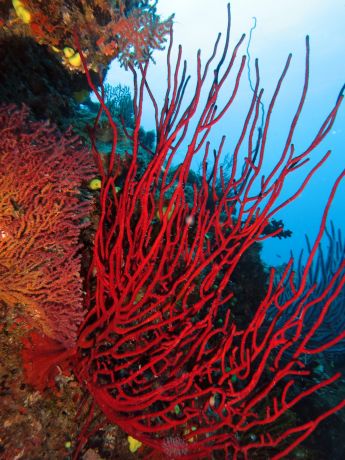 Gorgeous Goronian - By Gabe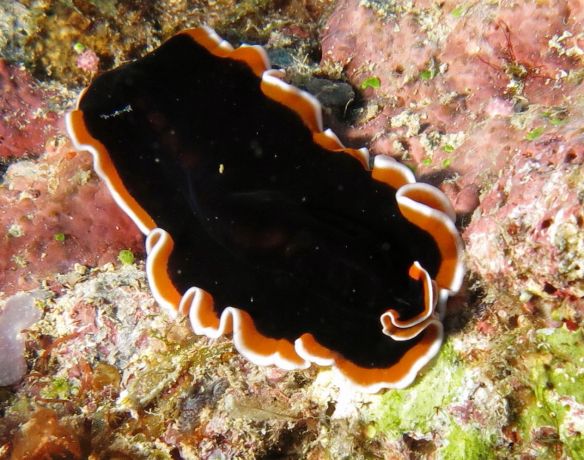 Pseudo Rhinophores - By Gabe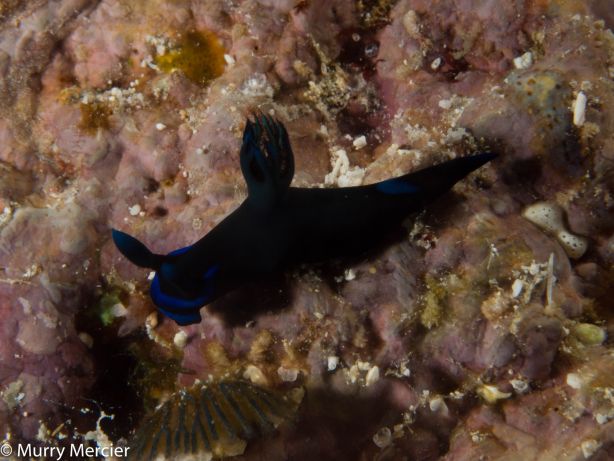 Gloomy by Name, Not by Nature - By Murry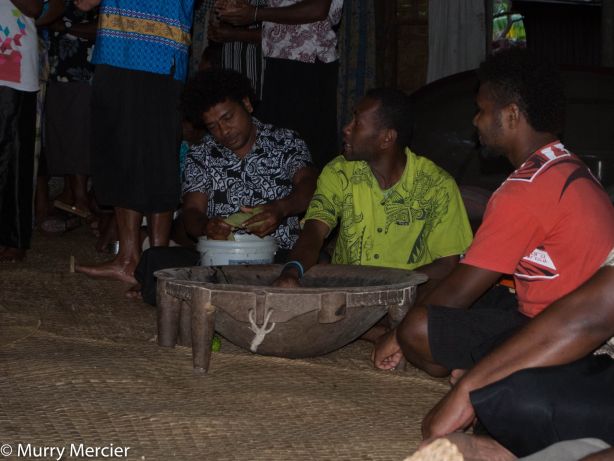 Kava Time - By Murry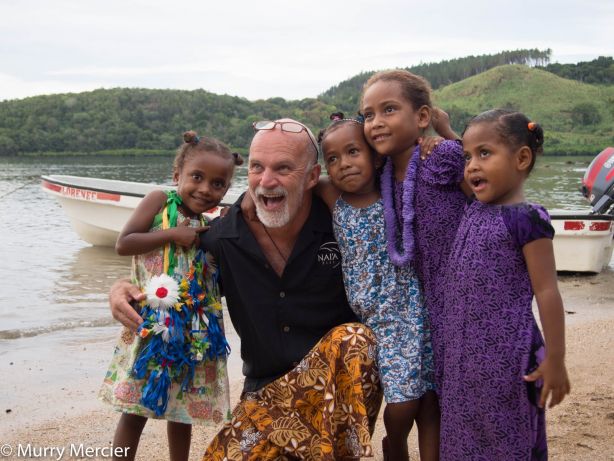 Jeff's Been Adopted - By Murry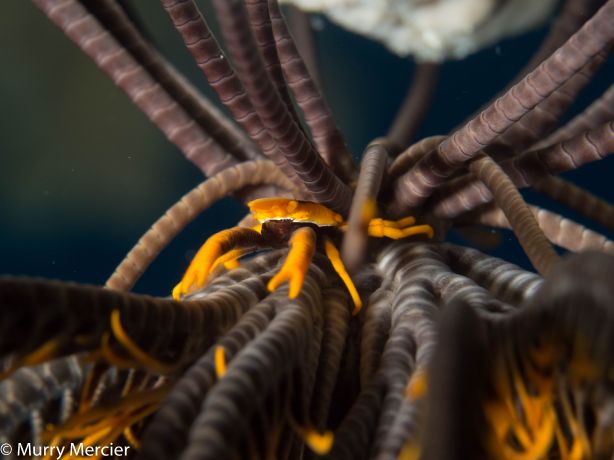 Now You See Me... - By Murry
Day 4 brought us to the beautiful island of Gau and we woke up to stunning blue skies and calm seas: a welcome change after a rough and windy few days. Our sunshine-fuelled good moods were boosted with some insane dives at Nigala Passage. As always at this particular dive site we needed to wait for the ideal current: fortunately we had Mulvaney to entertain us with the Beaver Cheer on the dive deck. After biding our time and waiting for the current to give us perfect conditions for spotting the big stuff, we set off full of anticipation. And once again Momma Ocean delivered! Both groups did the Passage twice and each time were wowed with huge schools of barracuda, jacks and midnight snappers along with sharks beyond counting (Vanessa gave up at 50!). We ended the day with a lovely visit to the village of Somosomo and were warmly welcomed as always. We were particularly impressed by our diving girls....every single one got up and joined in the dancing, doing us proud ladies!
The next day we all had a blast at Wakaya with both groups on the first dive being greeted by stunning manta rays. What a way to start the day! Leaf scorpionfish were also a-plenty as were sharks, with a few grey reefs cruising by and a couple of white tips sleeping in the sand. On the 4th dive of the day Vanessa decided to go macro after all the big stuff of the morning, testing her group's eyesight and patience! Murry loved the photography challenge and got some nice shots of pipefish, crinoid clingfish, several hide and seek coral whip gobies and a super-camouflaged Baba's crinoid squat lobster. Once again, most of the gang opted for a large glass of rum rather than a post-dinner night dive but Sue and Dave resisted and it paid off: they saw a lot of cool freaky creatures on their dive, what we like to call UNOs (Unidentified Nightdiving Objects). Later identified as a several foot long 5-Lined Ribbon Worm and a who-knows-what-many-legged-wriggly-thing labelled as 'undescribed' in the Miscellaneous Segmented Worms section of the ID book! Well, if THEY don't even know what it is...The evening ended with much hilarity as we enjoyed a few of the highlights from the True Facts series, the Mantis Shrimp being a favorite.
Our final day of diving brought us to Vatu I Ra and some of our favorite dive sites. Chad enjoyed a couple of relaxing dives on Mellow Yellow, the mild current allowing him to pick out some beautiful flabbelina and blue dragon nudibranchs and an adorable little pygmy seahorse. Koroi and Vanessa meanwhile enjoyed a dive each on Coral Corner, showing their groups tons of sharks, big moray eels and schooling barracuda. Particularly cute were two juvenile white tip reef sharks spotted by Doug M, attempting to hide in a cave but very much given away by their two little tails sticking right out! Brad and Vanessa ended their dive with the awesome swim through in the wall from 45' up to 10', popping out at the top to find Gabrielle poised perfectly to take exit photos, thanks Gabe! The last dive of the day, and sadly of the trip, saw Vanessa taking the last remaining divers (half the group were flying early the next day so had already cracked open the beers and were chilling on the sun deck!) to the ever impressive Maytag. Conditions were perfect and the group saw a fantastic mix of the big - schooling jacks and barracuda plus at least a zillion fusiliers - and the small. Early on Vanessa pointed out a big squishy nudi, the Gloomy Tambja...and was super impressed when 30 seconds later Sue found a second one close by! Along with Carol, they continued to pick out the macro for the rest of the dive, finding at least 5 different types of shrimp as well as crinoid clingfish. A perfect end to a perfect week.
A huge thank you to all our Toledo Hotshots! You've been an absolute pleasure to have onboard. May we blow bubbles together again one day.....
Our Guests...


















Comments
"Joann & I had a remarkable experience here in Tonga! Our diving trips mostly entail liveaboard boats and this one was the best yet – great crew & great food! You are fortunate to have the ownership in place to allow you to do it right! We won't easily forget our "Whale Week" on NAI'A – it's a once-in-a-lifetime gig!!"